But where do you find the right person who has both the technical and creative skills to make your business shine on social media? 
A good place to look is on an online freelance marketplace – but there are a lot out there. The best place for you may depend on whether it's got a lot of designers to choose from, if those designers are highly skilled with a wide range of styles, and if the services are available at an affordable price. We've taken these factors into account and have saved you the hard work by exploring the best places to find social media designers.
Our Top Freelance Social Media Design Picks
Fiverr – hundreds of designers at affordable rates
99designs – a good place to run design competitions for social media graphics
Contently – global talent network including professional and experienced designers
ClearVoice – content marketing service with vetted freelance designers
Behance – a portfolio site for freelance social media designers
What We Look For in the Best Freelance Social Media Design Marketplaces
Choice of talent: A wide range of social media designers to choose from
Portfolio samples: Examples of past work to give you a feel for which designer is right for your brand
Reviews and ratings: A way to assess which designers are most experienced and reliable
Communication: An easy way to discuss your project and communicate with the freelancer during the job
Fiverr – Best for Businesses on a Budget
Fiverr has thousands of designers covering almost every social media platform. Whether you're looking for Twitter graphics, Instagram graphics, Facebook graphics, or a Twitch cover photo, you'll find someone who can handle the task on this platform.
The cheapest social media design gigs on Fiverr will set you back just $5.
While Fiverr takes its name from these affordable gigs, note that if you're running a whole campaign across several social media sites, you'll definitely have to pay more. This isn't necessarily a bad thing because, like everything, you often get what you pay for. So don't be afraid to go for a slightly higher budget. To find the best freelance designers, check out the
Social Media Design
category, then use the on-site filtering tools to refine your choices by:
Type (cover, header, etc.)
Image file format (JPG, PNG, etc.)
Social media platform (Twitter, Facebook, etc.)
Take a quick look at the options available, and use the heart to favorite the ones you want to look at later.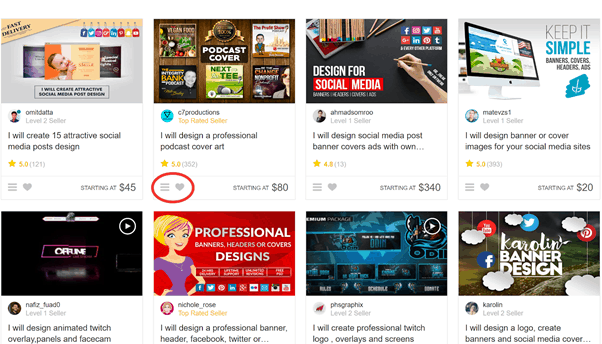 After that, check out their profiles, portfolios, and individual gigs to find out more about the details of the social media design services they offer. You can also use Fiverr's in-app messaging system to
talk to the designers that appeal to you most before making a final decision.
If you're in a rush, use the filtering settings to find designers who are online while you're looking so you can have an immediate conversation. Check out our
Fiverr review
 to see what previous clients have to say.
Features
Seller ratings are assigned based on number of jobs completed, timeliness, communication, reviews, and more. Sellers start at Level 1 and progress to become Top Rated Sellers. Of course, some sellers new to Fiverr are actually very experienced, so check out their profiles and external links, too. You can find these by selecting "newest arrivals."
Fiverr Pros are verified professionals whose profiles are marked with a "ProVerified" badge. Pro services can be more expensive but you get peace of mind knowing that your project is in good hands.
Fiverr has a worry-free payment system. Even though you make your payment at the time of booking, you still have three days after the job is delivered to accept it before the designer gets paid. This is your chance to request revisions or reject work that doesn't meet your needs or standards.
| | |
| --- | --- |
| Talent choice | Thousands |
| Portfolio samples | Yes, in gig descriptions and seller profiles |
| Reviews or ratings | Yes |
| On-site communication system | Yes |
99designs – Best for Finding the Most Competitive Design
99designs has a
unique approach to helping you get design work.
To start the process, let 99designs know what you need, whether it's a social media banner, a social media design template, or a graphic for a particular platform. This forms part of the creative brief. You can either share this with designers you want to work with, or open it up to the whole community via a contest.
Contests allow you to pick your favorite design, and pay the winner.
If you want to browse all available designers, click on
Web & App Design
, then refine your search using subcategories like "Facebook cover" or "banner ad." You'll see all the designers available in that category.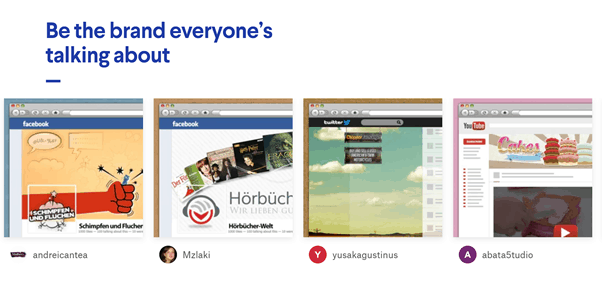 Browse their profiles and pick a designer, then use the on-site form to discuss your project and request a quote. You can easily get a social media banner for less than $100 using 99designs. It is one of the many things
users rave about in reviews
.
Features
Language isn't a barrier to getting a great social media design. 99designs has designers around the globe so you can discuss your project and get graphics in any language you want.
Use designer levels to help pick the right designer. 99designs identifies entry-level, mid-level, and top-level sellers so you know what skills and experience to expect.
The on-site filtering tool is useful for finding designers who create social media graphics for different industries. You can also use keywords to refine your search even more.
When you're choosing a designer, check out their responsiveness score. This lets you know if communication is likely to be smooth.
| | |
| --- | --- |
| Talent choice | Over a million |
| Portfolio samples | Yes |
| Reviews or ratings | Ratings |
| Onsite communication system | Yes |
Contently – Best for Big Budget Brands
Contently is another great place for finding and working with social media designers. While this freelance marketplace is probably
better for bigger brands
(its client list includes IBM and Walmart), you have the security of knowing that you're working with professionals who can deliver any type of social media graphic. Many people think of Contently as primarily a writer marketplace, but it's actually so much more. Freelancers of any kind can join the platform to showcase their work, so there are
plenty of designers for hire.
And the good news is that all Contently freelancers are vetted before they're available for hire through the platform.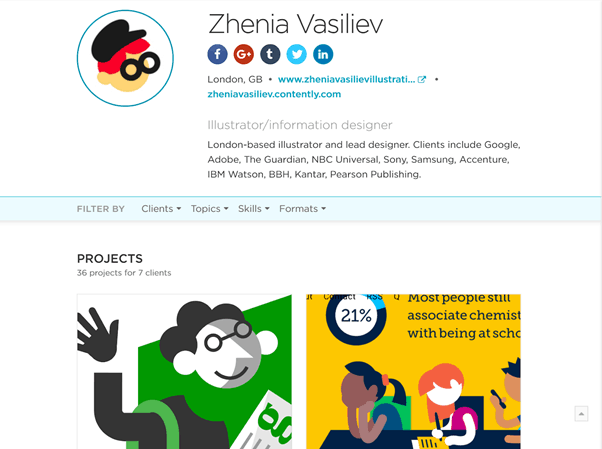 Contently works by setting up a team for your company or publication.
As a buyer searching for the perfect person to create your social media design templates, graphics, or cover images, you'll be able to get information that's not seen in the freelancer's public portfolio, like:
Stats on content performance
Editor ratings for each freelancer
Information about delivery times
This will help you identify the freelance social media designers who best fit your needs so you can invite them to your team. Be warned: this is not a cheap option.
Contently prides itself on paying freelancers well,
and has recommended minimum payment levels for different types of work. The good thing is that you can be sure that you're going to get high quality social media graphics at the end.
Features
Personalized recommendations to help you identify the right freelance designers to meet your needs.
A built-in messaging system for communicating with individual freelancers and teams. You can also reply to system messages by email.
As a buyer, you get dedicated support when you set up a team, and an editor who handles assignments to freelancers.
Location is no barrier to finding the right freelancer. Contently has a global talent network with hundreds of thousands of freelancers.
| | |
| --- | --- |
| Talent choice | Thousands |
| Portfolio samples | Yes |
| Reviews or ratings | Yes |
| On-site communication system | Yes |
ClearVoice – Best for a Complete Marketing Service
ClearVoice promises an
end-to-end digital marketing service.
While it's best known as a place to find writers, it includes freelance graphic designers, too, as the portfolio example below shows.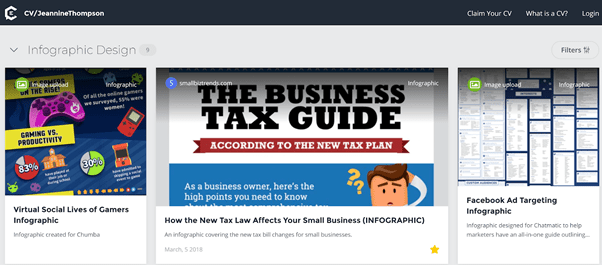 There are fewer to choose from,
but every ClearVoice freelancer is vetted,
so you can be sure you're working with a professional. ClearVoice requires those hiring service providers to make an annual spending commitment, and provides guidance on what to pay freelancers for different types of work. Once you're in the system, you can search the talent network for graphic designers and browse their profiles to see who's the best match. ClearVoice also offers a service to
match you with people that match your needs.
Then you can either ask for pitches or offer selected designers an "opportunity" or assignment. You can use the in-app messaging system to communicate with your chosen social media designers before, during, and after a project. Payment takes place via the same system, and there's a grace period so that you can ask for revisions before accepting the work.
Features
ClearVoice offers direct publishing to many social and other platforms once content has been created. This can be a big timesaver on your end.
The platform allows you to invite your favorite freelance designers, even if they aren't using ClearVoice. This way, your whole team can work in the same space.
If your social media design needs are part of an overall digital marketing package, you can take advantage of ClearVoice's managed services where they handle all your digital marketing from beginning to end.
| | |
| --- | --- |
| Talent choice | Hundreds |
| Portfolio samples | Yes |
| Reviews or ratings | No, but freelancers are vetted |
| On-site communication system | Yes |
Behance – Best for the Widest Choice of Designers
Behance is a
discovery platform for designers,
so it's a great place to look for social media design. Designers create profiles to showcase examples of past work. A good starting point is the on-site search. Type "social media" into the search box and filter the results by projects, people, or collections. When you see a design you like, click through to the gallery to explore in more detail. Designer profiles include stats on how many times people have liked or favorited them, so there's plenty of
social proof to help you choose.
Once you find a designer you like, create a Behance account to send a message via the platform.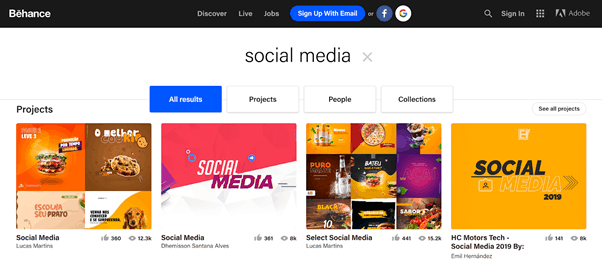 Typically consisting of professionals, designers on Behance might not always offer a cost-effective option for sourcing social media designers. Nonetheless, the platform streamlines the procedure of discovering well-liked and highly-rated designers, while also enabling you to communicate effortlessly with them concerning your design project.
Features
The site has built-in filtering tools that let you filter designs by location, tools used, and even color.
Check out the curated resources to see the best graphic designers on Behance.
You can view the site in multiple languages, so language won't be an issue when choosing your perfect social media designer.
You can also post a design job and let the right social media designer find you.
| | |
| --- | --- |
| Talent choice | Millions |
| Portfolio samples | Yes |
| Reviews or ratings | Ratings |
| On-site communication system | Yes |
Which Social Media Designer Marketplace Should You Choose?
When it comes to hiring someone to either create or visually represent your brand, you need to choose wisely.
The right designer can help you engage your audience and compel them to act.
The wrong designer, on the other hand, can confuse customers and do lasting damage to your reputation. Here's our recommendations: If budget is a primary consideration, then
Fiverr
(one of our top picks for the
best places to hire a graphic designer
) is your best bet. If you are interested in social media as part of a wider
content marketing
campaign, then check out Contently or ClearVoice. And if you want a wide range of professional designers to choose from and you're not so worried about the budget, then consider 99designs or Behance. We've put together this table to help you make up your mind:
| | | | | | |
| --- | --- | --- | --- | --- | --- |
| Freelance Marketplace | Talent pool | Portfolios | Ratings | Communication | Best for |
| Fiverr | Thousands | Yes | Yes | Yes | Businesses on a budget |
| Contently | Thousands | Yes | Yes; for buyers only | Yes | Brand social media marketing |
| ClearVoice | Hundreds | Yes | No; vetted freelancers | Yes | Complete digital marketing |
| 99designs | Over a million | Yes | Yes | Yes | Design competitions |
| Behance | Millions | Yes | Yes | Yes | Wide choice of designers |