You have the perfect post crafted for your Facebook audience, which is sure to drive fans and increase sales. Now, you need to
make sure that this audience actually sees your post
, otherwise, all of your great ad copy, design, and incentives will be meaningless. These days, it's easier than ever to
create custom audiences to help target your ads
to the most relevant people among Facebook's astounding 1.49 billion daily active users. There are several ways to go about it, and this article will guide you through the right steps to take to achieve your goals.
Step-by-Step Guide to Creating Your Audience
Before you begin creating a custom audience, you should be 100% clear on the goals of your campaign, and what target makes the most sense. For example, are you trying to increase engagement or grow your following? The answers to these questions will help you create the best audience. Once you have your new audience in mind, the first step is to log into your Facebook business account,
click "Create," and then select "Ad."
Quick Tip: If you don't see the "Create" button on your top navigation bar, check the left-hand side navigation bar, or click the downward facing arrow next to the "Quick Help" icon on the top right of the page

Click on the hamburger icon (made up of three horizontal lines) at the top left-hand corner of the "
Ads Manager
" screen. This will pull up a drop-down menu.
Click on "Audiences."

As this is your first custom audience, scroll down and click the blue "
Create a Custom Audience
" button on the left-hand side.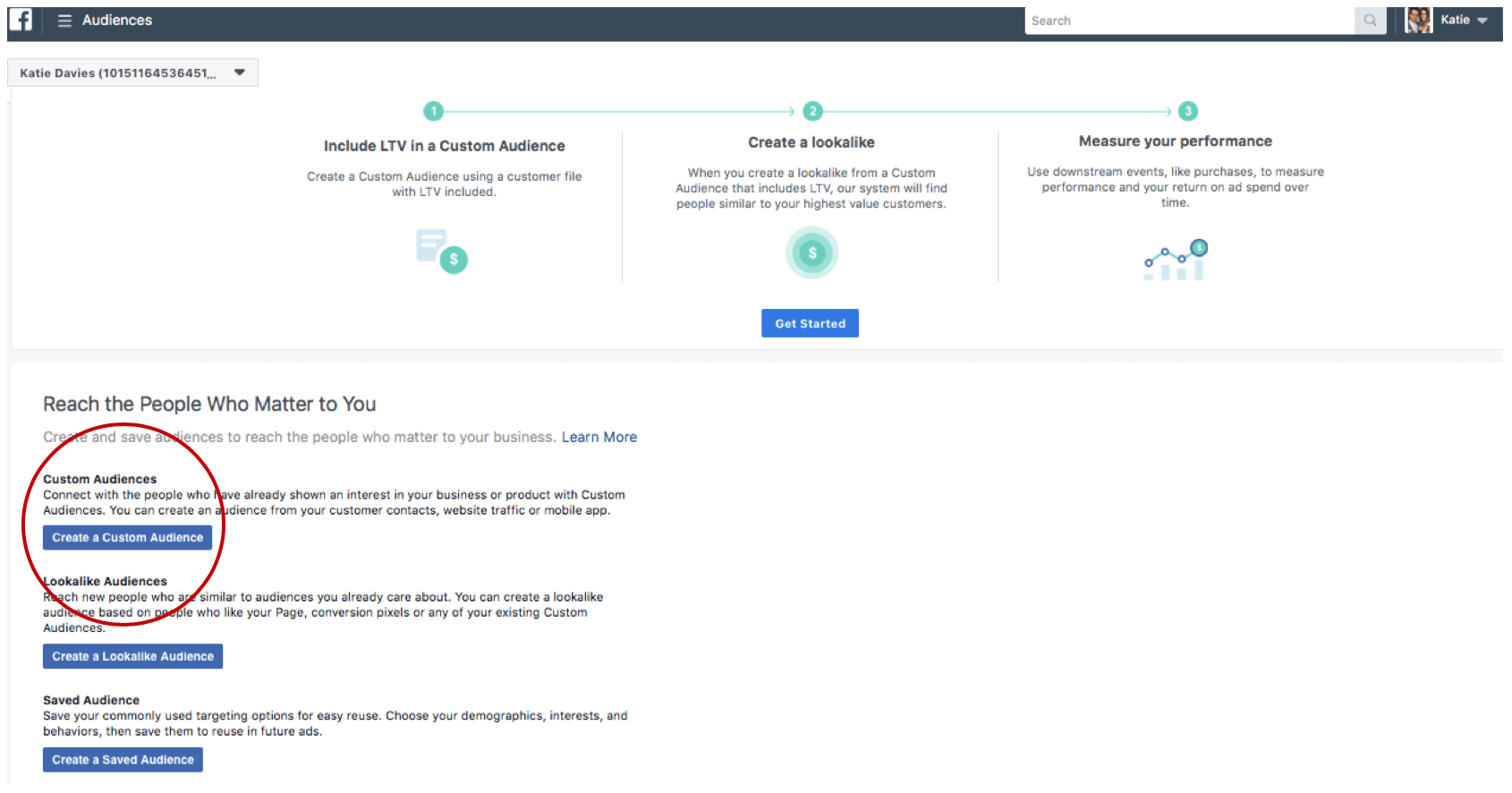 This is where things get interesting. A popup will then ask you to select
how you would like to go about creating this audience
. There are five options to choose from. Let's take a look at each.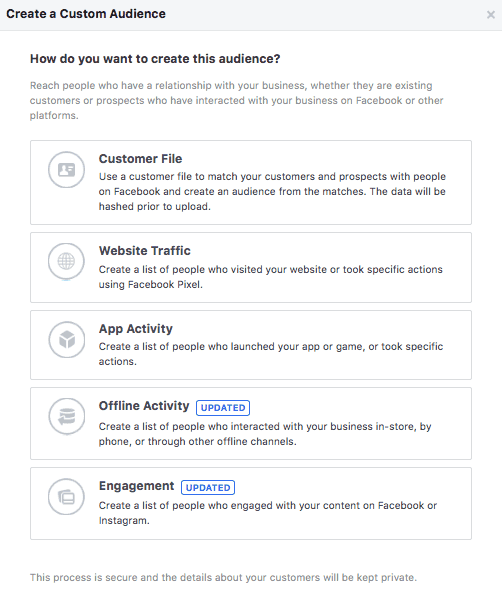 Option 1: Using a Customer File
If the aim of your marketing campaign is to
target specific customers that you have already identified
, then you should click the "Customer File" option. Make sure that you include the following columns of information, titled accordingly:
Email ("email")
Phone number ("phone")
First name ("fn")
Last name ("ln")
City ("ct")
State/province ("st")
Country ("country")
Date of birth ("dob")
Year of birth ("doby")
Age ("age")
Zip/postal code ("zip")
Gender ("gen")
Mobile advertiser ID ("madid")
Facebook app/page user ID ("uid")
Quick Tip: It's possible to have multiple columns for email addresses and phone numbers, if you'd like to include more than one per individual. Just make sure there is only one entry per cell. Also, don't forget to include area codes for phone numbers.
Upload your content in .csv or .txt format, or copy and paste. You'll be flagged with any errors. Then, you'll need to wait about 30 minutes for your custom audience to be created.
Option 2: Using Website Traffic
Click this option if you want to target users
who have previously visited your website or taken specific actions
. A special tracking code, called a "Facebook Pixel," will help Facebook recognize these users and automatically add them to your custom audience for retargeting.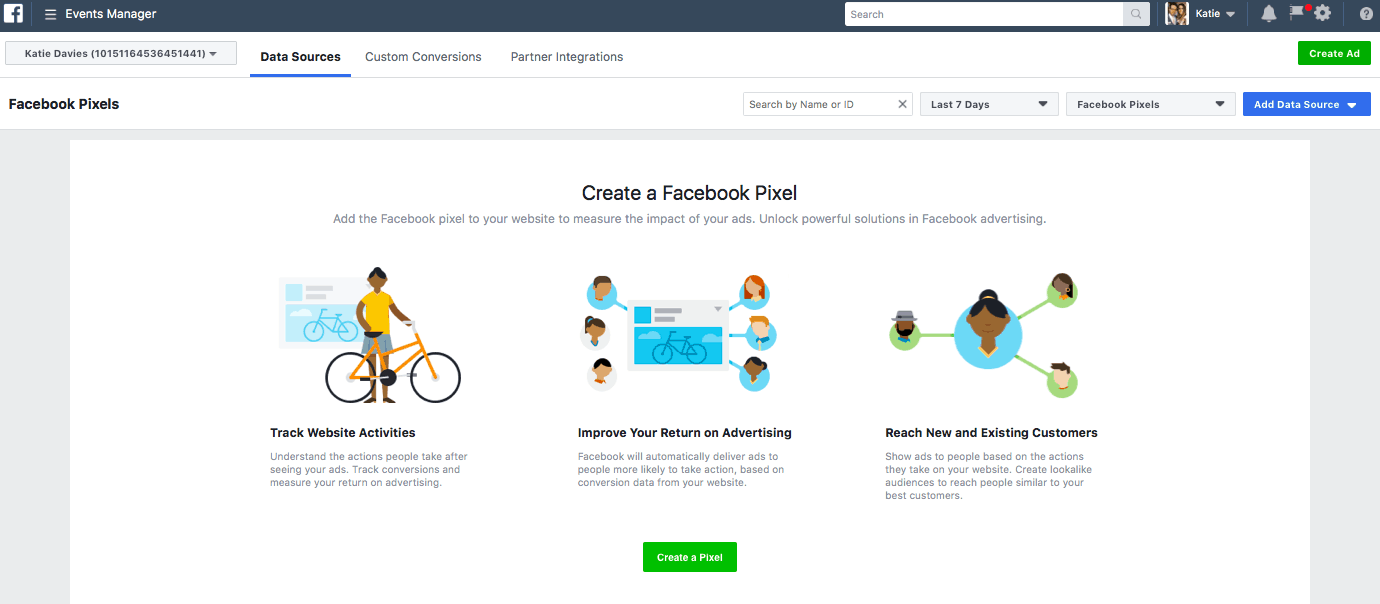 You'll need to choose a name for your pixel and accept Facebook's terms and conditions. Next, you'll have the chance to select the "events" you'd like to track, which can include:
Purchase
Initiate checkout
Add to cart
Search
Contact
Start trial
Etc.
Quick Tip: You'll need to insert the code on the web pages that you're trying to target. You can do this either manually or by using an integrated tag manager. Alternatively, Facebook helps by providing you with instructions that can be emailed directly to your developer.

Option 3: Using App Activity
This option allows you to create a custom audience based on actions visitors have taken while using either the desktop or mobile version of your app.
The goal of re-engaging users is to get them to use your app again and hopefully make a purchase
. As mobile is the dominant platform for Facebook ads,
using "App Activity" is quickly becoming one of the leading ways to build a custom audience
– but keep in mind that you need to have an app currently associated with Facebook to complete this process. You'll need to fill in your preferred audience name and description, and then select which app you want to focus on. Choose from the selection of actions that your app's visitors perform—or don't perform. The most popular selections include
opening your app, recently completing a purchase, making a big purchase, or achieving a specific level
in your game.
Option 4: Using Offline Activity
Click this option if you want to use
Facebook's offline conversion measurement solution
. This will help you track offline events—such as orders placed over the phone or direct purchases made in your physical store—that occurred as a result of your Facebook advertising efforts. To get started, you'll first need to set up a "
Business Manager
" account. To do so, select "Offline Events" under the main "Ads Manager" section. You'll be asked to create an account based on every type of business you serve, including both offline and online.

Follow the instructions to
assign a specific offline event to one of your accounts
so that it can be tracked. You'll need to continually upload relevant data to your "Offline Events" page via an offline conversions API or partner integration.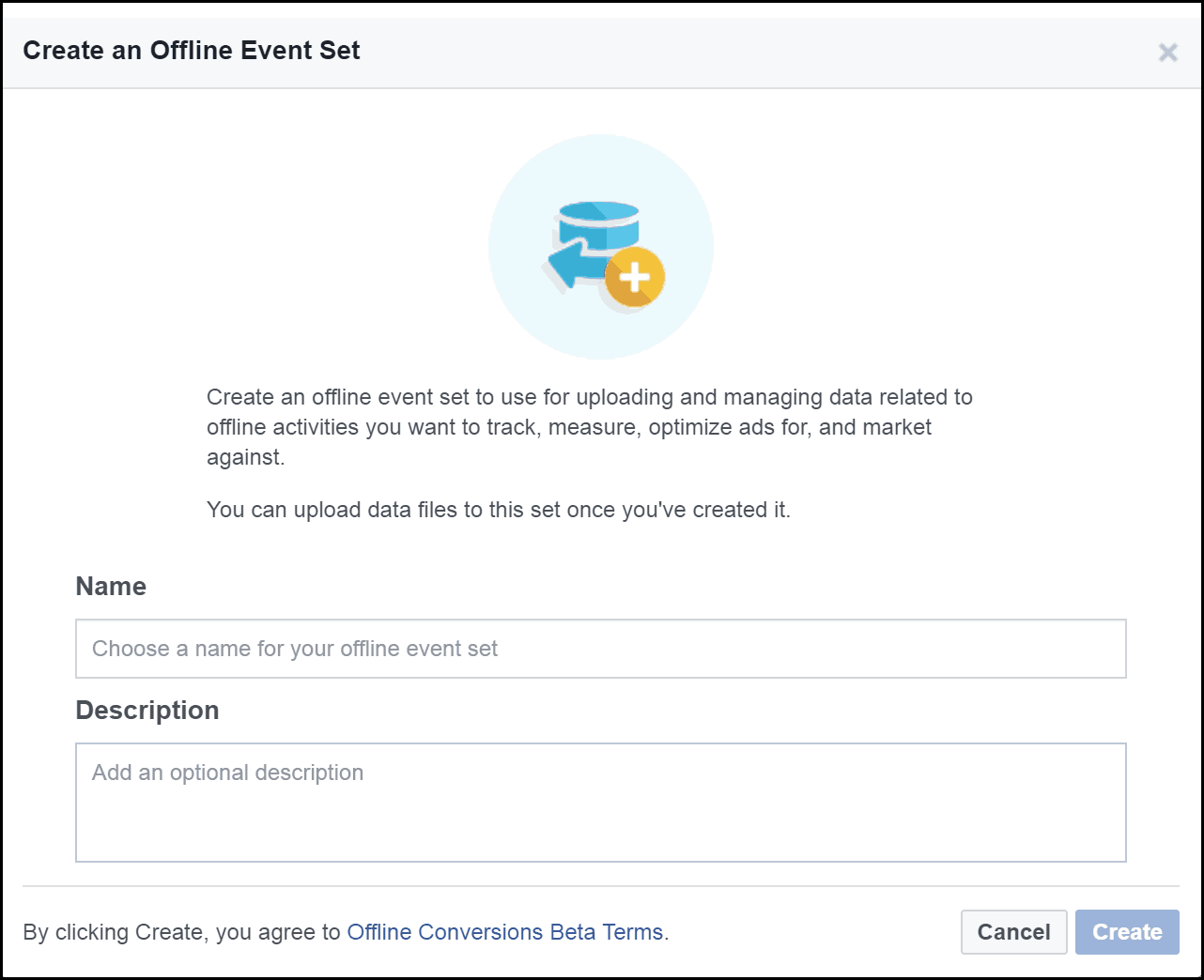 Once you've collected enough information, you can
select this dataset in the "Custom Audiences" section to use it for remarketing purposes
. This option definitely requires a bit of work, but it can help you understand and target your audience much better than some of the other options listed here.
Option 5: Using Engagement
This option will allow you to create a custom audience based on
people who've interacted with your content on either Facebook or Instagram
. All you have to do is select
which kind of engagement
you want to use to create your audience, and then follow the instructions. There are a number of options to choose from – let's take a closer look at them.
Video: Focus on the audiences who have viewed your videos (whether in their entirety, or just sections of them) through Facebook or Instagram.
Lead Form: Develop a list of users who have opened a form via your lead ads on Facebook or Instagram and then abandoned it. You can also re-target users who have previously completed forms to increase the likelihood of conversions.
Fullscreen Experience: This option allows you to focus on users who have already engaged with your Collection or Canvas ads on Facebook.
Facebook Page: Target users who have visited or engaged with your business page. This includes anyone who has liked your page, contacted you via Messenger, commented on your page, or shared your posts.
Instagram Business Profile: This is similar to the Facebook Page option. However, this time you're targeting users who have interacted with your Instagram account.
Event: If certain Facebook users visited or interacted with your Events pages but never converted, re-engage them with this option.
Final Steps
Once you've decided which audience(s) to target, the last step is to allocate your budget and time frame. Then you're all set to go.
Do's and Don'ts of Using Custom Audiences
Phew! That's a lot of options for creating a custom audience on Facebook. Before you get going, consider the following do's and don'ts. This will help you best direct your efforts, and
get the most out of this valuable resource
.
DO Expand Your Audience
If your custom audience has fewer than 1,000 people, take Facebook's advice:
Grow it
! Be sure to update your "Custom Audience" as your customer and offline event data lists grow. You could also consider creating a Lookalike Audience on Facebook, which focuses on
targeting people who are similar to your best customers
, in terms of either demographics or interests.
DON'T Forget to Upsell Existing Customers
Some brands are so focused on targeting new consumers that they forget about their existing customers. Instead of wasting your time with generic advertising, make sure to
segment your most loyal customers and tailor some of your promotions specifically toward them
. If you're successful, you might be able to get them to upgrade their subscription or buy another product from your range.
DO Re-Engage Lost Customers
You're likely to have many old customers who bought from you once but then forgot about your brand. This is where the "Customer File" or "Lead Form" option is extremely successful in
re-engaging these types of users and encouraging further sales
. You can even offer them a discount to sweeten the deal.
DON'T Ignore the Rules
Be sure to read the full terms and conditions when it comes to Facebook custom audiences. You can only
include customer data you have permission to use
, like email addresses and phone numbers. If you break the rules, you risk getting banned from the platform. If your ads still aren't performing as you'd hoped, don't give up! Facebook ads can be tricky, and sometimes some trial-and-error is required. Check out our
10 Tips on How to Improve Your Facebook Ad Conversions
.
---
Sources
https://newsroom.fb.com/company-info/
https://adespresso.com/blog/facebook-ads-custom-audiences-guide/
https://www.facebook.com/business/help/1142103235885551?helpref=page_content
https://www.facebook.com/business/a/custom-audiences