There are nearly 20 million company pages on LinkedIn, yet only a small percentage of these are effectively engaging with their audiences. Why is this? Because, while pretty much every company knows that they should be on the platform, only a few know how to utilize their pages effectively.
When done correctly, LinkedIn can be an incredibly powerful tool in a company's marketing arsenal. It's all about creating meaningful content that can benefit and expand your audience.
And you don't have to have a huge marketing budget in order to see meaningful results. It's largely just about making sure that you are appropriately tailoring your existing resources and content to the platform, and taking advantage of the different features that LinkedIn offers.
How Businesses Can Benefit from LinkedIn
When most companies think about social media platforms, Facebook and Instagram are the first that come to mind. LinkedIn is generally placed in a more serious, business-focused category, which some companies aren't quite sure how to approach.
While LinkedIn can be an excellent platform for recruitment purposes, it can also help with general awareness and engagement for your company. In fact, there are a number of benefits that companies enjoy from a well-constructed LinkedIn Company Page:
Say Goodbye to Headhunters: There's no denying it, LinkedIn is the ruling platform when it comes to recruitment, responsible for up to 80% of B2B leads; many companies spend thousands of dollars on recruitment strategies, which LinkedIn can satisfy at a fraction of the cost
Develop Your Brand Personality: By showcasing your company culture, you give prospective customers an idea of what you stand for, and prospective employees a sense of what it would be like to work for you; this can not only increase the number of applicants, but elevate the quality of like-minded talent that is interested in applying for open positions
Increase Web Traffic and Rankings: LinkedIn drives more than half of all social traffic to company websites; having a LinkedIn profile will also help your search engine rankings, placing your company profile at the top of Google, along with your official website and other social media
Establish Your Industry Expertise: With over 467 million users, LinkedIn allows you to directly engage with individuals who either work in or are interested in your industry; many are looking to gain information or insight, which gives you a great opportunity to provide real value to prospective customers
How to Increase Your Audience Engagement
Now we'll get into the real reason you're here: you want to increase the engagement on your LinkedIn Company Page. It might sound daunting at first, but when you know what you're doing it's a lot simpler than you think. It's all about being savvy and using what's available to your advantage.
Dot Your I's and Cross Your T's
First things first, make sure that your profile is complete and well-constructed; this should be your primary objective, long before you worry about driving views and increasing engagement. Remember, initial impressions count for a lot, and the only way you're going to build meaningful relationships is by coming across as professional and polished.
●      Nail the Basics: Make sure you have a professional profile picture and banner image, which are appropriately sized and formatted for viewing on all devices
●      Be Clean, Clear, and Concise: While LinkedIn gives you a bit more leeway than other social media platforms, you'll still want to make sure that your copy is direct and to-the-point
●      Cohesive Branding: Remember, this is an opportunity to establish your individual brand identity and stand out from the crowd; all content and visuals should reinforce who you are and what you stand for
Evernote is a good example of a company that has really solidified their branding; each post is visually cohesive, and straight to the point. This is also content that they've clearly developed outside of LinkedIn, which shows how the platform can effectively leverage and extend existing materials.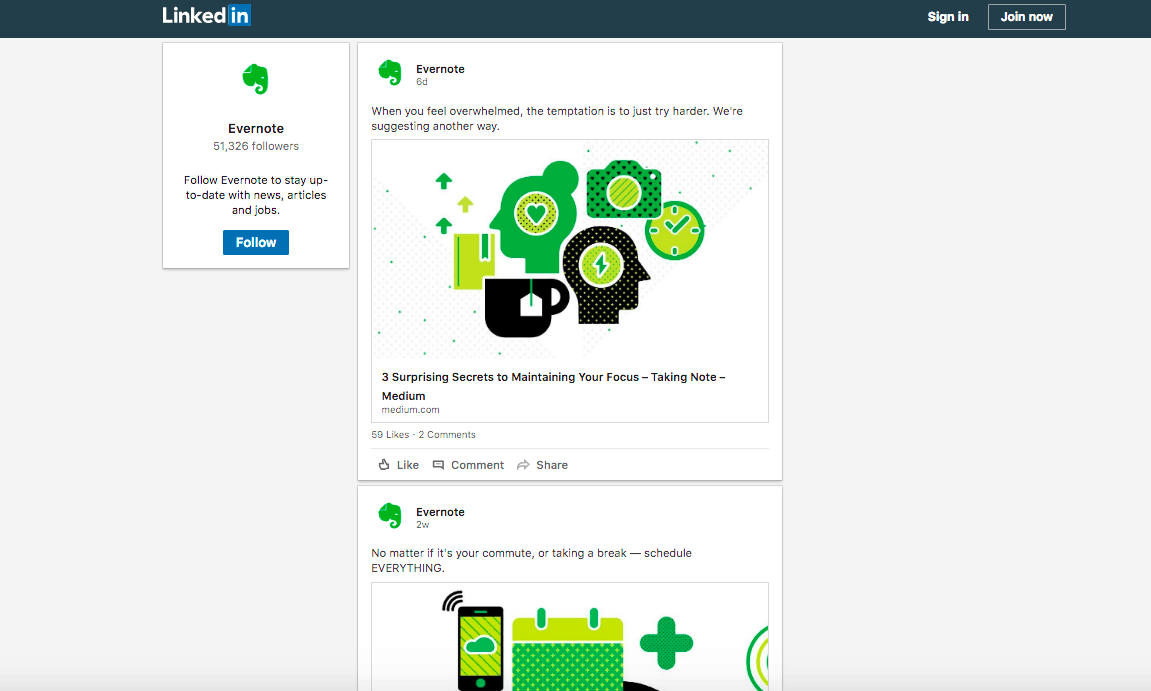 Regularly Post Engaging and Varied Content
When you post regularly, you continually build awareness around your brand, and establish yourself as an industry leader. Keep in mind the following tips when developing posts:
Focus on Rich Media: Not only are photos and videos more aesthetically appealing and likely to capture your audience's attention, but visual posts can also provide immediate insight into who you are and what you stand for
Expand Beyond Promotional Content: Remember to be a part of the larger conversation, do not just focus on your own brand, but also on topics relevant to your industry and products; this provides value to individuals and builds more meaningful relationships over time
Find Ways to Continue the Conversation: Your job isn't over after you hit "post;" make sure that you are monitoring any comments or mentions and providing thoughtful responses and personalized information
Post at Opportune Times: Be considerate about when you are posting your content; because LinkedIn operates on a feed, you want to be at the top when your audience is most likely to be online
Outdoor retailer Patagonia does a good job of joining the larger industry conversation, and showcasing what they stand for as an organization. By doing so, they are able to connect with like-minded individuals and provide added-value to current and prospective customers.
 
Utilize Showcase Pages
Showcase Pages are a relatively new offering from LinkedIn, which allow companies to highlight specific products, departments, or business initiatives. By doing so, organizations are able to more effectively segment their audiences, and better tailor their communications and targeting.
Keep in mind that Showcase Pages should really only be used by companies who are managing a number of different, disparate departments that target varied audiences. Unless your organization has a heavy stream of content, it would be better to keep all of your posts on a single, unified Company Page.
For example, this is a perfect opportunity for large and diverse companies like Adobe, which offers products such as Creative Cloud, Document Cloud, and Experience Manager. Each of these products will have a slightly different audience and featured content.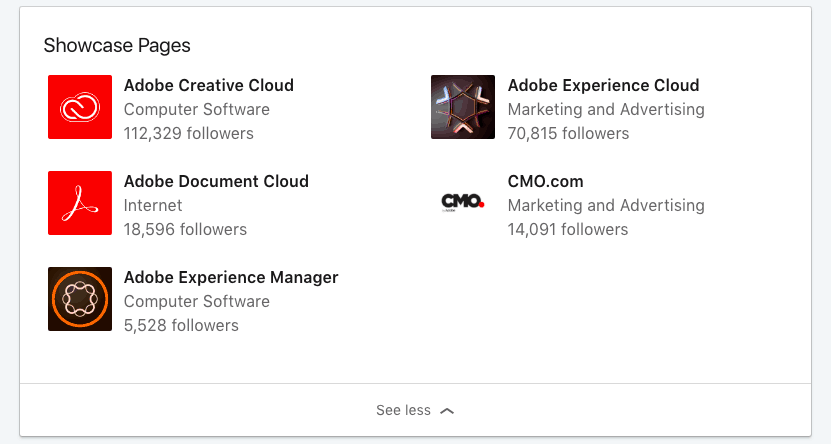 Monetize Your Page Through Analytics
LinkedIn has its own analytics feature, which can be used to target posts to certain demographics and sponsor posts when you want to increase your viewership and engagement. These analytics are designed to help you customize your content so that you'll get the best engagement levels possible. By knowing who is viewing vs. sharing your content, you can get a good sense of the types of posts that your audience finds most engaging and useful. Try out different strategies, monitor the results, and apply your learnings to future posts in order to strengthen your overarching messaging approach.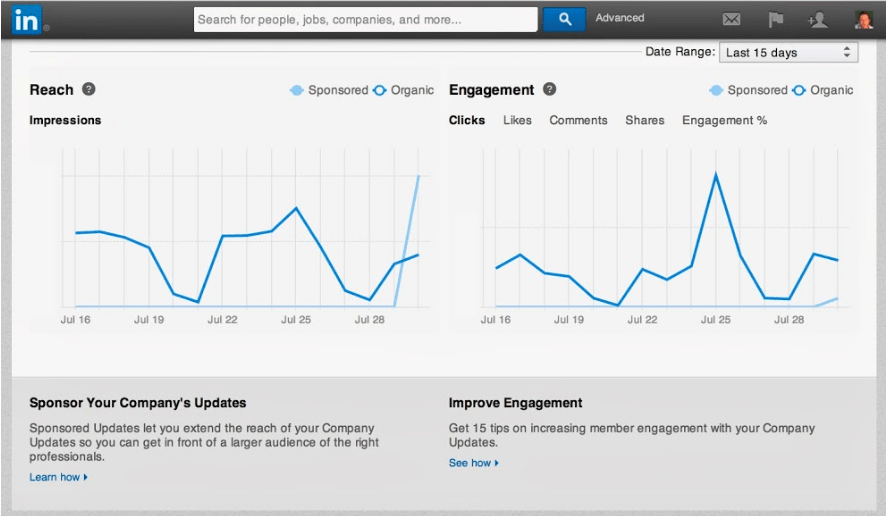 Start Boosting Your Engagement
LinkedIn offers a number of ways to establish your brand and engage with a large number of potential customers. And, while you are able to pay for a more robust business account, many companies will find that a free account can satisfy all of their business needs.
The most important thing that you can do is be aware of all of the offerings available to you, and be sure that you have the basics fully covered. By creatively and thoughtfully repurposing your content, you will help solidify your brand identity and much of your recruiting effort will be naturally taken care of. Given all of the potential, there's really no reason why you can't start increasing your engagement on this unique social media platform today.