your
business. By the end, you can be confident that you'll know which tool is the best fit for your social media management needs.
Our Top Picks for Sprout Social Competitors
Hootsuite – Gives you the best dashboard display where you can monitor activity, mentions, and keywords
Sendible – Presents white-label reports, which is great if you manage other businesses' social media
Buffer – Prioritizes simplicity and ease of use for both beginners and social media experts alike
SocialPilot – Provides the most value in terms of features, and at affordable costs
eClincher – Offers an overlooked and underrated social media solution for any social media marketer
What We Look For in the Best Alternatives to Sprout Social
Affordable Pricing: Sprout Social pricing can be aggressive (read: expensive), especially for budding businesses and startups. These Sprout Social alternatives offer affordable pricing so that – no matter the size of your business – you can adopt a social media management tool.
Effortless Posting: Posting and scheduling can be the most annoying part of social media marketing. These tools can handle curating, scheduling, and posting your social media content so you don't have to. Some even suggest the best times to post, to maximize awareness and engagement.
Simple Social Monitoring: There's more to social media management than posting. These tools help you monitor your brand mentions and listen to other chatter happening across social media that could be relevant to your communications strategy.
Ease of Use: Regardless of your social media marketing experience, your management tool shouldn't be complicated to use. These tools are simple to navigate – and if you have questions, you can use the stellar customer support.
#1. Hootsuite – The Tool with the Cleanest Dashboard
With scheduling, monitoring, content curation, analytics, and security capabilities, Hootsuite is one of the most versatile Sprout Social competitors on this list.
Hootsuite strives to be a one-stop shop
 for all your social media needs. It also provides a social ads platform, from which you can create, run, and monitor social media campaigns. One of Hootsuite's strengths,
according to its users
, is its
highly customizable dashboards.
Hootsuite allows you to custom build your social feeds based on what streams and networks you want to see. This helps you monitor your social media activity, brand mentions, certain followers, and specific keywords. You can remove or add these feeds with a single click, and you can also choose which "boards" to display in your reporting dashboard.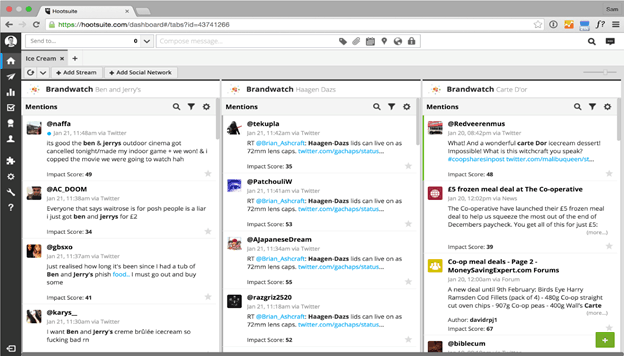 One downside? If you have dozens of networks and streams to monitor, this could lead to an overwhelming interface – if you don't know how to organize or manage it, that is. For this reason,
Hootsuite may not be the best fit for social media marketing beginners.
Hootsuite Features
Plenty of Integrations: Hootsuite offers 150+ integrations in its App Directory – 120 of which are free. With these you can connect to the tools you're already using and help consolidate your social media marketing efforts.
Employee Amplification: One of Hootsuite's most interesting features is its Amplify solution, which equips your employees to share company-approved content about your business and products or services.
Easy Keyword Monitoring: Open a keyword stream to monitor untagged mentions, track news and trends, or curate new content ideas from other social activity.
Bulk Posting: Use Hootsuite's bulk composer to schedule up to 350 social posts (with images) across multiple time zones. This tool can also help you plan and post campaign messages ahead of time.
| | |
| --- | --- |
| Connected accounts | Facebook, Instagram, YouTube, LinkedIn, Twitter, and Pinterest |
| Free plan or trial? | Limited free plan and 30-day free trial |
| Beginner-friendly? | Not so much |
#2. Sendible – The Best Tool for Agencies
Sendible markets itself as a social media management tool for agencies – claiming to "make your clients happy on social." The platform offers secure logins for your clients so they can check in on their social media; it also provides a dashboard view for each client so you can monitor their posts, follower engagement, and scheduled content, all from one place.
If you run an agency business, Sendible may be the perfect tool for you.
Another feature unique to Sendible is that, instead of charging by social profile,
Sendible bundles its "services."
Service are interactions with any social network, including posting, monitoring, and automation. For example, a Twitter Mention stream, Twitter Search stream, Instagram Post stream, and Facebook Profile stream would be four streams.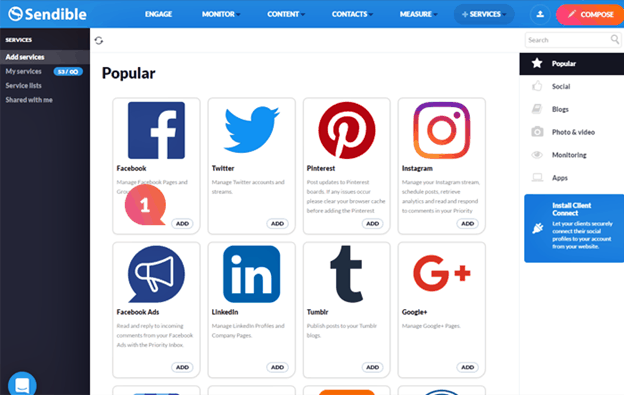 Depending on your social media needs,
you could run through your service budget pretty quickly.
The
Starter plan
allocates 12 services, the Traction plan allows 48, and the Growth plan provides 105.
Sendible Features
Intelligent Composition: When you compose new social posts, Sendible copies your original draft into each network tab. From there, you can hop in and customize each network's post – without having to leave the composition window.
White-Label Reporting: If your business manages social media for other clients, Sendible provides white-label reports that allow you to customize and brand your reporting and analytics.
Social Listening: Receive mention alerts via email, Slack, or Sendible and respond to comments from within the Sendible platform.
Simple Collaboration: Built with agencies and teams in mind, Sendible offers simple, easy-to-use collaboration tools and workflow approval processes, so everyone on your social teams can participate in your social media marketing.
| | |
| --- | --- |
| Connected accounts | Facebook, Twitter, Instagram, LinkedIn, and Google Posts to Google My Business |
| Free plan or trial? | 30-day free trial |
| Beginner-friendly? | Yes |
#3. Buffer – The Tool That Gets Right to the Point
Originally released as a simple social media management scheduling tool, Buffer has recently rebranded to be a social media management platform that
offers three separate tools: Publish, Reply, and Analyze
.
(I'll talk about Publish in this post.) Even with its software updates and additions,
Buffer Publish
is still
the simplest tool on this list.
Its scheduling platform is very easy to use and navigate, and it doesn't offer any extra features such as in-depth social listening or detailed analytics. To schedule content, you simply open the Queue, add your post, and schedule it for whichever networks you'd like to publish on.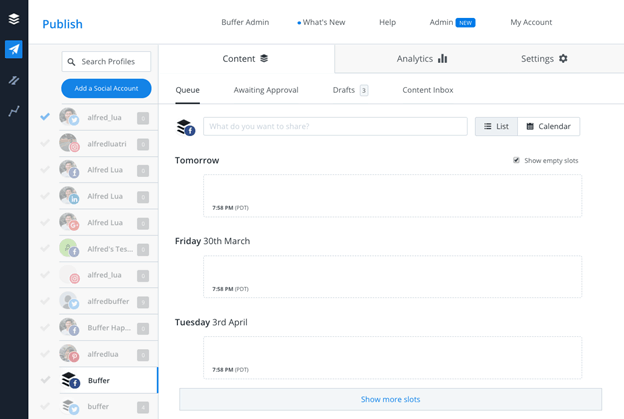 Buffer's lack of features
has been criticized by some users
and hailed by others depending on their business needs. Buffer's simplicity is what makes the platform so easy and beginner-friendly. However, if you're seeking a comprehensive social media management tool,
Hootsuite
or
SocialPilot
might be better suited for you.
Buffer Features
Custom Link Shortener: Buffer prevents your hyperlinks from taking up precious space in your social posts by providing a custom link shortener – which you can also use to track your link clicks.
Suggested Posting Times: When posting, Buffer suggests the best time of day for your posts to be seen, which can be helpful for social media marketing beginners.
Calendar View: Toggle between week or month views to see your published and scheduled posts, see basic metrics on published posts, and edit your posts. This feature is especially great if you're a more visual learner.
Retweet Scheduling: Re-sharing content (and engaging with other users) is almost as important as posting original content; Buffer recognizes this and allows you to schedule your retweets in advance so you don't have to retweet content live.
| | |
| --- | --- |
| Connected accounts | Instagram, Facebook, Twitter, LinkedIn, and Pinterest |
| Free plan or trial? | Limited free plan and up to a 14-day free trial (depending on plan) |
| Beginner-friendly? | Yes |
#4. SocialPilot – The Tool with the Most Value
SocialPilot is one of the leading social media scheduling and automation tools on the market. And while there isn't a
free
plan,
the plans are pretty affordable
 and give you lots of flexibility
– SocialPilot's cheapest plan allows up to 25 connected social networks and three users. SocialPilot also
makes it easy to post in bulk,
i.e. across groups of Facebook pages or social networks. If your business runs a handful (or more) of pages and networks, such as for franchises, this could be a helpful feature. One negative? You can't edit posts that you replicate and schedule, so beware of typos the first time around!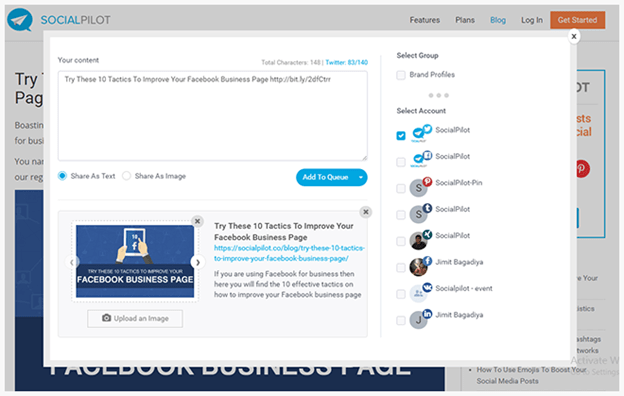 SocialPilot lacks the equivalent social listening or monitoring solutions provided by the other alternatives to Sprout Social mentioned in this list. Nevertheless, it does provide a Social Inbox that enables you to address messages, comments, and posts across all your Facebook pages, including those not originally posted via SocialPilot. (Please note that the functionality of Social Inbox is exclusive to Facebook.)
SocialPilot Features
Large Post Queue: Although SocialPilot limits your daily social posts, you can schedule thousands of future posts in your queue.
24/7 Customer Support on Weekdays: Regardless of your plan, SocialPilot provides email, chat, mobile app, and phone support 24 hours a day, five days a week, for all time zones.
Easy-Add Users: If you need someone else on your SocialPilot account, simply send them an email to add them as an admin. There's no need for multi-step credentials or lengthy approvals.
Bulk Posting: SocialPilot allows you to post up to 500 posts (depending on your plan) by simply uploading a CSV or TXT file.
| | |
| --- | --- |
| Connected accounts | Facebook, Twitter, LinkedIn, Instagram, Pinterest, and Google My Business |
| Free plan or trial? | 14-day free trial |
| Beginner-friendly? | Yes |
#5. eClincher – The Tool That's Often Overlooked
eClincher is probably the least-known social media tool on this list. However, the software
has consistently been highly recommended
and was even voted the most impactful in terms of ROI.
eClincher provides a multitude of social media solutions
– unlimited publishing and scheduling, a social inbox and CRM, social monitoring and listening, content curation, and detailed reporting. From one screen, you can schedule and post your content, look at your calendar view, and access your different brand or social accounts. One thing that eClincher does really well is its posting and scheduling process. You can bulk upload content or pull content from the Chrome extension and schedule it to automatically post. eClincher has also been
reported as being highly reliable
to
actually
send out your scheduled posts – and keep your accounts connected in the process. (This is something that some users have had problems with using tools like Buffer and Hootsuite.)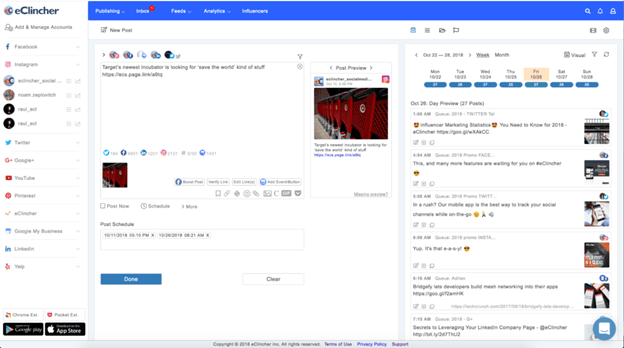 With a more "dated" interface, eClincher isn't the prettiest or easiest to navigate, especially for beginners. Thankfully, the software
provides fantastic 24/7 live support
for all users, regardless of your plan level.
eClincher Features
Live Content Suggestion: eClincher curates and suggests relevant and high-quality content (images, copy, and link ideas) for you to post, which can save you time and effort while helping you connect with your audience.
Central Comment Hub: Check, monitor, and respond to all of your social comments and messages in one location – even for posts that weren't scheduled with eClincher.
Pocket Integration: Link your Pocket account to save content you'd like to post on social media – and access this content from within eClincher to easily curate and share posts.
Saved Replies and Hashtags: Save pre-written replies or hashtags to use when posting or replying to messages, which provides a quick and consistent way for you and your team to post on-brand content.
| | |
| --- | --- |
| Connected accounts | Facebook, Twitter, Instagram, Pinterest, LinkedIn, YouTube, and Blogger |
| Free plan or trial? | 14-day free trial |
| Beginner-friendly? | With its customer support, yes |
Time to Meet Your Social Media Match
Whether the Sprout Social price isn't one you're willing to pay or the software is too complicated or missing features you need for your business, there are plenty of alternatives on the market. It's up to you to figure out which one of these solutions is best for
you
. If you're a budding business or startup with a small budget, visit
Buffer
or
SocialPilot
. These solutions provide lots of value for less
plus
excellent customer support.
eClincher
is a fantastic solution for businesses looking for posting reliability and content suggestions. If you're a larger business with multiple teams or team members that are managing dozens of networks, check out
Hootsuite
. Or, if your business manages social media for
other
businesses,
Sendible
is your best bet. Check out the table below to better understand how these tools may help your social media needs – and find your match.
| | | | |
| --- | --- | --- | --- |
| | Main Advantage | Main Disadvantage | Best for…  |
| Hootsuite | The customizable dashboard allows you to monitor whatever streams you want | The interface can be a bit clunky or confusing for beginners | Larger businesses with sizable teams and multiple networks |
| Sendible | The composition process makes it easy to customize messages for each network from one window | The pricing is based on "services," which can limit you depending on how many networks you manage | Agencies or businesses who manage social media for other businesses |
| Buffer | The very simple scheduling and posting processes | It's not as feature-rich as other Sprout Social alternatives | Budding businesses that don't need many features |
| SocialPilot | Valuable features for not-so-expensive pricing | Lacks monitoring and listening solutions | Businesses with a small social media marketing budget |
| eClincher | Its fantastic content curation solutions | It was likely designed by an engineer, not a designer – so the UI and UX are a bit lacking | Companies who want their software to help with generating content ideas |