You don't want to waste your time – or money, for that matter – on a tool that won't get your content posted when you need it to be.
We've done extensive research and testing on our own social media accounts to bring you this list of the six best social media scheduling tools. We've included both
free tools and paid ones.
Some tools offer a whole list of other benefits, like analytics and collaboration features. By the end of this article, you'll be able to choose the tool that fits your needs – and frees up your schedule – in no time.
Benefits of Social Media Scheduling
Before we get to the actual tools, let's look at some of the key benefits of social media scheduling. The right tool will let you do all this:
Post content to multiple social media platforms from a single interface
Save time by scheduling social media content in advance
Get analytics on social media content, so you can improve your social presence
Improve your engagement rates by always posting at the best times for your audience
Save money on social media management, in the case of free scheduling tools
Ideally, the tool you use will support all the key platforms where you have a presence. And if you're using a free social media scheduling tool, you'll be able to upgrade easily as your business grows.
Tips for Success with Social Media Scheduling
When first getting started with social media scheduling, one of the most important things you'll need to decide is when to publish your posts. The best time to post will depend on where your audience is located. For more information, read our guides on how to schedule posts on
Facebook
,
Twitter
, and
Instagram
. It's also important to be disciplined with your social media routine.
Set aside a time each week to schedule content
in advance.
Once that's done, you don't have to worry about it till your next scheduling slot. Writing content in bulk also helps make sure that you keep a consistent brand voice. There's one more tip for success with social media scheduling apps. Know that each platform has its own best practices. So, even though you'll be using a social scheduling tool,
you'll need to tweak your content so it's right for each social media platform.
How We Evaluate Social Media Scheduling Tools
Whether you're looking for the best Instagram scheduling app, a Twitter scheduling tool, an app to help you post to Facebook or LinkedIn, or all of the above, you'll find something in our roundup. Here's what we looked for:
Platforms: Which social media sites are supported? Most businesses and bloggers want to be able to post to Twitter, Facebook, LinkedIn, and Instagram, as well as other social media sites.
Ease of Use: Is the tool user-friendly? How easy is it to get started scheduling content?
Analytics: Does the tool collect data on the success of your social media posts to help you to improve your content strategy?
Price: What's available for free and what do you get when you pay more?
Hootsuite – The Best All-In-One Tool
Hootsuite is one of the most popular social media scheduling tools. In fact, it does much more than social media scheduling: it's an all-around social media management dashboard. Not only that, but it has a
free plan.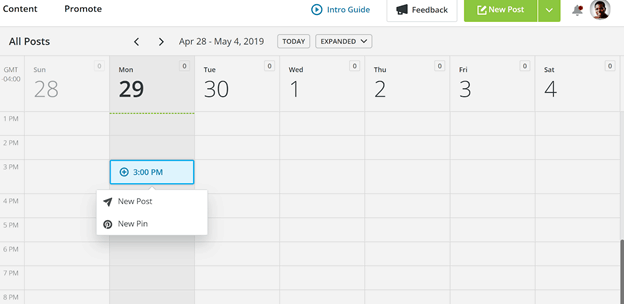 Social Media Platforms
Hootsuite
supports Twitter, Facebook, LinkedIn, Instagram, Pinterest, and YouTube channels. You can also connect to WordPress through Zapier. It's pretty simple to add a new network and it only takes a few seconds.
When scheduling, you can determine what content goes on each platform, including text, images, and video.
Ease of Use
While Hootsuite gets
good reviews
and many people swear by it, the interface can feel a little dated compared to other tools. You can add content in the Planner or Publisher tool and it gives a useful preview of what you're about to schedule. Once that's done, you can manage content in the content calendar via drag and drop. You can manage your social media streams and even
respond to content without leaving Hootsuite.
This makes it a great all-in-one tool that can save you a ton of time.
Analytics
A killer feature in Hootsuite is that it
provides
analytics
on all of your social posts
, not just those posted via the app. That means it's easy to get an at-a-glance view of how your social media strategy is working.
Price
Hootsuite's paid plans aren't cheap, but it does offer a
30-day free trial.
If you're a blogger or a solopreneur, the basic Professional plan will probably be enough for your needs – it lets you have ten social media profiles and unlimited scheduling. The free plan is quite limited, but you can integrate three social media profiles and schedule 30 messages ahead of time.
Sendible – A Social Reporting Powerhouse
Sendible, a
user favorite
, is a social media management tool designed for agencies, though there are also plans for solopreneurs and small businesses.
It includes a lot of team features to save you time, such as task assignment and custom approval workflows. 
There are also features that help boost collaboration, like a shared content library and a social inbox.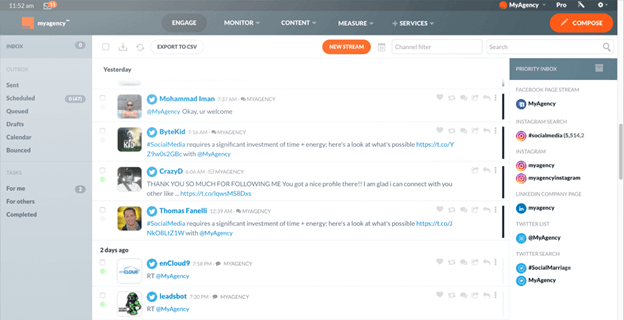 Social Media Platforms
Sendible
supports posting to Twitter, Facebook, Instagram, LinkedIn, Pinterest, YouTube, Facebook Ads, and Google My Business. But that's not all. It also works with blogging platforms including WordPress, Medium, Blogger, and Tumblr. This makes it an all-around social media scheduling and content marketing management tool.
Ease of Use
Sendible has a
user-friendly interface for managing and tracking content.
It also features a social inbox which allows you to easily see all the content you are tracking in a single place.
You can schedule content to multiple sites at once,
though it's not great at showing previews. Additional features that make Sendible a winner include
sentiment analysis
so you can see how people feel about your brand, and
social listening
so you can track what's being said, and respond instantly. You can even get help with content creation, and order social media posts or original blogs that are SEO-friendly.
Analytics
When it comes to reports,
Sendible really shines
. Just click a pre-built report template and populate it with your own data. That makes it easy to track metrics about posting frequency, posting success, engagement and much more. For agencies, this means you can
report quickly to clients on social media success.
Price
Plans start at a low monthly rate for a single user with 12 social network services and unlimited scheduling. But if you want the excellent reporting features, you'll have to upgrade to one of the more expensive monthly plans. All plans come with a
30-day free trial.
Sprout Social – Great for Brands
With functions for social media engagement, social listening, social media publishing, and social media analytics,
Sprout Social
gets
excellent reviews
, and we can see why. All of these features make it a great choice for growing brands looking to increase their reach.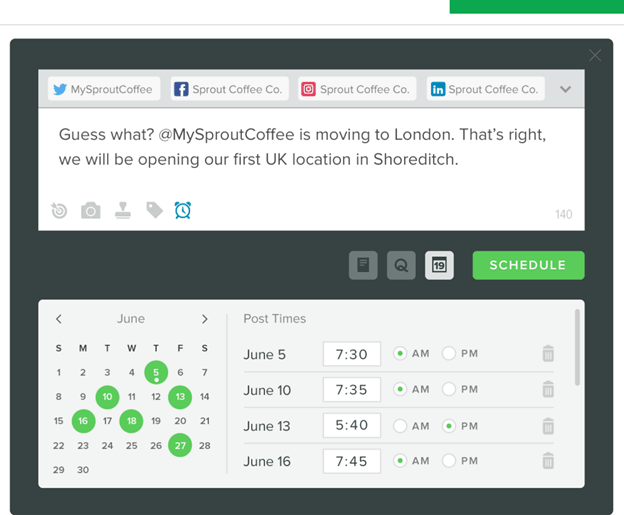 Social Media Platforms
You can schedule content to Twitter, Facebook (Pages and Messenger), LinkedIn, Instagram, and Pinterest.
The basic plan only allows you to schedule to five social profiles
at a time.
If you need to manage multiple social profiles in your account per platform, you'll need to either purchase additional profiles or upgrade your plan.
Ease of Use
With Sprout Social, it's easy to publish posts to multiple networks at the same time and you can quickly upload photos and videos. A cool feature is that you can schedule the first comment on an Instagram photo along with the post. This makes it easy to add more hashtags to help people find your content and encourage them to engage. One time-saving feature is a
smart inbox where you see all incoming messages on every platform.
You can use on-screen filtering tools and tags to determine what you see at any given time. Plus, it includes
monitoring and reporting tools
, and the ability to do paid Facebook promotions.
Analytics
Sprout Social includes a number of
easy-to-customize report templates
and you can also build your own for in-depth reporting. This is a huge timesaver if you need to report on social media to other people.
Price
There's no getting away from it: your wallet is going to take a hit if you use this tool. Sprout Social's standard plan is more expensive than some of the professional plans on this list, and you'll need to pay even more if you want in-depth reporting. The good news is you can try before you buy with a
30-day free trial.
eClincher – Useful Integrations for Content Creation
eClincher is one of the more
affordable business social media scheduling
tools around, which makes it a
popular choice
. Intended for businesses, brands, and agencies, it has a number of useful features that can save you a ton of time.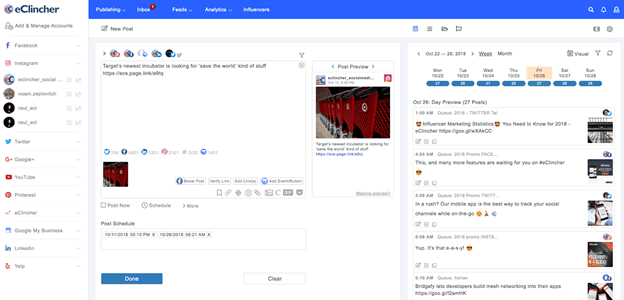 Social Media Platforms
In addition to Facebook, Twitter, Instagram, Pinterest, and LinkedIn,
eClincher
supports Google My Business and YouTube. Plus, you can manage Google Analytics and link RSS feeds.
Ease of Use
With eClincher, it's easy to create and schedule content and see where and when it will be posted via a social content calendar. You can also
create automated social media posts
by integrating quality content sources, and your own blog, via RSS. eClincher integrates with Canva, so it's simple to create image content for quick sharing.
Analytics
Analytics functionality helps you track brand mentions and understand both content and profile performance. You can monitor your website traffic too. And you can report on social content with built-in or customizable reports.
Price
Compared to other tools on this list, eClincher is pretty affordable
, and offers a lot of functionality for the price. You can manage 15 social media profiles and benefit from a social inbox, social CRM, auto-posting, and
analytics
. For more in-depth analytics and competitive intelligence, you need to upgrade. This tool is worth considering for bloggers who are looking to upgrade or small businesses with a limited budget. All plans come with a
14-day free trial.
Buffer – The Best Free Social Media Scheduling Tool
While
Buffer
started out as a Twitter scheduling tool, it's since expanded so you can
schedule content across the social web.
In my opinion, it's also one of the best Instagram scheduling apps around.
Reviewers seem to like it too
.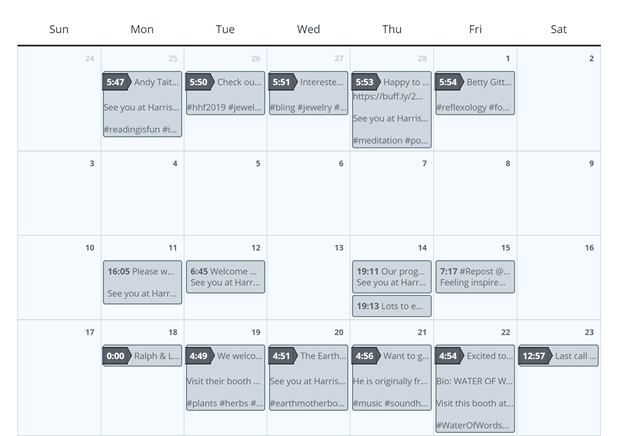 Social Media Platforms
Buffer enables posting on Twitter, Facebook, LinkedIn, and Instagram. However, posting on Pinterest is exclusive to the upgraded versions, as the free version does not support Pinterest. Upgrading the tool allows the addition of multiple accounts for each social media platform.
Ease of Use
Buffer works best when you set preset your scheduling slots. Once you have that set up,
it's
extremely easy to use Buffer to schedule social content.
Just click on a slot in your calendar and you will get a single screen where you can choose the platforms, upload content, and share or schedule it. You can easily upload images, video, and text, though you can't post image galleries directly to Instagram. Buffer also integrates with multiple other online tools, and has a Chrome extension so you can
schedule content to your queue the minute you find it online.
Analytics
Buffer provides basic
analytics
on the content you post via the platform, but not a lot on external content. If you need more in-depth analytics you'll have to upgrade to a pro plan.
Price
The free version of Buffer makes
a great starting point for social media scheduling.
The paid plan is also super affordable, and allows you to post to eight social media accounts and schedule up to 100 posts per account.
SocialPilot – Quickly Create Your Social Media Schedule
SocialPilot bills itself as an
automated social media scheduling tool for small teams.
That means it includes a lot of collaboration features, like different administrative privileges and a custom approval process.
The reviews are good
, but let's see how its scheduling features compare to other social media scheduling tools.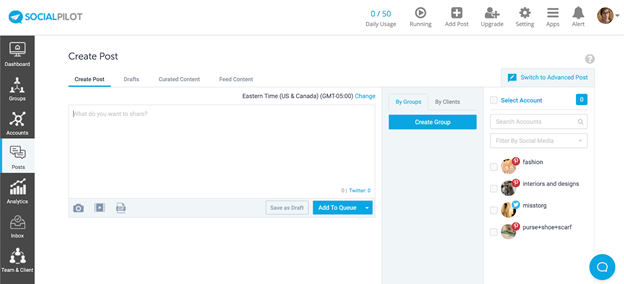 Social Media Platforms
In addition to Twitter, Facebook, LinkedIn, Instagram, and Pinterest,
SocialPilot
supports VK, Tumblr, and Google My Business. This tool allows you to manage up to ten social media integration on its cheapest plan.
Ease of Use
With SocialPilot, it's easy to schedule and view content for a range of social media platforms. Once scheduled, you can easily manage content via a drag-and-drop calendar interface. A really useful feature is the ability to
tag users on different social media platforms.
This is an excellent way to increase engagement with your content and expand your social reach and audience – something you probably spend way too much time on already!
Analytics
SocialPilot provides
analytics
on all your posts, even those that haven't been posted via the tool. This makes it easy to
get insights on your audience, influencers, and content posting times,
so that you can continually tweak and improve your social media posting strategy.
Price
This is one of the most affordable tools available, and individual plans will fit most budgets. However, you'll have to upgrade for more in-depth analytics. There's also a
14-day free trial;
no credit card required.
So, Which Social Media Scheduling Tool Should You Choose?
You want a tool that can help you save time, but that depends on your to-do list. Here are our recommendations:
For bloggers who are starting out and just need to schedule to Twitter, Facebook, Instagram, and LinkedIn, Buffer is a good choice.
For business users, SocialPilot is an affordable way to integrate posting to Google My Business.
We've also put together a quick comparison table, if you need a little extra help.
| | | | | |
| --- | --- | --- | --- | --- |
| Tool | Supported Platforms | Ease of Use | Analytics | Free Plan Available?  |
| Hootsuite | Twitter, Facebook, LinkedIn, Instagram, Pinterest, YouTube, WordPress | Interface seems dated, but social content preview is great | Analytics provided for all your social content | Yes |
| Sendible | Twitter, Facebook, Instagram, LinkedIn, Pinterest, YouTube, Facebook Ads, Google My Business WordPress, Medium, Blogger, Tumblr | User-friendly interface; also includes social listening and sentiment analysis | In-depth reporting available | Free 30-day trial (no credit card required) |
| Sprout Social | Twitter, Facebook, LinkedIn, Instagram, Pinterest, Facebook Messenger | Easy to use; includes ability to post first comment to Instagram | Includes customizable report templates | Free 30-day trial (no credit card required) |
| eClincher | Facebook, Twitter, Instagram, Pinterest, LinkedIn, Google My Business, YouTube, Google Analytics, RSS | Content creation is easy; includes automation via RSS | Includes customizable reports | Free 14-day trial (no credit card required) |
| Buffer | Twitter, Facebook, LinkedIn, Instagram, Pinterest (no Pinterest in free version) | Easy content creation | Basic in free plan | Yes |
| SocialPilot | Twitter, Facebook, LinkedIn, Instagram, Pinterest, VK, Tumblr, Google My Business | Easy content creation; includes tagging on different platforms | Analytics provided for all your social content | Free 14-day trial (no credit  card required) |