There are a number of really awesome social media management tools that you can use to save time and improve your reach
. Sure, Hootsuite is great (
read our Hootsuite review here
). So why did we write this article about alternatives? Having used the platform for years, we are familiar with some of Hootsuite's biggest drawbacks:
Hootsuite gets expensive quickly, especially the Hootsuite pricing structure for teams
Hootsuite's interface can feel a bit clunky
Hootsuite's Professional plan lacks some advanced features
There are other awesome options out there that are worth considering. Let's take a look.
Hootsuite Alternatives – Our Top Picks:
Buffer – Affordable, well-organized and easy to use
Sendible – Great for agencies, with team collaboration tools
Sprout Social – A powerful dashboard and comprehensive analytics
eClincher – CRM integration and custom reports
SocialPilot – Clean and simple, allowing you to manage up to 50 social profiles on a single dashboard
What We Look For in the Best Alternatives to Hootsuite
We didn't just randomly look at Hootsuite competitors. Instead, we took a set of criteria and examined a short list of the best social media management tools objectively. And we didn't just read about the tools.
We actually used them to see how they work in real life
. Here's what we were looking for:
Affordable pricing plans: You shouldn't have to take out a second mortgage to manage your social media. We looked for free Hootsuite alternatives as well as paid social media management tools.
Streamlined interface: We liked the '90s, but we want our tools to look like they were designed in this decade.
Manage multiple channels as easily as possible: Each platform has different needs. You need a tool that lets you make the most out of all of your social media accounts.
Analytics: Even if you aren't a numbers nerd, your boss probably is. We looked for tools that make it as easy as possible for you to look like a rock star in meetings.
Ability to easily collaborate: We love our co-workers. Most days. But collaboration needs to be easy. And that starts with the tools we use.
Buffer – Affordable for Teams
Yes, we breathed a sigh of relief when we first opened
Buffer
. The calendar interface matches the way we organize our lives.
It is much easier to see how your posts flow and work together with a day- and time-based calendar rather than Hootsuite's confusing columns
. When it comes to Hootsuite vs Buffer, Buffer is much more affordable – both for the single-user plans (almost half the price) and plans for multiple team members.
The biggest drawback to Buffer is pretty big – you can't reply to customers in the tool
. Which means that you have to exit the tool and go back into your social media channels to reply. And you can't see mentions, replies, or comments in the feed. The other issue is that Buffer only works with Twitter, Facebook, LinkedIn, App.net, and Google+ directly. If you want to connect with YouTube, you'll need to install a third-party automation tool like Zapier. We recommend Buffer for single users or teams that are on a budget and want an easy-to-use tool. And for businesses that don't get a lot of interaction from their followers. Enterprises probably want to pass over Buffer because the reporting features aren't quite on par with most large business needs.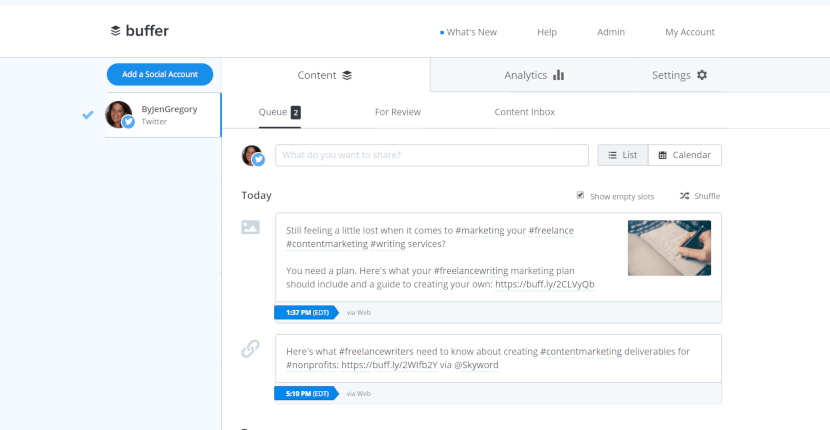 Scheduling across channels: Sometimes the same message works for all channels. And Buffer lets you do this without creating a new message. But you can also modify the message for different channels.
Pablo makes beautiful pictures: Images matter. And can increase your shares. Pablo is a free app integrated into Buffer that makes it really easy to design your own snazzy images.
Automatically schedules posts based on each channel: Just create the post, and Buffer will suggest the best time for your audience. No setting post time for each piece of content. Yes, you can do this with Hootsuite, but we much prefer it organized by channel instead of having all channels grouped together.
Sneak peek of Buffer Analyze available: Buffer is closing the gap between it and Hootsuite by upping its analytics game. Sign up for early access to the new tool and get pretty reports and geek out with all the data.
| | |
| --- | --- |
| Free plan available? | Yes (click here) |
| Social media channels supported | Twitter, LinkedIn, Facebook, Instagram (all plans), Pinterest (on pro/business plans only) |
| Customer support channels | Help Center (knowledgebase), email, Twitter |
| Free trial for paid plans? | 7-day trial of Pro Plan, 14-day trial of Business Plans |
Sendible – More than Just Social Media
Social media is just part of your digital marketing – but it's an important part. You have blogs to publish, content on Medium to write, and maybe even Tumbler posts. With
Sendible
, you can schedule everything you need to push out – blogs and all.
This way, you can get a full picture of the information that your audience sees to create an entire campaign
. Many tools track mentions of your company, so you only see posts about your company if you are tagged. One of our favorite parts of Sendible is that you can track keywords as well, meaning you can spot unhappy customers who are sharing on social media that you might otherwise have missed. And you may very well be able to diffuse the situation and gain new fans from how you handle those situations. The only issue we had was with pricing.
Instead of the typical per-user, per-account model, you pay per service
. Sendbile defines a service as "an interaction with any social network account such as Facebook, Twitter, or Instagram. This includes posting, monitoring keywords, and automation services like the RSS Auto Poster." So yes, this can add up fast. And be confusing.
If you are an agency or manage social media for multiple clients, then Sendible is the best tool we looked at by far
. The dashboard gives you a full look at all the accounts you are managing. Not to mention, you have all the information that's being said online about your client. The team collaboration tools also lend themselves to the agency model or collaboration with clients.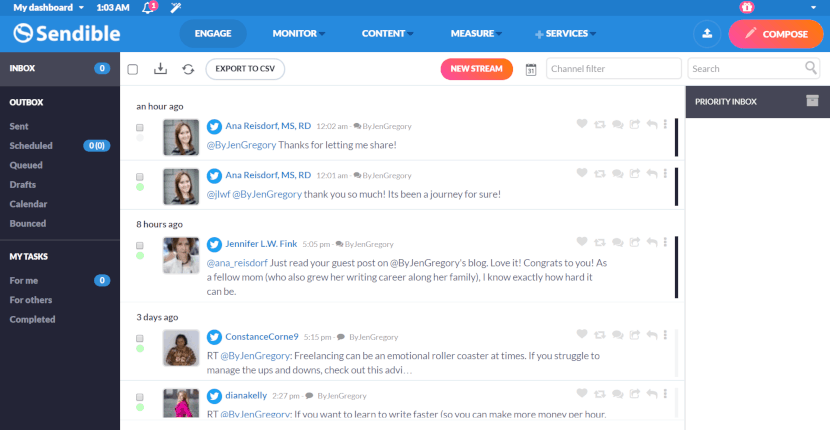 Detailed reports and analytics: We are going to try not to gush, but it's possible we won't succeed. We really like the Sendible reports. And the data. And how pretty they are. Everyone in your office will think you are a designer in your spare time. Don't worry, we won't tell.
Collaboration tools: Sendible has everything you need to get stuff done with a team – the ability to assign conversations to other departments, assign tasks, approve other team members' posts, plus you'll have detailed access control.
Track all mentions of your client or brand: The dashboard shows mentions beyond social media. You can see mentions in the news, on blogs, and even in comments on other posts. You can get a full picture into customer sentiment about your brand.
Push notifications on mobile: Social media doesn't stop when you leave the office. Set up the Sendible app to send push notifications of mentions so you can respond right away and from wherever you are at the time.
| | |
| --- | --- |
| Free plan available? | No |
| Social media channels supported | Twitter, LinkedIn, Facebook, Facebook Ads, Instagram, Pinterest, Google My Business, YouTube |
| Customer support channels | Knowledgebase, video tutorials, and free course; support via email only |
| Free trial for paid plans? | 30-day trial on all plans |
Sprout Social – Best-in-Class Dashboard
We looked at a lot of dashboards. And specifically compared Sprout Social vs Hootsuite.
But no question Sprout Social is our favorite
. It's just nice to look at, simple, and easy to use. But that doesn't mean it's basic. It's not. Not at all. It is one of the higher priced options that we looked at, even more expensive than Hootsuite. For the price tag, it had better be powerful – and it is. Only second to the dashboard is the
analytics
.
Lots of metrics (and the ones you care about), a clean design, and easy-to-customize reports
. Oh, and you can even add your client's logo to the report, which is a cool feature for agencies. While it does come at a higher cost, you can save money by not purchasing a separate CRM tool. Sprout Social includes a CRM tool, which makes sense to us. Social media is really a sales and support tool these days. And by viewing social media management as customer management, you take service and sales to a much higher level.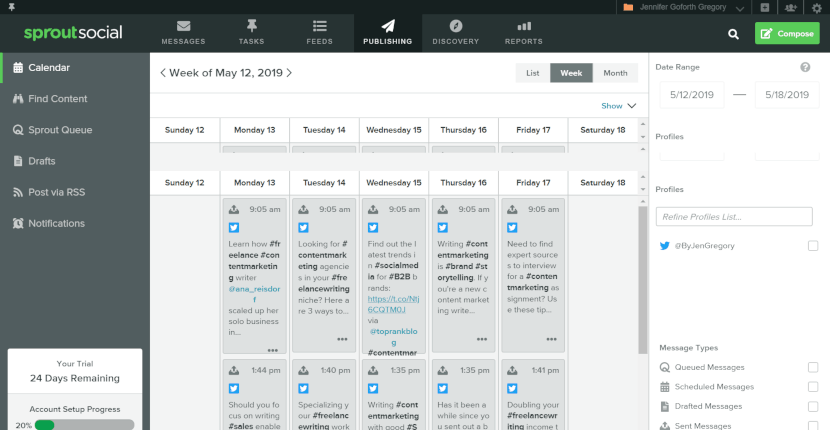 Sprout Social is probably best for companies with a single social media manager or the ability to share an account, because you pay per user for every plan. And this adds up quick. To get the more advanced features, like detailed analytics, scheduling for optimal post times, and content tagging, you have to buy one of the top two plans. You may also want to look for another tool if Facebook or LinkedIn Groups are a big part of your strategy – Sprout Social doesn't support these.
Built-in image editor: Unlike other tools, you don't need to launch a separate app. You can do everything you need to with your images right in Sprout Social.
Help desk Integration: With a cheap and simple integration, you can connect Sprout Social to Zen Desk and other help desk tools.
Listening tools: While most tools offer listening, we found Sprout Social's ability to create custom listening queries to be super easy. And we love how the tool organizes listening with Sprout Love and Sprout Complaint categories.
Workflow tools: It's easy to work with your team on Sprout. With the tags, tasks, and filters, you can make sure all messages get responses – without having to be the one who does it all.
| | |
| --- | --- |
| Free plan available? | No |
| Social media channels supported | Twitter, LinkedIn, Facebook (Pages and Messenger), Instagram, Pinterest |
| Customer support channels | Knowledgebase, webinars, and support via phone, online request form, and email |
| Free trial for paid plans? | 30-day trial on all plans |
eClincher – Combines Social Media with CRM
You may not have heard of eClincher – it has less name recognition than some of the others we've talked about. But it definitely should be on your list to check out.
eClincher
has a lot of similarities to Hootsuite, but with some more functions. eClincher is easy to use. Very easy. We liked the Smart Queues and, even more, the ability to organize posts based on category.
This way, you can balance the sharing of your own content while easily promoting and sharing other people's content
. Our favorite features include automatic notifications and CRM integration. We also liked the eClincher price – especially for its top plan, which includes unlimited profiles and management for less than other similar tools, making this a great social media management tool for agencies.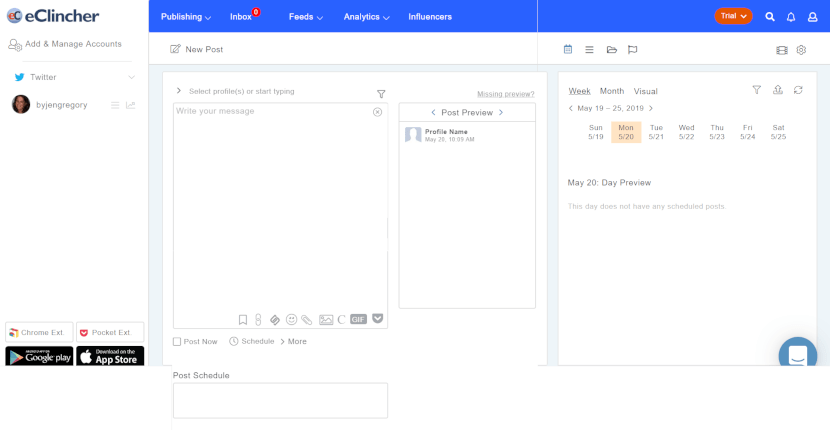 And while we haven't used the support services, we were blown away by the praise
. Almost every review we read – from both sites and regular people – mentioned the support. It does more than just help users solve their problems, it listens so that it can add features or fix issues in the future.
Suggested content feeds: Finding great content to share is time-consuming. eClincher makes it easy to search for new sources using keywords. And once you find interesting stuff, it's super easy to share – just create a post right from the source.
Custom reports: Only want specific analytics? Just drag and drop what you need into a report. And then add a logo to the top.
Media library: It's easy to store your images and media on the dedicated cloud. This makes it a breeze to create posts on your mobile device.
Sniply and Pocket integration: Both of these tools save you time. With the simple integrations, you can create custom pop-ups to drive more traffic to your site and save content as you go, for posting later.
| | |
| --- | --- |
| Free plan available? | No |
| Social media channels supported | Facebook, Twitter, Instagram, LinkedIn, Pinterest, Google My Business, YouTube, Yelp, Google Analytics, RSS |
| Customer support channels | 24/7 live chat support |
| Free trial for paid plans? | 14-day free trial on all plans |
SocialPilot – Simplifies Scheduling of Multiple Channels
SocialPilot updated their interface last year, and we like it. Clean and simple. We found this one pretty easy to use – not as simple as Sprout Social, but still up and running pretty quickly. This tool is similar to Hootsuite, but makes it much easier to schedule posts, which is the main reason you use a social media management tool in the first place. Instead of only being able to schedule a post in multiple accounts at the same time (like you do with Hootsuite),
you can schedule a single post for different channels at different times
. However,
SocialPilot
offers scheduling for fewer channels than some tools, which may limit its value for some companies. The biggest downside for SocialPilot is that it doesn't tell you best posting times, which is a feature in most of the other tools we tested. But the bulk scheduling options were the best we found. You just create a TXT file (you can also use a CSV file) – and we could do up to 500 at one time. If you are doing lots of posts and want to bulk schedule, we highly recommend SocialPilot.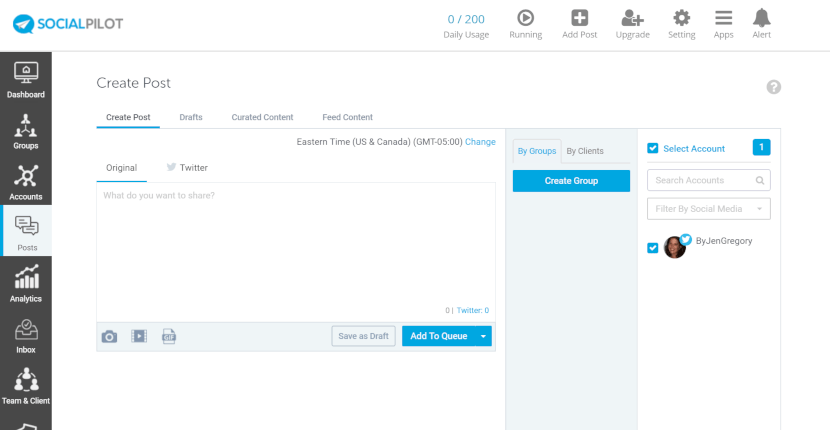 Manage up to 50 social profiles: SocialPilot lets you manage as many as 50 different social profiles on multiple channels from a single dashboard.
Social inbox: You can reply to messages and comments from a single inbox.
Content curation: Once you set up alerts, the tool will find relevant content and deliver it straight to your inbox.
Browser extension: Whenever you find content you want to share, just click the browser and create the posts from wherever you are – saving loads of time.
| | |
| --- | --- |
| Free plan available? | No |
| Social media channels supported | Twitter, LinkedIn, Facebook, Pinterest, Google My Business, Instagram |
| Customer support channels | Knowledgebase and online request form |
| Free trial for paid plans? | 14-day free trial on all plans |
Picking the Right Tool for You
You have numerous tool options to choose from, and they all perform similar functions. Regrettably, we couldn't locate a single tool capable of fulfilling all our desired and feasible requirements. So that means you will have to make some tradeoffs. Think about your current social media management needs and what is most important to you. Then consider your budget. By going through the different Hootsuite alternatives compared to your list, you can then determine which one is closest to a perfect match. Here's a quick overview of the tools we tested to make it as possible:
| | | | |
| --- | --- | --- | --- |
| Tool | Analytics | Content Curation | Platforms Supported |
| Buffer | BufferAnalyze, separate product for additional cost, currently in early release | No | Twitter, LinkedIn, Facebook, Instagram (all plans), Pinterest (on pro/business plans only) |
| Sendible | Social listening tools | Content Recommendation engine | Twitter, LinkedIn, Facebook, Facebook Ads, Instagram, Pinterest, Google My Business, YouTube |
| Sprout Social | Detailed reports and social listening tools | No | Twitter, LinkedIn, Facebook (Pages and Messenger), Instagram, Pinterest |
| eClincher | Customizable analytics dashboard | Keyword-based Content recommendation engine | Facebook, Twitter, Instagram, LinkedIn, Pinterest, Google My Business, YouTube, Yelp, Google Analytics, RSS |
| SocialPilot  | Detailed analytics by social media channel | Integrated content creation tool | Twitter, LinkedIn, Facebook, Pinterest, Google My Business, Instagram |
Before fully committing, sign up for a free trial and take the tool for a test drive. Go through your workflow, collaborate with your team, and schedule posts for at least a week. And if it isn't a perfect fit then try out one of the other tools on the list. Social media is important. And it can be challenging to find the right content and build engagement. You need to focus on the parts of social media that need your audience knowledge and human interaction. By taking the time to find a tool that most closely meets your needs, you can spend your time where it can be most valuable, building a following and converting that following into loyal customers.