If you are new to Twitter, and you have only just set up an account, then you may be wondering what you need to do next? You might also question why this Social Media platform is such an influence when it comes to getting your brand out there.
One of the best parts of Twitter is that you have the World at your fingertips. You can literally reach out to any business or any user that has a Twitter account, and engage in conversation with them. So take our hand and let us guide you through the steps you need to take to get the very best out of Twitter.
#1 Complete your profile
It may sound like such a simple thing but it can make a massive difference to first impressions if your profile is fully completed.
This is the perfect opportunity to get your business logo in the limelight by uploading it as your profile photo. One thing to take into account at this point is that the image you chose for your profile photo will also be scaled down as your thumbnail photo so it is imperative to get the correct sizes and shapes for a clear representation.
Tip: It's all about the bio: This is the section that tells your story, but the catch is that you only have a small section to cram it all into. My advice here is to tell people what you do, how you do it, and show some personality.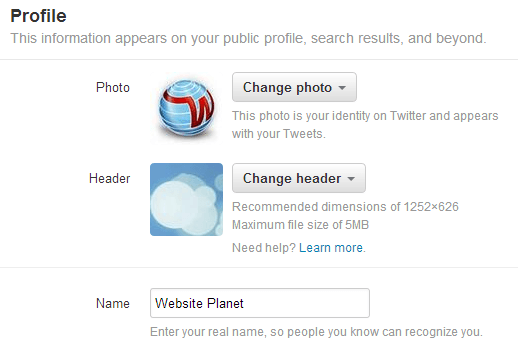 #2 Who should I follow?
Ideally, you want to follow people that have some kind of association with what you are selling. For example, if you are a florist there is no point in following a gaming account as there is no link between the two. You want to follow people that want to use your services or buy something from you.
As an example, we would follow a Social Media or Web Design agency that will benefit from our Tweets, and our services.
Tip: Create private lists: One great idea is to utilize the Twitter List feature and create your own private lists. This way you can cut out the chatter in your main stream and focus on those that inspire your business, and those who you can engage with.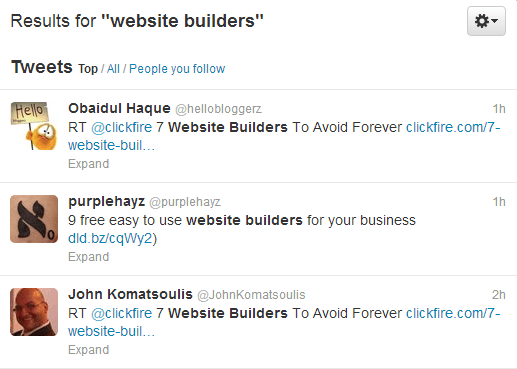 #3 Use Hootsuite to create filtered searches
It is always good to use free tools that will make life a little easier for you, and Hootsuite is perfect for this. You can monitor as many tabs as you want (Sent Messages, Home Feed, Mentions, Direct Messages), but you can also add your own custom tabs for tracking conversations.
Tip: Use Twitter's Special Parameters: In a custom tab you can specifically target a select audience by using some of Twitter's key functions. In the screenshot below you can see that we are looking for people that are mentioning, "need a site" or "create a site". Following on from this we have excluded anyone that has retweeted (-RT), or have included link (-http://), this way we filter out possible competitors advertising their product and focus solely on new customers.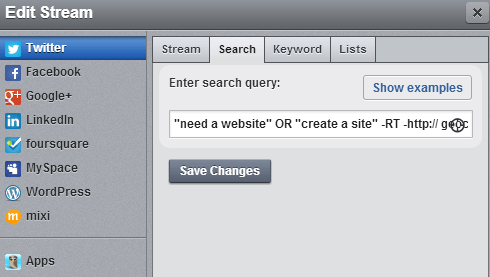 #4 Start promoting your Twitter
Your Twitter account will struggle to grow without a little help, and that is why it is important that you should make the most of any resources that you have available. This way you will allow more people to connect with you and follow your account. Some good advice is to look at places where you can advertise your Twitter profile without having to spend any money. Get friends or colleagues to re-tweet your posts, and use other Social Media accounts to get the word out there.
Tip: Use Your Website: The obvious choice to promote your account is to place badges or images on your website, after all this is something that you control. Try to get images that mention your account (i.e. @website_planet), and display them in a noticeable area on the site. You can also add these images to your e-mail signature, business cards, and even newsletters to really make an impact.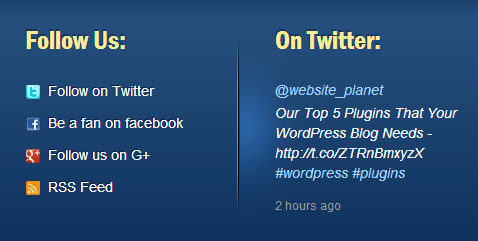 #5 Develop a Weekly Content Strategy
Most business will have a specific subject area that they blog about, they also have products and services to sell. The key here is not to overload your Twitter account with sales pitches, but to provide quality and resourceful information to your followers. This is where a content strategy can work well for you, so brainstorm topics that you can tweet about each week.
Tip: Schedule Your Tweets: One great feature of Twitter is that you can schedule tweets (some programs like Hootsuite also allow for bulk scheduling).  By using these types of features, you can plan ahead, and you will never miss an opportunity to post something compelling for your followers.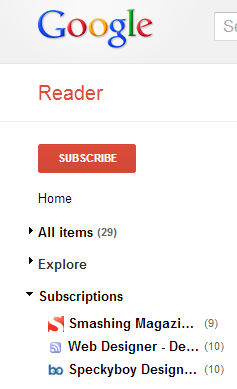 #6 Take Twitter To Your Blog
This step is similar to Step 4, but it goes that extra step of promoting both your Twitter account, as well as your Tweets. Many sites use a stream either in a sidebar, in the footer, or in posts. This stream contains the latest Tweets from that companies Twitter account, which promotes them to a wider audience.
Tip: Embed Related Tweets: Each tweet that gets published to Twitter has an "Embed" option which allows you to grab the code to dynamically display that tweet on your blog. The idea behind this is to search for tweets that are discussing the subject of your post and then embed them into the conversation. Each tweet will be dynamic so you can expect to see fully functional features which allow easy retweeting, replying, and favouriting options.
#7 Take advantage of free Social Media tools
We have already spoken about the benefits of Hootsuite, but there are also a host of other fantastic tools that can help with other areas of your Twitter experience. Therefore, we have taken the time to list 4 of the must have tools to make your account successful.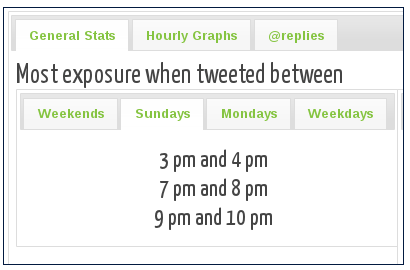 That's our round-up of Twitter tips for businesses drawn to a close, we hope that you have some taken some ideas from this article that can help build up your own strategy.
Don't forget to stay tuned for our advanced guides on Twitter, where we will be showing you how to find people that are currently looking for your service, and then how you can start a conversation with them.
Until then, happy Tweeting!