Your blog is great, but you know it can be even better. You want more: more traffic, more comments and interactions, more conversions. You want to rank better in search engine results.
To achieve all this, you need to understand your readers' behavior and keep on top of Google's ever-changing recommendations.
Where do you even begin? The internet is full of suggestions, and you've probably tried at least a few. Some are just common sense; others are impractical, or even… well, questionable.
We bring you four tried-and-tested methods to improve your blog and zoom ahead of the competition. They're not hard to implement – so, what are you waiting for? It's your blog's time to shine. Let's get started!
1. Make Your Blog More Visually Appealing
In the world of blogging, first impressions are everything. Think how many times you hit the back button because the link you clicked on led you to a page that looked outdated or hard to read.
If you want to increase your traffic and decrease your bounce rate, you need to pay special attention to the visual elements on your blog.
It's not just about updating your template or posting new photos. You have to think about what your text looks like to readers. Is it inviting or deterring? Are you scaring your readers off with big blocks of text that seem to go on forever?
Use simple text formatting options to your advantage. It's easy, it's free, and it can have more of an impact than you think. Use headers, tables, bullet points, and pull-out quotes. Add a touch of color or increase your white space.
Just be sure not to overdo it. You don't want your blog partying like it's 1999, with a mix of fonts and animated GIFs all over the place. Keep it classy and contemporary, and consider throwing in a nice infographic here and there.
Pro Tip: Create a new visual identity behind the scenes, and publish the new blog design all at once. This way, you can develop something exciting with no pressure, and avoid having one page look different from the other.
To-Do List:
Create your own images. Unique featured images will make your blog stand out. Search free stock image websites for photos and illustrations, and use an online tool like Canva to add text and customize them.
Create your own favicon and logo. Invest in your branding to make your blog look more professional. You can use a logo maker like Renderforest to do it yourself, try a service like 99designs, or hire a freelance designer on Fiverr.
Invest in a better theme. It's common to start a blog with a free, basic theme, but it might be time to take things to the next level. If you're a WordPress user, you can find some exciting options on TemplateMonster.
2. Work On Your On-Page SEO
When you first created your blog, you probably added important SEO elements, like a title and a meta-description. But have you been doing the same for each and every post and page?
If you want your blog posts to rank higher in search results, you have to make sure to optimize them as you go. Don't worry – a few simple improvements will go a long way, and you don't have to be an SEO expert to implement them.
To-Do List:
Create better URLs. Your slugs (the part of the URL that comes after the domain name) should be short – up to 5 words – and include keywords. This will help search engines identify the topic of your post quickly. But beware: changing the URLs of published posts is never a good idea. Just be sure to optimize your URLs from now on.
Improve your titles and meta-descriptions. Make sure they match your blog posts; especially posts you have updated. Check the currently recommended length in characters and update them accordingly, and be sure to use those characters well: make your titles and descriptions intriguing and engaging. After all, they will determine if someone clicks a link to your blog post or not.
Test your Loading Speed: Use a tool like Sucuri Load Time Tester to check how long it takes to load each of your posts. Pages that take more than a couple of seconds to load could drastically increase your bounce rates, and Google won't like that one bit. If this is the case even after you've optimized your images, it might be time to switch to a better web host, like InMotion Hosting or SiteGround.
Create Tables of Contents. Google can display summaries or tables of contents in search results, giving you more "real estate" and increasing your chances of getting clicks. See some examples below: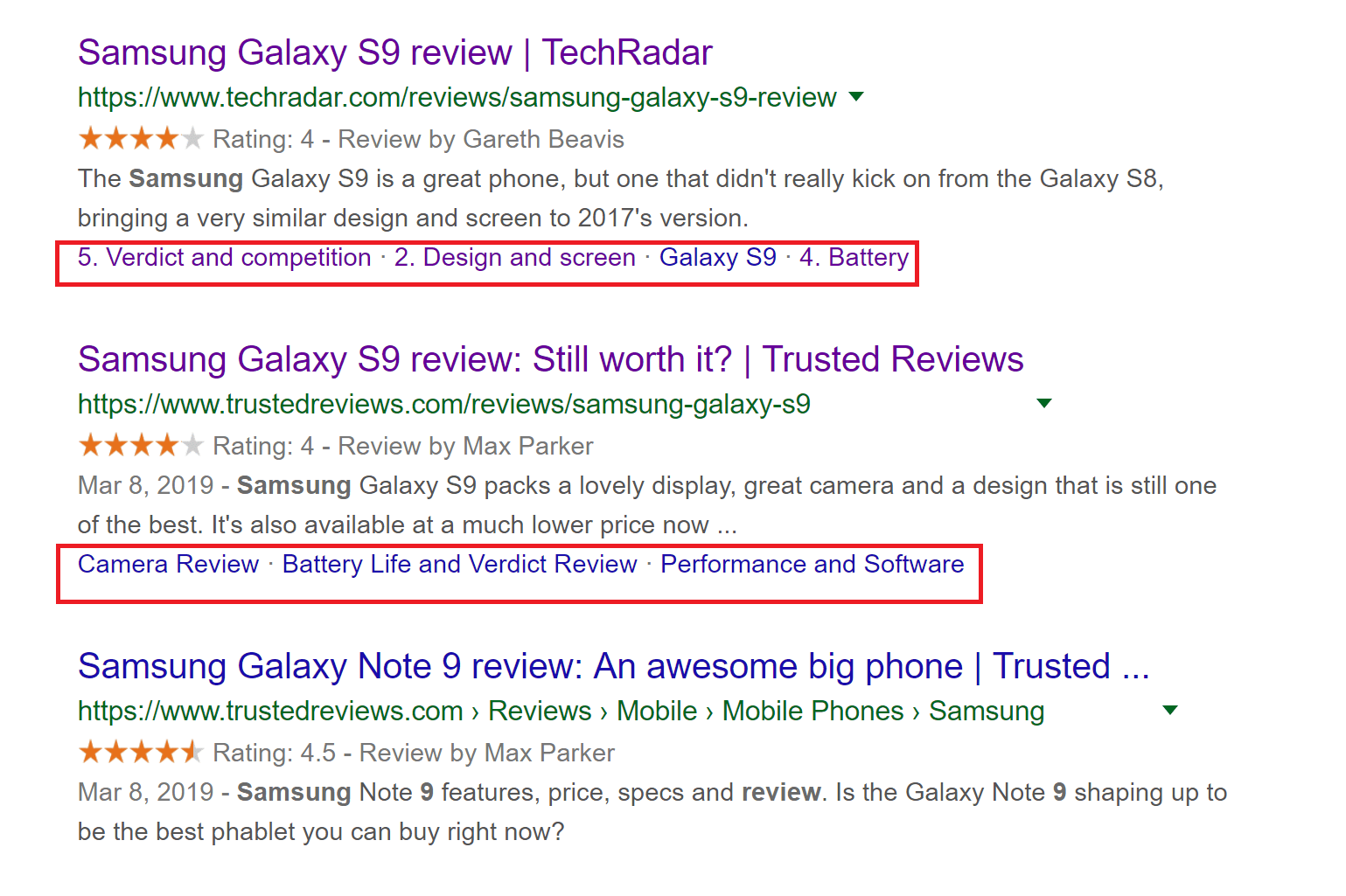 Stay up-to-date. Use a combination of free keyword tools to check when it's time to update your content. Put your post's main keyword through AnswerThePublic, for instance, to see what people are searching for. Has your text got everything covered, or is it time for a refresher?
Add star ratings. If you publish reviews, recipes, or anything else worth rating, add star ratings to your blog posts along with the author's name. See they make articles stand out on Google: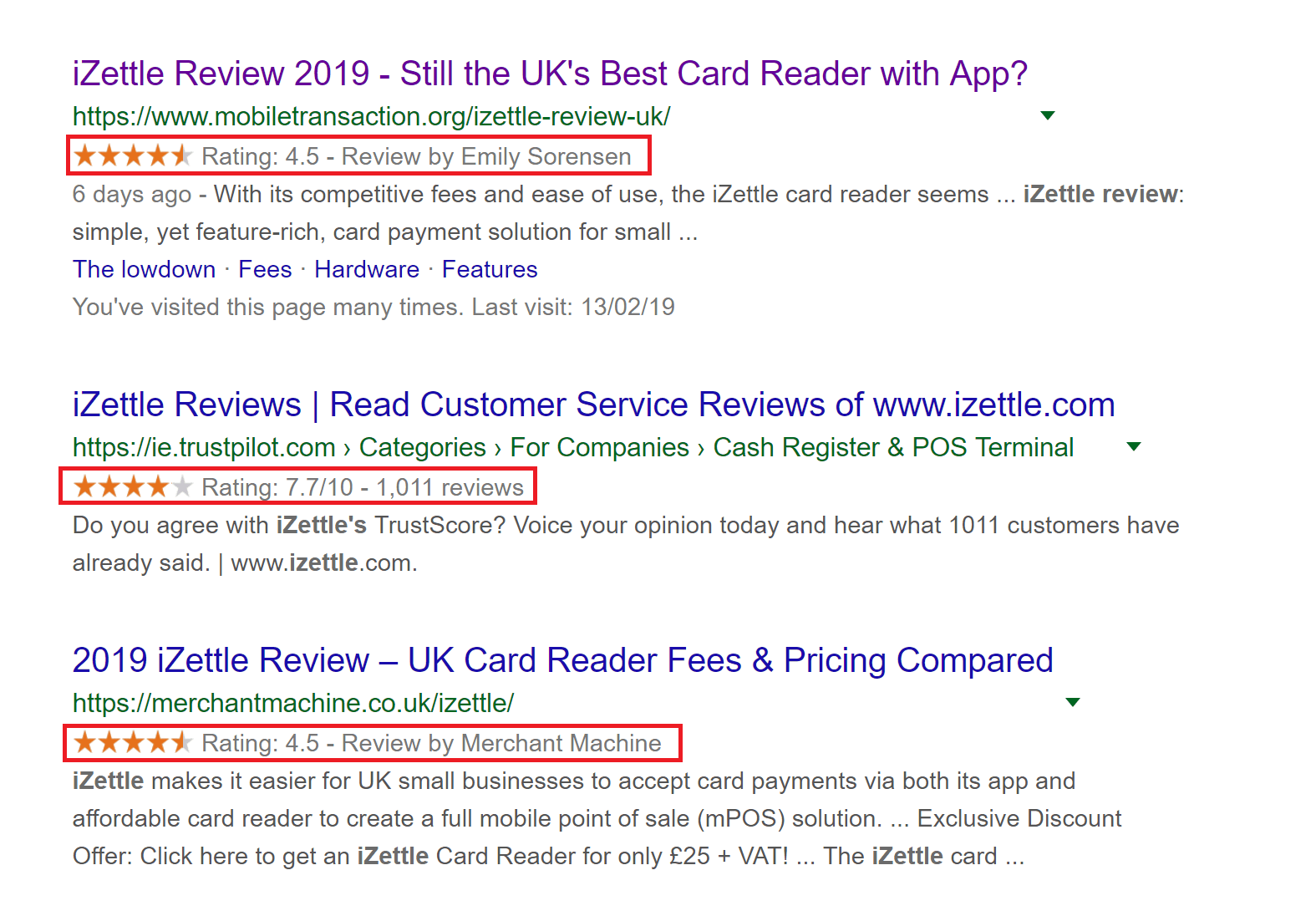 Pro Tip:
Make your images SEO-friendly. Choose the file names carefully – they should contain important keywords. The same goes for image titles, captions, and alt texts. Don't forget to
compress your images
so your blog doesn't take forever to load.
3. Increase Social Sharing
Shares are good. Shares mean more traffic. But for shares to happen, you have to give your readers a good reason to recommend your posts to their friends and followers.
You also want to make sharing as easy as possible – your readers shouldn't have to scratch their heads, wondering where your social sharing buttons are. So, for starters, make sure your buttons are unmissable.
What are your readers' favorite social networks? Do you have them all on your list? Facebook, Twitter, and LinkedIn are the obvious choices, but they might not be enough. Some audiences are more likely to share content on WhatsApp, Pinterest, or Instagram.
To-Do List:
Create shareable content. Above all, your content must be worth sharing. Readers tend to share posts that are fun or useful. If you write a professional blog, you want to be sure you sound like an expert on your topic. Use writing tools like Grammarly to catch any silly typos.
Use attractive buttons. Not all social media buttons are effective. If they're too small or if they just blend in with the rest of your page, nobody's going to click them. Choose buttons that will stand out. You can use a plugin like Social Warrior to create a colorful, floating social bar that follow your readers while they scroll down the page.
Provide ready-to-tweet quotes. Are your readers Twitter users? One way to find out is to place quotes throughout your posts that they can tweet with just one click. Click To Tweet is an excellent plugin which offers a variety of designs and helpful analytics.
Make your images Pinterest-ready. If your blog is very visual-based, make the Pinterest crowd happy by including a Pin It button on your images. A plugin like Pinterest Pin It Button will make it easy to do.
Pro Tip: Be sure to keep your social media profile and pages up-to-date, in case your readers' friends want to know more about your blog.
4. Optimize Your Blog for Mobile Devices
There are two very good reasons to optimize your content for mobile:
Mobile devices aren't going anywhere anytime soon, and the number of people who read blog posts on phones and tablets continues to increase. If your blog looks messy or otherwise unreadable on their smaller screens, they won't be sticking around for very long.
Google has made it clear that mobile-optimized pages will receive higher rankings in search results.
Pro Tip: If your blog theme allows it, create different images for desktop, tablet, and mobile views. This way, the images your readers see will always be the right size.
To-Do List:
Consider your audience. Some readers might need larger font sizes, while others might have a difficult time trying to tap a tiny button. When optimizing your posts for mobile viewing, don't forget to take usability and accessibility into account.
Analyze your elements. Check if buttons, forms, and menus are still visible on mobile devices. Pay special attention to tables, infographics, and other textual elements. They are the first ones to become illegible on small screens.
Fight distractions. Many people will be reading your posts while busy doing something else, such as watching TV or playing with their children, and on top of that, they'll have all those oh-so-distracting app notifications popping up on their screens. As you are unlikely to have your readers' full attention, create posts that are entertaining, useful, and engaging. You might want to try out some online writers' tools to see if you like them.
Get rid of pop-ups. Nobody likes pop-ups, but they are even worse on phones, where it's harder to find the little 'x' button to close them. Disable the unnecessary ones, and minimize the impact of the mandatory ones, such as cookies consent.
Break up your text. Big chunks of text are a big no-no. Keep in mind that a paragraph that looks like a normal size on your desktop can look like it goes on forever on a mobile screen. Make your text easily digestible by using short paragraphs and sentences.
Pro Tip: If you first created your blog a few years back, you might need to redesign it from scratch to make it mobile-friendly – but this can take some time. If you use WordPress, you can install a responsive theme as a temporary solution. Most of the content will be automatically adjusted. Just be sure to back up your blog before making any drastic changes.
Bonus Tip: Repurpose Published Content
Repurposing your already published content is a fantastic way to improve your blog and increase traffic. A new format shared in different mediums will help you to reach more people. For instance, you can turn a blog post into a webinar or slides. Post series can become ebooks or email courses. Interviews can be used to create case studies.
The first thing you need to do is identify your most successful posts. They are the ones worth the investment. Then, think about what type of content you can create from them. Sometimes all you need to do is redesign the structure, but in some cases, you might want to expand the content.
To-Do List:
Go for evergreen content. You might need to spend some money to create your repurposed content, if you want to hire a graphic designer or use an email marketing tool like Constant Contact. This is why it's a good idea to repurpose content that will be valuable for a longer period of time, so you can see the return of your investment.
One content, many formats. A single post can become several different repurposed pieces, so let your imagination run wild. Consider your posts as a starting point, a bit of clay you can remodel while keeping the essence of your content.
Consider your own working style. Don't put yourself under pressure to create a video channel just because everybody has one, or teach an online course if you hate teaching. Getting out of your comfort zone is one thing – turning your life into a nightmare is another. Your audience will also notice that your heart isn't in it. Figure out what you will enjoy doing, and just go for it!
Pro Tip: Your repurposed content doesn't need to be a new, big, or very time-consuming. It can be a short piece with the sole purpose of promoting your blog.
This Is Just the Beginning
Remember, quantity isn't the same as quality. You want your blog to get a lot of visitors, but make sure you're getting the visitors you want. Google Analytics is your friend – use it to see if your followers are reading through your posts, using your buttons, and clicking your ads.
And don't forget the most important thing of all – blogging is fun, and when you're having fun, it shows. Write about topics that interest you, engage with your readers in the comment section, and use your creativity and imagination to take your blog to the next level.