Don't have time to read the entire post, here's a presentation we made summing up all the key points. Enjoy!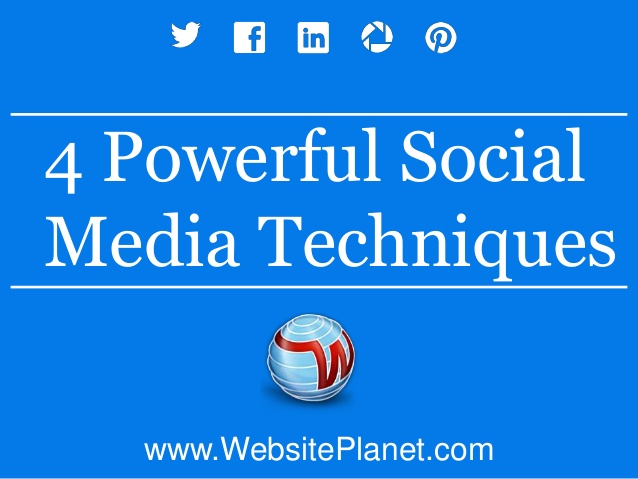 Technique #1 – Combine Hootsuite & Twitter for laser-sharp targeting
This technique is for Twitter, which happens to be my favourite platform at the moment because of the potential behind it. Unlike Facebook, Twitter is unrestricted to who you can reach which for social media marketing on a global scale is very important. One drawback to this, it's hard to filter out all the noise and find what you are looking for. However, this is where Twitter's search can really be a lifesaver for you, as you can set keywords and target specific locations in a given country, as well as mapping out a radius. I use Hootsuite, which is a fantastic social media management tool designed to making life easier by enabling you to control all your social media accounts from one central dashboard. You can
sign up for a free account
on the site now.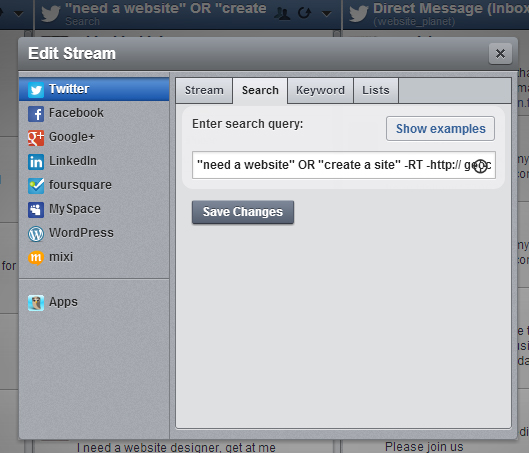 In Hootsuite, I have setup a couple of custom streams and then set the search queries in them.
"need a website" OR "create a site" -RT -http:// geocode:52.61639,-1.186523,900mi"
As you can see above, I have set a query that filters in any mention of Need a Website or Create a Site, but does not contain any retweets or links. You will also see that I have set a geographical target at the end of the search string, along with a 900 mile radius in which I want results pulling from. The numbers you see at the end represent a location, unfortunately you can't just put in a post code or zip code, but you can convert a zip code/post code into a latitude and longitude format.
FreeGeoCoder
is a site that I have used many times in the past, and all you need to do once on the page is enter an address or area code into the top box, this will then display the latitude and longitude numbers in the boxes below. Once you have these numbers you can apply them to the end of the search string and then add a radius (ie. 900mi)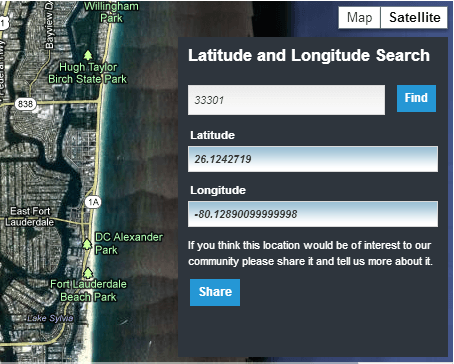 Why Have I Removed RT's and HTTP:// ?
By filtering out all retweets and links, it just tidies up the results for me. What I have learnt is that most results that DO contain links are usually companies promoting their services. I don't want to target these companies, I want to go straight after potential customers so removing these from the results means that I don't miss any of the quality results that I can engage with.
Conclusion
Now, every time I login to my Hootsuite dashboard I have all my streams set out so I can start engaging and building relationships with current and potential customers.
Technique #2 – Create Contests For The Masses
The great thing about contests is that you can run them across most social platforms. I usually target the main two, Facebook and Twitter. Now, this type of method won't bring in sales but it will create more brand awareness, so class this as a brand building exercise that doesn't need to break the bank.
Firstly, what do you want to give away?
There are two ways to go about this, you can either single out most niches and give away something relevant to what you do, or you can open it up to everyone by offering a gift card or voucher at somewhere like Amazon. I tend to open it up to everyone for the most exposure.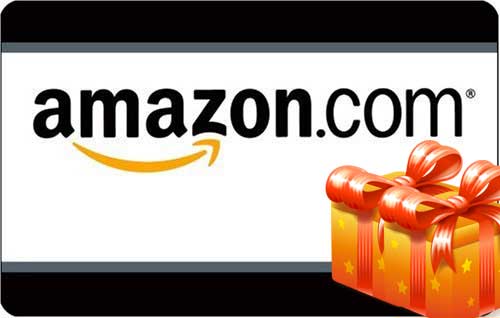 The next step is to get together some simple T&C's and write up a blog post of the upcoming contest so you are covering every angle. If you put the T&C's in the blog post then you can use this link in your social posts. Some simple
T&C's can be found here
: All you need to do is read through it and amend some of the details so they are personalised to you. With that out of the way, you now need to construct a Facebook message or tweet that will have most impact. For any competition I want to make it as easy and fun as possible for people to enter, so let's start with  Twitter.
For Twitter competitions…
Ideally, I want people to follow me and retweet the competition message for the best results; I also usually incorporate the Twitter account into the message so people know who you are.
Want to win a £50 Amazon gift card courtesy of @website_planet? Help us reach our goal of getting 1,000 followers and we will select one winner. RT and Follow to enter. T&C's: https://www.websiteplanet.com
Twitter Conclusion
This way you are giving away £50, and in return, you are getting people to reweet and follow you, but also getting them to click through to the site as well.
For Facebook competitions…
Facebook is a little different when it comes to competitions, and they are strict with their guidelines so it is worth having a read of their
guidelines
. One of my favourite competitions to run on Facebook is a
caption competition
every week or every month. This way you get a lot of people engaging with you and each other, and having fun at the same time, it also helps break away from the norm. If you are running a tech site then find a photo of something tech related that would work well for a caption competition. It has to be something that people will find easy to comment on. Once you have done this you can create a new post with the photo and let them know that the best caption comment wins the prize.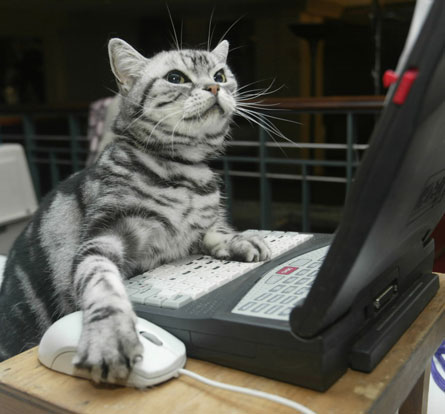 In terms of the best time to do this, I have always seen the best results come on a Friday as people start winding down for the weekend. If you open up the competition until Monday morning you can also catch a lot of people over the weekend.
Facebook Conclusion
By giving away anything from £10 – £50 you can build up a lot of fan interaction, increase the amount of shares and likes for the page, and it just ads something exciting for your fans. A few months down the line the word will spread and it will become a big feature of your social media campaign as people eagerly await this week's competition.
Technique #3 – Mix Others Content With Yours in Your Content Plan
One of the biggest techniques today is creating a content plan, you need to keep an even flow of topical stories across all your social media accounts. Most of the sites I have worked with in the past don't have enough content to cover a full week's worth of social media syndication, so utilizing other sites coverage can keep your social channels flowing with fascinating news stories. It also gives your audience a peak into what you consider as read worthy content. One thing you don't want is to have a sporadic amount of content going live. What I mean by that is, you may remember to publish a few posts on Monday but then forget until Friday. What are your fans and followers doing in the days where no posts are published? Probably unfollowing or unliking you. What I do, is sit down on a Sunday afternoon and spend a few hours creating a content plan for the week ahead.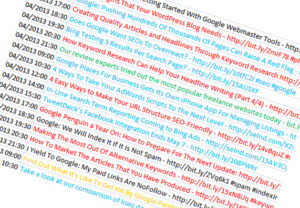 The first step that I take is to setup subscriptions in
Google Reader
Feedly.com
to popular sites in the niche I am working with, and then open another tab with our own site in. I will then collect all the latest news stories from our site and then note down any notable news stories from the other 10 sites in Feedly.
For Twitter
For Twitter I create a spreadsheet with dates going down the first column, and then use the second column for my post. Once I have a full week's worth of content I will create tracking links so we can monitor clicks and then get these all prepared in the spreadsheet, ready for upload to Hootsuite in bulk.
For Facebook
When it comes to Facebook I usually create 3-4 posts a day split up over 3 hour time periods. I will use the Twitter spreadsheet I have just created to select the best stories that are worthy of Facebook and then begin to schedule them in Facebook's Activity log.
Conclusion
One thing to bear in mind during the content strategy is that you find a balance between the amount of links and stories covered by your site, and by third party sites.
By doing that you keep your audience happy every day of the week, increase reach and engagement and build your own credibility by posting only high quality content.
Technique #4 – Leverage The Power of Google Analytics
The last technique I wanted to touch upon is the importance of analytics in your social media marketing. This is one of the most important points, and something that you should be regularly checking to see how well you are doing and where you can improve. One of the easiest ways to track performance is to use the Google Analytics advanced segment feature which will enable you to filter social media sources, and then check on how many unique visits you are getting, how many of them are new, if visitors are bouncing off the site quickly, or how long they are staying on the site for.
How Do I Create An Advanced Segment?
Setting up a segment is actually a piece of cake, and doesn't sound as complex as it first seems. Once you have signed into Google Analytics and selected the site you want to get data for, you should be able to see an Advanced Segments button just under the main orange navigation bar at the top.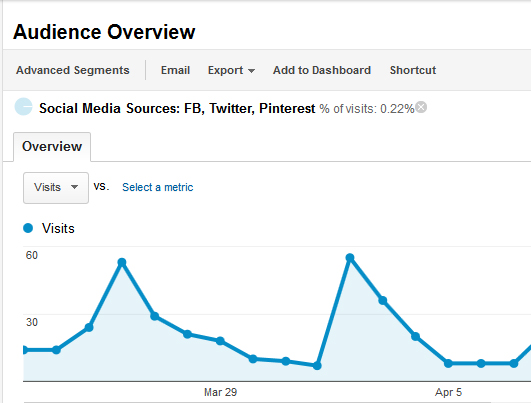 If you click this you will get a drop-down that is split into two:
Default Segments
Custom Segments
We want to create a new segment here, so go ahead an click the
+ New Custom Segments
over to the right. Now we get to the heart of this feature where you can start listing all your social media URL's. By the way you can add as many as you need to, just make sure that you select
INCLUDE
for the first function, and then
SOURCE
for the highlighted green function. Like we have done here: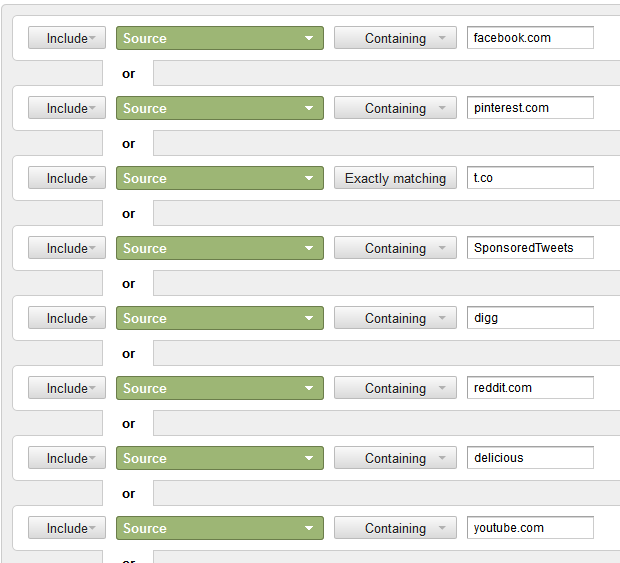 *DON'T
forget to save the segment when you are done, which can be done by clicking the blue button further down. You can also test and preview the segment here to make sure it works. One you have saved the segment, you can then use it by once again clicking the
Advanced Segments
button at the top under the orange bar, then navigating across to the
Custom Segments
in the drop-down. You should now see the saved segment we created in there, just check the box next to it and then hit
Apply
over to the left. You will now see all your social media traffic, including advanced stats. It is also worth bearing in mind that Google does filter out some Twitter traffic into Direct Traffic so Twitter traffic wont be 100% accurate. For me this information is like liquid gold, as I can analyse the data and find out which tweets work well and which ones don't (enabling you to change the content being discussed to something that works better).
Conclusion
Every great social media marketer can put in place the first three techniques of the article, but they are all irrelevant without monitoring and analysing your social media performance. By making the most of Bit.ly and Google Analytics you will be able to see where you are going wrong and where you are going right. Using this data, you can then keep pushing the areas that are working, and then alter the areas that are doing so well.
Summary
Certain techniques will work great with some business models, but not with others. After all there are small businesses, large business, local businesses and global businesses out there that all have a different way of working. The techniques I have discussed here prove valuable for businesses of all sizes and locations. By integrating these 3 valuable techniques into your strategy, you can enhance the foundation of a remarkable social media marketing campaign.
Now over to you, did you get a chance to try any of these techniques?