Squarespace is known for having a highly intuitive interface and making some of the most visually stunning websites on the internet. Many love the ease-of-use and beauty offered by the platform, but these accolades are only one side of the story. But there is another side to the coin — the people who are left unsatisfied by Squarespace and want a different option.
If you're currently researching which website builder to use, be sure to consider the following Squarespace flaws before choosing one. Then, check out the alternatives discussed below.
3 Squarespace Flaws that Can't be Ignored
Squarespace can make websites for all kinds of purposes. However, no matter what kind of website you create, there are downsides.
A lack of advanced e-commerce features
Squarespace is designed to build beautiful websites…not so much e-commerce stores. Basic e-commerce functionality exists, but advanced functionality required to run a medium- or large-scale business does not. The platform lacks many of the advanced e-commerce feature apps and plugins for email, SEO, and invoicing, that other website builders offer.
For example, Squarespace can provide invoices to customers after payment, but if you're looking to set up a "get a quote" functionality to estimate prices, there's no plugin or feature available to automate the process — you'll have to create a separate form and then email customers separately yourself.
Missing SEO functionality
For a website designed to climb the search rankings about a specific topic or product, SEO functionality is sometimes lacking in Squarespace. It's notoriously difficult to get metadata correct without the help of a developer. You can generate a sitemap to send to Google, but there have been reports that they aren't always submitted properly. Webmasters trying to climb to the top of the Google search might find Squarespace more problematic than other options.
A Coercive Pricing Model
Features are much more closely tied to pricing than for nearly any other builder. There's no free option whatsoever, and the difference in what you'll pay per month in the month-to-month vs yearly plans is extreme — a thinly veiled attempt to lock you in over the long term that is a huge flaw.
For example, if you want the lower rate but are just getting started with blogging, you'll have to pay for an entire year up front before you're sure whether you'll stick with it for that long. And even if you're a veteran blogger looking to try a new platform, you'll be forced to either commit before you have a chance to do a full comparison, or to pay the higher rate.
If the limitations of Squarespace have sent you in search of alternatives, here are five of the best website builders you should take a look at:
#1. WordPress
WordPress is the website builder behind nearly 20% of all websites in existence. The reason is that, unlike Squarespace, it offers an insane amount of features.
E-commerce businesses and informational websites can use a full set of developer features to customize their brand's look and customer experience. WordPress lets you choose from a large selection of plugins, or create your own. Its application framework lets you manage HTTP requests and URL routing. And all script libraries are at your disposal, including jQuery, Plupload, and Underscore.js.
In addition, the WooCommerce plugin gives you full control over an online store. You can use it to add product ratings and reviews, categorize product tags, and allow filtering by popularity, price, or attribute.
For example, many e-commerce businesses display the attributes of suggested companion purchases to a product, but will manually input information about companion items on each individual product page. That's a repetitive, labor-intensive process that can be replaced by building a custom plugin that processes and outputs the information about your products in the companion format.

In contrast to WordPress, Squarespace is notorious for its lack of premade plugins. It's also known to be unnecessarily difficult to create your own. So, while you might be able to recreate this kind of functionality on Squarespace, it will come with a lot of unnecessary time and hassle.
#2. Wix
Wix is the website-building juggernaut that's just behind WordPress in popularity, but is gaining ground every day. And in contrast to Squarespace, Wix creates beautiful websites AND provides powerful SEO tools that helps them get noticed.
WIX's unique "SEO Wiz" SEO assistant helps webmasters of all website types and all experience levels climb the search rankings. You answer a few questions and the assistant creates a plan for you. And the results are just awesome — 67% of websites using this tool find themselves on Google search's coveted front page. But no matter how you develop your SEO strategy, Wix's standard, traditional SEO capabilities such as metadata, webpage descriptions, and sitemap generation/submission make it easy to execute your plan.
Compare this with Squarespace, which is dogged by ongoing reports from users that the SEO functionality is not only limited, but sometimes doesn't work. So there's no doubt that Wix is an excellent alternative for informational websites, blog owners, e-commerce stores, and anyone with a website who values its ability to stand out in search.
#3. Shopify
Trusted by millions of online merchants, Shopify is an ecommerce-first platform. Billions and billions in sales have been made on the platform. Squarespace, which doesn't have an e-commerce focus, simply struggles to keep up.
For starters, there's a large difference in the scope of available sales channels. Squarespace lets you build and sell products only through your website; in contrast, Shopify offers merchants the ability to sell across all major sales channels, including Facebook, Pinterest, Amazon, eBay, and Buzzfeed.
Shopify's product management options are also far superior. On Squarespace, digital downloads cannot be DRM-protected, must be downloaded via a separate email link, and can be accessed for only 24 hours, which customers don't always appreciate. And when it comes to payments, Shopify is compatible with more than 100 different payment gateways, while Squarespace accepts only Stripe and PayPal — making it much more difficult to have a truly global presence.
Compared with Shopify's endless list of features for every merchant contingency and customer convenience, Squarespace lacks the ambition to be the go-to platform for e-commerce merchants. It's little wonder that Shopify is considered an alternative for every kind of merchant.
#4. Jimdo
Boasting the ability to create an entire website in just three minutes, Jimdo certainly rivals any website builder for ease of use. However, what really sets it apart from Squarespace is that it offers comparable features for much lower cost.
For bloggers and informational websites, Jimdo offers beautiful visual templates with drag-and-drop functionality that's identical to the sleek look and ease of use that makes Squarespace so popular. In addition, you can use Jimdo's "Dolphin" AI web designer to answer a few questions and have an entire website assembled for you in minutes. For larger websites or e-commerce stores, there's a fully customizable website builder that offers inventory management, secure checkout, and payment-processing options similar to those of Squarespace.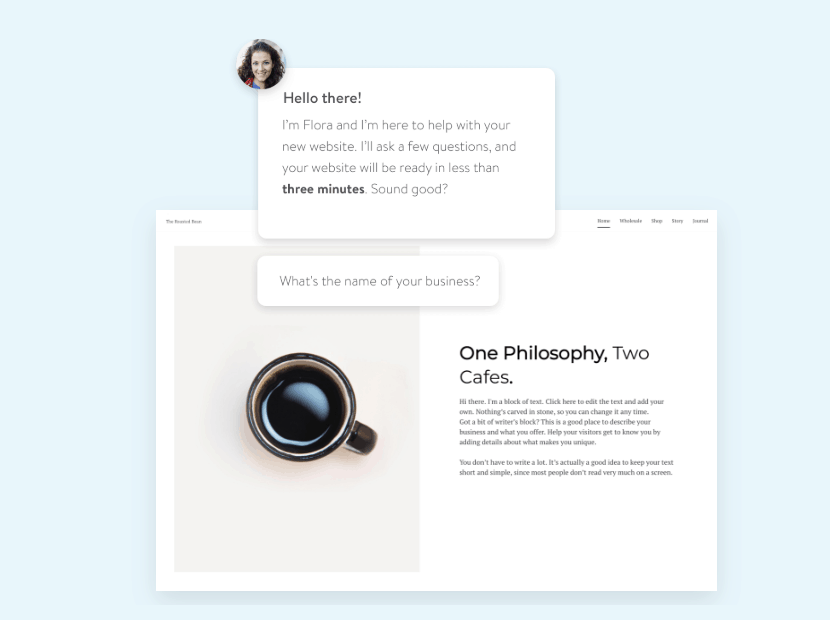 However, there's one area where Jimdo is not similar, and that's price. Whereas Squarespace's fully functional e-commerce store is steeply priced, Jimdo costs only half as much. And you get access to the full e-commerce store feature list.
#5. Site123
Site123 takes simple website design to its extreme conclusion: Just add your text content into a predefined template stocked with preloaded imagery, and you're done. You don't even need to "drag and drop." The nearly effortless way you can create different types of content is what makes Site123 an interesting alternative to Squarespace.
Webmasters looking for a website builder to do all the design work for them will love Site123. Unlike Squarespace's limitation to traditional "blogging" content formats, Site123 offers a number of dynamic content-creation options, including restaurant menus and career webpages. These templates are fully formatted to look and feel like they were designed by a professional, but only require you to fill them in with the information relevant to your business.
If you own a blog, informational website, or small business and are looking to spend as little time and money as possible designing your website while getting all the benefits of publishing your content to it, Site123 is an excellent alternative to Squarespace.
Frustrated By Squarespace? Don't Worry, There Are Alternatives
Squarespace is a decent website builder that suffers from a few inadequacies. If you're finding that one of them is becoming more than you can bear, consider switching over to any of the five options listed above.
If you're building a new website and unsure of what to pick, remember that not all website builders are created equal. Consider what functionality is an absolute must-have, and what you can compromise on. If you're looking to add plugins, make SEO a focus, or run an e-commerce store, it's more likely than not that you'll want to consider an alternative website builder to Squarespace.