it doesn't even offer a free plan
– and it definitely isn't the easiest one to use. Squarespace may get
good reviews
, but it isn't the only builder out there .
There are plenty of great alternatives just waiting for you to give them a try.
I tested all the big-name builders to bring you this list of the very best. You're sure to find one here that is the perfect fit for your needs.
Best Squarespace Alternatives – Our Top Picks:
Wix – The best free alternative with a much larger library of fully-customizable templates
Site123 – Quick and easy setup for both single-language and multilingual sites
Shopify – The best solution for e-commerce, no programming knowledge needed
Weebly – Beginner-friendly with an easy-to-use editor, and advanced customization options for more experienced users
GoDaddy GoCentral – Better marketing and social media tools, with super-fast hosting
What We Look For in a Squarespace Alternative:
Great templates. You want templates that are just as professionally-designed as Squarespace's, but you need more variety. In this day and age, you're going to want those templates to be mobile-friendly as well.
Ease of use. The Squarespace editor is decent, but there are others out there that are more straightforward and much more beginner-friendly.
Apps and extensions. Squarespace offers no apps and only a few integrations, which means limited functionality for your website. Other builders offer entire app markets with hundreds of add-ons to choose from.
Price. Squarespace is pricey compared to other builders. You can definitely build a great website for less, or even for free, without having to settle for fewer features.
1. Wix – Because You Won't Believe What You Can Get for Free
Just about anyone can build a website with Wix. Its user-friendly drag-and-drop editor is one of the best around, with incredibly flexible customization options. If you want an even speedier solution, you can try
Wix ADI, the artificial-intelligence-based builder that basically does all the work for you.
While Squarespace also offers a type of wizard that asks you a couple of questions and suggests layouts for your website, it's not nearly as advanced as Wix ADI. If you want to enhance your website with extended functionality, you're sure to find what you're looking for in
the huge App Market
– from mailing lists and online booking forms to forums and event calendars. Wait, we've got even more good news. Unlike Squarespace,
Wix offers a great free plan
, which you can use to get a fully-functional website online in no time.
Keep in mind, however, that your site will display Wix branding and you won't be able to connect your own domain or enjoy the e-commerce features.
Click here to learn more about Wix.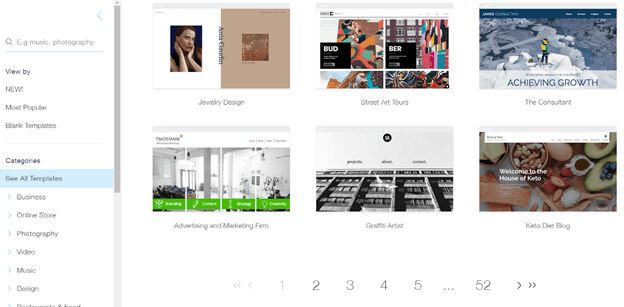 Why I Like Wix
Wix offers a huge variety of over 500 free templates, neatly organized in categories for just about any niche you can think of. The templates are professionally-designed and fully customizable, so you have complete control over what your site is going to look like.
In the Wix editor, you'll find a separate mobile view editor where you can tweak your site and make sure it looks great on any device.
With Wix, you get better SEO features than Squarespace can provide. You can edit your page titles, your meta-data, and your URL slugs, and take advantage of the handy SEO wizard to improve your site's ranking in search engine results. For an extra SEO boost, you can find some great apps in the App Market.
While Squarespace does have a developer mode, Wix Velo, (formerly known as Corvid, formerly known as Code), allows you to further enhance your site with databases, APIs, and more.
| | |
| --- | --- |
| Free plan | Yes |
| Templates | Over 500, all free |
| E-commerce  | Yes, but only with a paid business plan |
| Blogging | Yes |
2. Site123 – Because Sometimes You Just Want a Website, Fast
With Site123, the focus is on getting your site online as soon as possible. The process is totally hassle-free – this builder is all about
simplicity and ease-of-use.
But that doesn't mean you get no advanced features. You can use Site123 to create a simple blog or even an e-commerce site, and if you need extended functionality, there's an App Market with dozens of add-ons to choose from. Site123 offers a
free-forever plan
 with 500MB storage and 1GB bandwidth, but you'll need to upgrade to connect your own domain, remove Site123 branding, and use the e-commerce features.
Click here to learn more about Site123.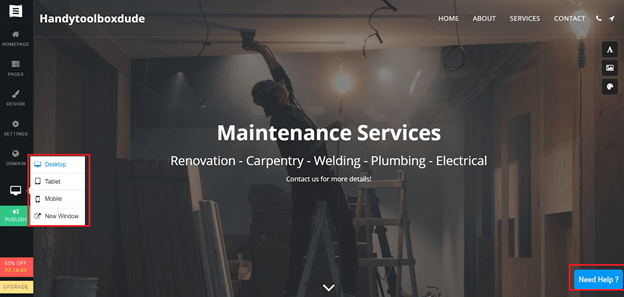 Why I Like Site123
With the quick and painless three-step signup process, your Site123 website can be online much sooner than you even though possible.
Site123 offers over 200 free templates, almost twice as much as what Squarespace has to offer, and they're all fully mobile-responsive. Not only do you get a phone preview, but there's a tablet preview as well.
If you're looking to create a multilingual website, Site123 is one of the easiest solutions. You can integrate automatic translation, use Site123's very own translation tool, or upload your own translation files.
Site123 performs incredibly well as far as SEO is concerned.
| | |
| --- | --- |
| Free plan | Yes |
| Templates | Over 200, all free |
| E-commerce | Yes, but only with a paid plan |
| Blogging | Yes |
3. Shopify – Because There's Nothing Better for E-commerce
Are you thinking of building an online shop? While most website builders come with basic e-commerce functionality, Shopify takes things to the next level – and then some. This premium e-commerce solution comes at a cost, but the Basic plan costs just a couple of dollars more than Squarespace's Basic shop plan. When you sign up with Shopify,
you can expect to get everything you need to build the best online shop possible
– from 100+ specialized e-commerce templates to a huge App Store with thousands of apps and integrations. Shopify doesn't offer a free plan, but you can
try it out for free for 14 days
 without having to enter your credit card details. If you're not planning on building a huge site, you might want to consider
Shopify Lite.
It's surprisingly affordable, and you can use it to integrate the Shopify platform with an existing website, blog, or even a Facebook page.
Click here to learn more about Shopify.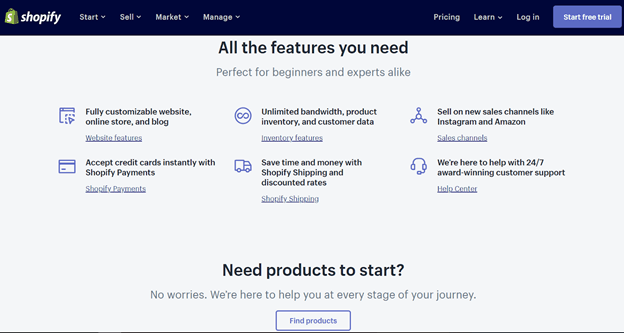 Why I Like Shopify
The Shopify templates are excellent. Squarespace provides just a few e-commerce templates, whereas Shopify focuses on exclusively crafting templates for e-commerce. Each design element in Shopify's templates is strategically aimed at enhancing product sales. Moreover, effortlessly personalizing any of these templates to align with your vision is a straightforward process.
There are no limits on bandwidth, storage, or the number of products you can sell.
The dashboard is easy to use. You need no programming knowledge at all to create a fully-functional e-commerce site.
With Shopify, you get several types of reports that can be automatically generated for you. You can also easily integrate Google Analytics into your store.
No matter what you need to do for your site – from printing invoices to social media marketing – you're sure to find an app in the App Store that can do it for you.
| | |
| --- | --- |
| Free plan | No, but there's a 14-day free trial |
| Templates | Over 100; around 10 are free |
| E-commerce | YES! |
| Blogging | Yes, but with very limited features |
4. Weebly – Because Building Your Site Can Be Easy and Fun
Don't be fooled by how easy the Weebly drag-and-drop editor is to use. Sure,
even kids can use it
, but it also happens to be packed with great features.
You can use Weebly to build a basic site, a blog, or even an online store
– and it's much easier than with Squarespace. If you're no newbie to website building, you'll be glad to know
you can embed HTML and CSS
in your site using the Weebly Code Editor. There's a
forever-free plan
 that comes with 500MB of storage, basic SEO tools, and contact forms, but keep in mind that Weebly branding will be displayed on your site.
Click here to learn more about Weebly.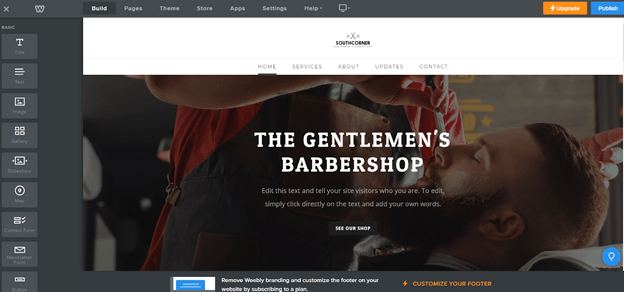 Why I Like Weebly
Weebly offers over 50 templates, organized by category. They're all completely mobile-responsive, so you never have to worry about your site not displaying correctly on smaller screens.
You can display HD video on your site, or even use it as a background.
With Weebly's top-rate mobile app, you can perform just about any task on the go, from managing your website to editing your design.
You get built-in analytics and statistics for your website or online store.
Compared to other builders on this list, Weebly comes with decent blogging features.
If you're just starting out, there's plenty of documentation and tutorials that are sure to make your life easier.
| | |
| --- | --- |
| Free plan | Yes |
| Templates | Over 50, all free |
| E-commerce | Yes, but only with a paid plan |
| Blogging | Yes |
5. GoDaddy – Because You Need Marketing and Social Media Tools
You've probably heard of GoDaddy, the web hosting giant, but did you know it also offers a website builder?
Meet GoCentral, a professional builder that's also really easy to use.
GoCentral will ask you what your website is about, and then present you with 20 templates to choose from. These themes are quite basic in terms of design and layout. You can choose your own colors and fonts, but other than that, your customization options are limited compared to
Wix
. There is no forever-free plan, but you do get a
30-day free trial
(no credit card info necessary)
.
However, the prices are very affordable, and if you decide to upgrade to a paid plan, you'll get unmetered storage and bandwidth.
Click here to learn more about GoDaddy's GoCentral.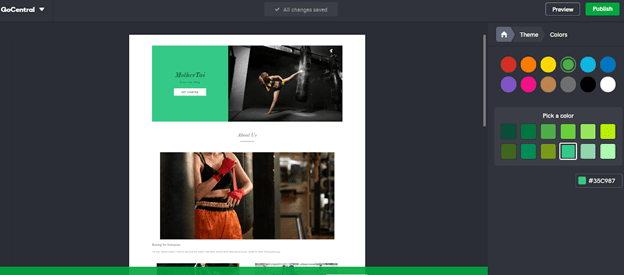 Why I Like GoDaddy
The simple editor is very beginner-friendly. Seriously, if you can use Microsoft Word, you should have no problem building a site with GoCentral.
Building your site is just the beginning. You also have to get people to come and visit it. GoCentral gives you access to vital marketing tools, such as email marketing and social media integration. There's also an SEO wizard that can help you out with your search engine rankings.
GoCentral offers e-commerce options for less than half the price you'd pay for a Squarespace e-commerce plan.
You can automatically generate a Facebook business page and integrate it with your GoCentral website.
While there's no mobile app, you can access your account, manage your website and even edit your pages on the go through the excellent mobile-friendly website.
| | |
| --- | --- |
| Free plan | No, but there's a 30-day free trial |
| Templates | Thousands, with a selection of ~20 free themes, depending on your industry |
| E-commerce | Yes |
| Blogging | Yes, but with limited features |
Which Builder is the Right One for You?
There's no one-size-fits-all when it comes to website builders. We all have our own requirements and our own set of personal preferences.
If you're looking for a beginner-friendly builder
that can help you get your site up and running as soon as possible,
Weebly
, Site123,
and
GoDaddy
 are your best options. They all have free plans (or a free trial, in GoDaddy's case) so you can try them out, play around risk-free, and see which one you like best. If you're planning on launching an online store,
Wix
and
Shopify
 both offer excellent e-commerce solutions. If you're still not sure which builder to choose, you really can't go wrong with
Wix
. No matter what kind of website you want to build – between the intuitive drag-and-drop editor and the diverse App Market, you'll have all the
freedom and flexibility
you could ever need. I hope this comparison table will help you choose the best Squarespace alternative for you.
| | | | |
| --- | --- | --- | --- |
| | Templates | App Market | Free Plan/Trial |
| Wix | 500+ free templates | Yes, with 250+ free and paid apps | Forever-free plan |
| GoDaddy | Thousands, with a selection of ~20 free themes, depending on your industry | No – but there are integrations with Facebook, Office 365 and more | 30-day free trial |
| Shopify | 10 free templates, 90+ paid templates | Thousands of free and paid apps and integrations | 14-day free trial |
| Weebly | 50+ free templates | Small App Store with free and paid plugins | Forever-free plan |
| Site123 | 200+ free templates | 100+ free and paid apps | Forever-free plan |