Many website builders offer free plans, but sometimes "free" isn't what it seems. In many cases, you start building your site for free, only to discover, after you've already invested the work, that the free plan is way too limited to actually use. This is how "free" website builders try to force you to whip out your credit card.
I decided to test some of the major website builders out there, to find out which ones will actually let you build a functional site for free. Now, when I say "test," I mean real tests. I built a demo site with each site builder on this list, to see what exactly they would and wouldn't let me do on the free plan.
This was an interesting journey, and I discovered a few very surprising things along the way. Sure, all free builders have their limitations, but some will let you do much more than others. Wix's free plan is probably the most generous, but I also found some other good options to recommend.
What We Look For in The Best Free Website Builders
As I explained above, I can't recommend just any free website builder. These days, for every good bit of software, there's a lot of trash out there, too. Here's what I decided to look for when I tested these builders:
Beautiful, Functional Templates – You want a website that actually looks good, not one that looks like it was built in the '90s.
Ease of Use – What good is software that you can't figure out how to use? A lot of free website builders get a pass because they're free, but if you're trying to start a business, you don't want to find yourself wasting hours trying to figure out the user interface. I especially like site builders that let you easily drag and drop elements onto the page and place them wherever you want.
Long-term Usefulness – I don't care about free "trial periods." You need a free website you can use for as long as you need.
Easy and Inexpensive Site Upgrades – If your website goes really well, it might start to pay for itself, whether with ad revenue, leads for your business, or what-have-you. It's always good to know that if and when the time comes, you can easily get more out of your site without having to break the bank.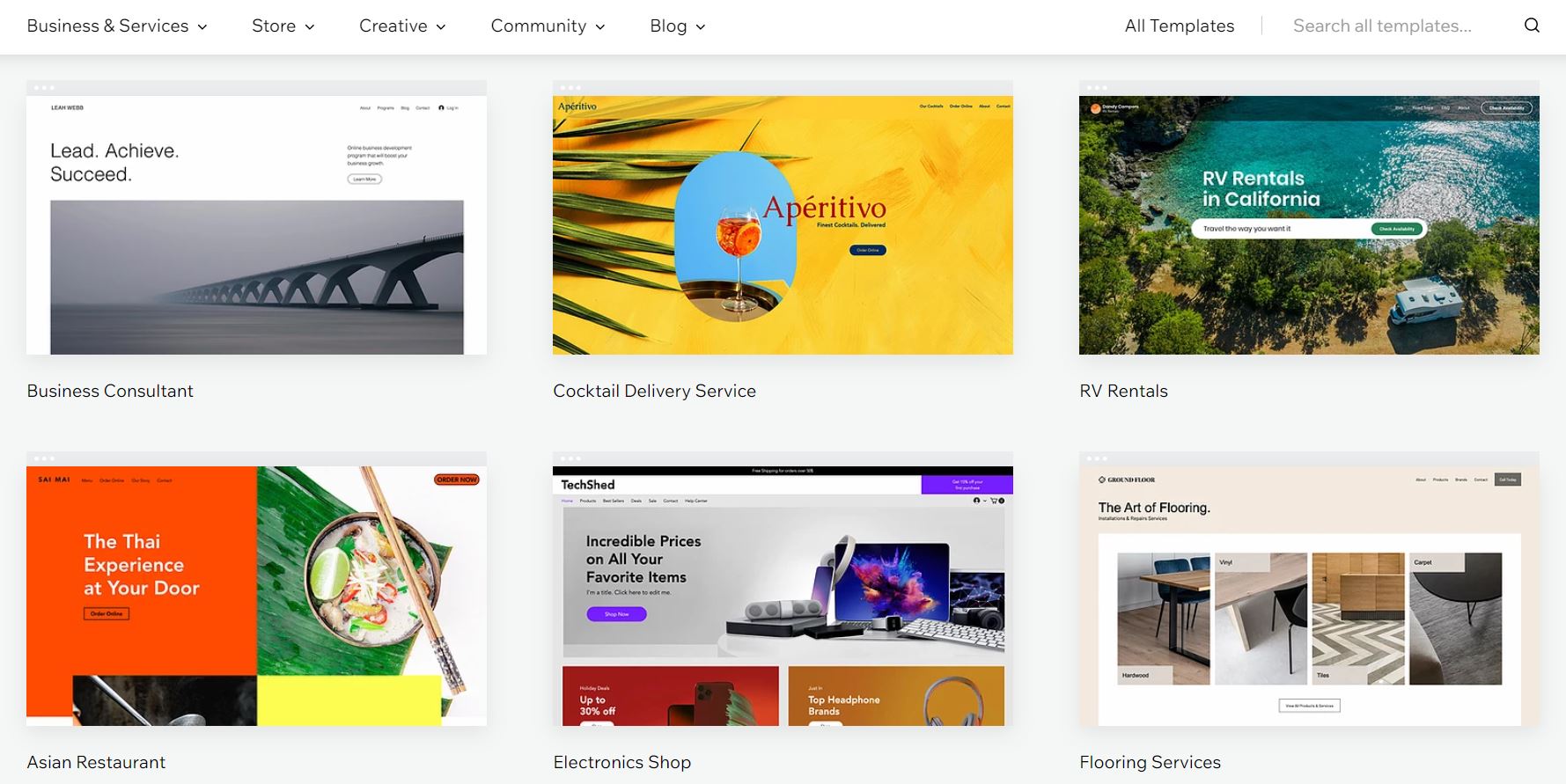 Wix has been at the forefront of the website builder industry for quite some time, constantly evolving. As such, it has one of the most feature-filled site builders around, and it shows.
Wix also has one of the better free plans around, as it grants you access to almost every feature for free, with a few notable exceptions such as e-commerce. There's truly no reason you couldn't use Wix's free plan forever, more or less. All of Wix's templates are available on the free plan, and they look good. You could easily have a free site that looks like this demo portfolio I made.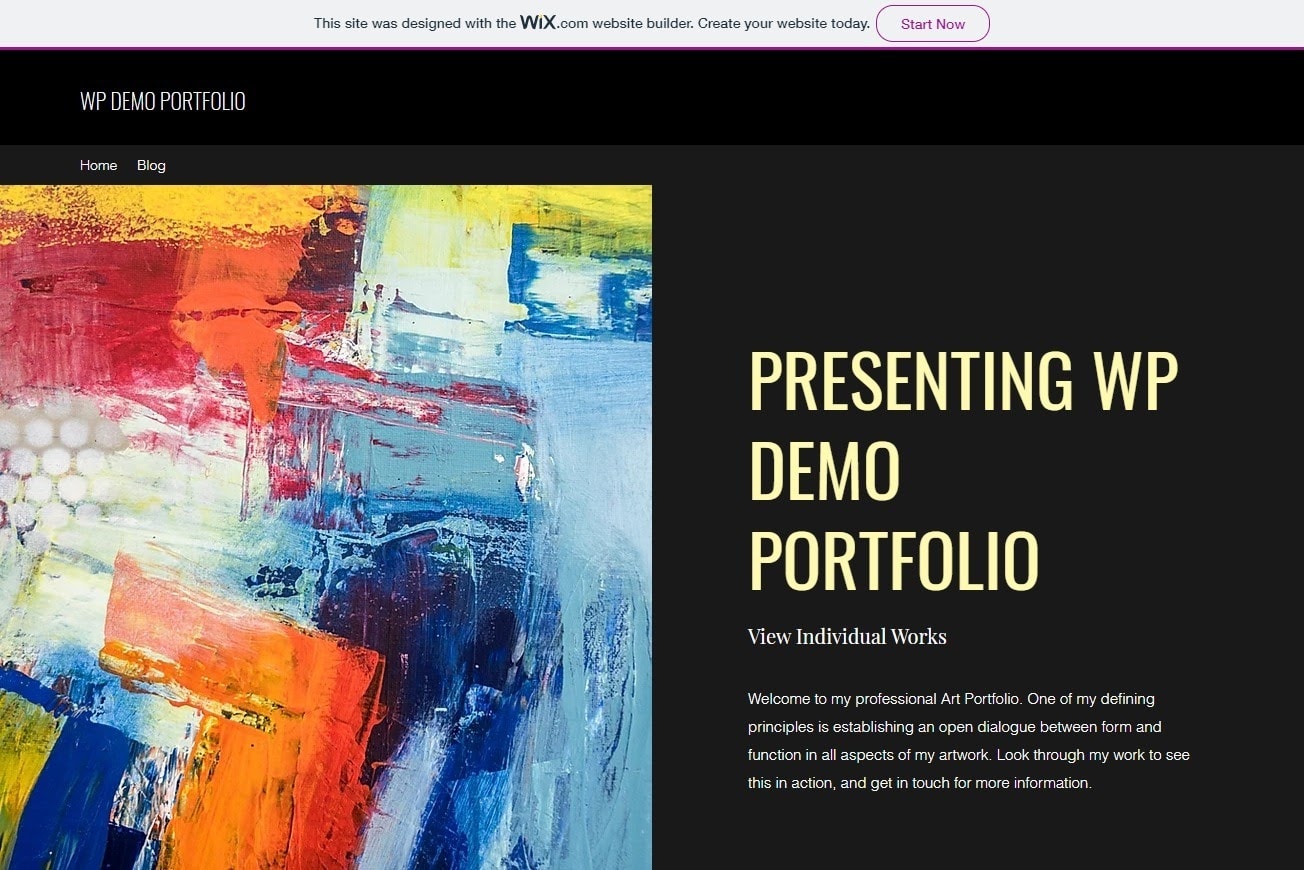 Features & Ease of Use
If you're building your very first site or you just want to try Wix out, here are the features that may interest you the most:
900+ Templates – One of Wix's best features is the simply massive template library. Some templates are better than others, some are a bit dated, but in my professional opinion, most are quite good.
Complete Drag-and-Drop Freedom – What makes Wix's editor so popular is the fact that you can drag and drop anything and place it anywhere on the page. Well, almost anywhere, but it's still a lot of creative freedom compared to other builders.
Free Apps – Wix App Market offers a pretty impressive library of apps to extend your site's functionality, and even integrate it with third-party services. Now, not all of these apps are free. You may have to pay for some individually. But there are enough free apps to get you started with social media integration, advanced forms, event calendars, and much more.
Marketing Tools – Need to get the word out about your site? Wix more than has you covered with SEO tools, email marketing, a social post designer – all for free. You'd have to upgrade to a paid plan to access more advanced analytics, the "Site Booster" app, and a few other perks like free ad credits.
Blogging Tools – The Wix Blog is technically one of the "apps," but it's free, and it's not that bad at all. You can create engaging, custom-designed blog posts easily enough, though you can't just drag and drop content around like in the main site editor.
And now, here's the one small downside: the creative freedom and extensive site options all mean that building a site with Wix is more complex than with some of the other platforms. It's not too bad, and you could probably create a great site from scratch in a couple of hours, but it may take some time to get used to how things work.
In addition, I personally found that being able to drag and drop things everywhere means it's easy to mess up your layout a bit. It's not a major problem – that's what the Undo button is for – but it's worth mentioning.
If you want an even easier way to build your site, you can use Wix ADI (Artificial Design Intelligence). It's a light AI-driven tool that will ask you a few questions and generate a site for you, complete with demo content. I used it to create the demo portfolio above in just a few minutes.
If you want to know a lot more about what Wix can do, check out our full Wix review.
Summary
If you eventually decide to upgrade to a paid plan, I'd recommend going with the Combo Plan to get rid of ads, and set up a custom domain name. If you're getting a ton of traffic, though, the Unlimited plan might serve you better.
If you want to run an online store, you should go straight to the Business Basic plan. Wix has a pretty robust set of e-commerce features, but unfortunately, you can't access them on the free plan.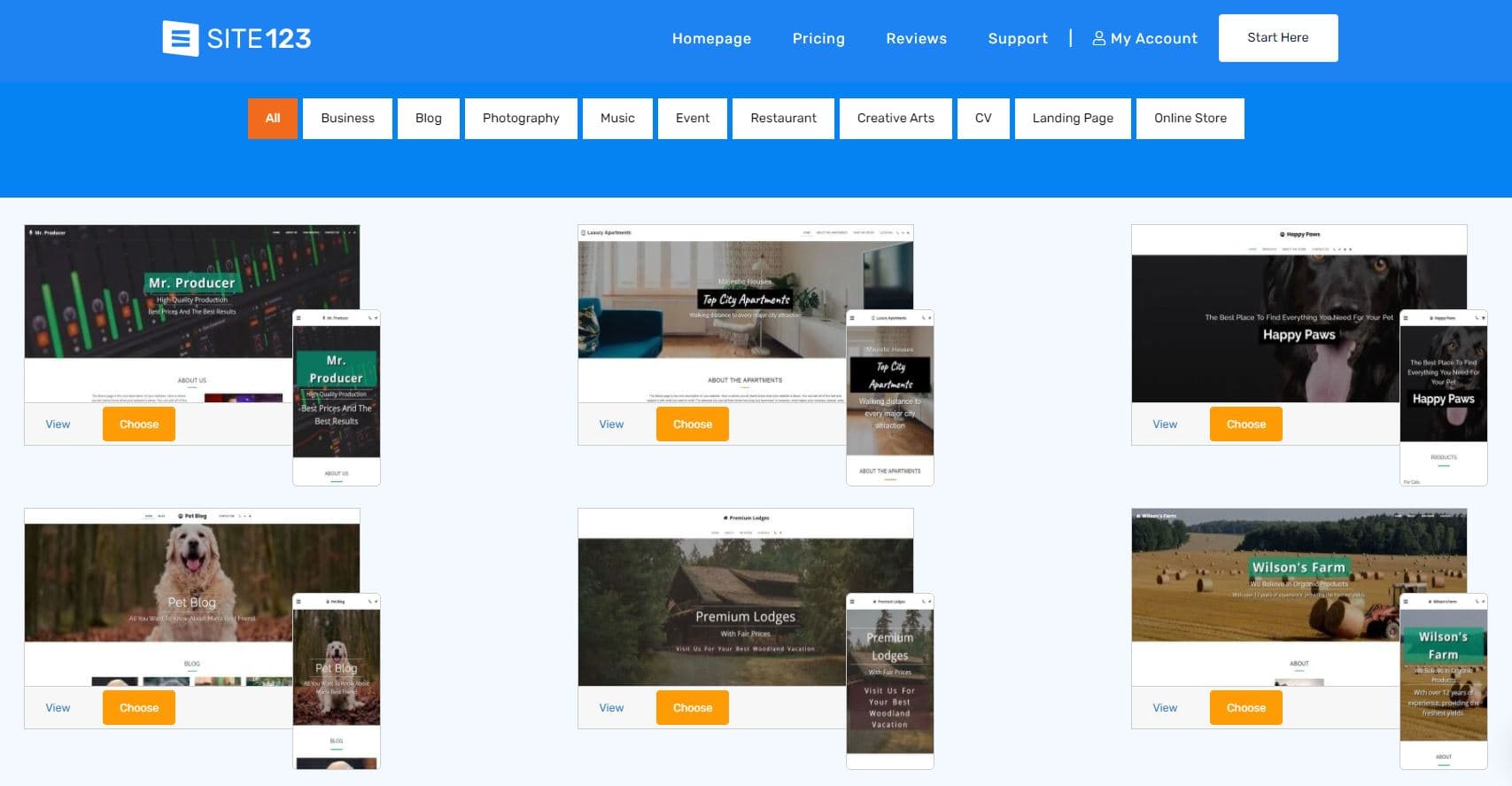 SITE123 bills itself as "By far the easiest free website builder." Well, I haven't tried every website builder in the world (although sometimes it feels like I have), but I can tell you that it's darned easy to get a site up and running with SITE123. Like, give it about five minutes, and then all you have to do is add your own content.
The limitation of this system is that you don't get complete creative control, but the free plan is generous enough that you can use it for as long as you need. Well, that's as long as you don't mind having a URL like https://5e9a8b9c0d85f.site123.me, which is incidentally the URL for the demo site I built.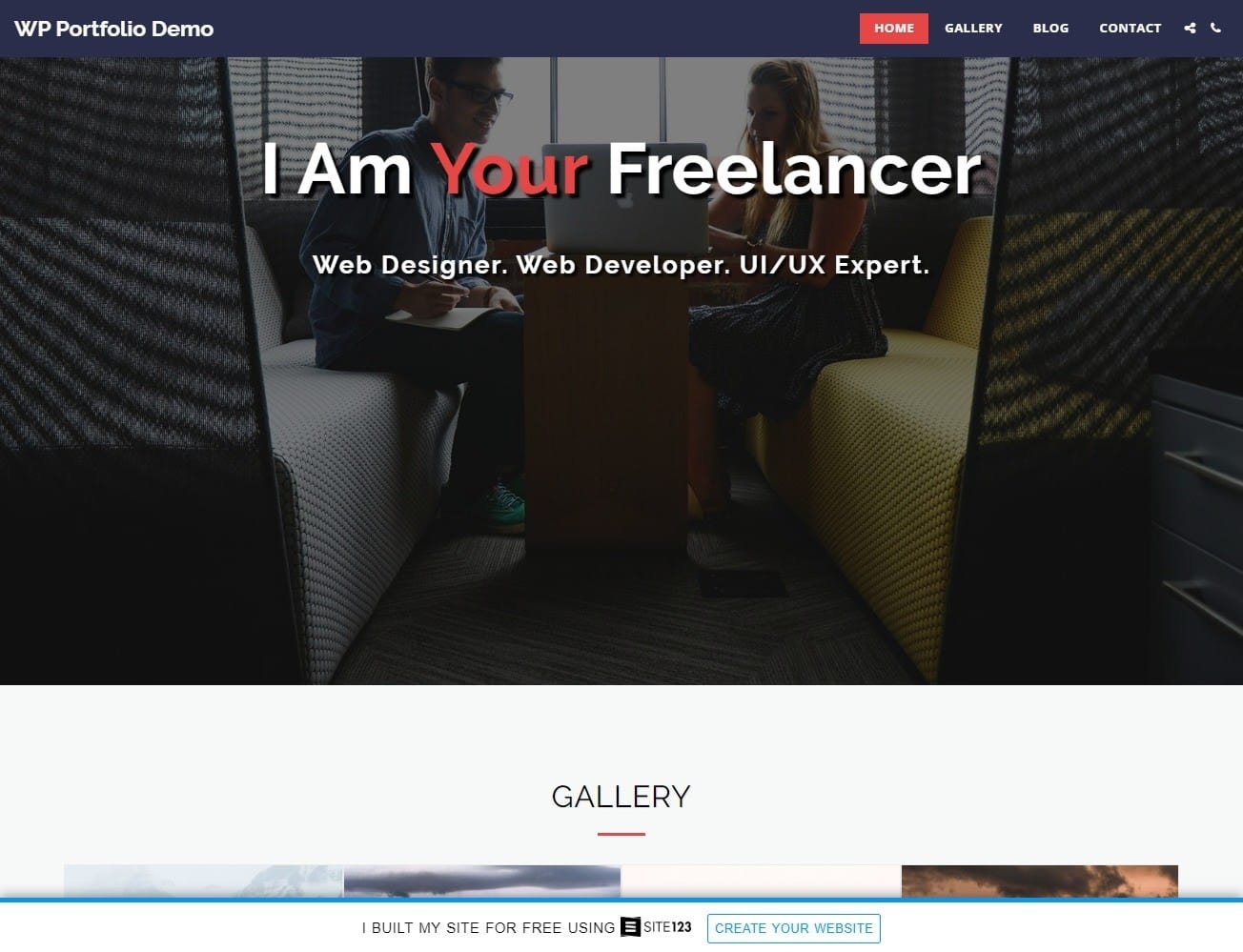 Features & Ease of Use
In general, SITE123's free features are solid, but they're very simple. You can get a few more customization options if you upgrade to a paid plan, but here's the fun free stuff:
Modular Design System – So there's good news and "meh" news. SITE123's design system is super simple to use, and offers easy ways to make your site fit your brand. Changing colors, fonts, and images is a matter of only a few clicks. The "bad" news is that you can't just drag and drop things wherever you like. You have to choose from pre-designed page elements. It's not bad, just kind of inflexible.
I should also mention again that your customization options are a bit limited on the free plan.
Blogging – Yup, you get a built-in blog with the free plan, as shown in the demo site. It's a simple system with tags, thumbnail images, post scheduling, and a classic, Microsoft-Word-style text editor.
Contact and Donation Forms – If you want to build your own custom form or run an online store, you'll need to pay. But if you just need a simple contact form, or a way for people to donate to your nonprofit, that's all free.
Small Business Tools – Event calendars, appointment scheduling, restaurant reservations, and a few more options are all available in the "pages" menu. Just pick one and go.
To give you a more personal perspective on the ease of use, I was able to build my demo site in mere minutes, with little time spent on figuring out how everything worked. Mind you, that does not count the time it would have taken me to put my own content on the site, but I was able to set up the basic structure very quickly.
Read our in-depth SITE123 review for more details.
Summary
So funny thing, the FAQ on the "Pricing" page says SITE123 has four pricing plans, but only two options are displayed: Free and Premium. However, if you try to upgrade your free site from within the SITE123 editor, you will see four different plans to choose from: Basic, Advanced, Professional, and Gold.
This is a bit confusing, but at least it's good to know you have options to scale up. The more expensive the plan, the more storage space, bandwidth, and other resources you get.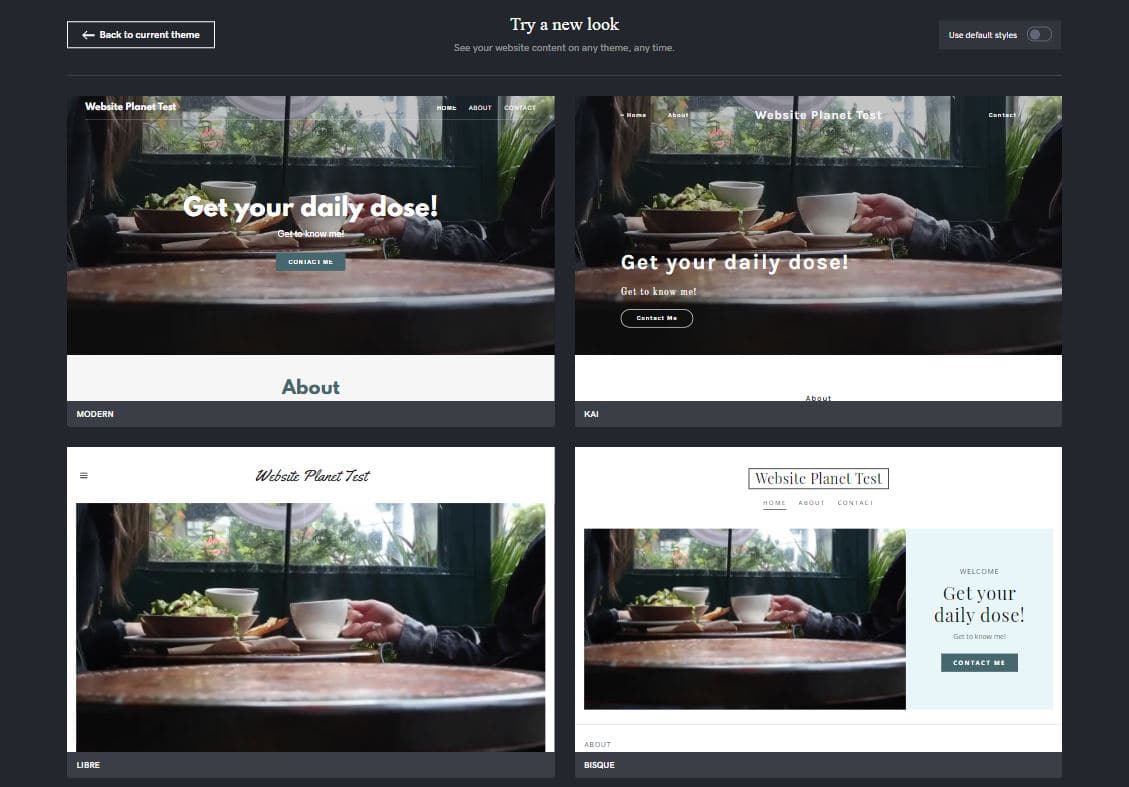 GoDaddy's site builder is more of an afterthought compared to the company's main business of domain name registration, but it's not a bad place to start a simple website. The demo site I made literally took me minutes, including the blog.
Keep in mind that you don't get a lot of creative freedom, though. There are only 22 themes, and the actual page layout is handled by pre-designed and pre-configured blocks of content that you can add or delete at will. The themes are more of a collection of typographical and color styles, rather than a complete site design.
Either way, the GoDaddy site builder is simple, and it's free, but there are naturally quite a few limitations. For example, you won't be able to create recurring events or get notifications when customers book a service. You also won't have access to GoDaddy's SEO wizard or insights beyond Google Analytics. Plus, your site will have ads and you can't connect a custom domain.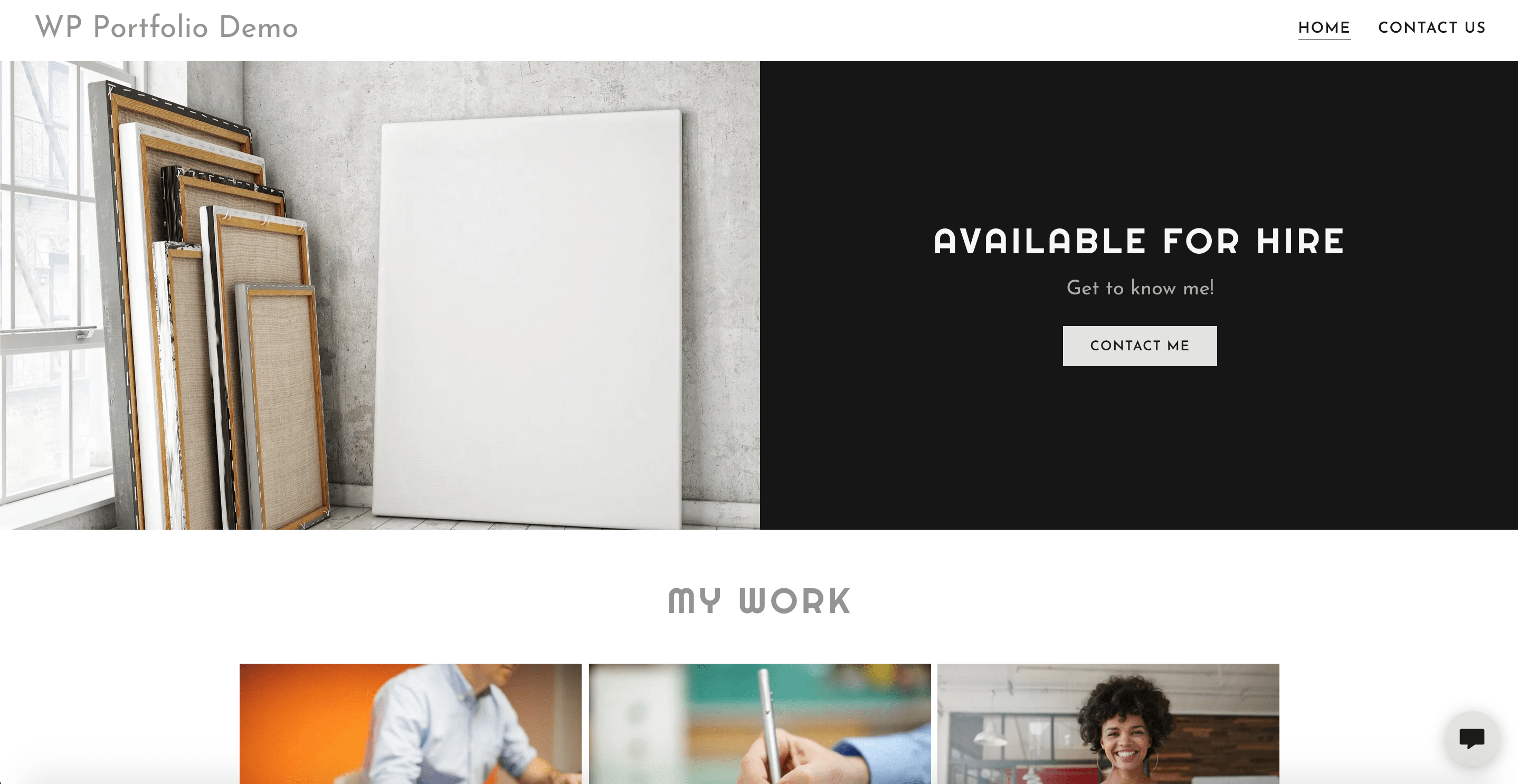 Here's what you do get for free, indefinitely:
Blogging

– The blogging system is quite bare-bones. You can insert text, images, videos, and dividers. But hey, you can also categorize your posts, schedule future publishing, and… and that's about it.

It's

very

basic, but serviceable.

Email and social media marketing

– The good news is that you can send marketing emails on the free plan – but you're limited to 100 per month. Depending on your audience size, this could be enough.

You can also link your site to Google My Business listings, Yelp, Facebook, Nextdoor, Instagram, Twitter, and LinkedIn. This will allow you to quickly share updates from your site all over social media.

Contact forms and appointment-booking

– Yes, contact forms are available and apparently unlimited.

Appointment booking is limited to one-time appointments, though. If you want recurring appointments, you'll have to upgrade to the Premium plan, at the very least.

Accept PayPal payments

– If you want to list and sell products via an online store, you'll have to upgrade to the Business plan, which is the most expensive. However, you can put a PayPal button on your site with the free plan, which could be good enough for accepting donations or fundraising. 



24/7 customer support

– That's right! Customer support is available even on the free plan. However, I did have some problems connecting to someone through chat, which is currently only available in the US for English-speaking customers.  
Read our in-depth GoDaddy review for more details.
Summary
If you decide the free plan isn't enough for you, and you really like the way GoDaddy does things, I'd start with the Basic plan, which is the cheapest. It's more than enough for a simple portfolio, landing page, or brochure site.
If you actually want to run a business of any kind (whether that includes an online store or not), I'd go straight to the Business plan. It's pricey, but it has literally all of the features. In theory, you'll be making that money back, and then some.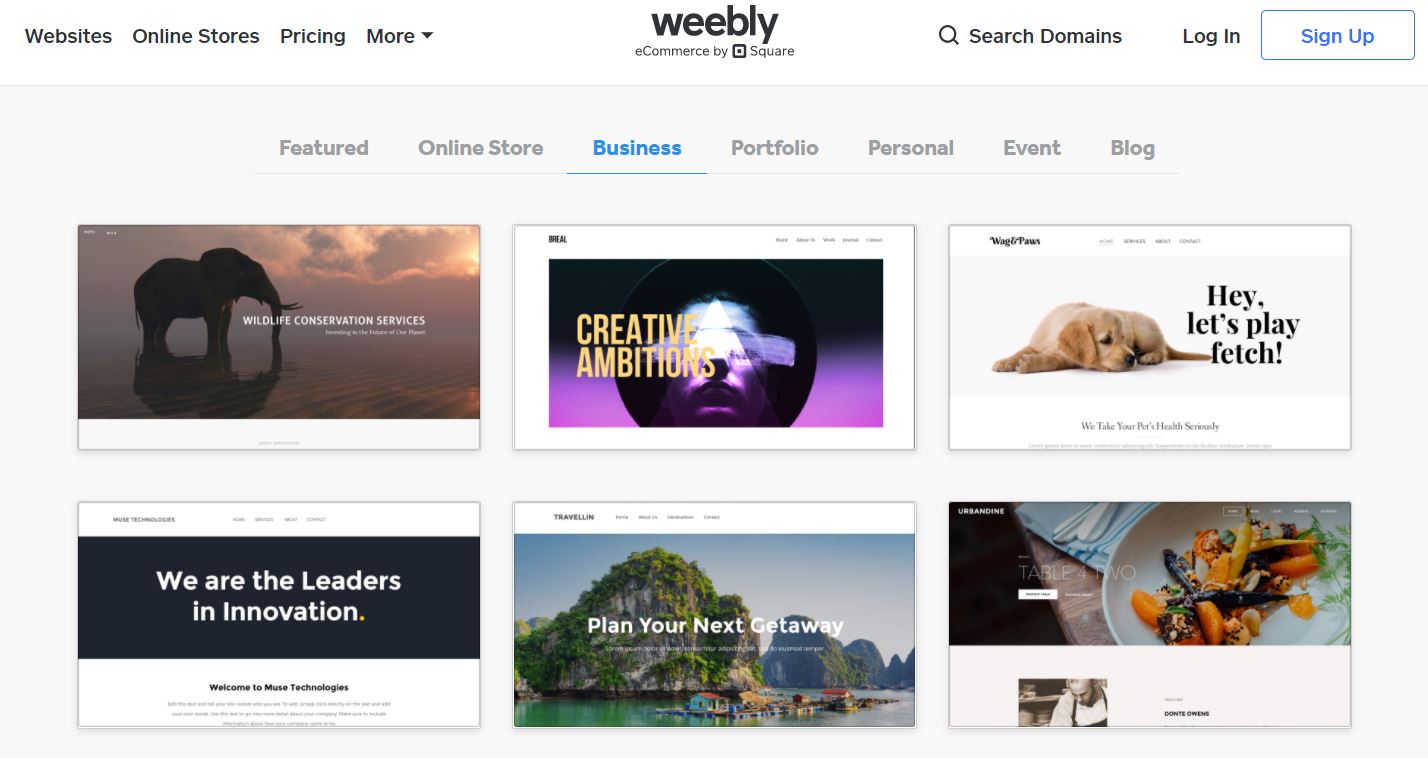 Weebly is another veteran of the site builder industry, and almost gives the likes of Wix and Squarespace a run for their money in terms of features and cheap prices. The templates are pretty, the site editor is smooth, and so it's here on my list.
Weebly is a site editor that doesn't try to do everything for you. There was no AI-lite thing trying to build my site for me, and I had to provide my own demo content. Well, that second one is more of a reviewer's problem, because you'll want to write your own content anyway.
Whether the platform's focus on letting you do things for yourself is a bonus or a problem will depend on… well, you. Anyway, here's the demo I built real fast: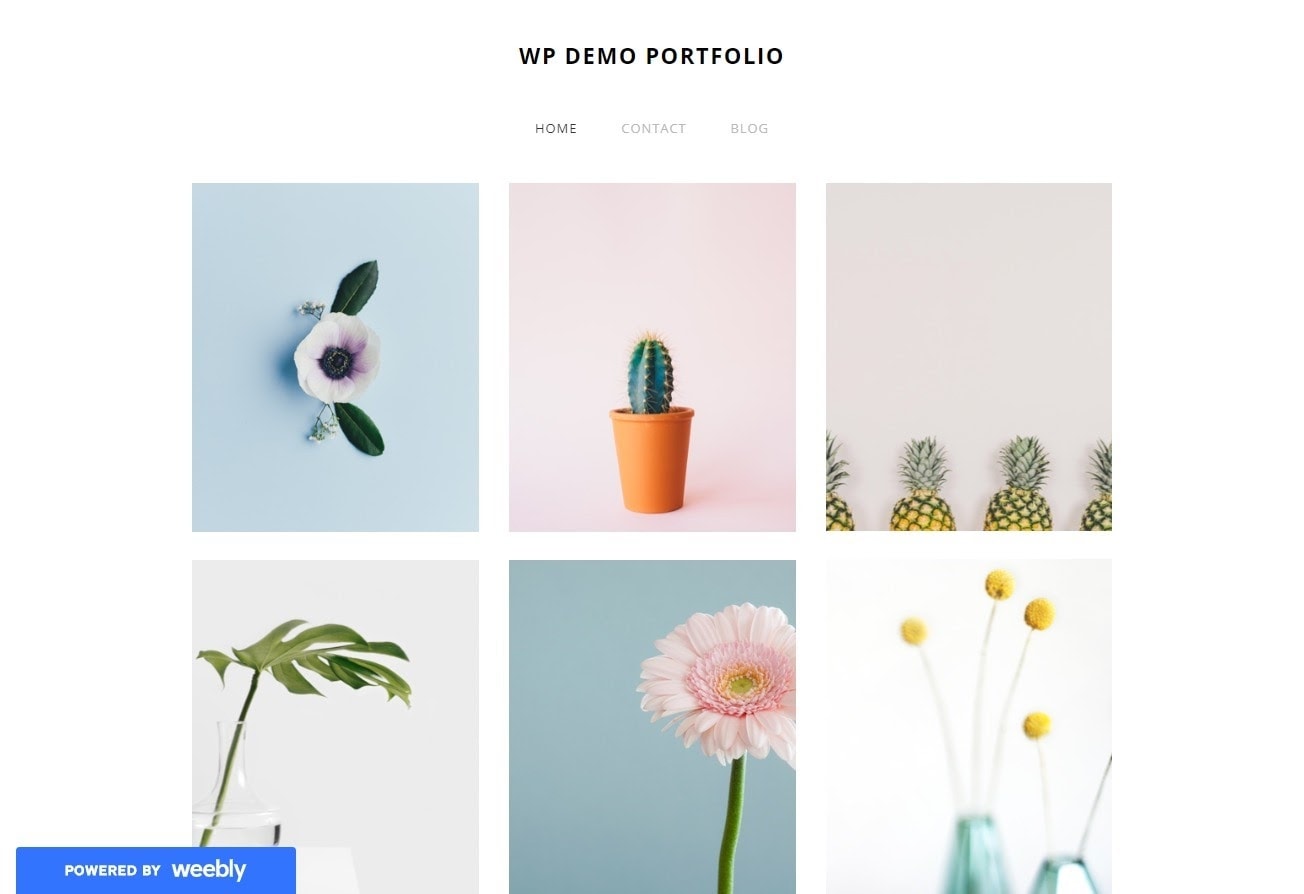 Features & Ease of Use
And here we are with another set of free features.
Block-Based Drag-and-Drop Design – While Weebly has a somewhat small number of themes (this is what they call templates), they are well-made and quite pretty. Within those themes, you can drag and drop blocks of content (text, images, menus, maps, etc.) into almost any layout you like. Not "anywhere on the page," like with Wix, but you do have quite a bit of control over the final design.
Blogging – You can edit your blog posts in the site editor itself, which I like. You can drag and drop blocks of content and functionality into blog posts just like you can with any other page, though without the same layout flexibility.
Free Ecommerce (in Some Countries) – Okay, this feature isn't available in every country, but in the US and a few other locations, you can set up a store and sell products for free. The only limitation to this feature is that on the free and cheaper plans, there is no shopping cart. Customers would have to buy products one at a time.
Free Apps – Weebly's App Market includes free apps, premium apps, and apps with both free and premium plans. You can use them to integrate your site with social networks, create advanced forms, and more.
Free SEO/Marketing Tools – On the free plan, these tools are rather basic, but still useful. As far as SEO goes, you can customize all of your pages' metadata manually. As for marketing, there's a tool for taking newsletter sign-ups. You can also embed surveys, and monetize your site with Google AdSense, all on the free plan.
This is quite impressive, as most site builder free plans won't let you monetize your site at all.
Find out more in our full Weebly review.
Setting up my demo site was fast, easy, and at no point did I feel like I was missing out on too much of Weebly's functionality. The only downside is that sometimes I look at a relatively empty page, and it can make me think, "Where do I even start?" You might run into that, too. But as long as you go into the process with a basic plan for what you want your website to say and do, the rest will follow.
Summary
If you're going to upgrade, go straight to the Pro plan. It's cheap, has unlimited storage, and it adds a shopping cart to your online store. It's also the cheapest plan that removes the Weebly branding from your site.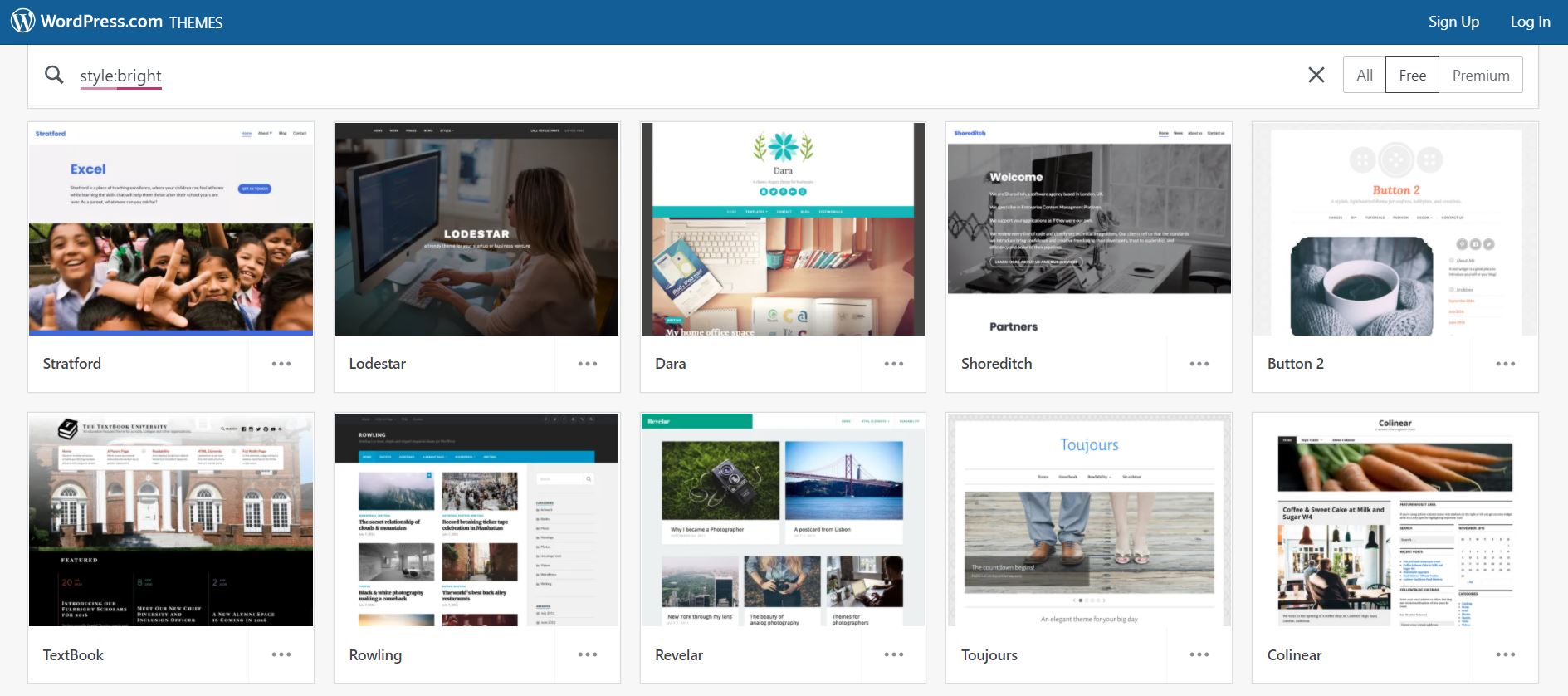 WordPress powers over a third of the Internet in one way or another. It started off as a blogging application, and now it's the single biggest publishing platform in the world. For clarity's sake, this article is discussing WordPress.com, which is sort of a site builder, not WordPress.org, which is home to the original software.
And though WordPress.com bills itself as a site builder, it works much more like an old-fashioned content management system (CMS). That means it's very flexible and powerful, but it takes a bit of time to learn. You don't get the same drag-and-drop functionality you get with other builders.
I should also mention that the free plan on WordPress.com is very limited when compared to the original software (which you should remember is also free, hosting costs aside).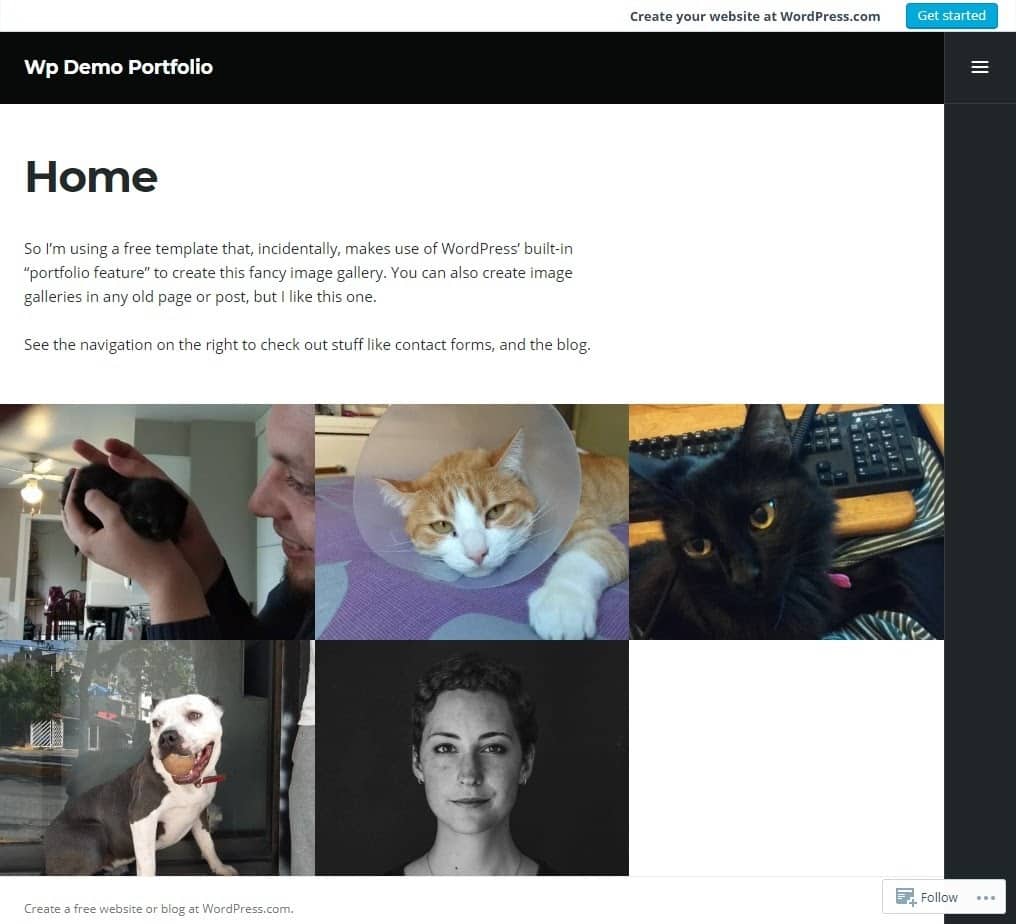 Features & Ease of Use
One of the Best Blogs Around – WordPress is, first and foremost, blogging software. You can make it do just about anything else, but that takes time. If you just want a solid blog, or a simple business site with a blog, WordPress.com can do it well.
Over 100 Fantastic Free Themes – As an old-school CMS, WordPress is very theme-based. While you do have some control over the layout of your content, most of the design choices will be made "for you" by the theme you choose. Some themes are highly customizable, but not all.
Built-in Portfolio Feature – One thing WordPress.com has that the original software doesn't is the ability to quickly and easily build a portfolio on your site. You basically add pages in the Portfolio section of your site, and certain themes (such as the one in the demo) will display your portfolio pieces automatically.
Marketing and SEO Tools – Not a lot to say here: analytics, newsletters, SEO. The gang's all here. A lot of the more advanced SEO functionality is provided by plugins rather than WordPress itself; plugins, unfortunately, are locked behind the paid plans.
Read my full WordPress.com review to learn more.
WordPress.com is pretty good at explaining what you need to do, but the nature of the software can leave you feeling a bit confused. There's just… so much. And so many things that are walled off behind more expensive plans.
Listen, I have extensive experience with WordPress, and I love it, but there are definitely easier options on this list.
Summary
If you get fed up with the limitations of the free plan, go for the Premium plan at minimum. It's best if you want to do some actual business, accept payments, etc. Plus you get the unlimited Premium themes. Go for the Business plan if you want an actual online store, or to extensively customize your site with plugins.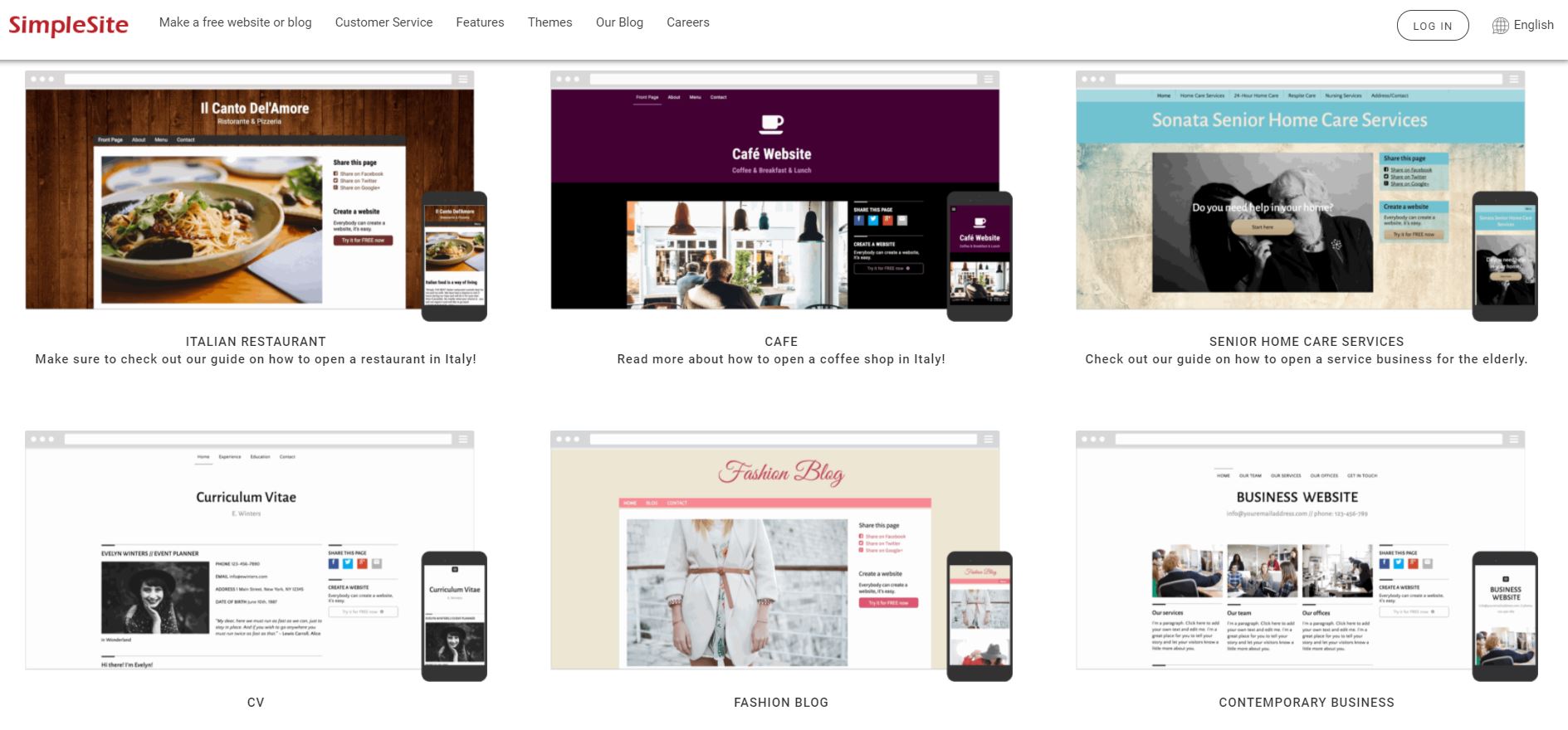 SimpleSite definitely lives up to its name. It helps you make sites, and the sites are very simple. Have I said that enough? Probably, but by now you should understand SimpleSite's whole deal.
With that simplicity, however, comes a shortage of features. This site builder isn't designed to do a whole lot. The company advertises the ability to start a blog, but I actually couldn't find that functionality anywhere. I don't know if it's a premium feature or not, but it's definitely not there for free users.
That's why my demo site looks… even simpler than most. I like to think my animal photos do a lot to spice things up anyway.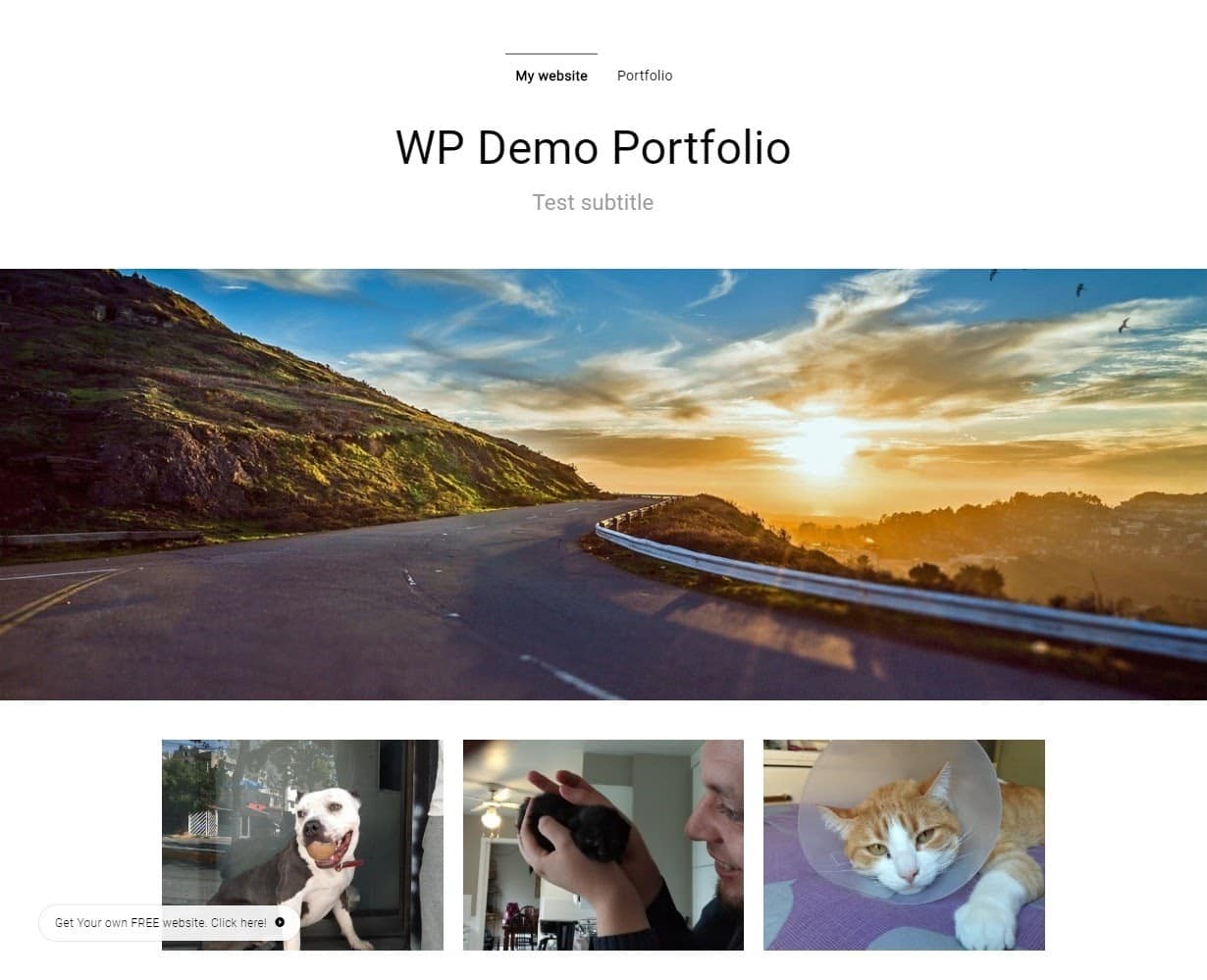 Features & Ease of Use
While SimpleSite doesn't have the most advanced set of features, the ones it does have are well-built and useful.
Change the Look of Your Site – After you choose a template, you can't easily switch to another, but you can customize all colors and fonts.
Flexible Content Layout – You do actually get some control over how you lay out your content. I actually couldn't figure out how to make vertical columns of content the last time I tried the editor for a different article, but I managed it this time.
Useful Content Widgets – I'm mostly talking about the ability to embed videos and maps in your page content. That's not a lot, but it's useful.
Contact Forms – If you want to give people an easy way to write you an email from your site, you need a contact form. Enough said.
SimpleSite is mostly pretty easy to use, but some things in the user interface aren't made clear, like the aforementioned vertical columns. I'm still a little embarrassed I couldn't figure that out sooner, if I can be honest.
My point is that the app has a small learning curve, but it's there. Be prepared to click around a bit to figure out how everything works. You can read more in our in-depth SimpleSite review.
Summary
Time to talk pricing plans: There are only three plans, including the free one. Just go with the Pro plan if you want all the features, and the Ecommerce plan if you want to sell stuff. Simple indeed. They're not the cheapest plans out there, though; you can get more for less with a lot of the other site builders on this list.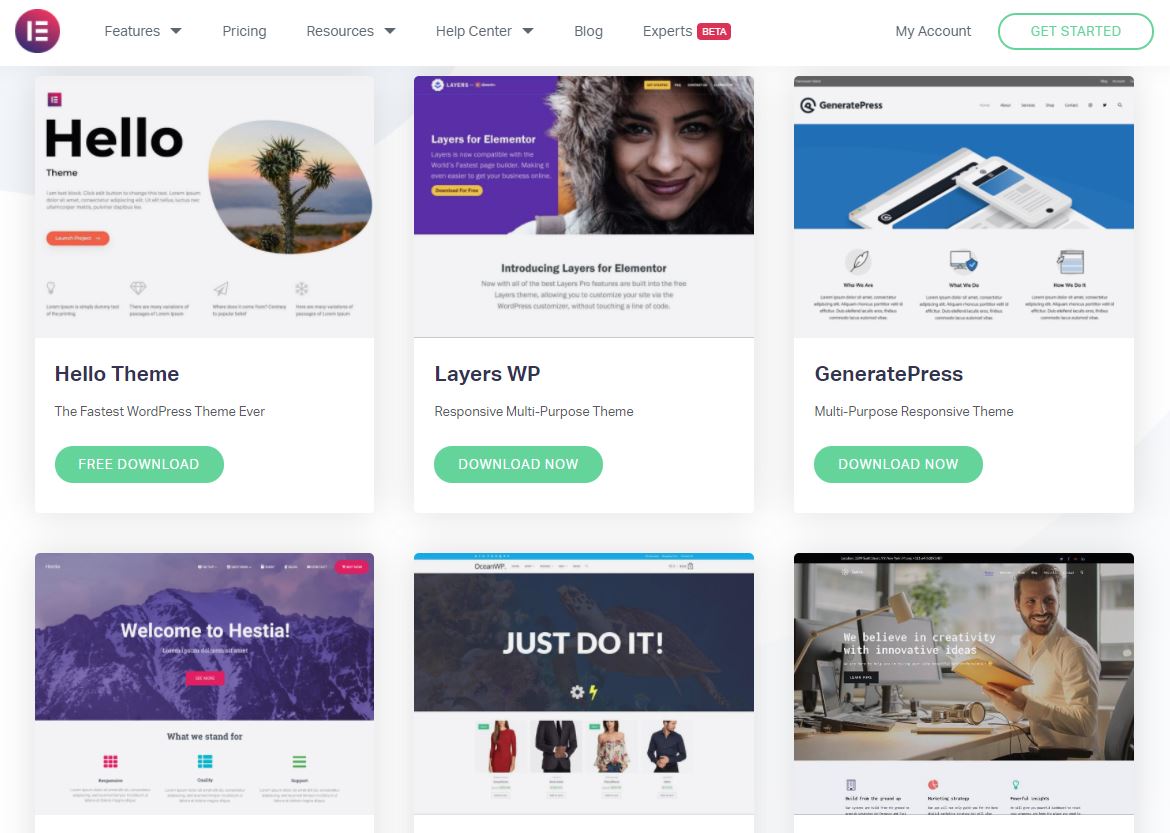 Elementor is a WordPress plugin that gives it proper drag-and-drop site design functionality. You can install it for free on a WordPress site on your own server, or you can pay money to access plugins on WordPress.com, and install it there.
Since Elementor is so big, I thought it was worth a mention, but in my opinion, it's not great for free users. If you want a free website, you can get much more from Wix.
I mean, look at this demo. I couldn't put in a contact form at all, because that's a premium feature. And you may notice that the design looks more than a little plain. That's because there are two ways to build a site with Elementor. You can design your whole website from scratch, like I did in this first version of the demo: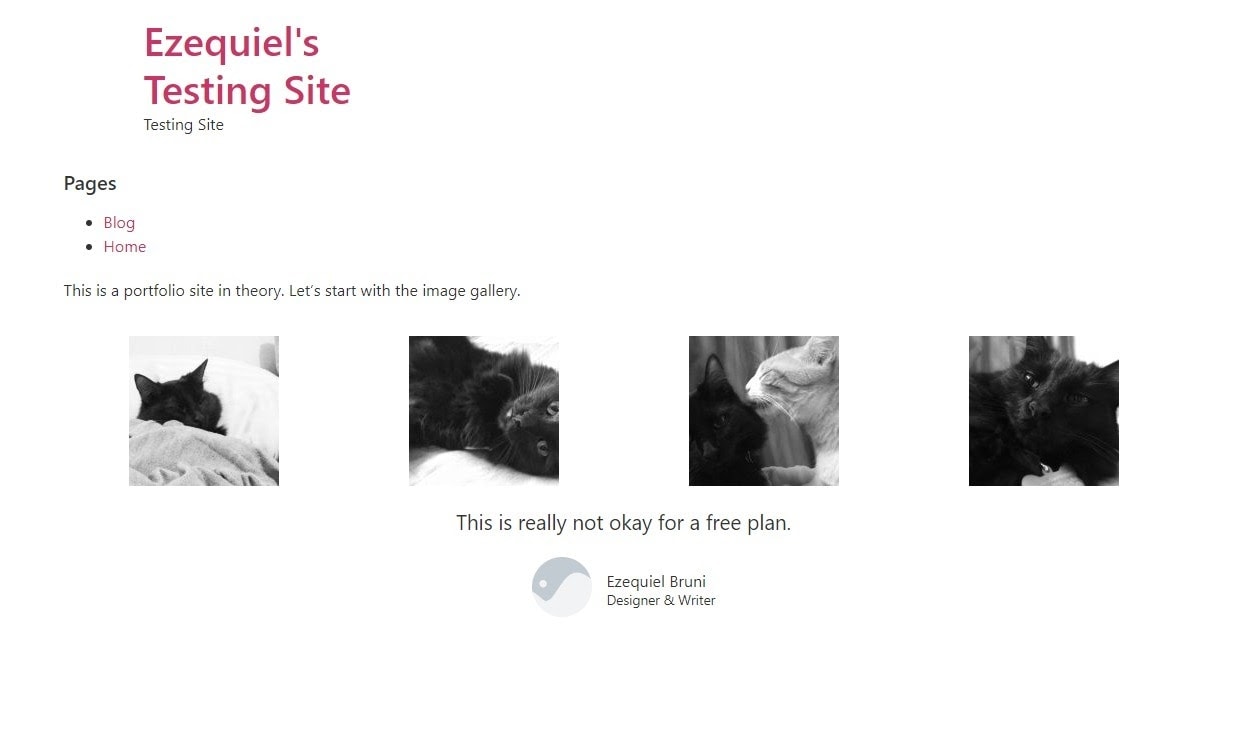 Or you can use the built-in templates to do some of the work for you (see below for further explanation), as I did in this second version: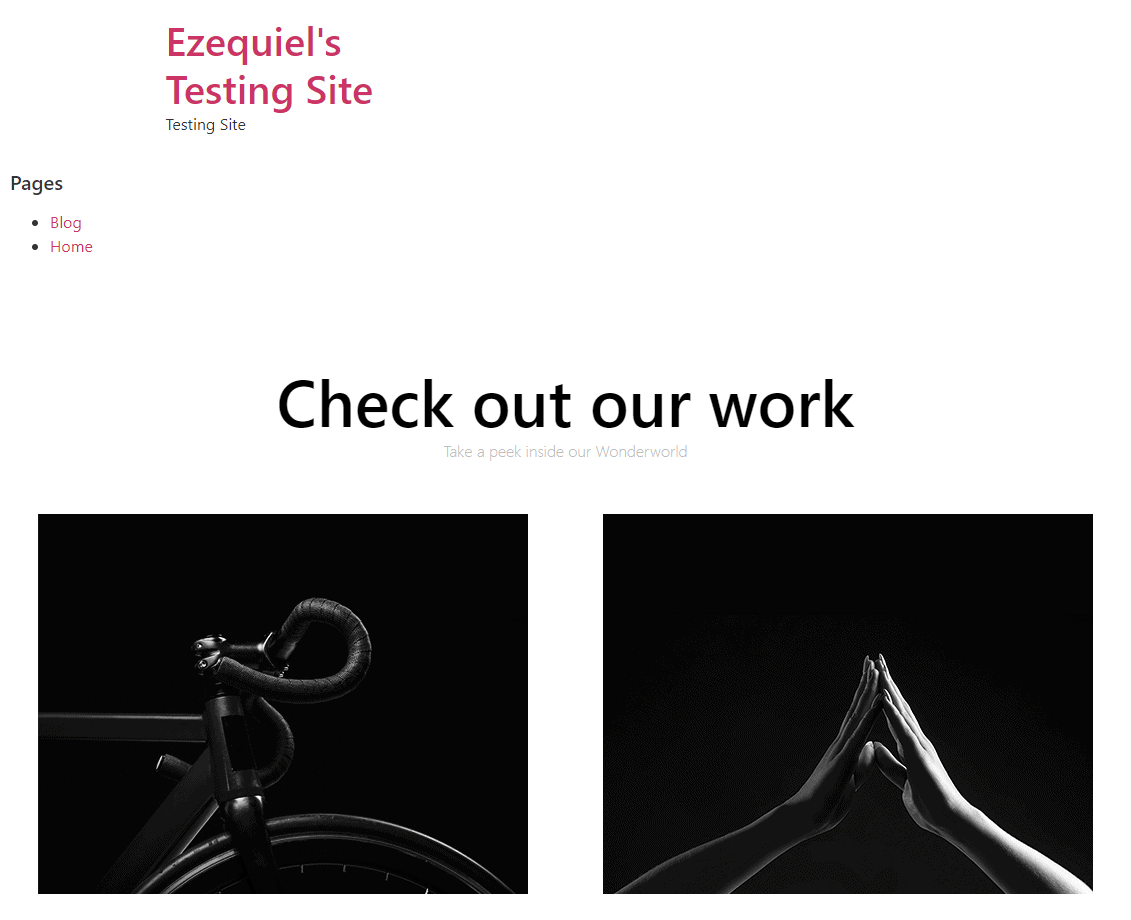 Features & Ease of Use
To keep a short story short, here's what you get with the free version:
Page and Content Templates – There are loads of templates that will set up entire pages, or just sections of pages, for you. It should be mentioned though, that these templates might clash with the WordPress theme you have installed. Also, most of them (including templates for things like site navigation) are locked behind the Pro plan.

Basic Content Widgets – And that's it. You get text, image embedding, basic image galleries, image sliders, and a few other useful things. You frankly almost get more from the free plan on WordPress.com.
Addons – Yep, in the world of WordPress, there are addons to plugins. Basically, these are other WordPress plugins that extend the functionality of Elementor with new kinds of content blocks. Because why not?
Every other feature, from the blogging to the marketing and SEO tools, are all provided by your WordPress site, because Elementor is basically just an easy way to edit the visual aspects of your site, and nothing more. You can read more about it in our full Elementor review.
And here's the thing, it's not actually a bad product. If you want to design a custom site based on WordPress without coding, Elementor is actually really good at that. It's also quite easy to use once you familiarize yourself with the basic controls. The main downsides are that you have to already have some knowledge of design to make anything more than a nearly-blank site, and that the free version has very limited options.
Oh, and the button to access the templates that do the heavy lifting for you is not clearly labeled, which caused me some frustration while writing this review: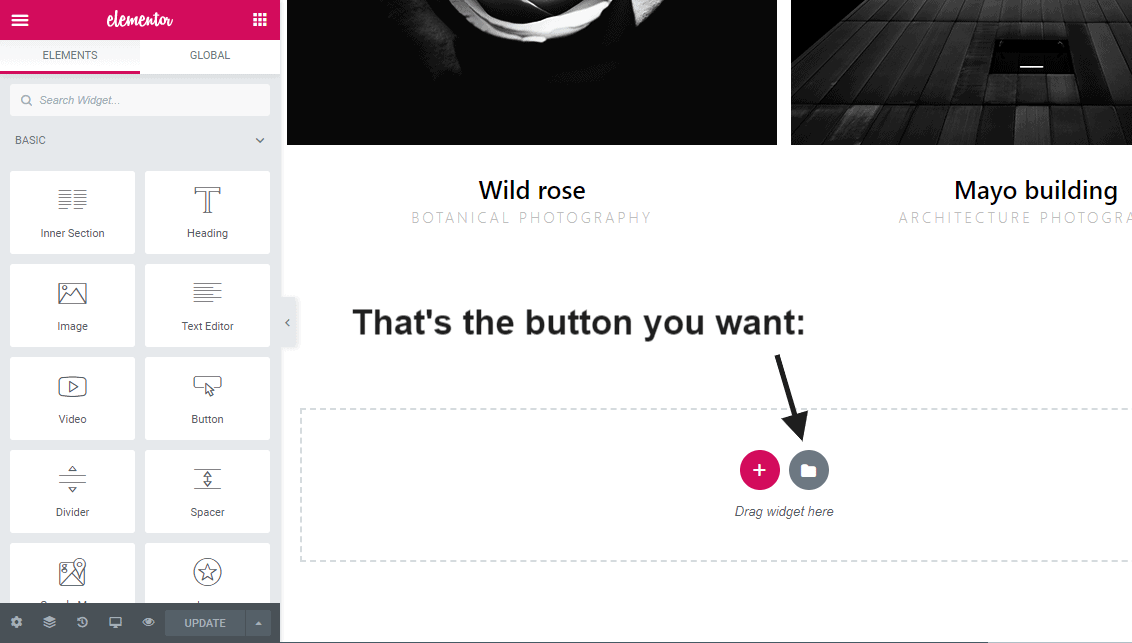 Summary
Small frustrations aside, Elementor is one of the best site designer apps of its kind, if you're willing to pay. The Personal plan for one year, also for one site, is fairly affordable, and gives you access to all features. You won't need a more expensive plan unless you're planning on using it on multiple sites.
Just keep in mind that on top of paying for Elementor, you'll have to pay for your hosting, whether that's on your own server, or a platform like WordPress.com.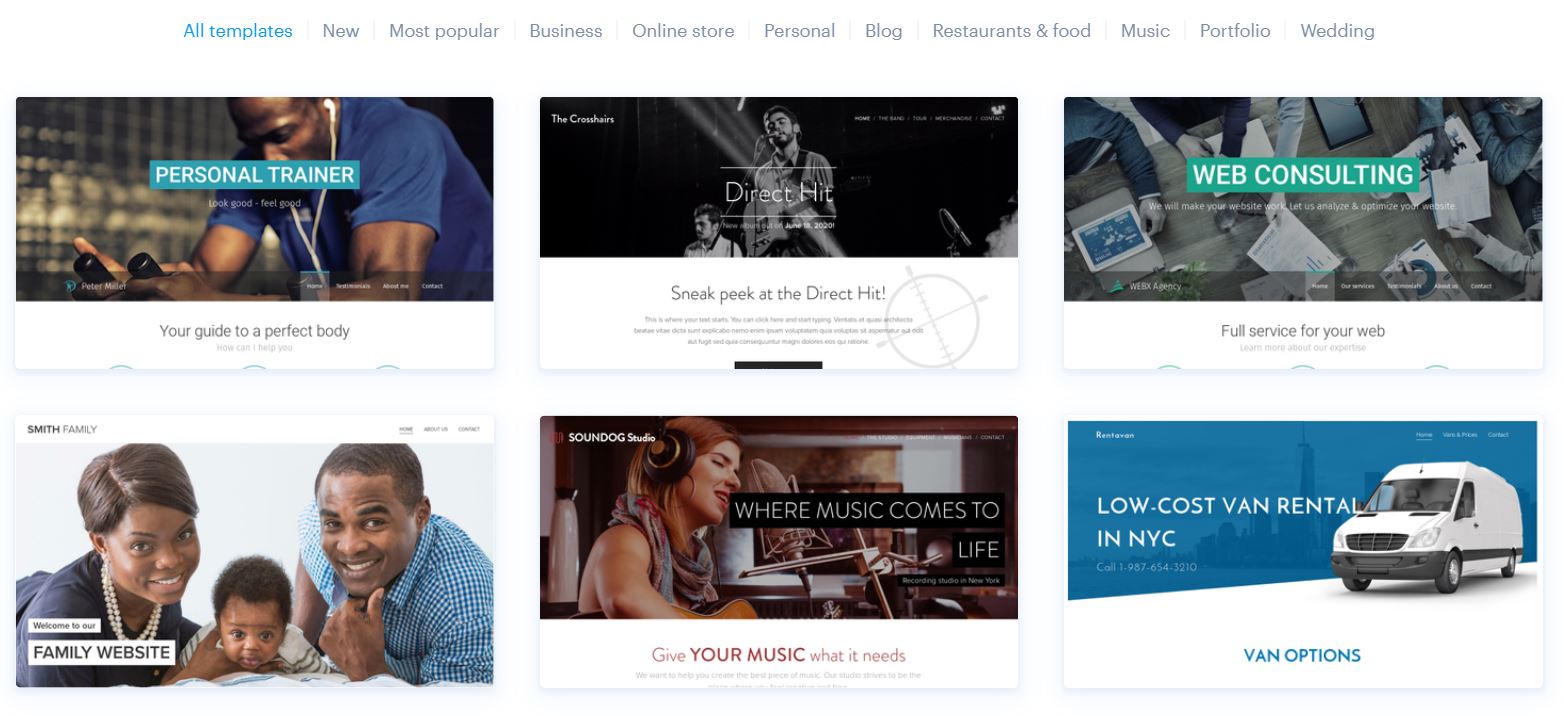 The sites you can make with Webnode are fast and pretty, the software is easy to use, and the platform boasts over 40 million users.
That all sounds impressive, and my actual experience with the software was pleasant enough, but the free plan is very limited in terms of what you can do with it when compared to other options on this list. Your storage space is small, and almost all the shinier features are locked away behind the paid plans. Oh well, this demo here shows what you can do for free.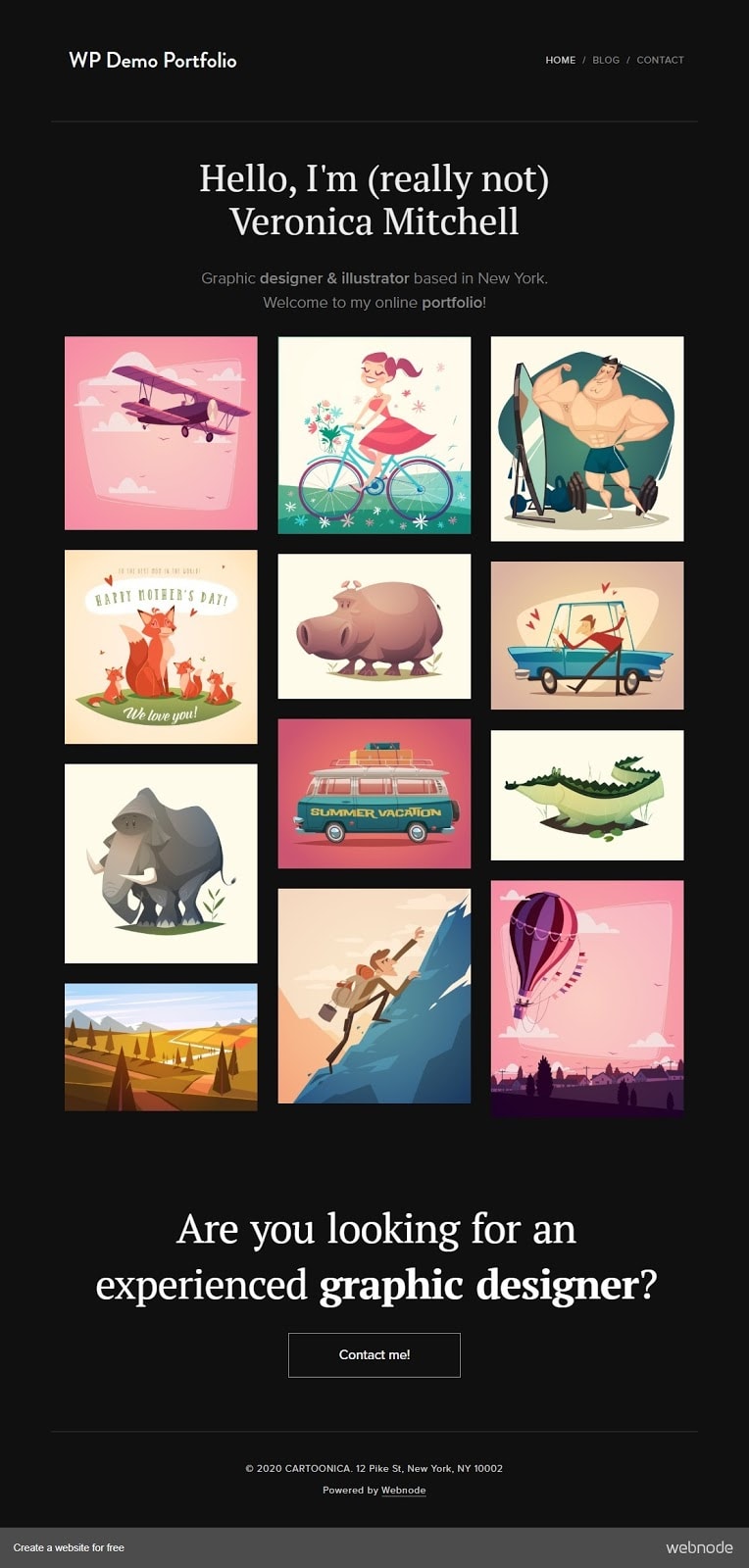 Features & Ease of Use
Webnode's feature set is for people who don't have a lot of time to spend on their site, and for people who want to edit their site on the go. If that's you, you'll be quite happy with the free features:
Lightly Customizable Templates – Though you do get some control over how your content is laid out, most aspects of the look and feel of your site will be determined by the template you choose. It's a good thing they're pretty. You can customize fonts and colors, though, so that helps.
Mobile Editor – A lot of site builders actually provide a terrible experience, or just don't work, on mobile devices. Webnode is one of the exceptions – you can easily edit your site on your phone or tablet.
Blogging – Again, I do love it when I can edit blog posts in almost the same way I edit any other page. You can add pretty much all the same kinds of content, too, including tables, forms, maps, and more.
Google AdSense – Yep, you can throw some ads on your free site. Oddly, Google Analytics is reserved for a paid plan. Go figure.
Add (small bits of) Code to the HTML – It's a minor thing, but being able to inject your own code into the page (such as third-party analytics code) is a nice perk.
Creating my demo site on this service was not difficult at all, and only took me a few minutes. That's one of the upsides to using a simple, kind-of-limited site builder. Like I said, the overall experience was pleasant, and you know what? There are very few platforms out there that I'd say are genuinely "pleasant" to use.
To find out more, read our full Webnode review.
Summary
When you run face-first into the limits of the free plan (not "if," "when"), don't settle for anything less than the Standard plan. It's inexpensive and gives you access to all the shiny features, even if some of them are still a bit limited. Only upgrade further when your site has started to make you some money.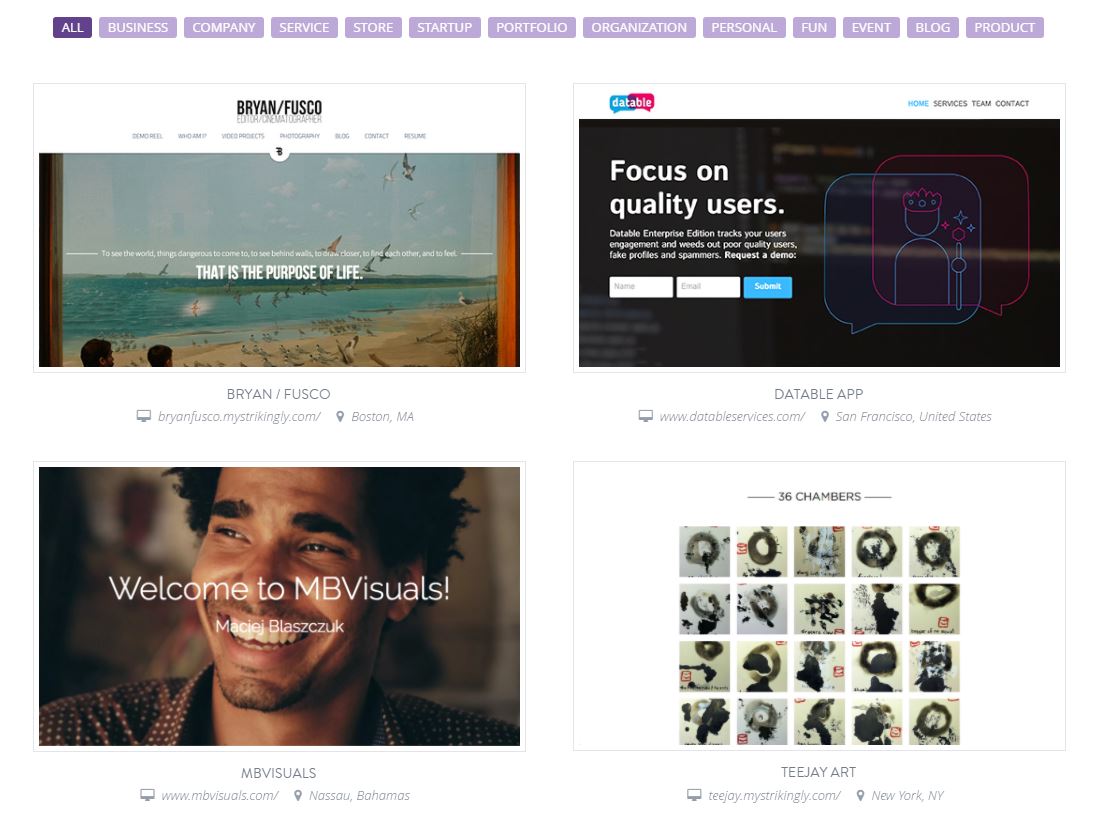 Strikingly is all about that one-page website, as long as you're on the free plan. Okay, if you add a blog or a store, you technically get more pages, and paid plans will let you build normal multi-page sites. Otherwise, everything on your site will be on the "homepage." If you're looking for a quick way to introduce yourself and what you do, in a CV or portfolio site, for instance, this might well be the way to do it.
Of course, this emphasis on simplicity means that creating more complex sites is more or less out of the question. But then, you don't always need something complex. Sometimes you just need a slick portfolio like the demo I made.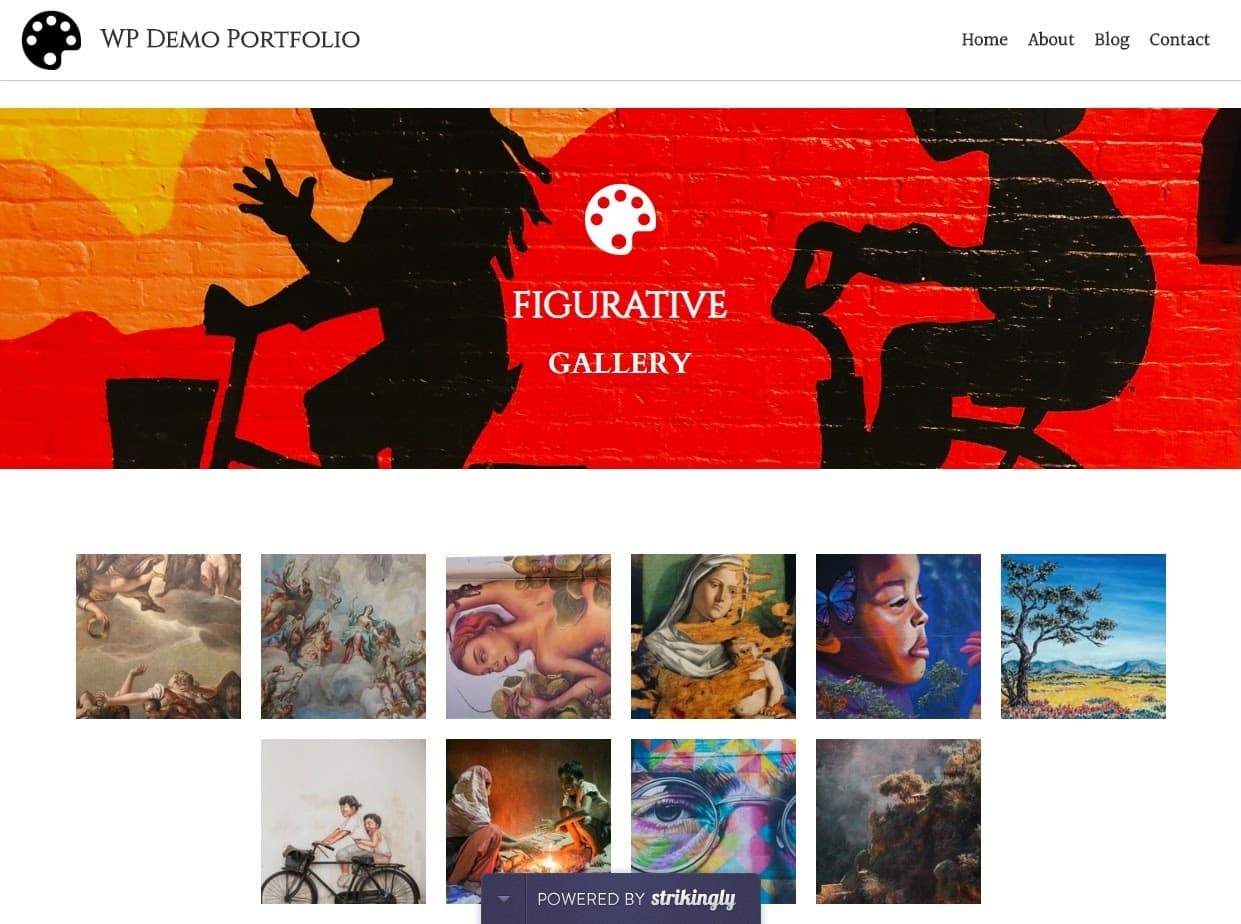 Features & Ease of Use
As the name might suggest, Strikingly focuses on giving you a visually striking site with little fuss:
A Very Simple (Though Limited) Site Editor – Strikingly's design system is one where you can choose from one of a limited number of templates to start, then choose "sections" or blocks of content to add to your homepage. You cannot create any sort of custom layout unless you pay for one of the premium plans, though.
Blogging – Strikingly has solid blogging features, including the usual things like categorizing, tagging, and scheduling posts. I do like that you can edit your blog posts via much the same interface as you use to edit the rest of your site, and you can see exactly what your post will look like.
Marketing and Analytics Tools – You'll find the usual SEO tools here, as well as email and some built-in analytics tools. Newsletter sign-up forms are available as well.
Social Integration Features – Beyond simply adding icons that take people to your social feeds, you'll find a couple of other neat tools in here, like the ability to embed all of your social feeds from Facebook, Twitter, and Instagram right into your page.
Strikingly couldn't be easier to use. My demo site was fast to design, though I did actually trim it down a bit. The default design actually contained much more demo content than I needed.
Want to know more? Read our in-depth Strikingly review.
Summary
If you're going to pay, go straight to the Pro plan at least. It's the cheapest plan that removes the Strikingly branding from your site. It also lets you add 300 products to your store and offers unlimited bandwidth. Plus, you can make up to three sites that all use the Pro features, rather than having to pay for another plan every time you make a new site. Oh, and you get access to the app store.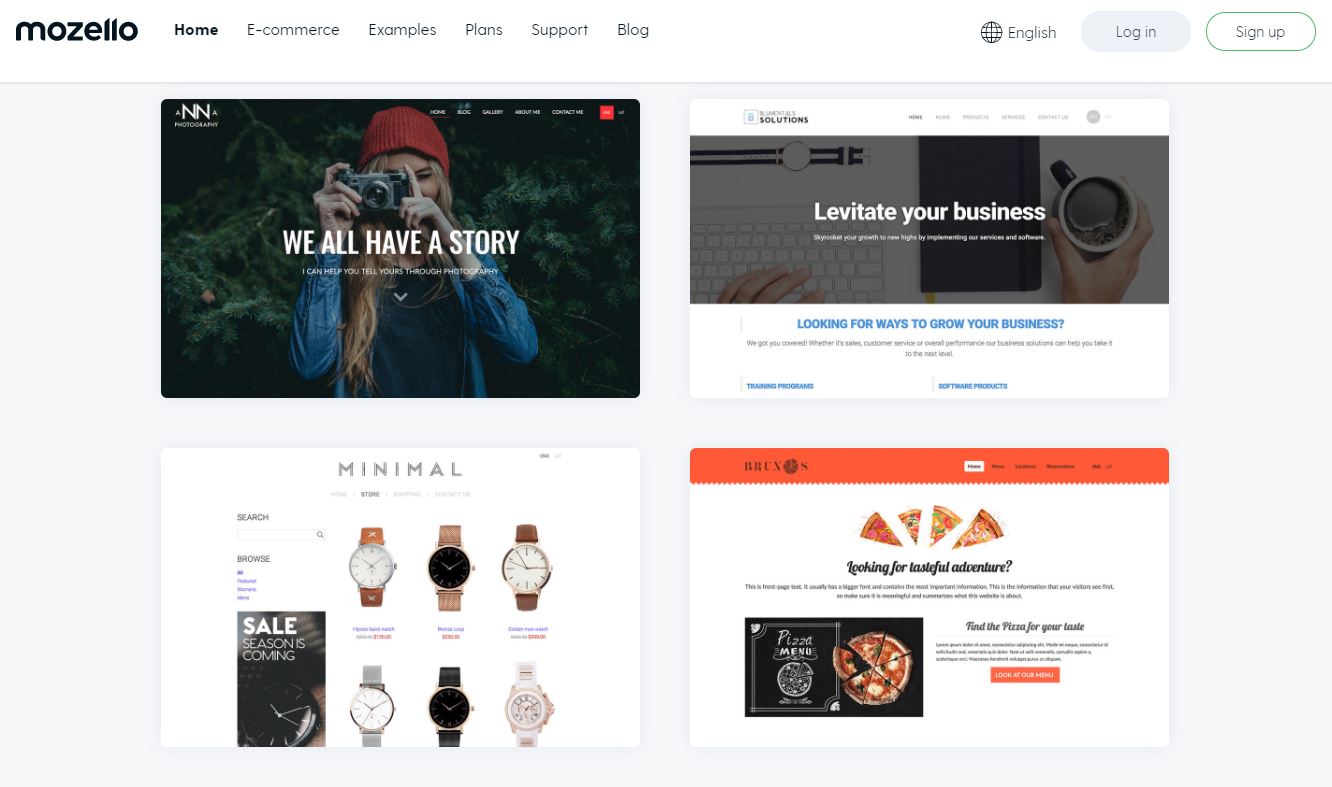 Mozello is a site builder targeted directly at small businesses, I'd say. Its feature-set, though limited, is great for anyone who wants to attract new customers, and pretty much all of the templates are business or store-themed. There isn't a lot of design variety, but the platform is good at what it's designed to do.
I mean seriously, even their home page has a vector illustration of a small office and motivational posters. But more important than Mozello's website is the one you build with the platform, and it might look something like this demo.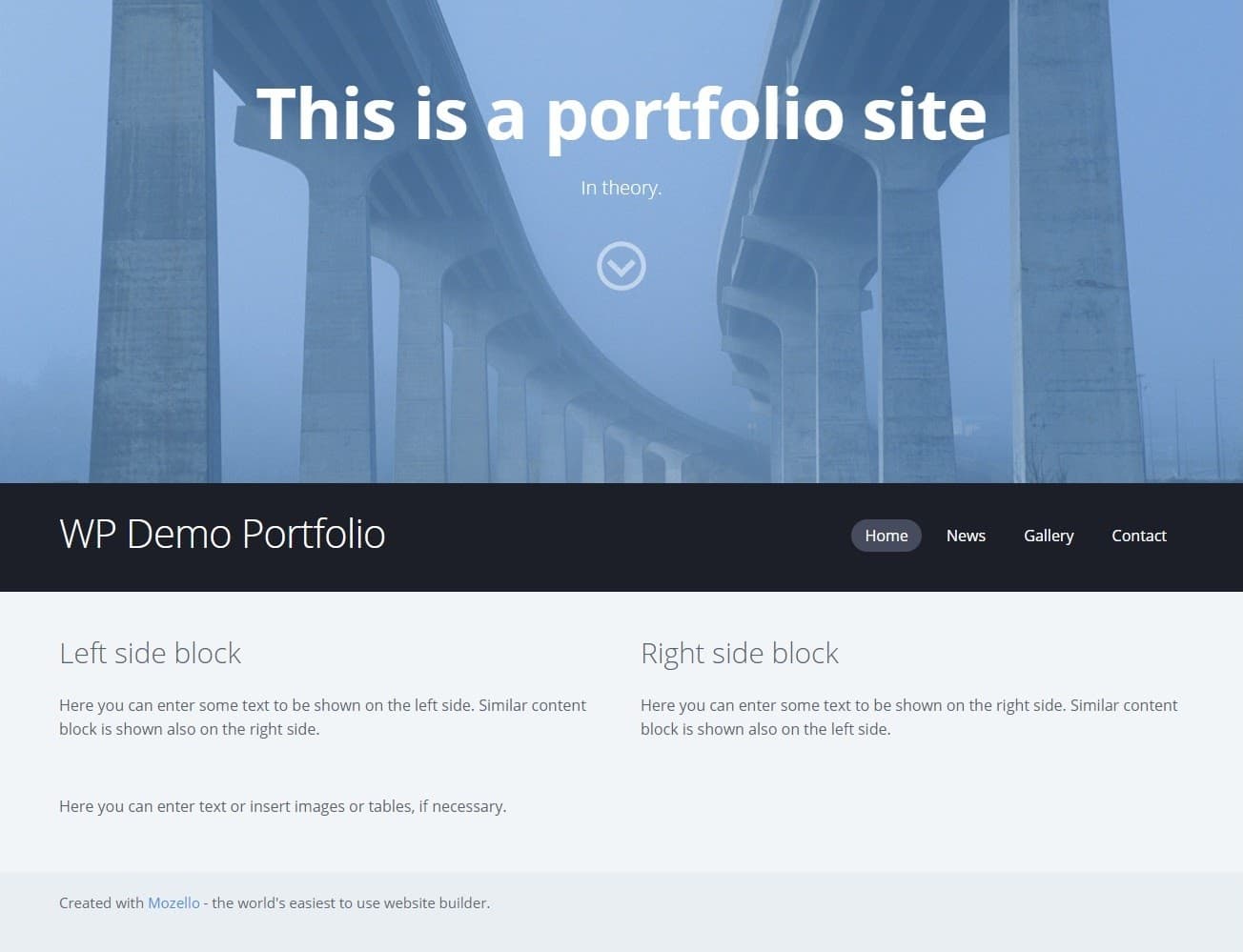 Features & Ease of Use
One thing I like about Mozello is that pretty much all of its features are available, if only in a limited fashion, on the free plan. You can try everything out without having to pay.
Template and Block-Based Design – At first glance, the templates are going to look a bit plain and boring, but don't be fooled. They're just flexible enough, and easily allow you to switch out fonts, colors, and content layouts. You can't do much about the layout of the overall template, but you can choose from quite a few handy content layouts.
Custom Form Builder – Here's something you don't see on every free plan. It's really as simple as adding a form to your page. You can then add text boxes, checkboxes, radio buttons, and other basic form input types.
A Limited Online Store – That's right, you can sell stuff on the free plan. Sure, you can only sell five products, and the only payment method supported is PayPal. That's not a lot. But if you're selling your first book online, for example, that could be a great start!
Marketing Tools – Mozello gives you basic SEO tools, email marketing, and integration with Google Analytics. I do like that they specifically advertise that you can access the HTML code (in a limited fashion) to put in your own analytics tracking code.
The platform is quite easy to use, though it might take you a minute to get the hang of where all the buttons are. Options for editing your page layout are simple, but you actually have to click a separate button to start editing the layout instead of the content. It's not how most builders work, but it's simple to get the hang of.
Learn more in our full Mozello review.
Summary
When you're ready to start bringing in serious traffic or selling more products, I'd go straight to the Premium Plus plan. It has unlimited storage, unlimited store products, and access to all other payment methods (in addition to PayPal). It doesn't cost much more than any other plan, and it gives you all the features.
When Should I Upgrade to a Paid Plan?
The answer is generally simple: when you've reached the limits of what you can do with the free plan of your chosen site builder, it's time to pull out your credit card. When you've run out of storage, or you're getting enough traffic to use up the bandwidth available to you, you're not going to have much of a choice.
Other possible signs it's time to upgrade:
You want to have more control over your branding, and choose your own domain name.
You want to have more control over your branding, and you're annoyed by the ads on your free site.
You want to have an online store with lots of products in it.
You just want access to features (like advanced apps or addons) that the free plan doesn't have.
For your convenience, here's a quick comparison table to help make your choice faster and easier:
Which Free Site Builder Is the Best for You?
Many of the free plans for site builders are similar, so I'd strongly encourage you to look at the feature sets on each platform, and what sorts of sites each one is focused on. Even if you're building a free website, you don't want to have to make too many compromises.
Do you need creative freedom? You can't go wrong with Wix, which lets you customize just about every aspect of your site.
Do you need substantial storage? The WordPress.com free plan gives you 3GB, which is pretty generous.
Do you just need a basic website you can get online quickly? You'll love the simplicity of SITE123.
FAQ
What is the best free website builder?
I lean towards Wix, SITE123, and WordPress.com, but it's all going to depend on what you need. Want a dead-simple site? Go with SITE123. Want the world's biggest publishing platform behind your site? WordPress. Wix is for when you want nearly full creative control, but still want a platform that's easy to use. To see which web builders made our "best" list, click here to see our list of top website builders. Whatever website builder you end up choosing, if you do decide to upgrade to a paid plan, make sure you check out our coupon page to get the very best deal.Are there free-forever website builders?
Technically, every site builder listed in this article can be used "free forever." Does this mean your site will be online forever? This could depend on the terms of service in some cases, as some site builders will deactivate unused sites.Can you build an online store for free?
It depends on how many products you want to sell. Weebly offers free e-commerce features (although a bit limited) in the US and a few other countries, and SimpleSite and Mozello allow you to build a store with up to five free products. This can be useful up to a point, but it's not going to be enough for most people.Is a free website builder good for SEO?
There's no reason why not. Most site builders have SEO-boosting features of some kind built in, because they all want you to grow your audience, and stay on their particular service. Your SEO might improve a bit when you buy your own custom domain name, but otherwise, I see no real difference. Writing good content is the hard part of good SEO anyway.Which free website builder is the easiest to use?
Based on my experience, I'd probably have to go with SITE123 or Mozello. Just remember that extreme ease-of-use can be a bit limiting when it comes time to do something more complex with your site. There are always tradeoffs.