most free plans are little more than an attempt to get you hooked
. You invest valuable time and effort into your site, only to discover that the most important features are locked behind a paywall.
That's why my team and I decided to test and rank the major website builders out there to see which ones actually let you build a usable site for free.
Not only did we take the time to build a website with each builder on this list, but I also read the fine print carefully and double-checked their complete offering. I don't want to give you false hopes, though.
If you want a custom domain, decent storage, or access to most advanced design tools, a free plan isn't going to cut it.
So I included useful info on paid plans too. My top recommendation is Wix, thanks to the unparalleled design freedom it gives you, even on the free plan. Keep reading to discover which free website builder is right for you, or go ahead and get started with Wix today.
Short on Time? These Are the Best Free Website Builders in 2023
Wix – Provides true drag-and-drop design, loads of customization options, tons of free apps, and much more
Squarespace –

A simple builder for minimalistic, eye-catching designs that also offers amazing marketing integrations

SITE123 – A very easy-to-use site builder with useful tools for growing a small business
Jump down to see 9 more free builders we recommend | Comparison Table
What We Look For in The Best Free Website Builders
As I explained above, I can't recommend just
any
 free website builder. These days, for every good bit of software, there's a lot of trash out there, too. Here's what I decided to look for when I tested these builders:
Beautiful, Functional Templates – You want a website that actually looks good, not one that looks like it was built in the '90s.
Ease of Use – What good is software that you can't figure out how to use? A lot of free website builders get a pass because they're free, but if you're trying to start a business, you don't want to find yourself wasting hours trying to figure out the user interface. I especially like site builders that let you easily drag and drop elements onto the page and place them wherever you want.
Design Freedom –

Just because a builder is free, it shouldn't mean that you can't make a website that's fully your own. Though some of these builders will let you customize your site more than others, they all give you enough freedom to create a site unique to you and your brand.

Easy and Affordable Site Upgrades – If your website goes really well, it might start to pay for itself, whether with ad revenue, leads for your business, or what have you.

You need to know that if the time comes, you can expand your site's functionality without having to spend big. 
Wix has been at the forefront of the website builder industry for quite some time, constantly evolving. As such, it has one of the most feature-filled site builders around, and it shows. Wix also has one of the better free plans around. It grants you access to almost every feature for free, with a few notable exceptions such as e-commerce.
There's truly no reason you couldn't use Wix's free plan forever
, (so long as you don't mind having Wix branding and aren't planning to sell anything on your site). Every single one of Wix's 900+ high-quality templates is available on its free plan. Wix does come with one small downside. With its creative freedom and extensive site options, I found that building a site with Wix is more complex than with some of the other platforms. It's not too bad, and you could probably create a great site from scratch in a couple of hours, but it may take some time to get used to how things work.
Features
Complete Drag-and-Drop Freedom – What makes Wix's editor so popular is the fact that you can drag and drop anything and place it anywhere on the page. Well, almost anywhere, but it's still a lot of creative freedom compared to other builders.
Free Apps – Wix App Market offers a pretty impressive library of apps to extend your site's functionality, and even integrate it with third-party services. Now, not all of these apps are free. You may have to pay for some individually. But there are enough free apps to get you started with social media integration, advanced forms, event calendars, and much more.
Marketing Tools – Need to get the word out about your site? Wix more than has you covered with SEO tools, email marketing, a social post designer – all for free. You'd have to upgrade to a paid plan to access more advanced analytics, the "Site Booster" app, and a few other perks like free ad credits.
Blogging Tools – The Wix Blog is technically one of the "apps," but it's free, and it's not that bad at all. You can create engaging, custom-designed blog posts easily enough, though you can't just drag and drop content around like in the main site editor.
If you want to know a
lot
more about what Wix can do,
check out our full Wix review
.
Summary
Are All Templates Free?
Yes
Free Site URL
username.wixsite.com/sitename
Free Storage
500 MB
Price of Cheapest Paid Plan

$

16.00

 per month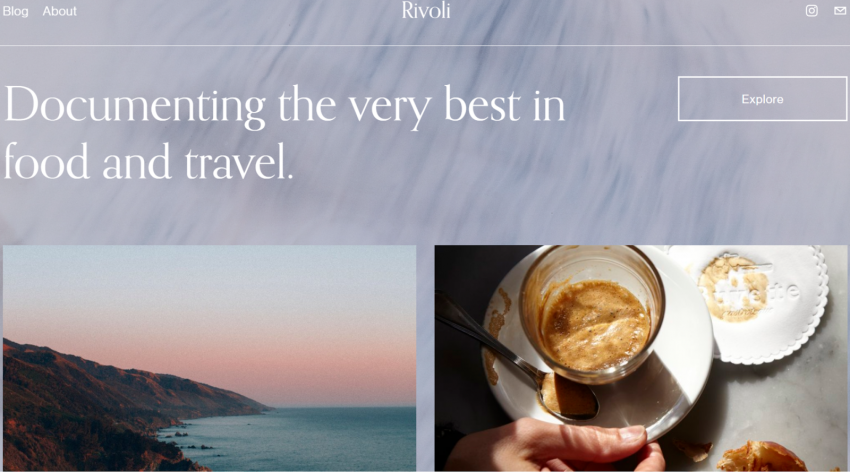 Squarespace is maybe one of the most famous builders outs there. There's a good reason for that.
Squarespace is fast, looks good, and it offers almost every functionality that you could think of.
The grid editor provides plenty of design freedom, but it maintains just enough structure to make sure that your site never goes off the rails.
Everything from the high-quality templates to the "site styles" editor is made to benefit minimalistic, eye-catching designs.
Squarespace doesn't offer a free plan but it does come with a
14-day free trial
 for you to decide if it's right for you. While it might not be fully free, I have to recommend that you try it out if you're serious about your site. I promise, after playing with it for a while, you'll find it hard not to consider it. If you decide to go for one of Squarespace's paid plans, the Personal plan gives you a free custom domain for a year, unlimited bandwidth, and website analytics. If you need a site for your business,
the Commerce plan offers just about everything you need to manage and grow a successful online store
(so long as you don't need to sell subscriptions).
Features
Intuitive grid editor

– Squarespace's grid editor is easy to learn, easy to use, and it produces some stunning results.

Over 140 high-quality templates

– There are templates for everything from blogs to wedding announcements. In fact, there are 18 different template categories to choose from.

Unlimited bandwidth and storage

– Upload as much content as you want to your site. You never have to worry about running out of space.

Marketing integrations

– Squarespace offers just about every tool you need to promote your site. You get social media integrations, SEO tools, and email campaigns to grow your site. 
You can read our in-depth Squarespace review
 for more details.
Summary
Are All Templates Free?
Yes
Free Site URL
N/A
Free Storage
N/A
Price of Cheapest Paid Plan

$

16.00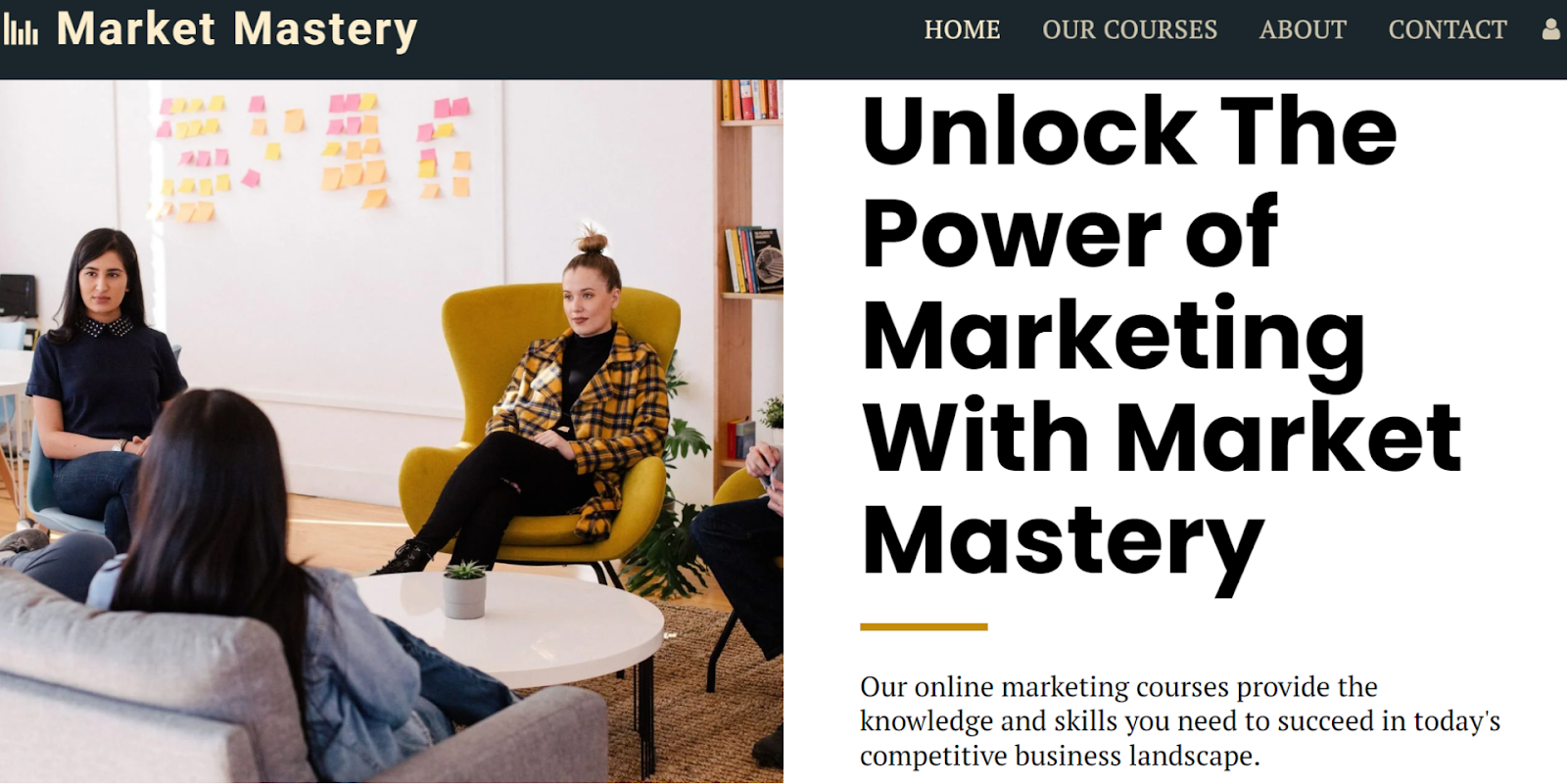 SITE123's design system is
super
simple to use
, and offers easy ways to make your site fit your brand. Changing colors, fonts, and images is a matter of only a few clicks. The bad news is that you can't just drag and drop things wherever you like. You have to choose from pre-designed page elements. That doesn't make it bad necessarily, but it is kind of inflexible. A limitation of this approach is that you don't get complete creative control and you also have to put up with a totally random subdomain. That's right,
instead of a custom subdomain with a SITE123 domain, you get a random combination of letters and numbers
. However, I feel like this is a small price to pay given that SITE123 lets you use the free plan as long as you need.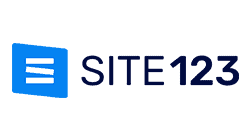 This Black Friday/Cyber Monday, SITE123 is 50 % OFF!
Save 50 % when you sign up for SITE123's annual plan
76 users used this coupon!
Features
Blogging – Yup, you get a built-in blog with the free plan, as shown in the demo site. It's a simple system with tags, thumbnail images, post scheduling, and a classic, Microsoft-Word-style text editor.
Contact and Donation Forms – If you want to build your own custom form or run an online store, you'll need to pay. But if you just need a simple contact form, or a way for people to donate to your nonprofit, that's all free.
Small Business Tools – Event calendars, appointment scheduling, restaurant reservations, and a few more options are all available in the "pages" menu. Just pick one and go.
An extensive app market. SITE123 offers a wide variety of integrations with third-party plugins and apps, which can help you improve your site's SEO, optimize conversions, and more.
Read our
in-depth SITE123 review
for more details.
Summary
Are All Templates Free?
Yes
Free Site URL
RandomName.site123.me
Free Storage
500 MB
Price of Cheapest Paid Plan

$

12.80

 per month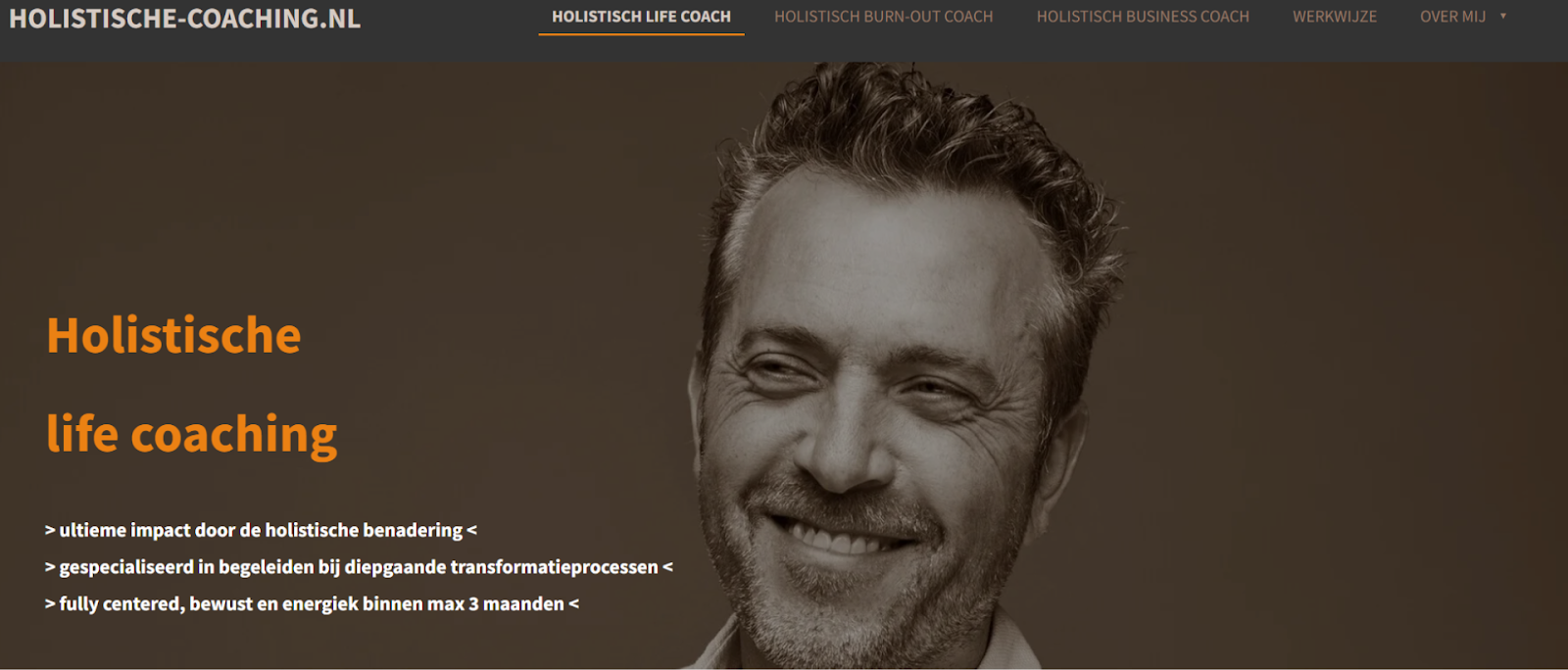 If you're on the hunt for a website builder that lets you get up and running quickly, Webador has you covered.
Regardless of your design experience, you can whip up a professional-looking website in less than 20 minutes with Webador.
Though the editor is pretty barebones, you still get enough tools to carve a unique identity for your site. Webador excels in creating simple, yet impactful one-page websites. If you're after something more complex or need really in-depth web design features, this might not be your top pick. But
if a streamlined, one-page site is your goal, Webador can certainly deliver.
The other great news?
Webador's free plan is pretty comprehensive.
You can do almost everything that the paid plans offer – the only exceptions are selling online and using a custom domain. So, if you're okay with a Webador domain and don't need e-commerce capabilities, you can create a robust site during your lunch break and have some time left for dessert.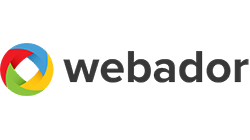 Save up to 20 % on your Webador plan!
Limited-time offer - Don't miss it!
57 users used this coupon!
Features
Unique widgets for media sharing. Though Webador doesn't offer some widgets that come standard with most website builders, it makes up for it by offering unique tools for media sharing, such as rating features, custom forms, and smart map integrations.
Easy to use SEO. Webador provides an incredibly easy-to-use set of tools to tinker with your site's SEO.
Easy blog management. Webador's blogging capability lets you add posts, edit previous entries, and re-arrange or re-categorize posts in a couple of clicks.
Plenty of web design information. If you're really new to the world of web building, Webador provides a comprehensive knowledge base with valuable information about web design fundamentals.
Read our
expert Webador review
for more details.
Are All Templates Free?
Yes
Free Site URL
.webador.com
Free Storage
Unlimited
Price of Cheapest Paid Plan

$

4.00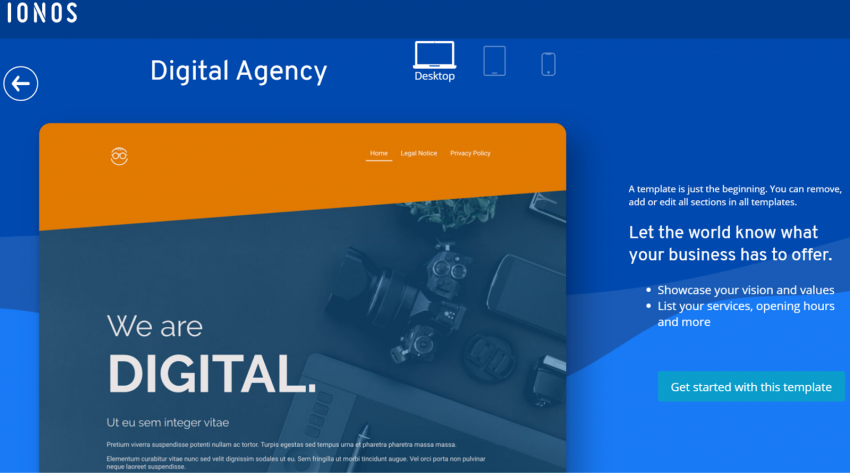 IONOS is all about combining good looks with business functionality.
Each of its templates oozes professionalism, and you're bound to find something that works for any type of business. I also found the designs are completely responsive. No matter what device your visitors are using, you can ensure that your site always looks its best. Don't let the professional sheen intimidate you, though. IONOS is all about user-friendliness, no matter your technical skill level. Its drag-and-drop interface makes it a breeze to craft your website. Everything from adjusting fonts and colors to adding new pages or sections can be done with just a couple of clicks. Also,
if you already use any one of IONOS' web services, the website builder integrates seamlessly with them.
I should point out, however, that IONOS doesn't offer a free plan. I know, that's more than a bit disappointing. I did feel like it earned a place on this list though.
Thanks to its budget-friendly plans and cost-to-benefit ratio, IONOS offers some of the greatest value out of any website builder.
In an ultra-competitive market, IONOS certainly stands out as a cost-effective choice.
Features
Quick block editing. Instead of modifying each block by manually tinkering with its widgets, IONOS gives you a selection of different block configurations and control over your fonts and colors. This can make the editing process a lot more streamlined, but you lose some creative freedom in the process.
Free email with all plans. Besides access to the website builder, IONOS provides at least one professional email address with all its plans.
Personal customer support representative. Once you sign up for IONOS, you'll get assigned a personal support representative. That means that over time, your rep will become fine-tuned to your specific needs and expectations.
RankingCoach Integration. IONOS integrates seamlessly with RankingCoach, which can help you improve your search engine ranking and bring more traffic to your site.
Read our
expert IONOS review
for more details.
Are All Templates Free?
No
Free Site URL
N/A
Free Storage
N/A
Price of Cheapest Paid Plan

$

6.00
Honourable Mention: Shopify
If you're looking at the e-commerce scene and thinking of setting up your own online store, I'd be remiss not to mention Shopify. While it isn't by any means a free builder (and even its "free" plan is too short to realistically consider) it's got a wide range of e-commerce features that make it worth your time. Shopify's massive variety of features ensures that you get full control over how your online store looks and works. Thanks to its stunning proprietary themes, plus thousands of third-party themes online, you all but ensure that you will find something that fits your sensibilities. Once again, I'm fully aware that Shopify isn't free, but I wouldn't mention it if I didn't think it was a worthwhile choice. If you're serious about starting an online business,
Shopify is the kind of investment that just might pay for itself
.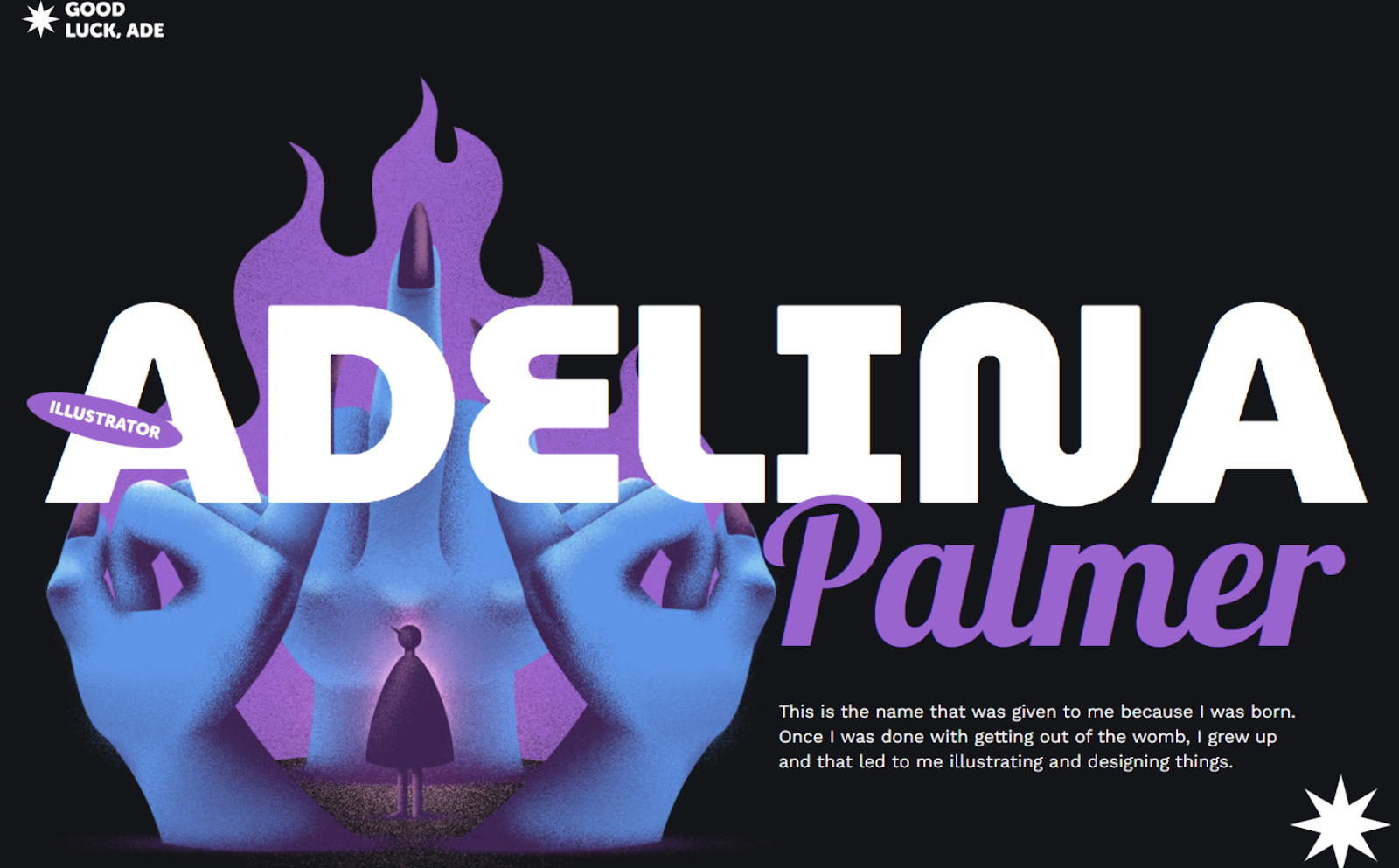 Thanks to its intuitive drag-and-drop editor,
Hostinger Website Builder is another entry that fits comfortably in the category of really easy-to-use builders.
It's not quite as ridiculously simple as SITE123, but it's up there.
What really makes Hostinger Website Builder exciting is the AI features it offers to help you design your site.
You get an AI text generator, a logo generator, and a heatmap that shows you where your visitors' attention is most likely to be drawn on your page.
Thanks to these tools and Hostinger Website Builder's ease of use,
you can create an effective site in minutes. 
Hostinger Website Builder doesn't offer a free plan at the moment, but it comes included with any one of Hostinger's affordable hosting plans. Since
Hostinger offers a 30-day money-back guarantee on all its hosting plans,
that means you get 30 days to test the its website builder in full without risk.
Features
Text and logo generator

– A good logo can make all the difference in the world for a website. The same goes for good content. Hostinger Website Builder AI can help you create both. All you have to do is answer a couple of questions and wait. I wouldn't recommend using the AI content exactly as it comes out, but it's a good starting point if you're ever in a pinch.

AI-powered heatmap

– Hostinger Website Builder's AI helps you detect potential areas of interest, as well as areas of your site that might have trouble getting noticed.

Over 100 templates

– Hostinger Website Builder offers more than 100 high-quality templates in categories such as Portfolio, Entertainment, Community, Blog, and many more.

SEO and marketing tools

– Every Hostinger Website Builder plan includes features to help you market your site and to rank higher on search engines.
You can read our full Hostinger Website Builder review
 for a more in-depth look.
Summary
Are All Templates Free?
Yes
Free Site URL
N/A
Free Storage
Unlimited
Price of Cheapest Paid Plan

$

2.49

per month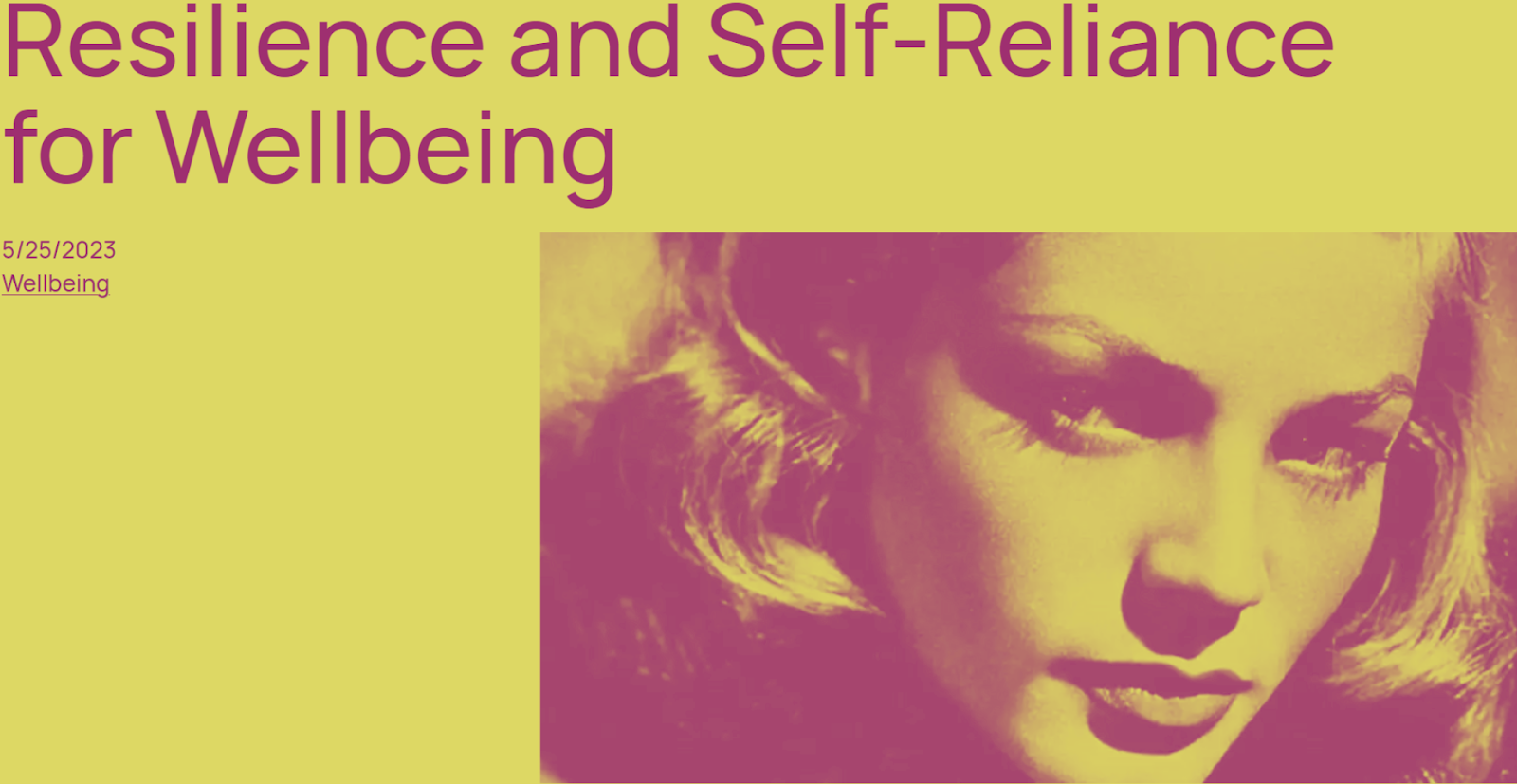 WordPress powers over a third of the Internet in one way or another. It started off as a blogging application, and now it's the single biggest publishing platform in the world. For clarity's sake, this article is discussing WordPress
.com
, which is
sort of
 a site builder, not WordPress
.org
, which is home to the original software.
And though WordPress.com bills itself as a site builder, it works much more like an old-fashioned content management system (CMS).
 That means it's very flexible and powerful, but it takes a bit of time to learn. You don't get the same drag-and-drop functionality you get with other builders. I should also mention that the free plan on WordPress.com is very limited when compared to the original software (which you should remember is also free, hosting costs aside).
Features
One of the Best Blogs Around – WordPress is, first and foremost, blogging software. You can make it do just about anything else, but that takes time. If you just want a solid blog, or a simple business site with a blog, WordPress.com can do it well.
Over 100 Fantastic Free Themes – As an old-school CMS, WordPress is very theme-based. While you do have some control over the layout of your content, most of the design choices will be made "for you" by the theme you choose. Some themes are highly customizable, but not all.
Built-in Portfolio Feature – One thing WordPress.com has that the original software doesn't is the ability to quickly and easily build a portfolio on your site. You basically add pages in the Portfolio section of your site, and certain themes (such as the one in the demo) will display your portfolio pieces automatically.
Marketing and SEO Tools – Not a lot to say here: analytics, newsletters, SEO. The gang's all here. A lot of the more advanced SEO functionality is provided by plugins rather than WordPress itself; plugins, unfortunately, are locked behind the paid plans.
Read my
full WordPress.com review
to learn more.
Summary
Are All Templates Free?
No
Free Site URL

sitename.wordpress.com

Free Storage
 3 GB
Price of Cheapest Paid Plan

$

45.00

 per month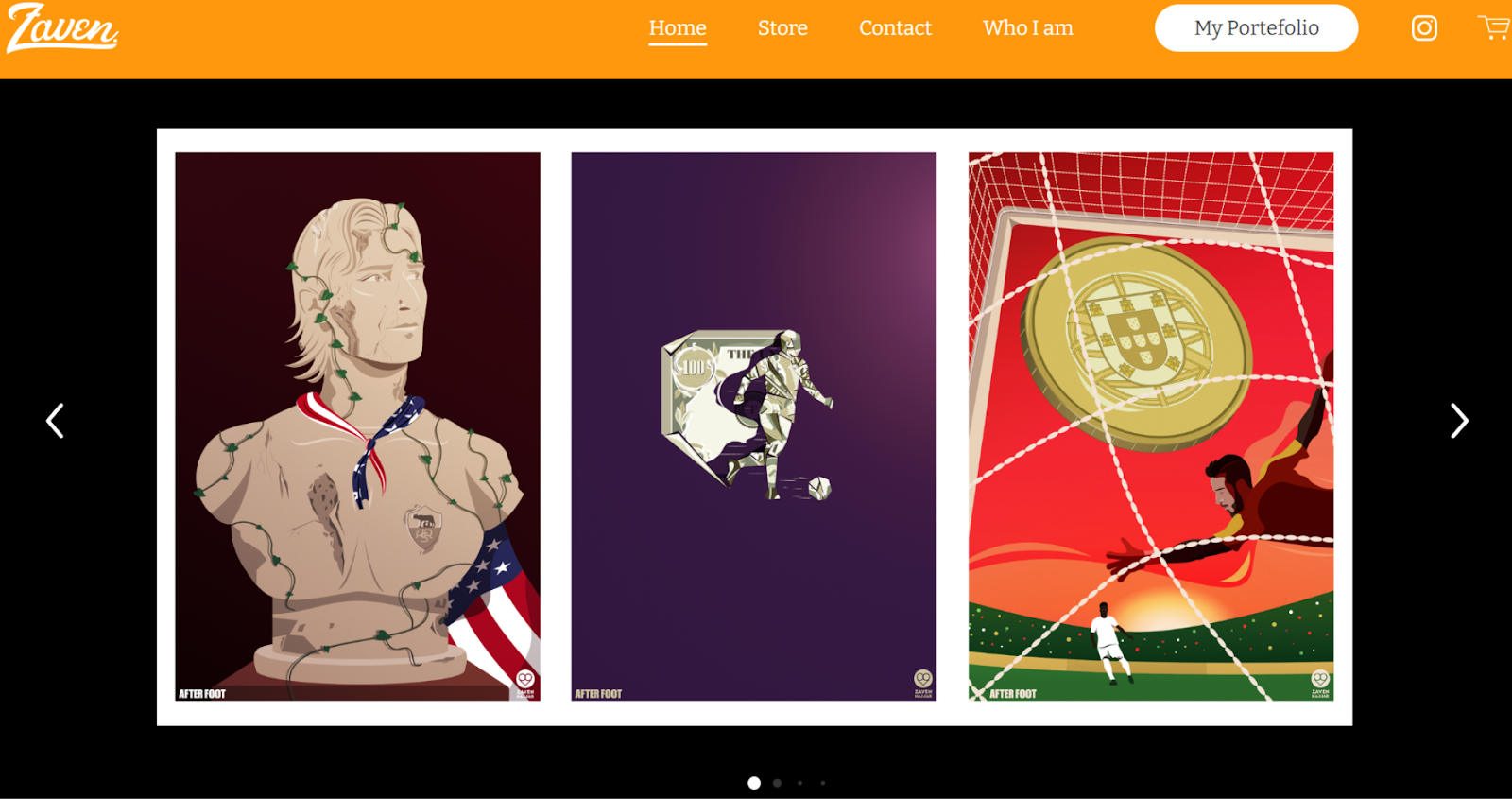 Jimdo has over 100 good-looking templates, a decent site builder app, a good free plan, some addons, and e-commerce features. The templates look good, there's a strong focus on SEO and marketing features. Plus Jimdo can handle your business email hosting needs. It's a solid package all around.
Creating a site with Jimdo was super easy.
A wizard actually does most of the work for you (the software kind, not the abracadabra kind), by asking you a few questions about your business and industry, and generating most of the site structure based on your answers. It even provides sample text that should, in most cases, fit your business until you can write up copy of your own. While all the plans are eminently affordable (even more so outside the US), this is one of those rare cases where
I'd actually recommend going for the most expensive plan as soon as you're ready to upgrade from the free plan
. That'll get you every feature including ecommerce, 15GB of storage 20GB of bandwidth, and 50 website pages.
Features
Online Store

– Jimdo offers a fairly complete (for beginners) e-commerce system that lets you take payments from PayPal and Stripe. It also offers integration with Facebook and Instagram for sales, free shipping for large orders, the ability to add product variants, and more. Jimdo doesn't charge any fees on payments received.

A Focus on SEO and Marketing

– There a re a range of features and tools for marketing your site, ranging from the usual SEO descriptions, titles, and custom URLs, to an addon that adds the RankingCoach service to your site. You can also generate Robot Meta Tags, URL redirects, and an XML sitemap.

Business Listings

– The Business Listings addon (costs extra) will add your website to business listing sites all over the web for you. That can save you a fair bit of time doing it yourself.

Hire a designer

– You can actually hire a designer through Jimdo itself to look at your site, and tell you how to improve it. Again, this'll cost extra, but it's a cool service to offer in the first place.
Find out more in our full Jimdo review.
Summary
Are All Templates Free?

Yes

Free Site URL

sitename.jimdosite.com

Free Storage

500 MB

Price of Cheapest Paid Plan

$

9.00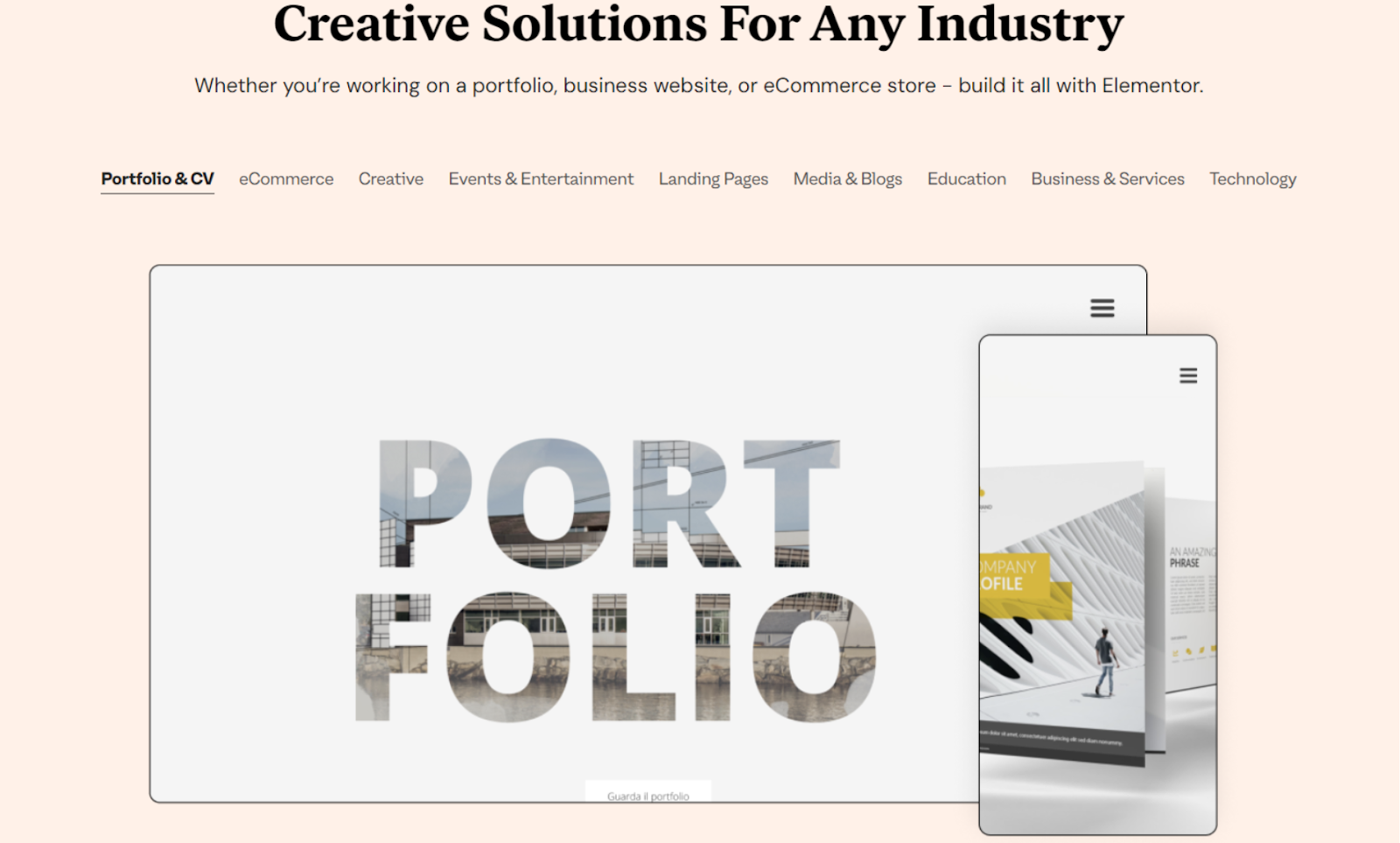 Elementor is a WordPress plugin that gives it proper drag-and-drop site design functionality. You can install it for free on a WordPress site on your own server, or you can pay money to access plugins on WordPress.com, and install it there.
Elementor is on this list for two main reasons. First, it adds the drag-and-drop functionality that WordPress.com is missing. Second, it's a hugely popular page builder I'd be remiss not to mention.
That being said,
Elementor's free plan is pretty limited
, so any site you make
with the free version will look quite plain. To unlock Elementor's more interesting features – such as media slides, animated headlines, and contact forms – you'll need to upgrade to the Pro version.
And here's the thing: it's not actually a bad product.
If you want to design a custom site based on WordPress without coding, Elementor is actually really good at that. It's also quite easy to use once you familiarize yourself with the basic controls. The main downsides are that you have to already have some knowledge of design to make anything more than a nearly-blank site, and that the free version has
very limited options
.
Features
Page Templates – There are loads of templates that will set up entire pages, or just sections of pages, for you. It should be mentioned though, that these templates might clash with the WordPress theme you have installed. Also, most of them (including templates for things like site navigation) are locked behind the Pro plan.

Pre-made Content Blocks. Adding a whole templated page or element-by-element aren't your only options. Elementor also offers a wide variety of pre-made content blocks for things like contact or "about us" sections.
Basic Content Widgets – And that's it. You get text, image embedding, basic image galleries, image sliders, and a few other useful things. You frankly almost get more from the free plan on WordPress.com.
Addons – Yep, in the world of WordPress, there are addons to plugins. Basically, these are other WordPress plugins that extend the functionality of Elementor with new kinds of content blocks. Because why not?
You can read more about it in our
full Elementor review
.
Summary
| | |
| --- | --- |
| Are All Templates Free? | No |
| Free Site URL | N/A |
| Free Storage | N/A |
| Price of Cheapest Paid Plan | $4.00 per month |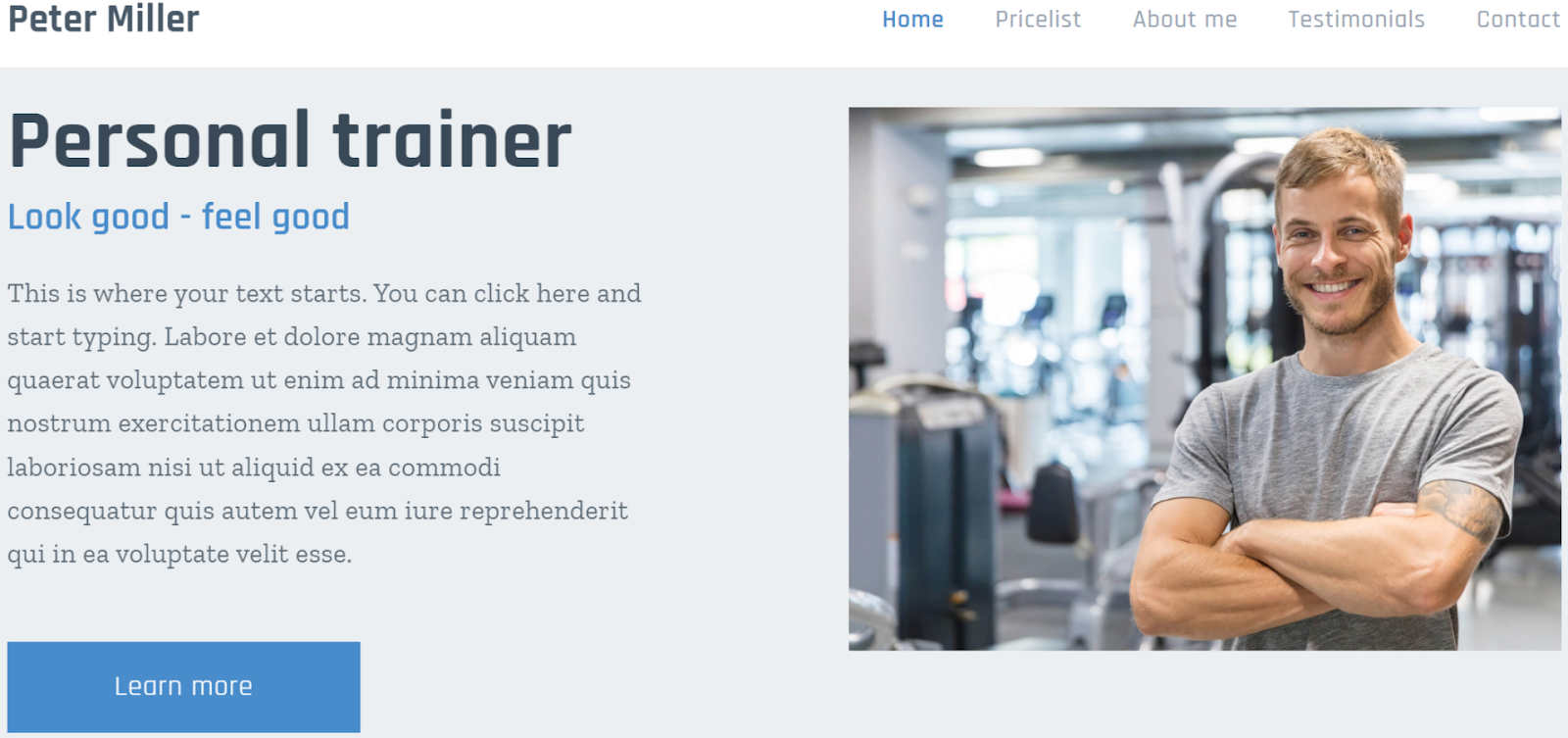 The sites you can make with Webnode are fast and pretty, the software is easy to use, and the platform boasts over 45 million users. That all sounds impressive, and my actual experience with the software was pleasant enough. However
the free plan is
very
limited in terms of what you can do with it when compared to other options on this list.
 Your storage space is small, and almost
all
the shinier features are locked away behind the paid plans.
When you run face-first into the limits of the free plan (not "if," "when"), don't settle for anything less than the Standard plan
. It's inexpensive and gives you access to all the shiny features, even if some of them are still a bit limited. Only upgrade further when your site has started to make you some money.
Features
Webnode's feature set is for people who don't have a lot of time to spend on their site, and for people who want to edit their site on the go. If that's you, you'll be quite happy with the free features:
Lightly Customizable Templates – Although you maintain some control over your content's layout, your choice of template predominantly dictates your site's overall appearance. The templates provided are visually attractive, which constitutes a positive aspect. Nevertheless, you retain the ability to personalize fonts and colors to imbue your personal touch, a feature that proves to be quite beneficial.
Mobile Editor – A lot of site builders actually provide a terrible experience, or just don't work, on mobile devices. Webnode is one of the exceptions – you can easily edit your site on your phone or tablet.
Google AdSense – Yep, you can throw some ads on your free site. Oddly, Google Analytics is reserved for a paid plan. Go figure.
Add (small bits of) Code to the HTML – It's a minor thing, but being able to inject your own code into the page (such as third-party analytics code) is a nice perk.
To find out more, read our
full Webnode review
.
Summary
Are All Templates Free?
Yes
Free Site URL

sitename.webnode.page

Free Storage
200 MB
Price of Cheapest Paid Plan

$

3.90

 per month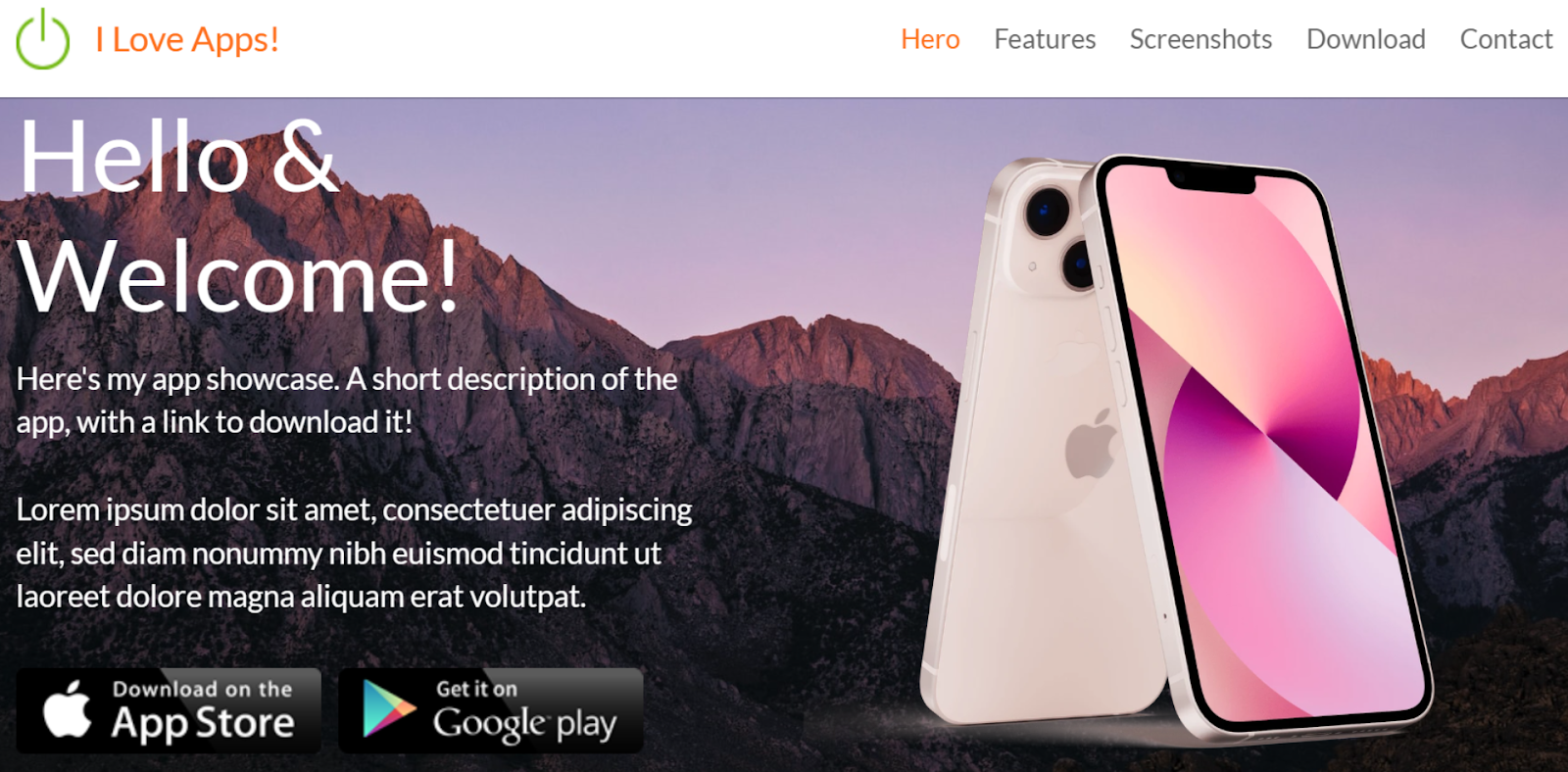 Strikingly's strong suit is creating one-page websites.
It's also its only suit if you're on the free plan, as you can't add more pages to your website without upgrading. Okay, if you add a blog or a store, you technically get more pages, but I feel like that doesn't count.
Still, this emphasis on simplicity means that creating more complex sites is more or less out of the question.
One-page doesn't mean bad, though.
A simple and striking one-page site can do wonders for conveying an elegant feel. 
If you're going to pay, go straight to the Pro plan at least.
It's the cheapest plan that removes the Strikingly branding from your site. It also lets you add 300 products to your store and offers unlimited bandwidth. Plus, you can make up to
3
sites that all use the Pro features, rather than having to pay for another plan every time you make a new site. Oh, and you get access to the app store.
Features
A Very Simple (Though Limited) Site Editor – Strikingly's design system is one where you can choose from one of a limited number of templates to start, then choose "sections" or blocks of content to add to your homepage. You cannot create any sort of custom layout unless you pay for one of the premium plans, though.
Blogging – Strikingly has solid blogging features, including the usual things like categorizing, tagging, and scheduling posts. I do like that you can edit your blog posts via much the same interface as you use to edit the rest of your site, and you can see exactly what your post will look like.
Marketing and Analytics Tools – You'll find the usual SEO tools here, as well as email and some built-in analytics tools. Newsletter sign-up forms are available as well.
Social Integration Features – Beyond simply adding icons that take people to your social feeds, you'll find a couple of other neat tools in here, like the ability to embed all of your social feeds from Facebook, Twitter, and Instagram right into your page.
Want to know more? Read our
in-depth Strikingly review
.
Summary
Are All Templates Free?
Yes
Free Site URL

sitename.mystrikingly.com

Free Storage
500 MB
Price of Cheapest Paid Plan

$

8.00

 per month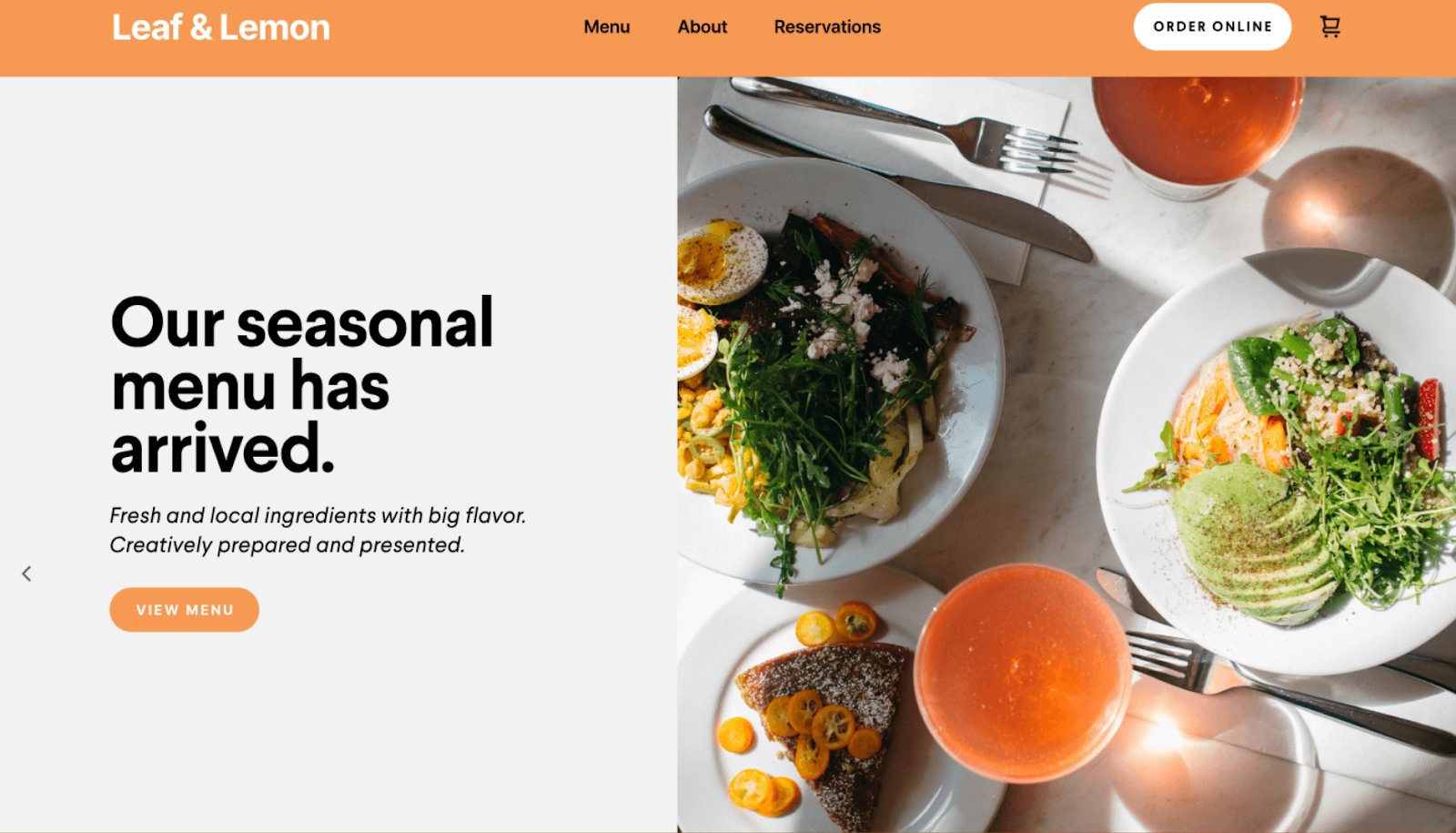 Square Online is the place to go if you just need a store, and fast.
I was able to create a test shop
incredibly quickly, and the website was all set to go in minutes. That said, it's still a fairly powerful shop builder, with almost all of the features that small-to-medium-sized businesses could want.
Again, the cost of simplicity is a lack of customization features. Your font selection, color choices, and layout options are all highly limited. There is only one "template" to choose from, but it's a good-looking template. This is a service designed for convenience, not creative expression.
And sometimes that's fine.
When upgrading from a free plan, I'd go straight to the Performance plan.
It may not have the fancy shipping features and slightly lower payment processing rate of the Premium plan, but it gives you good value for the price. It has some of the most important features, like advanced reporting, abandoned cart emails, and the ability to accept PayPal payments.
Features
Do All The Usual Store Things

– Monitor stock, provide price reductions and vouchers, handle delivery, gather taxes according to locale, market tangible and electronic items, everything. Just because it's not as intricate as Shopify or BigCommerce, doesn't imply it's not filled with features.

A Solid Free Plan

– Sell unlimited products for free, and get almost all of the major features without ever paying a cent in monthly fees. A small percentage of every transaction goes to Square, but that's true on all plans. And you have to use a subdomain (eg. yourstore.square.site).

Third-party Integrations

– You can sell your products via Facebook and Instagram, and even via Google search results. You can track your purchases with Google Analytics and Facebook Pixel to see which customers like what. Square even has its own (separate) email marketing tool to help you grow your customer base.

Hire Professionals

– Two less-than-common services offered by square online include: hiring a professional designer to fancy up your site for you, and sending your product line to Square for photos. Yep, you send them your products, they take professional pictures for your store, then send the products back.
Check out our full Square Online review
 to see what else is on offer.
Summary
Are All Templates Free?

Yes

Free Site URL

sitename.square.site

Free Storage

Unlimited

Price of Cheapest Paid Plan

$

12.00
When Should I Upgrade to a Paid Plan?
The answer is generally simple: when you've reached the limits of what you can do with the free plan of your chosen site builder, it's time to pull out your credit card. When you've run out of storage, or you're getting enough traffic to use up the bandwidth available to you, you're not going to have much of a choice. Other possible signs it's time to upgrade:
You want to have more control over your branding and choose your own domain name.
You want to have more control over your branding, and you're annoyed by the ads on your free site.
You want to have an online store with lots of products in it.
You just want access to features (like advanced apps or addons) that the free plan doesn't have.
Which Free Site Builder Is the Best for You?
Most of the site builders offer similar free plans, so I highly recommend that you examine the feature sets available on each platform and consider the types of websites that each platform primarily caters to. Even when creating a website using a free plan, it's important to avoid excessive compromises. Do you need creative freedom?
You can't go wrong with Wix
, which lets you customize just about every aspect of your site. If you're new to the world of web design and are looking for a beginner-friendly builder, then
you'll love the simplicity of SITE123
.
Finally, if you're looking to get online
fast
,
choose Webador
.
There's no better builder for fast and elegant sites.
For your convenience, here's a quick comparison table to help make your choice faster and easier:
| | | | | | |
| --- | --- | --- | --- | --- | --- |
| | Free Templates | Free Apps | Free Storage Space | Sell Products for Free? | |
| Wix | 900+ | Estimated 25+ | 500 MB | No | |
| Squarespace | 140+ | 40+ | Unlimited | No | |
| SITE123 | 180+ | 20+ | 250 MB | No | |
| Webador | 50+ | No | Unlimited | No | |
| IONOS | 20+ | No | 10 GB | No | |
| Hostinger Website Builder | 130+ | 8+ | Unlimited | No | |
| WordPress | 40+ | No | 1 GB | No | |
| Jimdo | 100+ | N/A | 500 MB | No | |
| Elementor | 40+ | N/A | N/A | N/A | |
| Webnode | 100+ | N/A | 200 MB | No | |
| Strikingly | 200+ | No | 5 GB | Yes | |
| Square Online | 1 | 5+ | <500 MB | Yes | |
FAQ
What is the best free website builder?
It's all going to depend on what you need. Some builders offer better creative control, but come with a somewhat steeper learning curve, while other builders might be quicker or easier, but don't give you that much room to play around. Wix is great if you want full creative control. Want a dead-simple site? Go with SITE123. Want the world's biggest publishing platform behind your site? WordPress.com is the way to go.
Can you build an online store for free?
While most website builders charge something for e-commerce capabilities (even the ones with free plans) it is possible to build an online store for free with Square Online. Square Online offers free e-commerce features (although a bit limited) in the US and a few other countries. You'll need to upgrade to a paid plan to

get a custom domain and unlock its full range of e-commerce tools, though.
Is a free website builder good for SEO?
There's no reason why not. Most site builders have SEO-boosting features of some kind built in, because they all want you to grow your audience, and stay on their particular service. There are builders like Webador, which even offer easy-to-use tools to improve your SEO even on its free plan. Your SEO might improve a bit when you buy your own custom domain name, but otherwise, I see no real difference. Writing good content is the hard part of good SEO anyway.
Which free website builder is the easiest to use?
Based on my experience, I'd probably have to go with SITE123 or webador. Just remember that extreme ease-of-use can be a bit limiting when it comes time to do something more complex with your site. There are always tradeoffs.
Either way, if you're interested in building your own site, feel free to read
our full guide to creating your own website in 2023
.