Paying professionals to build your website can get quite pricey. A free website builder can be the perfect solution. But how do you choose the right one?
These days, there are many different options available. You don't want to waste your precious time putting your site together, only to find out your builder doesn't offer all the features you need. You certainly don't want to discover any hidden costs along the way.
We've researched and tested the most popular website builders on the market to see which ones are the very best. These builders will give you everything you need, and not only that, but they're really easy to use, too.
It's really as simple as signing up for a free account. You could even get your site online today. Are you ready to get started?
What We Look For in the Best Free Website Builders
For a website builder to make our list, it has to provide:
Ease of use. You don't want to have to spend hours figuring out how to use your website builder.
A variety of templates. Rather than having a website that looks like hundreds of others, you can choose a template that reflects your personality, or matches your business branding
Easily customization options. Of course, you want to tweak your template so it shows off some of your personality and passion.
Added features to help you stand out. The best builders give you extras, like free apps and add-ons. Because who doesn't want freebies?
With over 125 users, Wix is one of the most popular website builders on our list. It's easy to use, has tons of features, and you can build a fabulous website without spending a cent.
You can choose from hundreds of professionally-designed templates, all free and easily customizable. The huge Wix App Market offers all the add-ons you'll ever need to make your site the best it can be, and many of them are completely free.
One interesting thing about Wix is that it enables you to make changes directly to the mobile version of your website — without affecting the desktop version. You can fix any sizing or positioning issues on mobile devices without having to worry about messing up the desktop version. This means that the templates aren't 100% mobile responsive – but they are mobile friendly.
There are a couple of downsides to keep in mind. Once you've started building your website, you can't swap your template. If you change your mind about it, you'll need to completely rebuild your website. Also, you can't use e-commerce features on the free plan, and your free website will come with Wix branding.
Features
Wix is very beginner-friendly, with its drag-and-drop editor. Once you select your template, you can get started right away — and have your website live within an hour.
Wix's App Market gives you access to plenty of free apps to add extra features to your website. There are some paid apps as well.
If you want a completely hands-off website building experience, you can use Wix ADI (Artificial Design Intelligence), which will create your website for you. All you have to do is answer some questions about your website, and ADI does the rest.
Once Wix ADI is finished creating your website, you can customize your pages to some extent. If you need more customization options, you can convert your ADI website to a regular Wix Editor site.
Wix's SEO Wiz guides you through the process of optimizing your website so it will show up in search engine results pages.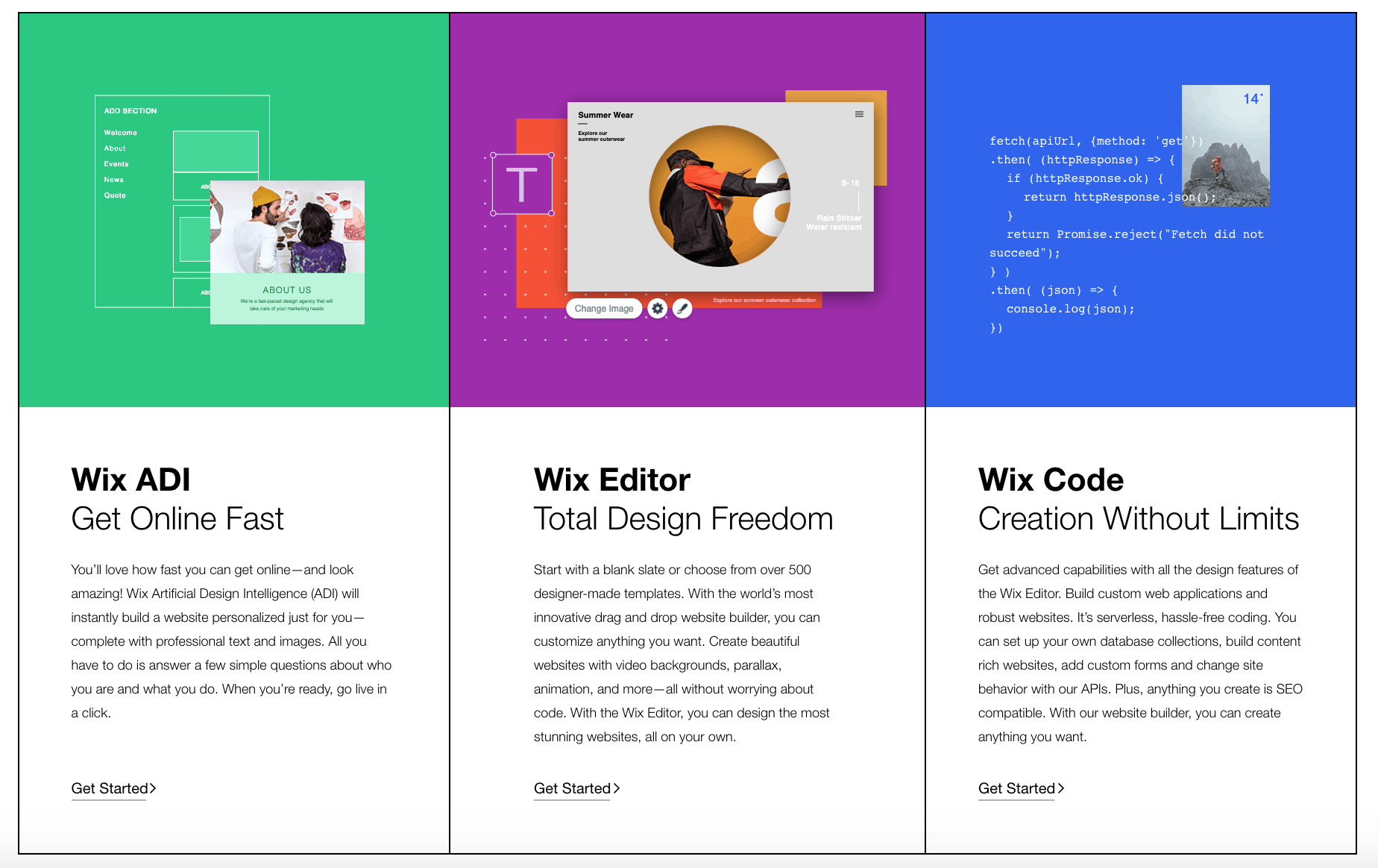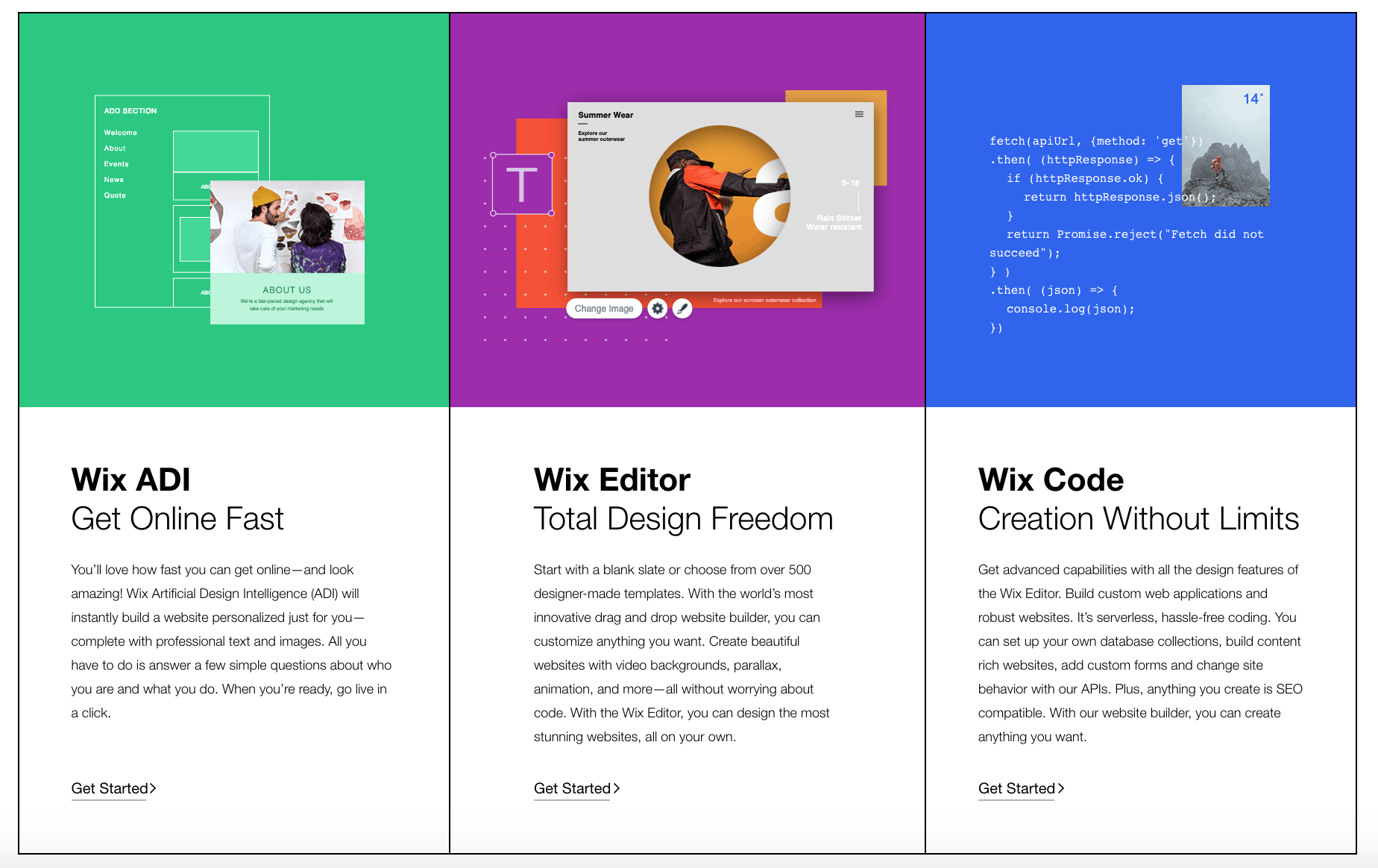 | | |
| --- | --- |
| Templates | 500+ |
| Free-to-use Apps | Yes – over 80 |
| Editor Type | Drag-and-drop with full customization options |
To learn more about Wix, read our Wix expert review.
With its user-friendly interface, Weebly is great for both beginners and tech-savvy users. If you have some experience with HTML and CSS, you can use the Code Editor for advanced functionality.
You can choose from over 40 templates, most of which are mobile-responsive to ensure your website will look good on any device. If you change your mind later, you can easily switch to another template without having to rebuild your whole site.
Weebly's App Center has a huge range of apps (free and premium), including site boosters (to increase your ranking), marketing tools such as sign-up forms, and other apps that can add more design features (e.g., tables and tabs) to your editor.
The drag-and-drop editor has an extensive range of features that let you get creative. In addition to the usual text and images, you can drag social icons, quotes, surveys and search boxes onto your webpages, too. However, you can't change column widths on your web pages unless you know how to use HTML and CSS.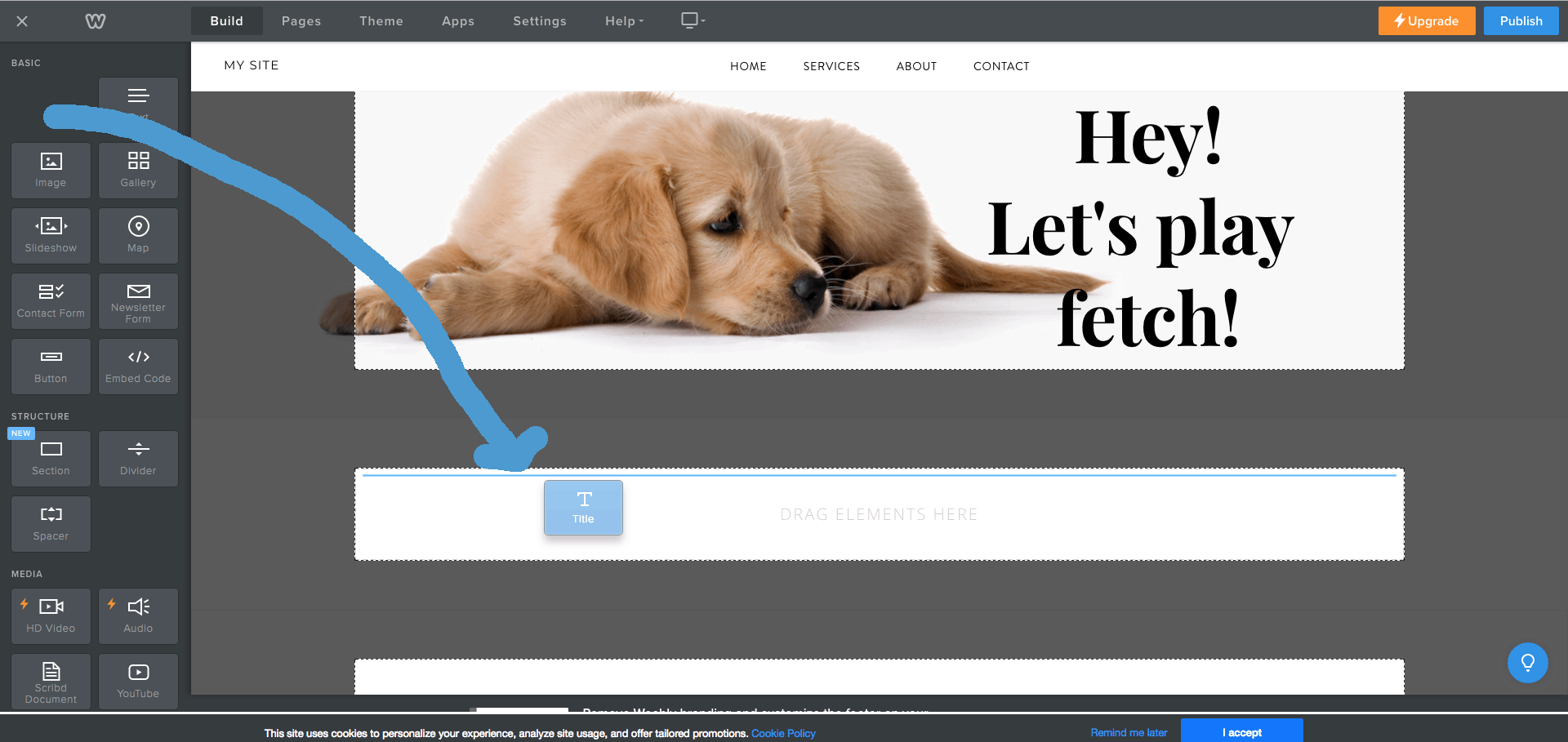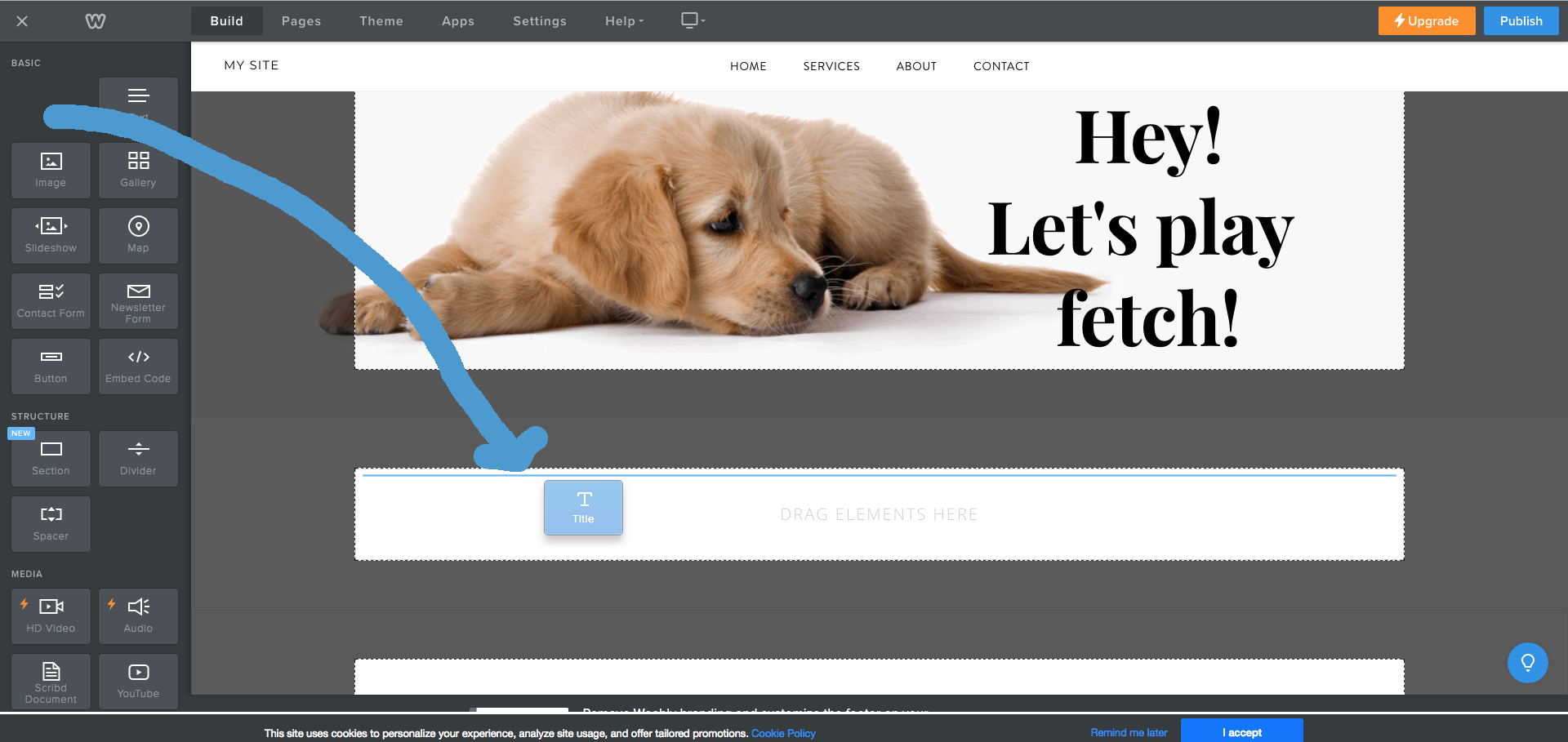 Unlike Wix and Jimdo, Weebly doesn't have an artificial intelligence option. Also, keep in mind that the blogging features are quite limited and somewhat outdated.
Features
In addition to templates, Weebly gives you pre-set page layouts, to help you build your website. These include layouts for your homepage, about page, contact page, and portfolio. You just add your own details and content, and you can have your website built in a few hours.
Weebly's Support Center is exceptional and will help you get the most out of your website. You get step-by-step guides, access to experts in the community forum, and the Inspiration Center, which is a resource full of expert blogs. There's also 24/7 email support.
If you need to edit an image before putting it on your page, you can use Weebly's very own image editor. You won't have to invest in image-editing software.
With Weebly's mobile app, you can build your website when you're on the go. The app gives you the same great functions you get when working at your computer, so you can make changes to your website no matter where you are.
| | |
| --- | --- |
| Templates | 40+ |
| Free-to-use Apps | Yes |
| Editor Type | Drag-and-drop, with limited customizations |
Want to learn more about Weebly? Check out our Weebly expert review.
If you want to create your website in just three minutes, Jimdo is for you. It's geared toward personal websites, portfolios, and small businesses, and it offers a range of visually stunning templates to make your website stand out.
Jimdo's free plan gives you a generous 2GB of bandwidth. There's also a huge image library which makes it easy to add visual impact to your website without having to search through stock image sites.
Jimdo does come with a few downsides, though. The free plan limits you to just five pages, so be sure to use them wisely! You may need to spend some time getting used to the Jimdo editor, as it's not the most intuitive.
To add apps or add-ons such as forms and social feeds to your Jimdo website, you have to use POWr plugins or other integrations and then paste the code into a box on your website. This isn't a deal-breaker, but it's not as convenient as other website builders.
Features
Like Wix, Jimdo uses artificial design intelligence (which it calls "Jimdo Dolphin") to build your website in minutes. But Jimdo takes it a step further, connecting to your social media accounts to pull your photos, opening hours, etc. However, this option is only available for specific types of business sites at the moment.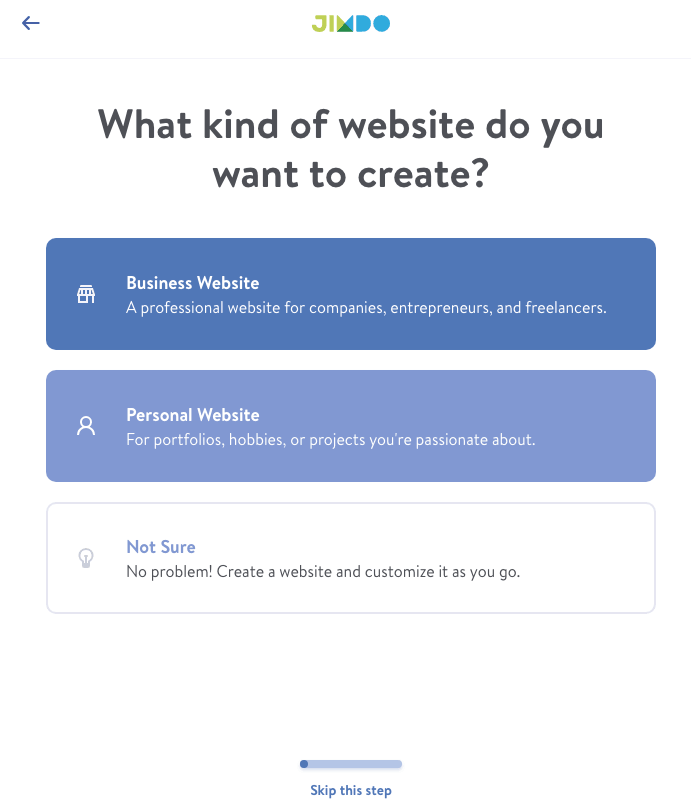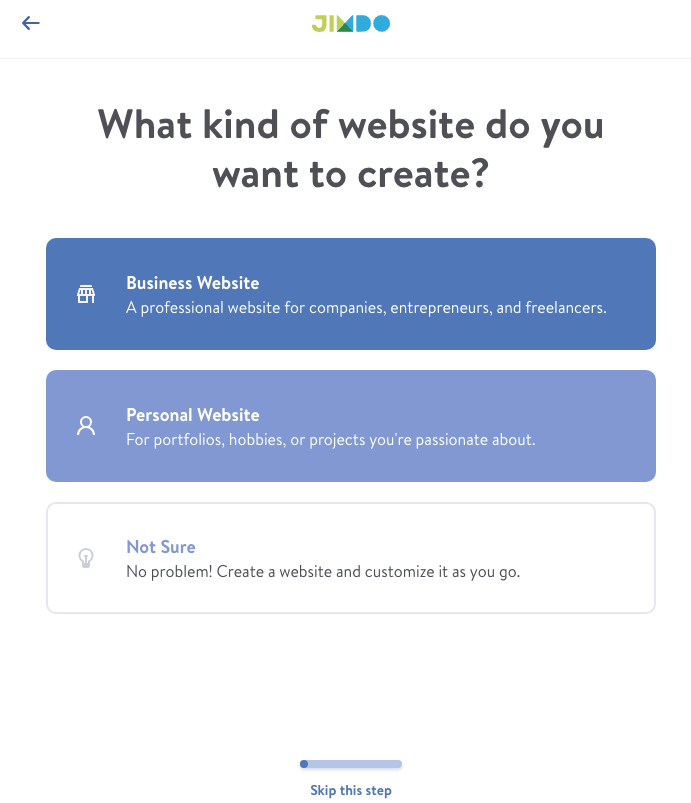 Jimdo's customizable templates are all mobile-responsive. The designs are contemporary and feature great imagery. No matter what impression you're trying to make, Jimdo has a template to match.
When you use the "build it yourself" option, you can choose from a variety of professionally-designed templates. You can switch templates with a single click (rather than having to completely rebuild your website).
All Jimdo websites are encrypted with SSL/HTTPS, which is good for your visitors, ensuring that any personal data (email addresses etc) is encrypted. This will help your Google ranking, too.
Jimdo supports eight languages, and you can create multilingual websites.
| | |
| --- | --- |
| Templates | 15 |
| Free-to-use Apps | Yes, but you have to install them via copy and paste code boxes |
| Editor Type | Point and click with collapsible toolbar |
If you're interested in learning more about Jimdo, read our Jimdo expert review.
Site123 makes website building as simple as possible. An 8-year-old could even use it. With the Site123 free plan, you can build a professional-looking website with basic e-commerce functions (although no on-site payment processing options) — and have your website live in less than an hour.
Site123 gives you over 25 "website structures" (layouts) to choose from, so you can play around with different options to see which one you prefer. In the editor, you can toggle a range of footer options on and off, including social networks, mailing list, and cookie consent. It's as simple as clicking a button.
Downsides with using Site123, however, include restrictive templates – meaning that there's little you can change. There's no option to add your own HTML or CSS. Additionally, although apps are available, you have to be on a paid plan to use them — but Site123 doesn't make this clear until you've signed up.
Features
If a drag-and-drop editor with dozens of options doesn't sound appealing to you, then you'll love Site123's editing sidebar. The content on your website is controlled through the sidebar, with the editor perfectly positioning everything. You can change your templates, adjust your settings, and more — all from the sidebar.
If you have lots of different ideas, or are targeting different types of prospective customers, you can have multiple websites (e.g., for your advice blog, your portfolio, and a store for a photography business). You could also try out different styles and types of websites to see which works best for you and your visitors.
In the editor, you can choose either the single-page or multiple-page option. If you change your mind later, a single click will change your website to the other format.
When you start building your website, you'll find that adding content is as easy as filling in a form. You complete the boxes for things like your site title, your slogan, and your page content, and Site123 applies it in the right place on the template.
You can add unlimited pages to your website, and there's a wide range of pre-designed page options. Pages are organized in categories, including promo (great for mailing lists), gallery, testimonials, articles, blog, donations, events, and scheduling.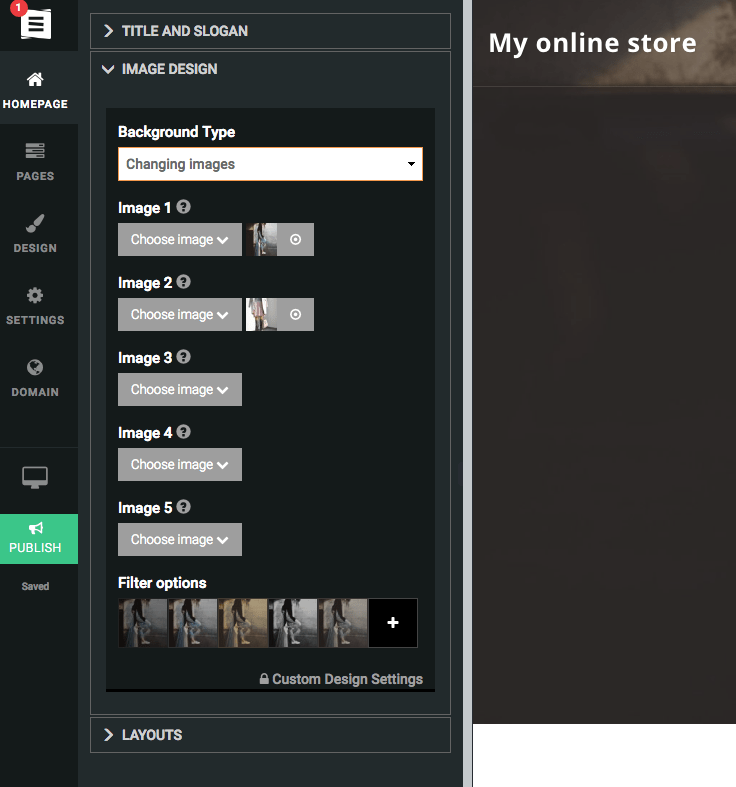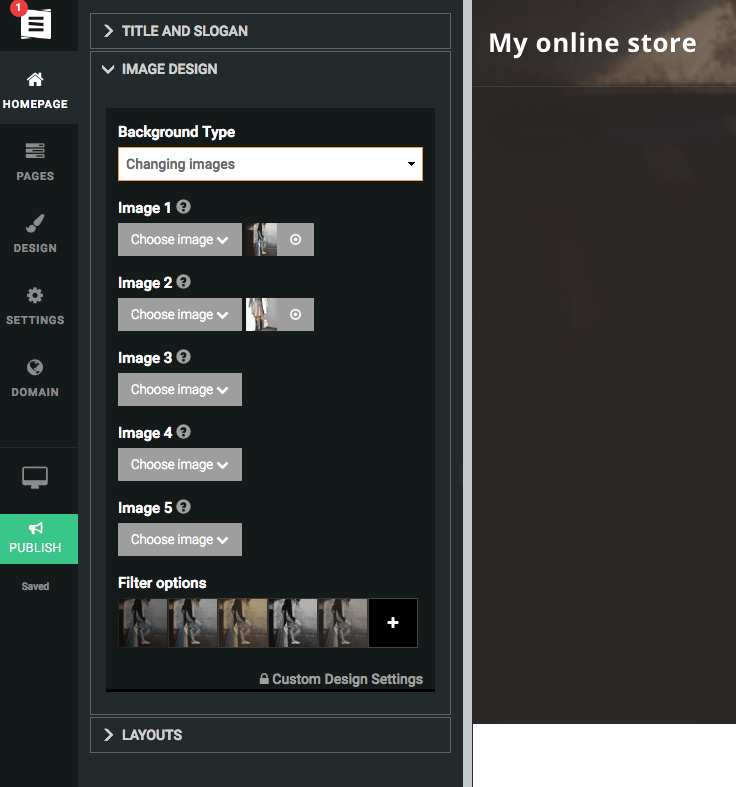 | | |
| --- | --- |
| Templates | 16 |
| Free-to-use Apps | Not on the free plan. The apps are free, but you can only use them on paid plans. |
| Editor Type | Point and click form-type, with rich text editors for adding text. |
Read our Site123 expert review to find out more about Site123.
As beginner-friendly as they come, SimpleSite makes building your website a matter of choosing a few options and adding your content. No dragging, no dropping, no fiddling around with column widths. It's all pre-formatted to give you a basic website quickly.
All of SimpleSite's websites are mobile-optimized, so you can be sure your visitors will have a great experience no matter what device they're using.
All SimpleSite's simplicity comes with a few limitations. For example, there is no integration with apps (other than PayPal and Google Maps). If you run into problems, don't expect a fast response from SimpleSite's support team; two business days is the average response time.
Features
SimpleSite is the simplest website builder around, without the bells and whistles that can be confusing if you're a complete beginner. If you get stuck, SimpleSite has basic tutorials to help you, too.
When you've built your website and want to change something, it's simply a matter of clicking and selecting a new option. If you can copy and paste, you can build a website with SimpleSite.
If you want to have a small online store, you'll be happy to know that SimpleSite lets you sell up to five products even on its free plan. Plus, there's PayPal integration and offline payment options.
SimpleSite's editor's point-and-click functionality means you can add images and embed videos with a single click.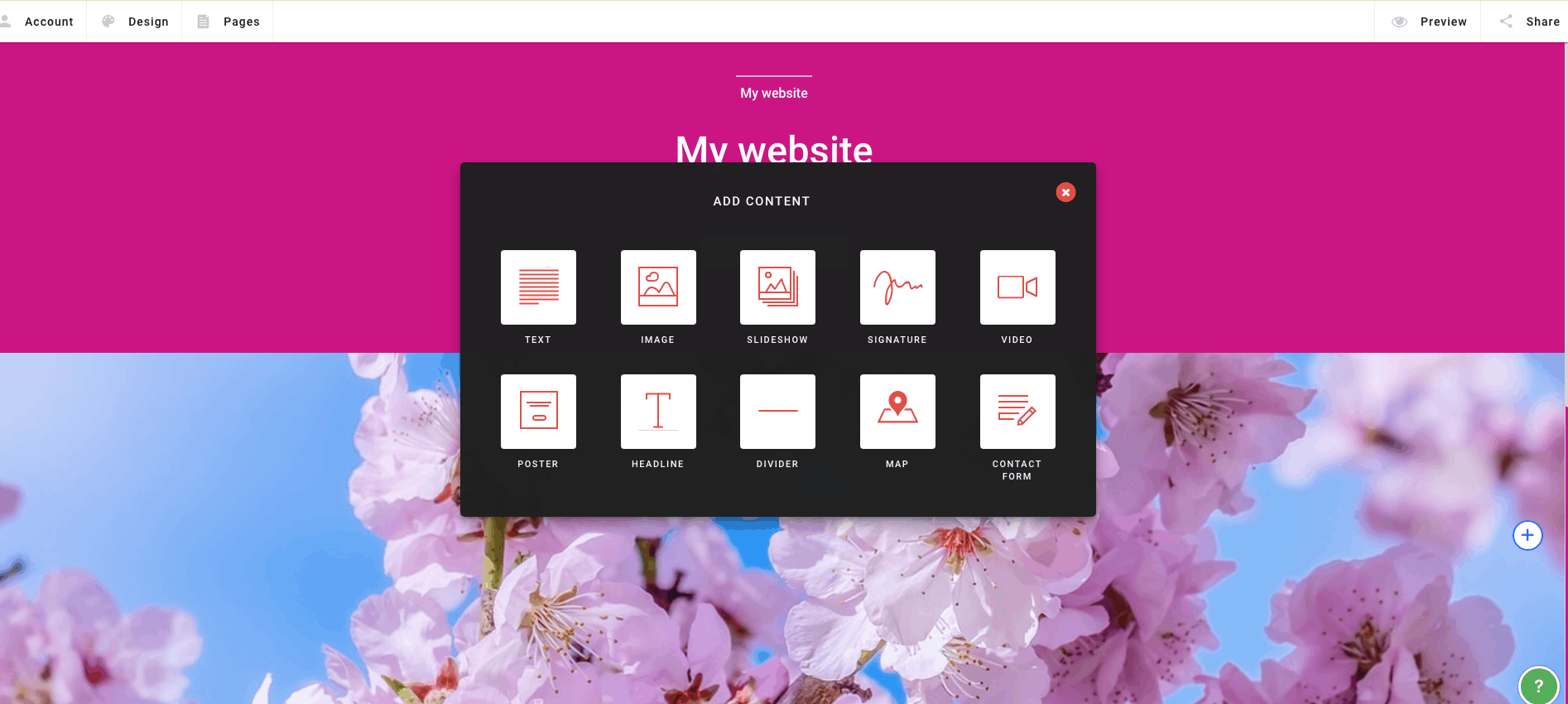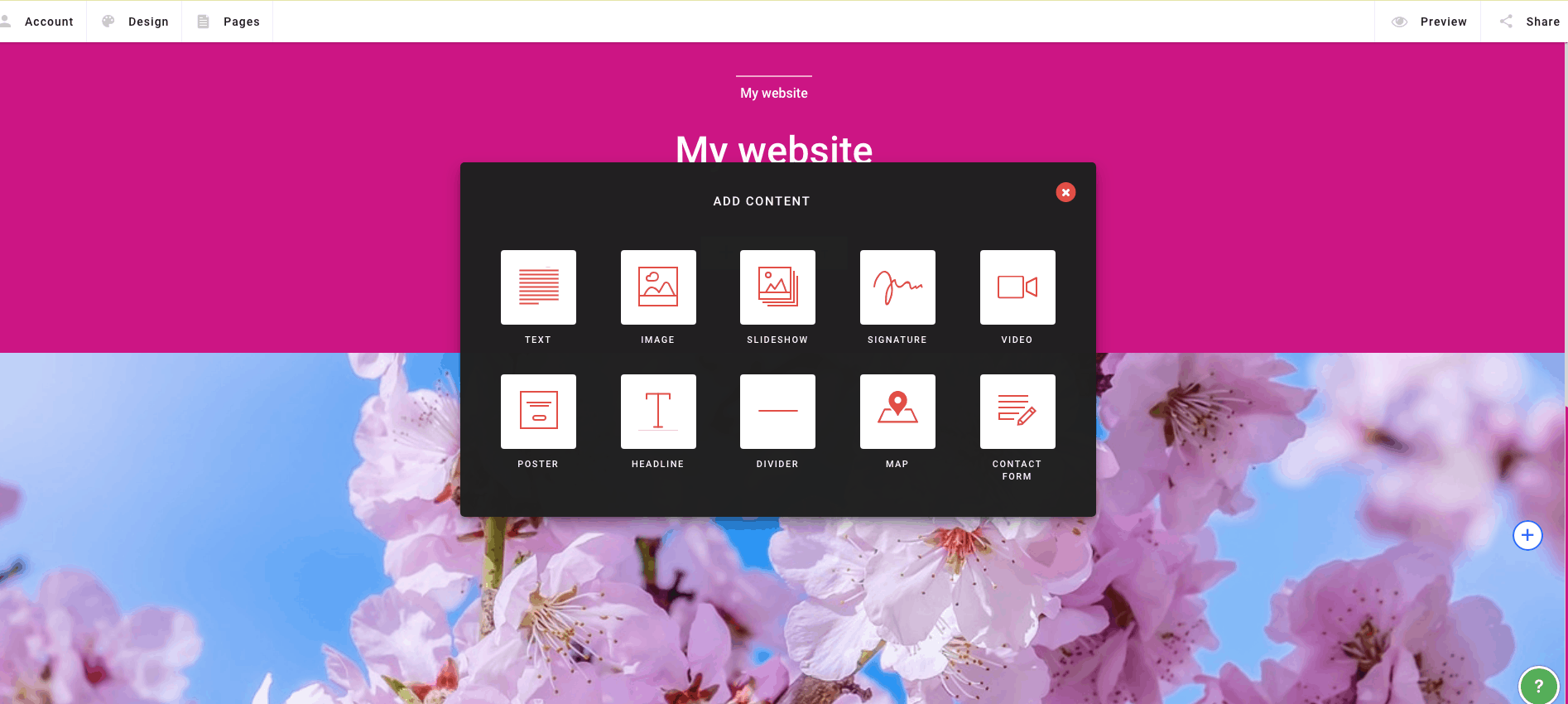 | | |
| --- | --- |
| Templates | 5 |
| Free-to-use Apps | No |
| Editor Type | Point and click, with predefined content areas and limited customization options. |
For more info about SimpleSite, you can read our SimpleSite expert review.
Free But Fully-Featured Website Builders
It's ridiculously easy to get a website online these days, and it can look as good as sites designed by professionals who charge hundreds of dollars or more.
The best website builders come packed with additional features that can help you grow your following, interact with your visitors, and much more. Wix offers the widest variety of fully-customizable templates and fantastic features, all included in the free plan.
The website builders we've featured all have different strengths and weaknesses. Here's a comparison table to help you choose the best one for you.
Website Builder
# of Templates
Top Free Add-ons
Standout Feature
What You Get if You Pay
Wix
500+
Pro Gallery,

Forum, Etsy Shop,

PDF viewer

Amazing range of customization options
Ads removed, more bandwidth, domain name (on selected plans)
Weebly
40+
FAQ, Content Color Box, Pop-Ups, Call-Out Box
Mobile app for on-the-go editing
Free domain, e-commerce features, SSL security, ads removed
Jimdo
15
X
Quick AI-based builder
Free domain, ads removed, more website pages and storage
Site123
16
X
Create multiple websites on one account
Free domain, ads removed, more storage and bandwidth, mailing list features
SimpleSite
5
X
Basic editor for users with zero technical skills
Free domain name, ads removed, unlimited storage for media