Many comparison sites will tell you that all drag and drop website builders are easy to use and highly flexible, and while it's true for some builders, others just benefit from the title.
If you choose the wrong website builder, you might end up stuck with a pricey, long-term commitment to a platform that doesn't give you all the tools you need to design the site of your dreams.
I've been building websites for over ten years. I tested dozens of builders, and have personally used each of the ones on this shortlist. Read on and I'll share with you my personal favorites, plus some expert tips on how to get the best use out of them.
Short on time? Our top picks for drag-and-drop website builders:
Wix – The most flexibility and personalization options
Weebly – Great e-commerce features for online stores
What We Look For in the Best Drag-and-Drop Website Builders
Easy to use. All the website builders on this page require little-to-no tech skills. You won't need to know how to read or write code.
Gives you high-quality support. Building a site, even with a website builder, is difficult if you don't have much experience. Support, in the form of human support (e.g., live chat, phone, email) and clear documentation, can be a big help.
Supports a variety of webpage elements. A good site builder lets you easily add webpage elements. Extra points if it's easy to add advanced elements like donation buttons, page dividers, and multiple columns.
Creates good-looking sites. These website builders all offer attractive templates that can display well on any device. The more choices you have, the better.
From my experience, Wix is the best one-size-fits-all option here. You can use it to build any type of website (e.g., blogs, online stores, portfolios, etc.), although it does primarily cater to business websites ("Business" is the largest template category).
There are two Wix website builders. That may sound confusing at first, but it's actually fairly simple.
The classic Wix site builder is for you if you want more control over individual elements on the page. It's a little more complicated, but the better choice if you have a very specific layout or design in mind.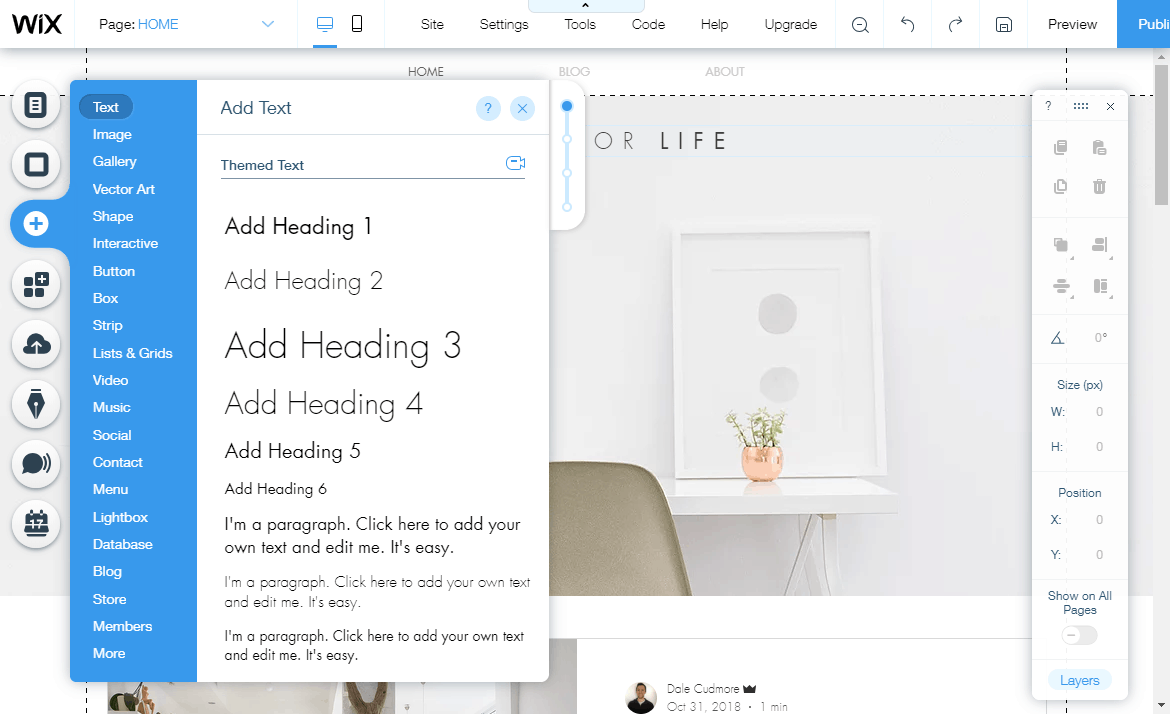 The second builder is the Wix ADI website builder. It's designed to be as simple as possible to use, and it's the one I would recommend to most people.
The ADI is powered by artificial intelligence to create a custom theme for you. All you need to do is go to the Wix homepage and answer a few basic questions about the type of website you're creating, and the features you'll need.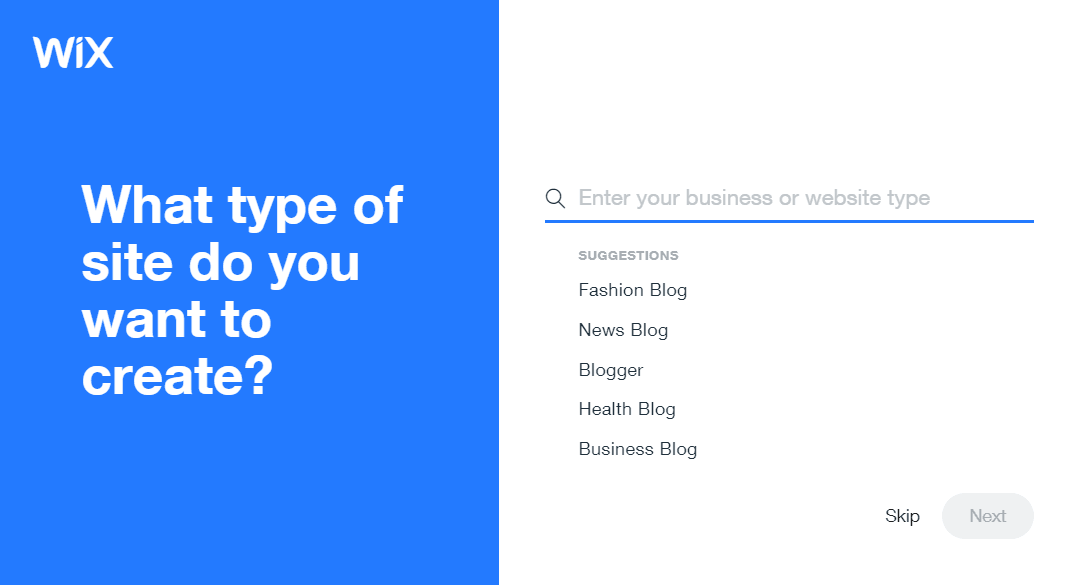 Features
500+ beautiful website templates. As I mentioned, there's a template for any type of website imaginable on Wix. They're divided into categories (e.g., online store, photography, real estate, etc.), and you can narrow down options even more by picking a sub-category (e.g., electronics, fashion, arts, etc.). You can learn more about the different kinds of templates in our Wix review.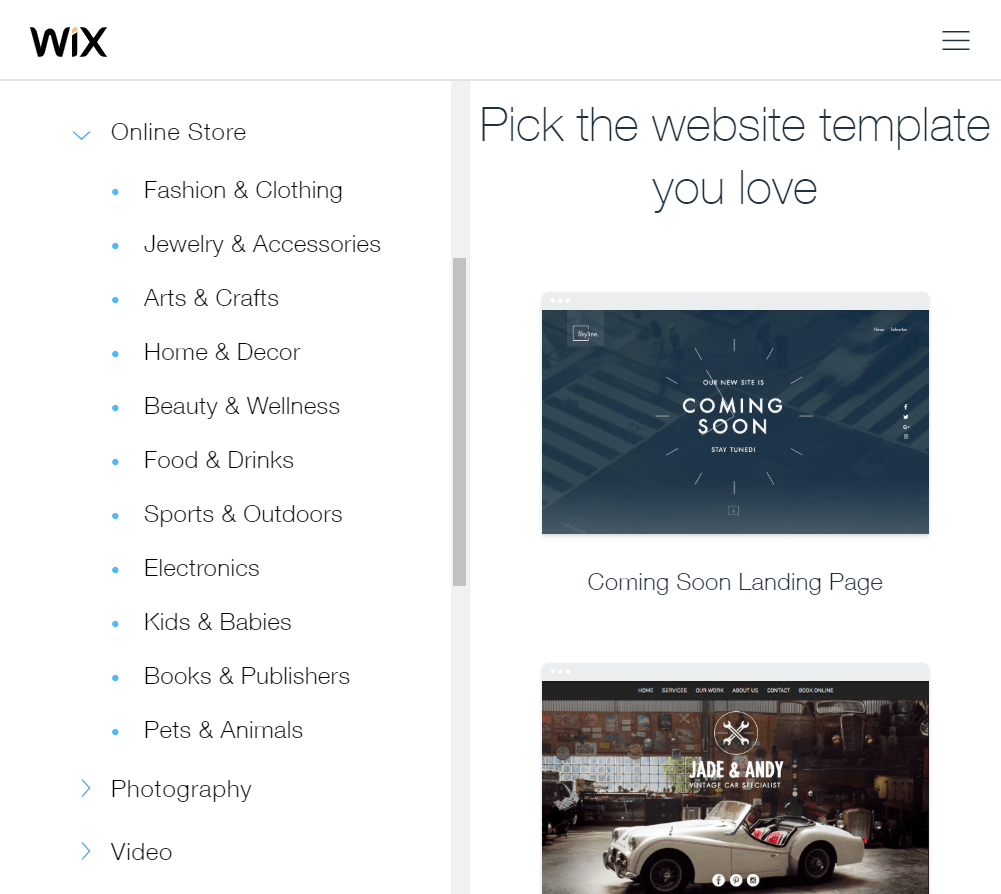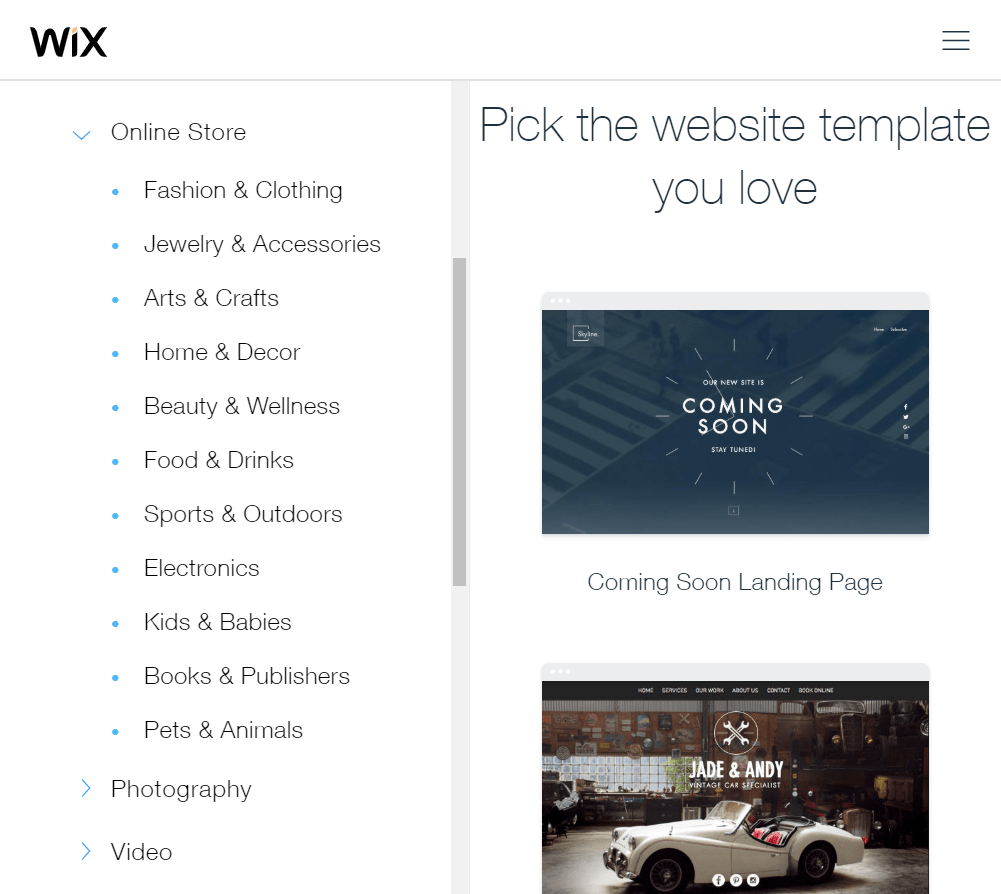 Premade sections. If you use Wix ADI, you won't need to worry about dragging in several individual elements (e.g., text, headings, images), although that's an option. Instead, you can drag in premade sections (e.g., FAQ, product listings, opening hours). So, you need to change only the text, not the spacing or layout.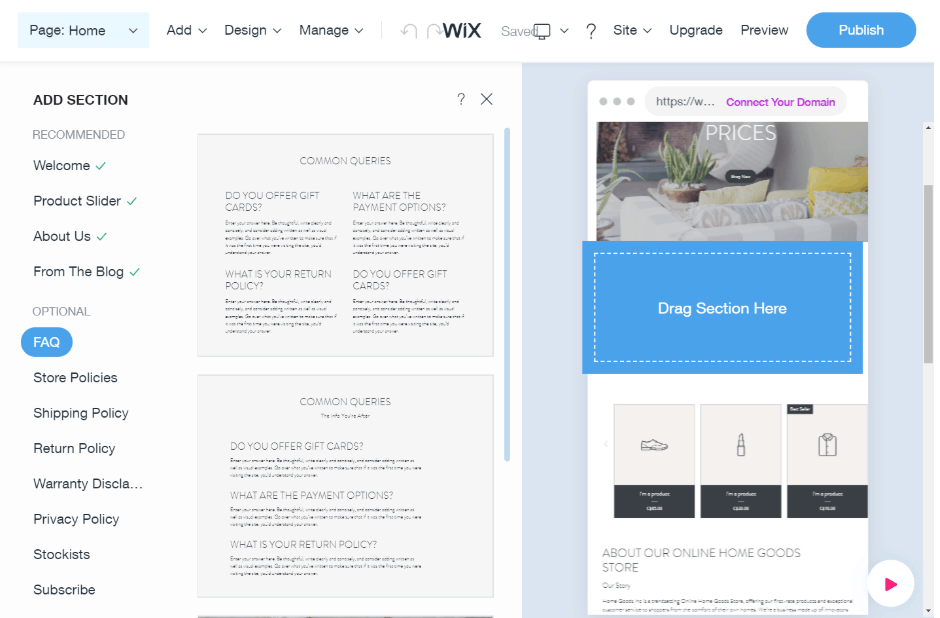 Large App Market if you need extra features. Both the classic Wix editor and Wix ADI have enough features to create a website. However, there are many apps to choose from if you'd like to add an advanced feature (e.g., live chat, bookings, an Instagram feed, etc.).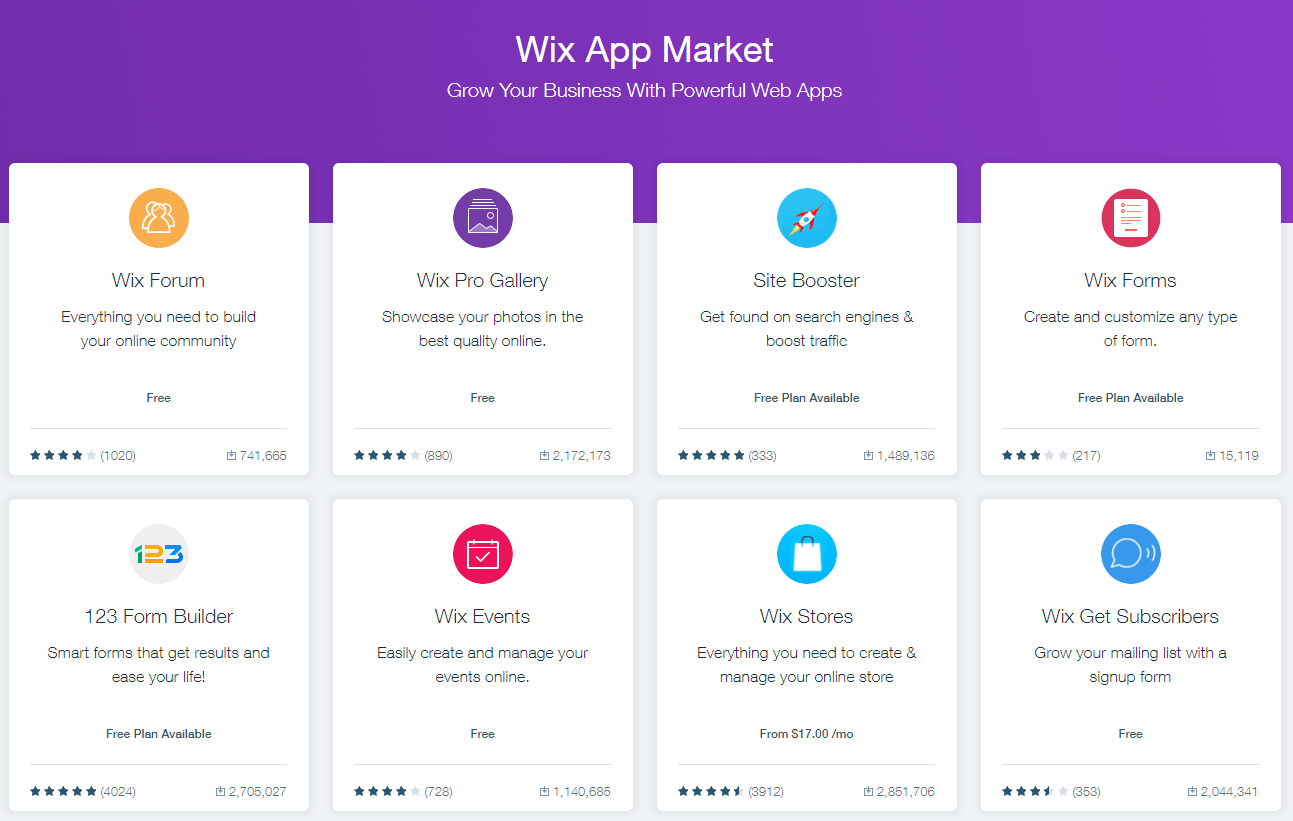 Hundreds of detailed help articles. Wix has a great knowledge base filled with help articles if you get stuck. They all have clear steps, often with pictures to guide you through issues.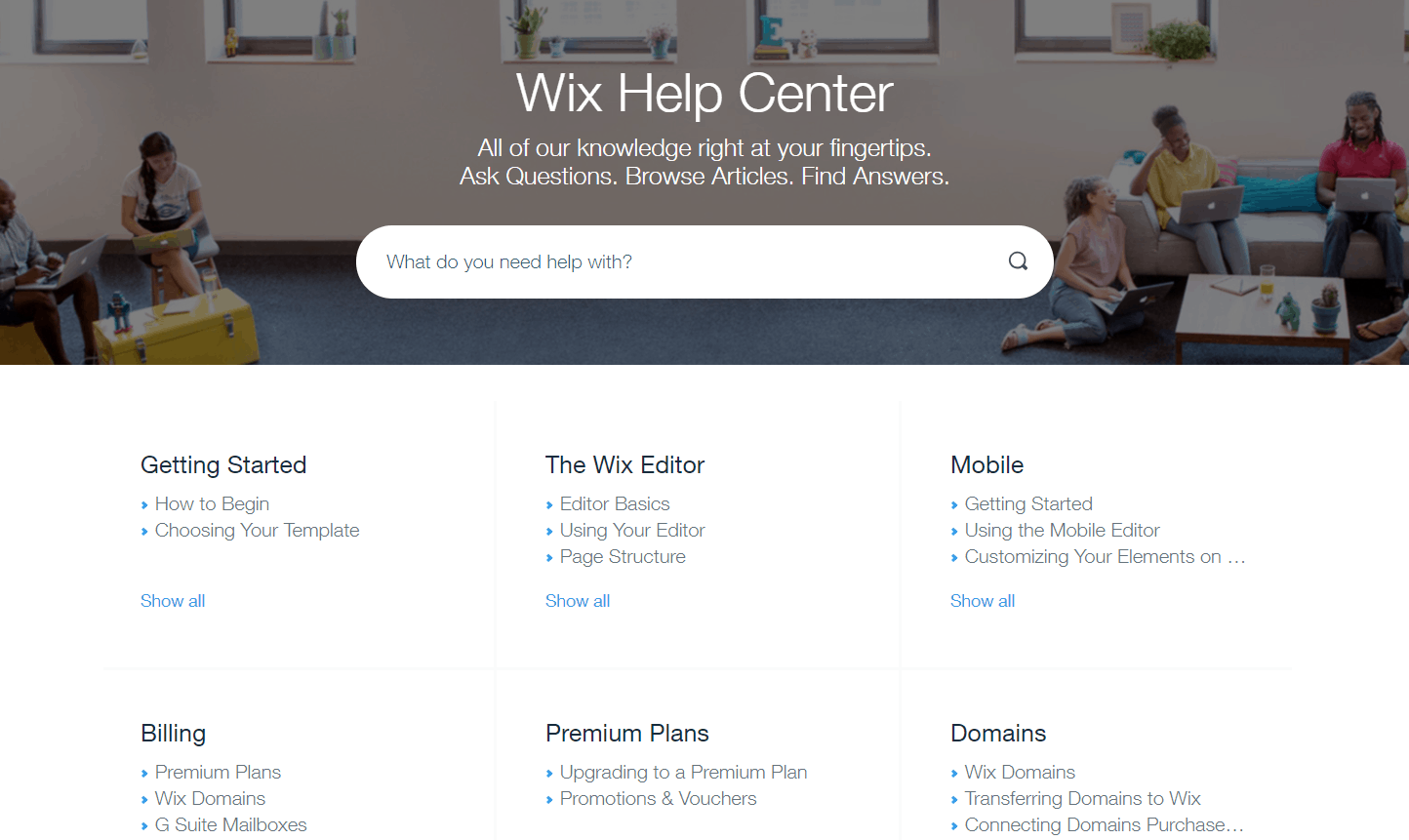 Free plan?
Yes, but with limited features and Wix branding
Number of templates
Over 500
Customer support channels

Phone (U.S. business hours)
Ticket (Email)
Weebly supports many types of websites, but it really excels at making online stores.
You can easily add products (digital, physical, service-based, etc.) and collect payment for them, with absolutely no coding involved.
The only issue I have with Weebly is that it's one of the more finicky drag-and-drop builders I've used. You can't always drop in a section in the spot where you'd like to.
Features
Moveable sections. For many elements, you can click the grip icon and drag it somewhere else to rearrange the page. In most other website builders, you can't do this. Instead, you'd need to recreate the section in the new spot, which is time-consuming.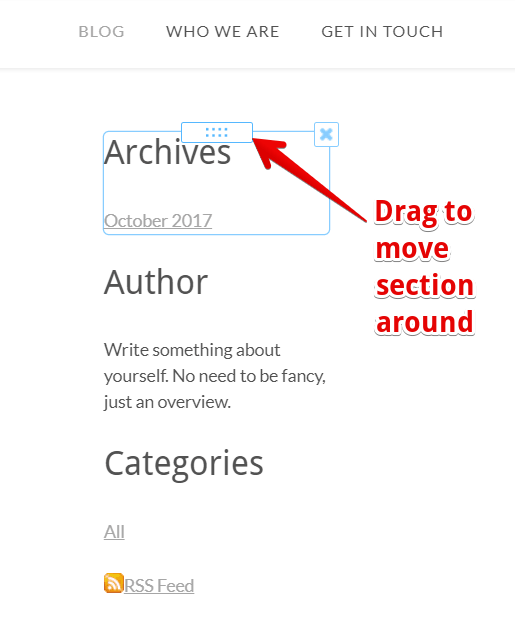 Ability to change your theme at any time. Some builders (like Wix) lock you into the initial theme you chose. But on Weebly, you can change your theme at any time within seconds. There's a decent selection of themes to pick from, divided into categories. The "Online Store" category has the most, with 15 themes.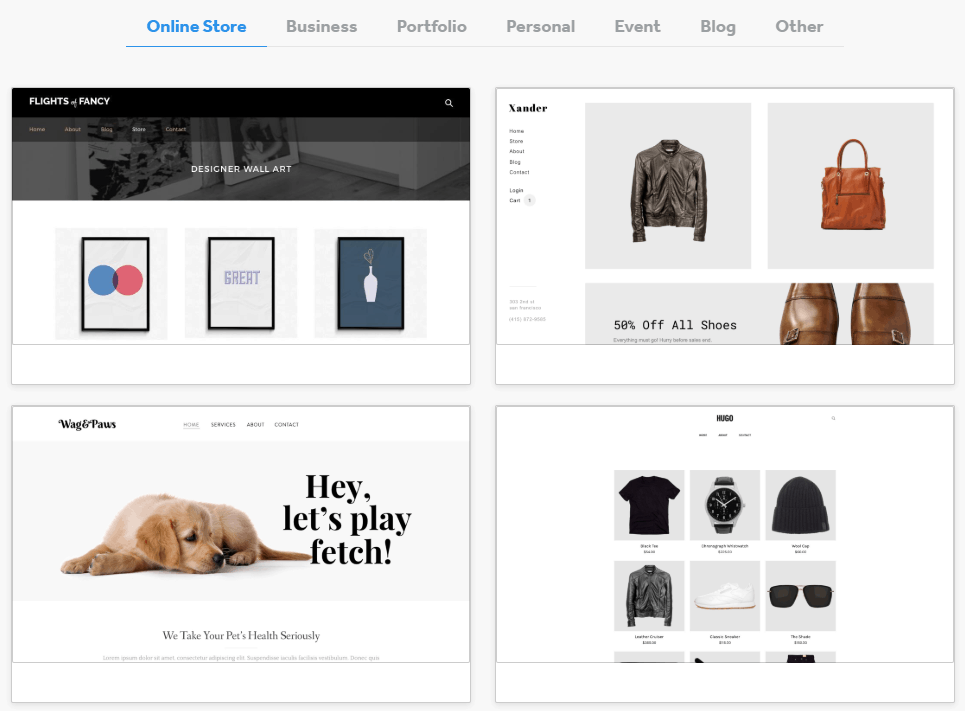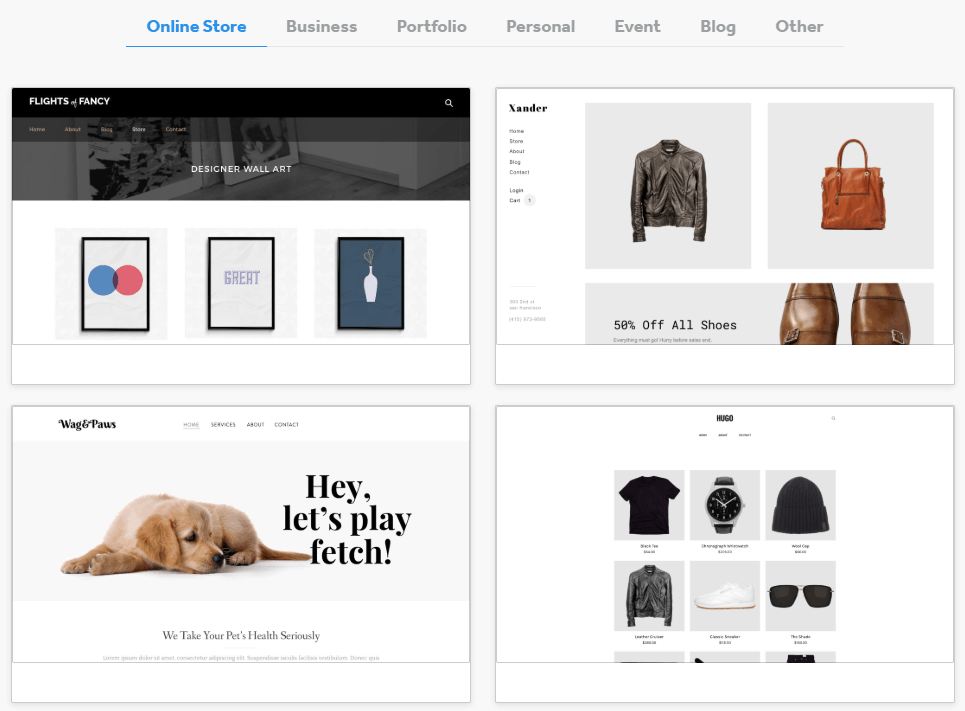 Simple traffic stats. Weebly gives you a simple reporting section that shows how many people are visiting your website, what pages they're viewing, and how they found your site (e.g., social media, Google, etc.). Read more about Weebly's site analytics in our Weebly review.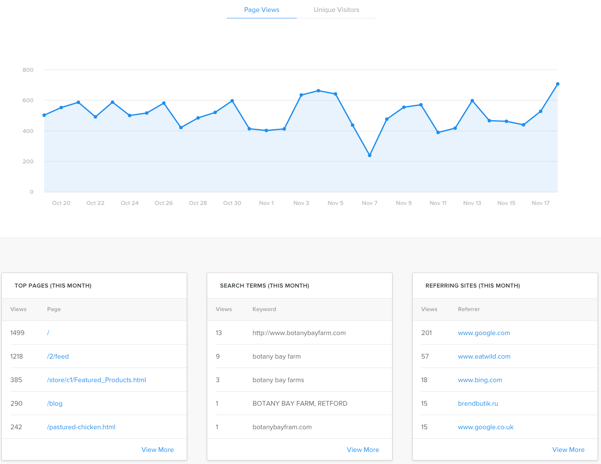 Easy store management. This is the shining feature of Weebly. You can click on the "store" section of your website at the top of the site editor. From here, you can add products, set payment options, and see your orders.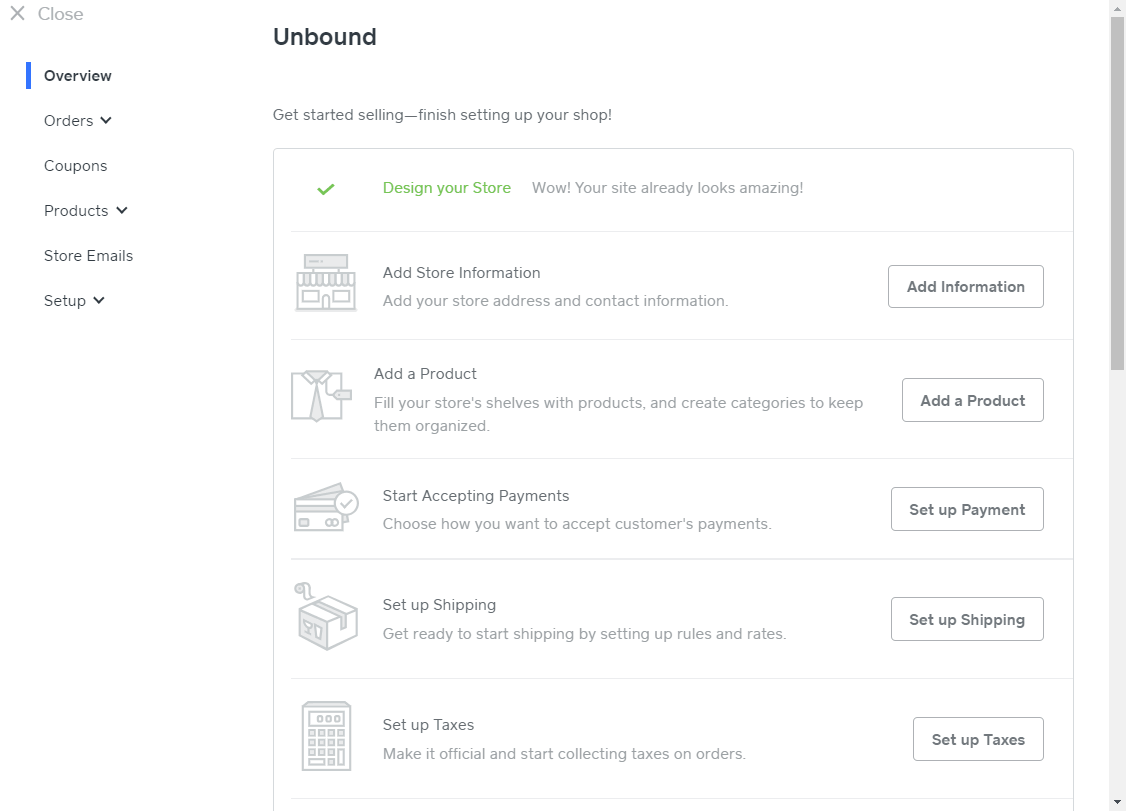 Free plan?
Yes
Number of templates
50+
Customer support channels

Phone (U.S. business hours)
Live chat (24/7)
Email
This might be the solution you're looking for: GoDaddy's GoCentral website builder is specifically designed for small businesses.
In addition to the website builder, you have easy access to helpful small-business marketing features for email and social media marketing.
The website editor itself is easy to use, but doesn't give you full control over layout and styling. Additionally, there are only several dozen templates to choose from, so you may not be able to find one that closely matches what you have in mind.
Features
Very easy-to-use editor. The editor is as simplified as possible so that you're not overwhelmed by too many options. You can click any element on the page to edit it, and that will bring up a side menu where you can edit text or the color scheme of that element. Learn more about GoDaddy's editor in our in-depth review.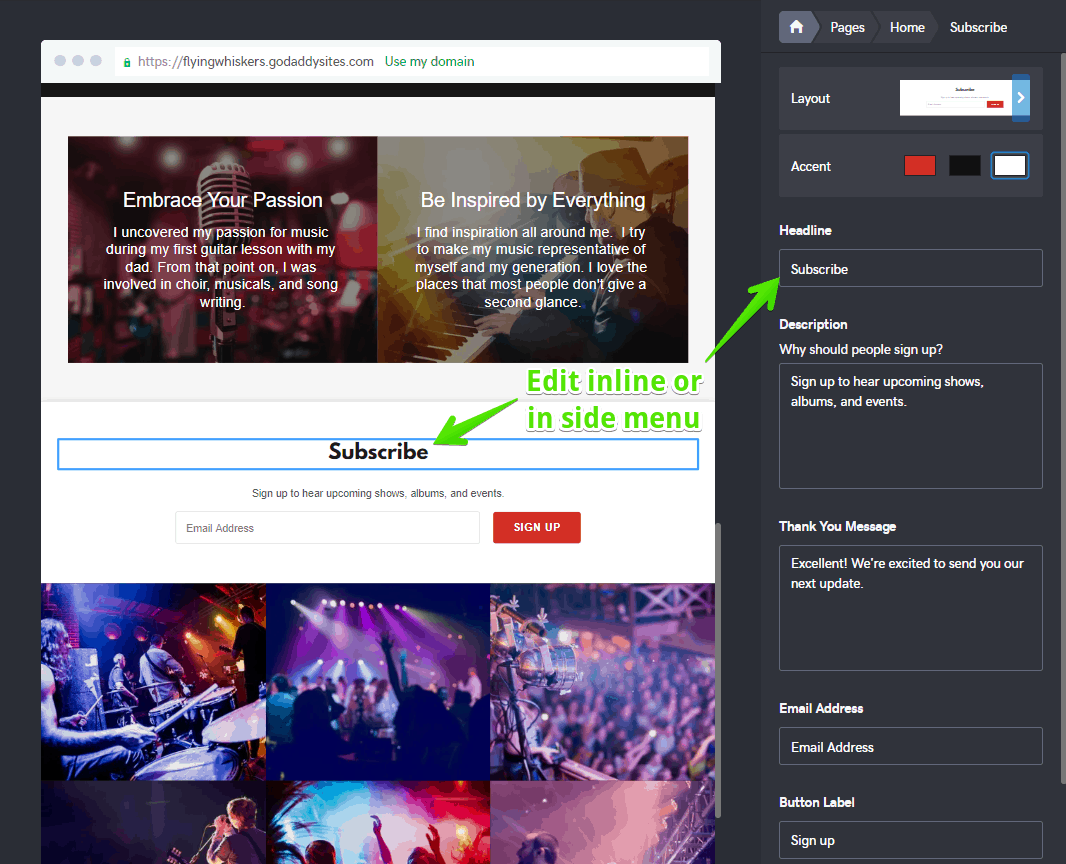 Wide range of page elements. Although the editor doesn't give you full control over the layout, it does give you a large library of elements to choose from. You can easily add a menu section, PayPal button, calendar, or more with one click.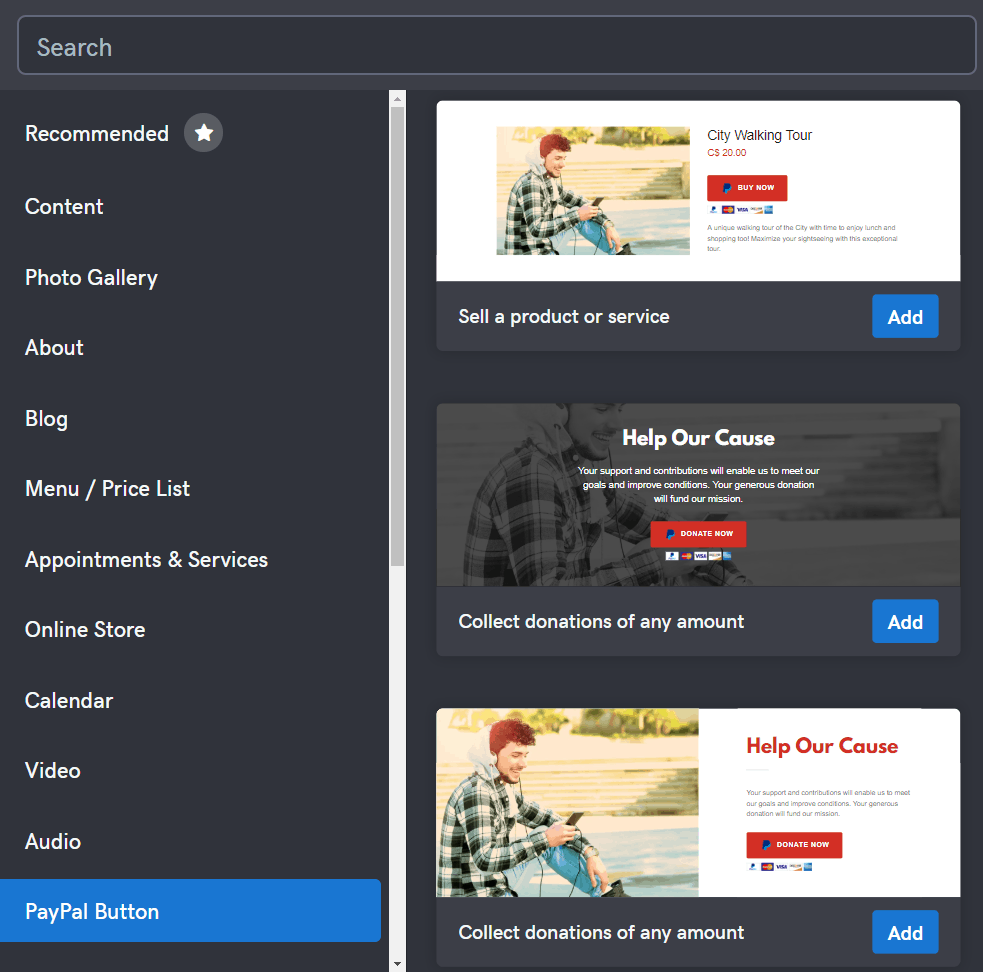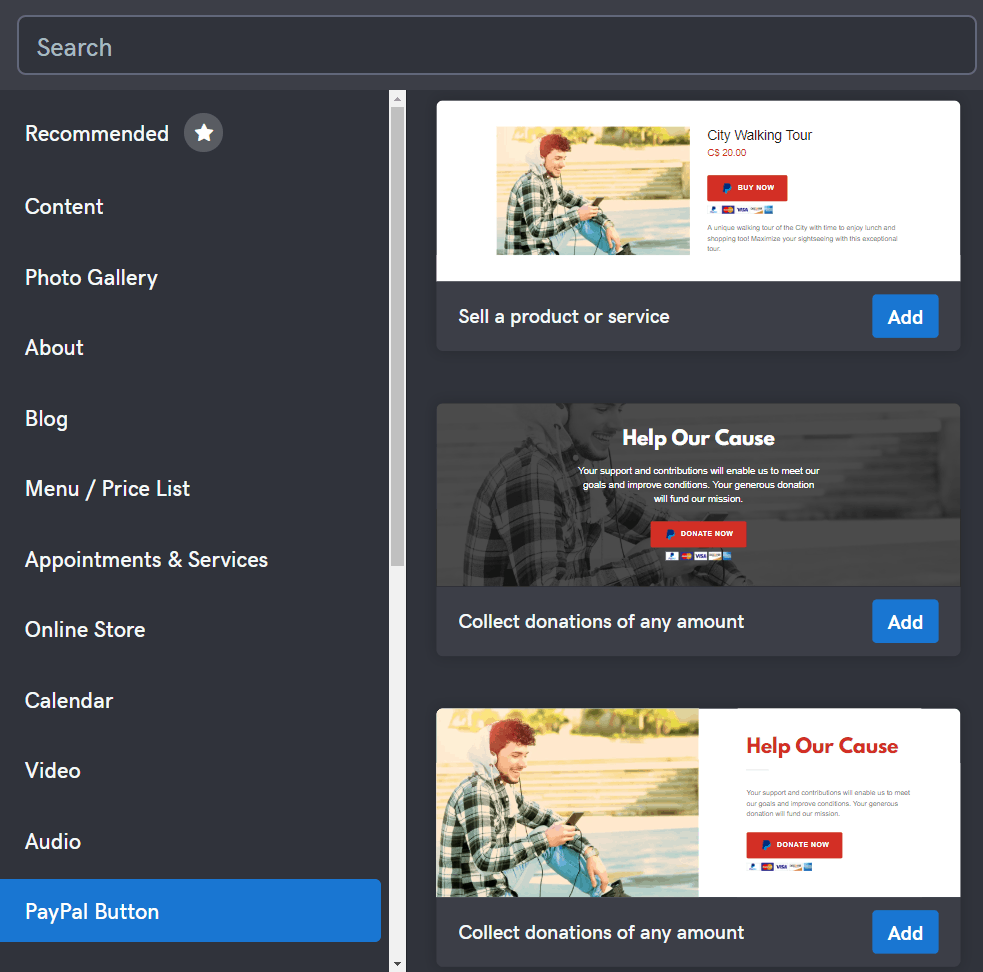 Community forum support. Aside from reaching out to staff for support, you can also post questions or problems in the community forum. The section for the GoCentral website builder isn't too active, but most posts get at least a few replies.
Marketing automation. Your account comes with features to save you time marketing your business. For example, you can have a Facebook page or Google My Business (GMB) profile created for you automatically.
Free plan?
No, but a 30-day free trial is available
Number of templates
40+
Customer support channels

Phone (24/7)
Live chat (not always available)
Community forums
On top of the standard types of websites (businesses, blogs, online stores), you can use Site123 to build several other types of sites.
Site123 is not your typical drag-and-drop builder. Instead, it's more like a point-and-click builder. You click a button to add or edit content, and then click what you'd like to add from the side menu. It's a good alternative if you get frustrated with dragging not always working smoothly.
Like Wix, it also uses AI to build you a custom theme. You go to the Site123 homepage, answer a few basic questions about the type of website you're trying to make, and it gives you a functional website.
But while your template will be customized to your preferences, it won't be unique. Most Site123 websites end up looking similar. That may not be a big deal, unless you're trying to stand out from others. However, Site123 still gets great user reviews.
Features
Extremely versatile. Most other website builders are geared toward business websites, but Site123 provides many options for hobby and personal websites. You can easily create community, event, or photography websites with it.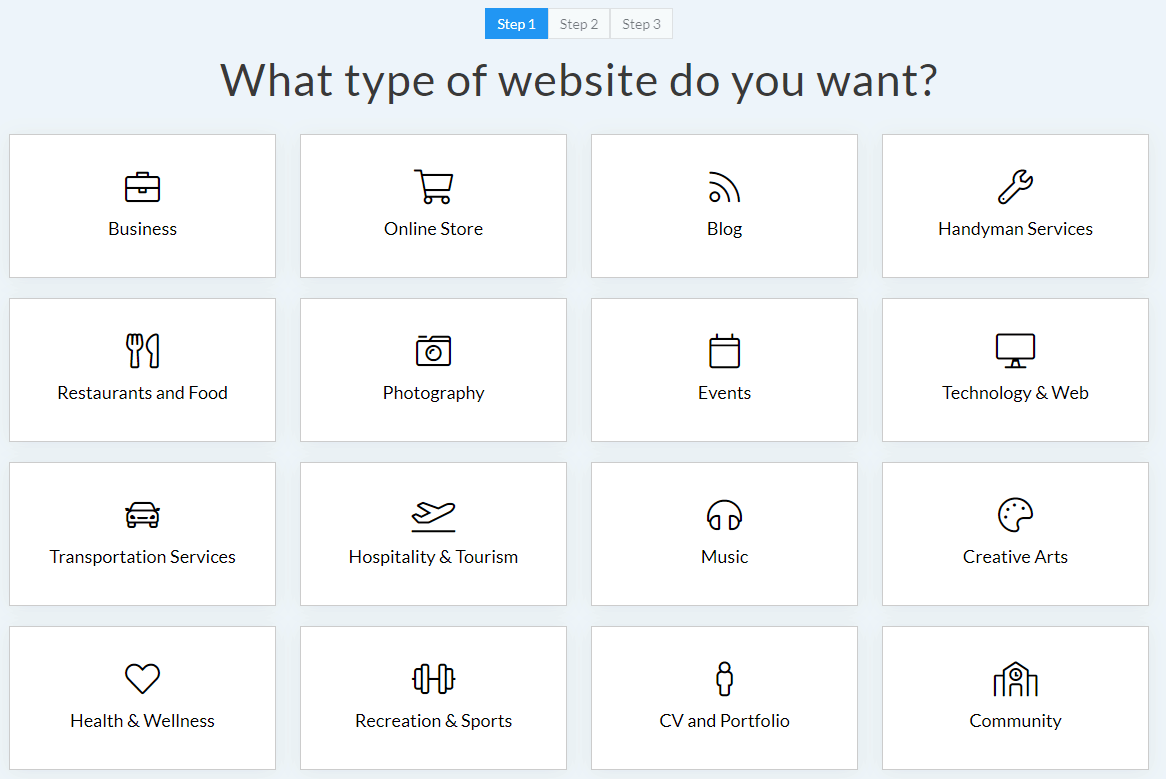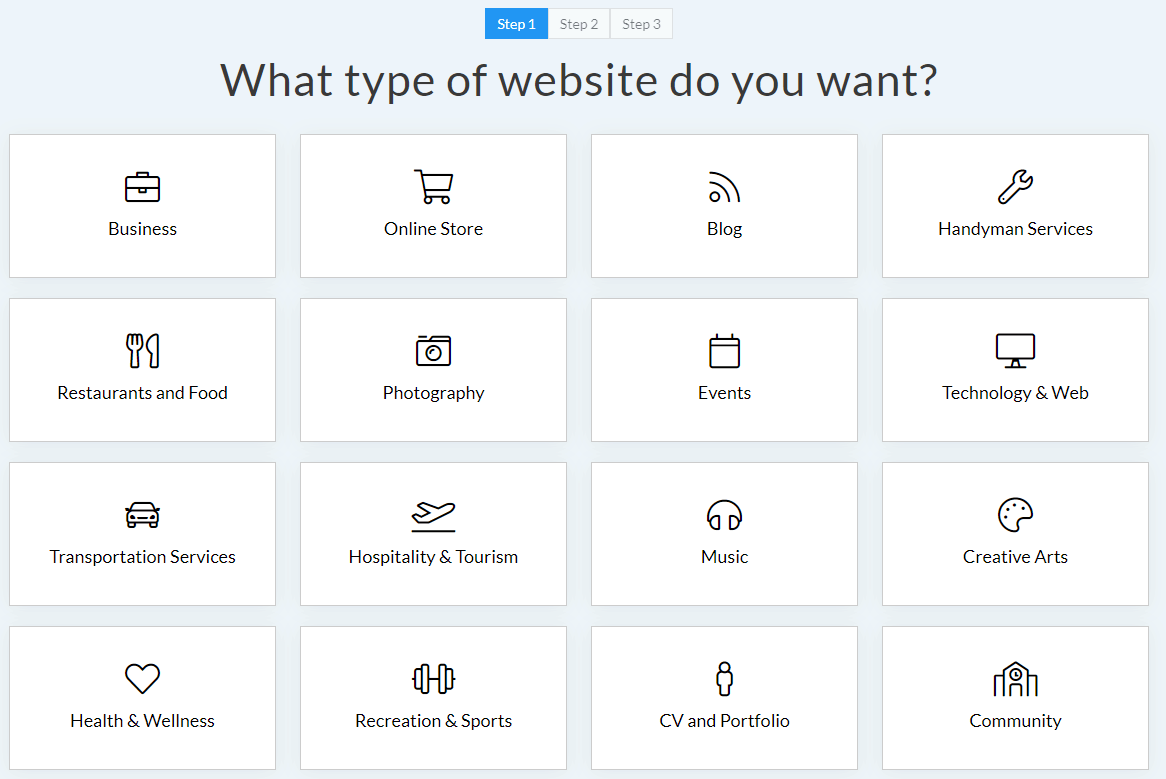 Simple store that's easy to set up. If you need an online store, Site123 has all the core features required at the press of a button. You can add products, accept payments, and view orders that need to be fulfilled.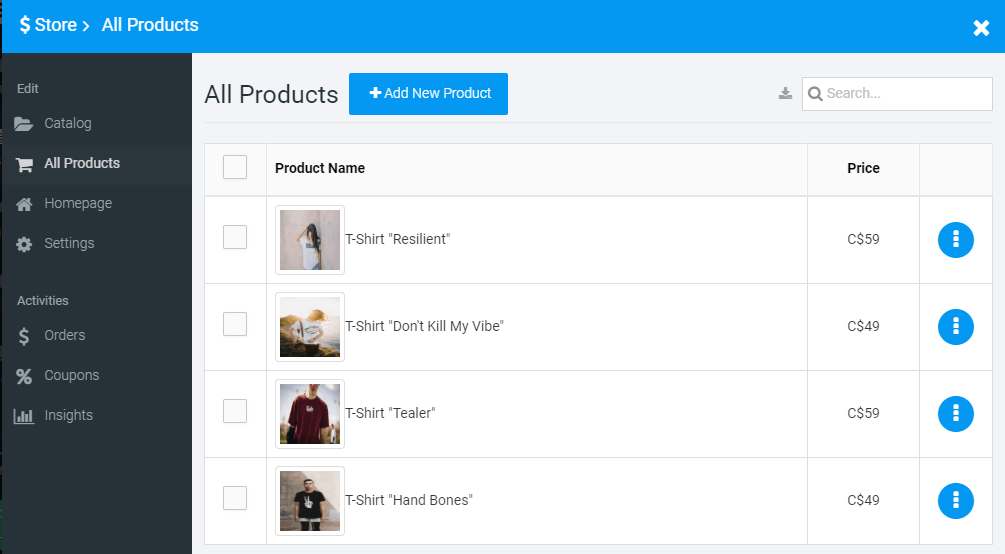 24/7 live chat. If you ever run into an issue, live chat support is always available. The few times I've tried it, I've gotten a helpful response within a few minutes at most.
Hundreds of support articles. The support center has articles that guide you through every feature in the website builder. The articles all have clear pictures or videos, making them easy to follow.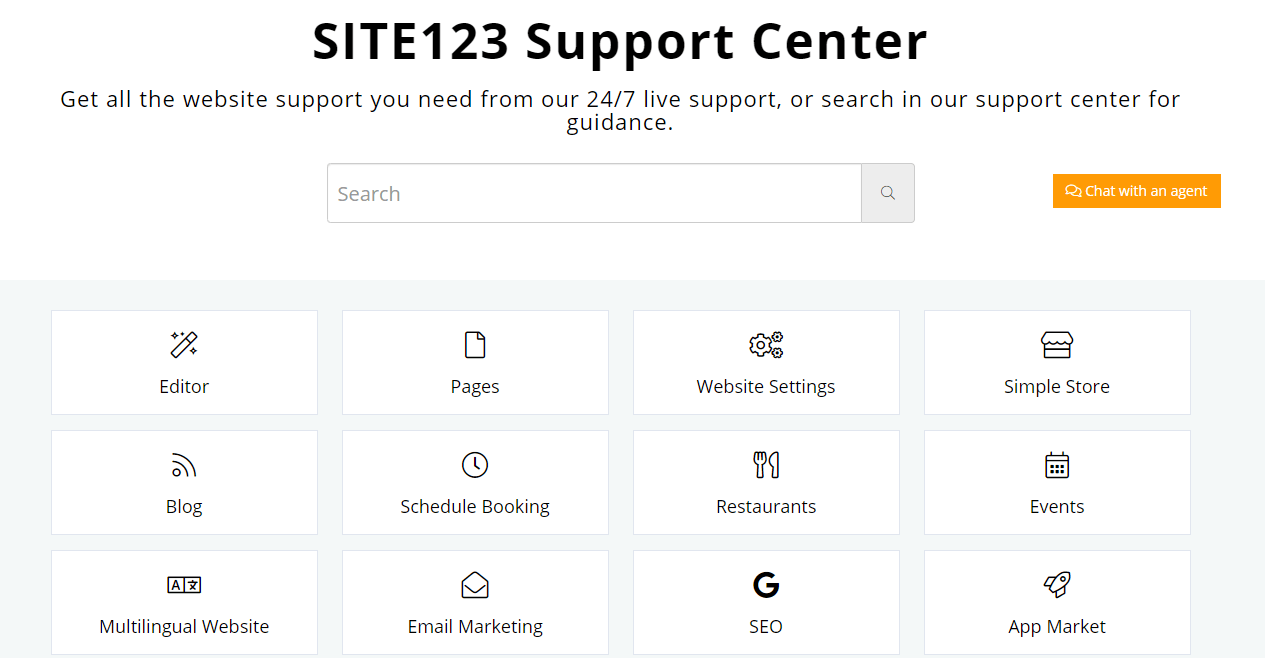 | | |
| --- | --- |
| Free plan? | Yes |
| Number of templates | 180+ (many similar variations) |
| Customer support channels | Live chat (24/7) |
For most users, SimpleSite is overly basic – but if you're looking for a quick and easy beginner-friendly solution and you don't need a lot of features, it can be a good choice.
There's only a limited number of basic page elements to choose from.
Like Site123, there's no actual dragging involved; adding elements is all done through clicking.
Note that you can't add extra sections to your page or change the theme once you've picked it.
Click here to learn more about SimpleSite.
Features
Content is very easy to add. When you want to add content to a section, you click the big "add content" button, and then pick from the ten options that pop up. They cover all the basics, like text, images, and headlines.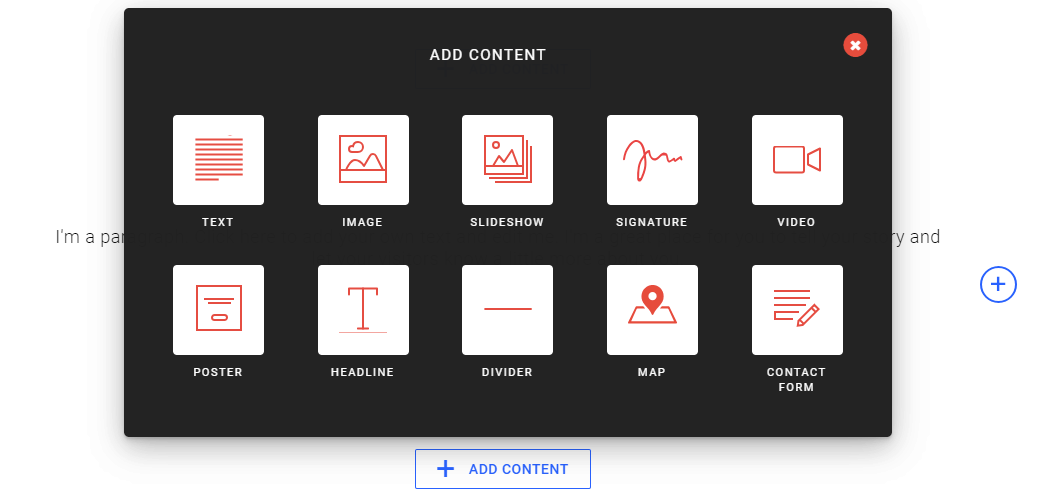 Editor walkthroughs. If you get stuck while editing your website, you can click the help bubble at the bottom corner. You can choose what you're having trouble with, and it will guide you through the process with small pop-ups.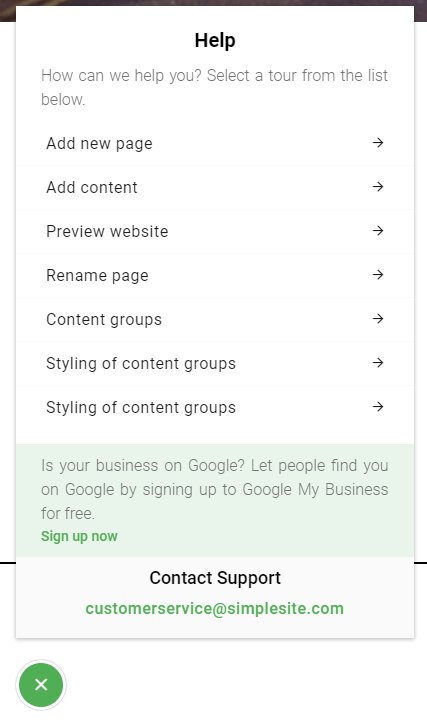 Free custom domain on a paid plan. The free plan lets you create a website on a subdomain (e.g., "sitename.simplesite.com"), but your own custom domain name (e.g. just "sitename.com") is always better. While most builders will charge you extra, SimpleSite includes one custom domain for free on paid plans.
Reasonable selection of themes for businesses. There are several business templates to choose from, but not so many that you'll spend hours trying to choose one. All of them are mobile-optimized, so they'll look good on any device. Non-business sites are given a generic template during the creation process.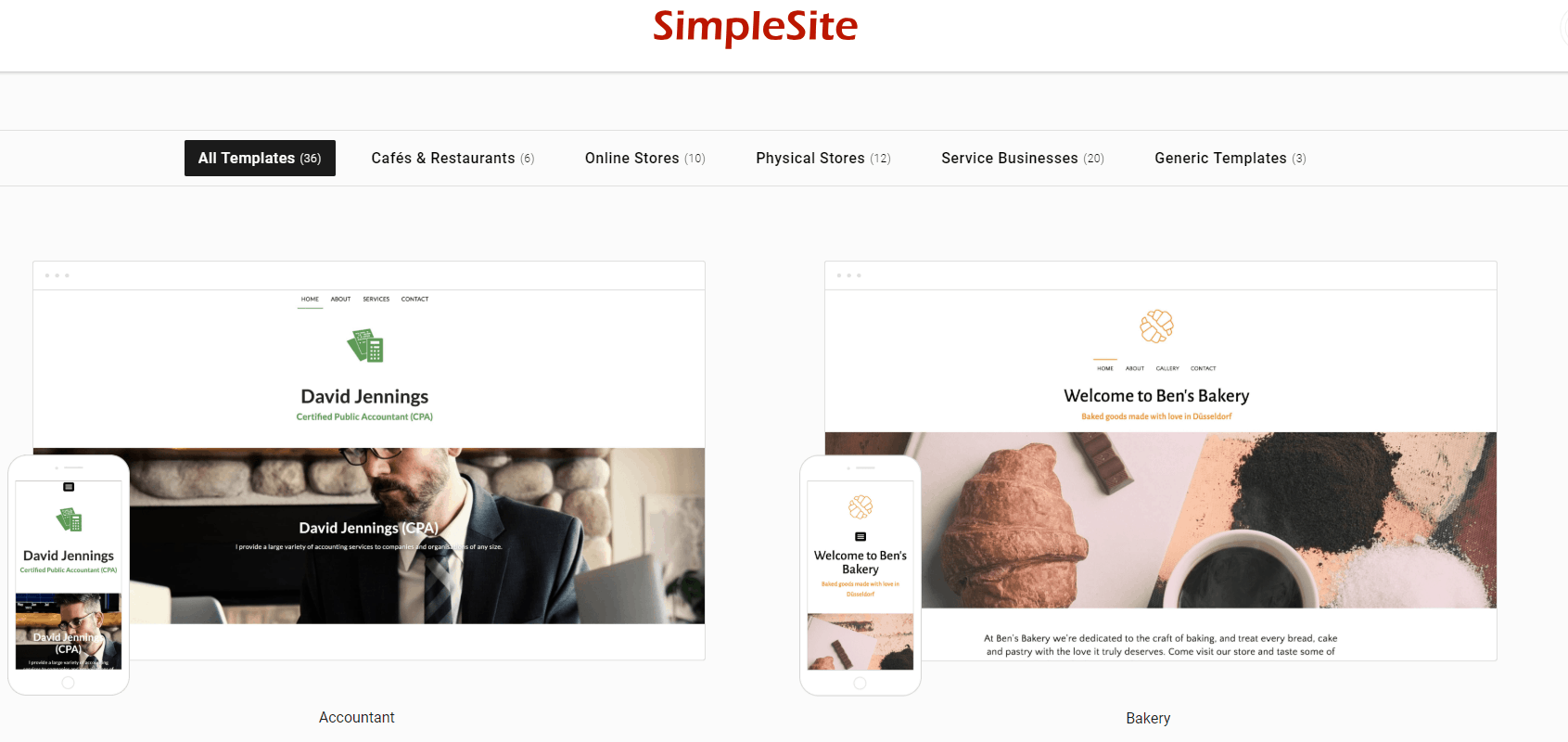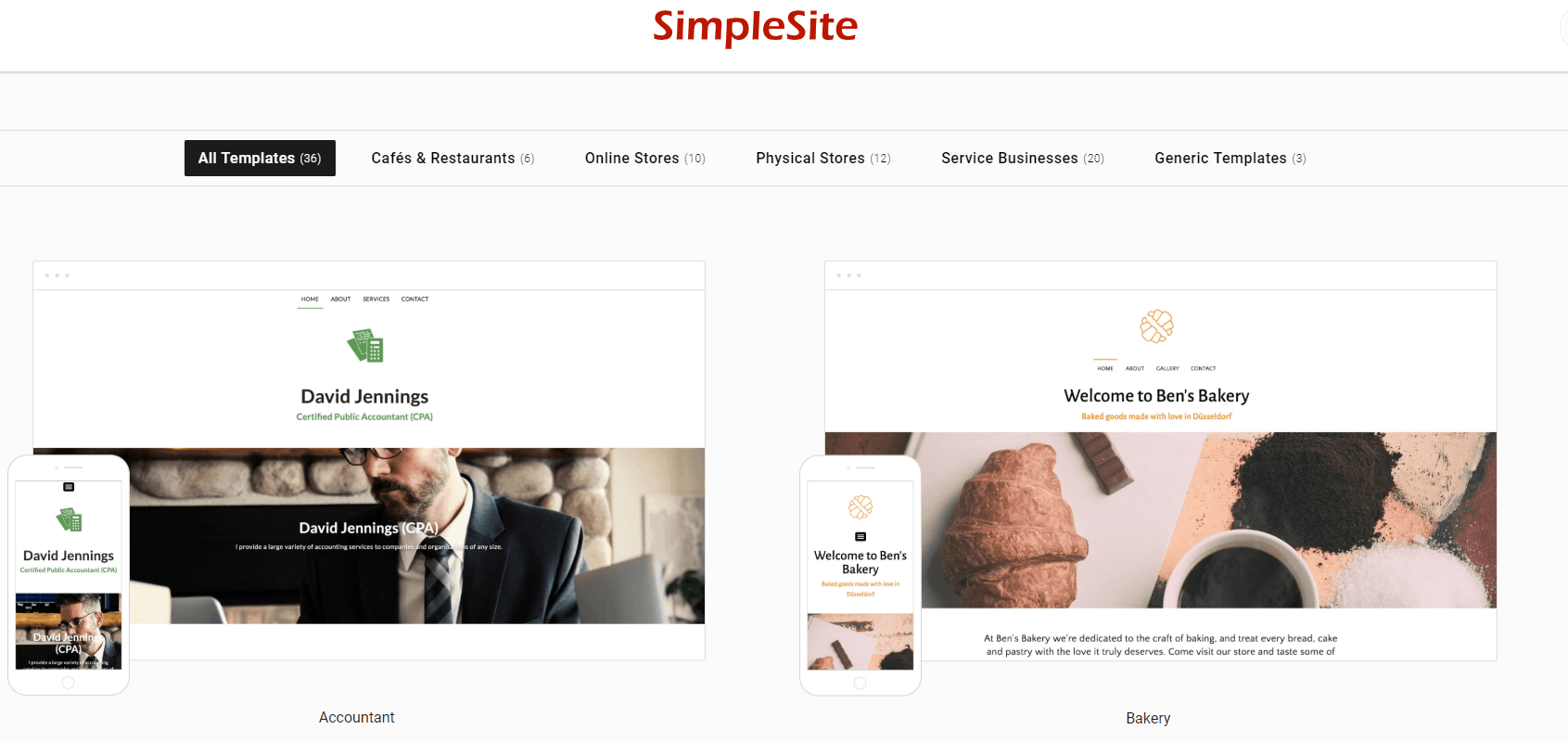 | | |
| --- | --- |
| Free plan? | Yes |
| Number of templates | 30+ |
| Customer support channels | Email |
WordPress powers about 30% of the internet. It's almost always the best choice if you're creating a blog.
While other website builders support blogs, their text editors lack features, and it's harder to keep track of and search through blog posts. WordPress has great filtering and search options to keep you organized.
You can't drag and drop to change the layout of your WordPress site as a whole (although you can install a plugin to do this), but you can customize each individual blog post.
Features
Hundreds of beautiful themes. You can sort themes by feature, price (most are free), subject, and more. It's easy to preview and switch between themes whenever you like. Keep in mind that you can't customize the layout of your site too much (most themes will have some settings you can decide on). So, you need to pick a theme that's close to the end result you want.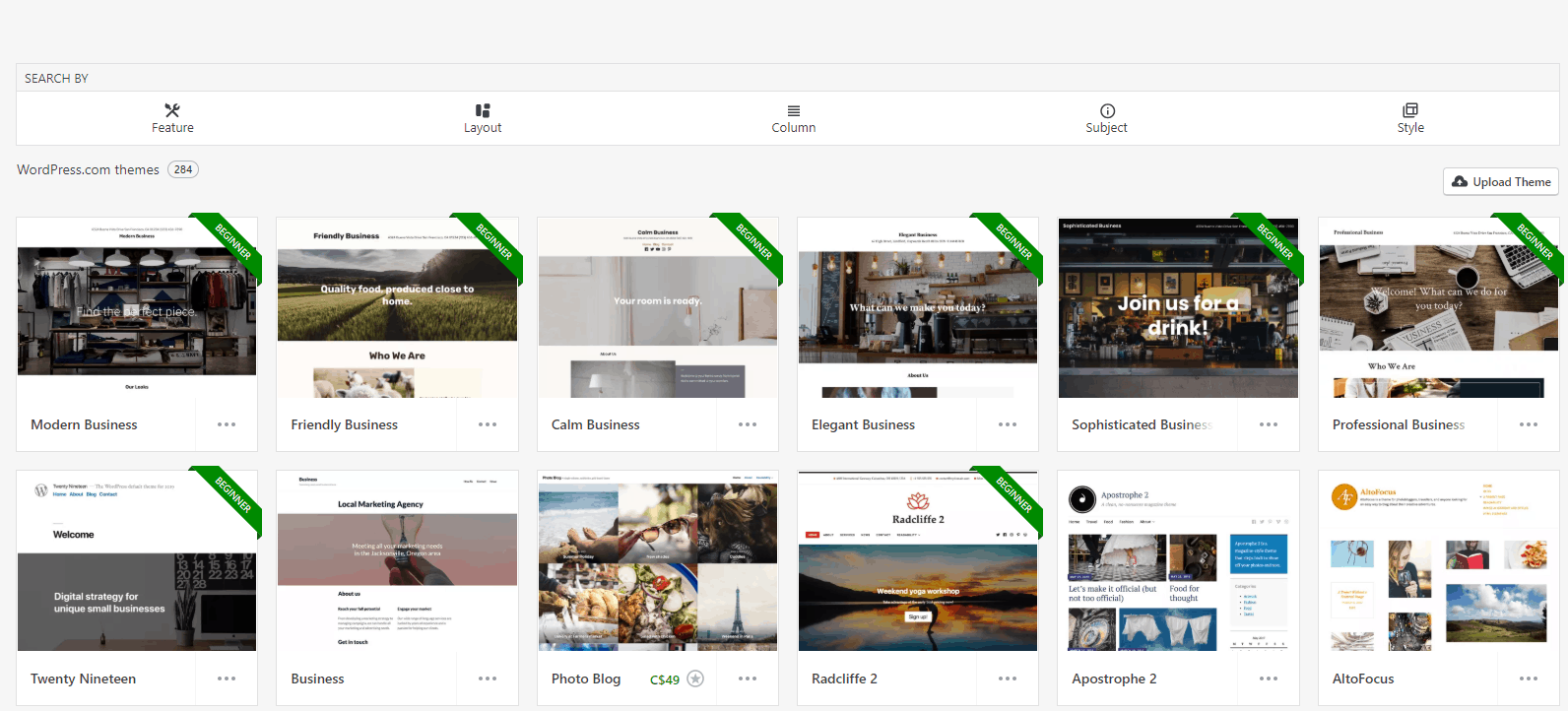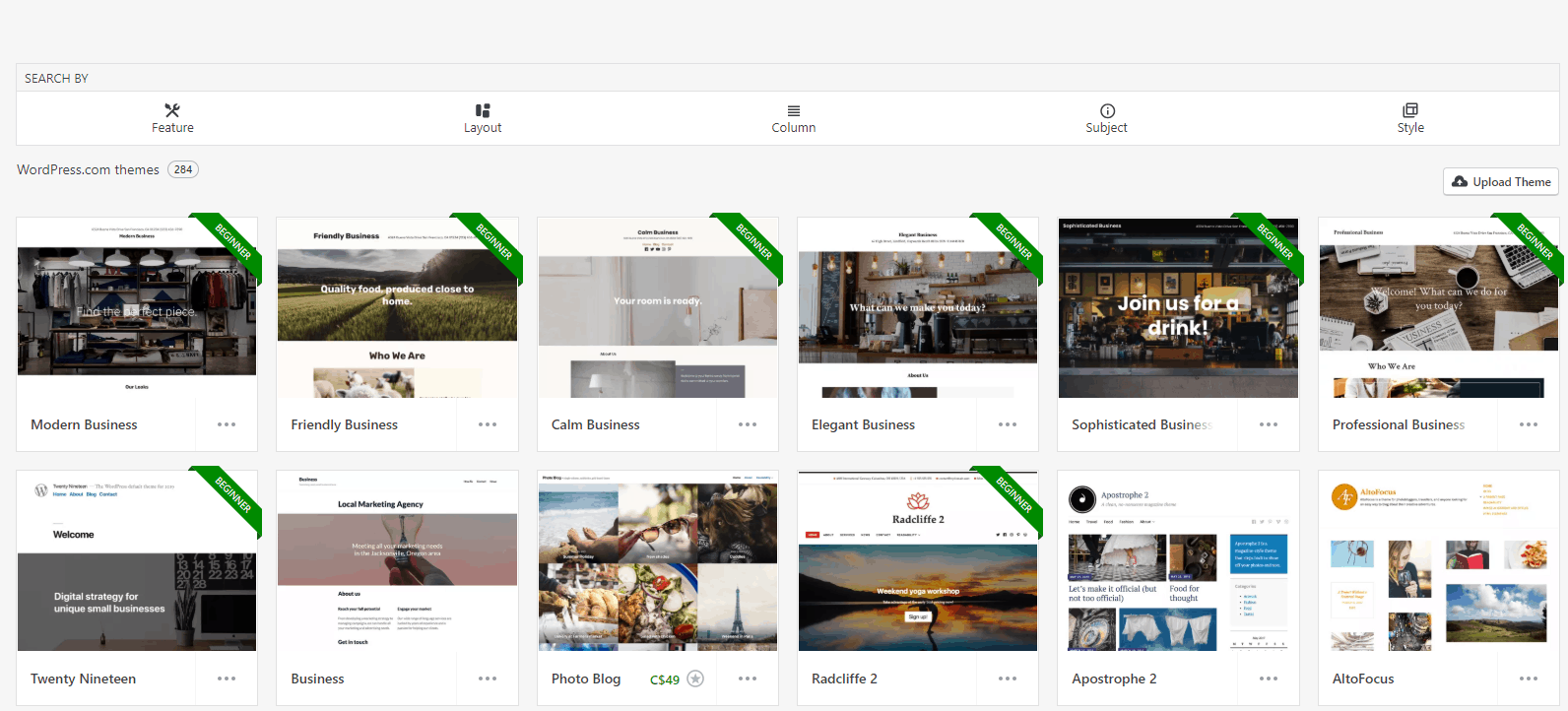 Huge library of plugins. If it can be added to a website, there's a WordPress plugin for it. For example, you can install the free Elementor Page Builder to let you build pages with a drag-and-drop interface.

Ability to create blog posts in blocks. When writing a blog post, you do it in "blocks." These are mainly text-based and layout blocks (e.g., paragraph, list, table, etc.) that are needed for blog posts, but you can also embed things like Facebook posts and Tweets. Our WordPress.com review has a more detailed explanation of this method.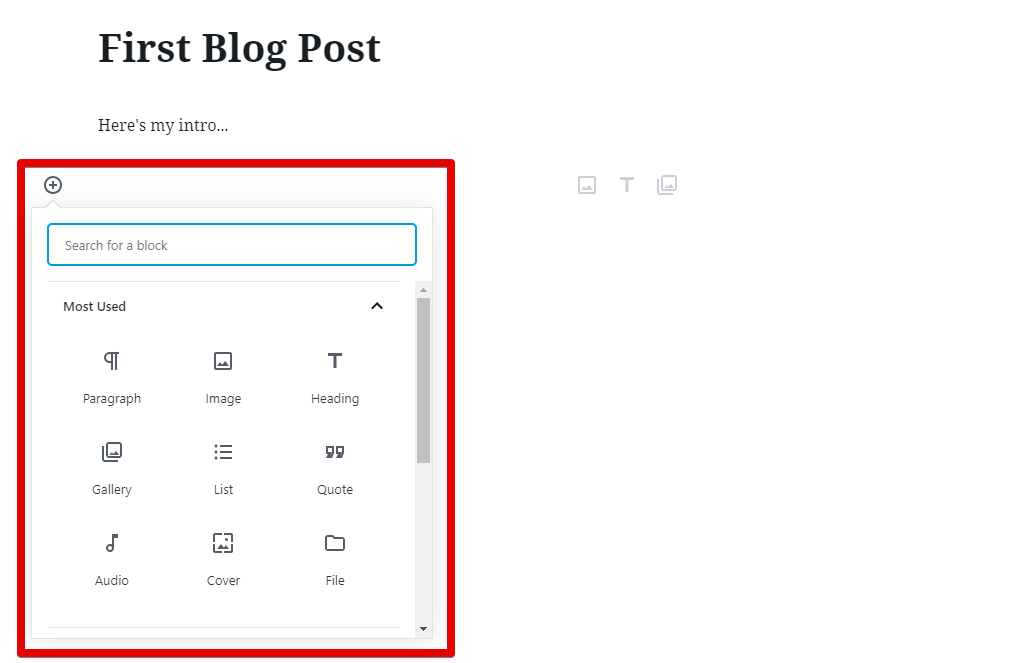 Fantastic support options. WordPress has hundreds of articles that guide you through using it. If that's not enough, there are thousands of help posts written by bloggers you can find using Google when you run into a problem. If that's not enough, you can turn to the WordPress forums, which are very active.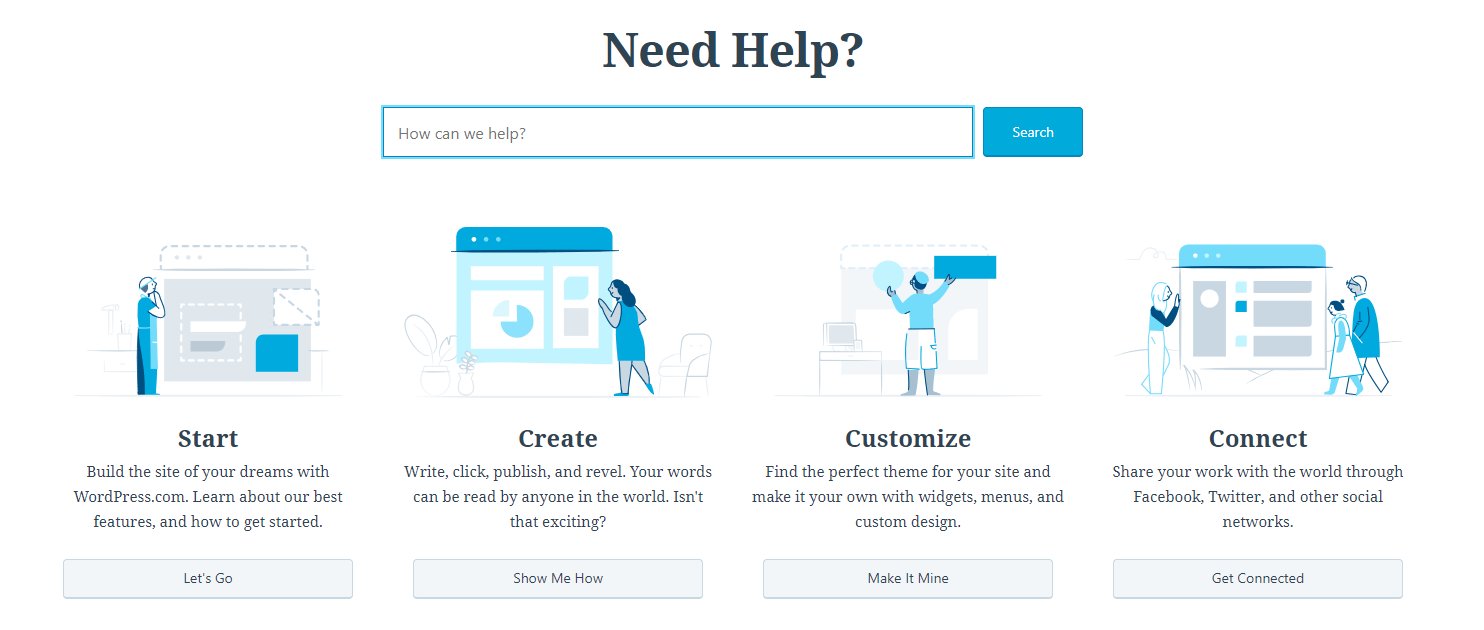 Free plan?
Yes
Number of templates
250+
Customer support channels

Community forum
Email (on paid plan)
Live chat (on paid plan)
Which Drag-and-Drop Website Builder Is The Best?
Each website builder has its own strengths and weaknesses, but if I had to pick one that's appropriate for the widest range of situations, I'd pick Wix.
But consider the type of website that you're building, what features you'd like, and your technical background (if any) before picking one.
Most builders have free plans, so take some time to try the ones you're curious about. But before you start building your actual website, take some time to plan out the best way to do it:
If you're still on the fence, this comparison table should make your decision easier.
Builder
Difficulty
Best Features
Best For…
Wix
Medium

Has hundreds of themes spanning dozens of categories
Classic editor for more advanced users, and Wix ADI for beginners

Small businesses
GoDaddy
Medium

Intuitive website editor
Marketing automation to help set up social media pages and Google business profile

Small businesses that need marketing tools
Weebly
Medium

It's easy to set up an online store and accept payments
You can drag and drop elements around on page to rearrange

E-commerce sites
Site123
Easy

Creates custom website based on a few questions you answer
It's easy to set up an online store and accept payments.

Hobby and niche sites
SimpleSite
Easy

Walkthrough helps you if you can't figure out how to do something
Free custom domain on paid plans

Very simple hobby or small business websites
WordPress
Medium-High

Huge library of themes and plugins
Large community for support
Easy to create and manage large number of blog posts

Blogs
FAQ
What is a drag-and-drop website builder?
Drag-and-drop website builders were pretty revolutionary. All of a sudden 
anyone
could create a website. Well, anyone with a computer and internet access. You do not need to know how to code to change the way that your site looks. Instead, you can just select a pre-made template, and drag the different elements (e.g., photo galleries, text blocks, buttons, etc.) to where you want them on the page. Essentially
all of our top website builders
come with drag-and-drop functionality. 
What is the best drag-and-drop website builder?
How do I create a drag-and-drop website?
Creating a drag-and-drop website is easy. The first thing you need to do is choose a builder. Any of the ones on this list will work. The next big step is to pick out a template that will work for you.
Wix really shines in this area, giving you hundreds of templates to choose from.
At this point, all you need to do is swap out the placeholders for your content. You can easily add new elements to your page, and move them around as you'd like – just drag and drop!
Source:
https ://torquemag.io/2018/03/wordpress-powers-30-percent-internet/