all three
?
Well, thanks to my extensive testing, I've uncovered the best of the best site builders
. I think you'll be most impressed, as I was, with Wix. I'm an on-again off-again web designer myself, and even I can't help but be impressed by the design quality a total beginner can achieve when they use Wix to build their website.
Short on Time? These are the Best Drag-and-Drop Website Builders in 2023:
Wix – Has 800 free templates, the most flexible drag-and-drop builder ever, and over 300 apps to customize your site's look and functionality.
SITE123 –

Dead-simple and lighting-fast editing, ideal for single-page websites and beginners.

Squarespace – Has gorgeous designs, e-commerce and blogging features, and is quite easy to use.
What We Look For in the Best Drag-and-Drop Website Builders
With so many site builders out there, here's a short list of the criteria I used to narrow down my options:
General ease of use – Every site builder on this list is, if not immediately easy to use, at least easy to learn. The whole point is not to make web design your next career move.
Good-looking templates and themes – Do I need to explain this? No I don't, because you're smart, good looking, and have a fantastic personality.
Customization – No matter how good a template looks, if it doesn't reflect your branding, that's going to cause problems down the road. Every site builder here lets you (at the very least) swap out the colors, imagery, and typography of your site so you can maintain a consistent visual presence online.
Add-ons and apps, e-commerce and blogging – A site builder that lets you just put some pages up is good enough…for a middle-school project. A site builder that lets you run a whole business online by extending your site's basic functionality is better.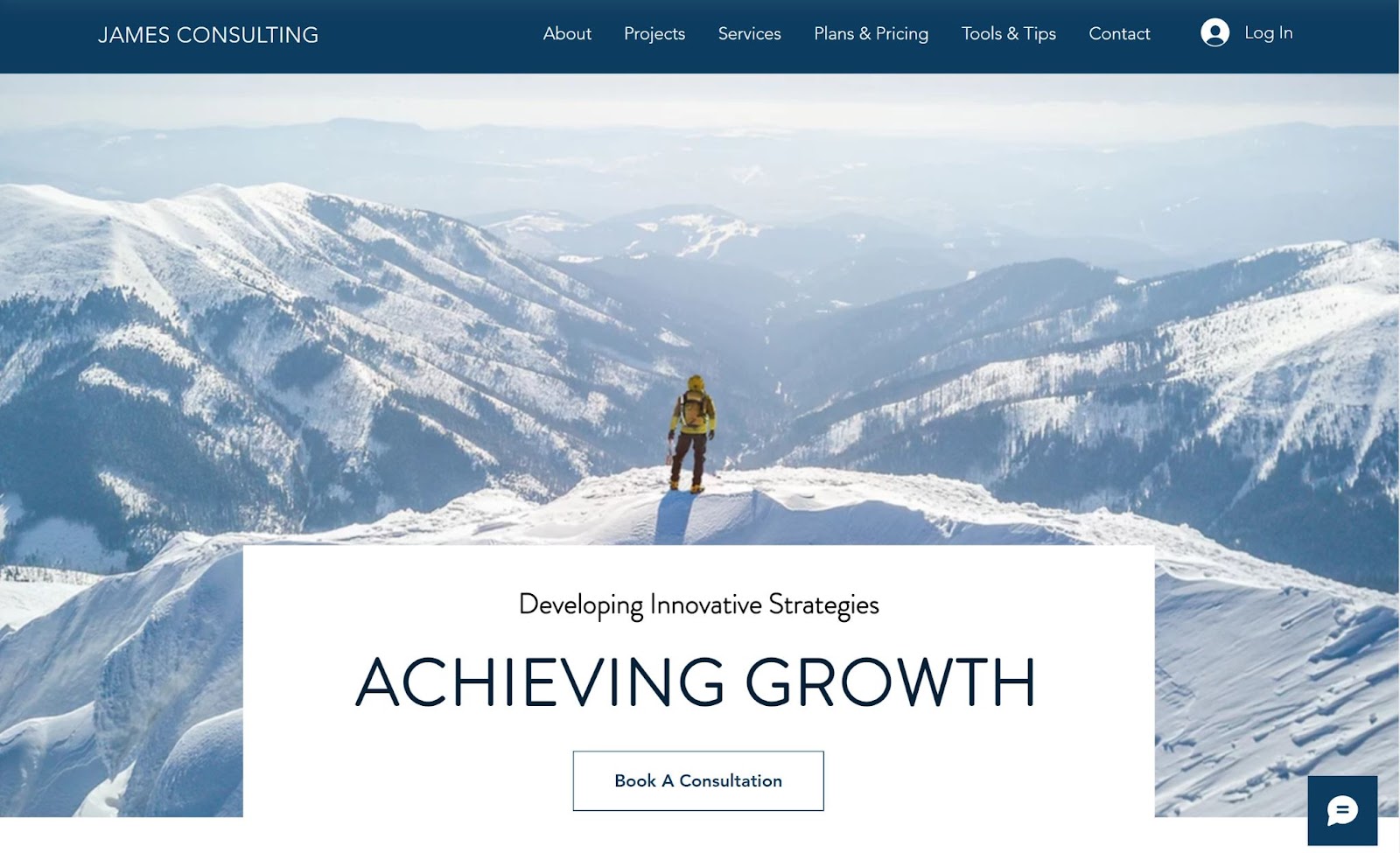 Wix is first on the list, and frankly has been first on pretty much all of our site builder lists for a long time. That's because Wix is
very
 hard to compete with in terms of features, functionality, and sheer bang for your buck (or other currency of choice.) It's affordable, it has an absolute smorgasbord of templates and features, and it's got a community of enthusiastic users to match. Plus, there are lots of extra apps, like the
Wix Logo Maker
, a whole lot of marketing tools, and more.
The only thing that might trip you up is the site editor itself. It's actually so flexible that it allows you to make choices that can mess up the look of your site. Fortunately, the Undo button is there to help you out.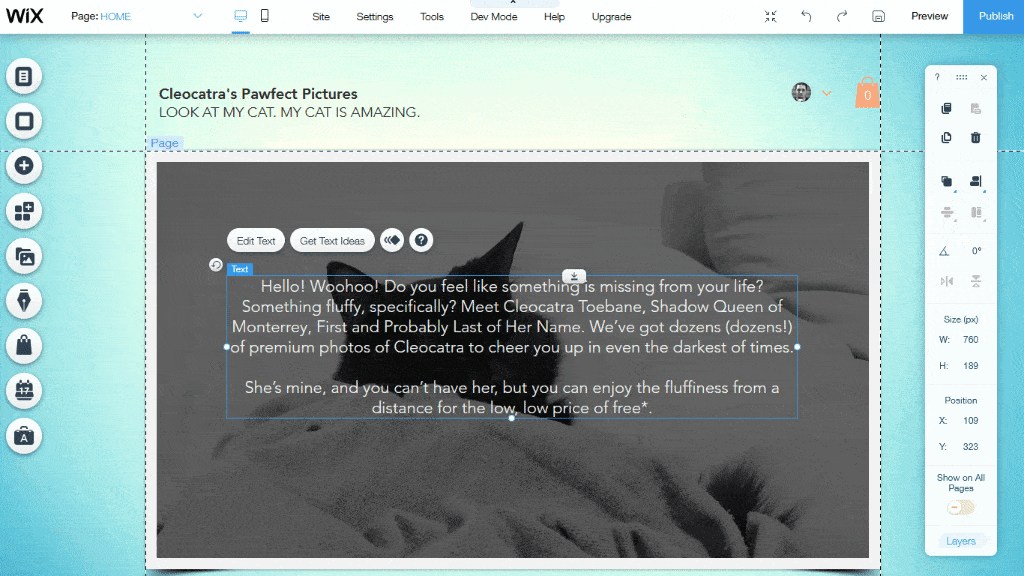 Features
Over 800 templates.

That's right, over 800 templates designed for every conceivable purpose and industry. And if you really want to, you can even choose a blank template to design your site from scratch.

Exceptional app store.

 With over 300 apps to choose from, you're pretty much guaranteed to be able to add the exact features you want, whether that's pricing tables, maps, fancy image galleries, or even online bookings.

Robust e-commerce.

Wix Stores is technically… well… an app. But that doesn't mean it's not powerful, and fully featured with inventory management, tax and shipping calculation, and pretty much everything else you'd need for a small- to medium-sized online store.

Wix SEO Wiz. One of Wix's side services is an SEO tool that literally uses machine learning to do most of your SEO work for you. It's free, too. Hard to argue with that.
Want more info?
Check out our expert review on Wix
.
Free Plan

✔

Templates
800+
Customer Support
Phone, Email / Ticket System
Starting Price of Paid Plan

$

16.00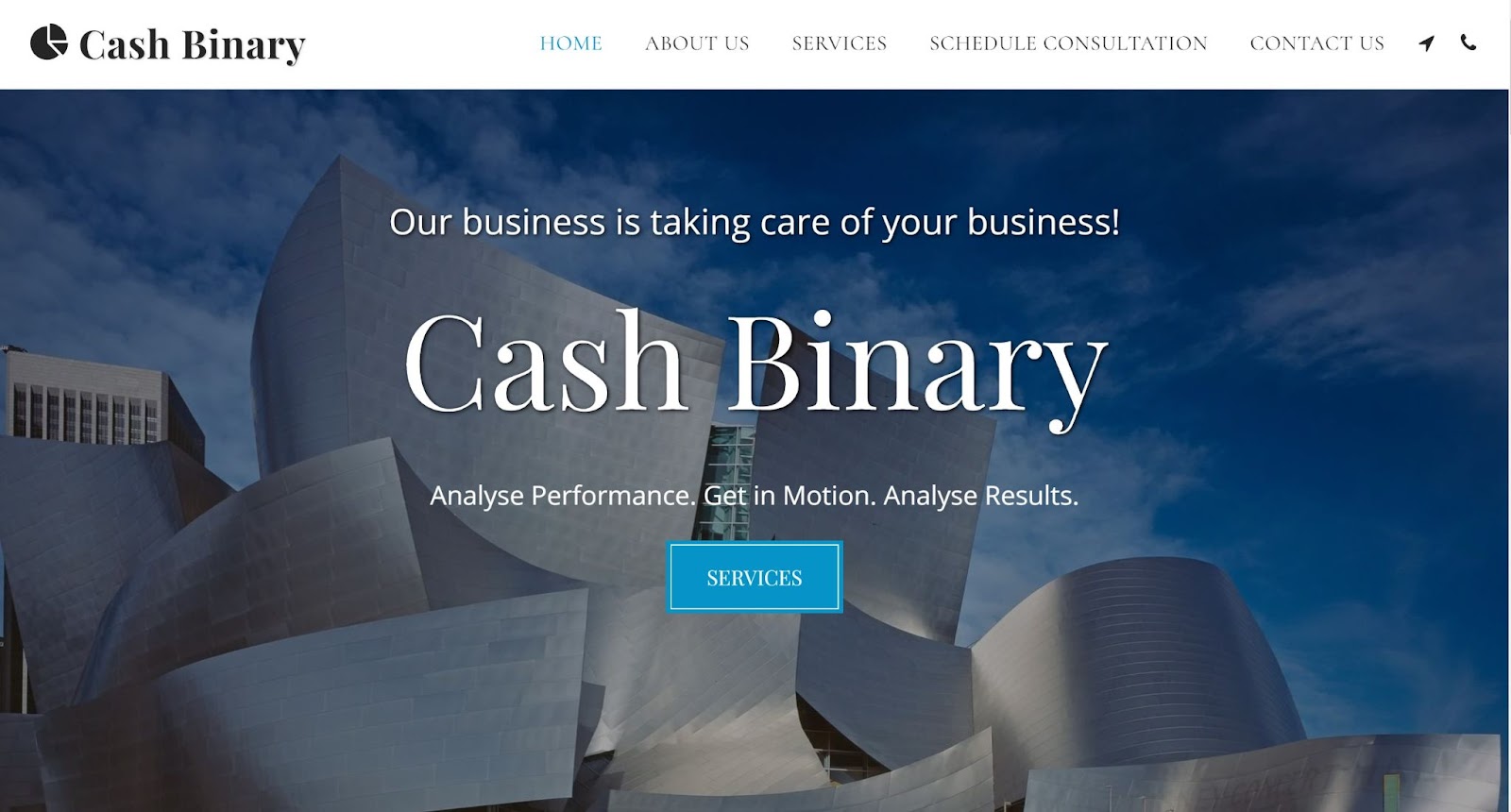 SITE123's philosophy is built right into its name.
The entire goal is to get you up and running with a reasonably complete site in minutes.
If you have your text and images ready to go, that goal is entirely possible. If not, you can always use SITE123's free images, videos, and icons to build a website with professional flair. If you don't want to fuss with the design too much and just need to build a quick and easy site for your business, portfolio, wedding announcement, blog, or CV, this is the builder for you. And if you want to add a store,
SITE123 can get that done
.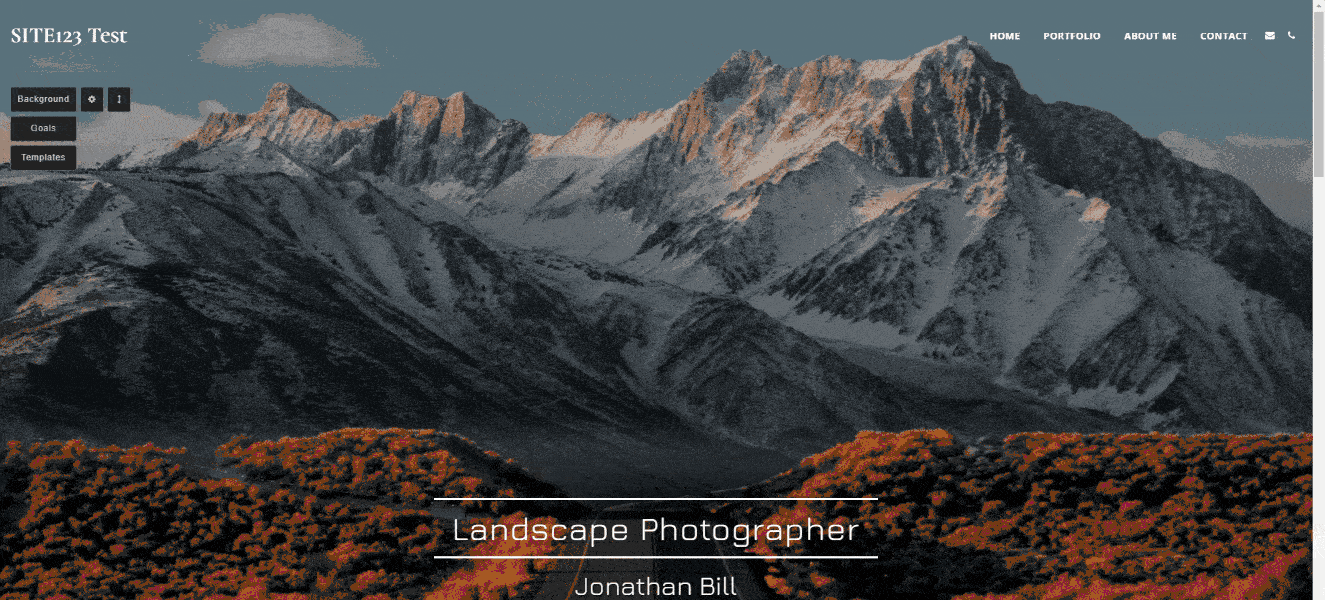 The catch? Well, SITE123'S free plan is a little light on features, though it's a great way to familiarize yourself with the builder. That's not to say it doesn't include some great features, like a schedule booking tool and social media and audio/video streaming links. While some of the really good stuff is reserved for paid plans, they're still a good deal.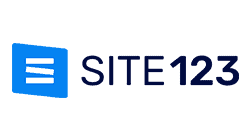 Get a FREE domain + hosting with any SITE123 annual plan!
This exclusive offer is only available for your first purchase.
31 users used this coupon!
Features
Extremely simple site building. This site builder, like many others, allows you to add pre-made blocks of content to your page, and focuses on quick and easy edits. It's not very flexible and you don't get total control over your design, but it's fast.
E-commerce and marketing features.  You can build a simple store and process your payments through Stripe, PayPal, Square, Amazon Pay, and other services. You can also send up to 10,000 marketing emails per month. You'll need the Professional or Gold plan to do this, but it's worth it if you plan to do a lot of business online.
Useful apps.  The app market contains third-party tools for things like building forms, inserting pricing tables, enabling bookings, etc. But a lot of the most popular apps are for services like Google Analytics, Hotjar, Zendesk and Facebook Chat, and other third-party business tools.
Multilingual sites.  This is a feature you don't see in every site builder. If you're operating in multiple countries, or even just shipping products internationally, a multi-language site is a must.
For more info on SITE123, check out our expert review
.
Free Plan

✔

Templates
185+
Customer Support
24/7 Live Chat and email
Starting Price of Paid Plan

$

12.80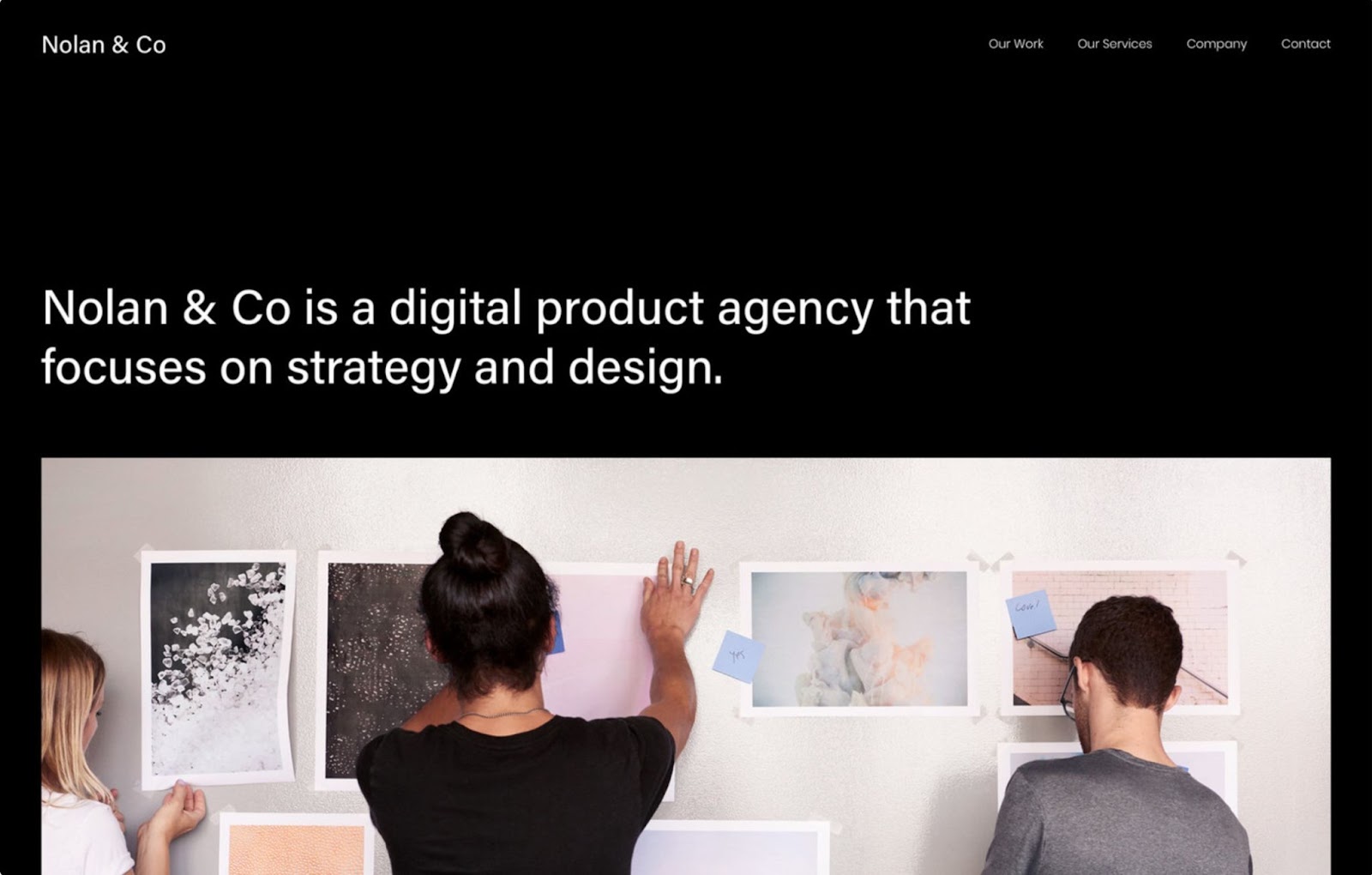 Now here's where I offer my personal opinion: I like Squarespace a lot. If I weren't obsessed with managing my own server and building my own sites from scratch to feel like a Real NerdTM, Squarespace is where I'd go.
This site builder is easy to use, has gorgeous, minimalist web design, and several handy business-related tools to get you up and running.
It's for professionals that want a sleek website, but don't feel like paying tens of thousands of dollars for it.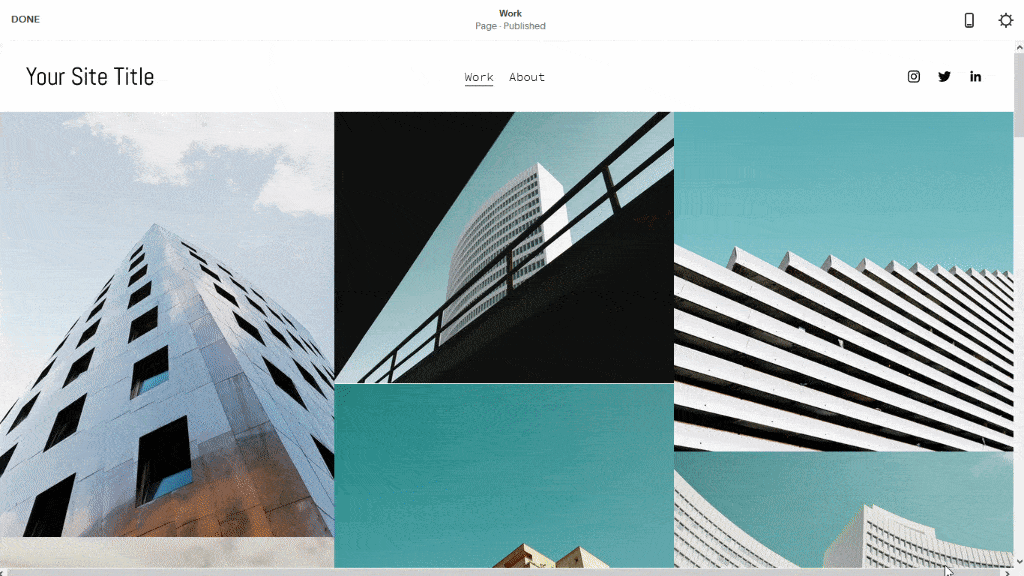 But Squarespace
is
 more expensive than just about every other site builder on this list. So if budget is your top priority, that's something to keep in mind.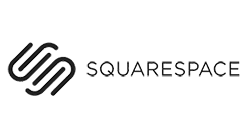 Save up to 30 % on your Squarespace plan today!
Plus get a free domain for one year!
1031 users used this coupon!
Features
A great-looking online store – Squarespace's commitment to beautiful design extends to its full suite of online store features. As long as you have even a few decent photos of your product, whatever you sell is going to look high-end. Plus you get inventory management, tax and shipping fee calculation, selling via social media, and PayPal/Stripe/Square integrations. The practical stuff is all there.
Solid blogging features – The blog system has all the features you'd expect – categories, tags, multiple authors, post scheduling, and more. What I really like is that you edit your blog posts the same way you edit the rest of your site: in the site builder. As you write, you're actually seeing exactly how your post will look when you publish it.
Third-party integrations – Squarespace doesn't have an "app store" as such, but it is integrated with a whole bunch of third party platforms by default. You can easily add Google Maps, an OpenTable restaurant booking form, Google AMP, Google Ads, Google Analytics, Dropbox image sync, and even Flickr. (Remember Flickr?)
Marketing, SEO, and scheduling tools – Squarespace has a built-in email marketing platform, SEO features, social sharing buttons, and even an analytics tool of its own. Everything's right there in the same dashboard as the site builder, so you can market your content with minimal effort.
Check out our expert Squarespace review for more
.
Free Plan

✘

Templates
140+
Customer Support
Email /Ticket System, Live Chat, Community Forum
Starting Price of Paid Plan

$

16.00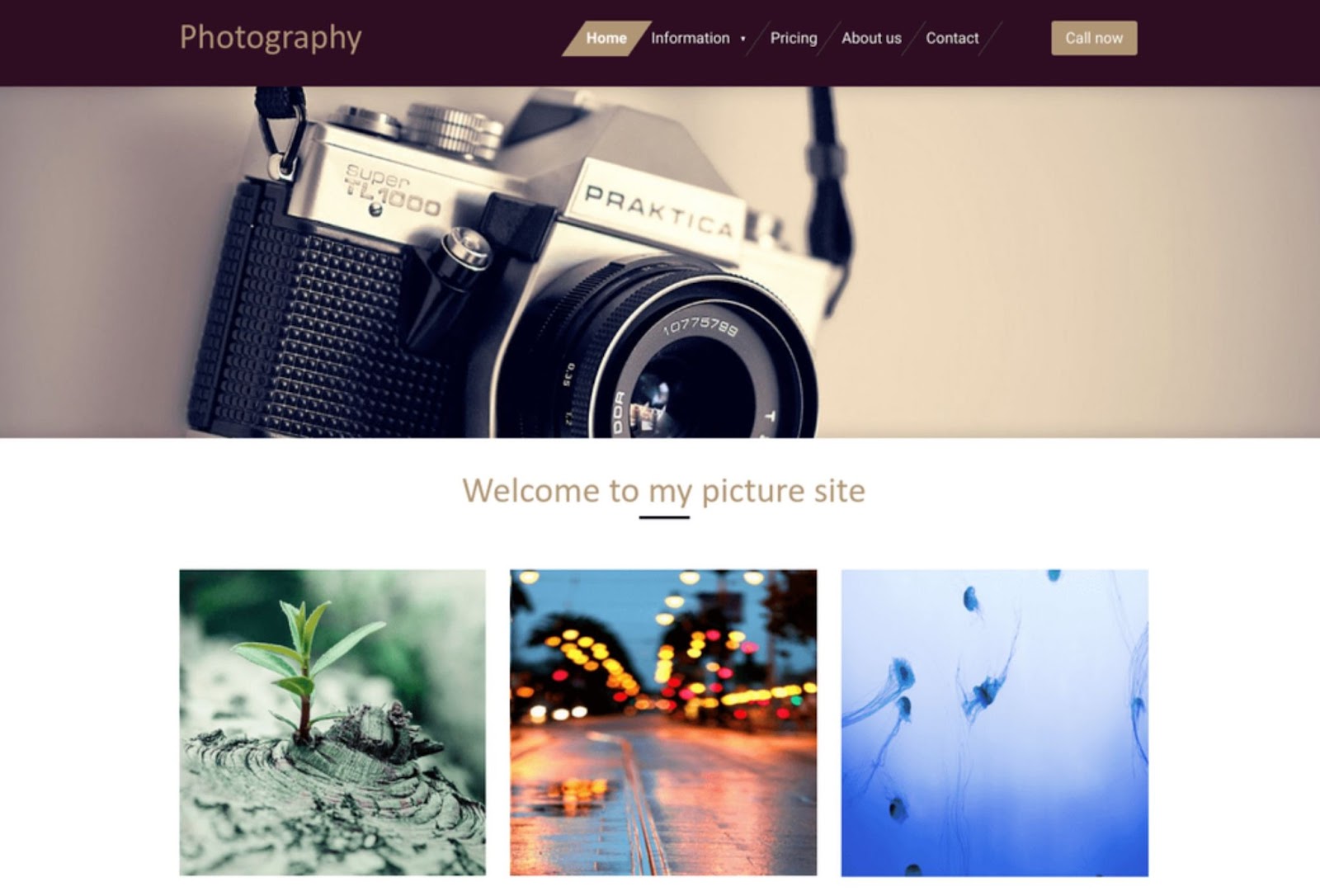 When you sign up for a Webador account, you'll be asked if you want to build a website, webshop, or blog. You can always skip this step and go straight to Webador's templates, which are all modern and mobile-ready. Once you pick your template, you'll find
the intuitive editor makes designing your  site easy – even if you're a total novice.
Click on "Design" to adjust the colors, text layout and background of your template.
Then go to the "Editor" to drag and drop images, videos, slideshows, text, forms, social media buttons and more to your site.
You'll see all your changes in real time. Webador doesn't automatically save your changes so be sure to click on the green "Save" button if you like what you see.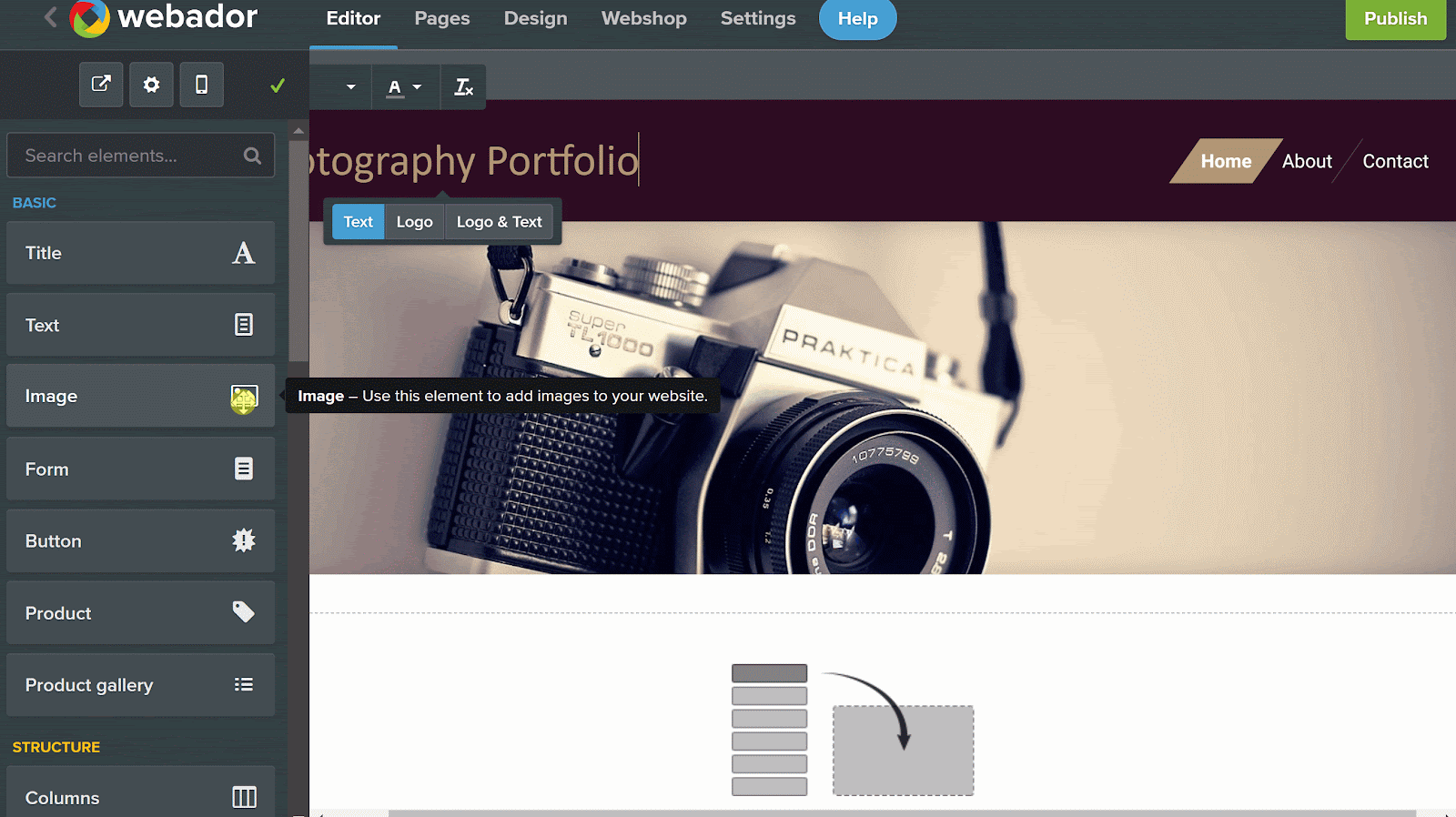 While Webador doesn't have an app market, it offers a good selection of integrations for popular add-ons, like Google Analytics, Google Search Console, and popular payment gateways. Other notable
features you can use to enhance your site include a built-in HD video player and the option to upload MP3 audio, available on its paid plans.
Webador was designed to be a super-easy builder, so you don't get full creative design freedom or some advanced features, but it's a good option for smaller businesses, blogs, and personal sites.
Learn more about Webador's features in our expert review
Features
Unlimited storage and bandwidth.

Webador doesn't limit the number of pages, storage (images and text) or visitors your website attracts – great for portfolios and blog sites. 

Statistics to improve search ranking.

Your website's Statistics page gives you an overview of your site's performance. It updates each day.

All-in-one online store.

Weber's

online store is built into every template. All you have to do is upgrade your plan to start adding products, accepting payments, and fulfilling orders. The features and tools you need are there.

Switch templates. If you're not happy with the template you picked, you can select a new one at any time without losing your work. Webador will automatically upload your images, text, and other content to the new template.
Free Plan

✔

Templates
50+
Customer Support
Via email
Starting Price 

$

0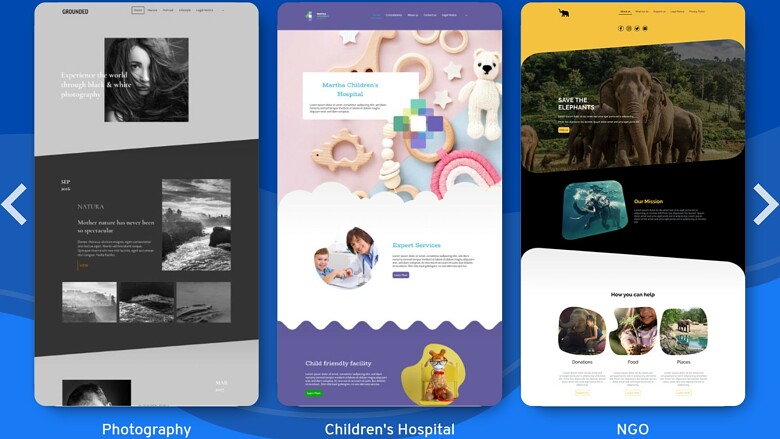 MyWebsite Now by IONOS is an amazing builder for creating trendy, modern websites in minutes.
The editor is intuitive, fast, and the result is a fully responsive, fast-charging website.
IONOS' editor works similarly to Squarespace's. There's a catalog of pre-built sections, each customizable enough to fit a wide variety of content.
You can add new sections to any part of the page.
If you want to change the site's design (colors, fonts, etc..) there's a special menu that lets you apply global changes, or you can edit each section individually – if that's more your style.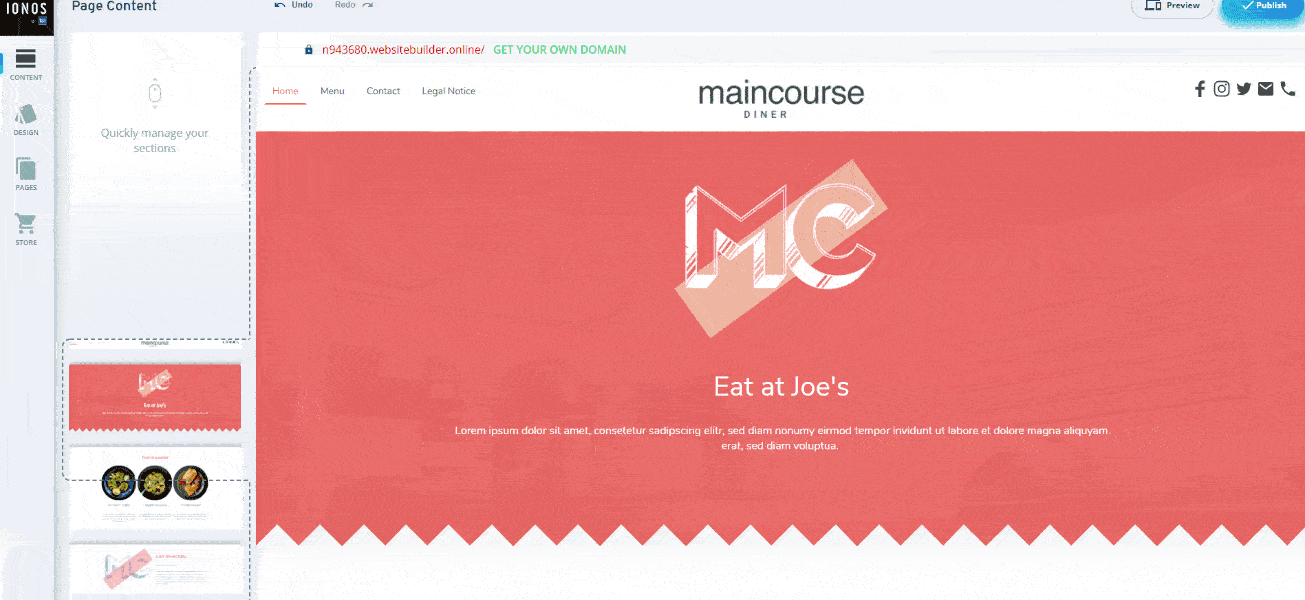 MyWebsite Now isn't the most customizable builder on this list, but that's by design.
If you need extra editing features, you can upgrade to MyWebsite Now Plus,
w
hich increases the creative freedom and features exponentially. Y
ou'll be able to arrange elements in pre-built sections, add custom HTML, increase your stored content five-fold, and let visitors schedule appointments with a built-in online booking tool.
IONOS' template selection isn't huge, either. But
if you want a simple builder that can still give you stunning results, IONOS deserves a closer look.
Features
Online stores available at any moment.

 Unlike other builders, IONOS doesn't have a separate plan for online stores. Instead, you can add e-commerce functionalities at any moment for a little extra.

Incredibly fast websites.

Not only does the IONOS builder let you create websites fast, it also lets you create fast websites. Websites made with IONOS load almost immediately.

Immediately mobile responsive.

 Any changes you make to the desktop version of your site are automatically reflected in the mobile version. 

Personal customer service consultant.

IONOS offers a dedicated customer service agent to every customer free of charge. Your personal consultant will help you make the most of your online presence.
Read our IONOS expert review for more info.
Free Plan
No
Templates
23
Customer Support
24/7 Live Chat, 24/7 Phone in the US
Starting Price of Paid Plan

$

6.00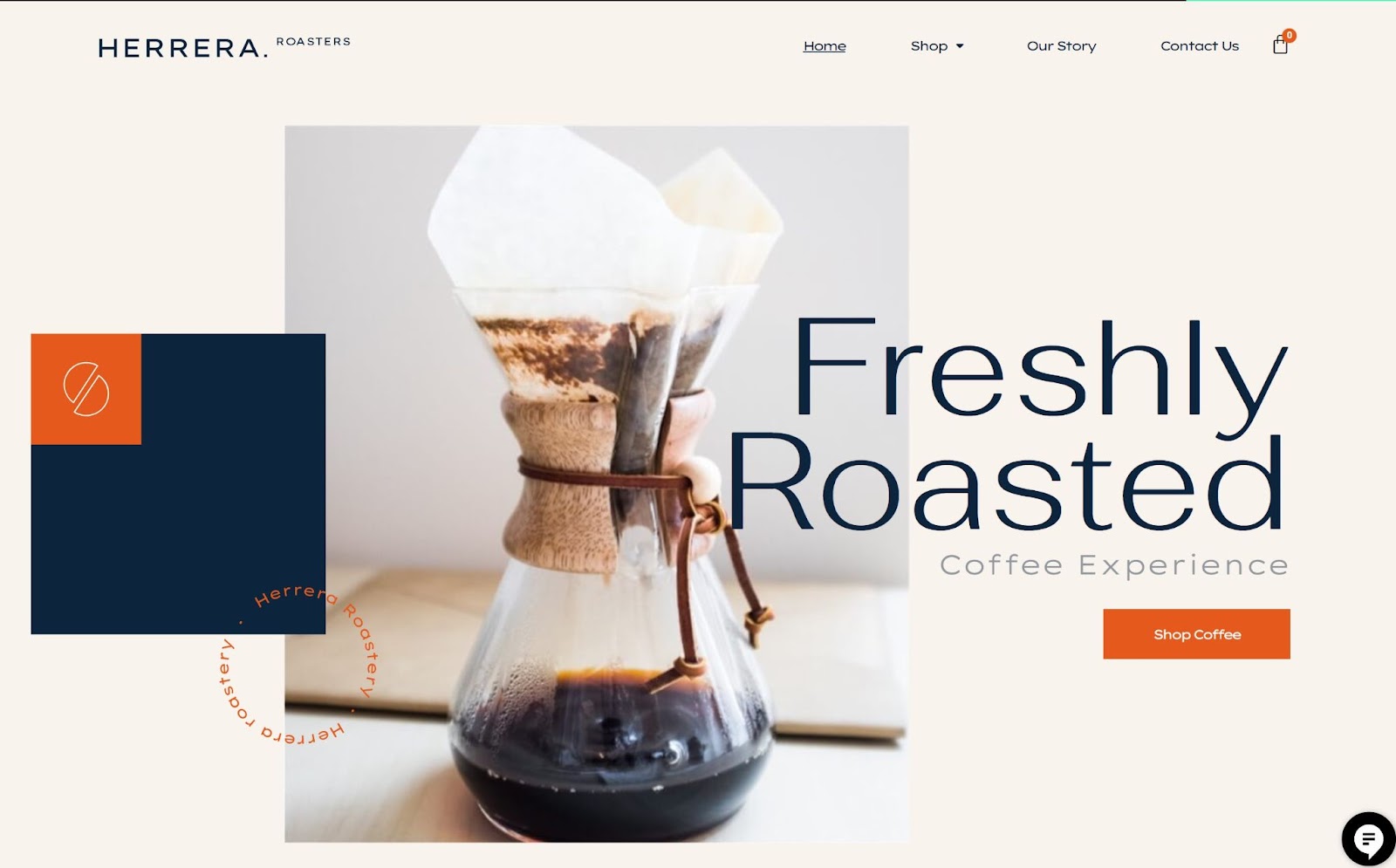 Elementor is a different beast from everything else on this list for one simple reason:
 it's not a standalone site builder.
 By that, I mean that it's a WordPress plugin, and it needs a WordPress site to run on, either on a server you pay for, or on WordPress.com (more on that below). Elementor's user-friendly interface allows you to build your WordPress website with full drag-and-drop functionality. The free plugin includes the versatile Hello theme, content blocks or theme elements, and widgets. It's also got responsive design and incredible customization. It's a big deal.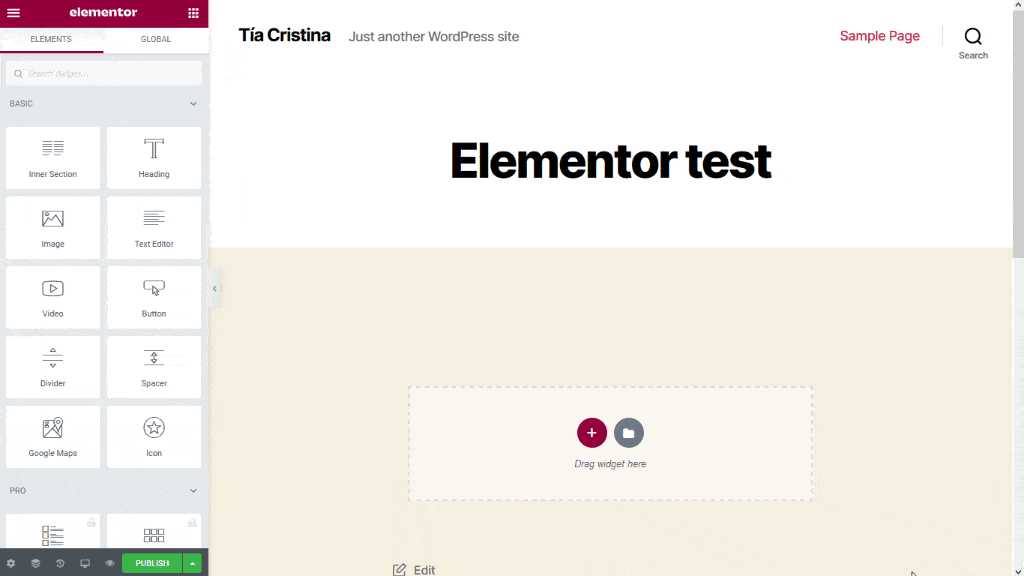 ]The only downside is that you have to pay for the really fancy features – on top of whatever you're paying to host/run a WordPress site. Oh, and you'll need to choose a WordPress theme that's Elementor-compatible. (There are lots of these, and most are third party.)
Features
A smooth design experience. Basically, you just drag and drop pre-made widgets onto your page. These widgets can be simple blocks of text or images, but they can also be portfolios, galleries, menus, listings, maps, Facebook comments – you name it. These widgets can all be customized to varying degrees to make sure they fit in your site's layout and match your branding.
WooCommerce integration. Elementor's builder is designed to be compatible with WooCommerce (just about the biggest WordPress online store plugin), so you can have fancy site design and a working shop.
Change the design of essential pages. Elementor allows you to customize the look of your blog archives, search results, and even the page people see if they accidentally run into a bad link (i.e., the 404 page).
Website kits and page templates. Elementor comes with over 100  full "website kits", and 300 page templates, available with an upgrade to Elementor Pro (yes, that'll cost you a penny). On the upside, you can always create your own designs from scratch with the free version.
For more Elementor features,
check out our expert review
.
Free Plan

✔

(with limited features)
Templates

100+ website kits, 10 wireframe kits

Customer Support
Community Forum, Email / Ticket System (Paid)
Starting Price of Paid Plan
$9.99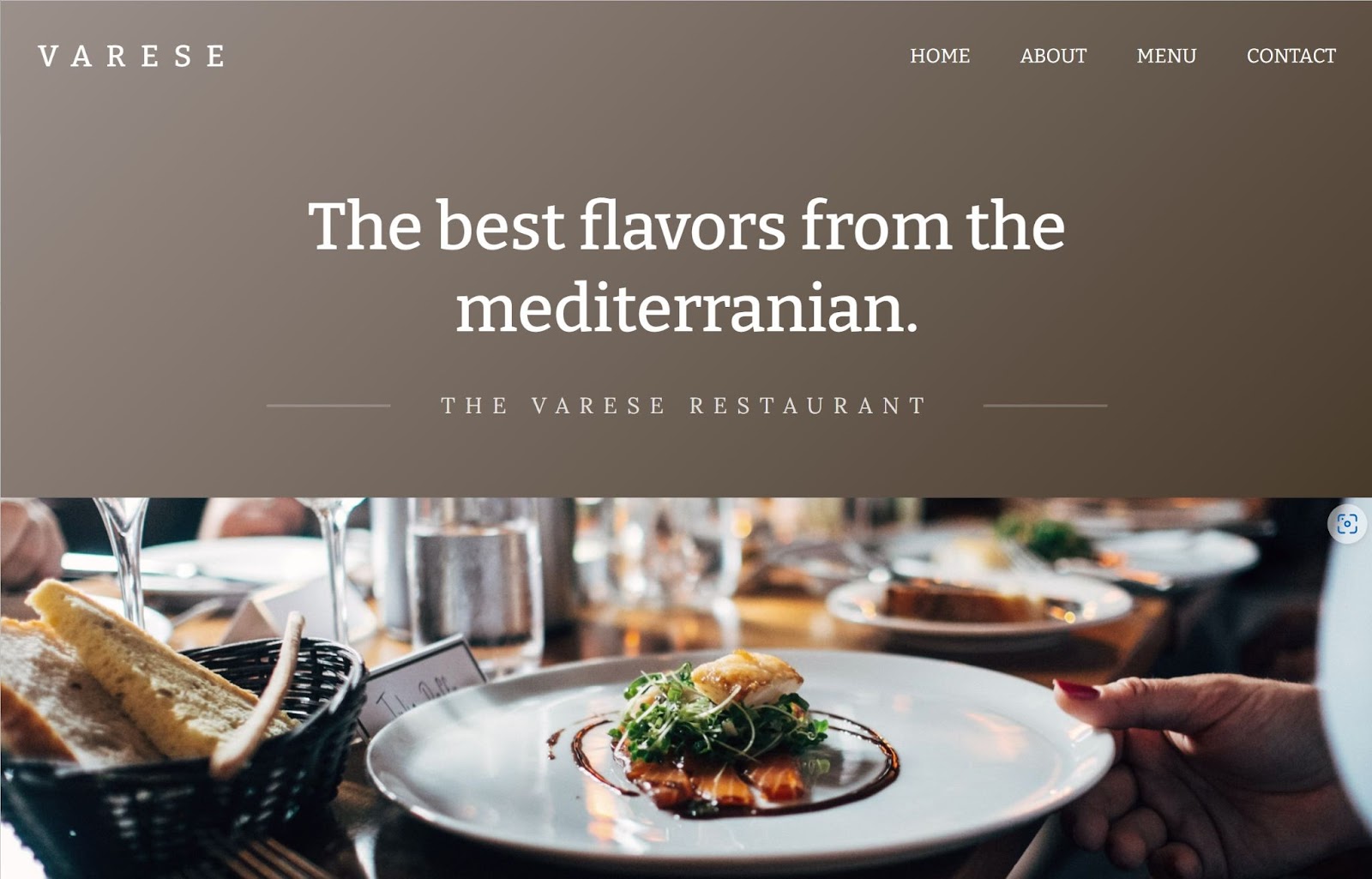 WordPress is the massive blogging engine that could, and did, take over a third of the Internet. Literally. While you can install WordPress on your own servers, it's a lot easier to just head on over to WordPress.com (not WordPress.org) and start up a blog, online magazine, or small business site in about five minutes. 
What's the catch? Well, because
WordPress is so powerful and oriented toward big content
, you don't get a simple drag-and-drop builder. You get something kind of like one called the "block editor," but WordPress doesn't allow complete drag-and-drop design by default. Still, it's relatively easy to change your theme's colors, fonts, and layout.
By clicking on the "+" button on the dashboard, you can quickly add text sections, image galleries/slideshows, social media buttons, and more.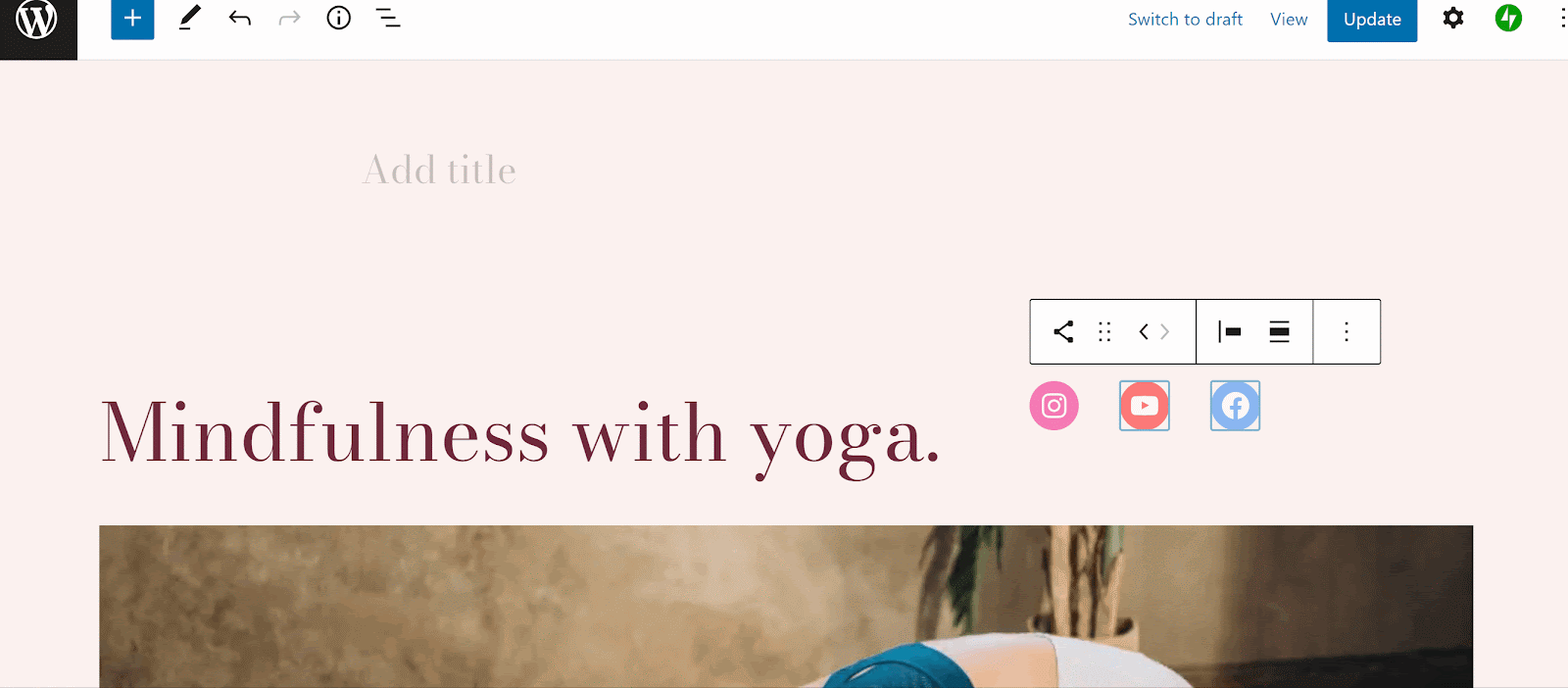 If you want a more genuine "drag-and-drop" website building experience, that's where plugins like Elementor come in handy.
Features
Potentially thousands of themes.

WordPress.com offers over 170 built-in themes. Their quality is pretty good, and most are fairly customizable. The real deal, though, is in the world of third-party themes. You have to be on the Business plan or higher to install them, but there are literally thousands of themes to choose from.

The biggest add-on store ever.

Again, you'll need to be on the Business plan or higher to install plugins, but WordPress has the largest plugin ecosystem out there. You can use them to turn your blog into a listings site, a community forum, or even a social network. Then again, you might use a simpler plugin that just lets you build complex forms or optimize your images. 

Built-in SEO and marketing tools.

At WordPress.com, we provide you with a diverse array of tools to help you optimize your content for search engines and boost the online discoverability of your website. You'll come across an assortment of social media tools, along with a complimentary MailChimp integration for newsletters, among other features.

Store builder and easy monetization tools.

Although there are numerous excellent e-commerce plugins available, WordPress.com actually incorporates its own user-friendly store builder. To access it, you'll need to be on the Business plan or higher, but even the free plan includes a donation button.
Read our expert WordPress review for more info
.
Free Plan

✔

Templates

160 free themes, 12 paid (you can install more on the Business plan)

Customer Support

Community Support Forum (Free plan), Email (Personal plan), Live Chat/Email (Business plan and higher)

Starting Price of Paid Plan

$

4.00
How to Build a Website (No Coding Required!)
Long gone are the days when you needed to know how to code to build a website. Of course, you
can
still do that if you like – but why would you when affordable, fully-featured, and beginner-friendly website builders exist? Here's a quick step-by-step guide to help you get started: 1.
Choose a website builder.
Not a single website builder in this article requires coding knowledge to get started. Our top recommended builder, Wix, has
a super intuitive drag-and-drop editor
that's easy to use, even for absolute beginners. 2.
Customize a template.
Templates are a great way to design your website without having to put in hours of work. Simply pick one that matches your brand, customize the elements, add content, and you're good to go. 3.
Add apps.
Apps add extra functionality to your website, turning it from a basic information hub to a multi-functional business tool. Simply use your chosen site builder's built-in app store to find the best apps for your business. 4.
Optimize your SEO.
People may have a hard time finding your website without search engines, so it's important to improve your site to raise its rank on results pages. You can do this by hand or by using SEO tools.
These Are the Best Drag-and-Drop Website Builders
Frankly, the site builder market has never been better. There are loads of options out there, and these days it's easy (comparatively speaking) to start a blog, online business, web magazine, or just about anything else you can think of. It's also never been cheaper.
If you feel comfortable with your design skills, and you have the time to go all-out with it, the option is clear;
Wix offers the most customization freedom
of any builder on this list.
If you are new to this whole website-building business, SITE123 is the most user-friendly builder
 and it doesn't compromise on quality.
If you'd rather get a little extra help, and you want an elegant and visually striking site,
Squarespace is the way to go
.
I, being an intermittent web designer myself, regretfully admit the veracity of this statement: eliminating the intermediary significantly reduces the stress, time, and expenses associated with bringing your business, hobby, or spontaneous idea online. However, it's worth considering that when you begin generating revenue from your website, the option to hand over the task to a professional always remains available.
Did you process all of that information? Skip some of it? No worries, here's a simple table to help you make your decision:
Free Plan
Best Feature
Best For
Starting Price
Wix

✔

Loads of templates and detailed site customization

Easy website design with full creative control

$

16.00

SITE123

✔

Dead-simple website building

Novices who want to get online fast

$

12.80

Squarespace

✘

Quality, responsive template designs and ample features

Visually striking business and personal sites

$

16.00

Webador

✔

Beginner-friendly website builder

Small businesses and other simple sites

$

4.00

IONOS

✘

Affordable, fast design for modern-looking sites

Budget-friendly website building 

$

6.00

Elementor

✘

Turns WordPress into a more beginner friendly site builder

Access to all WordPress offers – without the learning curve

$9.99
WordPress

✔

More plugins and integrations than any other builder

Features, flexibility, and scalability

$

4.00
FAQ
What is a drag-and-drop website builder?
In short, it's a site builder that lets you design a web page or website by dragging and dropping pre-made elements, widgets, or blocks of content around.
All the top website builders for 2023 have this option.
Some site builders have a grid-based layout that snaps elements into place so your site will always look polished. Others (like Wix) let you do almost anything you want with the layout. The point is that drag-and-drop site builders are designed to let you build a website in a way that makes sense without having to have years of experience under your belt.
What is the best drag-and-drop website builder?
As with so many things in life, that depends on what you need. If you want near-complete design freedom, Wix is the closest you're going to get. If you want something simpler but highly professional-looking, Squarespace has you covered. Want to make the blog of the century? WordPress.com is probably your best bet.
How do I create a drag-and-drop website?
Well, it's mostly in the name. You drag…and you drop. Once you've chosen a website builder and a site template you want to work with, just clear out the placeholder content, put in your own, and drag things around as you like. Push the limits of the site builder, and hit the undo button if things go wrong. Still uncertain how to begin?
Our step-by-step guide to website building can help.
What is the easiest drag-and-drop builder for beginners?
When it comes to easy website building, it's hard to beat SITE123 for sheer simplicity, especially if you want a free plan. A big advantage to this builder is the option to upgrade to a paid plan to add advanced features as your needs change or your business grows. Another good – if not more basic – option for true novices is MyWebsite Now from IONOS.