Nearly every website builder has basic e-commerce features, but for a successful online store, you'll probably need more than that. Too often, "e-commerce features" just means a pretty product page template and the ability to list a few products and prices, meaning you end up with a shop that looks nice but rarely gets any sales.
I tested all the major website builders on the market to see which ones are best for online shops. The builders on this list aren't just trying to make your products look nice (although they do that, too). You'll get access to features designed to help you with everything from pricing and inventory to shipping and marketing.
In this review, you'll find e-commerce builder options for everything from small blogs selling a handful of products to big online stores with thousands of orders per week.
Short on Time? These Are the Best E-commerce Website Builders in June 2022:
Wix – Offers the best variety of online store templates with an easy-to-use product management system
Squarespace – A great solution for creatives looking to sell their work online
BigCommerce – Best for large online retailers with hundreds or thousands of products
What We Look For in the Best E-commerce Website Builders
Your e-commerce website needs to grow and change as your business does, so your website builder needs to allow for that flexibility. Here are the main criteria I looked for when testing the best e-commerce website builders:
Intuitive product management system: These website builders guide you through the process of adding products, creating variants, tracking inventory, and more. There are plenty of product management options, and everything is easy to find.
Easy-to-use site editor: You'll need good site design options to create your unique brand feel, and it should be a simple process rather than a frustrating one. These builders also allow you to add non-store pages, like a blog or an About Us page.
Shipping and fulfillment tools: These platforms let you offer your customers a variety of shipping options and help you track orders and packages, all in one dashboard.
Marketing tools and integrations: To get those sales, you'll need to market your products. I looked for website builders that let you sell across multiple channels, integrate email marketing tools, and provide strong SEO features.
Good prices (and good value): Some website builders promise you a perfect online store so they can charge a premium – but then the e-commerce features aren't all that good anyway. The builders on this list give you more than your money's worth.
To figure out which tools actually empower you to build a successful online store,
 I've extensively tested and researched a bunch of e-commerce builders, narrowing them down to very best, which you'll find on this list
. (This project was a direct result of my ranking of
the 10 best website builders for 2022
.) Because I built real websites using each of these tools, I was able to fully test the abilities of each and find the limit of what the e-commerce features can do.
You can base your Wix online store design on your choice of nearly 100 e-commerce templates categorized by industry, and the drag-and-drop editor lets you customize any part of your site with ease. And when I say any part, I mean it – Wix is easily the most customizable website builder out there.
You can also add a ton of features from the Wix App Market, including options for enhancing your online store (more on those below) as well as adding blogs, contact forms, photo galleries, and much more.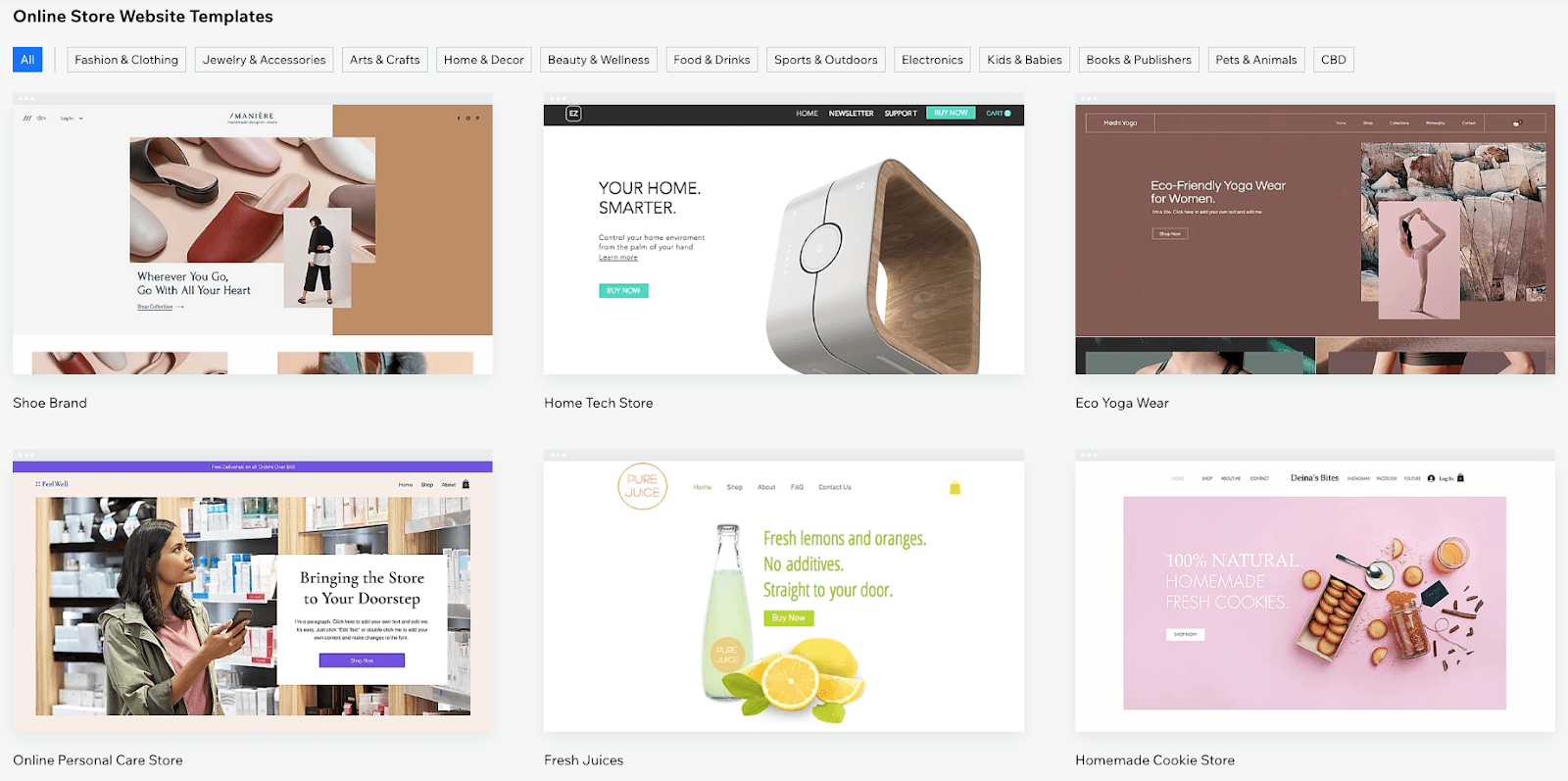 You can manage every aspect of your online store from the Wix dashboard, including product inventory, order tracking, printing shipping labels, and setting up automatic abandoned cart emails through the built-in email marketing tools.
Some of these features are built into the e-commerce templates, like the automatic inventory updates you can activate in your store settings. You'll also be able to set up product subscriptions just as you would any other product. 
Plenty of other e-commerce features can be found in the Wix App Market. The "Sell Online" app category includes options for payment processors, shipping carriers, and even direct connections with dropshippers so they can quickly fulfill your orders.
Here are a few of my favorites:
Afterpay, Clearpay,

and

Laybuy

for flexible payment options, like paying in installments

Gifted

for selling gift cards to your online store

Shippo

and

ShipStation

for printing shipping labels and discounts on shipping rates

Smile

for setting up a loyalty or rewards program
Wix's product management tools are what impress me most. Wix takes some really powerful and advanced functionality and makes it super simple to use, so it feels like you're using a product for beginners but the result looks like it came from an expert.
For each product, you can add multiple variants, track inventory, set discounts for specific products, and add labels to feature important items. You can also create customized product descriptions, with more formatting options than what most other e-commerce website builders allow.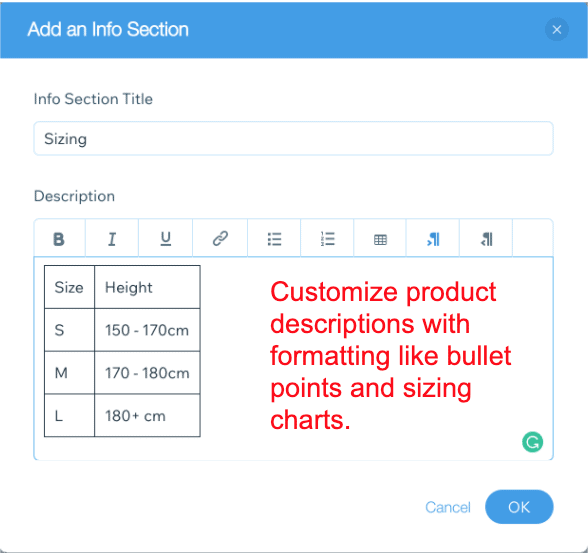 Here are a few other key features Wix has to offer as an e-commerce website builder:
Automated tax calculations through Avalara (very important if your target audience is in the US, since different counties and different US states have unique tax laws and collection requirements)
Commission-free transactions
Multiple payment processor options, including via credit or debit cards, PayPal, POS on the Wix Mobile App, and AliPay
Ability to customize shipping rules based on region, weight, or item price
All of Wix's online store features are available even on the free plan, but to accept online payments, you'll need to be on one of the e-commerce plans. These plans also give you more storage and analytics than you'll find on their other plans, so even though they're pricier, it's still a good value. To further compare Wix's different plans, check out our expert review.
| | |
| --- | --- |
| E-commerce templates | ~100 in 12 categories |
| Automatic tax calculation | Yes |
| Transaction fees | None |
| Starting price for e-commerce plan | $17.00 |
All of Squarespace's online store templates make you feel like your store will be a dazzling success, because they're all so eye-catching that I almost want to buy from them (but then I remember that these are just templates, and I can't really browse a gourmet pickle shop website).
Thankfully, the e-commerce functions live up to this great first impression, making Squarespace an excellent website builder choice for small or medium-sized businesses who really need their web design to shine.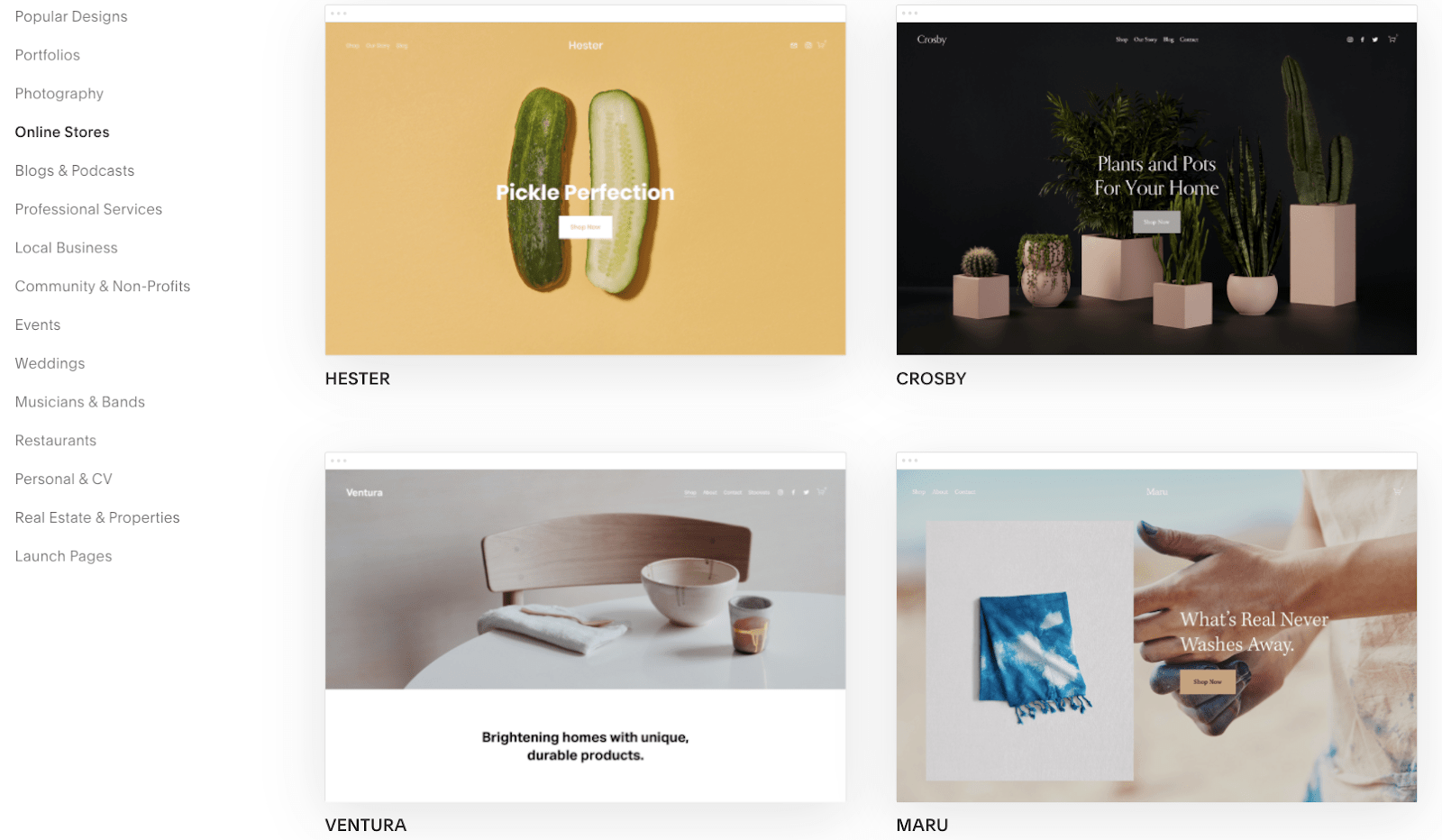 The templates look great to begin with, and it feels like no matter what you do, you can't create something that looks bad. That's because, rather than giving you complete freedom to place page elements anywhere on a page (the way Wix does), Squarespace has those elements snap to a grid. You get both guidance and freedom, and the result is some of the best-looking websites in the business. You can read more about Squarespace functionality in our expert review.
You can customize all page types, including product pages, in the Squarespace block editor, adding content blocks like text, images, contact forms, and more. If you don't love any of the e-commerce templates, you can add the necessary store pages to any template with just a few clicks, and it will blend seamlessly with the rest of your site.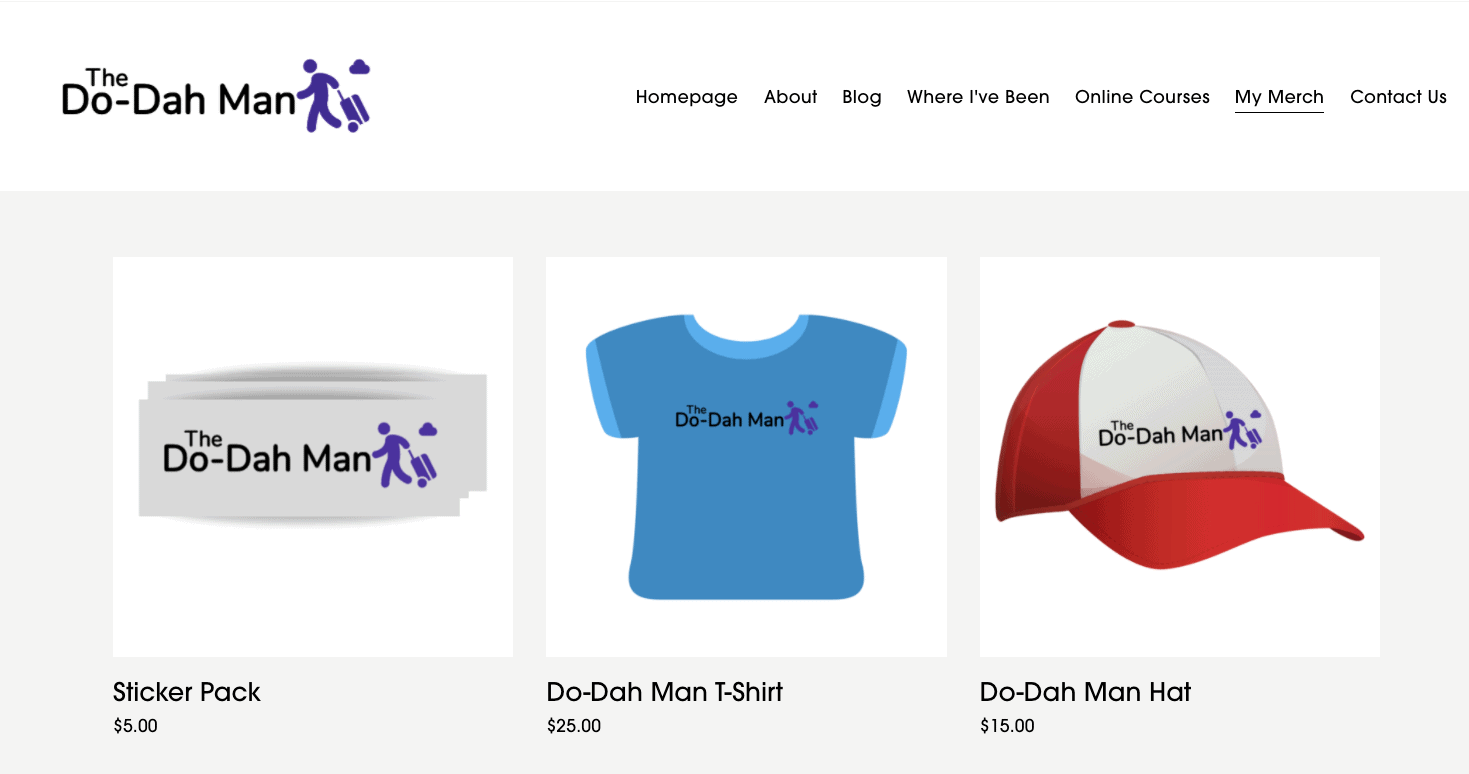 Squarespace does a lot of e-commerce features well, but it lacks some of the little conveniences that wowed me with Wix and BigCommerce. Its product management tools are fairly robust and allow you to carry out most standard tasks, like inventory tracking, custom product descriptions with SEO, and adding product variants, but some key actions – such as bulk editing products – are lacking.
Here are a few other notable e-commerce features on Squarespace:
Set discount rules based on order total, product categories, or specific items
Connect to major shipping carriers for exact shipping costs on each order
Customize check-out pages
Create product waitlists for out-of-stock items
Display related products based on categories or tags
Another big benefit of Squarespace is its built-in email marketing tools, which allow you to create email campaigns using a block editor (very similar to the page builder) and send them to specific segments of your email list. You can also set rules for automated emails, such as abandoned cart reminders, to help you increase conversions.
Ultimately, Squarespace is a solid website builder with enough specialized e-commerce features to earn a spot on this list. It won't be able to build the next Amazon.com, but it can elevate smaller online stores to new heights. You can try all of Squarespace's features free for 14 days, and then choose the business or commerce plan that offers the right set of features for your needs.
E-commerce templates
~10
Automatic tax calculation
No
Transaction fees
3% on non-commerce website plans, none on commerce plans
Starting price for e-commerce plan

$

27.00
BigCommerce goes all-in on the best product management tools, but falls a little short when it comes to other page types or a really user-friendly interface. It's made for large online retailers who are adding and selling a lot of products regularly, and it offers many features you can't easily find with other major e-commerce site builders. That said, there's a steeper learning curve that's only worth it if you have a high volume of products.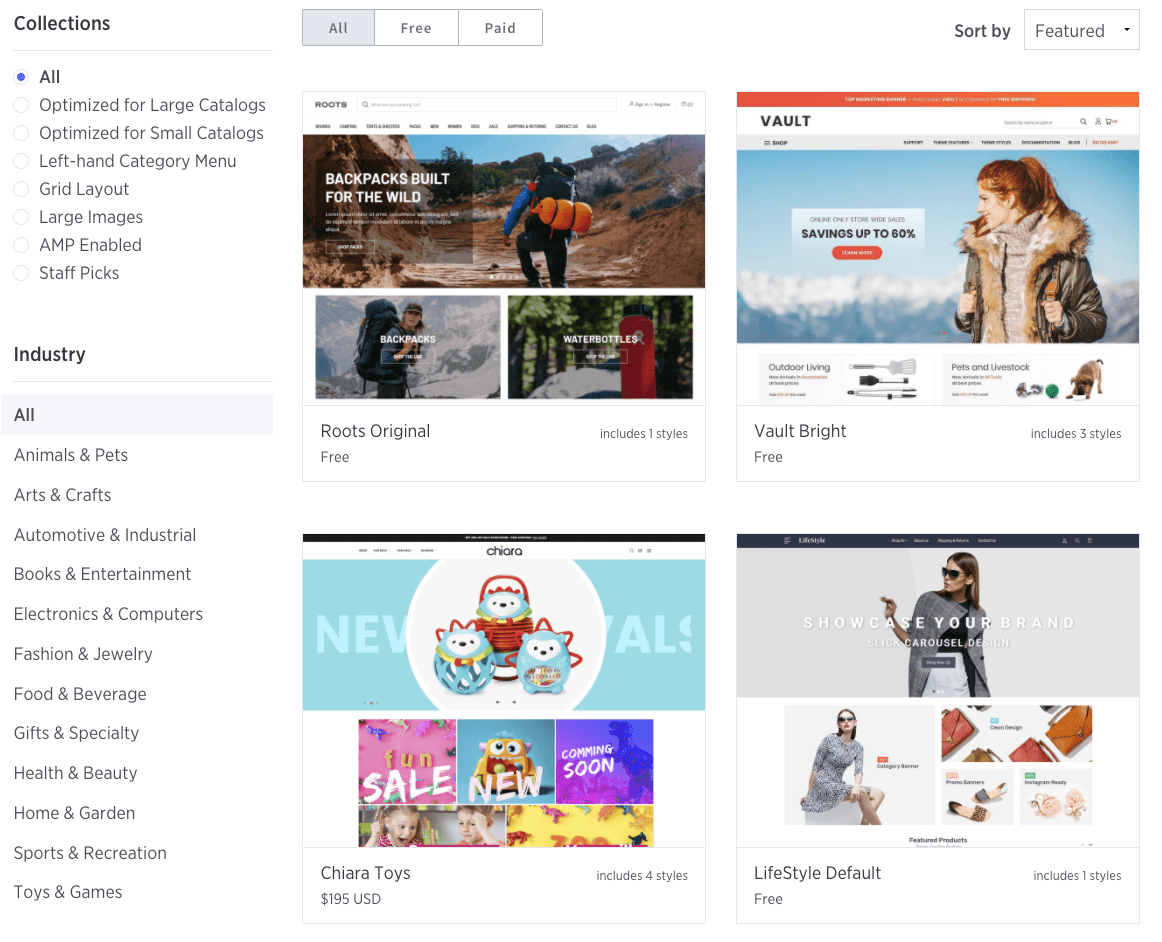 BigCommerce has a strong selection of e-commerce templates, with homepage and category page layouts that highlight your products with large images.
Unfortunately, the layouts for other pages aren't quite as good. Since there's not as much design freedom as some other e-commerce builders offer, you also can't customize these secondary pages in as much detail, leaving them feeling a bit lackluster in comparison to the otherwise excellent page templates.
All of that seems trivial in comparison to the product-selling power that BigCommerce does offer. You can manage thousands of products, with options for bulk editing, creating categories, and other essential functions. Additionally, BigCommerce has some rare features that bring a lot of value, such as:
Applying changes in product variants to multiple items
Personalizing prices based on customer segments (such as selling directly to consumers or to other businesses)
Adding product filters for easy browsing
Categorizing products by brand and other qualities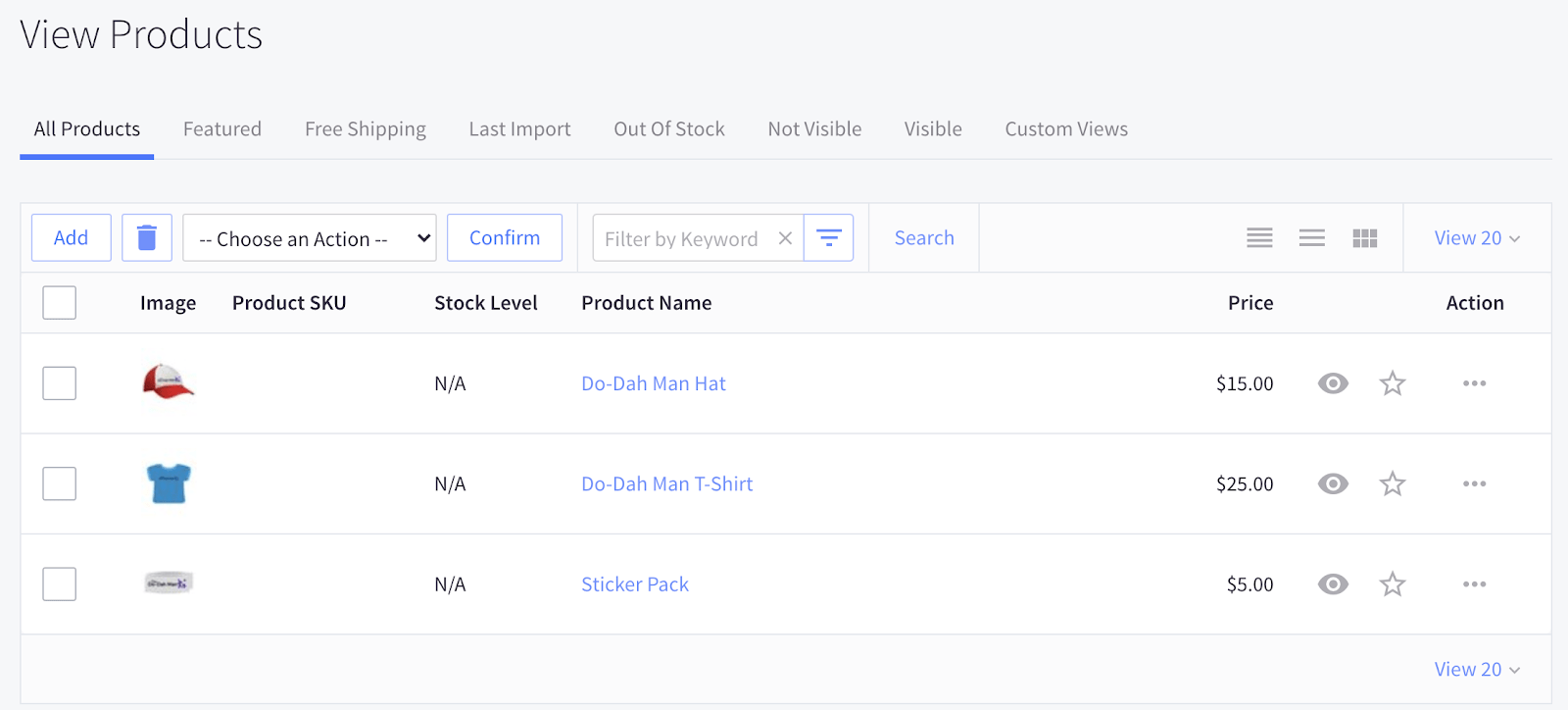 Some of these more advanced product management features are only available on the pricier Enterprise or Pro plans, but if you're moving a lot of products, it's likely a worthwhile investment. Test out one of these plans with a 15-day free trial.
Another great feature is the automatic addition of sort and filter tools to your site's category pages. You customers can sort by featured items, price, alphabetical order, and more, all from the dropdown menu. Product filters by price range are in the sidebar, and you can add additional filters in the product management interface. Read about more BigCommerce features in our expert review.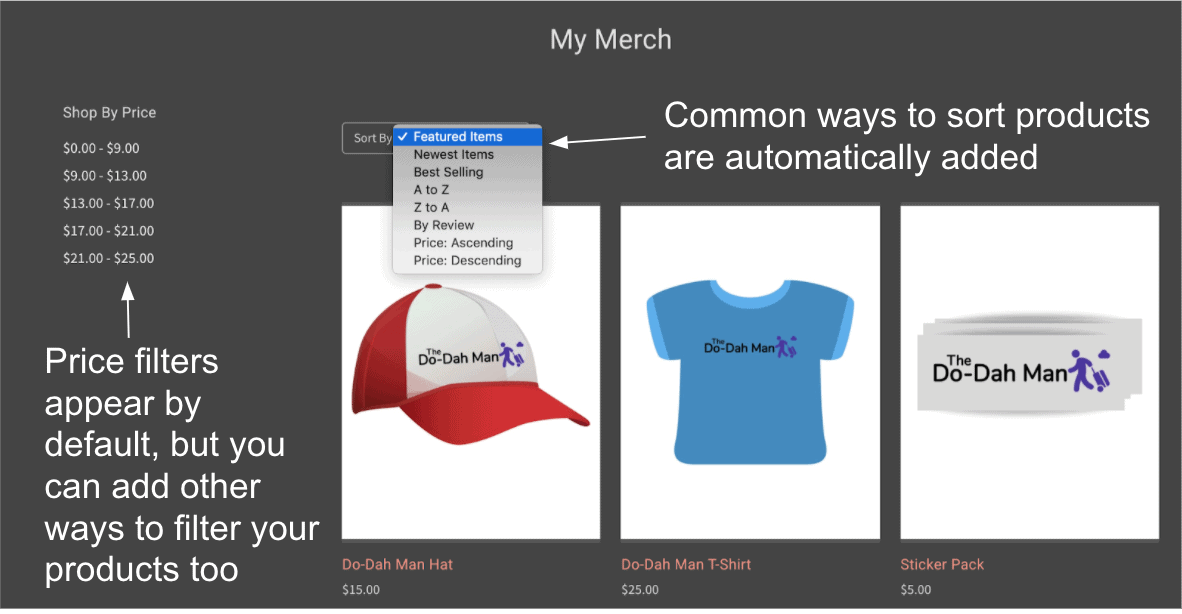 In addition to the product management tools, BigCommerce also has plenty of marketing and conversion tools designed to help you make more sales. These include abandoned cart emails, built-in newsletter sign-ups, and the ability to manage sales across other channels, including eBay, Amazon, Facebook, and Instagram. You can also integrate your site with third-party apps like MailChimp and Constant Contact.
E-commerce templates
140+ in 12 categories
Automatic tax calculation
Yes
Transaction fees
2.9% + $0.30
Starting price for e-commerce plan

$

29.95
Volusion is another dedicated e-commerce builder with advanced product management tools. Because of the exclusive focus on online stores, some expected website builder functions are noticeably absent – specifically, built-in blogging tools, and extensive customization options.
Volusion will work best for you if you only need online store pages and can find a template that meets your needs without having to make too many changes. Thankfully, Volusion has a good selection of e-commerce templates that work for a lot of different industries, so it's definitely a solid option for large online stores.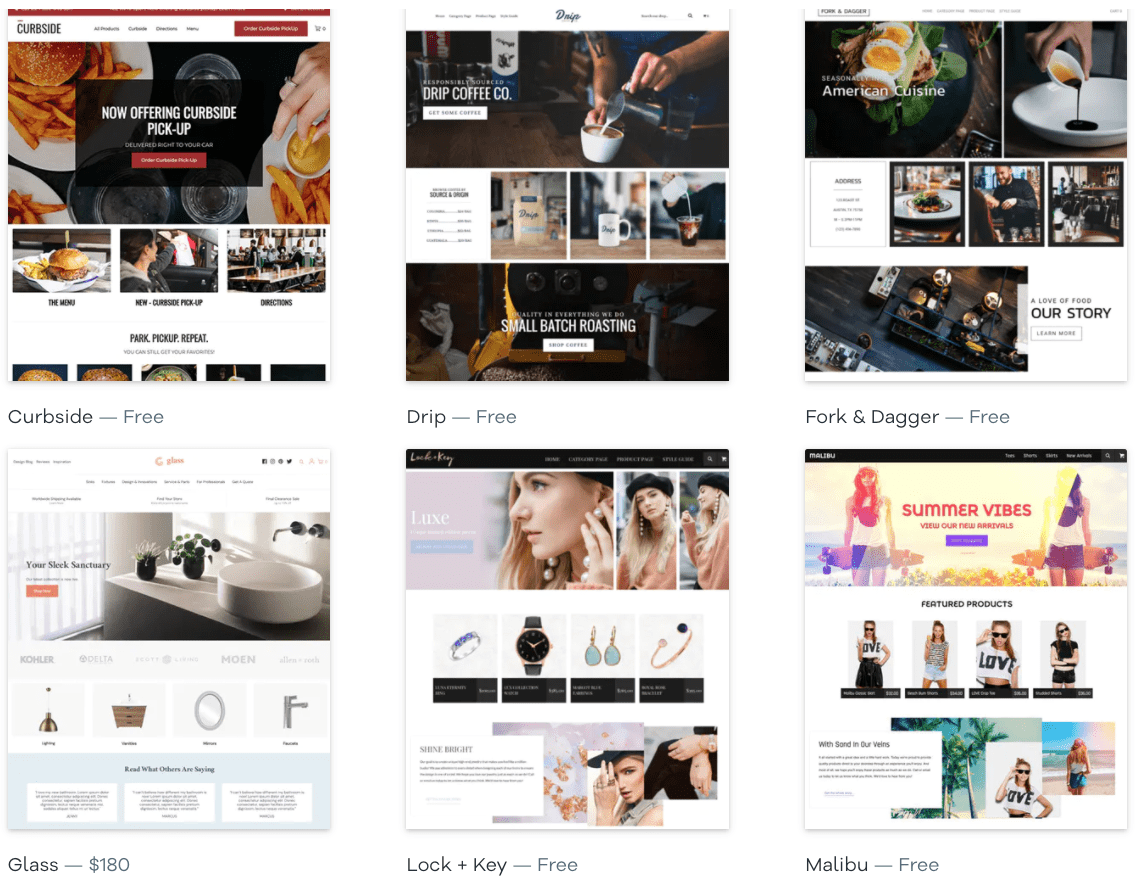 Volusion does have some powerful e-commerce features to make up for its customization shortcomings. One of my favorites is the robust products variant interface. With this tool, you can create multiple variants for a single product and set pricing, images, and inventory for each combination of variants – a detailed and granular way to track your products easily. This tool alone makes Volusion an excellent choice for clothing retailers or businesses in similar niches with lots of variations on a single product.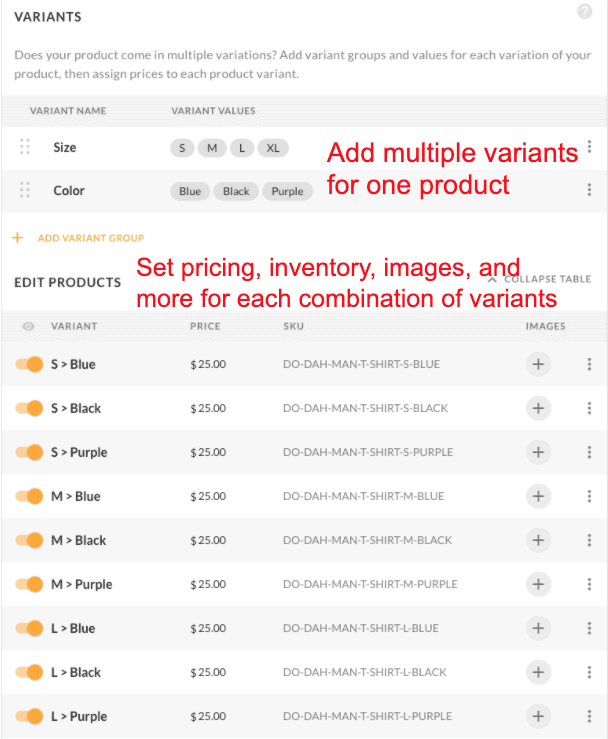 You can connect third-party apps to help handle discounts, shipping, and email marketing. The process is a bit more involved than it is when you use the built-in tools in other website builders, but it allows you to offer your customers a few more options. Here are some of the best app-based features:
Create and accept discount codes for products and services
Compare shipping prices
Purchase and print labels
Incorporate a live chat option for customer service
Add product reviews and images from satisfied customers
You can read more about Volusion's advantages (and limitations) in our expert review.
Volusion has plans to fit a variety of budgets, but there isn't a free option. This is an e-commerce builder that will work best for larger retailers who don't need a lot of additional site pages, and its lower transaction fees are a good bonus.
E-commerce templates
14
Automatic tax calculation
Yes
Transaction fees
2.15% + $0.30
Starting price for e-commerce plan

$

35.00
There are two ways to run an e-commerce website through WordPress.com: using the native Store features or installing the WooCommerce plugin. Developers created both options specifically for WordPress, but WooCommerce has a few more advanced features than the built-in Store. Additionally, Store is only available in the US and Canada, while WooCommerce is available to anyone with a Business plan or higher. For a more in-depth overview, check out our expert WooCommerce review.
WordPress Store features include product management by variant, automatic tax calculation, and accepting payments via PayPal or Stripe. WooCommerce offers all of these things and more, allowing direct credit and debit card payments, additional shipping configurations, and a library of extensions for additional functionality.
The WooCommerce extensions are particularly notable for their international solutions. Where most other website builders focus on payment and shipping options for US-based businesses, WooCommerce offers direct connections with other providers that better serve a global audience.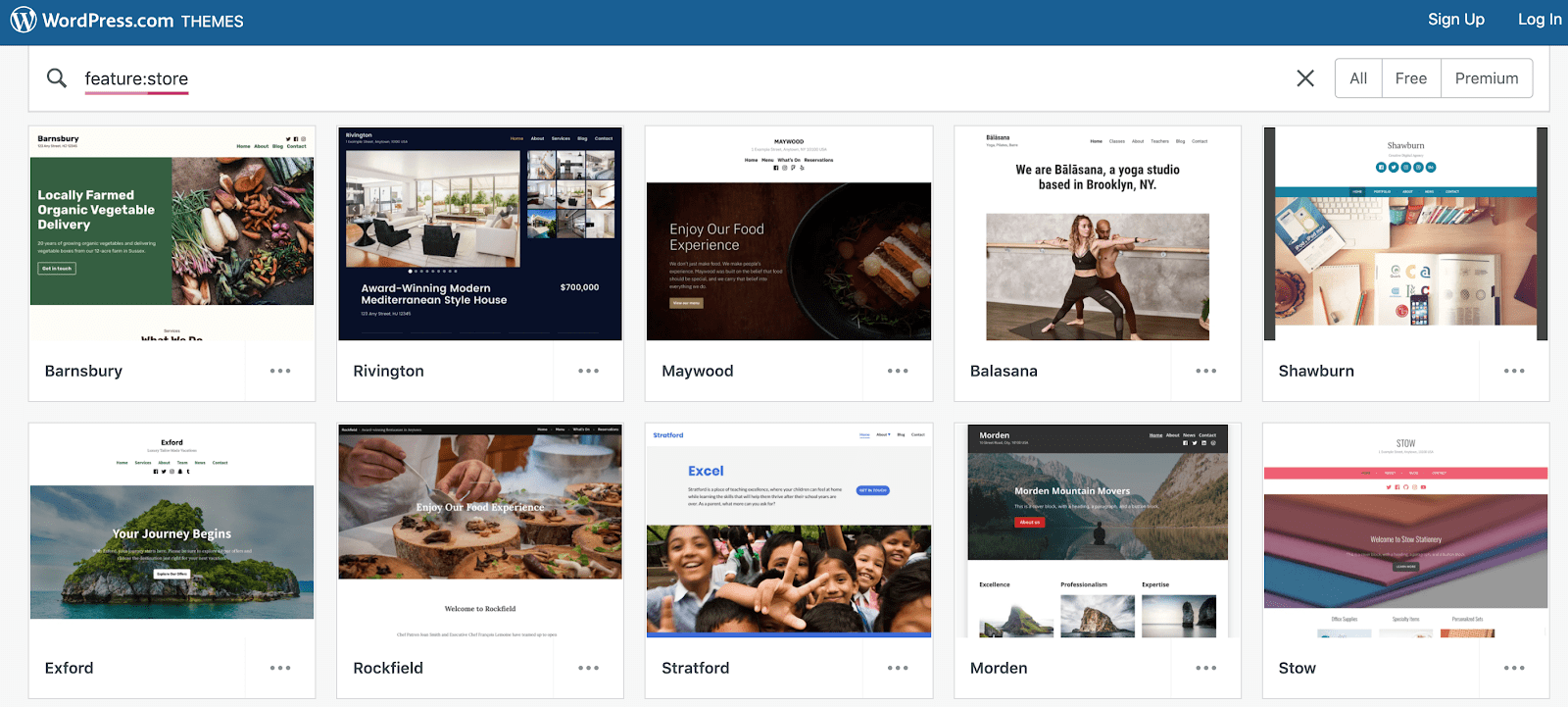 You can further extend WordPress.com's functionality and design beyond e-commerce features. There are plugins for nearly any other function you can think of, and there are literally thousands of themes to choose from when building your online store.
Read more about WordPress.com's plugins and themes in our expert review.
WordPress.com is a great choice if you want to keep your options open as your business grows. No matter how your business changes or what you want to add, you can probably do it on WordPress.com. (Keep in mind, however, that plugins and some other advanced features are only available on a higher tier plan.)
These WordPress.com plugins can add a lot to your online store:
Easy Digital Downloads lets you manage and sell digital products
Cart Recovery for WordPress helps you track and recover abandoned carts
WP Product Review imports and displays your product reviews
Yoast SEO helps you optimize you pages so you can achieve higher rankings in search engine results
E-commerce templates
~25 + hundreds from 3rd-party sites
Automatic tax calculation
Yes
Transaction fees
2.9% + $0.30
Starting price for e-commerce plan

$

5.00
Which Builder Is Best for Your Online Store?
There's a lot of competition for the best e-commerce website builder. These contenders have done their best to provide some serious product management tools while also creating a beautiful and user-friendly site.
It's Wix, however, that manages to achieve advanced e-commerce management while providing all the ease of use you could possibly want. No matter the size or niche of your online store, you can use Wix successfully. While you can't accept payments on Wix's free plan, it's a great way to get started and see if Wix is right for you.
But it's hard to go wrong with any of the builders on this list.
BigCommerce and Volusion are excellent candidates for managing a huge volume of products on sites where blogs and other content aren't as important.
Squarespace has stunning templates and strong built-in marketing tools. And with the thousands of plugins available, you can use WordPress.com to build a site that does far more than sell products.
| | | |
| --- | --- | --- |
| E-commerce Website Builder | Top Feature | |
| Wix | All-in-one store management dashboard | |
| Squarespace | Best templates and built-in marketing tools | |
| BigCommerce | Most advanced product management tools | |
| Volusion | Strong product variant and a product description generator | |
| WordPress.com | The most international shipping and payment options via WooCommerce | |
FAQ
Which website builder is best for e-commerce?For small to medium-sized online retailers, Wix offers the right combination of advanced e-commerce capabilities and flexibility in site design and function – while still being extremely easy to use. For larger retailers, BigCommerce has advanced product management tools to handle a bigger volume of items with ease. Check out our review of the best website builders in 2022 for more on these and other website builders.Can I build my own e-commerce site?Every e-commerce website builder on this list will help you build your e-commerce site even if you don't have any web development experience. You'll be able to easily create pages, add products, and update your site content using built-in tools. If you need some guidance, check out our step-by-step guide to creating a website in 2022.What is the easiest e-commerce website builder?In my opinion, Wix is the easiest e-commerce website builder to use. Everything from site customization to adding and updating products is intuitive and straightforward, and there's a robust support section to help if you get stuck. Read our in-depth review of Wix for more on how easy it is to use.What is the best free e-commerce website builder?Wix lets you try all of its e-commerce features on its free plan, but you won't be able to accept payments through your site. In other words, you can use the free version to learn the system and build your site, but you'll eventually want to upgrade. If you're ready to get started right now, be sure to check out our website builder coupons to make sure you're getting the best deal.