If you have any ambitions in mind for your retailing business these days, you need an online presence. It's no longer the case that you need to fork out thousands on hiring professional web developers to create a store for you. With these website builders, you can create your own with a little time, effort, and a small budget.
To help you decide which platform is best for you, we look at:
Ease in setting up
What features are available at which pricing level
The quality of their e-commerce templates
Whether they provide advanced tax, inventory management, and shipping tools
Wix
First up, we have Wix. Next, to WordPress, Wix is one of the most popular website development platforms around at the moment. It has a considerable base of approximately 100+ million users, primarily because they are such an accessible platform to sign up with and to use.
You are only a signup process and a few questions away from choosing your template and customizing your site. Using the Wix builder to customize your website can be a little bit intimidating for beginners. However, there are plenty of tutorials and tips to guide you. Once you are used to it, it will be a cinch.
With over 450 templates overall and 60 online store templates, there is no shortage of design choices when it comes to your online store. It used to be the case that not all Wix templates were that high-quality. However, that has changed.
As far as pricing goes, you unlock e-commerce capabilities with either the eCommerce or VIP plans. Both come with all the e-commerce features available on Wix. That includes a broad selection of payment gateways, discounts, shipping and tax calculators, inventory management, and a completely functional store.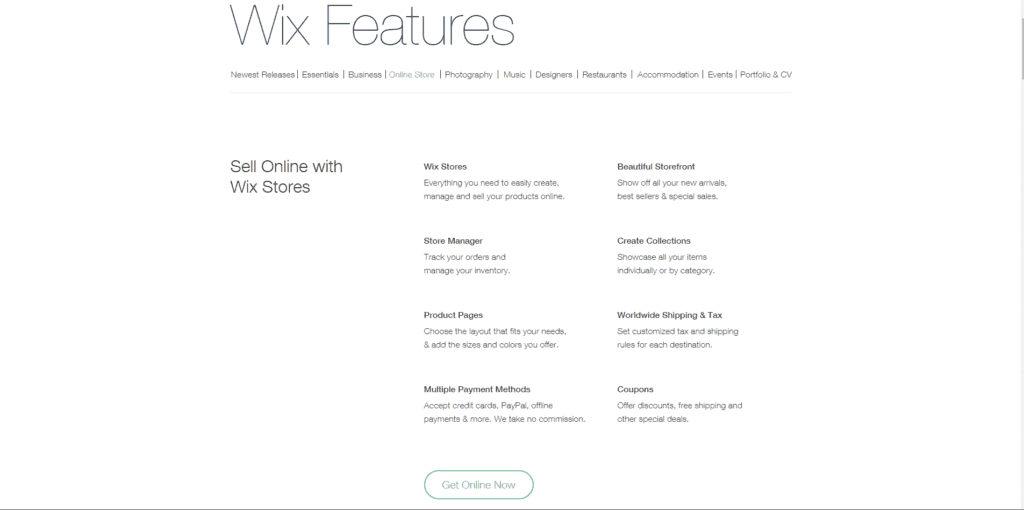 You don't have some of the ultra-advanced features like POS integration, shipper integration, and omnichannel retailing, but, you have everything you need.
To find out more about Wix, read our expert review.
BigCommerce
As you can probably guess from the name, this platform is big on e-commerce. BigCommerce is the most popular e-commerce focused website platform out there at the moment and sets the pace regarding many advanced features.
Unfortunately, there is no free use plan, but you can trial out basic features and get an entire store launch-ready within a 15-day trial period. As you can expect, all pricing plans come with some e-commerce capabilities. There are also 0% transaction fees as well as unlimited products and staff accounts no matter what plan you're on. All plans have the basics covered, with the higher-end plans unlocking more flexibility and advanced features like abandoned cart recovery, custom SSL/product filtering, etc.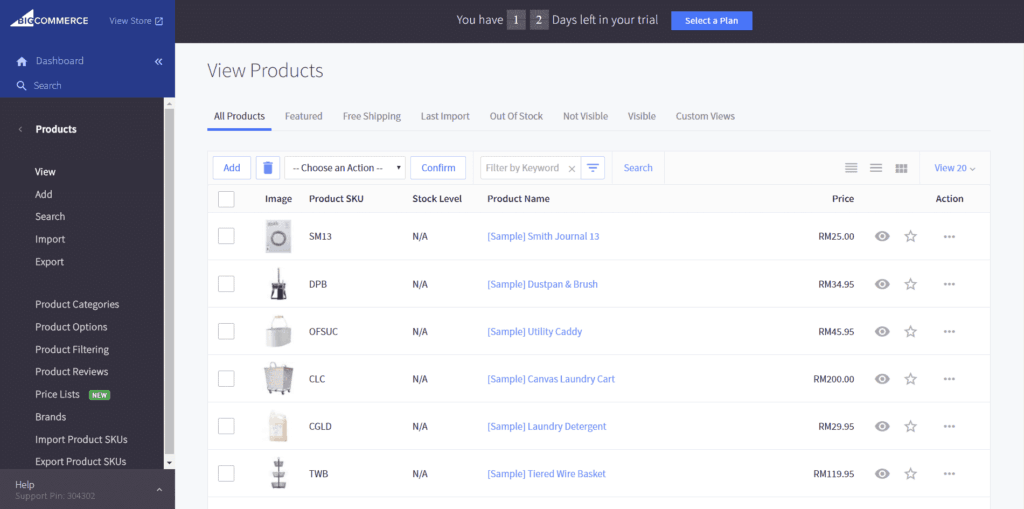 The biggest restrictions are that you can only make a certain amount of sales per year before you will be forced to upgrade. There is an Enterprise plan for big businesses with no limits and premium support solutions.
You can always extend your e-commerce features with some of the substantial apps available on Bigcommerce.
In terms of advanced features, BigCommerce is an all-in-one solution. One of its best features is the intensive integration with physical stores, other online selling channels, inventory management systems, and shipping services (through ShipperHQ). That makes it relatively easy to expand or incorporate your existing business with your BigCommerce site.
Curious about BigCommerce? Don't miss our in-depth review.
Squarespace
If you want a beautifully designed, minimalist, and modern online store, there are few better platforms to turn to than Squarespace. Part of the reason why there are only 90+ templates available is that they are so stringently vetted for quality.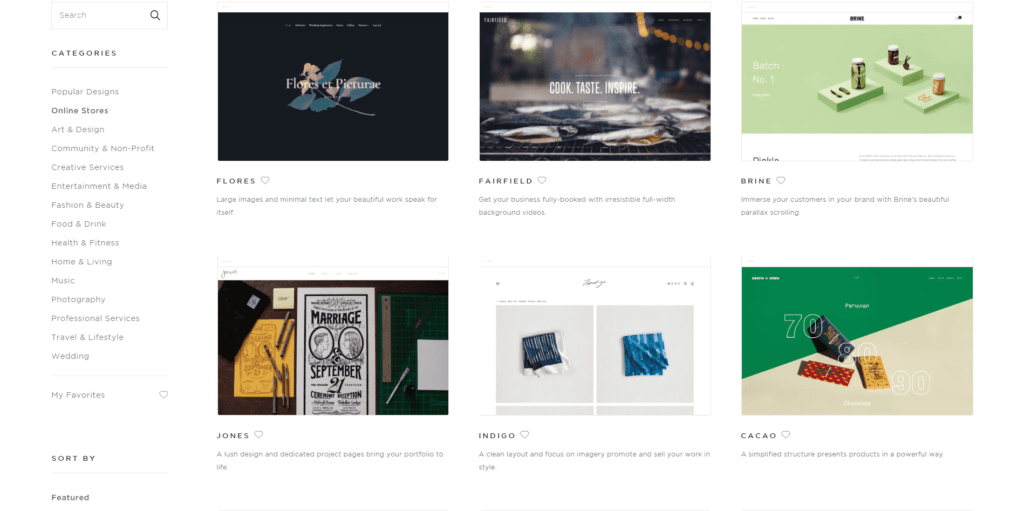 The biggest downside to using Squarespace is that the website builder is not as intuitive to use and there is no true drag-and-drop functionality. You do get fantastic templates to start off with, but your options to customize it are slightly limiting.
Despite a strong focus on e-commerce, Squarespace does come with two sets of pricing plans for either websites or online stores. The Business Website plan does kick off with fully integrated e-commerce. However, there are transaction fees and limited advanced features.
With the Online Store plans, you pay no transaction fees and unlock advanced features like:
Powerful metrics and analysis tools
Inventory, order, tax, and coupon management
Label printing via ShipStation
Customer accounts.
With the Advanced Online Store plan, you also get:
Abandoned cart recovery
Real-time carrier shipping integration
More control over discounts
The ability to integrate with 3rd party software
The physical store integrations are extremely powerful and similar to those of BigCommerce.
Squarespace provides excellent features to make your store functional and interactive with quick product view, express checkouts, etc. You are slightly more limited when it comes to payment options. However, Squarespace supports a decent list of currencies.
Learn more about Squarespace in our expert review.
Volusion
Like Bigcommerce, Volusion focuses exclusively on e-commerce and online stores. It's one of the most accessible platforms to get your store up and running, with a step-by-step beginner guide to help you set up the store. The customizer is also extremely easy to use and features a real drag-and-drop builder.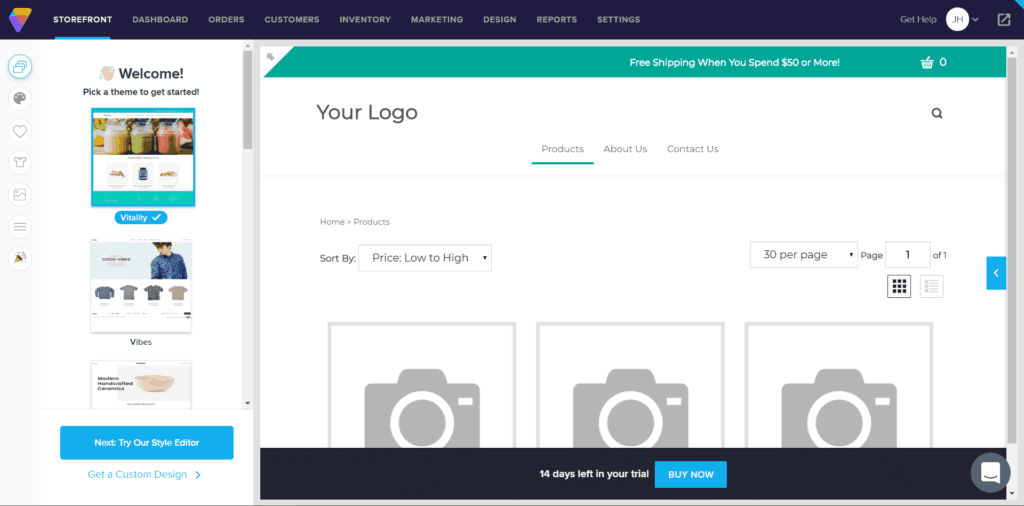 Adding products and creating your stores is not only easy but fun as well. In our opinion, it's the easiest to use the platform on this list. The library of templates isn't extensive by any means, however, considering they are all made for online stores, 50ish templates are OK.
Needless to say, all pricing plans come with some level of e-commerce. Each pricing plan improves on the previous in terms of:
The number of products
Support
Bandwidth
The Premium plan offers:
Unlimited products
35GB of bandwidth
Priority support
A dedicated account manager
The most significant area where Volusion lacks is when it comes to integrating with physical infrastructure. There is only essential omnichannel integration, inventory management, and no carrier or shipping integration. This makes it great for anyone who quickly and easily wants to create an online store, but may fall short of larger-scale businesses.
One area they do shine is payment gateways with over 50 options. This means virtually every major payment channel is available for customers.
Want to learn more? Get the whole scoop about Volusion in our expert review.
WordPress
WordPress needs no introduction, so we'll get straight down to the platform itself. Regarding signing up, the WordPress procedure is slightly more complicated as they will try to upsell you a bunch of features and will ask a number of questions regarding your site. However, once you've completed these steps, it's plain sailing (almost) all the way.
You handle everything about your WordPress site from one central dashboard. As WordPress focusses heavily on blogging, content creation is streamlined to the max.
As far as pricing plans go, you won't have any e-commerce capabilities with the Personal plan and can only accept simple payments with the Premium plan. However, Business plan subscribers get access to all the WordPress plugins plus 3rd party themes. These can drastically improve your e-commerce prospects.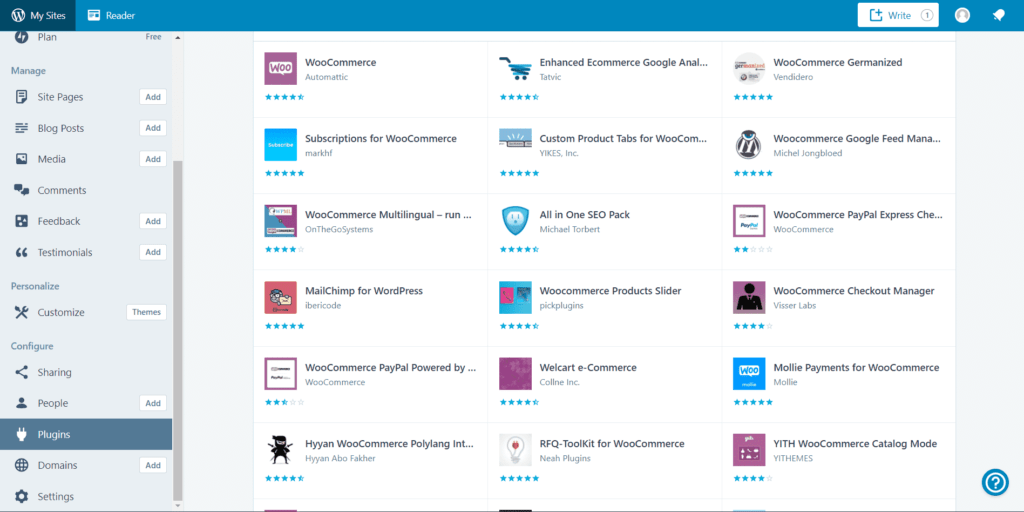 Plugins like WooCommerce can single-handedly help you create a complete online store with some pretty advanced features. You won't reach the depth of physical store and shipping integration that you get with BigCommerce or Squarespace, but you have in-depth control of shipping rates, taxes, a wide variety of payment gateways, and even more extensions.
It's also recommended that you pair it with the Storefront theme to get the most out of both.
Click here to read more about WordPress.
Which Ecommerce Website Builder Has Got You Sold?
As you can see, there's a wide variety of options that will suit the needs of different online sellers. If you ask us to pick an overall winner, it's got to be BigCommerce. Squarespace only matches Their more advanced features, but they have an easier-to-use platform, a larger collection of templates, and better integration with other channels and physical retailing. For a much lower price at the higher-end of plans, Squarespace is a great alternative.
However, we do realize that it's quite expensive compared to the other platforms. Of the more affordable options, we'd recommend Wix. It's a great overall product that just happens to have pretty good e-commerce capabilities.