Yes, you want to get the most out of Wix — there's a lot to consider!
Which plan gives you the most value?
Which hidden costs do you need to factor into your budgeting?
Are there coupons or clever ways to lower your costs?
I've spent hours researching the ins and outs of Wix to help you choose the plan that will give you the best value for your money. I've also looked for ways to save you some cash!
Don't get caught off guard — read on to find out how much Wix will really cost you.
Which Pricing Plan Is Right for You?
Wix has a little something for everyone, which is one of the reasons why it gets such great user reviews. There are many plans for you to choose from, but if you pick the wrong one, you might end up paying more than you really need to.
If considering all these options makes your head spin, find a professional freelance
Wix website builder on Fiverr
. In no time at all (and for a cheaper price), you will get a stunning new Wix website. Because, let's face it, nothing is easier than having someone do it for you!
Depending on where you live, there can be up to nine plans to choose from (and I even discovered a country with only one!). Wix offers seven or eight plans in most regions.
These are divided into "Website" plans (for general websites), and "Business & eCommerce" plans (for online stores).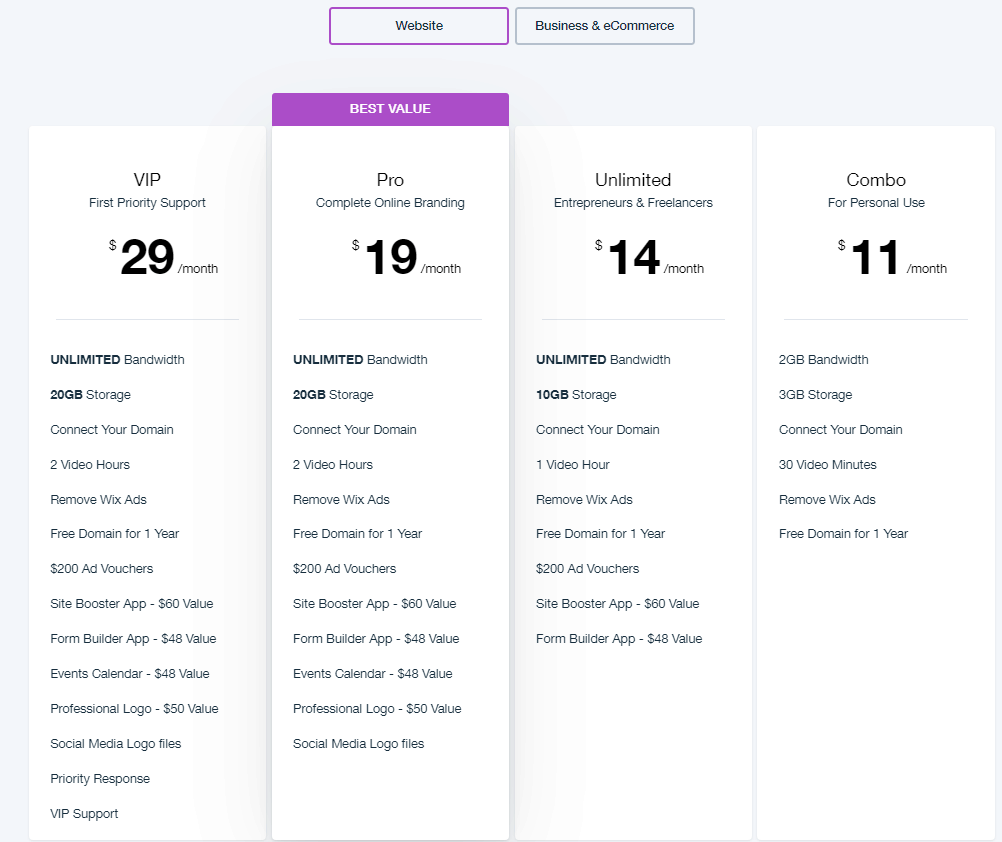 The more you pay for a plan, the more features and resources (storage and bandwidth) you get.
All the "Business" plans allow you to list and accept payments for products on your site(s).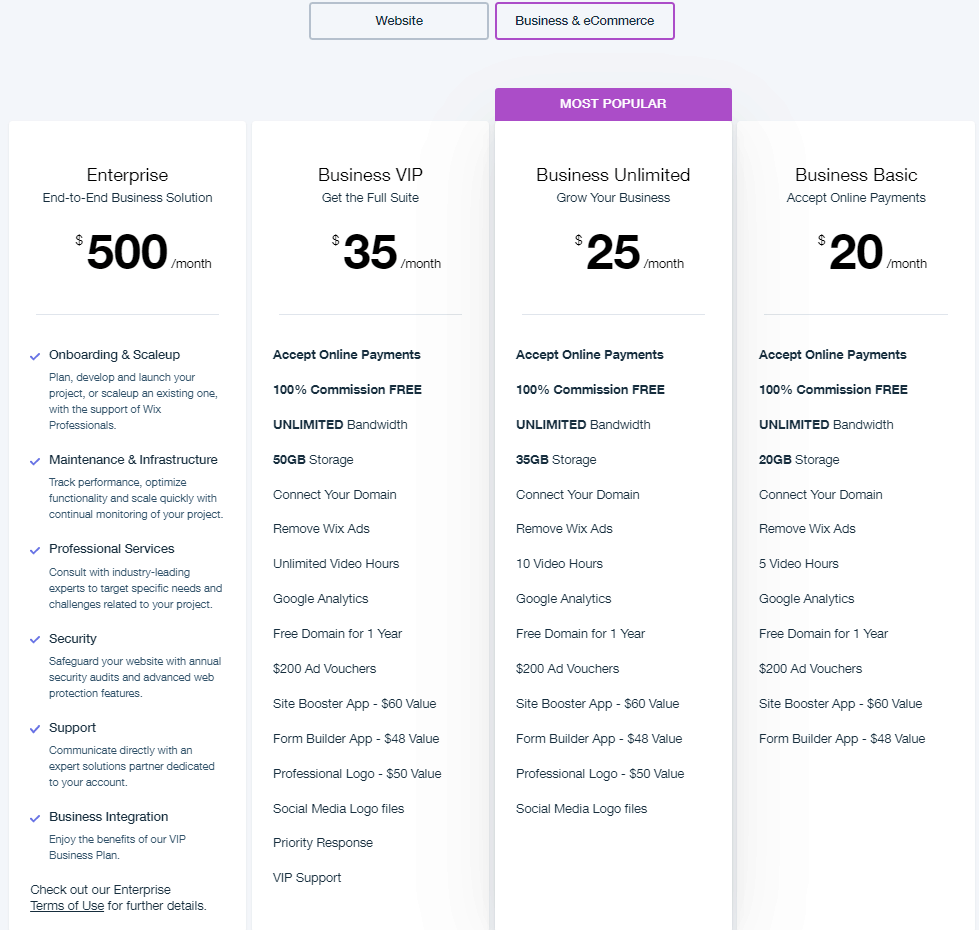 Note that while different plans are offered in different countries, Wix is consistent with the plan names and features offered on each of those plans.
Free Plan – For Small Personal Websites
You won't find too much information about free plans on Wix, but all accounts start out on the free plan until you upgrade.
You can create as many sites as you'd like, but there are some big limitations:
No custom domain (you'll get a URL like "username.wixsite.com/siteaddress")
Wix ads on all pages of your site
Limited bandwidth and storage (500 MB of each)
No online payments or Google Analytics
If you're just learning how to build websites, this plan is perfectly fine, but a Wix subdomain doesn't look great if you're trying to get others to visit your site.
When it's time to upgrade, you'll have to look at Wix premium plans.
Connect Domain – For More Professional Personal Websites
The Connect Domain plan is the cheapest paid plan that Wix offers. It's similar to the free plan, but with a few big differences:
You get more bandwidth (up to 1 GB per month)
You can connect a domain
Note that only some countries offer the Connect Domain plan.
On this plan, your site still displays ads, but being able to connect your own domain (e.g., "siteaddress.com") is a big upgrade if you want to look more professional.
Combo – For Personal Websites That Need More Resources
The Combo plan comes with a few big upgrades:
No Wix ads on your sites (the cheapest plan to offer this)
2 GB bandwidth
3 GB storage
Additionally, the Combo plan and higher plans offer you a one-year voucher for a free domain if you buy an annual plan. We'll look at this in more detail later.
Wix offers the Combo plan in almost every country.
In addition, non-profits outside the U.S. can get a free year on the Combo plan (with an option to extend it for two more years). You will need a registered charity number or tax exemption certificate to apply for the free year.
To get a free year if your non-profit is in the U.S., you'll need to show Wix at least two of the following:
Your IRS tax-exemption certificate
A reference to your organization's listing in the IRS's most recent list of tax-exempt organizations
A statement from a state official certifying that your organization has non-profit status
Your organization's certificate of incorporation, or a similar document that establishes non-profit status
Unlimited – For New Small Businesses
The Unlimited plan is a small step up from Combo. Wix ads are removed from your website, and you get:
Unlimited bandwidth
10 GB storage
$200 in ad vouchers
Site Booster App (a paid SEO app)
Form Builder App (for building advanced forms)
All these features make this a great plan for new businesses. The ad vouchers themselves, provided you use them, will cover the cost of hosting for several months.
Pro – For Professional Websites with No Online Store
The Pro plan is suitable for most businesses, as long as you don't need to accept payments through your site. It's not offered in all countries, though.
It has everything that Unlimited has, plus these extras that are geared toward businesses:
More storage (20 GB)
Events Calendar app
Professional logo
Social media logo files
If you already have a logo, it likely makes sense to stick with the Unlimited plan if it's available to you. With the Pro plan, you get access to Wix Logo Maker and it doesn't cost you much extra.
VIP – For Professional Websites Plus Extra Support
The VIP plan is the top-tier general website plan.
It's almost the same as the Pro plan, with two differences:
Priority response (for ticket support)
VIP support (for phone support)
In most cases, I don't think the extra support is really worth upgrading from Pro to VIP, but if you expect to need lots of help, then it could justify the extra cost.
Business Basic – For Testing a Business Idea
If you want to sell products online, Business Basic is the cheapest plan you should consider.
It comes with:
The ability to accept online payments
Unlimited bandwidth
20 GB Storage
Site Booster App
Form Builder App
$200 in ad vouchers
It's essentially the Unlimited plan with more storage, except that now you can also accept payments.
While it varies based on where you live, this plan is generally about twice as expensive as the cheapest plans on Site123 and Weebly that allow you to accept payments.
However, Weebly's plan (called "Pro") is missing a lot of e-commerce features, such as inventory management, coupon codes, and more. In terms of features, Weebly's "Business" plan is most comparable to Wix's Business Basic plan, and the cost is similar.
Business Unlimited – For Rapidly Growing Online Stores
This plan is very similar to the Pro plan, with the addition of more storage and the ability to accept online payments.
It has everything in Business Basic, plus a few extras:
The extra storage is nice, but the main reason to buy this plan is if you'd like to use Wix Logo Maker to design a logo.
Business VIP – The Best Option for Profitable Stores
As the name suggests, this plan is similar to the VIP plan for websites, but it also allows you to sell online.
On top of what you get on the Business Unlimited plan, you get:
Priority response (for ticket support)
VIP support (for phone support)
I think this plan can be worth the extra cost in cases where site downtime could mean a loss of profit. The priority support can help you fix any emergencies quickly.
Enterprise – Only for Huge Stores
The Enterprise plan is offered only in the United States for now, and it costs significantly more than even the Business VIP plan.
I won't go into much detail, but it comes with:
More resources
Better website performance
Security audits
Professional services
Dedicated support
If you make several thousand dollars in sales every month, it might be worth contacting support to get more specifics about whether it's a good idea for you to upgrade to this plan.
Now that was a lot of information! To sum everything up, here's a handy table: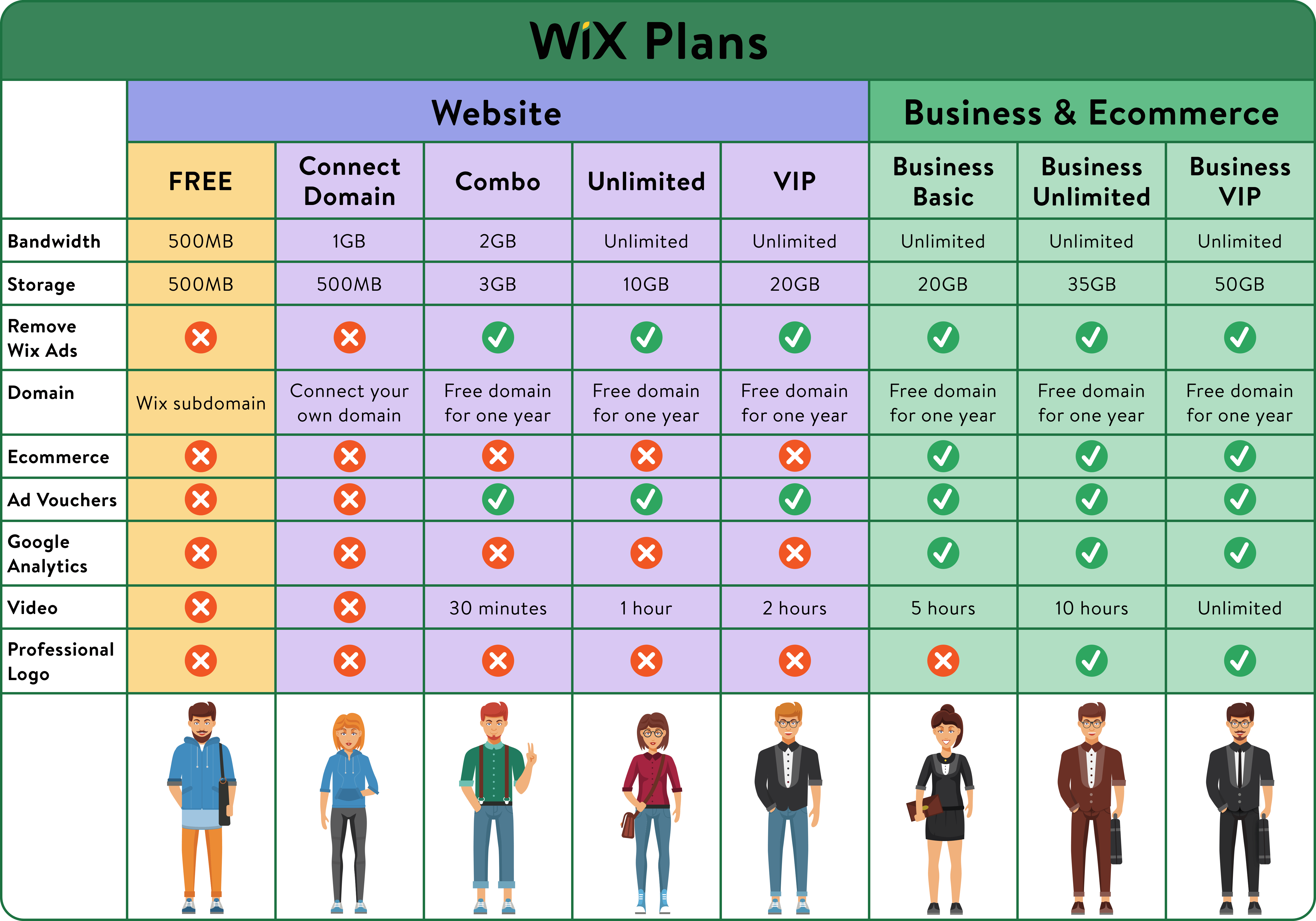 Wix Hidden Costs – 6 Things You Need to Know
The cost of a plan is the main recurring cost you'll need to pay, but there are also a few other costs that may not be so obvious.
Factor these into your estimate when considering how much Wix will cost you.
#1: Wix Plan Prices Are for Annual Plans
This is the only part of Wix pricing that could be considered deceptive.
When you go to the pricing page, you see a certain price, but then you see a higher one when you try to check out.
The prices on Wix's pricing page are typically for annual plans (sometimes biennial), which cost less per month than monthly plans.
There are three billing periods you can choose from: monthly, yearly, and every two years. The longer the term you purchase, the more of a discount you get.
For example, here's what the difference looks like for the VIP plan in the U.S.:
| | | | |
| --- | --- | --- | --- |
| Payment Term | Effective Cost Per Month | Effective Cost Per Year | Discount |
| Monthly | $35 | $420 | – |
| Yearly | $29 | $348 | 17% |
| 2 Years | $26 | $312 | 26% |
This doesn't factor in the free domain, just the plan price itself.
If you're okay with committing to a two-year term and don't mind paying the full amount up front, it's a good deal. Otherwise, don't be shocked if the prices jump up if you choose a monthly plan.
#2: Domains Aren't Free
When you're building a website, it's always a good idea to use your own custom domain, instead of just a Wix subdomain.
You can either buy a domain to use through Wix, or through a third-party registrar (e.g. GoDaddy), to connect with your Wix site.
Either way, it will cost you anywhere from $1 to $30 per year in most cases, depending on the extension you buy (e.g., .com, .org, etc.).
But wait, doesn't Wix give you a free domain?
If you buy an annual plan, meaning you pay for 12 months in advance, you get a voucher for a free domain (for all paid plans except the Connect Domain plan). However, this covers only the first year of registration.
This voucher is included when you purchase a premium plan for the first time, or when you change your subscription from monthly to yearly. It's not included when you renew a plan or upgrade an existing plan.
In addition, the voucher can only be used for certain extensions: .com, .net, .org, .info, .biz, .rocks, .pictures, .club, .space, .shop, .store, .online, .co.uk, .xyz, and .de (Germany only).
Already have a domain? Read how to connect your domain to your Wix website in 7 steps.
#3: Email Is Extra
Wix doesn't offer any internal email service.
If you want email addresses for your domain (e.g., yourname@yourdomain.com), you'll need to pay extra.
Wix is integrated with Google's G Suite for users who want a mailbox.

The amount it will cost you depends on where you live, but it's generally around $6 per month per basic mailbox.
You'll have to estimate this cost, since you can't see the exact cost for your specific account until you pay for a paid plan and connect a domain.
#4: Many Wix Apps Cost Extra
Wix's App Market is great when you need to install some extra functionality to your website.
Many apps, including popular ones like Wix Forum and Wix Pro Gallery, are completely free, while other apps that you may need might not be.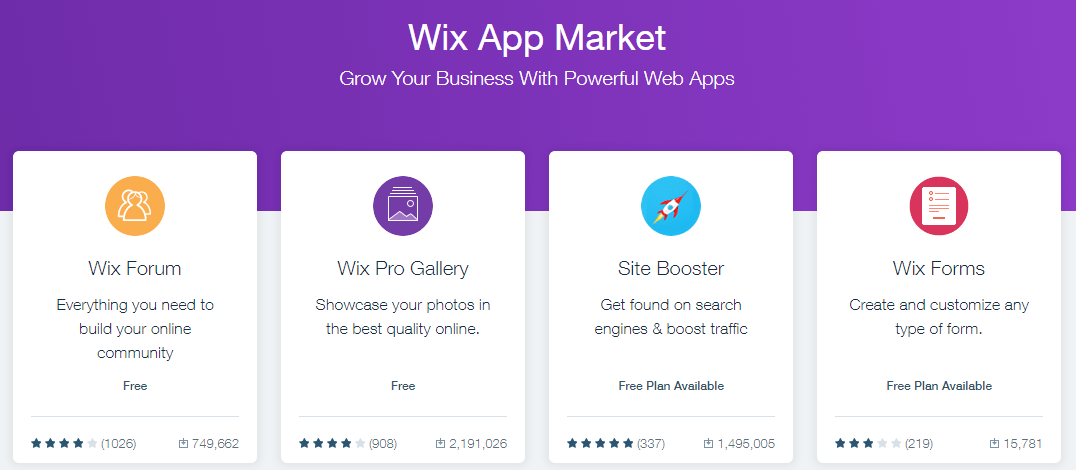 While some apps offer a free plan, it's usually pretty limited and you'll end up paying the extra monthly fee for the premium version. This varies between apps, but it's usually around $5 per month.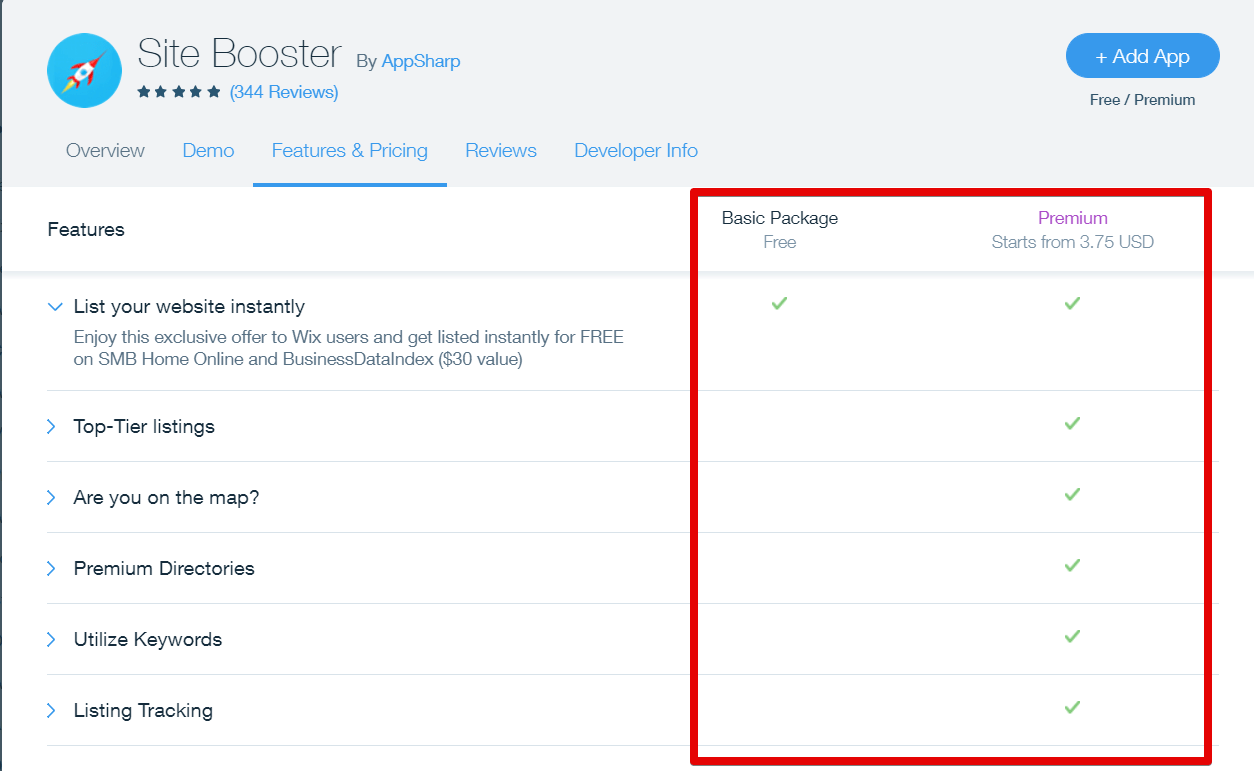 Note that some paid apps are included for free on certain paid plans. Most notably, the Site Booster and Form Builder apps are included on almost all paid plans.
#5: Storage Isn't Unlimited
The paid plans provide enough storage space for most websites.
However, you can quickly run out of storage if your website has lots of media (i.e., images, videos), especially on the cheaper plans.
For example, the Combo plan comes with only 3 GB of space. If I uploaded all the photos of my cats on my phone right now into an image gallery, that would easily exceed the limit.
If you plan to create large image or video galleries, or include media in a lot of blog posts, you may have to upgrade to get more storage.
#6: Experts Are Available, but Aren't Cheap
One nice thing about using Wix is that it has a community full of professional creatives you can hire if you need help.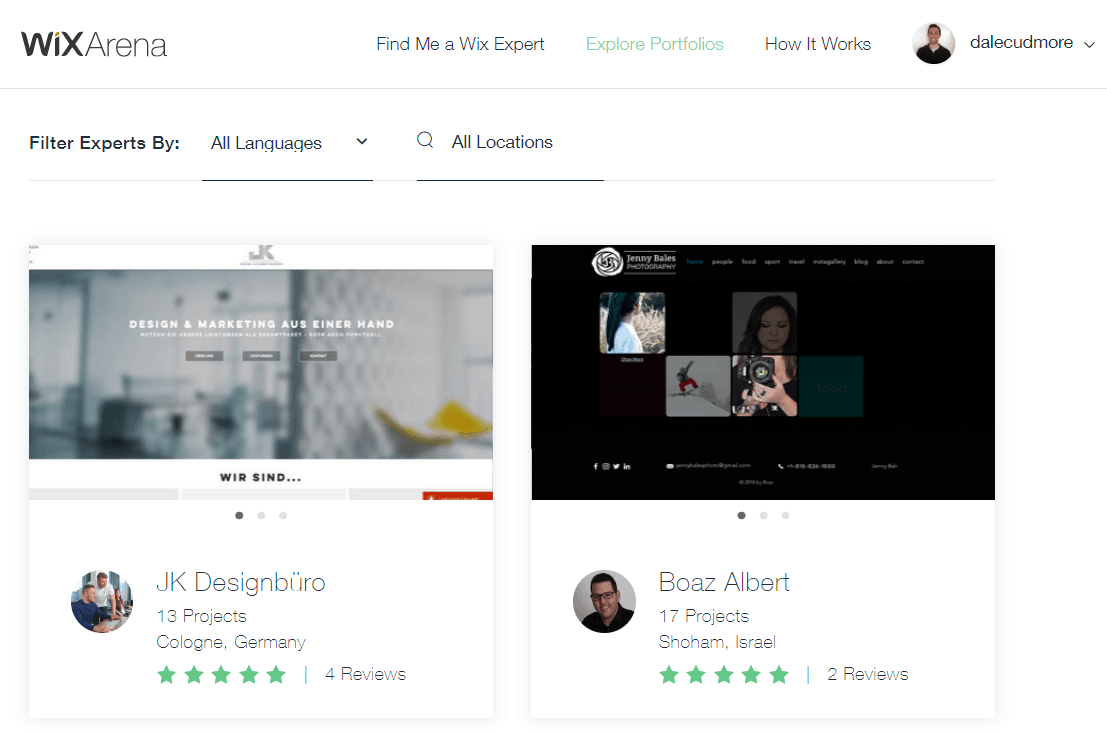 Obviously, this costs extra if you need it.
I bring this up only so that you'll know to consider whether you'll need to budget for a creative (e.g., site designer, logo creator, photographer, etc.).
Wix Plans Cost Differently Based on Location
The cost of Wix plans isn't fixed.
First, there can be changes over time. Second, as I mentioned above, there are different Wix pricing tables in different regions.
Some of these regions are cheaper than others.
Why does this matter?
Well, if you use a VPN when you purchase your Wix plan (we highly recommend NordVPN), you can mask your IP address to appear as if you're in a different country. This way, you can buy a plan from a different region, and potentially save some money.
If currency rates stay similar, using a cheap VPN could save you $12 per month, or $144 per year. It makes sense to compare the prices in different regions before buying.
For example, if you buy a VIP plan in the U.S., it will cost you $29 per month (on an annual plan).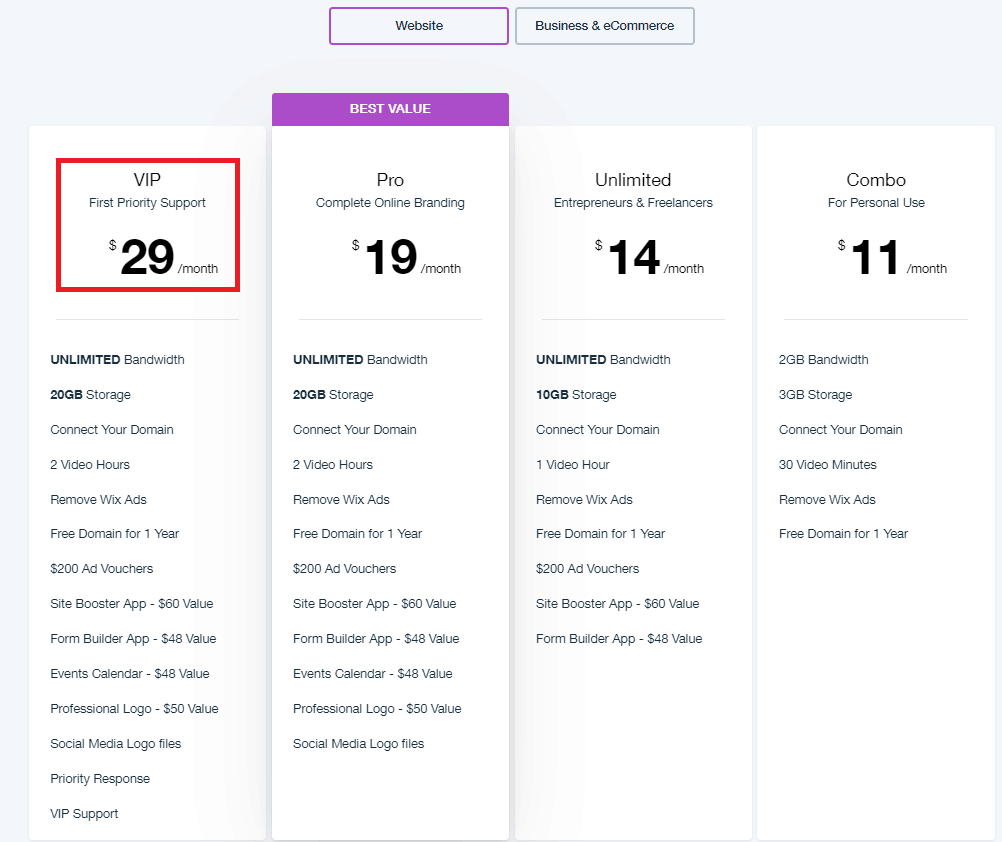 A VIP plan in Mexico is about 329 pesos (roughly $17 USD currently) per month.

In India, however, the situation is very different. There's only one plan, called Premium, and it costs 70 rupees per month – around $1 USD.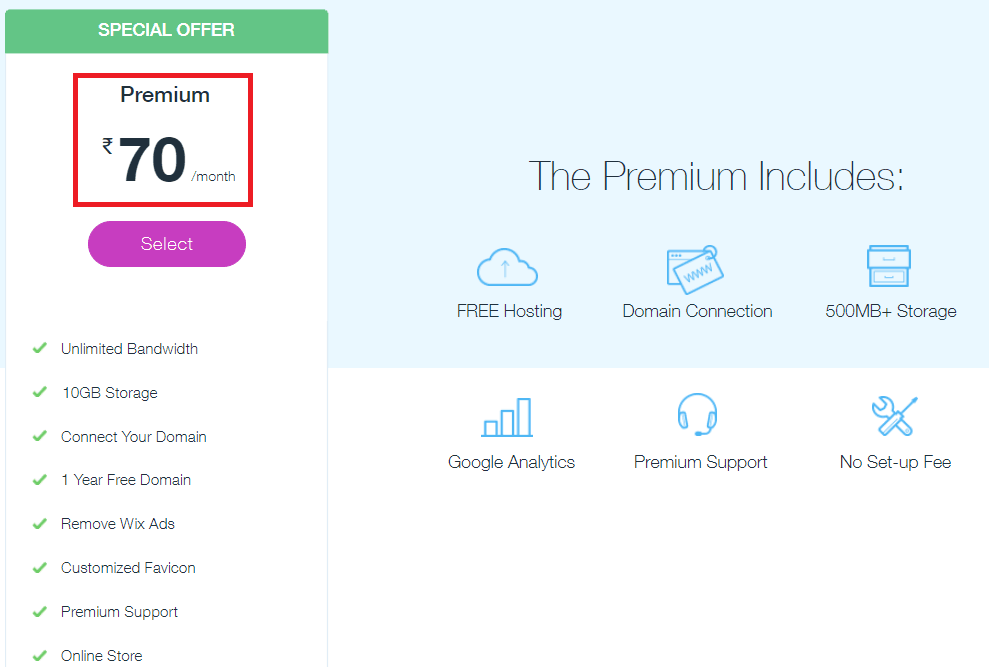 Let's compare the base price of the VIP plan for different regions, since it's offered almost everywhere.
| | | |
| --- | --- | --- |
| Region | VIP Plan  | Price in USD |
| United States | $29.00 USD | $29.00 |
| Canada | $29.00 USD | $29.00 |
| United Kingdom | £18.00 | $23.49 |
| Asia and the Middle East | $24.50 USD | $24.50 |
| Australia | $27.00 USD | $27.00 |
| South America | R$57.29 | $14.50 |
| Mexico | ₱329.00 | $17.00 |
| Europe | €24.50 | $27.55 |
Remember that the prices Wix displays are for an annual plan. If you want to pay monthly, it will cost a bit more.
How Much Will Wix Cost You?
Overall, you typically need to consider:
Plan cost (both the plan you need and payment term)
Domain cost
Email cost (if needed)
App cost (if needed)
Wix isn't exactly cheap, but even if you pick one of the pricier plans, you get good value for your money thanks to all the apps and resources included.
Finally, all Wix plans come with a 14-day money-back guarantee, so if you do change your mind within the first couple of weeks, it won't actually cost you anything.
There's one final cost we haven't discussed: discounts and being locked into Wix. Once you create a site using Wix, there's no way to transfer it anywhere else. You'll have to keep renewing your plan for as long as you'd like to keep your site online.
Occasionally, Wix runs some great promos with steep discounts. But these apply only to the initial period, and you'll have to renew at full price.
To learn more about Wix, check out our Wix expert review.