Thinking of building your first website? Excellent! All you need is a little time, a small budget, and 21st-century computer skills.
However, not all website builders are created equal. Some will be easier to set up, some will involve a steeper learning curve, some will have greater flexibility, and some will cost more than others.
In this article, we'll share five of our personal favorites and hopefully help you choose the best one for your needs.
Wix
Ease of use is one of Wix's main selling points. It was one of the first platforms of its kind to reach popular status and now has over 100 million users.
You only need to provide fundamental details and go through a short questionnaire before you can pick a template and start designing your site. You can even let their artificial intelligence web designer, ADI, pick a template and apps for you based on your answers.
Speaking of templates, Wix has the largest collection with over 450 very diverse themes to choose from. Not all are super high quality, however, but you can find exactly what you're looking for.
Wix does require a short learning curve in the beginning as you get familiar with its drag-and-drop page builder and designing tools. However, once you get used to it, it's one of the best when it comes to giving you a considerable amount of flexibility without being too difficult to learn.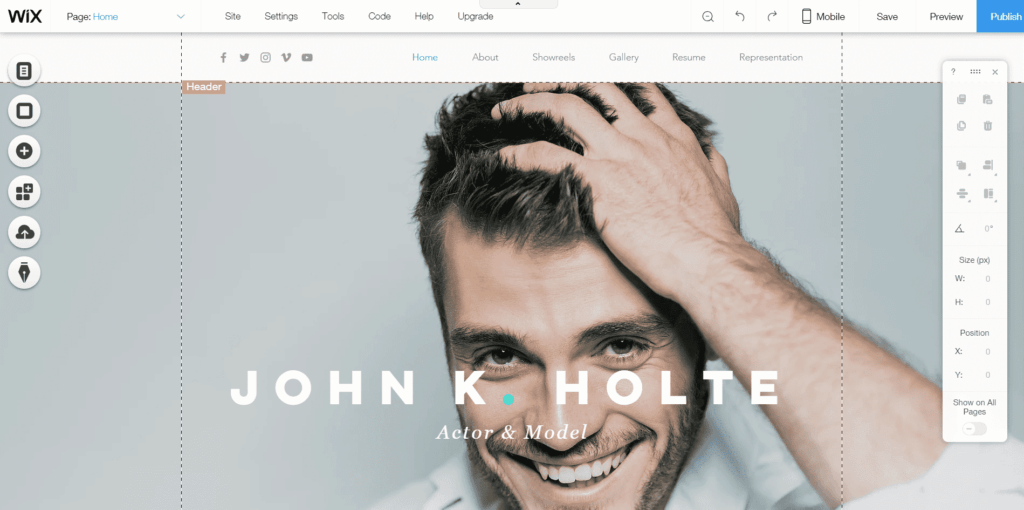 Regarding customer support, Wix is excellent for beginners with a host of tips and video tutorials spread throughout the interface to help you learn to use specific features.
If you'd like to learn more about Wix, don't miss our expert review.
Site123
Site123 isn't used as widely just yet; however, it's a great product that deserves more attention, and we're sure that they will still gain significant popularity in the near future.
It's apparent from the start that this whole platform is geared towards getting users up and running with as little hassle or frustration as possible.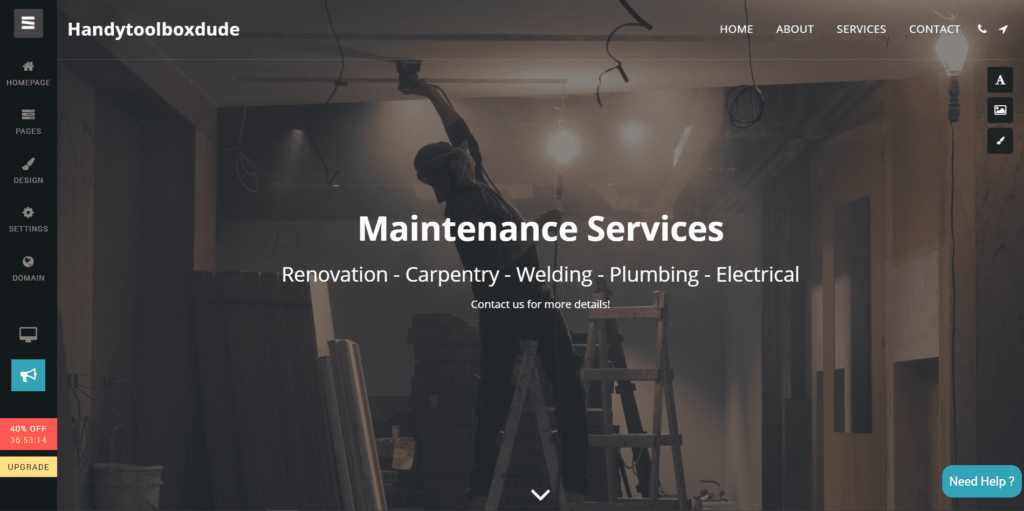 The quick signup process only requires some basic info (you can also link your Facebook or Google account). You can then choose your type of website and let them pick one of their top themes from that category for you or opt to choose one yourself.
Their library of 100+ themes isn't extensive, and the designs are fairly straightforward. However, there isn't anything to complain about quality-wise. Similarly, the designer/page builder is exceptionally intuitive and very similar to the slightly more popular Weebly. Just like Weebly, however, that also means you are somewhat limited in what you can do to customize your site. You can extend your site with free or premium plugins.
Site123's pricing plans are also very straightforward with one free and one premium plan. The Premium plan comes with greater resource allocation, e-commerce as well as a free domain and no Site123 branding.
For more information about Site123, check out our expert review.
Weebly
With a user base of roughly 50 million, Weebly is getting to the upper spectrum of popular web development platforms. Just like Site123, Weebly is focussed on making web development and design as effortless as possible. In fact, the two bear a strong resemblance with Weebly providing a greater depth of functionality.
You can't fault Weebly on a painless signup process. You just sign up with basic info (or your Facebook/Google account), pick a template, and you can immediately start customizing. Regarding themes, Weebly has around 50 to choose from. These templates are very similar to those of Site123: lacking in wow-factor but modern and attractive.
Weebly's app market sits somewhere in between Site123 and Wix when it comes to the number of apps/plugins and the extensiveness of their functionality. The page builder looks almost identical to that of Site123 but provides true drag-and-drop capabilities. The templates and page layouts are pretty fixed, and you mostly have control over the contents, colors, and sizes.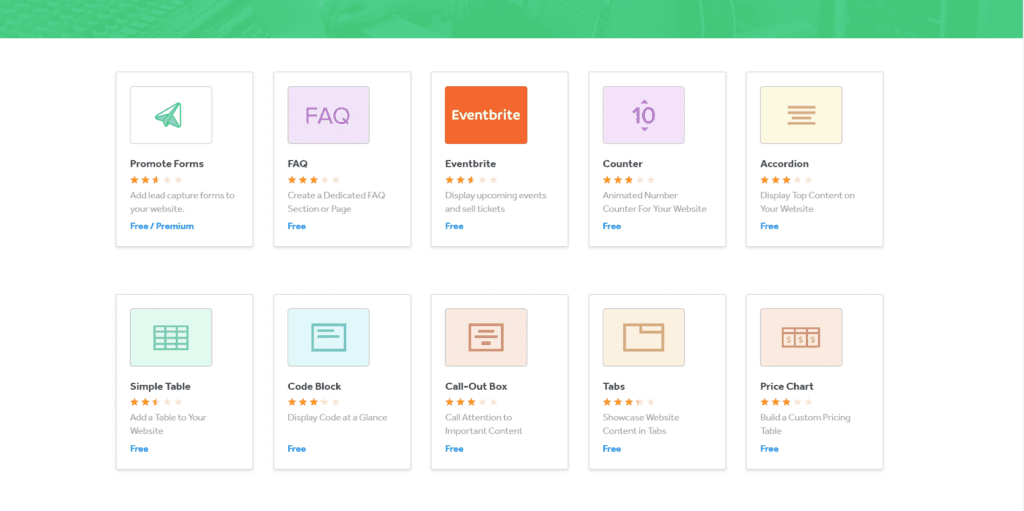 The pricing plans are split to cater for individual/non-e-commerce focussed websites or online stores. The pricing is very similar to Wix but usually a few dollars more expensive.
To learn more about Weebly, read our in-depth review.
Volusion
If you're entirely new to web development, but need a platform that focusses on helping you create an online store, you can now breathe a sigh of relief. Volusion caters almost exclusively to individuals or businesses of any size who want to have a store. As such, you get some e-commerce capabilities with all their pricing plans.
Unfortunately, though, there is no free plan. Your only option is a 14-day trial during which you can test essential features. It also takes up to 48 hours to set up your e-commerce store once you've signed up.
Volusion only has around 50 templates; however, since they are all made for online stores, you have quite a good variety to choose from. The templates look and feel fantastic, and there are a few with exciting design quirks or some of the wow-factor that's lacking in Site123 or Weebly's libraries.
When you just create your site, the step-by-step process is great to guide beginners in the most crucial aspects of designing and setting up their store. The customizer is incredibly easy to get to grips with but equally limiting in what you can achieve as the Weebly and Site123 designers.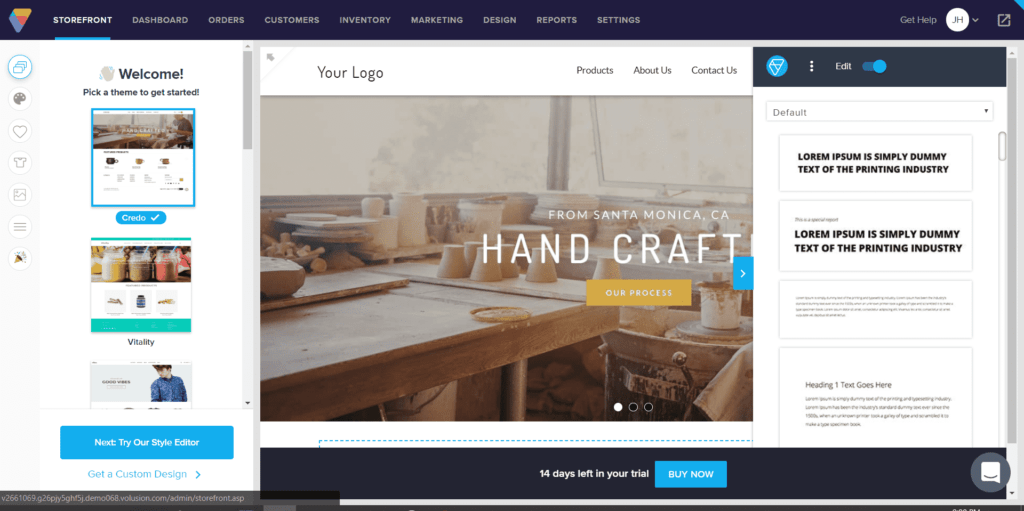 To learn more about Volusion, read our expert review.
WordPress
Last, but not least, we have WordPress.com. For now, and the foreseeable future, it is by far the largest website development platform, powering an estimated 25% of all websites. WordPress.com provides a similar service to the other platforms on this list and is what we'll be focusing on here as it's what we'd recommend to beginners.
The signup process for WordPress takes a bit longer than the others as they will try to upsell you a few "upgrades" as well as ask personal information about your site. These upgrades usually come for free depending on which premium plan you choose. They have one of the most unrestricted free plans.
With just under 300 templates, WordPress comes the closest to the variety available on Wix. However, the quality is more up and down. Tightening requirements on the quality of new themes mean it's getting better and better.
The platform's focus still lies with bloggers, and it's the most streamlined platform to use if you will regularly be writing and posting content. Overall, the customization options are insufficient compared to most other platforms but vary according to which template your using.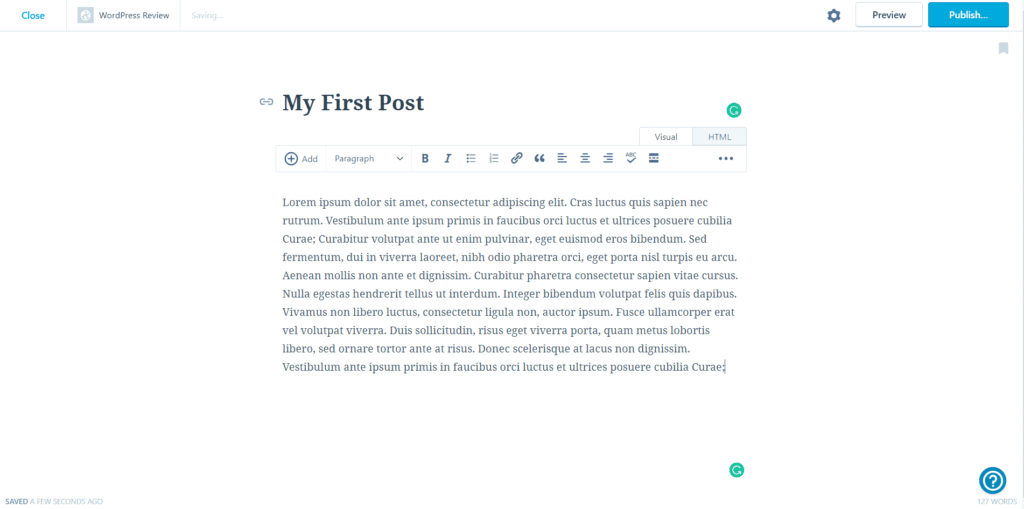 However, the Business plan opens up a whole new world regarding 3rd party plugins and integration with other services.
To learn more about WordPress.com, read our in-depth review.
Take the Web into Your Own Hands
As you can see, your goals and needs play a big role in which platform will ultimately be the best fit for you. For sheer ease of use and accessibility, you can't do much better than Weebly and Site123. Both these platforms have an almost non-existent learning curve. Volusion is similar, but geared towards online store owners.
WordPress starts off with very basic capabilities and limited extensibility that gradually increases with the higher-end plans. In the end, it's still one of the best platforms for bloggers. Once you unlock 3rd party plugins, the possibilities virtually become endless. Between all of these, Wix falls squarely in the middle, striking a balance between features and ease of use.