But now that I've tested so many, I'm happy to let you know which ones make it so easy to set up a website, the process is actually fun.
Whether you need to create a website for yourself, a customer, or your boss, these are my top five website builders for novices. They all have intuitive editors that let you easily design your web pages, with tips and guidance available when you need them.
Some even have free plans, so you can get started right away.
Short on Time? These Are the Best Website Builders for Novices in February 2023:
Wix – The most intuitive drag-and-drop editor, with 500+ professional templates to choose from
Squarespace – A favorite among creatives, with beautiful designs that are easy to customize
SITE123 – A great user-friendly solution if you need to need to get a simple website online fast
What We Look For in the Best Website Builders for Novices
When testing website builders, I took note of user-friendly platforms that also offer loads of useful features to create a professional website. With these priorities in mind, I checked for:
Ease of use: The builders on this list all have user-friendly editors that make it easy to get your website online in no time, even if you've never built one before. Some of these platforms even provide you with in-editor guidance and tips as you go along.
Top-class templates: Templates are the design framework for your website. All you need to do to get started is pick the one you like, and these builders have lots of appealing options to choose from.
Ready-to-go media: If you don't have your own photos or videos, don't worry. I've chosen website builders that come with free image libraries.
Free plans/trials: The website builders on this list all let you get started for free, and some will even let you publish your site without paying a dime. If you decide you want to try out some more advanced features, it's easy to upgrade at any time.
Useful resources: Great support articles, videos, and guides can be a huge comfort when you're building your first website. This list features builders with the most comprehensive and helpful resources.
Over 100 million people have signed up for Wix and I can understand why! It gives you
more than 500 templates to choose from
. There are template categories for just about anything you might need, such as business sites, online stores,
community groups
, blogs, and portfolios. Once you find a template you like,
the intuitive drag-and-drop editor allows you to easily add your own content and personalize your layout
. You can drag different page elements and place them wherever you like on the page, or double-click elements to see the editing options for each one. It's that easy.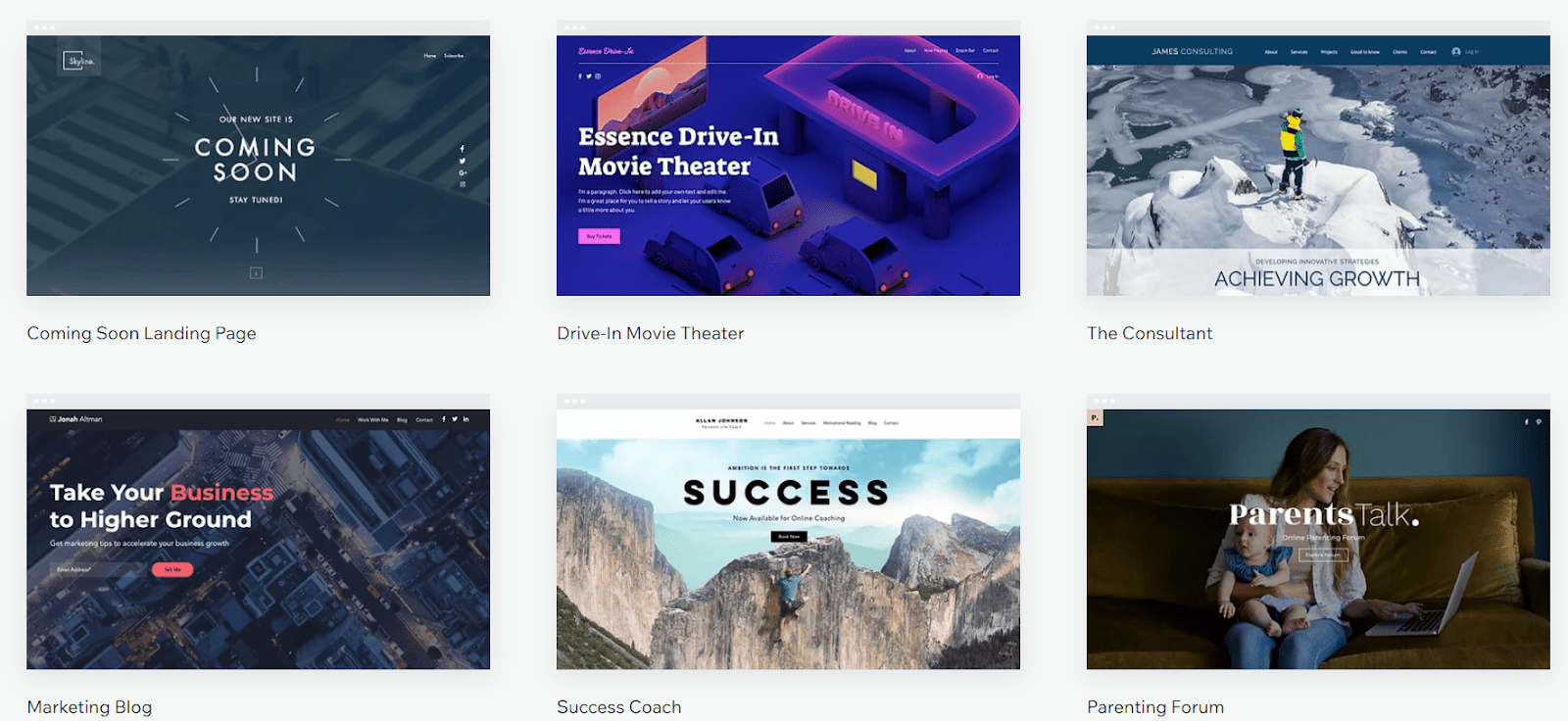 The Wix editor is easy to get used to, and helpful "Smart Tips" pop up to guide you through the process. If you get stuck,
Wix has a huge knowledge base with hundreds of tutorials
for anything you might want to do, from choosing a template to learning how to use the free image library.
Learn more about Wix's editor and support in our expert review
. Wix isn't just easy to use – it's also full of functionality. There are built-in features like social media buttons and contact forms. The Wix App Market has hundreds of extra components you can easily add to your site, from live chat and search bars to a full online shop. Many of the apps are free, and they're all accessible with just a few clicks.
Wix offers a free plan, and if you're just starting out, it could be a good option for you.
 Though this plan has storage and bandwidth limitations, these shouldn't be an issue unless you're planning on uploading a lot of images or videos to your site. Let's look at some of my other favorite Wix features:
Wix ADI: If you're looking for an even easier solution, Wix ADI (artificial design intelligence) can get your website ready in no time. All you have to do is answer a few quick questions, and this smart tool automatically creates designs for you to choose from. Then, you can add your own text and images and make additional tweaks if you like.
Blogging platform: Adding a blog to your Wix site is extremely easy, and the Wix interface guides you through each step, including how to make your blog show up on Google.
Wix SEO Wiz: Speaking of Google, if you want to make it easy for people to find your website, you'll love Wix SEO Wiz. It provides you with a simple checklist along with tips and tutorials on how to help your site rank well in search engine results.
Range of pricing plans: In addition to its free plan, Wix has a wide variety of prices and plans to suit every need and budget – from personal website plans to business and e-commerce.
| | |
| --- | --- |
| Free plan available? | Yes |
| Number of templates | Over 500 |
| Support resources | Knowledge base with written tutorials and videos |
| Media library? | Yes – Photos and videos |
Squarespace offers a selection of striking, contemporary templates
, and most of them
provide plenty of space for large, high-resolution images and interactive image galleries. This is why Squarespace is a favorite among creatives – it lets you easily show off your photos and make your site interactive. Squarespace's templates are also easy to edit, since
the platform walks you through the process of using the drag-and-drop editor from the moment you sign up.
As you're building your website, you'll get helpful instructions right in the editor for actions like deleting a page or changing a font. You can easily rearrange the elements on the page or change the color scheme to match your branding. There's lots more you can do with your site. Adding videos from YouTube and Vimeo is pretty straightforward, and you can even add stylish filters and overlays. It's also super easy to set up an online store – just choose one of the e-commerce templates.
You can read more about what it's actually like to build a site on Squarespace in our expert review
. Another thing I love about Squarespace is how the support articles offer useful design advice, too. Squarespace doesn't offer a free plan, but the Personal plan comes with a great list of features, including 24/7 support.
You can also take advantage of the 14-day free trial to test it out.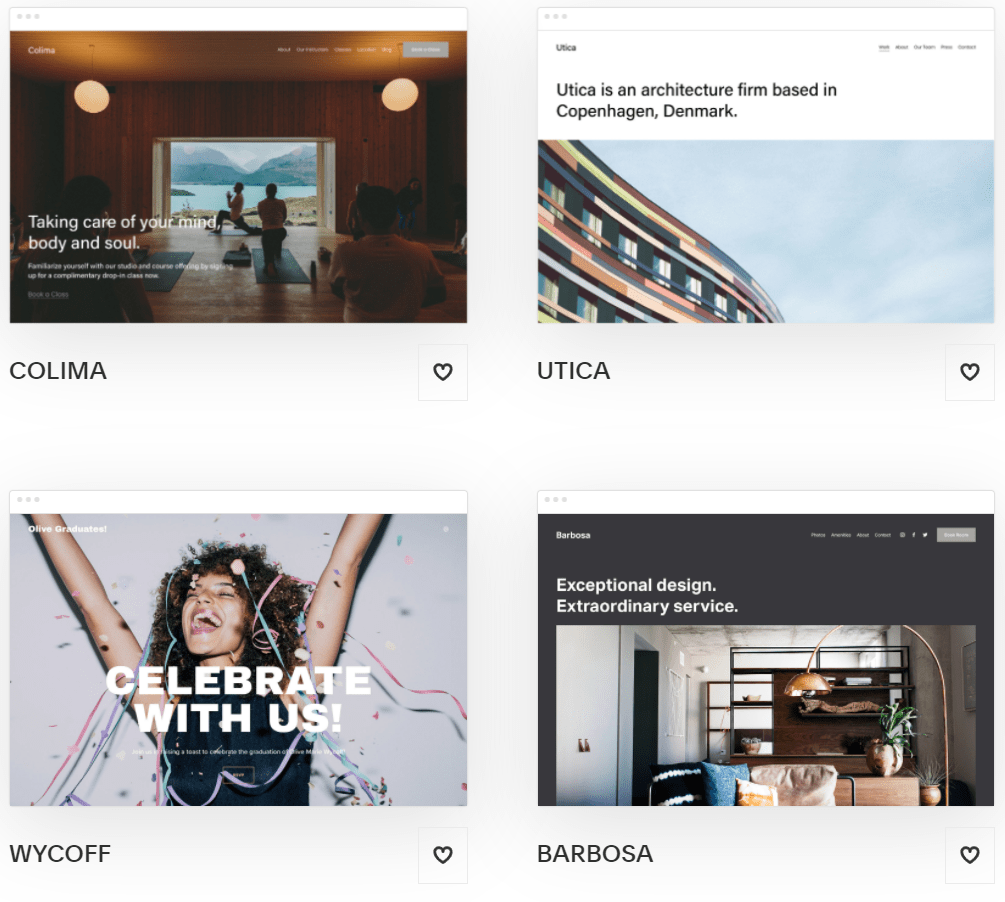 Other Squarespace features include:
Unlimited storage and bandwidth: Limits can become a problem as your site grows larger, or if you get a lot of visitors. With Squarespace, there are no limits on any plans.
Mobile-ready websites: All Squarespace templates are mobile responsive, so they'll automatically look great both on desktop and mobile devices.
Built-in blogging: Squarespace has a great blogging platform that is simple to use. Without ever leaving the editor, you can create posts, schedule publish times, push posts to social media, and choose to enable or disable comments.
| | |
| --- | --- |
| Free plan? | No, but there's a 14-day free trial |
| Number of templates available | Over 100 |
| Support resources | Videos, articles, webinars, user forum, and the Squarespace blog |
| Media library? | Yes – Search Unsplash and Getty Images from within the editor |
SITE123 has almost
200 ready-made templates
 divided into categories for business sites, blogs, event pages, online CVs, art portfolios, and more. Before you choose, you can preview each template in full to see exactly what your website will look like on different devices. These templates aren't as stylish as Squarespace's, but
they're attractive and provide everything you need to set up your website.
 They're mobile responsive too, which means your site will look great both on desktop and mobile devices without you having to do anything extra. SITE123 uses a point-and-click style editor, and actually, I think it's the easiest-to-use editor on this list. You simply click on whatever element you want to change and all your editing options appear in the sidebar. From there, it's easy to explore different layouts and decide which fonts look best. You don't get as much control over your design as you would with a drag-and-drop editor, but it does make the building process very simple.
SITE123 has a free plan that allows you to build and publish a basic site.
 This plan gives you access to all the templates, but you can only make limited changes to fonts, colors, and some other design elements. You'll need to upgrade to a paid plan to get more options.
SITE123 is ideal if you need a simple site that doesn't require much customization,
and the idea of a very simple editor appeals to you.
You can read more about what it's like to use SITE123 in our expert review
.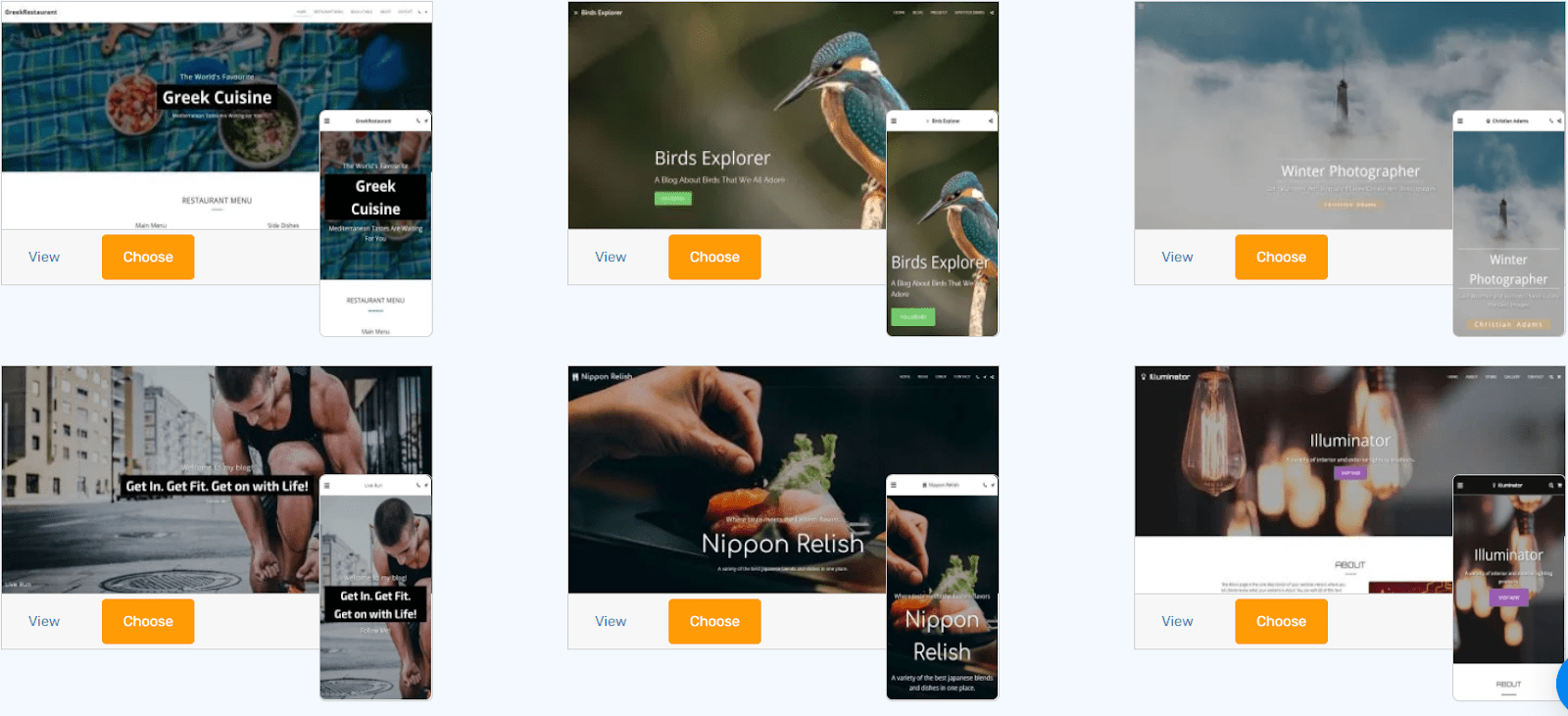 Here are some other SITE123 features I like:
Pop-up tips: As you're working on your site, you'll see little question mark icons in the editor. Just hover over them for tips and guidance.
Online store features: Setting up an online store is straightforward and easy with SITE123. Just keep in mind that you'll need to upgrade to a paid plan to accept payments through your site. Once you upgrade, you can list unlimited products and even display customer reviews.
App Market: SITE123 offers some great apps to enhance your website's functionality. You can easily add apps to set up a live chat with site visitors, or see how many people are visiting your site, integrate your site with your social media profiles, and much more. Some apps are free, but others will cost an additional fee.
24/7 support: Great live chat support is available from within SITE123's editor. It's available in loads of different languages, too.
| | |
| --- | --- |
| Free plan? | Yes |
| Number of templates available | Just under 200 |
| Support resources | Help articles, learning center with general advice for website owners |
| Media library? | Yes – Photos and icons |
WordPress.com was originally set up as a blogging platform. Today,
blogging is still its strong suit,
and you'll find many attractive blog themes in its library ("theme" is WordPress.com's term for templates). This makes WordPress.com a great choice if you're looking to start a blog. That said, I found the WordPress.com editor to be the least intuitive of all the website builders on this list. It's a block editor, which means you can add "blocks" of content to your pages and arrange them however you like, but there's a bit of a learning curve.
Fortunately, there are countless support articles available.
WordPress.com has over 250 themes to choose from
, but not all of them are available on the free plan. The Premium plan gives you access to all the advanced themes, and if you sign up for the Business plan, you'll be able to use third-party themes from sites like
ThemeForest
. Your customization options vary depending on the theme you choose. Some provide a selection of layouts and let you add widgets, such as email signup forms or event calendars, to your blog's sidebar. Other themes don't come with as many built-in options. Want to learn more about the different themes and features on WordPress.com?
Check out our expert review
.

These are some other WordPress.com features I appreciate:
In-editor help: The WordPress.com editor is pretty good at guiding you through the site-building process. While you're creating your site, you'll get helpful pop-ups, and you can click the question mark icons for additional advice.
Plenty of plugins: With the Business plan or higher, you can install third-party plugins on your WordPress.com site. These allow you to add all sorts of additional features to your site, from advanced image galleries to extra security.
Built-in stats: WordPress.com automatically displays useful website statistics when you sign into your account, as well as explanations telling you what it all means. This built-in feature is great if you want to know how many people visit your site, where they are coming from, etc.
Support forum: WordPress.com has an amazing community forum where other users and staff actively answer questions.
| | |
| --- | --- |
| Free plan? | Yes |
| Number of themes available | Almost 200 |
| Support resources | Support articles, video tutorials, and a Quick-Start Guide |
| Media library? | Yes – Free photo library with over 40,000 images |
Since Weebly is owned by a payment processing company called Square, it has strong features for online stores, including inventory management, coupons, and customer reviews. But
what's really great about Weebly is that it's the only builder on this list that lets you sell products on the free plan
 (just keep in mind that this depends on your location).
Weebly's drag-and-drop editor is very intuitive.
After selecting a theme, you just choose the elements you'd like to add to your page and drag them into place. There's also a setup guide that helps you with everything you need to get your site published.
Check out our expert review to learn more about Weebly's editor and support offerings
. Whatever kind of website you want to build,
Weebly has a selection of attractive themes to choose from
.
These are all free and divided into six categories: Online Store, Business, Portfolio, Personal, Event, and Blog. However, in comparison with other website builders, it doesn't have a huge number of themes to choose from.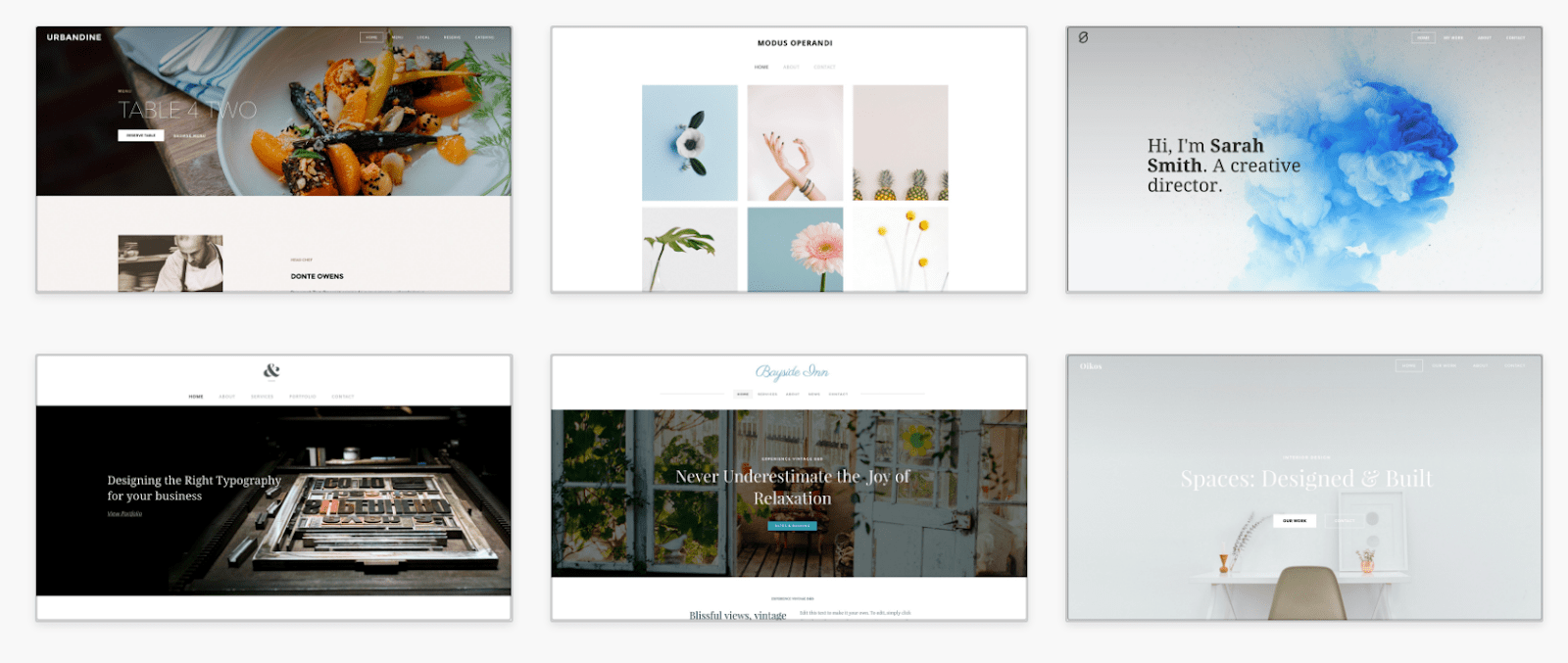 These are some other interesting Weebly features:
Dashboard stats: Check out key site metrics, such as how many people are visiting your site and how many of them arrive from Google search results.
Email marketing: Weebly has a cool drag-and-drop editor for creating branded emails, too. Similar to its website editor, it's intuitive and easy to use. You can add images and text, edit colors and fonts, and place different elements wherever you like. You can automatically create emails to promote new items, coupons, or blog posts.
Mobile-responsive themes: All of Weebly's themes are designed with mobile devices in mind, so your website will look good on any screen without you having to put in any extra work.
| | |
| --- | --- |
| Free plan? | Yes |
| Number of themes available | 57 |
| Support resources | Over 300 support articles, plus an inspiration center and a community forum |
| Media library? | No |
Which Builder Is the Best Choice for You?
With user-friendly editors, great templates, and helpful resources, all the website builders on this list are easy to use. That said, they don't all offer the same level of customization options. Out of all the website builders on this list,
SITE123 is the easiest to use
. Using it to build a site is almost as simple as filling out a form. But if you don't want to settle for a basic site,
Wix offers loads more free functionality
. Its intuitive drag-and-drop editor gives you a lot of design freedom, so you can easily create the website of your dreams.
| | | |
| --- | --- | --- |
| Website Builder | Standout Features | |
| Wix | Easy-to-use drag-and-drop editor, huge choice of templates, Wix ADI | |
| Squarespace | Eye-catching templates that are really easy to edit | |
| SITE123 | Simple, beginner-friendly editor lets you get online in no time | |
| WordPress.com | Excellent blogging platform | |
| Weebly | Simple and intuitive editor for creating an online store | |
FAQ
Which free website builder is easiest to use?
All the above website builders are pretty straightforward to use, but SITE123 provides the easiest route to building your website. You simply choose a template you like and start filling in your own content. However, it has limited customization options compared to other website builders. If you want a builder that is easy to use but lets you do much more with your website, I'd recommend Wix, which gives you all that even on the free plan.
Are website builders worth it?
A good website builder is fast, efficient, and user-friendly. No tech skills are required and you can get started on a small budget, or even for free. In my opinion, there's really no better way to publish a website, especially if you've never built one before. If you do have a bit of know-how, this step-by-step guide to building a website presents some other interesting options. Either way, before you sign up for a builder plan, be sure to check our frequently updated website builder coupon page to snatch a great deal.
What do I need to know to build a website?
Website builders are suitable for total novices. In fact, you don't need to know anything about coding with any of our top website builders in 2023. They're intuitive to use, and if you do get stuck on a problem, you'll be able to find the information you need through the platform's support resources.
Are there free tools or tutorials for website building beginners?
All of the above website builders come with their own resources to help beginners find their way. From webinars and blogs to video tutorials and quick start guides, most platforms have a range of content types to choose from. Squarespace does a walk-through the second you sign up. While SITE123 and WordPress.com feature pop-up tips right in the editor. Then, if you're stuck on something specific, there are forums, support articles, and live chat, too.