Wix's templates come with useful apps built in
Most website builders claim to be incredibly easy to use, even if you've never built a site before. In reality, some are frustratingly complicated. Others are easy to use, but the simplicity comes at the expense of function, so you end up with few features and minimal customization options. Having put numerous platforms to the test,
I'll tell you all about the ones that are an absolute breeze,
making the whole building experience pleasant – and even fun. Whether you need to create a portfolio, a blog, or an online store, these are my top five website builders for novices. They all have intuitive editors that let you easily design your web pages, with tips and guidance available when needed. Some even have free plans so that you can get started right away.
Wix stood out as a clear winner, offering plenty of creative freedom while staying beginner-friendly and affordable
. Read on to find out more.
Short on Time? These Are the Best Website Builders for Novices
Wix – The most intuitive editor with 900+ highly customizable templates.
SITE123 – The quickest and easiest way to get a simple website online.
Squarespace – Beautiful designs and stellar social media tools for creatives.
What We Look For in the Best Website Builders for Novices
When testing website builders, I searched for user-friendly platforms offering many useful features for creating a professional website. With these priorities in mind, I checked for the following:
Intuitive interface. The builders on this list all have user-friendly editors that make it easy to get your website online quickly, even if you're a newbie. Some of these platforms also provide in-editor guidance as you go along.
Top-class templates. Templates are the design framework for your website. To get started, all you need to do is pick the design you like, and these builders feature many beautiful templates.
Built-in features. I've chosen easy website builders with useful features, such as free image libraries, a blog editor, and marketing tools to help you manage everything from one place.
Free plans/trials. Most website builders on this list let you get started for free – some will even let you publish your site on a free plan. If you want to try out more advanced features, these options make it easy to upgrade anytime.
Customer support. Great support articles, videos, and guides can be a huge pluswhen building your first website. This list features builders with the most comprehensive and helpful resources, including exceptional customer support.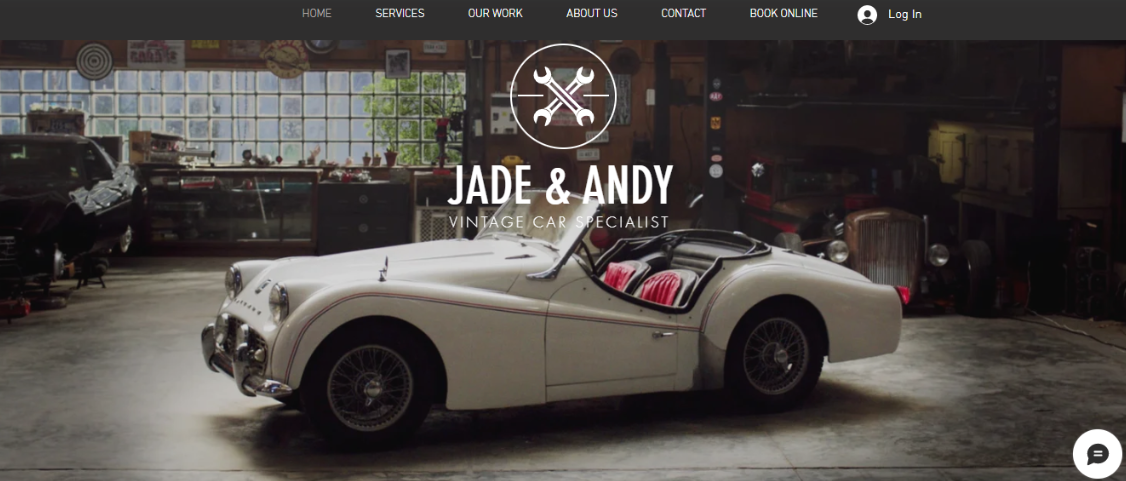 Wix offers over 900 professional templates,
with categories ranging from portfolios to community groups. The great thing about Wix's templates is their nice-to-have pre-installed apps, such as contact forms and social media buttons. Once you find a template you like, Wix's intuitive drag-and-drop editor allows you to add your content and personalize your layout. If you need even more tools, the Wix App Market has hundreds of extra components you can add to your site with just a few clicks, from live chat apps to a complete online shop. Wix's free is great for beginners. However,
upgrading to a paid plan is worth considering if you plan to upload many images and videos to your site
. For instance, Wix's Unlimited plan includes unlimited bandwidth, 10 GB of storage, and one hour of video, which will likely be enough for any website.
Wix offers a 14-day money-back guarantee
with every Premium plan, provided you pay by credit card.
Features
Wix AI Tools. Wix uses AI (artificial design intelligence) to speed things up if you're looking for an even easier solution. All you have to do is answer a few questions about your industry and what you want your website to look like, and this tool will automatically create designs for you to pick which you can customize. Then, there are AI tools to help you write content and edit your images too.
Wix SEO Setup Checklist. This helpful feature makes it easy for people to find your website. It provides you with a simple checklist, tips, and tutorials on how to help your site rank well on Google.
Wix Email Marketing. You can use a simple drag-and-drop builder to create email campaigns and send them to your mailing list to reach more clients.
Easy invoicing. If you plan to build an online store, you can request and track payments within your Wix dashboard, making it easy for customers to pay you directly.
Want to learn more? Read our
expert Wix review
.
Templates
800+
Free plan
Yes
Customer support
Knowledge base with articles and video tutorials, live chat and email support, callbacks
Starting Price

$

16.00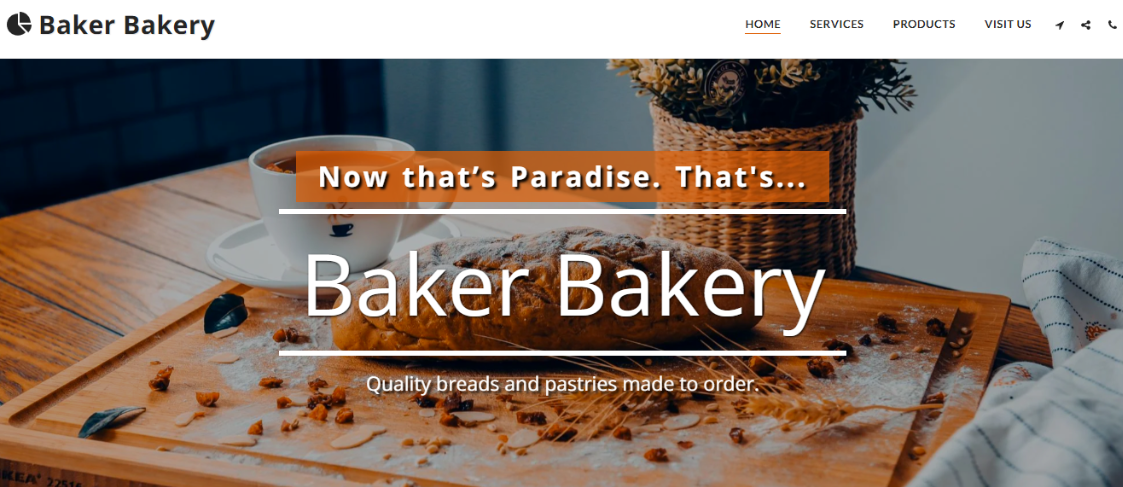 SITE123 features one of the easiest editors on the market
. You click on whatever element you want to change, and all your editing options appear in the sidebar. From there, choosing colors, fonts, and layouts is pretty straightforward. You don't get as much design control as you would with a drag-and-drop editor, but the simple building process makes up for it. If you don't have your own photos, there is no need to worry – you can use SITE123's free images and icons library to put a unique spin on your site's design. If you have pictures to showcase, SITE123 has versatile gallery designs. It supports full-screen image displays so visitors can see your photos in all their glory. SITE123 has a free plan, but it includes limited design options and doesn't let you connect a custom domain.
Upgrading to the Premium plan
gives you 10 GB of storage, multilingual features, e-commerce functionality, and a free domain for one year.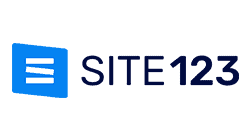 Get 40 % OFF SITE123
Save 40 % when you sign up for SITE123's annual plan
76 users used this coupon!
Features
One page/multi-page option. SITE123 lets you choose between a single-page and a multi-page website structure, depending on how much content you plan to publish.
Extensive App Market. SITE123 offers many apps to enhance your website's functionality, such as forms, booking tools, marketing tools, and more. Some apps are free, but others will cost an additional fee.
Multilingual features. SITE123 lets you display your site in up to five languages, and built-in multilingual SEO features help you rank higher on search engines in your chosen languages – ideal for attracting an international audience.
Accessible support. SITE123 is incredibly easy to use, but if you get stuck, live chat support is available in English (24/7) and 16 other languages (at various times).
For more details, read our
in-depth SITE123 review
.
Templates
180+
Free plan
Yes
Customer support
Support center with articles and video tutorials, 24/7 live chat and email support
Starting Price

$

12.80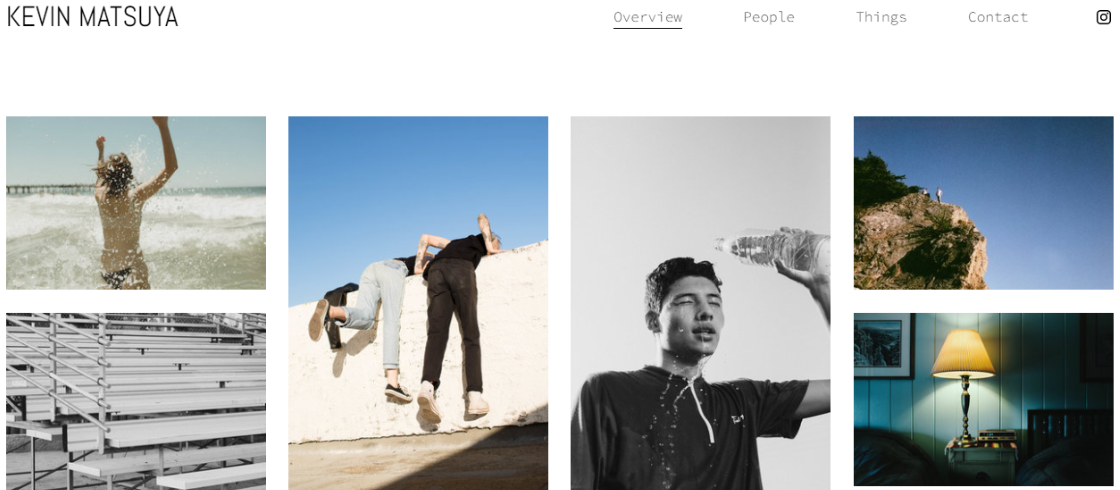 Squarespace offers a selection of striking, contemporary templates
to make your site stand out. All designs are mobile-responsive, so they'll automatically look great on desktop and mobile devices. They're also easy to customize, as you'll get helpful instructions in the editor for actions like deleting a page or changing a font. Most Squarespace templates provide plenty of space for high-resolution images, which is why this platform is popular among creatives. But another reason for this is Squarespace's content creation tools, which help you share and promote your story. For example, the Squarespace Video Studio app lets you create compelling videos. The Unfold mobile app offers custom Instagram story templates to make your social media content more memorable. Squarespace's Personal plan offers good value, with features like SSL security and unlimited bandwidth and storage for images. However,
upgrading to the Business plan is worth considering if you want more advanced functionality, such as online payments and a professional Google email.
You can use
Squarespace's 14-day free trial
 to test the platform before committing to it.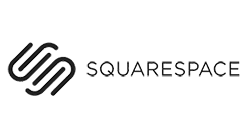 Get an additional 10 % OFF any Squarespace plan!
This exclusive offer is only available for your first purchase.
43 users used this coupon!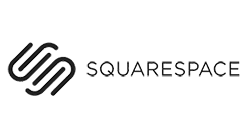 Get an additional 10 % OFF any Squarespace plan!
Copy and paste this code at Squarespace
Features
Affordable scheduling tool. If you plan to offer appointments, Squarespace's booking tool lets your clients view your availability and book appointments directly on your site. You can also set up automated appointment reminders and even collect payments.
Blogging platform. If you want to start a blog, you can use Squarespace's beginner-friendly blog editor to create engaging content and let readers share your posts on social media.
Free logo maker. Squarespace's free logo-making tool can help you build a brand and make your website more recognizable.
Robust e-commerce. Squarespace lets you easily create an online shop by choosing one of its e-commerce templates. You can also offer discounts, get automatic tax calculations, sell on social media, and more.
Curious to learn more? Read
our expert Squarespace review
.
Templates
140+
Free plan
No, but there's a 14-day free trial
Customer support
Help center (videos and articles), webinars, Squarespace blog, forum, live chat and email support
Starting Price

$

16.00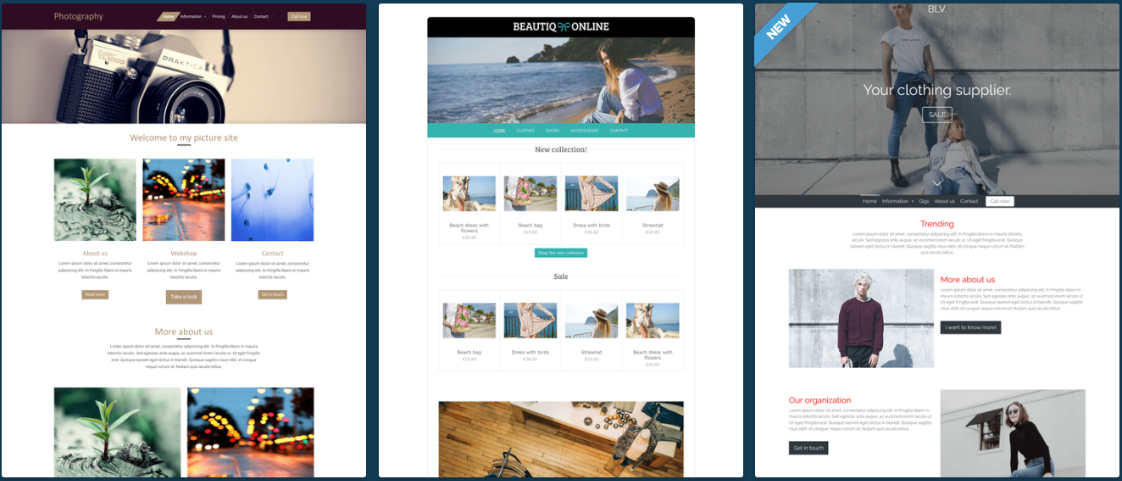 Webador's responsive and beginner-friendly editor lets you create a simple website without fuss.
You can drag and drop any element onto your page, and it will automatically snap into a grid, ensuring your layout always looks organized and aesthetically pleasing. Though it lets you create any website,
Webador is particularly useful if you want to build a small online shop
. From your e-commerce dashboard, you can easily track orders, generate checkout forms, manage custom discounts, and more. Most importantly,
Webador doesn't charge transaction fees
, which makes it an excellent choice for e-commerce businesses on a budget. With Webador's free plan, you can add unlimited pages to your site, access all templates, use free stock images, and create a blog. If you're looking for e-commerce capabilities and advanced features like adding contributors and creating custom forms,
upgrading to Webador's Pro plan
is worth considering.
Features
Free domain name. Most website builders charge extra fees for custom domains, but with Webador, the price of your domain name is included in your plan.
Adaptable templates. Webador doesn't have template categories – instead, it shows you a variety of published websites currently using each template. That gives you an idea of the diverse styles and looks you can create.
Effective media sharing tools. Webador offers widgets for file sharing and media streaming, such as audio and video players and a document-sharing system.
Rating system and comments. You can add a five-star rating system and a comment box anywhere on your page, simplifying visitor engagement.
Read our
in-depth Webador review
to learn more about the platform.
Templates
50+
Free plan
Yes
Customer support
Help center with articles and video tutorials, email support
Starting Price

$

4.00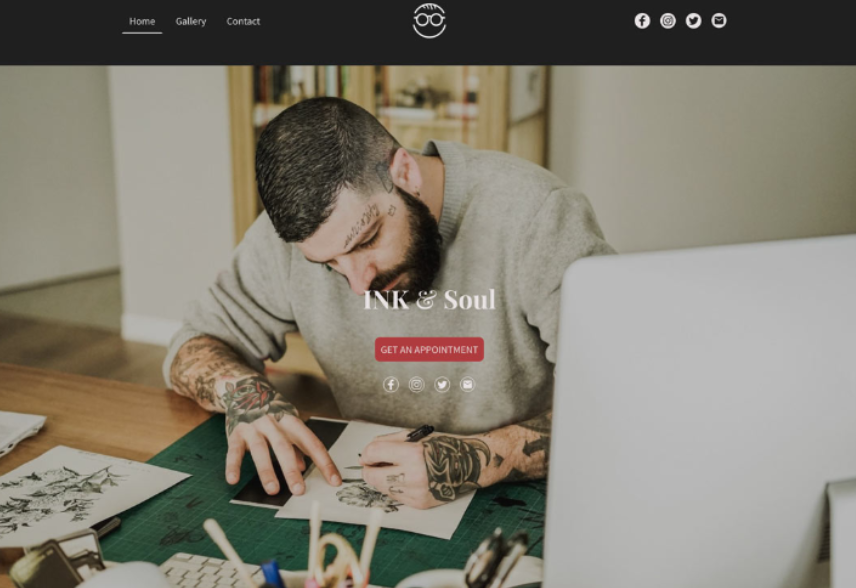 IONOS MyWebsite Now is an easy-to-use website builder that is affordably priced, making it a practical choice for launching a website fast. However,
the plan you choose will determine the features and functionality you get.
With the Starter plan, you get ready-made page sections (and color palettes) and a relatively small font selection. It's enough to build a decent-looking website, but it won't let you create a unique look.
The affordable Plus plan includes more sections and font types, helping you personalize your website design.
Regardless of your plan, you get a free professional email, a one-year domain, and SEO tools. However, MyWebsite Now Plus also provides 50 GB of web space, an online booking tool, and an AI text generator (Beta version) to help you write content quickly.
You can test both plans risk-free with IONOS's 30-day money-back guarantee.
Features
Integrated photo editor. Crop, resize, or add overlays to photos directly in the editor, giving you complete control over how visitors see your images.
Competitor monitoring. This built-in tool allows you to track your competitors' social media and Google activity to keep up with the latest trends and identify areas that need improvement.
RankingCoach and ListLocal. RankingCoach is a tool that teaches you about SEO and helps you optimize your site to rank high in search engines. ListLocal also helps increase your ranking by listing your company details in the most important online directories.
Built-in privacy tools. On both plans, you get IONOS's prebuilt cookie banner to keep your site transparent and show that you care about your visitor's data protection.
Want to learn more? Read our
expert IONOS Website Builder review
.
Templates
23
Free plan
No, but there's a 30-day money-back guarantee
Customer support
Help center with articles, 24/7 live chat and phone support
Starting Price

$

6.00
Choose the Best Website Builder for Novices to Create Your Site in Record Time
All the website builders on this list offer user-friendly editors, great templates, and helpful customer support, making them easy to use. However, they do not provide the same level of functionality. Your choice should depend on your specific needs. If you want creative freedom and loads of storage for images and videos,
Wix is my top recommendation
. Wix's templates have many built-in features, but you can always add more through its large app market. Despite extensive customization options, Wix is still beginner-friendly. On the other hand, if speed and simplicity are your top priorities,
SITE123 is a great option
. Of all the website builders on this list, it's the easiest to use and has impressive multilingual capabilities. Or, if you rely on social content to help you build an audience,
Squarespace is worth a try
. You get built-in social media tools to help you craft eye-catching content. Squarespace also has gorgeous templates to ensure your website looks sleek and professional. Here's a quick recap of everything we've touched on so far:
Free Plan
Best Feature
Best For
Starting Price
Wix

✔

User-friendly yet tons of customization options
Beginners who want creative freedom and plenty of storage for images and videos

$

16.00

SITE123

✔

The easiest editor
Multilingual websites

$

12.80

Squarespace

✘

Beautiful templates
Creatives focused on social media content

$

16.00

Webador

✔

Well-rounded and cheap e-commerce tools
Beginners looking to build a small online store

$

4.00

IONOS

✘

Built-in SEO and data privacy tools
Simple, but good-looking sites on a budget

$

6.00
FAQ
Which website builder is the easiest to use?
SITE123 provides the easiest route to building your site. Making edits is a simple and quick process – you just choose a template you like and start filling in your own content. And, if you need help, there's always 24/7 live support.
Is Wix easy for beginners?
Despite offering tons of creative freedom, Wix is impressively easy to use. Wix's templates come with useful apps built in to save you time and effort. Even if you need additional functionality, integrating new features is done with just a few clicks.
Are there free tutorials for website building beginners?
From blogs and video tutorials to webinars, most platforms have a range of content types to choose from. For instance, Squarespace offers a walk-through as soon as you sign up. Then, if you're stuck on something specific, there are forums, support articles, and live chat, too.
Can I build a website with no experience?
Absolutely! Good website builders are fast and efficient, and they let you create a website quickly, even if you're a total beginner. If you get stuck on a problem, you can find the information you need through the platform's support resources.