With its overall glowing reviews, a large customer base of over 180,000, and its promise of being a one-stop solution for all your needs, Volusion might seem like a no-brainer.
However, you might still have some burning questions, such as:
Will I struggle to create my online store if I've never done it before?
Can I improve my search engine rankings and reach more customers through campaigns?
How much freedom will I have to expand my store's capabilities in the future?
To get a clearer picture of whether Volusion is the right solution for you, keep reading for answers to these questions and more.
Volusion Helps You Build Out Your Store Step by Step
One of the biggest advantages that Volusion provides beginners or inexperienced users is that it's probably one of the easiest websites to use to build an online store.
That's mostly thanks to the step-by-step process you're guided through after signing up and when first creating your website. First, you'll be asked to choose a theme. Then, you can start using the Style Editor to customize your website. In the subsequent steps, Volusion will advise you to upload a logo, banner image and text, and a call-to-action button — all essential elements of a website. Last, it will guide you through putting together your main navigation menu to allow visitors to go to the most important webpages of your website.
Being guided to deal with each step one by one instead of being launched into the completed website and having to find your own way helps you ease into and get comfortable with the process.
This approach is unique compared with most other platforms.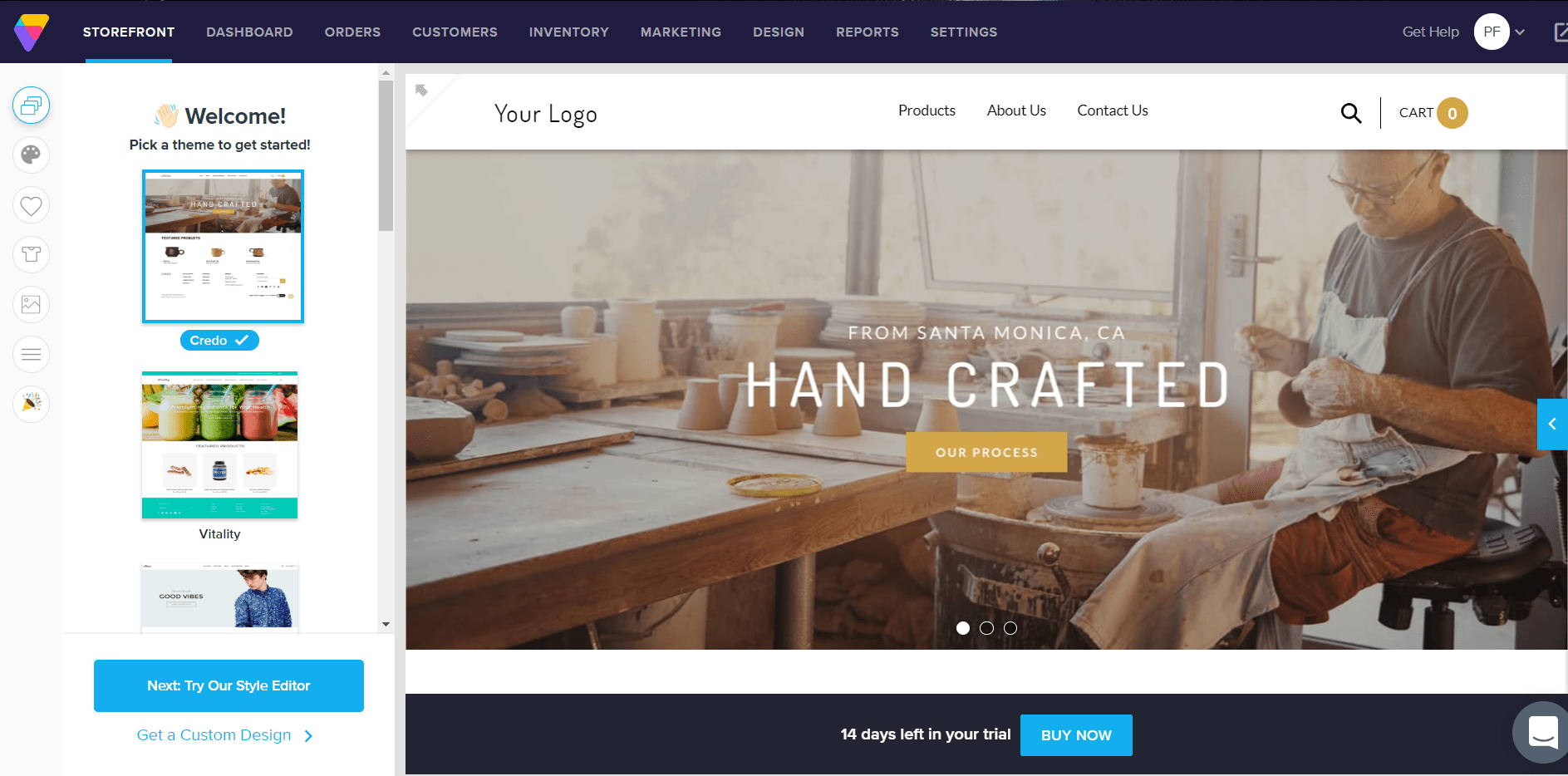 You Get 70+ Features to Boost Your Website's Functionality
Most of the supplementary e-commerce and non-e-commerce-related features available on Volusion are provided in the form of apps on its Marketplace. There's a mix of free and premium apps, and some come from the most famous platforms. For example, Shipstation is available to help you automate the process of creating shipping labels. You can also add PayPal as an extra payment method on your store. Similarly, you can use the highly trusted GeoTrust for your website's SSL certificates or Authorize.Net to secure your payments according to PCI guidelines. A number of the apps are also developed by Volusion itself. You can add apps with just a few clicks from within your dashboard.
The Marketplace is quite extensive, with apps covering Accounting, Shipping, email marketing, payment processing, live chat, etc.
This extensiveness is nowhere near that of
Shopify
or
BigCommerce
; however, it's still pretty comprehensive.
Volusion Empowers You to Sell on Multiple Platforms
Nowadays, selling on social media platforms and multiple marketplaces is a great way to supplement sales on your online store.
Volusion provides the tools to sell on other platforms, manage inventory or orders cross-platform, or monetize your website in ways other than by selling.
In the case of Facebook,
Volusion allows you to create product webpages to use on your Facebook webpages to sell straight from the platform
. You can also import products from your actual store.
For marketplaces like eBay and Amazon, it provides tools to manage your inventory, orders, and sales, and you can track your performance across these services in one dashboard.
You can also set up PPC advertising through Google AdWords as well as display your for-sale items on Google search result pages. There are also a number of other apps that you can install like Solid Commerce and SellerExpress that provide extra tools to sell on different platforms effectively.
Volusion Provides Extensive SEO and Marketing Tools
In today's highly competitive online business landscape, where millions of enterprises are contending for customers, the imperative of driving enhanced website traffic via SEO or impactful marketing initiatives is progressively paramount. Achieving this goal becomes even more advantageous and effortless when you can establish your SEO strategy and oversee your campaigns seamlessly within your hosting platform. This is precisely what Volusion aims to provide, and it largely succeeds in this endeavor.
For starters, Volusion provides all the basics to easily change or choose your meta title, description, and tag keywords, as well as set up SEO-friendly URLs and edit your Robots.txt file.
Although ASP, the infrastructure Volusion is built on, isn't known to be the most SEO-friendly, they have done their best to mitigate its effect. They also provide tools that allow you to create your own SEO-friendly HTML; for example, you can override meta information with custom HTML code. Another powerful feature is for Google Reviews. This will
show thumbnails of your products with ratings and reviews on Google search engine results pages (SERPs), with links to buy the products from your store
. Setup is easy from the dashboard. Volusion also lets you create email campaigns with the built-in newsletter tools or through an app, such as
MailChimp
. You can even set up your own affiliate programs.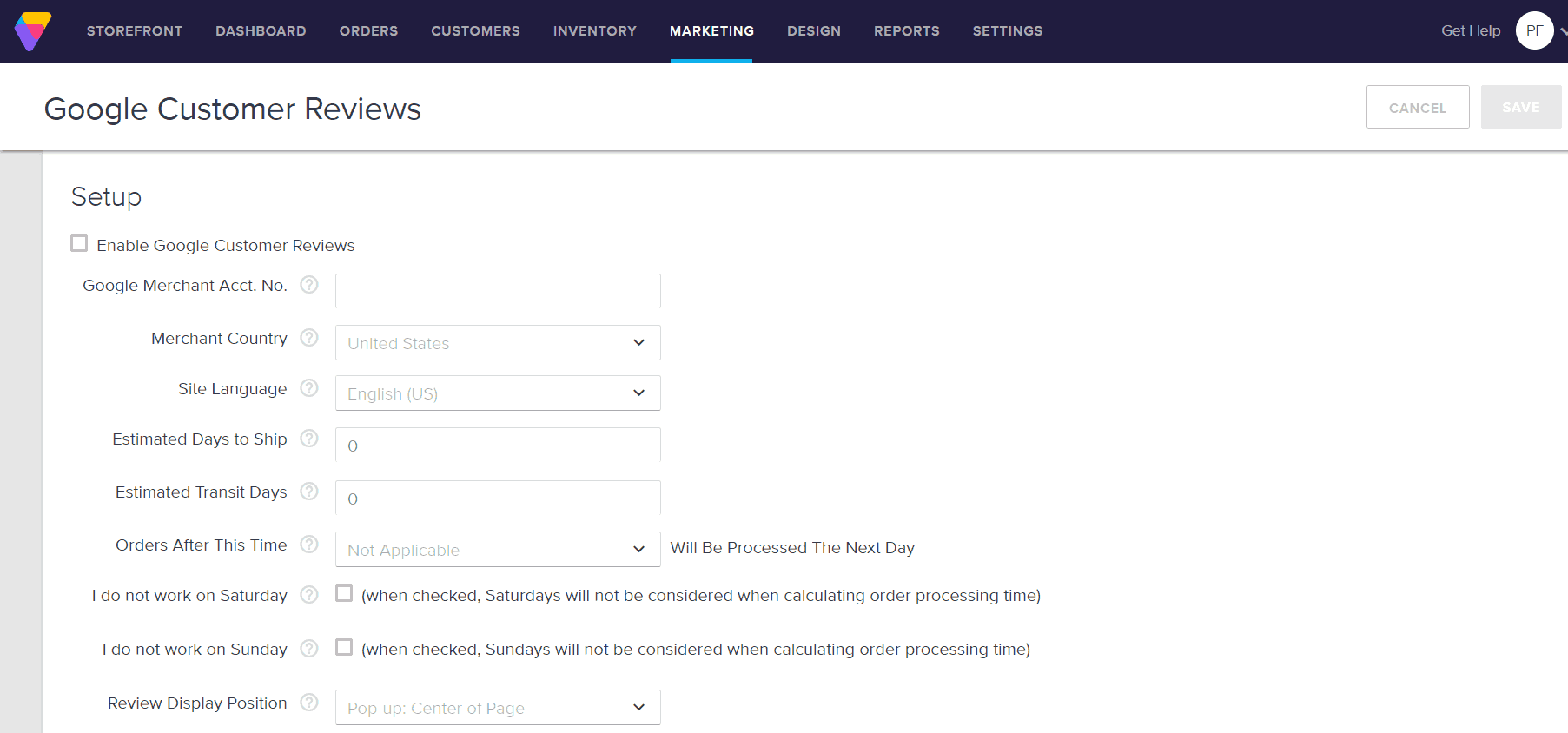 Customizability and Coding Opportunities Are Limited
Undoubtedly the biggest caveat to using Volusion is that it's probably one of the most restrictive platforms in terms of customizing your website when compared with other popular services like
BigCommerce
,
Shopify
, and
Squarespace
. And it's miles behind options like
Wix
and self-hosted
WordPress
. First, there are
only 45 themes to choose from
.
That's already a small number and will raise concerns about how unique your website will look.
The designs of these themes are modern, attractive, and easy to use, and there are a few interesting niches like a paintball gear store. However, they are
quite straightforward, with nothing particularly impressive
.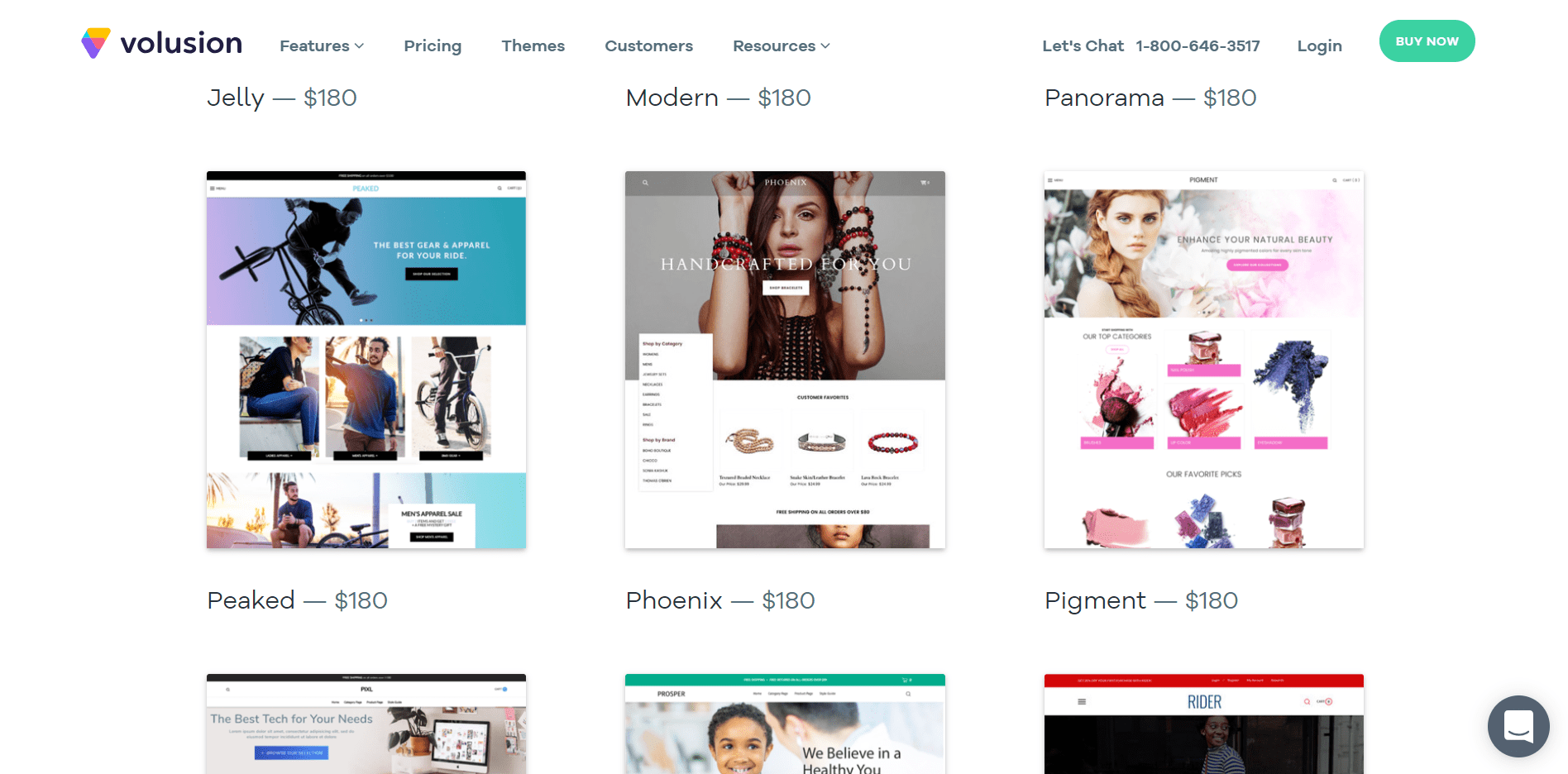 Second, the customization options are lackluster, with no drag-and-drop functionality.
This means that you're effectively locked into the design of the template you choose and will have to rely on the changes you make when uploading your branding or when tweaking the style of the theme (mostly colors and fonts) to differentiate yourself.
Volusion's one saving grace is that it does allow you to customize HTML, CSS, and JavaScript.
However, this functionality is nowhere near as extensive as it is on platforms like
Shopify
, for example, which even lets you create a website from scratch or use a custom programming language. You can mostly use Volusion's customization feature only to make small tweaks to your website's design and add simple features, such as a pop-up message box.
Volusion Strikes Balance Between Simplicity and Depth of Functionality
From the onset, Volusion's main goal is to make creating a complete online store an accessible and simple experience.
This can present a challenge when it comes to providing users with enough capabilities to compete online and build a profitable store while keeping the process intuitive for less experienced or time-strapped users. Overall, Volusion seems to have pulled it off, but you'll need to be careful in considering the implications before you commit yourself to the platform.
If Volusion's built-in feature set or apps don't fulfill all your needs — because it lacks POS tools or payment gateways, for example — you won't be able to fulfill them by using alternative methods.
The same goes for the design of your website:
If having a completely unique website with certain visual elements is a high priority, Volusion might not suffice, even if you can tinker with the design using HTML, CSS, and JavaScript.
One thing that can't be denied is that the whole process of creating an online store with Volusion will be extremely easy and straightforward. If you're completely new to this, the upfront step-by-step guide will ease you into the process of building your website.