ThemeShift
. But before you purchase your next WordPress theme, you'd like to take a closer look. What exactly does ThemeShift have to offer? Is it better than other WordPress theme vendors? How do ThemeShift's theme
quality
, pricing, and support compare?
The wrong theme could mean a waste of time and money
, and you might end up with subpar support when you need it most. Before you spend anything and potentially use a theme for years — not to mention, use it on one of your clients' sites — you'll want to make sure you're making the right decision. I've meticulously gone over
everything
ThemeShift has to offer and broken it down here for you. If you take just a few moments to read through this review, you'll know whether ThemeShift is the best option for your
WordPress
site, or whether you should invest your precious time and hard-earned money elsewhere.
Is Bigger Always Better?
There's a reason why many site owners turn to a huge theme marketplace like
ThemeForest
or
TemplateMonster
. They have thousands of WordPress themes to choose from, and you can filter those themes by feature or industry. ThemeShift has…
four themes total
.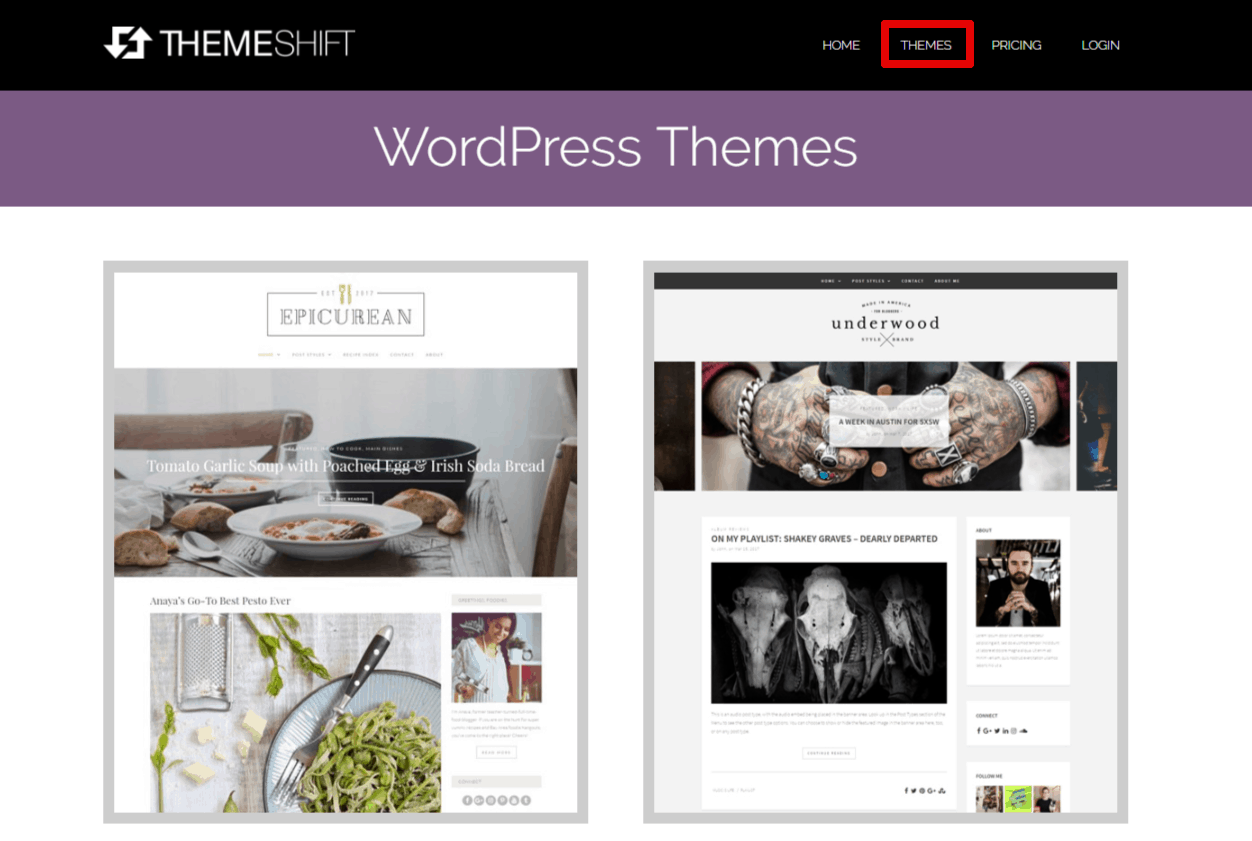 One thing that's not obvious at first is that
ThemeShift has free versions of three of its paid themes
. You can browse and download these using the "free themes" link in the footer:

Now, having a lot of templates to choose from can be really nice, but it's not everything. Besides support and pricing, which we'll look at later, the biggest factor you should use to pick a theme is
quality
. When developers talk about "quality" about WordPress themes, they're talking about:
Speed. A good theme shouldn't bloated with unnecessary code.
Intuitiveness. Is your theme designed well so that it's easy to use?
Security. Your site shouldn't break or leave you vulnerable to getting hacked.
Attractiveness. While you and I might not be professional designers, you need a theme that looks good to visitors without much effort.
You can find themes that match these criteria on big marketplaces,
but because just about any developer can sell a theme, it's not always clear what you're getting
. Some themes are great, but some aren't. Unless you're an experienced WordPress developer, it can be hard to tell which are good. That's why buying from a single developing team that
specializes in WordPress and has a good reputation
over a long period of time might be the better alternative. You
know
you're getting a high-quality theme.
Theme Selection and Quality
ThemeShift has been selling high-quality themes for over 10 years, and I've never seen or heard a bad word about it. While there are only four themes total, they were designed by an experienced team of WordPress developers. These folks obviously know what they're doing. The four themes are quite flexible. No matter what type of website you're trying to create,
at least one of these should be a good fit
:
Underwood: A minimal, clean blogging theme
SimpleShift Pro: A flexible theme designed for businesses of all sizes
Juniper: A "one-page" versatile theme (you can still write blog posts) for bloggers and businesses
Epicurean: Specifically made for professional food bloggers
However, if none of these themes appeal to you or if you have a very specific design in mind, you'll probably want to go to a larger marketplace with a bigger selection.
How Easy Is It to Download and Use the Themes?
The downloading and installation process is a bit different for free and paid themes, although it's easy either way.
It shouldn't take more than five minutes
once you make a purchase.
Free themes. You don't need an account to download a free theme directly from ThemeShift's website. You'll get a ".zip" file (don't extract it) that you can upload directly to WordPress.
Paid themes. Once you make a purchase, you'll get a ThemeShift account. Then you'll be able to download any of your purchased themes from your account dashboard.
Either way, once the files are downloaded, log into your self-hosted WordPress site, and go to "Appearance > Themes." Click the "add new" button. Then you can upload your file to install it:

Like any other WordPress theme, you'll be able to preview it before "activating" it.
Are the Themes Customizable?
All ThemeShift themes give you some solid customization options without your needing to know how to code at all. For example, the
Underwood
blogging theme offers you
three different frontpage layouts to choose from
.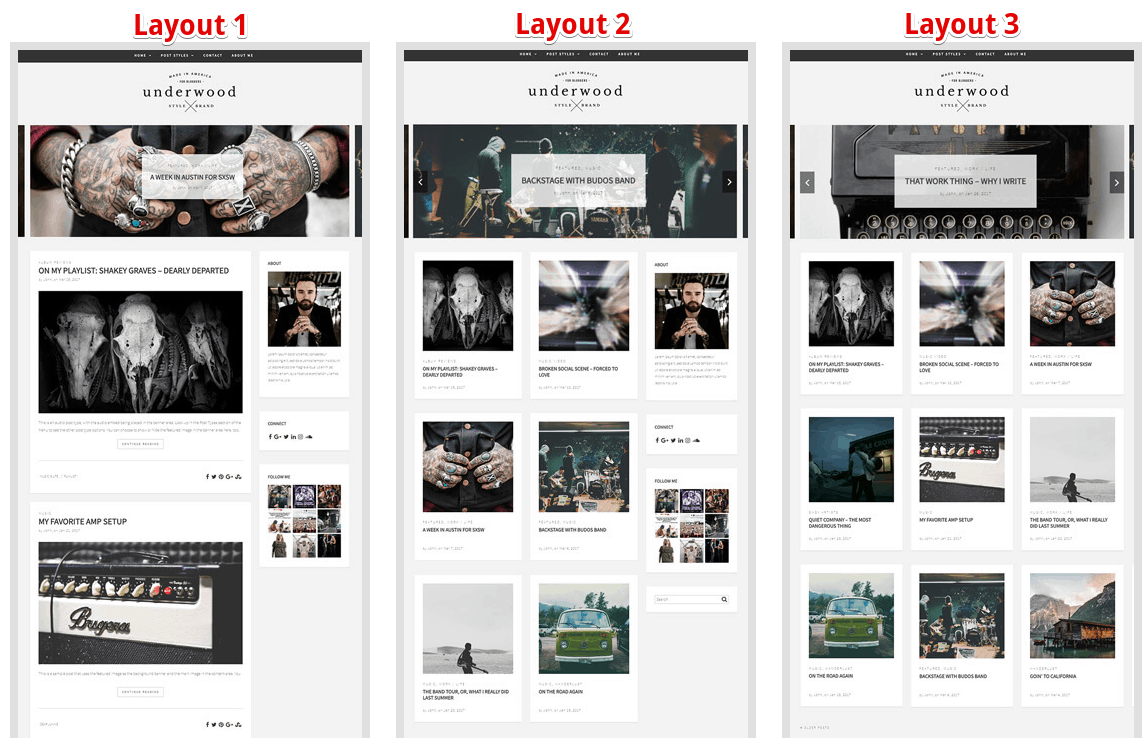 Additionally, there are
nine types of custom post formats
that let you do things like embed video and audio in different locations in blog posts. The other three themes offer similar types of customization options. Finally, WordPress offers all sites some basic customization settings. You can tweak many settings in the visual website editor, including:
Backgrounds
Border colors
Fonts
Menus
Sidebar widgets
What Are the Primary Benefits of Using ThemeShift?
Now that you know what ThemeShift has to offer, we can start looking at
why you should buy from ThemeShift over a large theme marketplace or another theme creator
. Here are the most compelling reasons in my opinion:
You can use themes on multiple sites at no extra cost. This is huge if you think you'll ever make more than one website. Most other marketplaces and theme creators charge you a significant fee for more than one site license.
Costs are lower. Individual themes are cheaper because there's no marketplace fee. Additionally, you can buy a bundle of themes on ThemeShift to save more.
Themes are made by WordPress specialists. By buying themes from developers who specialize in WordPress, you can be confident that you're getting an optimized theme, not one that will become bloated and slow.
There's a free version to test before buying. For themes with a free version, it takes just a few minutes to install the free version. In some cases, these may be good enough to use without your needing to upgrade.
What Are the Drawbacks of Using ThemeShift?
Overall, ThemeShift is great if you like its themes. However, it's only fair to point out its limitations:
Selection is limited. While the themes are fairly flexible, you don't have much choice if you want a drastically different layout or design.
Support and updates cost extra. You get 30 days of free support when you purchase a theme. But if you want ongoing support, you'll need to pay a small amount per month.
Are ThemeShift's Prices Fair?
There are only two pricing options when it comes to buying themes on ThemeShift. You can either buy a single theme for $39, or you can buy all the themes as a bundle for a discount.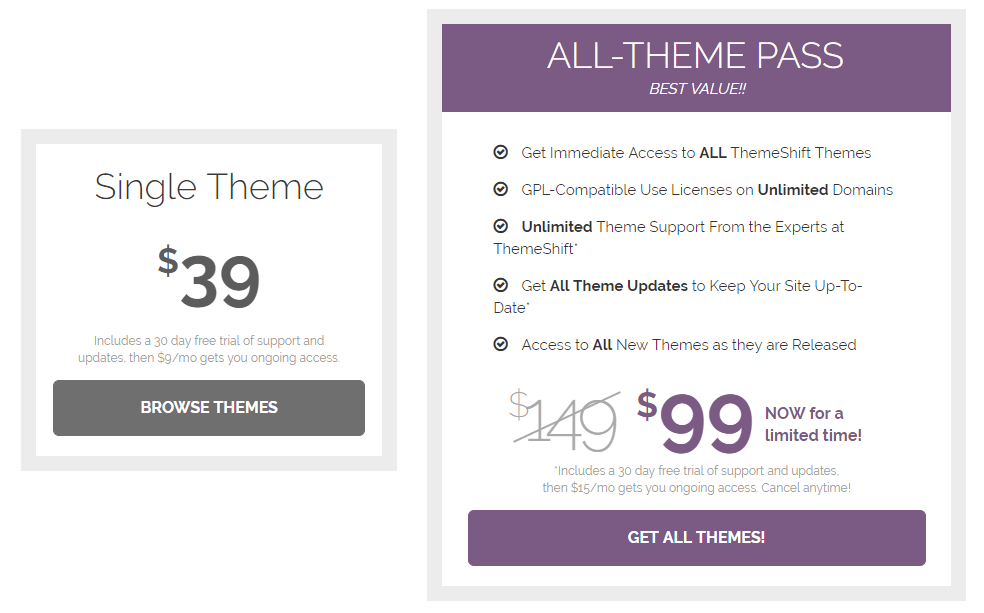 If you're a developer or a designer and you plan to build a lot of sites, the bundle is a nice way to save money. Even if you buy a single theme,
it's cheaper than most other themes
that you can buy on other sites. You should also consider the support fee as well. Either way, you get a
30-day free trial
 of support and updates. However, you'll need to pay more for ongoing access, which is highly recommended. For a single theme, you'll pay $9 per month, while the
support for the bundle deal costs $15 per month for all themes in total
. Support fees are pretty normal for most theme developers, and it's a reasonable amount. It ensures that there's an incentive for developers to keep maintaining and improving themes, while helping customers with issues.
Why Am I Getting Linked to Nimbus Themes?
ThemeShift was acquired by Nimbus Themes. Now, some of the themes sold on ThemeShift are also sold on Nimbus Themes (
Epicurean and Underwood
). If you choose to buy the "All-Access Pass" for the free version of either of these themes, you may be taken to a Nimbus Themes checkout. I believe this is unintended, and it may be fixed in the future. I mention this so that you know there's nothing going on that should make you suspicious; it's the same company selling you the themes at this point. In fact, if you're planning to buy the theme package, you actually get access to a few extra if you make your purchase on Nimbus Themes' website. You can buy all of its ten themes on a yearly or lifetime basis. However, if you're
buying only a single theme (either Epicurean or Underwood), the price is cheaper on ThemeShift
, so stick to ThemeShift unless you know you want access to Nimbus Themes' entire theme catalog.
How Does It Compare with ThemeForest and TemplateMonster?
If you search for WordPress themes on Google, the two giant theme marketplaces come up in the first few results:
ThemeForest
and
TemplateMonster
. The comparison table below should help you quickly see their main differences:
| | | | |
| --- | --- | --- | --- |
|   | ThemeShift | ThemeForest | TemplateMonster |
| Number of WordPress themes | 4 | 11,700+ | 2,100+ |
| Themes are made and supported by | ThemeShift developer team | Third-party developers | Third-party developers |
| Typical theme cost | $39 | $60 | $75 |
| Need to pay extra to use theme on multiple sites? | No | Yes | Yes |
| Theme support | 30 days free, then $15 per month | 6 months free, then added cost for each 6-12 months | Included in the purchase price |
| | | | |
| | | Read Review >> | Read Review >> |
Clearly, the marketplaces have huge selections of themes. But that can pose issues. First, although you get advanced filtering options, it can still be somewhat overwhelming and time-consuming to pick from hundreds or thousands of themes that meet your basic criteria. Second, because third-party developers can sell themes, theme quality varies a lot. Some themes are amazing, while others… well, not so much. You might end up with an unoptimized theme that's made by an amateur, not an experienced WordPress developer. The final big difference between the three options is the cost.
Not only are ThemeShift's themes cheaper than themes from any marketplace (which takes a fee as the middleman), but ThemeShift becomes much cheaper if you want to use a theme on multiple sites
.
Should You Buy a Theme From ThemeShift?
ThemeShift might just be the best place for you to buy a theme with confidence. If you have a very specific look for your website in mind, you have a better chance of finding the theme of your dreams in a large theme marketplace.
But as far as buying themes from individual developing teams goes, ThemeShift is about as good as it gets.
Behind ThemeShift is a reputable team that's been selling WordPress themes for over ten years. They won't stop supporting the themes suddenly, so once you buy a theme, you're safe to use it for years to come. Despite being high-quality themes, they are reasonably priced, with affordable access to support and updates.