but sometimes you want advice from other users just like you
. Of course, you can't believe everyone. Lots of people on forums and social media groups like to think of themselves as Squarespace experts, but their advice isn't always very good. Also, you don't want to spend
hours
looking online for what you need. That's why I've scoured the internet to find the best resources to help you solve common problems. These resources are all:
Active. Old Facebook groups and long-abandoned forums that haven't been posted in for some time won't help much, and the information will probably be out of date. You want help from groups and forums with recent posts and frequent updates.
Informative. Some Squarespace-focused online communities spend more time comparing Squarespace with other website builders than actually helping you learn more about the platform. But with the resources in this article, there's a good chance you'll find the answers you need.
Trustworthy. You want actual help — help that won't cause more problems than it solves. I've looked for resources that have input from experienced Squarespace users and that even offer Squarespace developer tutorials.
Still not sure if Squarespace is the right builder for you? Don't miss our
in-depth review
of the platform.
How Good Is Squarespace's Knowledge Base?
Before we explore all these resources, let's discuss Squarespace's own knowledge base. Is it any good? Well, I think Squarespace has a pretty decent amount of video and text-based help on offer.
You can learn the basics of how to use the platform, how to publish your website, and so much more
. Squarespace gives you guides, videos, webinars, and even a community forum to help you learn about all aspects of your website. Sure, there are plenty of Squarespace tutorials for beginners. But more experienced users can also enjoy tutorials for more advanced techniques, such as how to add
Google Analytics
to Squarespace. The guides are a great place to learn how to use Squarespace features.
There are nearly 20 categories
:
Getting Started
Account
Billing
Analytics
Commerce
Domains
G Suite and Custom Email Addresses
Images and Videos

Marketing
Pages and Content
SEO
Templates and Design
Tips and Advice
Integrations and Customizations
Squarespace on Mobile
Technical Issues
Some of these categories also have a handy FAQ section: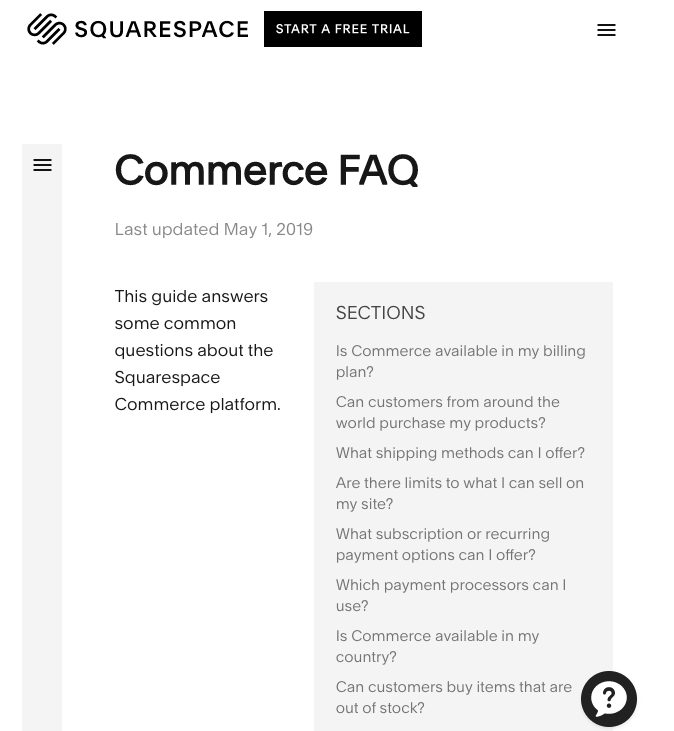 FAQ sections are regularly updated. They're perfect if you want to see at a glance whether your question has already been asked. Here are some questions you can find answers to:
Can I move to Squarespace from another platform?
How to publish your Squarespace website?
What does a Squarespace subscription include?
What shipping methods can I offer?
Are there limits to what I can sell on my site?
Does Commerce work on all templates?
Can I accept donations?
Can I offer free digital downloads?
How do I go back to my template's original style?
Can I set different styles for each page?
How do I do a Squarespace domain transfer?
The Squarespace help database has plenty of information, and the guides are organized with a table of contents in each one so you can easily navigate to the section you need.
The guides use videos and step-by-step tutorials that teach you how to solve problems or use features
. In each section, there are also recommendations for additional resources that can help. Squarespace's guides and videos are comprehensive and easy to follow — overall, the knowledge base is a solid resource for building your skills with the platform. It isn't interactive, though, and you can't ask questions if something seems confusing. If you prefer an interactive approach to learning more about Squarespace, you have plenty of options.
1. Facebook Groups: Interactive Community Advice
There are lots of Squarespace support groups on Facebook. Some are more active than others; some are more useful than others. I joined as many Squarespace groups as I could. Some of my requests are still pending, but here are the best ones so far…
Squarespace Newbies Support Group
https://www.facebook.com/groups/408608566139855/
As its name suggests, this group is primarily aimed at beginners.
If you're a newbie and you're struggling to figure out Squarespace, this is a great place to get support from other users who are (or have been) in exactly the same position as you
. It's a friendly community that's really welcoming when you join, too.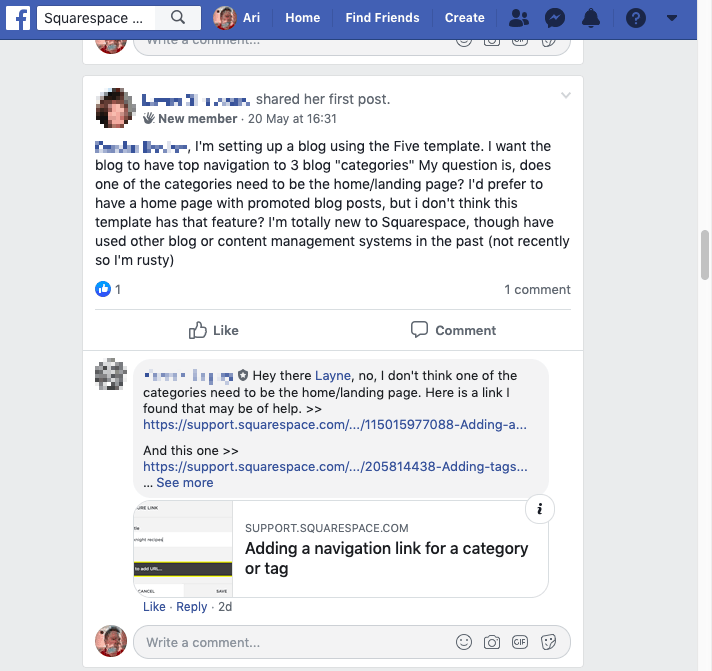 This group is one of the best sources of Squarespace support on Facebook. The group owner provides detailed advice and quick responses to questions. If she doesn't know the answer, she'll do a search online and point you to the info you need.
One of the great things about a group for newbies is that you can ask any question without fear of being judged
. You can also search within the group to find posts from other members who've had similar issues using Squarespace.
Squarespace for Business Users
https://www.facebook.com/groups/Squarespace.for.business.owners/
This is a relatively new group that isn't hugely active yet, but members are happy to answer your questions if you're a business owner looking to get the most out of your Squarespace website.
There's a downloadable Website Content Guide that can help you with things like SEO page descriptions, structuring blog posts, and adding events to your calendar
.
Squarespace Help
https://www.facebook.com/groups/squarespacehelp/
This is a relatively active group, and even the members themselves are very happy to answer questions.
There can be some lively discussions and differing viewpoints, but generally, the advice is sound
. For example, one member wanted to change the way her logo showed up in previews when she shared her Squarespace website on social media. Another member directed her to a support article on Squarespace with step-by-step instructions — but she also offered additional advice that wasn't included in the help article.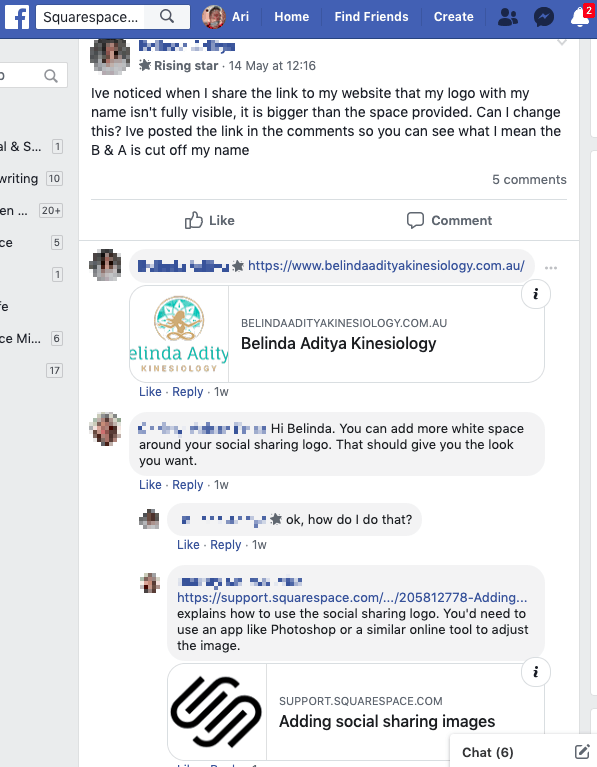 Squarespace Community
https://www.facebook.com/groups/Squarespacecommunity/
Here's another very responsive group.
Members are quick to point you in the direction of tutorial articles, YouTube videos, and blog posts that show you how to implement features or solve problems on your Squarespace website
. For example, a member recently asked for advice on how to solve an issue with a summary block carousel. Other members swiftly solved the problem and even offered an alternative solution. In addition, the original poster (OP) was offered help by a more experienced user who was willing to investigate the problem in more detail.
Squarespace Rockstars
https://www.facebook.com/groups/squarespacerockstars/
This group, with almost 3,000 members, describes itself as a group for "learning and helping each other by building kick-ass sites in Squarespace." Questions are answered quickly, and members are extremely helpful in offering a variety of solutions.
The advice is good, although some of the responses will require you to have a bit more technical knowledge (such as knowing how to use CSS code)
. But if you're a beginner, you'll still feel welcomed, as more experienced Squarespace users are happy to help you learn the essential skills you need for a great website. Here's a basic question asked by someone new to Squarespace, and the helpful response from a more experienced Squarespace user: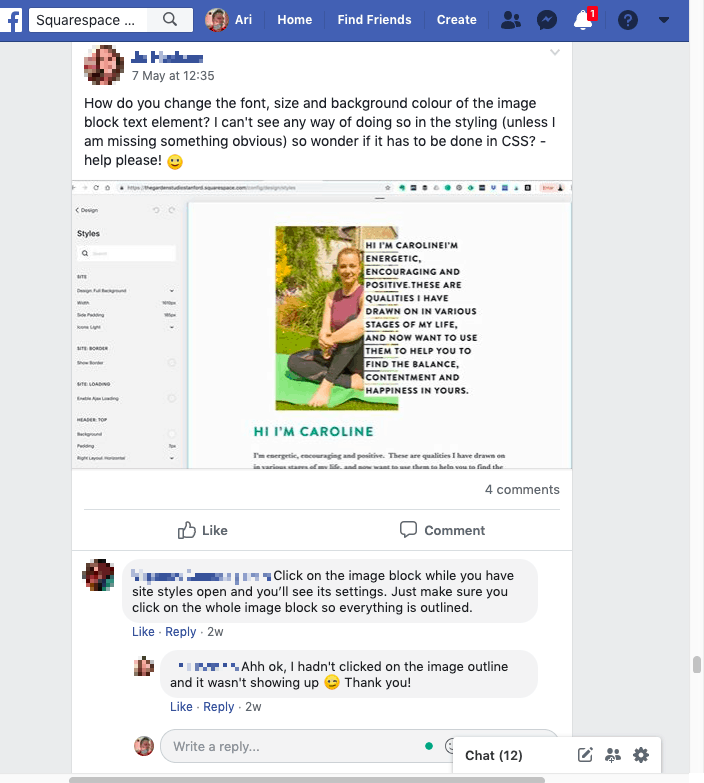 2. YouTube: Great Squarespace Tutorial Videos
If you prefer to watch videos, you'll love YouTube's range of Squarespace tutorials
. There are Squarespace tutorials for beginners and Squarespace developer tutorials, so no matter what your skill level is, there's a tutorial video for you. Here are some standout YouTube videos…
Solopreneur Sidekick Channel's Squarespace Playlist
https://www.youtube.com/playlist?list=PLUfgcuBJLn6SCVFarzcwIdLMYjJtc6yIL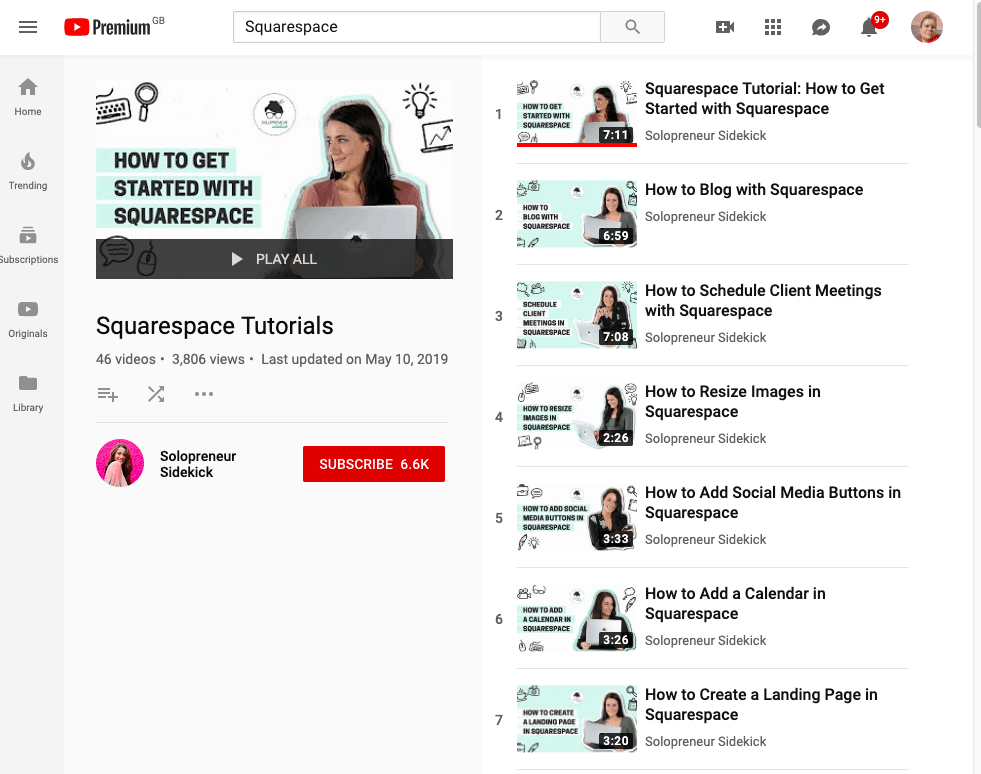 On the Solopreneur Sidekick channel, there's a playlist of over 40 Squarespace tutorials, and more are added regularly. They cover common questions and problems such as:
Resizing images
Scheduling client meetings
Creating landing pages
Embedding videos
Ways to display images
How to fix text issues
Creating blog post templates
Adding a custom 404 page
Adding live chat to your Squarespace website
Most videos are short, under 12 minutes.
Squarespace's Channel: Short Videos For Squarespace Success
https://www.youtube.com/user/squarespace
Squarespace's own YouTube channel has a playlist of short videos (most under five minutes long) called
Squarespace Tutorial
. The playlist is updated weekly, and covers things like changing fonts, adding code to your website, switching templates, and much more. There's also an e-commerce tutorial playlist that can walk you through all the steps you need to take to set up an e-commerce store on Squarespace.
Other Great Squarespace Tutorial Videos on YouTube
"Squarespace SEO | SEO for Squarespace Website owners" – by Sam Dey
In this 30-minute video, you'll get an overview of how to improve your website ranking. SEO is something that often gets overlooked, so this in-depth review of the tools you can use in Squarespace to boost your Google search rank is a great introduction.
"Squarespace Tutorials – Creating an accordion style FAQ" – by ABG Tech
This tutorial takes you step-by-step through a more technical skill: using a Markdown block. It also supplies the source code you need to replicate the process in the video tutorial. It does require you to have confidence in using Squarespace, but it's a great example of the range of Squarespace tutorial videos you can find on YouTube.
3. Reddit (r/Squarespace): Join the Community and Learn Squarespace Skills
The Reddit Squarespace community has 2,900 members, and it's easy to search the community to see if your question has already been answered. Posts in the Reddit community are categorized as
Discussion, Self Promotion
, or
Help
.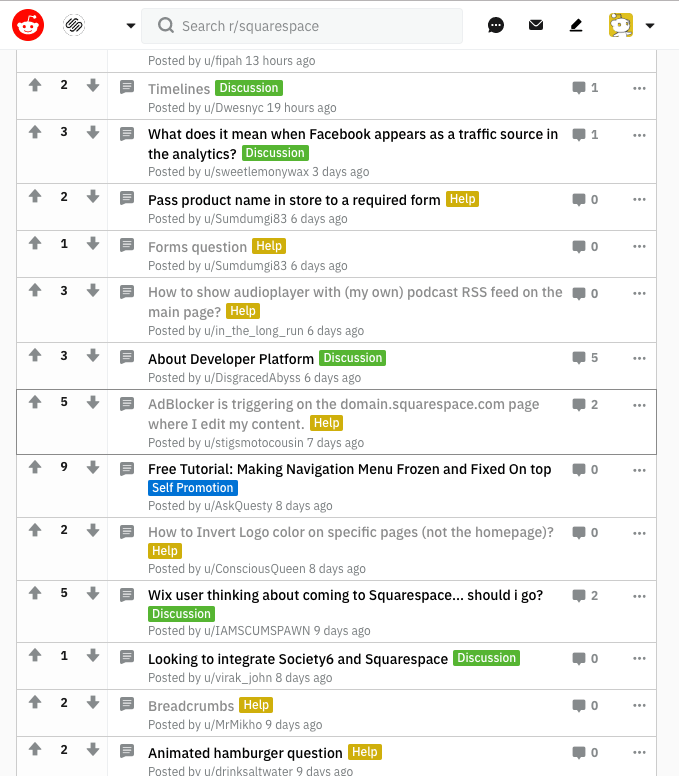 You often find tutorials categorized as self-promotion, such as a free tutorial that takes you through the steps to create a navigation menu that's fixed at the top of your page.
If you're a member of the community and have a question nobody has asked before, you can post it.
Be aware that not all questions are answered quickly, and sometimes they're not answered at all, unfortunately
. All kinds of questions are asked on Reddit, including questions about how to show Google ads, how to sell digital products, what happens when you convert a trial to a paid account, and questions about images, videos, and interactive content. The quality of the answers is pretty high, and many include step-by-step instructions or links to tutorials or other kinds of resources.
4. Quora: Find Answers to Some Commonly Asked Questions
https://www.quora.com/topic/Squarespace
Quora has a topic dedicated to Squarespace with 14,100 followers. You can find answers to technical questions about how to use Squarespace
, although there are a lot of answers that focus on the difference between Squarespace and other platforms. Navigating Quora can sometimes be frustrating, but it helps if you search for a specific question you need an answer to. If someone hasn't already asked your question, you can go ahead and post it yourself. Some of the questions that have been asked on Quora include:
How can I configure ClickFunnels with Squarespace?
How do I add an image or shorten a text in an RSS feed on Squarespace?
How can I create a multilingual site on Squarespace?
How can I accept recurring donations on Squarespace?
Can I add custom fields in products in Squarespace?
What is the best plugin for SEO on Squarespace?
How do I make text open a form on Squarespace?
How do I add custom font CSS pagination on Squarespace?
How do I remove share on gallery pages on Squarespace?
What is the best way to offer appointment bookings on Squarespace?
What are some tips and tricks to improve Squarespace SEO?
On Squarespace, how do I prevent my background from adjusting/cropping on mobile devices?
What's the easiest way to set up an e-commerce site in Squarespace?
How do I hide a site title from a homepage on Squarespace?
Because many Squarespace experts and developers post answers on Quora, the quality of the answers is high, and solutions are usually quite detailed.
It's not as interactive as places like Facebook Groups or the Reddit community
, but it's still a great place to learn more about using Squarespace and find answers to issues you may have.
5. Squarespace Community Forum: Get Answers from Users
"Squarespace Answers" is a peer-to-peer forum that's actually moderated by
Squarespace
, but the answers generally come from other Squarespace users. If you post a question, other users can comment and ask for more information (if needed) before offering a solution to your problem. When your question is answered by another user, you can click the Accept link to accept the answer and give the other user credit for providing a solution to your problem. Questions aren't always answered and resolved, but those that are answered generally offer good advice, instructions, or both.
If the question you have is about using custom CSS, for example, then answers will usually give you the CSS code you need to create the effect that you're looking for
. Examples of the types of questions you'll find asked and answered on the forum include the following:
Can you change the cookie banner font?
How do I change the alignment of social media icons in the footer for mobile devices?
How do I upload and embed a PDF (or any other file?)
How can I add a "Scroll to top" button?
How do I embed a Google Calendar in a responsive way?
Learn Squarespace Skills and Solve Problems Online
When seeking to enhance your utilization of Squarespace, engaging with fellow users for assistance and guidance can prove to be highly beneficial. Exploring various solutions enables you to discover alternative approaches and novel methods of accomplishing tasks, expanding your perspectives beyond your initial considerations.
Online Squarespace tutorials are a hands-on way of resolving problems on your website and growing your knowledge.
If you're more of a visual learner, you may prefer to watch YouTube videos to build your Squarespace skills. But if you want to interact with other Squarespace users and maybe even find inspiration from their ideas, consider joining a Facebook group or the Reddit community. Members can probably give you a wider range of advice than videos can.
Squarespace's knowledge base is a great place to start when you're first learning how to use the platform, and you can find answers to a lot of common problems
. However, it can't compare to being able to ask a question in a Facebook group and having another user give you the exact code you need to fix your issue. And as you develop your own skills, you'll be able to give back and answer other people's questions, too. To learn more about Squarespace, read our
expert review
.