Shopify
must have been one of the first things that jumped to your mind as a possible platform for your drop-shipping store. That's good because it's a superb option to set up your drop-shipping business. Let's dig a little deeper into what drop shipping is and how it works on Shopify.
What Is Drop Shipping?
Today, there are many suppliers who find it too challenging or time-consuming to market and sell their products online. At the same time, there are platforms like Shopify that make it possible for anyone to create an online store. That's where drop shipping, and drop shippers, come in.
Drop shippers list the products of these suppliers on their own online stores in order to market and sell them to end-customers.
They act as an attractive storefront between these two. Customers buy products listed on the drop-shipper-owned website, and these orders are sent to the supplier who ships them to that customer.
In most cases, drop shippers have very little (if any) physical interaction with the goods they're selling.
Drop shippers can start a business with little or no overhead in the shape of physical infrastructure such as storage, shipping staff, etc. Suppliers are usually low-cost mass-manufacturers from China or India that sell products at prices low enough for drop shippers to mark up the price to make a profit; give the supplier their cut; and pay for shipping, hosting, and advertising.
How to Set Up Drop Shipping on Shopify
There are many reasons Shopify gets such
positive reviews
. One of them is that drop shipping on Shopify is a surprisingly easy process. There isn't just one way to do it, and there's a range of tools, integrations, and methods you can utilize for a unique approach. However, I'll stick to the most commonly used method with Oberlo and AliExpress. This method is the easiest and most effective, and it illustrates how the process works.
Step 1: Choose a Niche and Brand Your Store
Not enough people realize the full weight of how important this step is. There are hundreds of thousands (if not millions) of drop-shipping stores. Without a clear roadmap and identity, chances are that you'll get lost among the sheer number of competitors. So,
put some time into finding a niche that you're passionate about, that has an audience, and for which you can find sellable merchandise. Then, come up with a branding strategy
that includes a name and identity for your store. This can change and evolve slightly with time, especially as you start hunting for products, but you should at least have a clear starting point.
Step 2: Choose a Plan and Sign Up with Shopify
All Shopify plans are suitable for drop shipping.
The three basic plans don't differ by much when it comes to building a drop-shipping business, which means that 9/10 people should be fine with the Basic Shopify plan, especially since there are no selling limits. However, keep in mind that
the higher you go, the lower the Shopify transaction fees are
. If you already have a website hosted on another platform or you only want to sell via social media channels, then Shopify Lite is a cheaper alternative. Last, Shopify Plus+ is meant for large-scale businesses or those with highly specialized needs.
The Shopify signup process is very simple, requiring only basic personal info to start your trial.
Once you choose a plan and set up your billing from within your dashboard, you're good to go.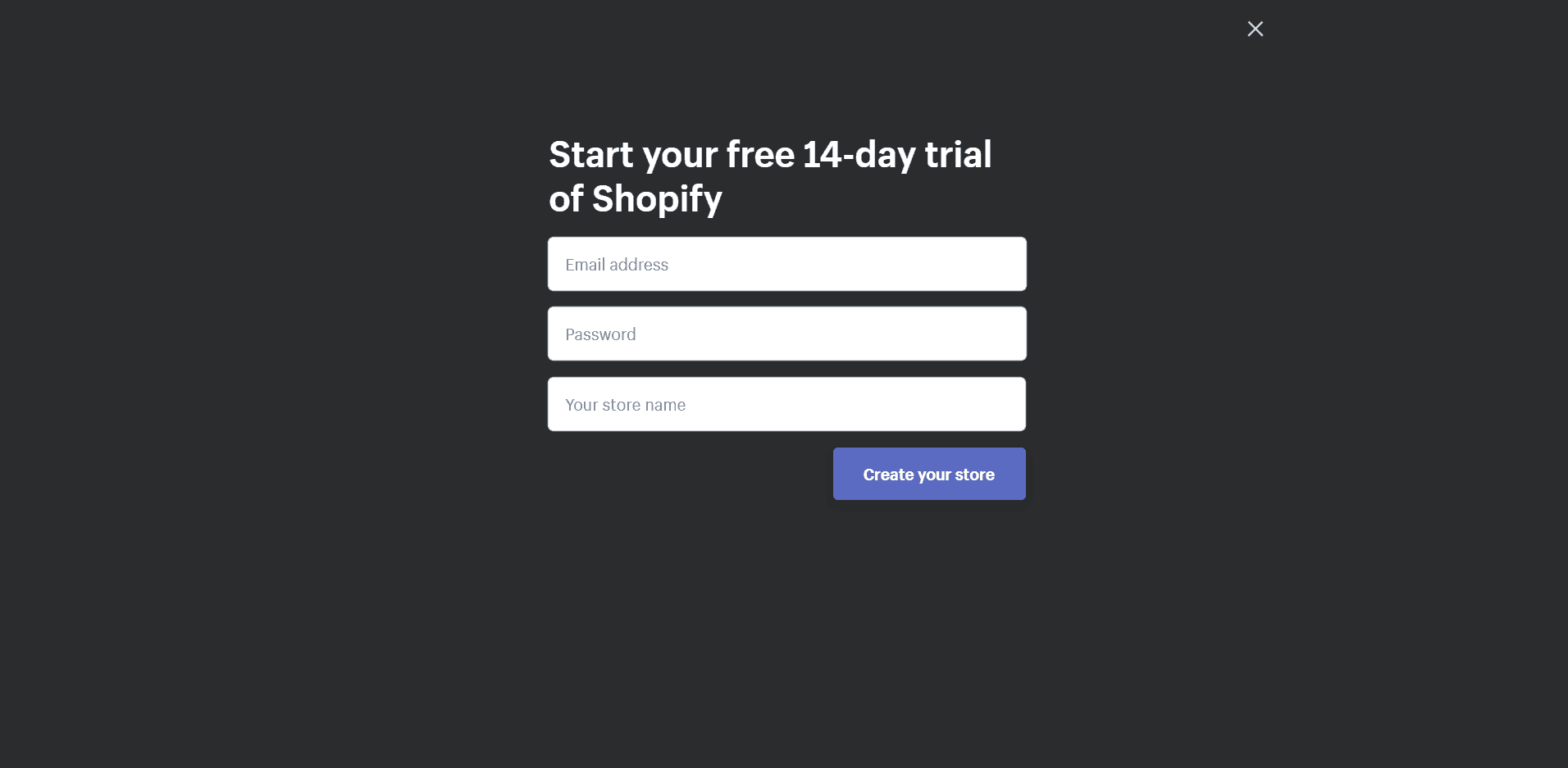 Step 3: Build Your Online Store
Next, you'll need to design and build out your store. This process can be as simple and cheap or as complex and expensive as you want it to be. Shopify provides a library of 67 online store templates; ten of them are free, and the rest need to be purchased.
The quality of all templates are high, and they essentially provide you with a complete online web store with all the webpages you need.
You just have to bring in your own branding, content, and products.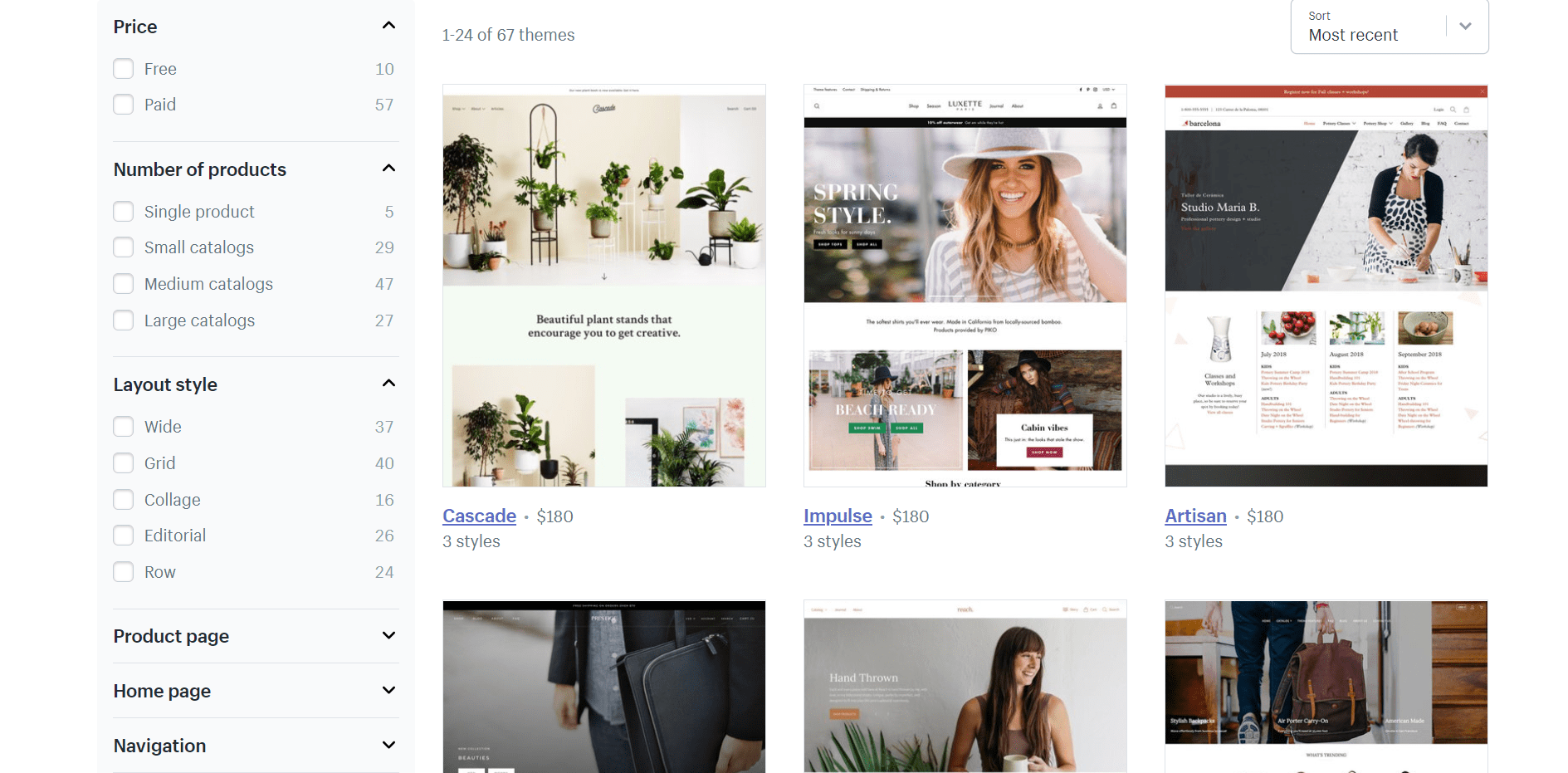 Shopify also allows users to completely customize templates or build their own from scratch using custom code.
If you don't have the skills, there's a whole industry of Shopify developers and freelancers. This is a great option for those who want an entirely unique store. However, that could see your costs skyrocket.
Step 4: Configure Your Preferred Settings
I can't run through every single setting with you, but there are a few pertinent things you should address if you plan to create a drop-shipping store:
Set Up Your Store Policies. Stores need to have certain policies in place in order to protect themselves and be transparent with their customers. The most obvious ones include a refund policy, Terms and Conditions, and a privacy policy. Shopify can automatically generate some of these for you using standard terms which you can then modify.
Set Up Shipping Rates. Here, you'll choose how shipping rates are displayed and used when making sales. For example, you could display shipping as free on your product listings and then add it to the price of the products, or show it as a separate fee.
Payment Providers. You should also choose which payment providers you want to use based on which you're comfortable with, which offer the best rates, and which will work for most customers.
Step 5: Add Products to Sell
For drop shipping, the easiest way to sell on Shopify is by integrating with a third-party platform that will help you find products from suppliers and import these listings into your store.
The most popular way to do this is by using Oberlo to search for and import products from AliExpress.
Of course, you can always manually find suppliers and create the listings yourself. However,
by using Oberlo and AliExpress, you can source, list, and sell products within hours (or even minutes)
. To do this, you just need to install the Oberlo app from your Shopify dashboard. According to the niche you chose for your store, you should then create the product categories in which you wish to sell. Adding products from Oberlo to your store goes something like this:
Launch the Oberlo app.
Start searching for products on supplier marketplaces, such as AliExpress.
Select products to import. Remember to research the quality of the product and the supplier.
Choose your preferred shipping method based on the cost and shipping time.
Let Oberlo import the products into your store.
Review the listings and tweak them if necessary.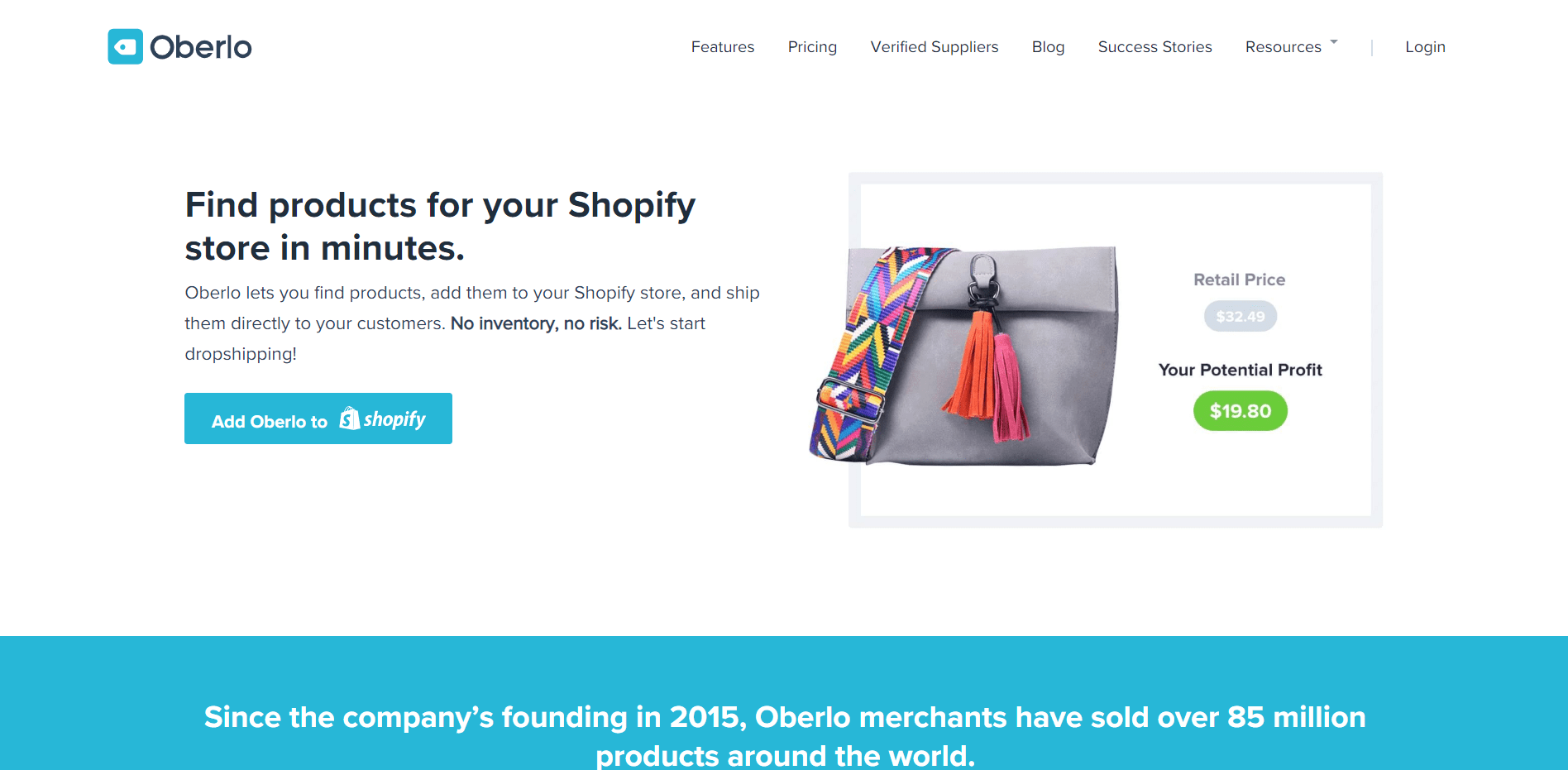 Step 6: Launch Your Shopify Store
Hard as it may seem to believe, you've already done most of the work building out your drop-shipping store. The next step is to market your products and attract customers. Shopify, Oberlo, and your supplier will take care of the rest. To launch a Shopify store, just go to your "Settings" and then open the "Sales Channels" tab. Click on
Add sales channel
and add your store to launch it and make it live. Remember that you'll need to be signed up to a Shopify plan to do this. Your store will be up and running, and you can start making sales.
Pros and Cons of Drop Shipping on Shopify
Up to this point, it might appear overly promising. Nevertheless, there is no simple and foolproof method to earn money. Like any other business, dropshipping on Shopify, both in its broader sense and specifically, carries drawbacks that run alongside its benefits.
Pros:
Because of best-in-class integrations with platforms like Oberlo, you can automatically import and generate product listings.
You don't need to be involved with shipping, as Shopify can automatically ship and set rates, and show them to customers.
Because you have no physical infrastructure and no long-term commitments, you can change the direction of your business or stop operating at any time.
Cons:
Unfortunately, Shopify charges a percentage of all your sales as a transaction fee based on which plan you have. However, it's only 2%, 1%, or 0.5%. Most competitors don't charge a fee.
After business and Shopify costs (such as a subscription, professional template, apps, etc.), most drop shippers are left only with a small percentage of each sale (usually 20-40%). This is the price you pay for such a low risk/effort model.
Should You Use Shopify for Your Drop-Shipping Store?
In my opinion, the pros of using
Shopify
to run your drop-shipping store outweigh the cons, especially when comparing it with other platforms.
The one aspect that really gives Shopify the edge is its deep integration with fantastic tools like Oberlo.
These make setting up your store, sourcing products, and facilitating sales between customers and suppliers a breeze. The biggest downside to using Shopify for drop shippers is their transaction fees, which can put a bit of strain on the low margins that these sellers usually operate on.
A wide range of pricing plans, including specialized packages like Shopify Lite and Plus+, means that it's truly suitable for anyone who wants to drop ship, no matter what your scale is.
Anyone — from individual social media entrepreneurs to SMBs, to large retailers — have a place there.
Considering that enough features come with the Basic Shopify plan and that there are no long-term contracts, it's also relatively risk-free if you consider that drop shipping itself requires almost no investment itself.
The real question is: Why not try it and find out?