It's a relatively easy and simple way to get your foot in the door selling online, so countless people want to try their hand at this very lean way of doing business.
To make the process even simpler and leaner, you might consider partnering up with a great e-commerce platform.
BigCommerce
certainly fits the bill when it comes to reputable, modern, e-commerce websites that produce excellent results. So, you might be wondering how to set up a drop-shipping store on the platform. Is it even a good drop shipping option? But first, what
is
drop shipping anyway?
Drop Shipping 101
Drop shipping is a low-overhead e-commerce business model in which you, the drop shipper, acts as a middleman between suppliers and consumers.
As a drop shipper, you create an online store in which you list products for sale that you source from these suppliers and manufacturers. When a customer places an order on your store, that order is sent directly to the supplier who then fulfills it via a certain shipping method. As you can imagine, drop shippers usually operate on lower margins, as they source cheap products which can be marked up and sold for a higher price to their target audience.
They also never have to get physically involved with the creation or shipping of products, nor do they need their own infrastructure.
With a drop-shipping business model, sellers don't have to risk their money on expensive equipment and facilities or by stocking up on merchandise.
The products and facilities are already there; they just facilitate the sale and make sure a big-enough cut is left once the costs are covered to make a profit.
How to Set Up a Drop-Shipping Store on BigCommerce
There are no hard and fast rules when it comes to drop shipping on BigCommerce. That means that how you set up drop shipping might come down to what kind of real-world connections you have and what your situation is, as well as what marketplaces or apps you prefer to work with. However, I'll try to be general enough to include everyone while being specific enough to be useful.
Step1: Devise a Selling Strategy
A basic selling strategy for a drop-shipping store comes down to three things: your merchandise, your brand, and your niche. In the end, it pays off to invest some time planning how to use these three aspects of an online store to your advantage. For example, it pays to choose a niche or category of items, and then focus on driving customers and traffic to build a community interested in these products. What you choose to sell may also affect your branding.
A store with a well-thought-out identity and visual style will go a long way to building consumer confidence.
To this effect, you should have a log, tagline, and some other basic marketing material. This comes to another point, which is whom you're targeting as consumers and on which platform. For example, Facebook is a great platform to reach potential customers in their interest groups.
Step 2: Choose Your Pricing Plan and Sign Up
BigCommerce has three pricing plans as well as a custom Enterprise plan to choose from.
Crucially, all plans come with 0% transaction fees and unlimited products, file storage, and user accounts, which is great for a business of any scale
.
However, they have a sales limit which, if you exceed it, means you'll have to upgrade to a higher plan
. If you have ambitions to go big, you should just be aware of this. The only other important features that are not included with all plans are customer groups and custom search filters. These are great features for your store that might prompt you to get an upgrade.
You can start a free 15-day, no-credit-card trial right away during which you can use most features to build out most of your store and get it ready to sell on launch day
. However, you'll need to sign up to a pricing plan to access advanced features and make your website live.
Step 3: Create Your BigCommerce Drop-Shipping Store
You can start off a BigCommerce online store with one of their 120+ e-commerce-ready templates.
There are almost twice as many templates as
Shopify
, and each template has three or four styles that make the selection even more varied. This, combined with a few very unique niches, means that you'll probably be able to find a template as close as possible to what you were looking for. The builder doesn't make use of drag-and-drop functionality, which is slightly limiting when customizing a template. However,
BigCommerce allows you to extensively customize your store's templates by using custom coding
. You can even find professionals who offer BigCommerce development if you want some custom features or a completely new look. If that's not necessary, templates already come with all the webpages you need to have a full website, and you just have to add your own content.
Step 4: Choose a Product Sourcing App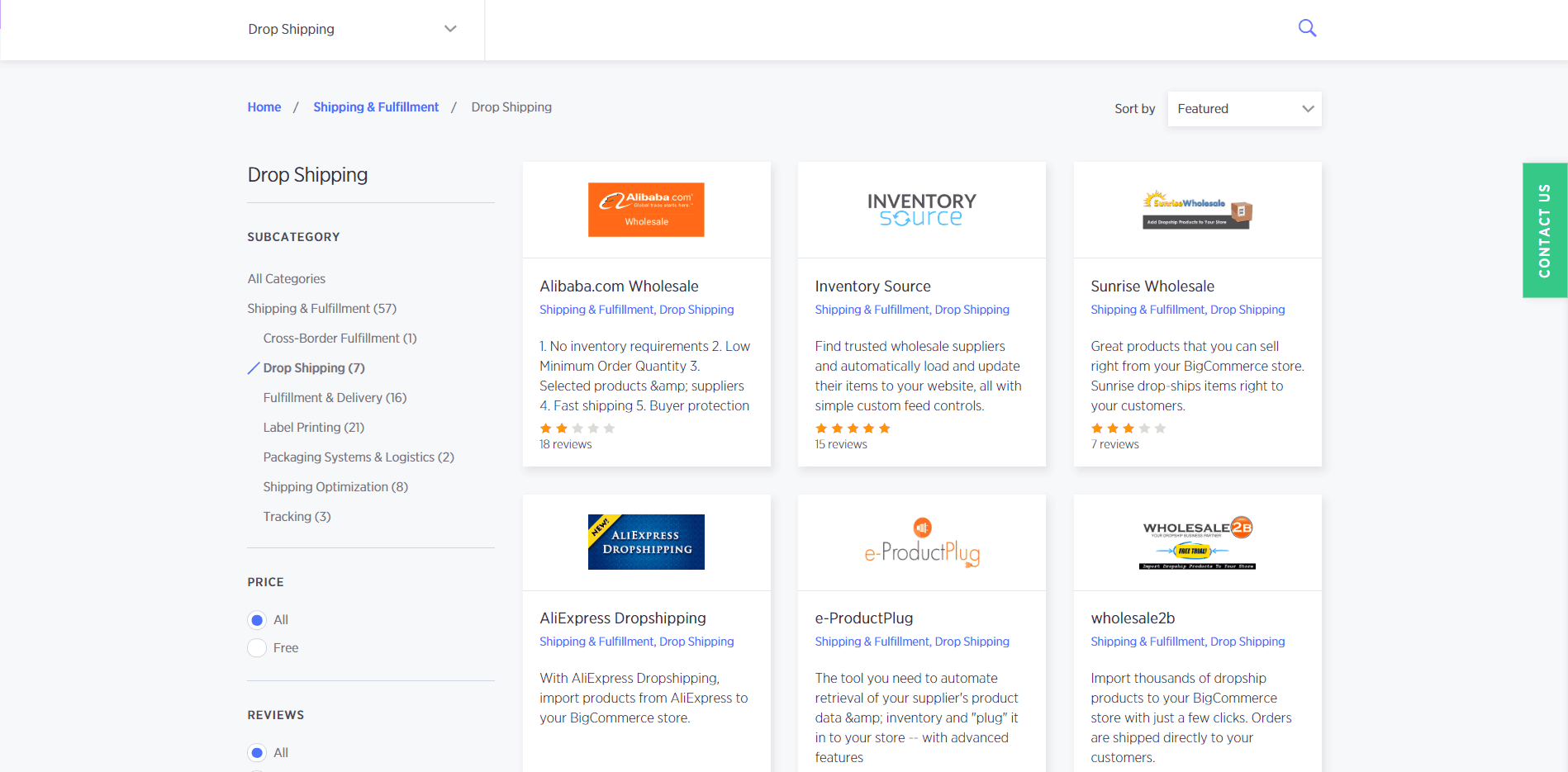 The next step is to find the appropriate products for your store. 
BigCommerce
provides a few product sourcing apps you can use to search for products and list them on your store without having to do everything 100% manually. However, they differ widely in quality and which platforms they can source from.
Modalyst is one of the most polished and top-performing apps
, but it can be used only for U.S./European marketplaces such as Stein.com and Wish.com.
e-ProductPlug is another great app that can target any online store using a spreadsheet order system.
However, none of its AliExpress apps, which is the go-to place for affordable drop-shipping products, are that great. You should do some research into what each can and can't do for your drop-shipping store. Ideally, you want an app that can:
Help you search for listings on online wholesale marketplaces
Import the products into your store with a click
Automatically send customer orders directly to suppliers
Step 5: Start Selling
Once everything is in place, you can easily launch your store and start selling by just logging into your BigCommerce dashboard. At the bottom of the webpage, there's a button that says "Launch Store" under "Review & test your store." Clicking this will make the store live and publicly accessible. If you find a good drop-shipping app, such as the ones above, you should be able to sell and ship products to customers with little or no intervention on your part.
All you will need to do is make sure that you keep marketing and generating traffic, regularly update your stock, and keep your prices competitive.
Pros and Cons of Drop Shipping on BigCommerce
As drop shipping is a very straightforward business model, it's now available in some way or another using most website-hosting platforms that offer e-commerce capabilities. That makes it important to know what the most tangible pros and cons are of using specifically the BigCommerce platform.
Pros:
BigCommerce doesn't charge any transaction fees as opposed to some other platforms, which means you pocket more of your profits.
BigCommerce has a superb selection of e-commerce templates that make it possible to get close to the store you want without extensive customization.
There are a number of great built-in features in the BigCommerce platform, such as ShiperHQ shipping rates and marketing tools that are great for all e-commerce entrepreneurs.
Cons:
There's a limit to how much you can sell before you need to upgrade your plan, whereas some other platforms like Shopify have no limits.
Some very handy features like customer groups, Google Reviews, and custom search filters are reserved for more expensive plans.
As it's not such a big focus of BigCommerce, there isn't as big a variety of drop-shipping apps or integrations as there is on Shopify, for example.
Does BigCommerce Make Sense as a Drop-Shipping Platform?
Good question. The answer is not so easy. While there's no doubt that BigCommerce is overall a fantastic e-commerce platform with a great value-for-money proposition when it comes to built-in features, templates, and apps, I can only look at it compared with the drop-shipping giant,
Shopify
. BigCommerce clearly prioritizes drop shipping less on its platform. The platform offers fewer apps designed for this specific type of online selling and provides fewer tools to incentivize users to opt for it due to this reason. Nevertheless, there exist a handful of excellent apps like Modalyst that support drop shipping and also focus on a niche with higher-end and higher-margin products. The sales limits might seem steep; however, it should be worth it considering the quality of the platform as well as what your income is at that stage.
Although BigCommerce is still a decent drop-shipping platform, it's probably best for more experienced sellers who have a clearer picture of what they want to achieve.
The abundance of marketing tools also makes it a good option for those who know how to get the best out of them.