SendX is one of the most budget-friendly email marketing services. But with no free version and only two plans to choose from, SendX pricing has limited options.
 You want to understand exactly what you're getting before signing up for a plan or investing time in a free trial. As a digital agency owner who's always on the lookout for the top email marketing tools, I wanted to find out if SendX was worth recommending to clients. I was curious if the deliverability and features were advanced enough given the low price or if another service would be better instead. Is this platform the best choice for your business? I've found out whether SendX is really as good of a deal as it seems.
Short on time? These are SendX's pricing plans in 2023:
Business – A one-size-fits-all plan which increases each time you reach a new subscriber threshold, up to 2 million subscribers. Read more below.
Enterprise – Suitable if you have more than 200,000 subscribers, it comes with advanced email marketing training and a return on investment (ROI) review. Read more below.
SendX Features & Pricing Overview
Great for small businesses but not for everyone
While SendX doesn't have a free option, entry-level pricing for the platform's plans is among the lowest you'll find
. For a list of up to 1,000 subscribers, prices start at under $10 per month. Your SendX cost could be as low as $7.49 per month if you pay annually – which is much cheaper than its competitors.
Unlike most email marketing services which offer a variety of plans, SendX only has two: one standard plan (Business) designed to fit most users and one custom plan (Enterprise) tailored to marketers with larger lists.
 Will you get what you need on the Business plan or do you need the Enterprise plan? Let's break down the features and pricing structure for both.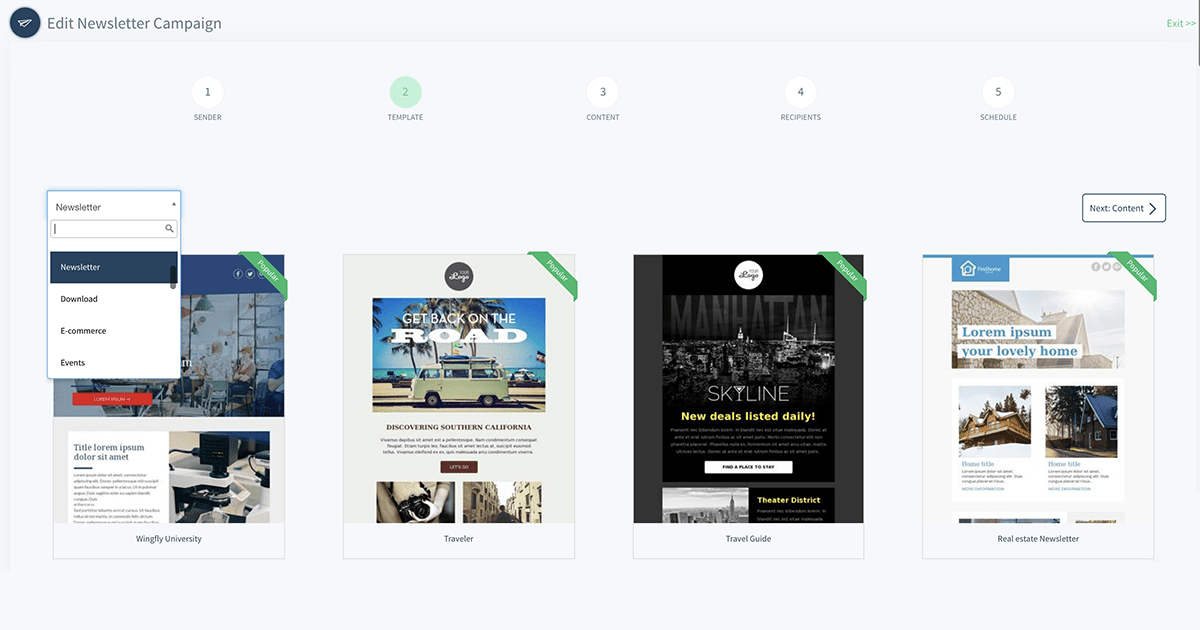 Pricing for
SendX's Business plan
 is based on list size, and the cost increases each time you reach a new subscriber threshold. With this plan, you can have anywhere from one contact to 2 million subscribers, and you can send unlimited emails every month.
The Business plan comes with the tools that matter to most small businesses.
You can choose from about 60 premade templates or use the drag-and-drop editor to customize the look of your emails – I discussed this all in more detail in
my SendX review
. You can also create standard newsletters or automated drip campaigns, and the segmentation feature helps you send more targeted messages, which helps improve campaign performance. For added functionality, SendX integrates with about a dozen apps, including Shopify, WordPress, and Zapier. SendX even includes a couple of great features for increasing open rates. With the split-testing feature, you can determine which subject lines work best for your audience.
The deliverability booster uses proprietary Opti-Send technology – which SendX claims can double your open rates.
If your goal is to grow your list, the SendX Business plan can help.
In addition to landing pages and subscription forms, you can even embed subscription popups on the Business plan. Using these on specific pages or in certain contexts can increase your conversion rates.
But keep in mind that as your list grows, so does the cost.
If you need help along the way, the Business plan includes 24/7 email, chat, and phone support. This level of around-the-clock support is relatively rare for cheaper plans, and having access to reliable help would make me more comfortable using the platform.
Because prices are so low for smaller lists, SendX's Business plan would be ideal for freelancers, bloggers, and small businesses who want access to a full suite of email marketing features.
If you have a larger list or you want more individualized attention, you might be better off with the
Enterprise plan
. However, after testing other
top email marketing services
, I think there are better options for enterprise-level plans. For example,
GetResponse's Max plan
 comes with a custom IP address and dedicated support, which are things I would expect to get with such a big investment.
Business Plan Pricing
Below is a summary of the Business Plan pricing. From 5,000 subscribers upwards, you can extend your subscription in steps of 5,000, and then from 50,000 subscribers in steps of 10,000.
Contacts
Monthly price
Price per year if paid monthly
Price per year if paid annually
1,000

$

9.99

$119.88
$89.88
2,500

$

19.99

$239.88
$179.88
5,000

$

39.99

$479.88
$359.88
10,000
$59.99
$719.88
$539.88
15,000
$79.99
$959.88
$719.88
20,000
$119.99
$1,439.88
$1,079.88
25,000
$149.99
$1,799.88
$1,349.88
50,000
$229.99
$2,759.88
$2,069.88
70,000
$299.99
$3,599.88
$2,699.88
100,000
$399.99
$4,799.88
$3,599.88
160,000
$549.99
$6,599.88
$4,949.88
200,000
$649.99
$7,799.88
$5,849.88
250,000
$799.99
$9,599.88
$7,199.88
500,000
$1,599.99
$19,199.88
$14,399.88
1,000,000
$2,999.99
$35,999.88
$26,999.88
2,000,000
$4,999.99
$59,999.88
$44,999.88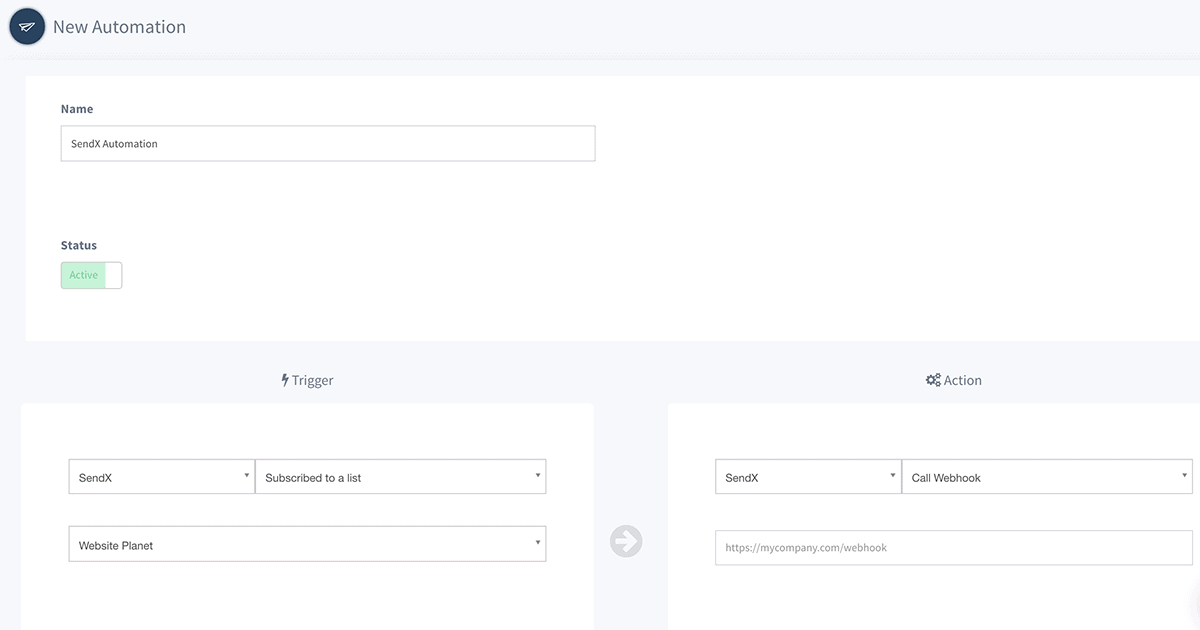 SendX's Enterprise plan is engineered for marketers with more than 200,000 subscribers.
 Pricing depends on the size of your list and other factors, such as how many emails you want to send. To get an accurate quote for this plan, you'll need to book a demo directly with SendX. The Enterprise plan comes with two customer success perks. One is advanced email marketing training to help your team improve their skills. Another is an executive return on investment (ROI) review to make sure you get maximum value from your spending.
For small businesses or solopreneurs, the Enterprise plan would be overkill. For marketers that need to send hundreds of thousands of emails every month, then features like the ROI review could be worth the added cost.
SendX Pricing Plan Comparison Table
Plan
Starting Price
Subscribers
Marketing Automations
Training & ROI Review
Best Feature
Business

$

9.99

1,000

✔

✘

Deliverability booster
Enterprise
Custom
200,000

✔

✔

Personalized ROI review
SendX Cancellation & Refund Policy
You can cancel for any reason, but refunds are rare
Once you open a SendX account, you can cancel at any time at no extra charge. However, if you've prepaid for a month or year in advance, you probably won't get a refund for the unused time.
SendX only offers refunds if the platform closes your account without cause before the end of a year you've already paid for.
 Note that this refund policy doesn't apply if the service has to close your account due to spam issues or violating the terms of service. Unlike other email marketing services, cancelling your SendX account is more than a one-click process. You need to use the online chat portal or send an email to
[email protected]
. Since closing your account may take some time depending on how quick the support team responds, I recommend beginning the account closure process at least a day before your next invoice.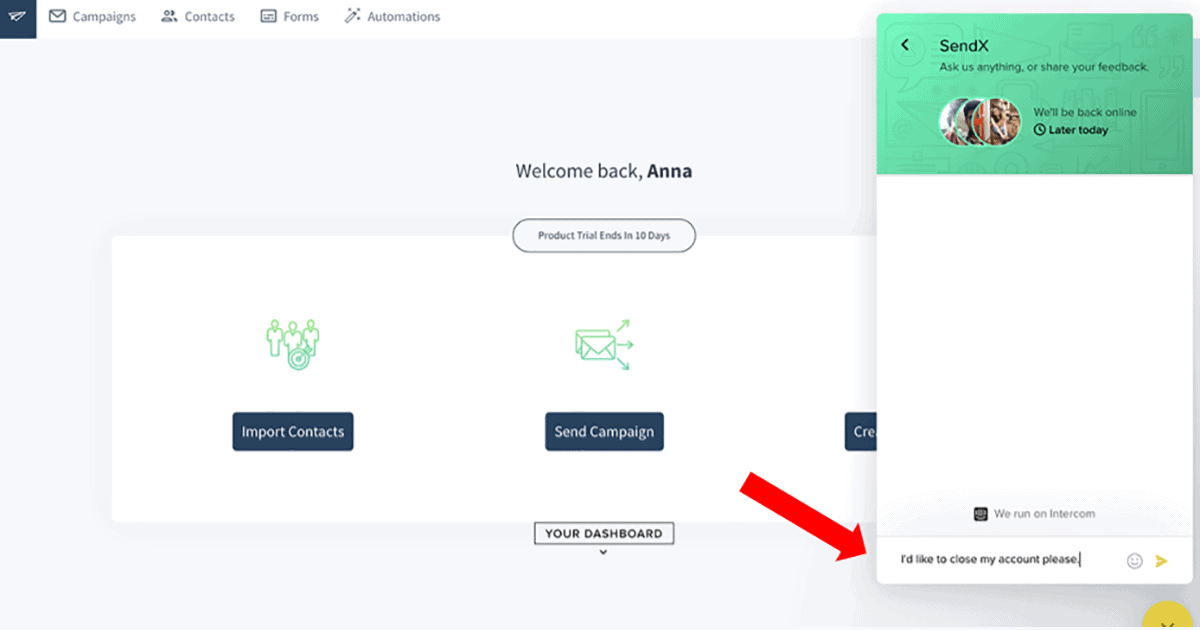 If you prefer to test the service before paying for a plan, you can sign up for a
free 14-day SendX trial
. You can test it out at virtually no risk because you don't need to enter any payment details. The only drawback is that the trial lasts for only 14 days and has a send limit of 2,000 emails to 500 subscribers.
Alternatives to SendX
Although SendX has affordable pricing for businesses with small lists, the platform may not be a great fit for large companies or email marketers with complex automation needs, as you'll also see in my in-depth
SendX review
. If you have a big list and are looking to spend less money, you might be better off elsewhere. The same applies if you want the ability to build multi-step customer journeys. Try one of my recommendations below or read our review of the
best email marketing services in 2023
:
Sendinblue's Free plan: If you're looking for a no-cost option, my go-to would be Sendinblue. With a free account, you can send up to 300 emails per day to unlimited contacts. In addition to sending newsletters and drip campaigns, you can also create chatbots and track leads with a sales customer relationship management (CRM) tool. I would recommend Sendinblue's free plan for businesses that have small lists and are just getting started with email marketing.
GetResponse's Plus plan: If you want to add more automation to your marketing strategy, consider GetResponse. With the Plus plan, you can build custom automation workflows and set up conversion and sales funnels. You can also host webinars and create Facebook Ads to market your business. I would recommend GetResponse's Plus plan for mid- to or large-sized businesses that need to streamline marketing and advertising efforts.
Constant Contact's Email Plus plan: If you want more marketing capabilities in one tool, take a look at Constant Contact. With the Email Plus plan, you can tackle email marketing, set up Google Ads, and post to social media. You can also build a website or launch an e-commerce store. I would recommend Constant Contact's Email Plus plan for organizations looking for one software platform to handle all of their marketing and advertising campaigns.
SendX Is a Good Pick for Bloggers and Small Businesses
If you're a blogger or small business owner in search of a platform for basic email marketing, then SendX is a smart choice.
 The service has affordable pricing for smaller lists, and the Business plan includes lots of helpful email marketing tools.
For big organizations or marketers with large subscriber lists, however, SendX doesn't cut it.
 Once you have over 50,000 subscribers, the monthly cost for SendX is much higher than other services – yet it has fewer features. If you want more marketing tools or a lower monthly fee, another email marketing platform like Sendinblue would be a much better investment. For 50,000 subscribers,
Sendinblue's cheapest paid plan is nearly four times cheaper than SendX's
. What's more, there's the generous
Sendinblue free plan
 which will let you try out the platform and its features at no cost for as long as you want, as opposed to a short two-week trial.
FAQ
How much does SendX cost?
If you have less than 1,000 subscribers, you can pay as little as $7.49 per month for an annual SendX subscription (or

$

9.99

on a pay-monthly basis]. Because it has a subscriber-based pricing model, the cost of SendX increases along with your list size. That means that if you have 2 million subscribers, the Business plan can cost as much as $4,999.99 a month. If your subscriber list is growing rapidly, and you need a more affordable option, I'd recommend checking out our top email marketing services, or make sure you look at our coupons page to save yourself some money.
Is SendX free?
No, SendX doesn't have a free plan. However, the platform does offer a 14-day trial. You can sign up instantly without entering your credit card number or payment information. If you're looking for a completely free service though, I'd recommend Sendinblue's free plan. As I mentioned above, it allows you to send up to 300 emails a day and have unlimited subscribers and it won't cost you anything.
How does SendX count subscribers? Will I be charged twice if I have subscribers in different segments?
In SendX, each unique email address counts as one subscriber. If you add subscribers to more than one segment, the platform won't count them multiple times.
Does SendX offer custom pricing?
Yes, SendX provides custom pricing in a few cases. You can contact the sales team to get a custom price for the Business plan if you have over 2 million subscribers. You can also get a custom quote for the Enterprise plan based on your list size and sending capacity.