大家好! Привет всем! Hola a todos!
Understand any of that? If not, that's how someone who understands little to no English, or who's just uncomfortable with it, feels when visiting an all-English website. (But don't worry; that was just a friendly "hello everyone" to anyone reading this article.)
Most people on Earth aren't native English speakers. That's a fact, despite how it might sometimes feel. It's important to realize that making your site multi-language has tangible benefits for your online presence that far exceed just being accommodating.
This article will open your eyes to some of those benefits. And you'll get a some useful tips on how to make your site multi-language.
Why should you make your website multi-language?
Broaden your audience
The world has thousands of languages, and different people have their own mother tongue. However, plenty of business owners today still seem to assume that everyone is fluent in English, and that English is enough for their websites.
But according to statistics by Statista
, although English has the largest share of users, it's spoken by only a little over 25% of users worldwide. Chinese is second at just under 20%, and China itself is the country with the largest share of internet users, with 52.2%.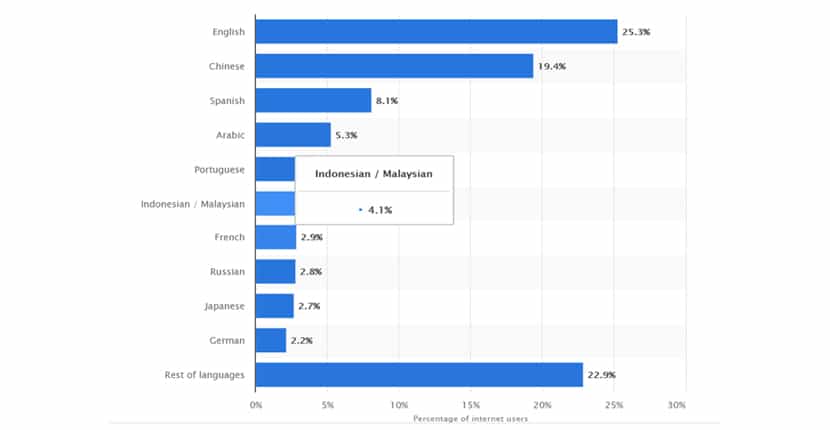 Take advantage of new markets with new opportunities
Large portions of the populations of developed nations like the UK (81.7%) and the US (78.2%) are already internet users. That means there is less chance for growth in these markets. However, many emerging economies across the world are still catching up, so they boast a larger opportunity for growth.
In China, for example, only 38.4% of their 1.4 billion people use the internet. The same can be said for large parts of the Middle East and Africa. That means that there is tremendous potential in these markets to grow an audience. In these areas, it's also almost certain that the competition will be less fierce, for now.
Convert more visitors into customers
Just think how much more comfortable and at ease you would feel doing business with someone if you could communicate freely with him or her. Then, superimpose that on the 70+% of internet users who don't speak English as their first language.
Would you buy from a site if you understood none of its content? Probably not. It would also be harder to trust a site with poor translations that seemed unprofessional.
Make your customers feel at home
Making customers feel as if you cared that their needs were looked after has never been bad from a business perspective. The same can be said for your online customers. Engaging with your audience and making them feel comfortable will build customer loyalty and encourage them to return to you. It's more economical and profitable to retain customers than to get new ones — fortunately, a multi-language site will help you do both.
Get ahead of the pack
The massive contradiction is that despite around 70% of internet users not using English as their first language, 80% of website content is available only in English.
So if you make your site multi-language right now, you're already in the top 10% And if you want to get serious by implementing quality translations and multiple languages, you'll easily get into the top 5%
.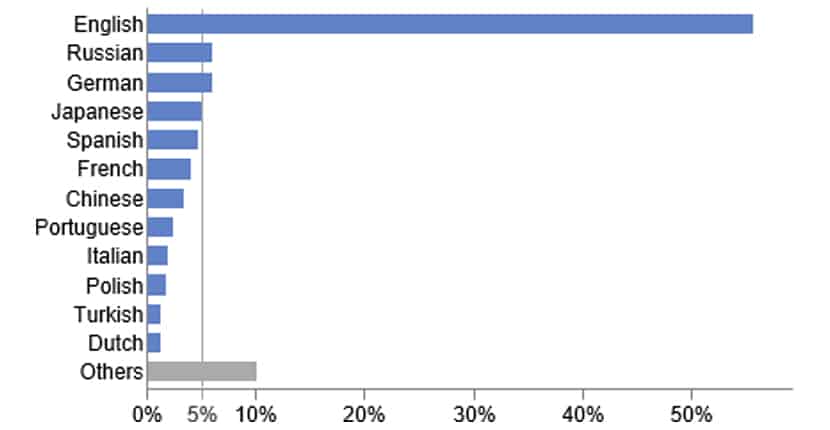 Carve out an international image for your brand
Having a multi-language site and ensuring that other languages are represented adequately will make your business look more professional, polished, and give it an international image. That will boost your reputation among new and existing customers and make them take you seriously.
SEO optimization
The English version of Google is not always the search engine of choice in every country. Other countries likely rely on the language-specific version that's relevant to them, or an entirely different search engine that caters to their language. A good example is China, with a number of Chinese search engines like Baidu and Sogou.
For your website design
If you are committed to creating a multi-language page, integrating it into your design process holds key significance. Certain languages, unlike English, do not follow a left-to-right reading pattern. Additionally, variations in space utilization may occur while conveying the same message. These factors will influence your website's design, underscoring the necessity to accommodate such languages effectively.
How to make your website multi-language
It's clear that a multi-language website is hugely important. But now you might wonder how you can actually go about making one. As more and more people are realizing how crucial it is, tools are improving and expanding. Here are the most common options:
   

Find a great multi-language website builder:

When it comes to making your site multi-language, all website builders definitely are not equal. Builders like Wix, Weebly, and Squarespace are renowned for great multi-language tools and guides. However, each has their own process to go about doing it, with varying levels of complexity.

   

Embed the Google Translate widget:

Most builders allow you to embed a Google Translate widget directly. This will give your site the Google pop-up box that asks users if they want the site to be translated by Google. This is a very convenient option, but the tool isn't always accurate.

   

Human translator:

For now, you can't do better than a skilled human translator. However, you would need to hire a translator for each language, and that could get expensive. Also, you would still need to incorporate the translated content onto your pages somehow.
Ready to make your world-class site world-friendly?
By now, hopefully you have a new perspective on the multi-language dynamics of the internet in this modern day and age. The internet has brought internet users closer as a global community and opened up nearly endless possibilities for your online presence. However, some communication barriers still remain, and it's critical that you address them to take take your business to the next level.