it CAN be done, and I'm here to show you how.
Your website might not look
exactly
 the same, but you can have a similar design with the same content, images, and functionality – or even better functionality, because we all know the WordPress platform has much more to offer.
You just have to be sure to follow all the steps carefully.
 If you do, you can have your shiny new WordPress.com website ready to go in minutes.
Important to Know Before You Get Started:
This is not a guide to precisely recreating your Wix site's design in WordPress.
 While that is theoretically possible, it would take the skills of a designer/developer, a considerable amount of time, and one of the more expensive plans on WordPress.com. This article assumes that you have other things to do with your time and money, like running a business, having friends, petting some friendly animals, or… okay, you get my point. Anyway,
this is a guide to getting your content transferred over quickly and easily.
The Two Different WordPresses
Before you begin the transfer from Wix to WordPress, you should know
which
 Wordpress you're working with. In this article, I'll be referring to WordPress
.com
, which is a commercial website builder managed and hosted by the creators of WordPress. It's designed to get you up and running as quickly as possible and
there's a free plan available
, but a lot of the big features (like custom site themes and third-party plugins) are locked behind the more expensive payment plans. WordPress
.org
 is the original WordPress project, and home to the base software. This software is available for free, but you'll need to purchase hosting separately. If you want fast and easy WordPress hosting,
check out our Hostinger review
. It's my favorite host for WordPress sites.
What You'll Need to Get Started
To start with the obvious, you'll need a Wix site that you want to transfer over to WordPress. I'm using a
demo site on Wix that I made
 a while back for another project. It's a one-page site, so that'll keep things simple.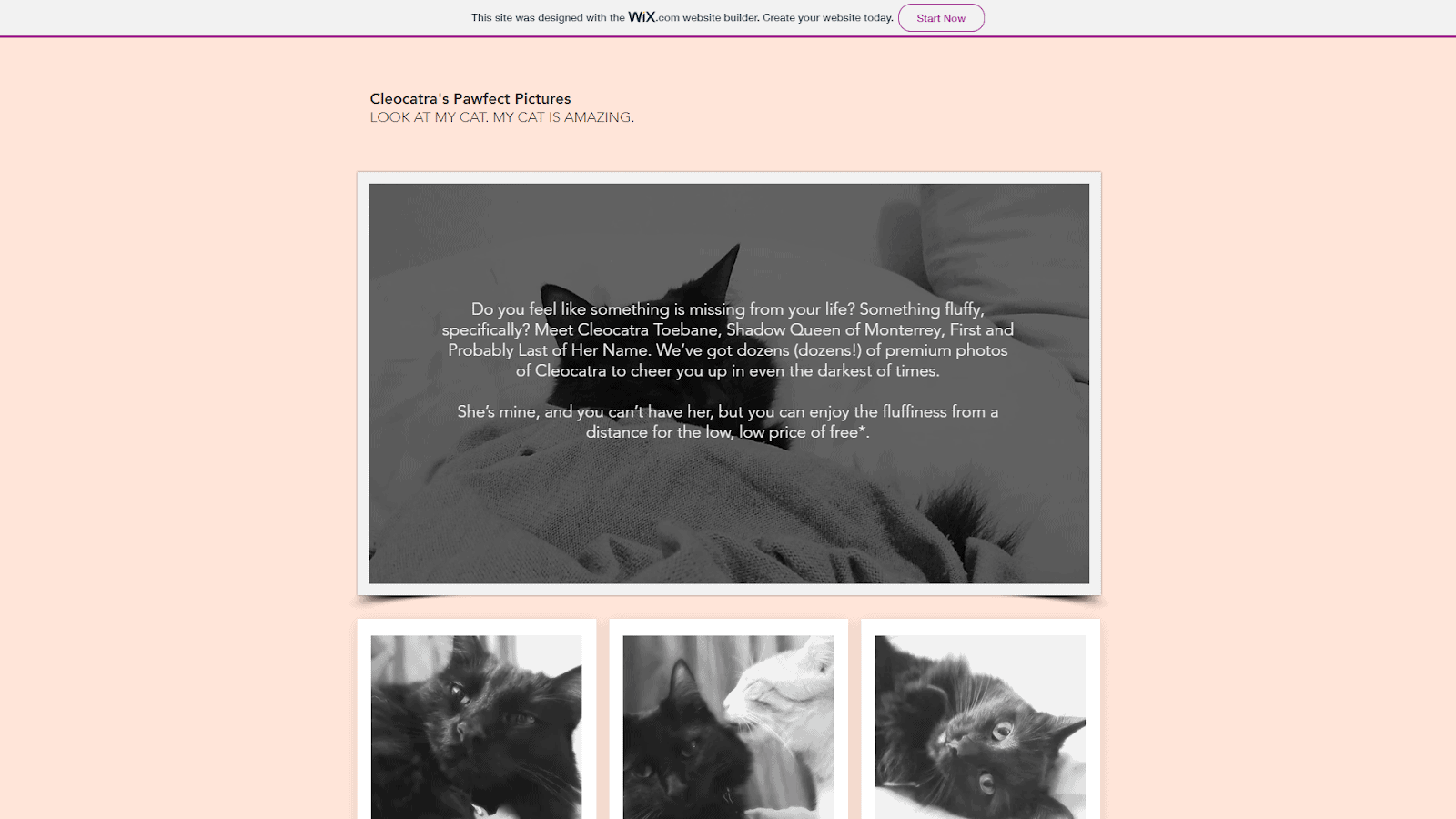 Secondly,
you'll need a list of every advanced feature on your Wix site.
 This stage is not a must, but it'll make your life much easier. I'm talking about things like advanced contact forms, menus, real estate listings, and other things you might be using a third-party app for. You can use your list to determine which paid plan to get on WordPress.com. Keep in mind that you'll need to sign up for the Business plan or a higher-tier plan to get access to plugins. Lastly, it would be helpful to have all the original images you used for your Wix site downloaded and organized on your computer. This isn't essential, but it
is
 the easier way to do things, because you can't just copy and paste the images from one website to another. A little prep time goes a long way.
In case you've never used the WordPress.com service before, I'm including a quick and easy guide to actually starting your website.
It only takes a few minutes, especially if you go with the free plan to get started. That's what I've done for the purposes of this tutorial. If you have some WordPress experience,
click here to jump down to the next part
.
Signup
Step one: hit the button on the home page.
 You'll know it when you see it.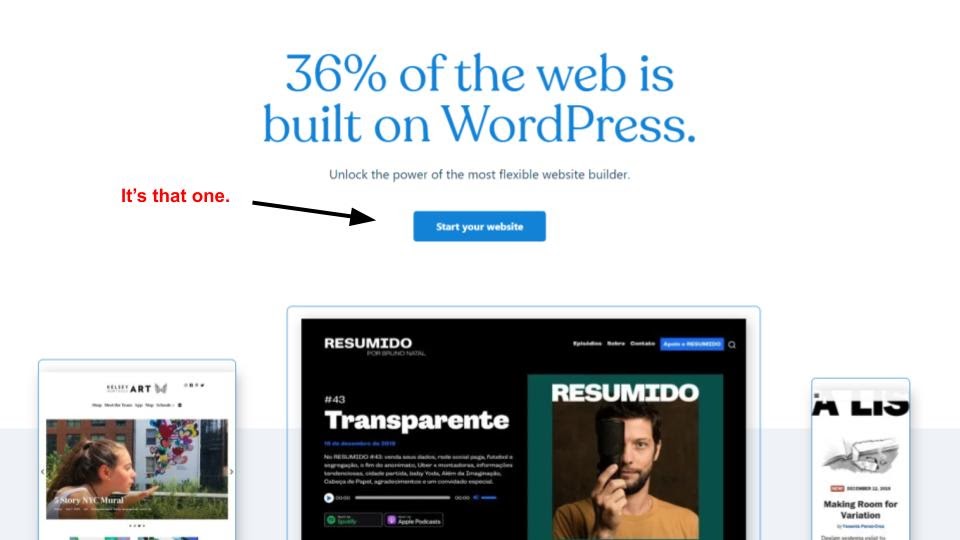 That button will take you to the sign-up form. Signing up with Google is an easy way to do it if you, like me, have willingly given Google all your information. Otherwise, you'll need the usual email address / username / password combo.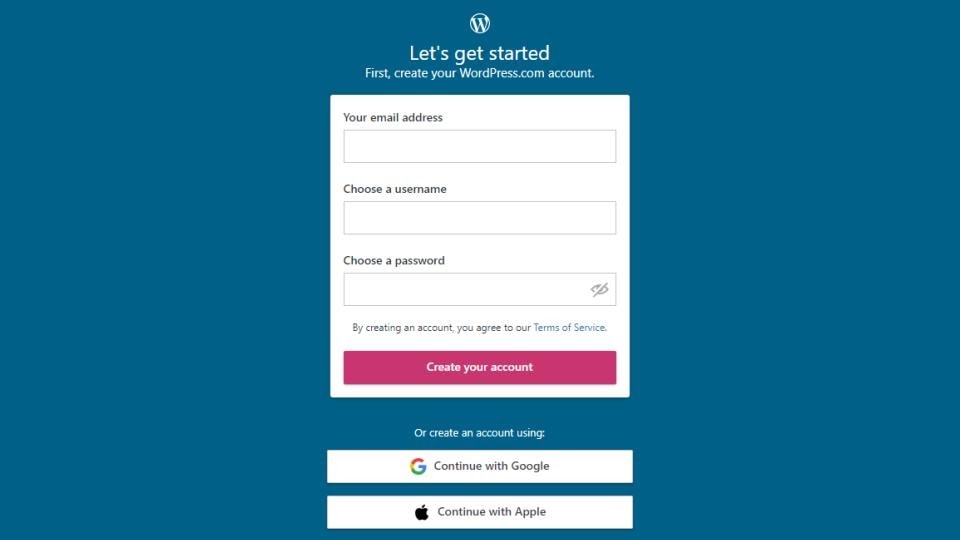 Once you've created an account, you'll be taken to a screen where you can type in the domain name you want. You can buy one, or just click on the free subdomain option.
If you already have a domain name with Wix, you can transfer your domain from Wix to WordPress.
 It might be easier to do that later on, though, as this involves talking to customer service. I just went with the free domain.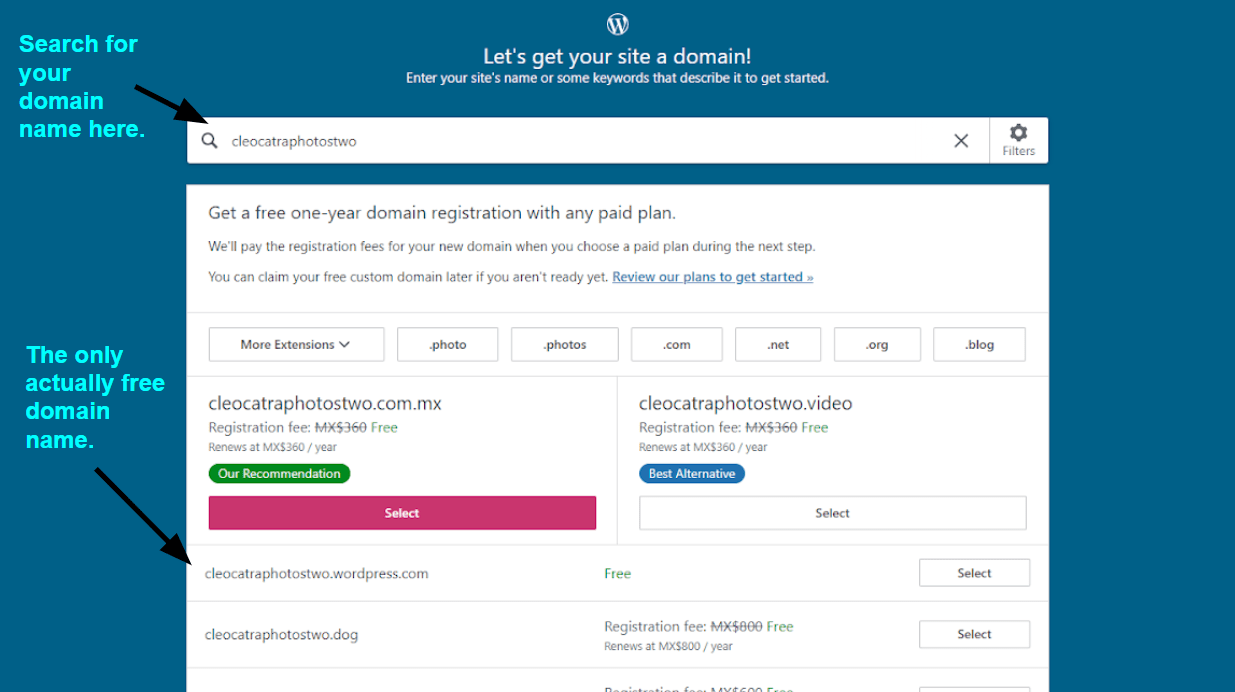 From here, you choose the plan you want,
or start with the free plan, which is what I went for again.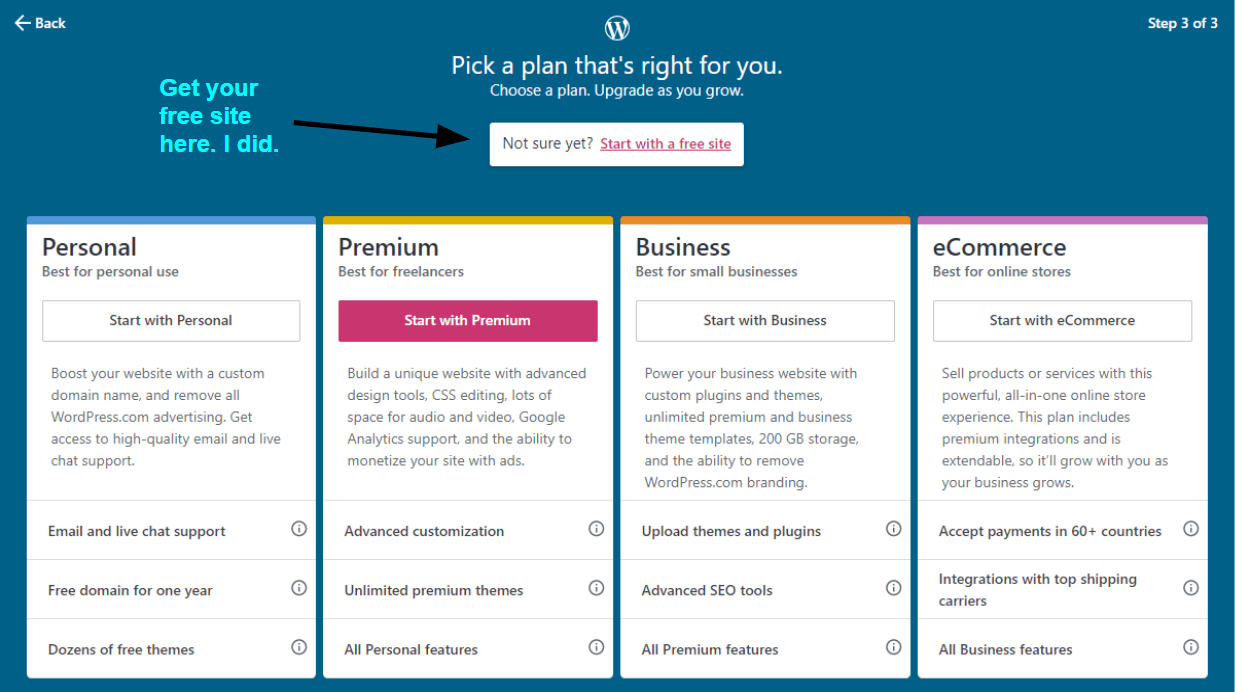 With this accomplished, you're about a third of the way done.
Basic Site Setup
On the WordPress.com dashboard, there's a section called
Site Setup
. If you click on the pink button you see there, you'll be taken through a simple guided setup process.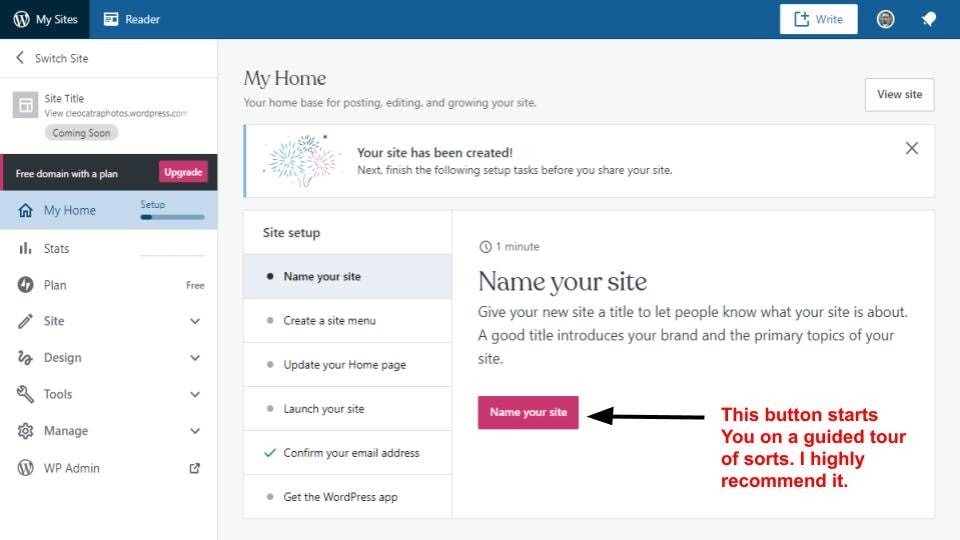 If you want to skip the tutorial, here are the things you absolutely need to do before you start copying content:
Name Your Site
To name your site, you can click that pink button I showed you earlier, or go to
Manage > Settings
 in the menu on the left. Here you can manage a whole bunch of settings, but just make sure your site has the right title and tagline (if you use one) for now.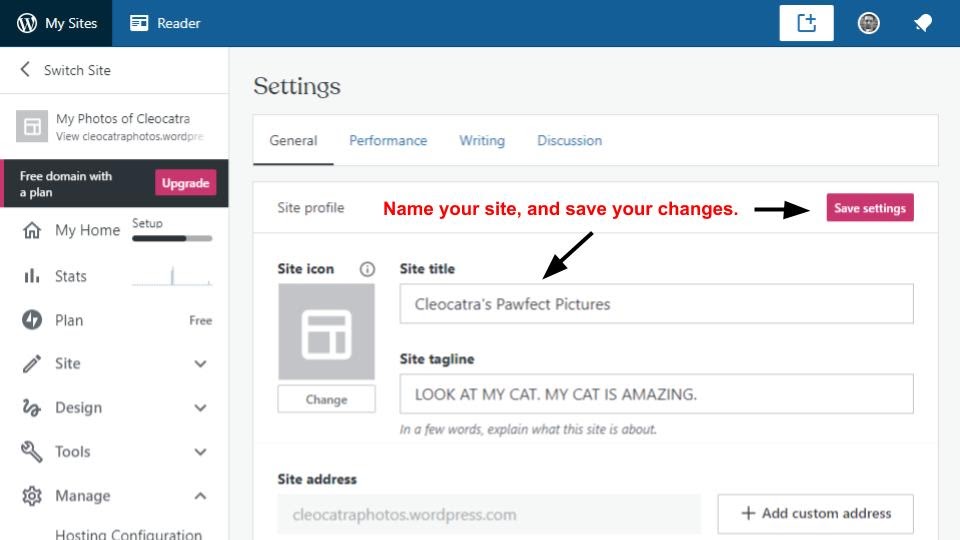 Choose Your Theme
WordPress themes are a bit more restrictive than the Wix editor when it comes to site layout. You can't just drag and drop things anywhere you like, but you do still get a fair bit of control over your content.
The good news is that there are plenty of themes. Over 200 of the themes on WordPress.com are free,
 and many are actually quite customizable in terms of color, typography, and sometimes even layout. I'm using the default theme for this tutorial, but if you want to see what WordPress.com has available to you, just go to
Design > Themes
 in the menu on the left.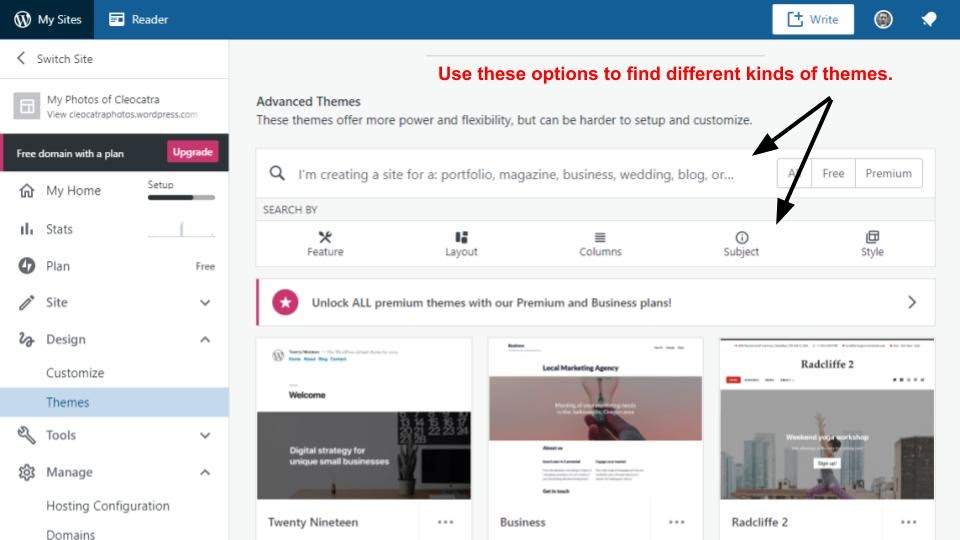 Set Up Your Pages
Again, this particular demo site is a one-pager, but if your site has a more complex structure, you may want to set it up at this point in the process. Just head on over to
Site > Pages
 to get started. From here, you can add new pages, edit the ones you already have, and organize them in a hierarchical structure.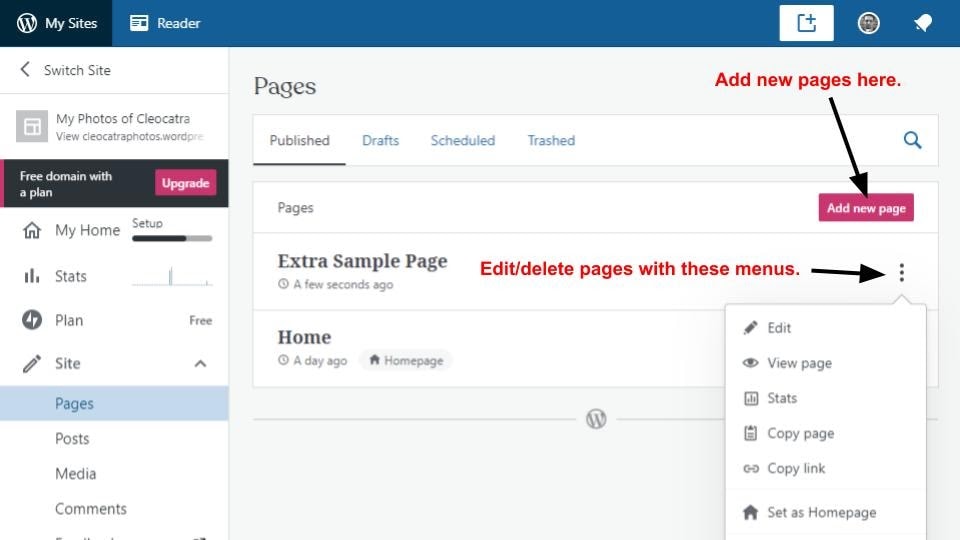 Upload All Your Photos
And this is why I suggested having all your photos/images ready to go at once.
 You can upload them all to WordPress at the same time, so they'll be available for any page and post. To do this, you have to go to the WordPress media manager at
Site > Media
.
You can click the
Add New
 button to upload photos, or drag and drop them anywhere on the Media screen. You can upload multiple photos at once, so go wild. Drop in 500 photos if you want, then go grab a coffee while they upload.
The Easiest Way to Copy Your Content
As you know by now, there is no automated solution that will allow you to export from Wix to WordPress.
 You're going to have to bring your content over manually. That means copying and pasting everything a little bit at a time. I mean, if your pages are all just one long column of text, that'll be a bit easier. Just copy and paste everything in one go. But if you look at my original Wix site, well, it has a slightly more complex layout with a "hero" image at the top and a text overlay, three columns of images and text, and a newsletter signup form near the bottom. I will show you how to build a similar layout to the one I used on the Wix site. Note:
When you migrate from Wix to WordPress, it's good to remember that everything in the WordPress content editor is a "block."
 That means every paragraph, every heading, every image, and everything else is its own modular piece of content. You can drag and drop these blocks around to change their order on the page. You can also customize them by changing their font settings, background colors, and more. You can also use these blocks to create basic content layouts, though they can't change the overall layout of the whole site. That's defined by your chosen WordPress theme. "Blocks" include paragraphs of text, headings and subheadings, and images. They also include things like forms, embedded videos, embedded Tweets, Google Maps, and more.
Adding a New Block of Content
The WordPress editor can actually act a bit like a classic text editor.
If you just type stuff in and keep pressing the Enter key, you'll make new text/paragraph blocks. If you want other kinds of blocks, you can use the menu below: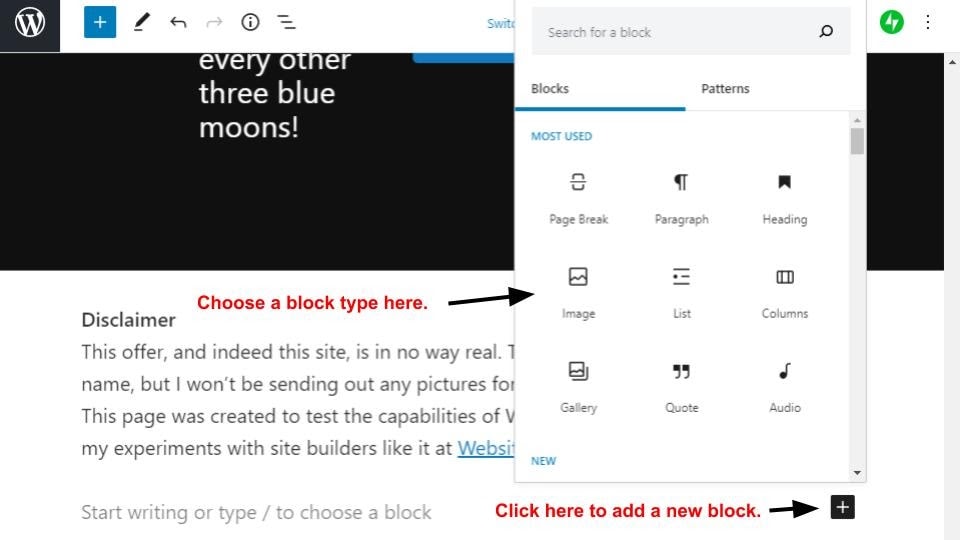 Note: if you don't see the little "plus" icon, you can select an existing block and use the menu to insert a new block before or after it.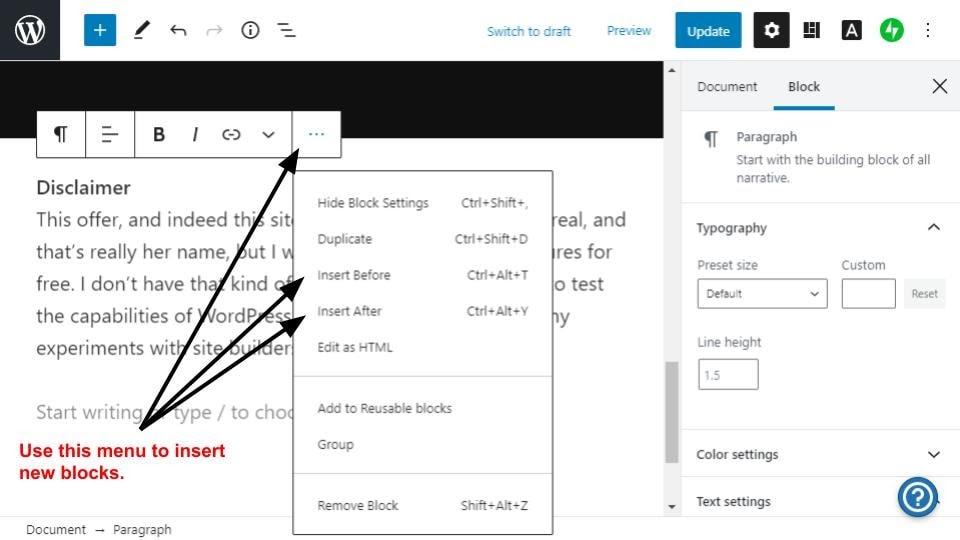 Copying Text
Just copy and paste your text into any paragraph block. It's that easy.
I find it easier to copy/paste from a published Wix Site than from the Wix editor, though. Once you're in the WordPress page editing screen, just paste your text wherever you like. You can even add text to  image blocks called "Covers," like so: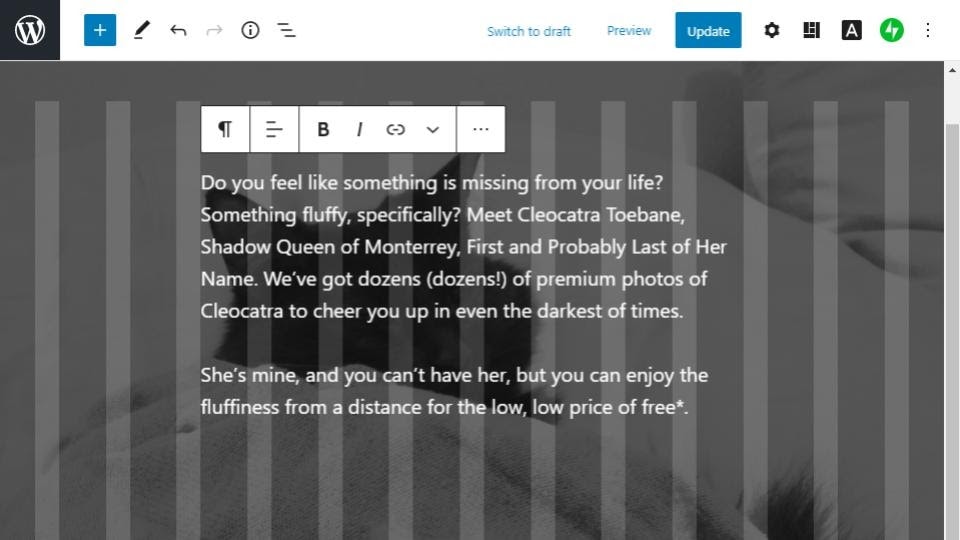 The default theme on WordPress.com comes with a Cover block already at the top of the home page, and a newsletter signup form at the bottom, so you can just edit the text in both and go on with your day.
Simple Layouts
Now, if you want more than some vertical text in one lonely column, you can add a columns block to give you some layout options.
 We're going to use these columns to put three images side by side, with text underneath each one. Start by adding a Column block, like so: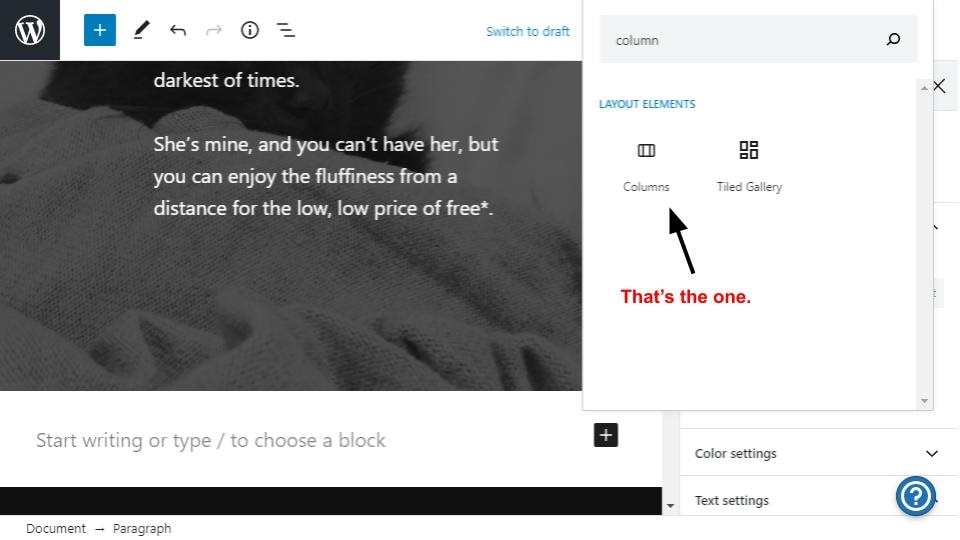 Caption text: That block search function really comes in handy. Then choose the number of columns you want: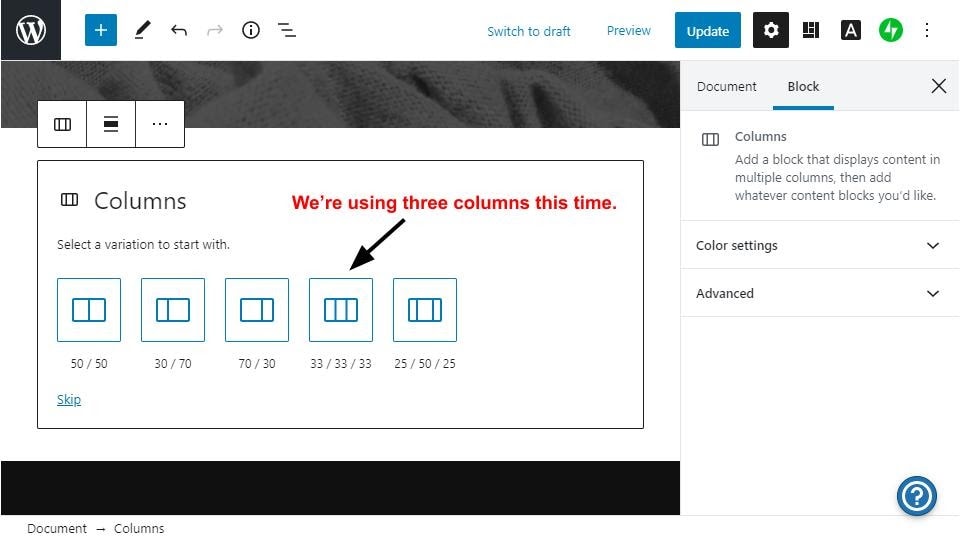 And now you're ready to add anything you like to those columns. Let's start with some images.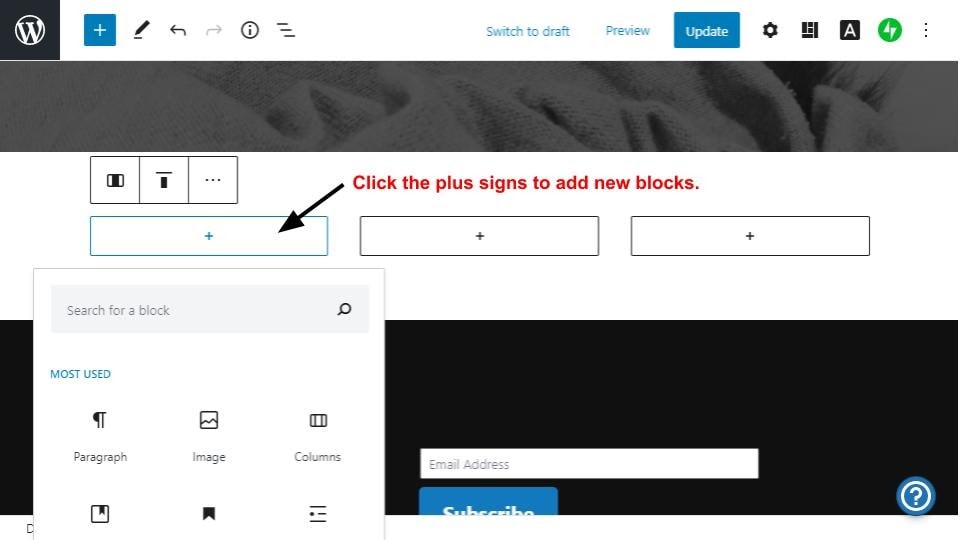 Adding Images
Just add an image block the way you would any other. Once you've added the block, you'll be given the option to upload a file directly from your computer, or use an image from your media library. Assuming you've uploaded all your images already, choose the media library.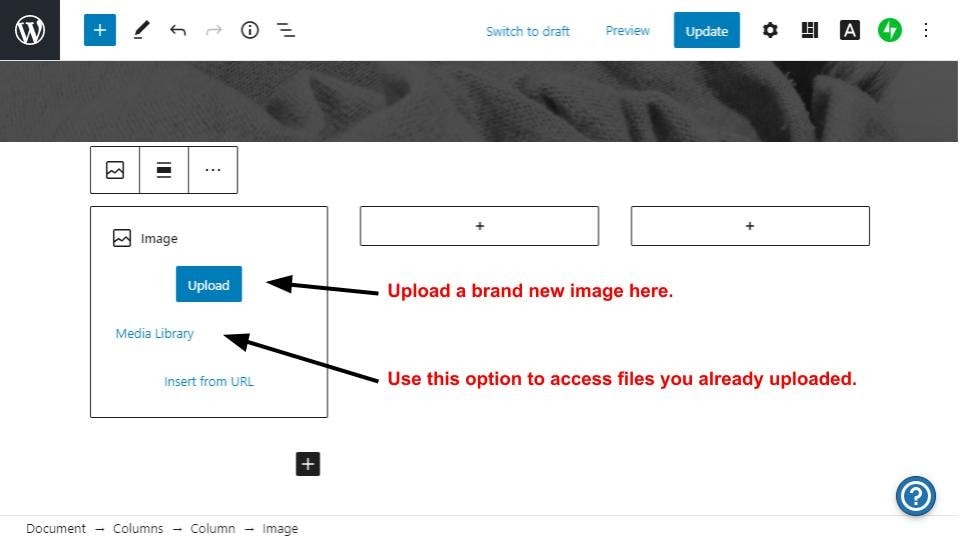 Choose your image: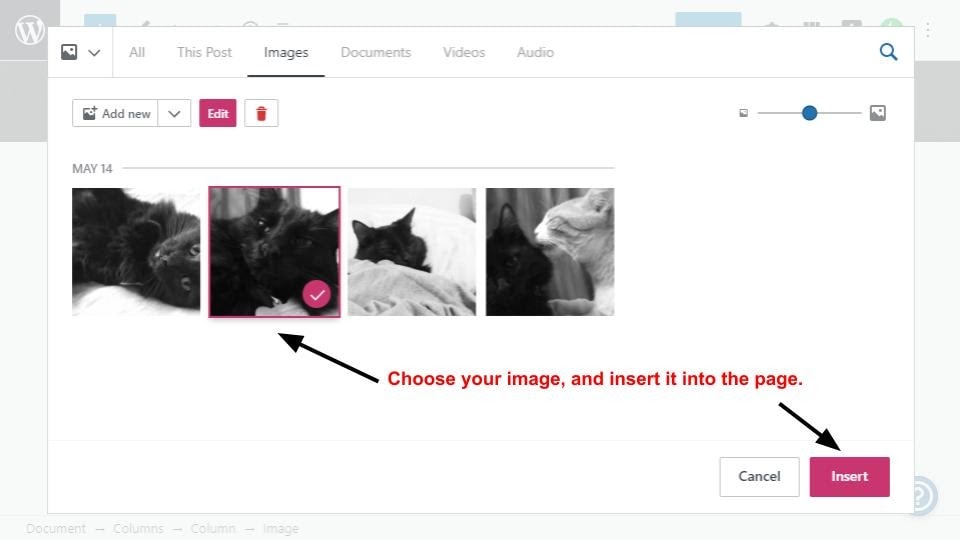 And that's done.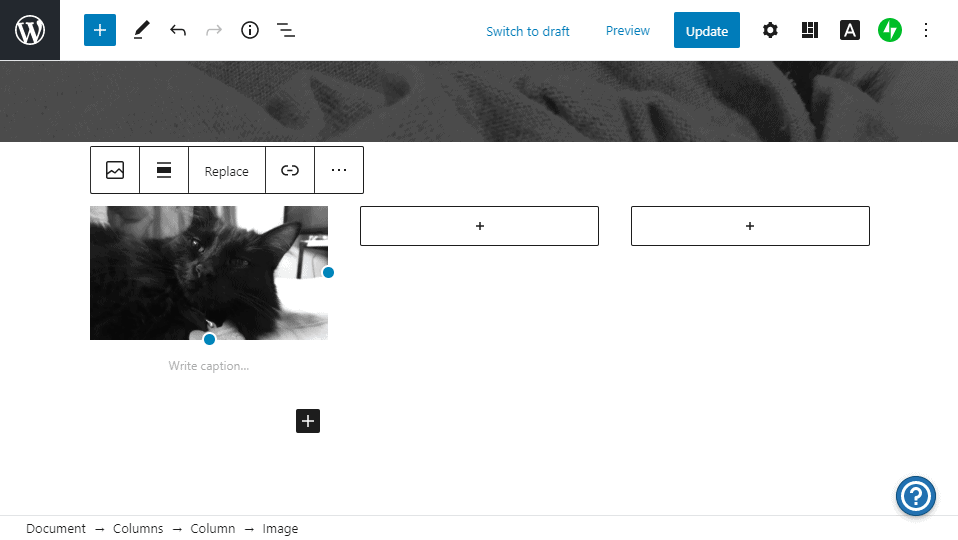 Use the methods previously outlined to add a heading block and a paragraph block underneath the image. Repeat the process for the other three columns, and you've got a third of this page's layout done.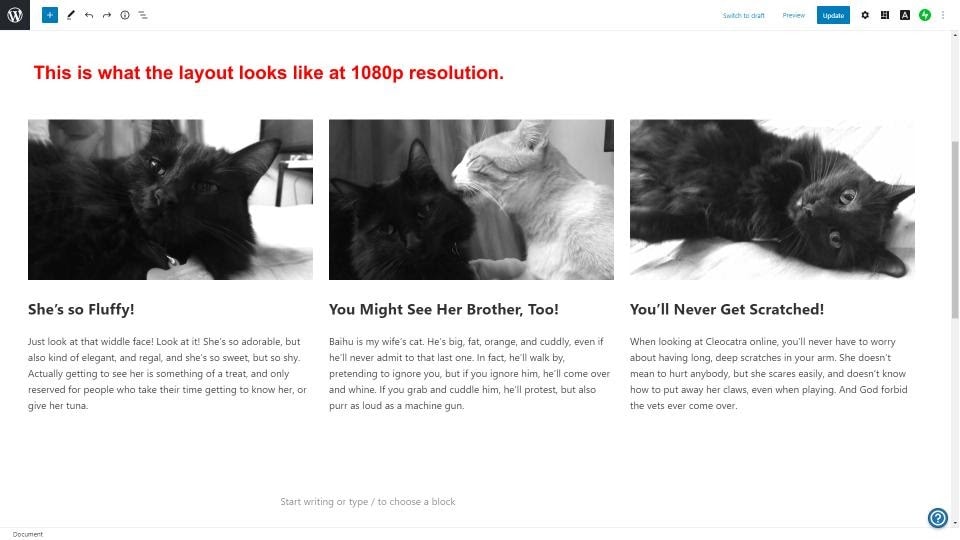 Caption text: WordPress' easy content layout options are limited, but well designed. If you put the wrong image in the wrong place, don't worry. Not only is there an
Undo
 button,
but there's also an easy way to replace any image with another.
 Just select the image, and hit the
Replace
 button. Then upload a new image, or go through the media library again to get the right one.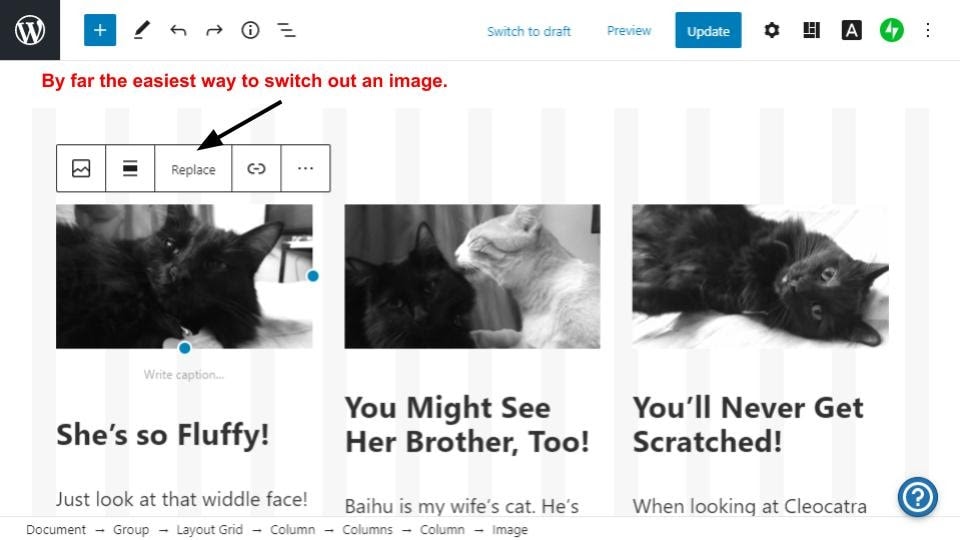 Summing Things Up
Now that you know how to add and edit content in WordPress,
here's the completed example page
. Not counting the time it took me to grab a whole bunch of screenshots, migrating from Wix to WordPress took me about 15 minutes.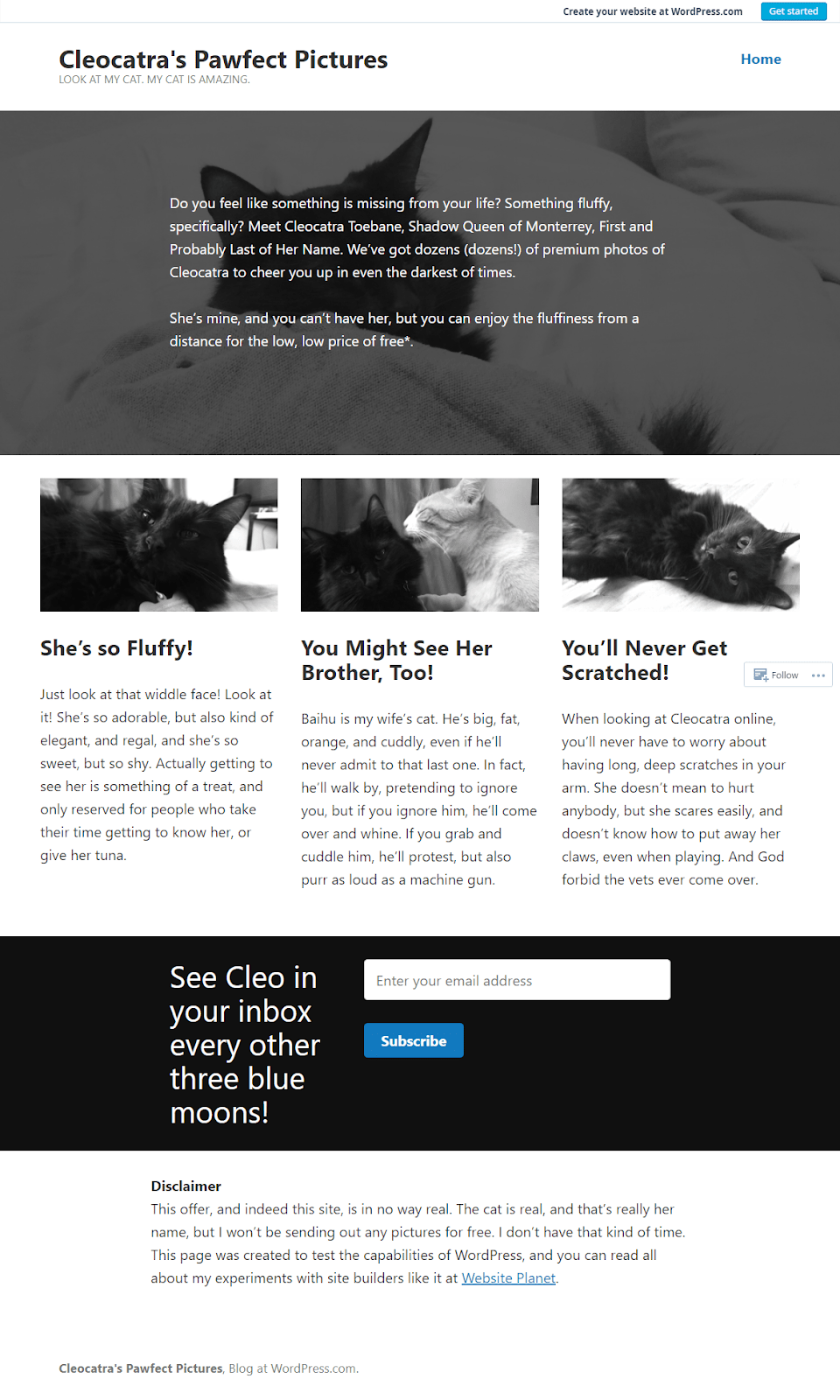 While WordPress definitely has a learning curve, Wix to WordPress migration can be quick and easy once you get the hang of things.
 It should be reiterated, though, that converting from Wix to WordPress will be made more complex if you use some of Wix's third-party apps, so make sure WordPress can do everything you actually want it to. Learning any new content management system or site builder is a matter of trial and error, and will take some time. I hope I've made it easier for you to grasp the fundamentals, and get a head start. If after reading this, you're not sure if WordPress is the best solution for you, you should check out our list of
the best website builders
. Several of the builders come with drag-and-drop editors similar to Wix.