So, maybe you're feeling like Wix is all right, but those advanced online store features on Shopify are just too good to resist. I get it; there's nothing like using a specialized tool for a specialized job. Well, the good news is that going from Wix to Shopify isn't that complicated. However, it's not "just-push-a-button" simple, either.
There's no automated tool that will transfer the site for you.
 However, if your existing site is small enough, there's a quick and easy way to get your Wix to Shopify migration sorted, and I'm here to show you how it works. Just note that because the two services don't have the same templates, your site
will not
 look exactly the same. But given that Shopify's templates look pretty great, so will your site. I should also note that adding products to your store works pretty much the same way on both builders. This article is mostly concerned with how to copy your website content.
What You'll Need
This might seem obvious, but you're going to need an existing site on Wix
that you need to transfer. For this tutorial, I used a Wix-based demo site that I built when I reviewed
a whole bunch of site builders at once
. Basically, it's a one-page website advertising a newsletter full of pictures of my cat: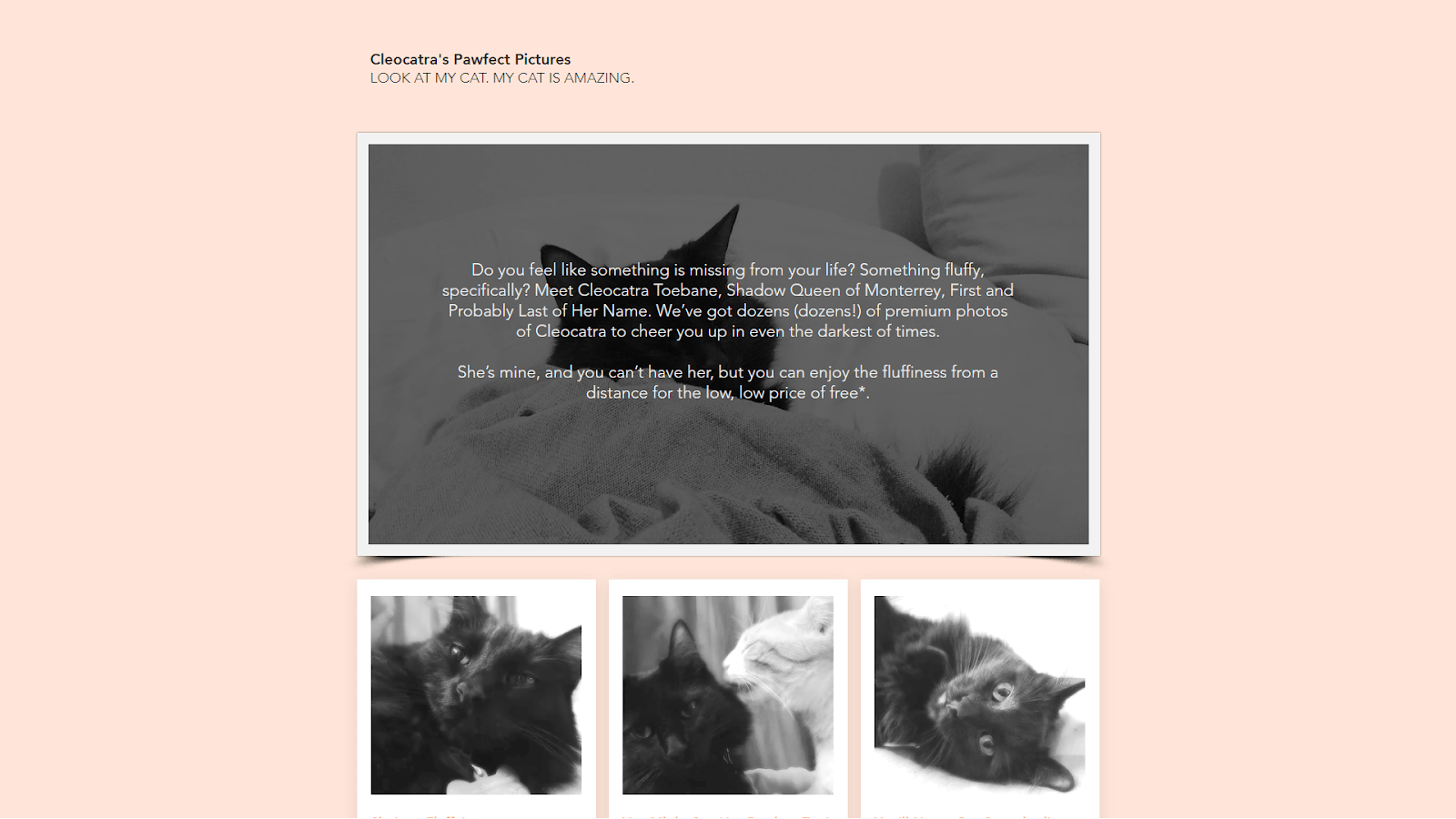 The site has a few common web page elements: some text overlaid on an image, three columns with images and text that describe the site's "features", and a newsletter sign-up form. Oh, and a disclaimer mentioning the important fact that this is not a real service I offer… although maybe I should.
The second thing that I highly recommend is having all of your site's images and pictures downloaded into a folder or two on your computer.
 While you can copy/paste text directly from your site, you'll have to actually upload the pictures as files.
The Shopify Signup and Site Setup Process
Step one: we have to make a Shopify site so you can copy your content into it. Just hit one of the green buttons on the Shopify home page: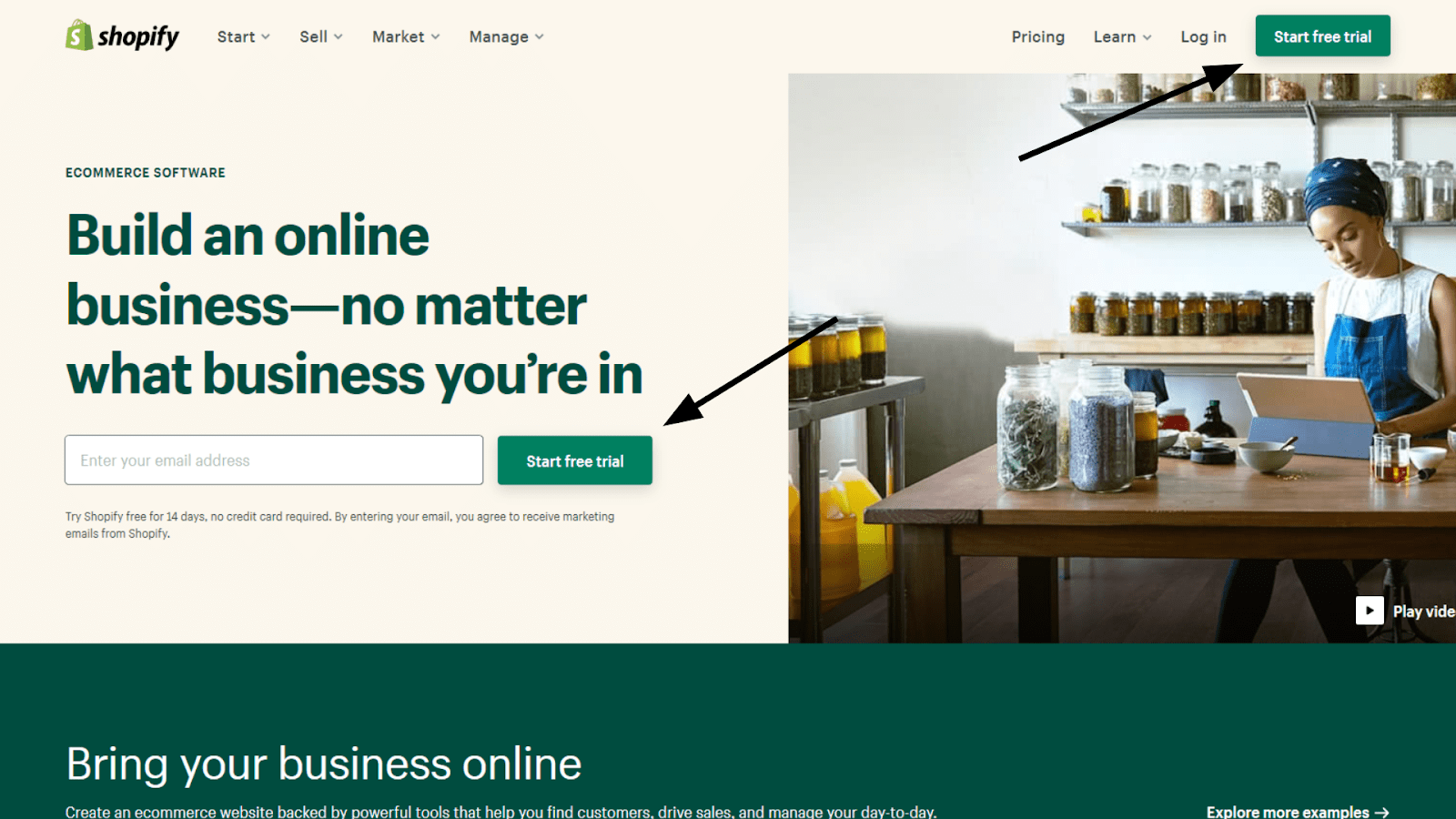 You'll be prompted to fill in some information if you don't already have a Shopify account. Besides the usual email and password combo, you'll also need to enter your store's name.
Keep in mind that the name of your store will also be its subdomain.
That is, if you name your store "Huge Cakes and Tiny Buckets of Ice Cream," your store will be reachable at "hugecakesandtinybucketsoficecream.myshopify.com." Though I'd recommend something shorter. You can always replace the "myshopify" domain later, though –  and yes, you can transfer a domain from Wix to Shopify. In fact, the Wix knowledgebase has a whole tutorial on that.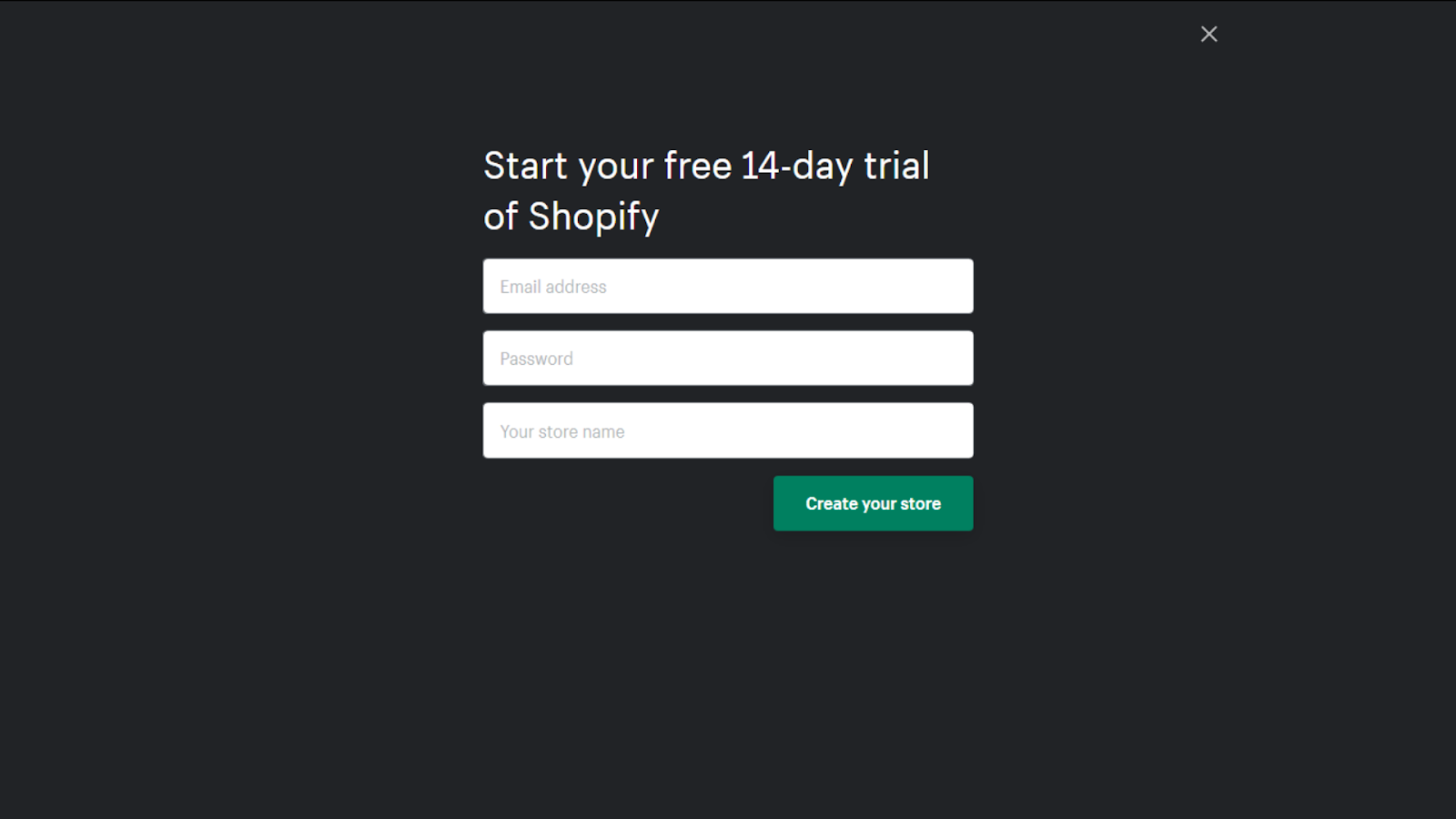 You'll get a short loading screen while Shopify generates your site, and then you'll need to fill in some more information. Just answer the questions, and be ready to put in an address for your store.
Even if the only address you have is your home address, you need one.
 Otherwise you won't get paid.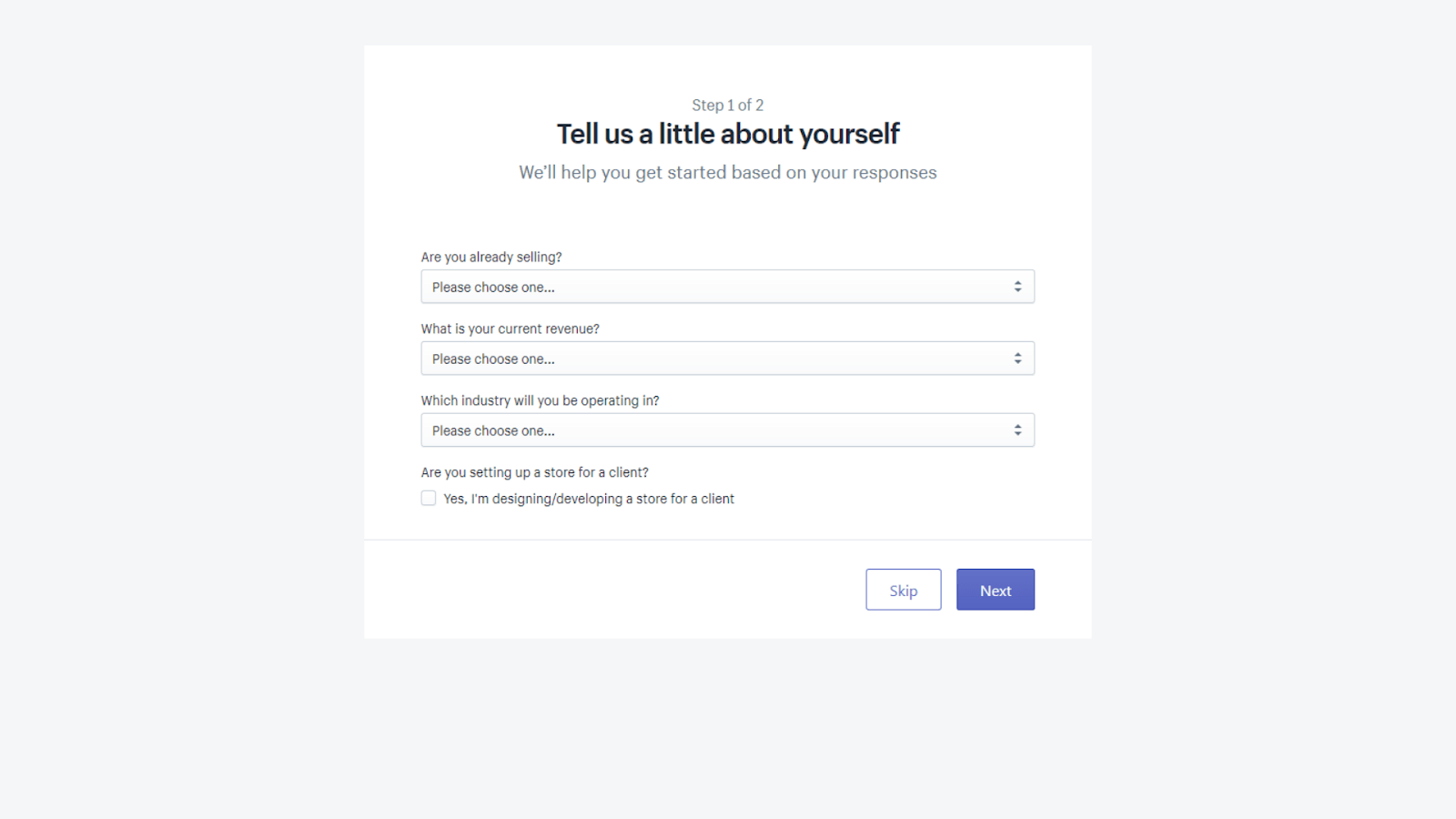 With that done, you'll be taken to a landing page that shows you a few next steps.
 First let's take a look at the Customize Theme options.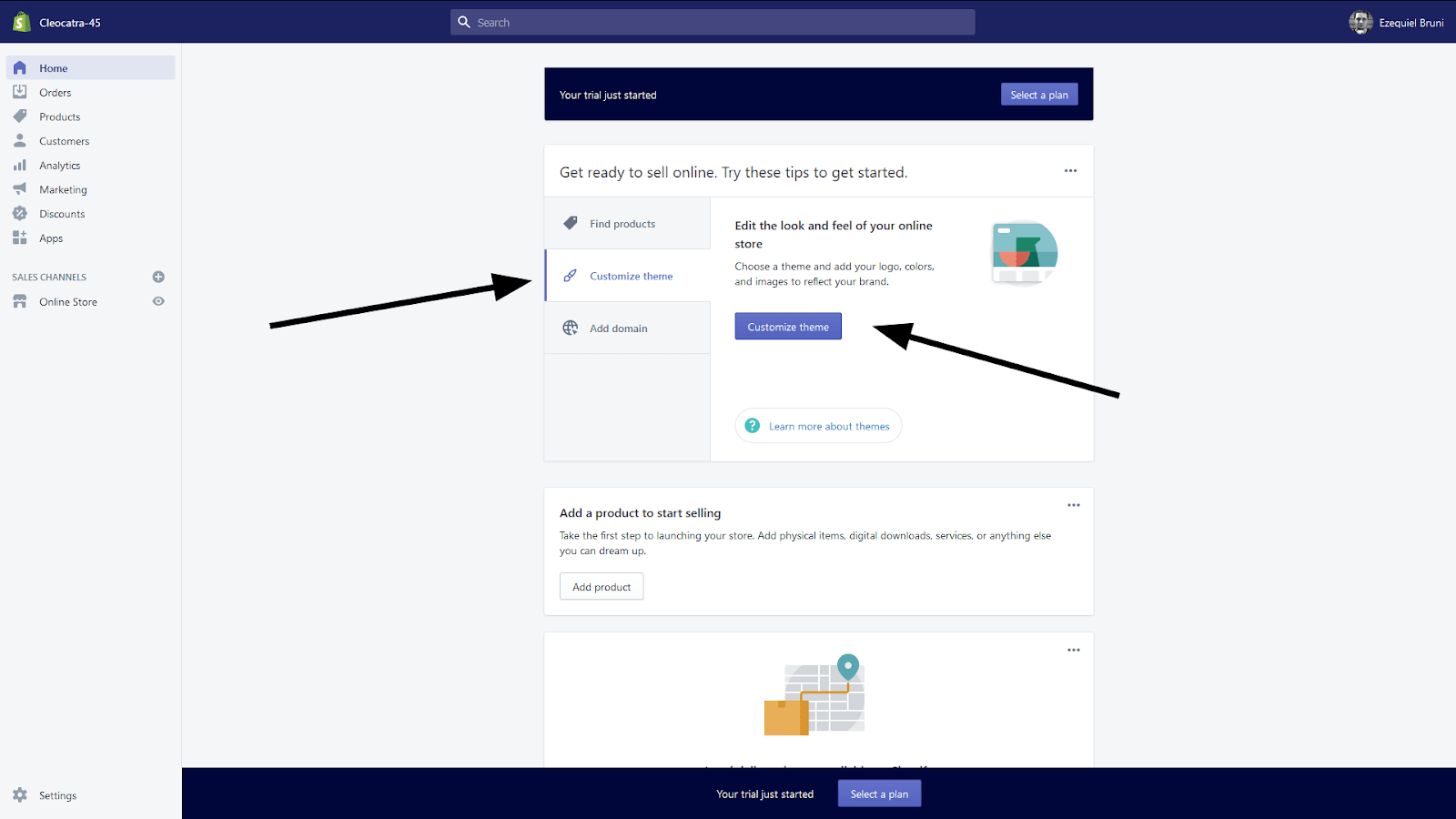 Clicking on that
Customize Theme
 button will take you to a screen with yet more options. You can alter your site's existing theme by changing the colors and branding, or you can choose a different theme entirely. Shopify has a number of free themes and themes available for purchase. You can also upload themes you buy on third-party services like
ThemeForest
.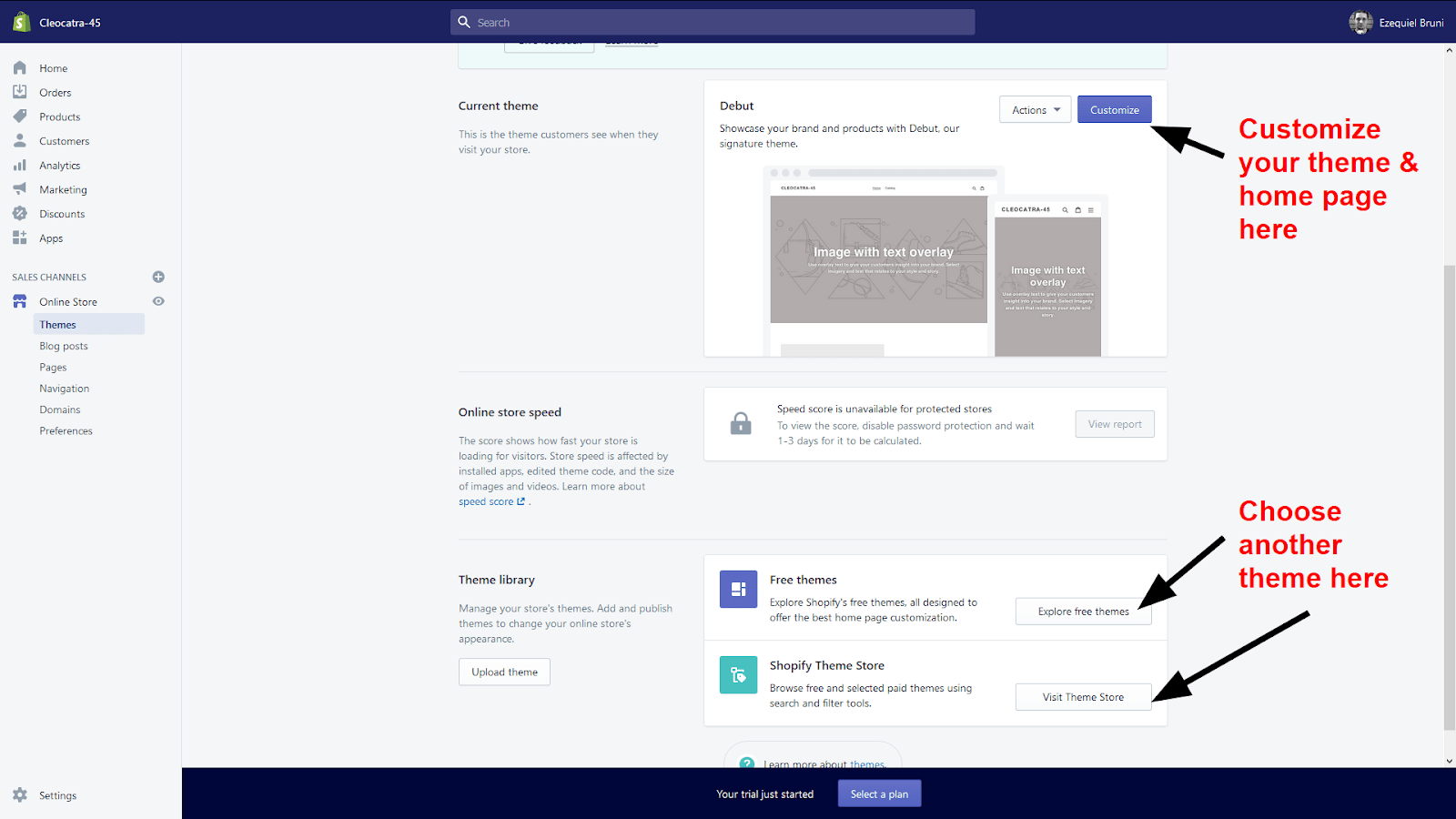 For this article, I stuck with the default theme. It allowed me to (mostly) recreate the layout I was using for the old demo site, with little fuss. The landing page also has another important button:
Add Domain.
This is where you can transfer over your Wix domain. First you go to your Wix admin panel, unlock the domain and write down the authorization code somewhere. Then you click the
Add Domain
button in Shopify and choose to transfer a domain rather than buy one. Put in the aforementioned authorization code, and the whole process
should
 take care of itself from there.
Now, before you actually start copying content, you may want to set up the rest of your site's pages.
Just go to
Online Store > Pages
, and you'll be good to go from there. Just as an example, I created an "About Us" page.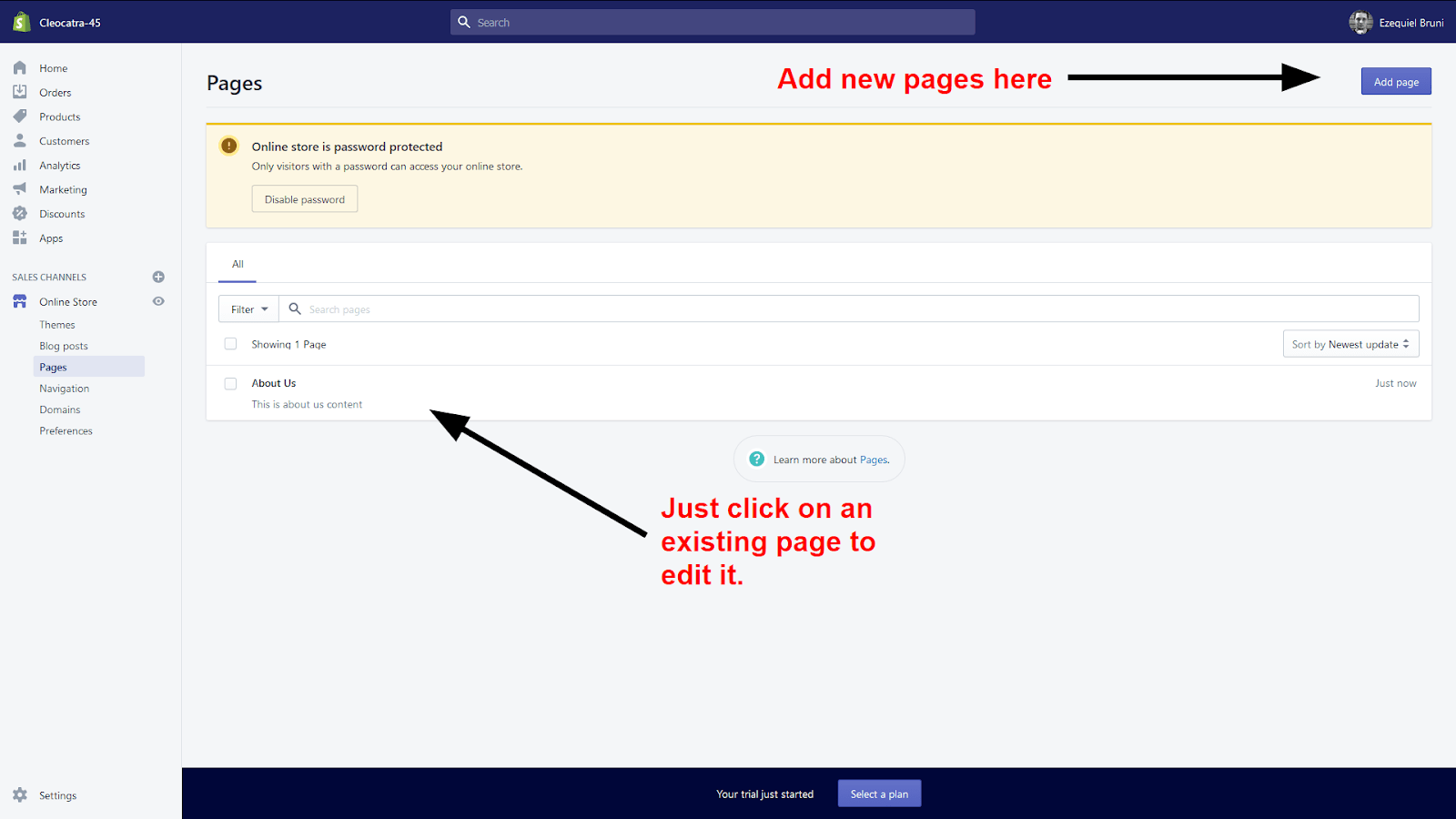 Copying Your Content Over
Okay, so there's something you need to know: while Shopify
does
 have site builder functionality that allows you to customize your design and layout,
you can only customize the layout of the home page.
Every other page follows a simple layout defined by the theme you've chosen. All your product pages will pretty much look the same to provide a consistent experience. The same goes for extra content pages and blog posts. So first, I'm going to show you how to copy content into the fancy-ish site builder for the home page.
The homepage builder operates on pretty much the same principle as many other site builders, in that it doesn't allow true drag-and-drop design.
 Instead, you choose from a number of pre-made content blocks that have space for text and images. Then you just enter  your actual content in the fields provided.
All
 changes are made from the sidebar on the left side of the screen. Click on
Add Section
 to add new content, and you're ready to go.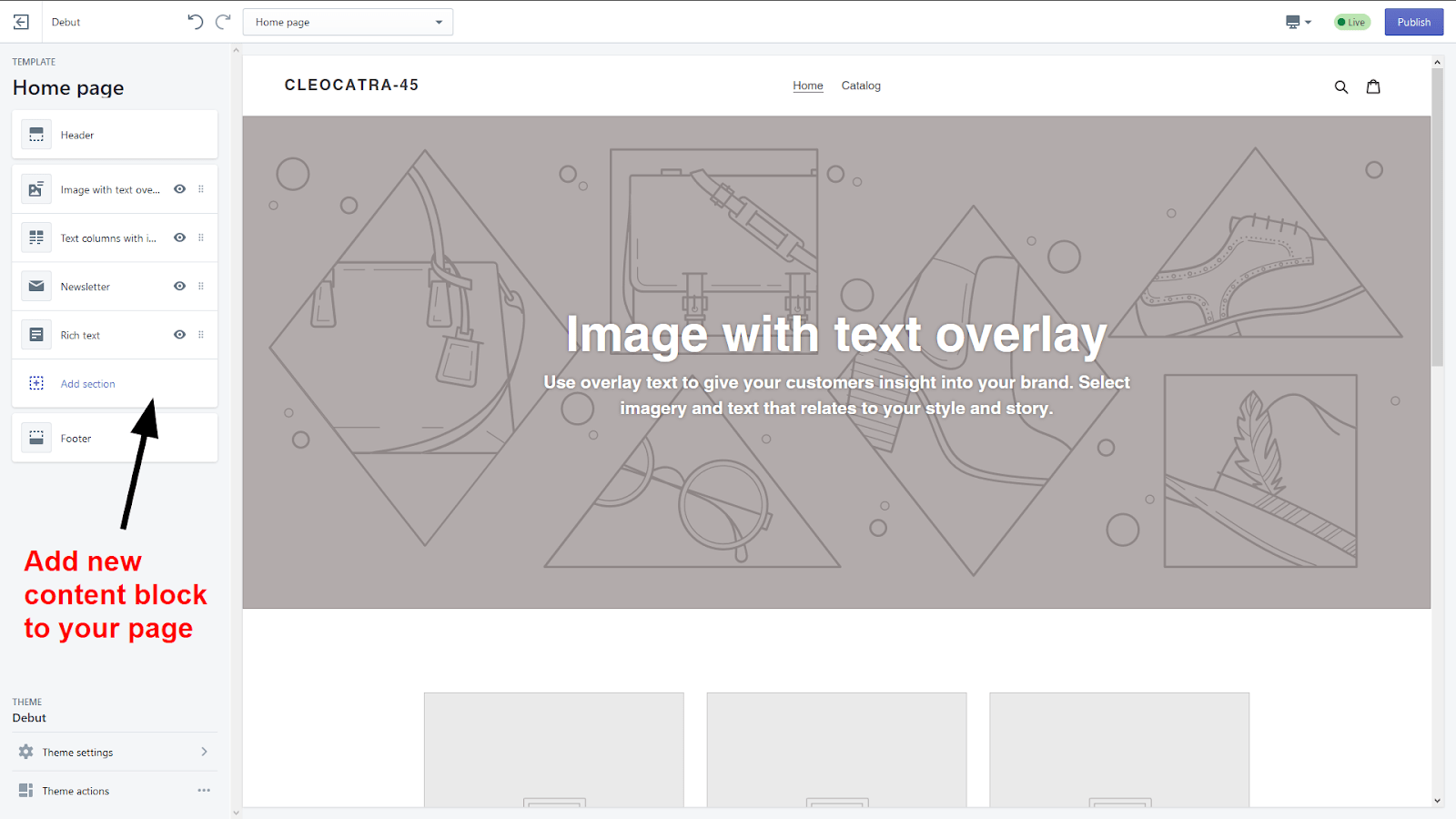 The content blocks available to you include things like the aforementioned images with overlaid text, columns, and newsletter forms, along with image galleries and (of course) your product catalogue. It's an online store, so the content is somewhat store-centric, as you might expect.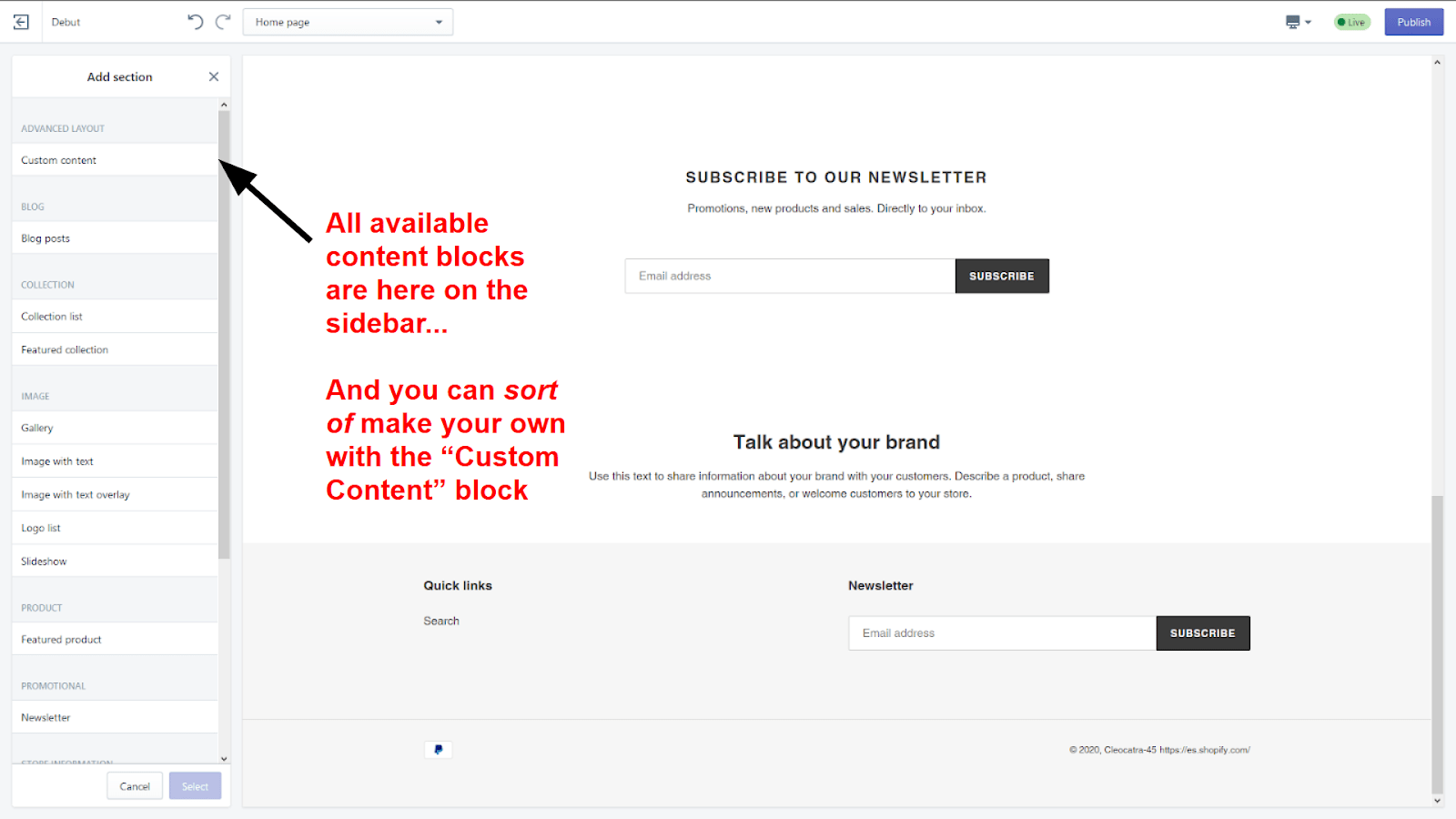 When you add a content block, or "section", the sidebar will show you a number of options
 as well as fields where you can paste text and upload images. The page preview will update itself as you go so you can see how each change will look. From there on, it's just copying and pasting stuff.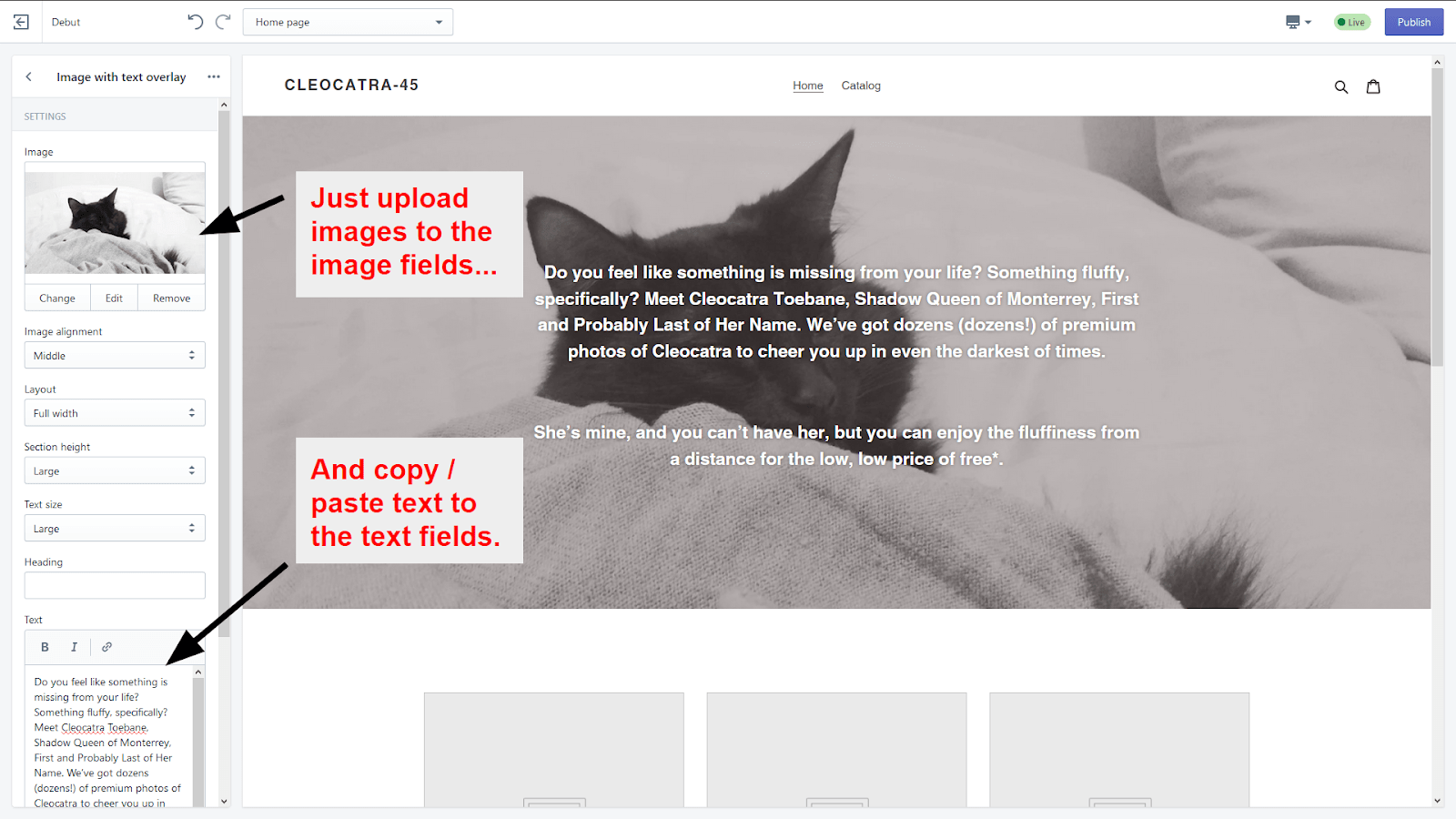 One thing you will see is that some content blocks and sections can be nested inside others. For example, the "Columns" content block is made up of other, smaller content blocks where you actually insert the text and images. The sidebar does give you some context for this, but it can get a little tricky to know exactly where you are in all the "layers" of content.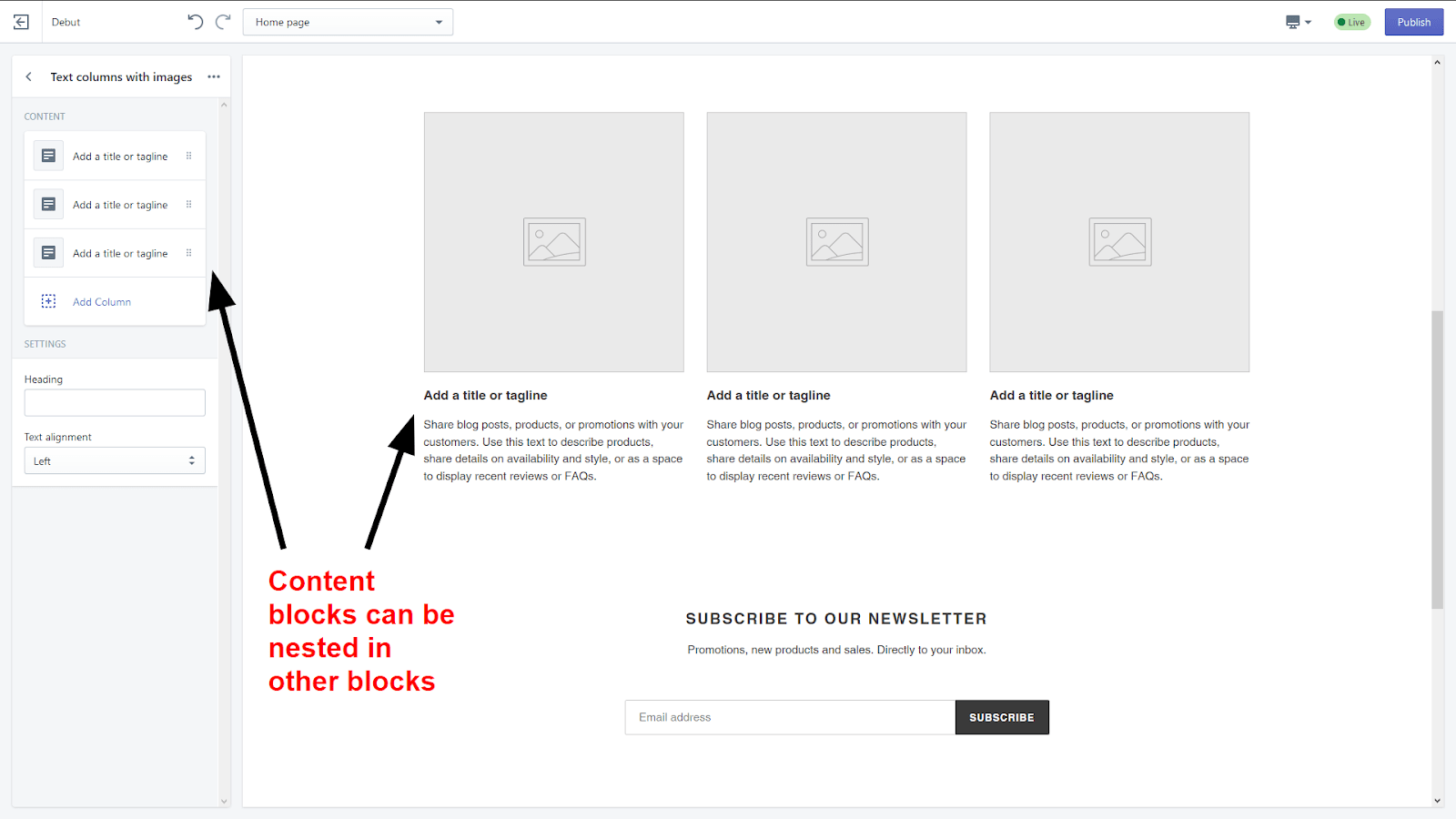 But once you actually go to edit an individual column or "sub-content block," the process is the same.
 Upload your images, paste your text. Enjoy.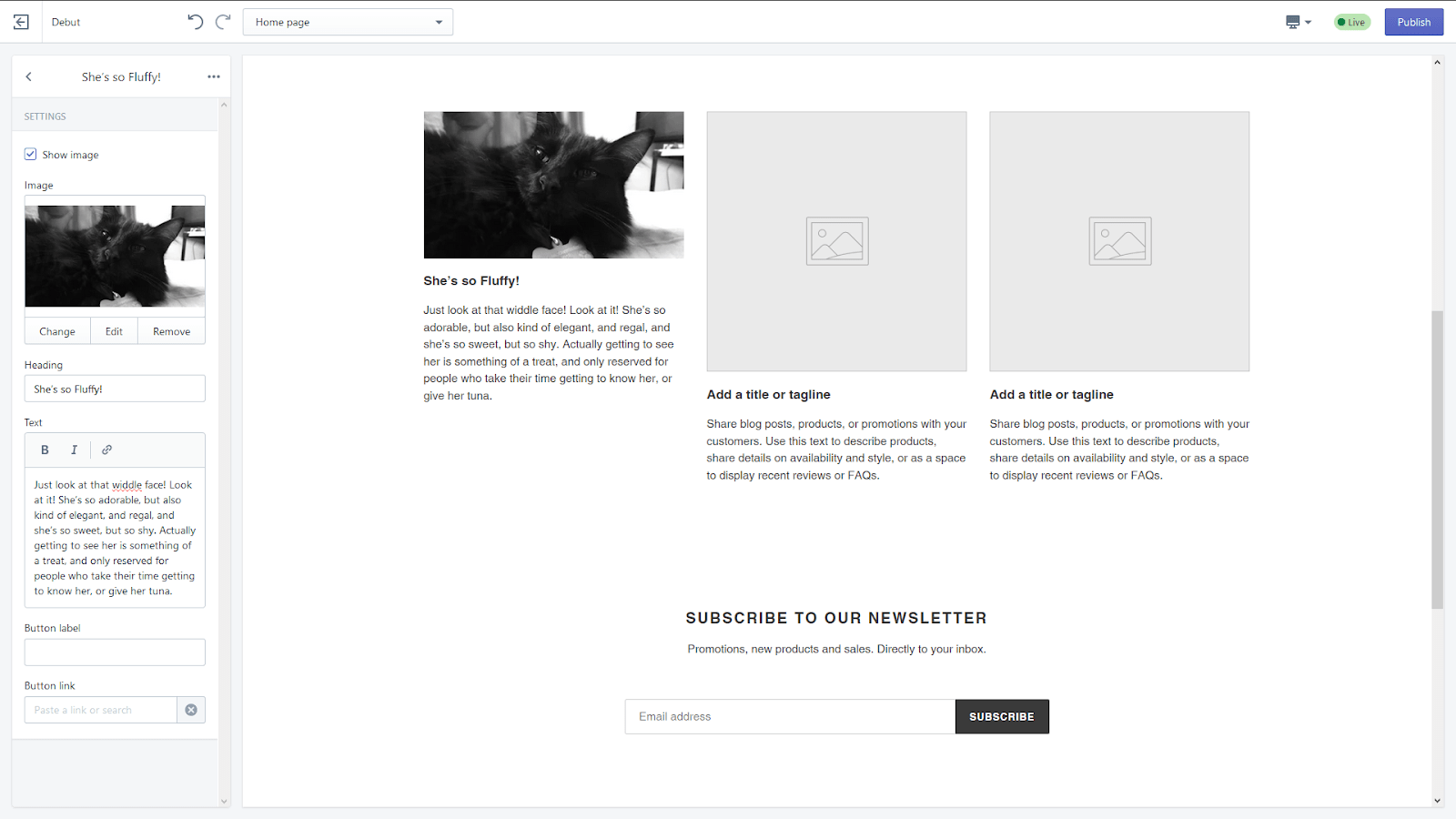 Editing Other Pages
Okay, so copying and pasting works even better here. If you've ever used MS Word, or an older version of WordPress, the controls will likely look very familiar to you. You just edit your content word-processor-style. You can upload images and format your text to your heart's content, but you can't make any changes to the layout. It's a bit limiting, but at least no one will get lost in this interface.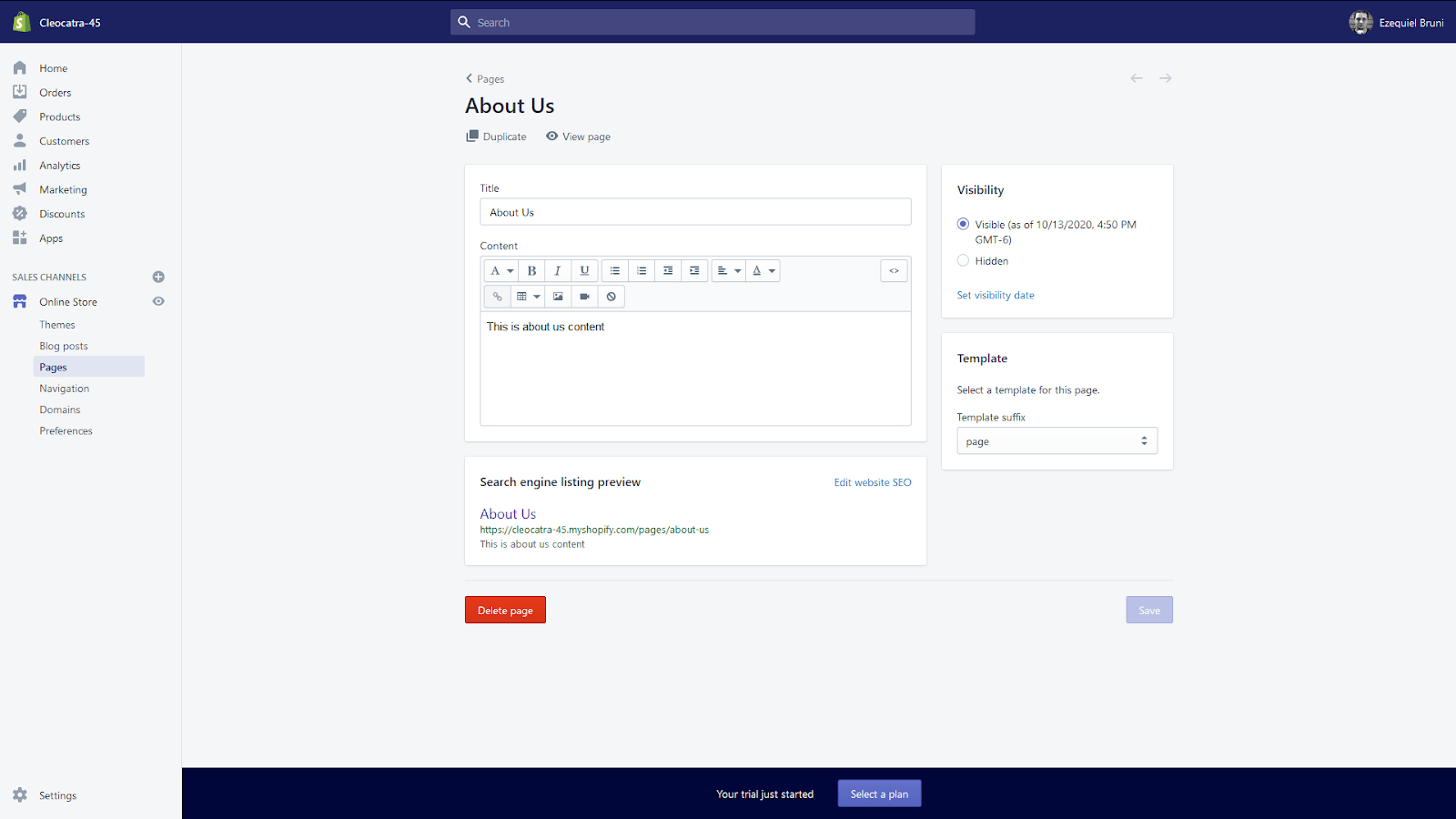 And here's what that page looks like on the user end, now that I've added some dummy text.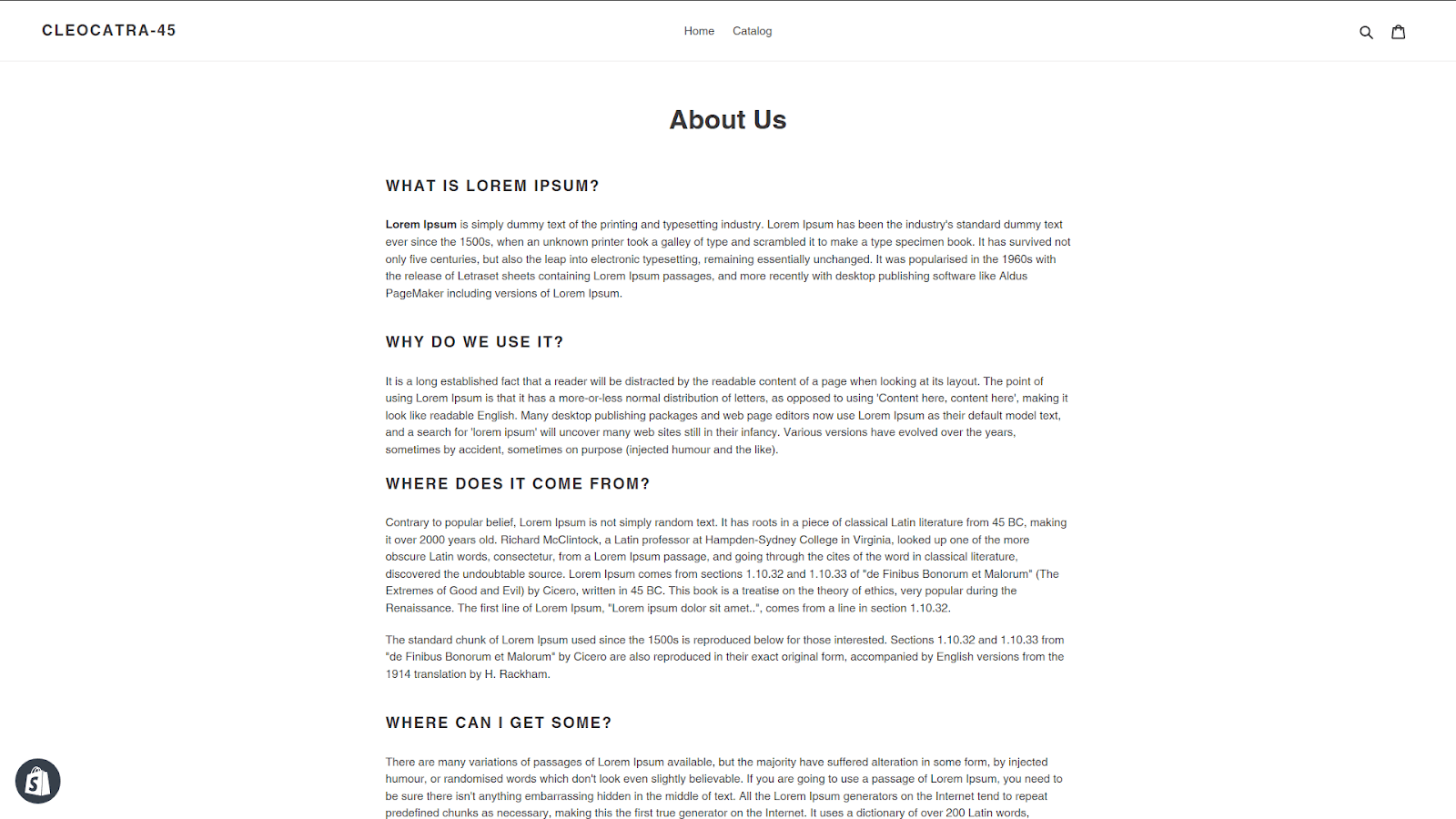 To Sum Up
Copying your website from Wix to Shopify is fairly simple stuff, once you get the hang of how the pre-made content blocks work.
 And remember, the content blocks are
only
 for the home page; every other page will be quite a bit simpler to make, even if that means your layout options are limited. Again, if you've bought a domain name with Wix, you
can
transfer your Wix domain to Shopify. You'll just need to watch the tutorial in the Wix knowledgebase, or follow the steps I outlined above. Here's the completed design for my home page: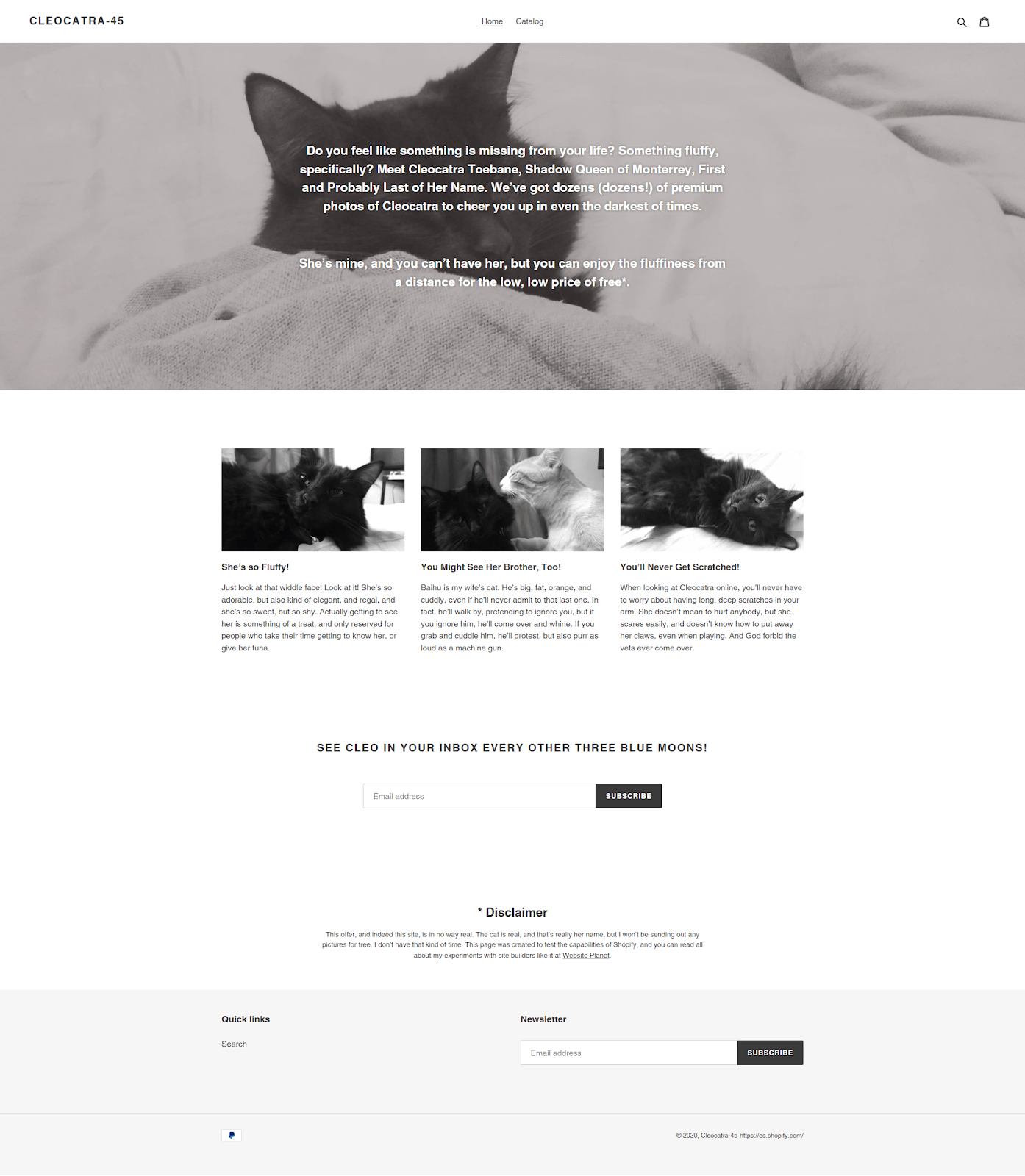 That's it! There's a lot more to the Shopify experience, of course…like managing a whole store and stuff. But that's for you to explore on your own. If you've moved a site over to Shopify, tell us how it went. And for the visual learners out there, I also put together a short video tutorial that can walk you through the process.
If you've gotten this far and decided you want to check out another platform for now, see our
expert list of the top website builders in 2023
.
FAQ
How do I connect my Wix site to Shopify?
Unfortunately, you can't synchronize Wix Stores with Shopify, but there is a way to embed Shopify products on Wix pages. You might want to try this out if you already have a Wix site and a Shopify store and you want to keep both. This option takes a lot of work, though. You'll have to create a Wix page for each of your products and embed some code from Shopify into each page. Honestly, it's a real duplication of effort. That said, if you're only selling a few products, it's certainly doable.
Is Wix easier to use than Shopify?
That depends on what you mean by "easier." I've found that most online store solutions are generally on par with each other for ease of use (especially those on our list of the top website builders). Adding a product and managing your inventory are fairly standardized processes. But when it comes to designing your own site, and customizing everything just how you like it? Wix is your best choice. (You can read our expert Wix review for more info.) While Shopify's builder is simpler in many ways, it does limit what you can do with your site. It all depends on how much control you want over your site's design.
Is Wix cheaper than Shopify?
Okay, in general, Wix is cheaper. Now here are the details: Keep in mind that you have to get a business plan on Wix to accept payments at all. The prices for the cheapest Shopify plan and the cheapest Wix business plan are pretty similar – although Shopify gives you better long-term discounts if you sign up for a year or three. But that's only Shopify's cheapest plan. Its most expensive plan costs hundreds a month, which might be worth it for some huge stores, but is no joke if you're more of a mom-and-pop operation. The most expensive business plan on Wix will cost you a lot less than that. Unless it's the Wix enterprise plan. That one is really expensive. If you want a full breakdown to help you make your own decision, check out our Wix pricing guide and our Shopify pricing guide. Check out our 2023 coupons, to get the best deal possible.
Which should I use, Wix or Shopify?
Well, that's the million-dollar question. As usual, it depends. You should use Wix if your online store is more of an add-on, and you're more interested in building a versatile website where you can control the design. It's also good in general for people with lower month-to-month budgets. You should be using Shopify if your online store is all you care about. Yes, Shopify can be used to build a more-or-less complete website, but make no mistake: its e-commerce features are the entire point. In theory, you should be making enough money off your store that the more expensive plans are worth it.