Every successful small business has an email marketing services provider that meets their specific needs. But with so many options available, it's not always easy to know which provides the right mix of functionality and price.
MailChimp and Constant Contact are two popular platforms. Determining which option is better for you is a matter of comparing the functionality you need against the amount you'll have to pay to get it.
Constant Contact Highlights
Constant Contact offers a good balance between features and price. Feature-wise, it's one of the most powerful platforms available.
Segmentation, testing, and list-building tools
Lots of out-of-the-box templates
Full contact management, a marketing calendar, and email scheduling functionality
MailChimp Highlights
MailChimp offers a "forever free" option that still provides excellent functionality. It's also the most widely used option among small businesses.
A low price point for functionality (Free!)
Robust A/B testing
Lots of e-commerce functionality
Constant Contact vs MailChimp Feature List
Despite both being well-known email marketing services, the functionality of Constant Contact and MailChimp actually differs in quite a few ways.
User Interface
Constant Contact will make even newbies feel like a pro
Constant Contact has a "drag and drop" interface that's simple and easy to use. Small businesses unfamiliar with email marketing software and that can't afford to pay a professional can pick it up quickly. Templates are clearly laid out by functionality (surveys, invitations, content promotion), so you can optimize based on business need. Design assets are easily placed within the template, giving you the look you want without any hassle. It's an intuitive engine that creates powerful emails with minimal effort.
Here's an example of Constant Contact's fundraising template. It's clean, simple, and straight to the point, which means it can also be customized to fit your company, organization, or brand in minutes.
With MailChimp, it's…complicated
MailChimp also offers a "drag and drop" interface. However, it's much more complicated than Constant Contact's, with multiple menus to cycle through. Some users might find it overwhelming. It also has a "gallery of designs" template list, but unlike Constant Contact's, this list is organized by vague categories describing the organization like "publisher" or "non profit" instead of by the purpose or functionality of the template such as "Surveys," "Coupons," or "Video Promotion."
List Management and Segmentation
Constant Contact runs automated drip campaigns
Constant Contact lets you automate the curation of your list by designating content to be sent to predefined segments of your subscription list. And with the ability to collect contacts from everywhere your business is present on the internet, including all mobile devices and social platforms like Facebook, you have a powerful tool. For example, as your list grows, you can segment contacts into groups and run individualized drip campaigns based on personas.
MailChimp runs automated everything
MailChimp's list management and segmentation features are very comprehensive. You can curate you leads by generating lists based on actions they take such as where they signed up for your emails (e.g., Facebook, website, etc.), stated preferences such as clothing style, and even their previous conversions or purchases. The granular segmentation abilities let you divide your subscriber list by any characteristic that could affect conversions. Therefore, you can create more effective campaigns by tailoring your messaging more personally.
Analytics and Reports
Constant Contact is perfect for seeing if your email stands out in the inbox
Constant Contact gives you the core reporting you need to understand the effectiveness of your email campaigns. You can use it to see the open rate, bounce rate, and spam folder classification for every email. In addition, in-depth reporting lets you see how subscribers interact with your messaging via stats about unsubscribes and click rates, all plotted on graphs and charts for easy reference and comparisons over time to spot trends.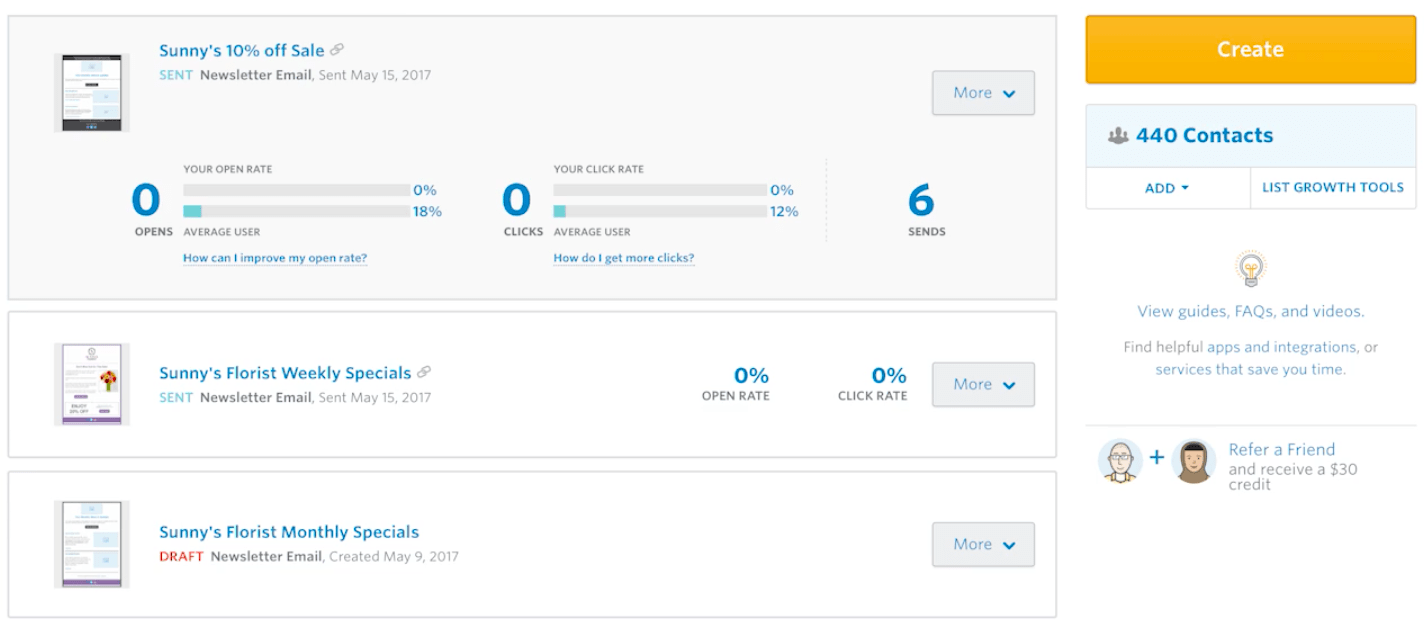 MailChimp segments your audience for a more granular look at performance
MailChimp's analytics give you a very granular picture of how subscribers interact with your emails. Filters include country and revenue per product, and even makes it easy to see how each individual subscriber interacts with all your campaigns. You can also measure the performance of campaigns based on industry averages compiled from MailChimp's large user base. Reports are visualized through charts and graphs, and they can be printed out and sent to anyone inside or outside your company.
A/B Testing
Constant Contact keeps testing as easy as possible for inexperienced marketers
The upside is that Constant Contact makes A/B testing simple, but the downside is that it comes at the expense of functionality. You can A/B-test the email subject line, but that's it — you can't A/B-test anything in the email body. This is one of the platform's least desirable features for advanced users, but it does keep it simple for small businesses that don't have the expertise or resources to create multiple variants of entire emails or run the complicated tests necessary to determine which one converts better.
MailChimp offers a bit more, but still not unlimited testing options
MailChimp's A/B testing comes with its own limitations. You can test content variants, delivery times, subject lines, and more. However, all users are limited to a maximum of three different versions of any given variable. So, while you can test a lot of variables, the limitation on the number of variants still creates a barrier to finding an email's optimal iteration.
Automation
Constant Contact automates inbox maintenance and lets you keep in touch
Constant Contact automates email-sending in several ways. From a list maintenance standpoint, the platform will eliminate unsubscribed, inactive, and bounced email addresses from your list automatically. From a scheduling perspective, you can use it to automatically send milestone emails (e.g., birthdays, anniversaries), begin drip campaigns tied to specific segments like updates on a specific product, and execute drip campaigns whenever you create them.
MailChimp automates e-commerce stores for maximum sales
MailChimp automates a lot of the repetitive email-sending tasks required of sophisticated e-commerce marketing. Automatic emails with product offers can be sent to first-time list subscribers, contacts who abandoned their carts can be reminded to return and complete their purchase, and emails with customer-specific product recommendations based on purchase history can be occasionally sent out. The problem is that paying for it doesn't make a lot of sense for your average SMB that isn't running a large, multi-product, store.
Deliverability Rates
Constant Contact keeps your email on the right side of the law
Constant Contact makes it easy for you to ensure your emails not only get delivered, but also follow any country-specific regulations. You don't need to do anything to follow best practices to stay out of the spam folder — the platform does all of it for you, automatically. This includes compliance with protocols like CAN-SPAM and CASL.
MailChimp provides maximum deliverability for large companies and organizations
MailChimp uses its own abuse-detection technology, as well as additional system monitoring, to detect anything in your campaigns that may cause problems for email deliverability. It also uses multiple IP groups based on reputation, and authentication options to prove that emails are not forgeries. And if there's an issue, it has established feedback loops with major email services to alert the platform that there's a problem.
Integrations
Constant Contact makes it easy to use popular integrations or find new ones
Constant Contact offers more than 400 different application and integration options, including Facebook, Office 365, and Shopify. Options can be searched by business need (e.g., accounting, mobile, social media), industry (e.g., non-profit, restaurant, retail), and attribute (e.g. deal, free, new). This makes it easy to find an integration you want, or browse for any that might be helpful.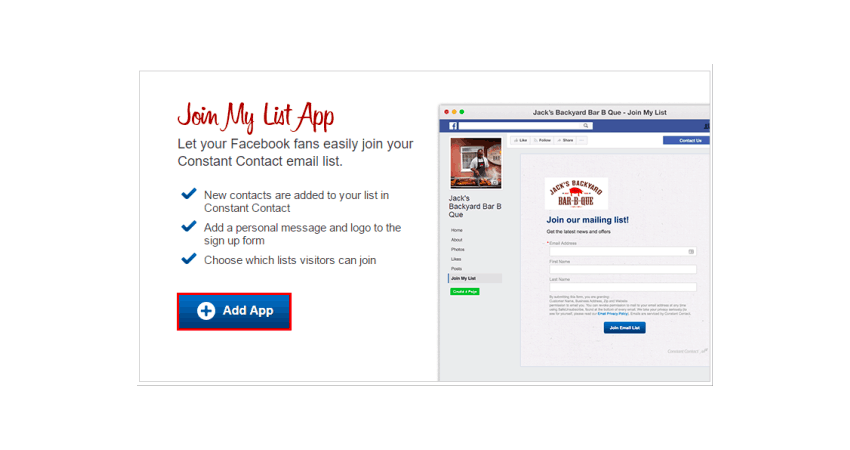 MailChimp has a lot of integrations, but you'll have to find them yourself
MailChimp offers integrations that allow you to sync data from many popular platforms like Shopify, SalesForce, and WooCommerce. However, the search functionality offered to discover applications and integrations that will perform a certain function or help some aspect of your business is limited, so you'll need to know exactly which options you're looking for.
Pricing
Constant Contact lets you pay for everything you need, and nothing you don't
ConstantContact offers two pricing options: "Email" and "Email Plus." Both subscription plans offer unlimited contacts, which is very rare and one of the best features of the platform. The biggest difference between them is the storage capacity and the number of users. The "Email" plan gives you 1GB of file storage and just a single user. The "Email Plus" plan gives you 2GB of file storage and ten users.
MailChimp functionality is powerful, but you have to pay for it, even if you don't need it
MailChimp offers a "Forever Free" option that gives you access to its most essential functionality for nothing. The catch is that the user count — 2,000 subscribers and 12,000 emails per month — is very low, and won't be enough for the vast majority of SMBs. "Growing Business" is the first paid option, but doesn't offer advanced segmentation or multivariate testing, and doesn't come with support. The "Pro" plan is the only other option. It offers full functionality, but costs 20x more than the "Growing Business" plan.
Overall Winner: Constant Contact
When considering the functionality an SMB requires versus the budget they have to spend, Constant Contact is clearly the better choice. Because the platform offers everything an SMB needs at a price point that's reasonable, it's no surprise why it's often considered to be one of the best email marketing tools available. And although you don't get MailChimp's advanced e-commerce functionality, SMBs really don't need it.
Moreover, it should also be emphasized that despite being very reasonably priced and offering unlimited contacts, Constant Contact still has e-commerce functionality like Shopify contact integration, direct insertion of products into emails, and offer-targeting. All of these will help you sell more.
By contrast, MailChimp has no intermediate price point that meets the needs of SMBs without costing a lot more than Constant Contact. The "Forever Free" plan is a nice intro offer, but the subscriber count is too low to be adequate. It feels more like a gateway to the very expensive "Pro" than anything else.
For all these reasons, SMBs will find Constant Contact more than adequate to meet their needs, while also allowing them to skip MailChimp's hefty price tag.