We have published many an article that covers guides on how to use Jimdo and what tips and tricks are behind the web builder. For those of you that don't know, Jimdo are a website editor that will allow you to build a site from the ground up by using a simple site editor interface that enables you to drag-and-drop images, videos and text into a site. The benefit of builders like Jimdo is that it helps beginners who have no budget or no idea on how to create a website, create one for small fee. This helps users and business get online and reach out to a wider audience. In today's tutorial we are looking at how you can edit and style fonts on your Jimdo site. The first thing you need to do is open the style editor so you can see a toolbar of features and options become available to you. To do this, you will need to locate the 'Style' link in the top navigation bar when you are logged into your template.

If you now click on an element of text on the page you will see a new toolbar appear which will offer you features such as font size, colours, and font type. Below you can see the range of features in this toolbar:

You can select colours at a granular level, picking the exact shade you want by adding RGB colour codes. There are also tens of font styles that you can select, and you can quickly see what each font type will look like without the need to actually select one. If you already know a font that you want to use then a quick search box at the top will help you quickly locate that font to use.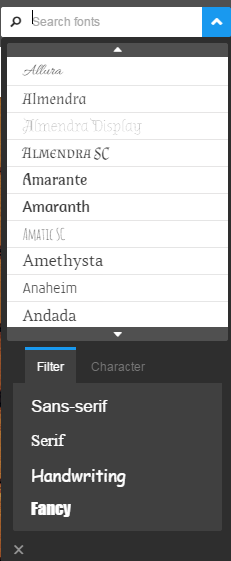 Using the font toolbar you can also set the line height which is great if you want to create a bit of padding between one line and another. This tool comes in handy if you select a font that has quite longer lettering on characters such as Y's and G's that fall below other characters in your text.
Final THOUGHT
It really is that easy to change your font styles and customise areas of your page. So now you know how to do it why not have a play around with colours, sizes and styles until you get your site looking as you want. Oh, and don't forget to save and publish your changes!