Weebly has been established for many years and it has been during this time they have collected feedback and opinions to excel the service they offer. If you are a small business owner who has realised that having a website will bolster your online presence, then you can't go wrong with Weebly.
What we are going to look at today is how you can create and setup pages using the Weebly website builder. It's much easier than you think and as soon as you have mastered this simple task you will be able to build up your site, add products, services and any other pages that will drive your site forward.
How to Add New Pages
At the top of your theme dashboard you will see a navigation bar, and on this bar you should see 'Pages' which is the third link in from the left. If you click this you will arrive at an interface dedicated to the management of your pages.
To add a new page couldn't be any easier, there is a bright orange button in the top left of the page. Click this button to add additional pages to your design, but be aware that Free Plan users can only add 5 pages.
When you click 'Add Page' you will be presented with 4 page types:
Standard Page
Blog Page
Store Page
External Page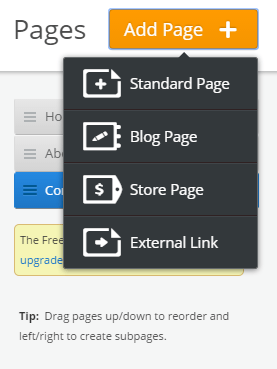 Each of these page types offer the user different functionality dependant on what you want the page to do. By selecting the blog page, you will be given a content based template to begin working from.
How to Name Each New Page

Renaming or naming a page is just as easy, simple navigate your mouse over to the Page Name header which you will find at the top of any page template. Don't forget to save the edit and publish the page.
How to Create a Sub-Page
To create a sub-page is a little tricky and many people wont know how to do this as it isn't 100% clear. What you need to do is drag your chosen page from the right to the left under the page navigation bar in the left.
The result should see your page slightly indented like this: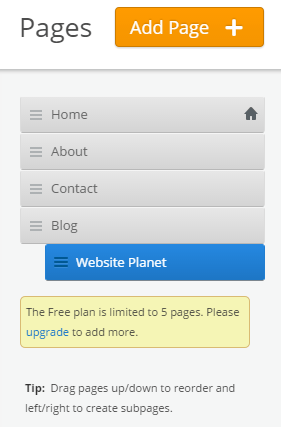 The same process works when you want to reorder pages.
How to Delete a Page
Finally, if you want to delete a page for any reason then you will need to select the page so you can see the editor interface on the right of the screen. At the bottom of this page you will be able to see a few options:
Save & Edit
Copy Page
Delete Page

Hit the delete button and then just confirm that you wish to delete the page.
Summary
So there it is guys and girls, the easy way to add pages to your Weebly built site and then edit them as you see fit. Stay tuned for more website builder tips and tricks, and don't forget to subscribe to our newsletter for the latest goings-on at Website Planet. Visit Weebly.