With 110 million users in over 190 countries, Wix is a great platform that makes creating your own website easy and accessible to just about anyone. It's also generally affordable, and it gets excellent user reviews.
So, what if you wanted to build a photography-focused website? How would you go about doing that? That's what you'll learn here.
What to Do BEFORE Building Your Site
Taking some time to properly prepare to build your photography website will help the process go smoothly. It will also likely help you end up with a much better result. So, before you jump into the process of creating your site, make sure you've spared a thought for each of the following:
Establish the goal of your site:

Your site's goal will affect everything, including your content, the pages you need to create, and the features you need to implement. Your goal can be any of the following:

To sell your photographs

To showcase one or more portfolios as a type of online resume

To run a photography blog and build a community of followers

To host albums that showcase your services to prospective clients or the shoots you did for existing ones
   

Come up with a budget: The upfront and total cost of your site will vary dramatically depending on your features and needs. You might want to think of a maximum amount you're willing to spend, as it's easy to let the cost creep up without noticing. Don't miss these helpful tips to lower the cost of building your site.

   

Organize your photographs/content:

Organizing your photographs and building your site at the same time can end up becoming a messy, frustrating process. Make things easier on yourself by first organizing your photographs into folders. Label them according to how they'll be used. Remember, you also need filler images for your website layouts.

   

Think about your pages and layouts:

Next, visualize your site. Think about the pages you want and the content you should feature on each page.

   

Create your branding elements: If you want your site to look professional and complete, invest in a few branding elements like logos (get light/dark versions and different sizes), a favicon, and settle on a color palette for your site.
A Step-by-Step Guide to Building a Wix Photography Theme
1. Sign up and pick a pricing plan
Wix has a number of pricing plans suited to different users with different needs. You can even build your site for free! However, it will be on a Wix subdomain, and have Wix ads and only 500MB of storage — not nearly enough for a photography site.
However, if you want a site that's truly yours, and if you want to blog or have an online portfolio of your work, the Combo and Unlimited plans should be adequate. The Combo plan just has a very limited bandwidth, which should be a problem only once you have a decent-sized audience. However, to be able to sell on your site, you will need either the eCommerce or VIP plan.
2. Choose a template
Next, set the foundation of your site's look and feel by choosing a Wix template. Wix has over 900 templates to choose from. You can afford to be picky when it comes to design, as you don't have to restrict yourself to the Photography category. You can also add features to any template; however, it might be easier to start off with a relevant template.
Don't miss our list of the 6 Best Wix Templates for Photography Websites.
To demonstrate, the Photography category has a number of templates geared toward heavily using images in their layouts: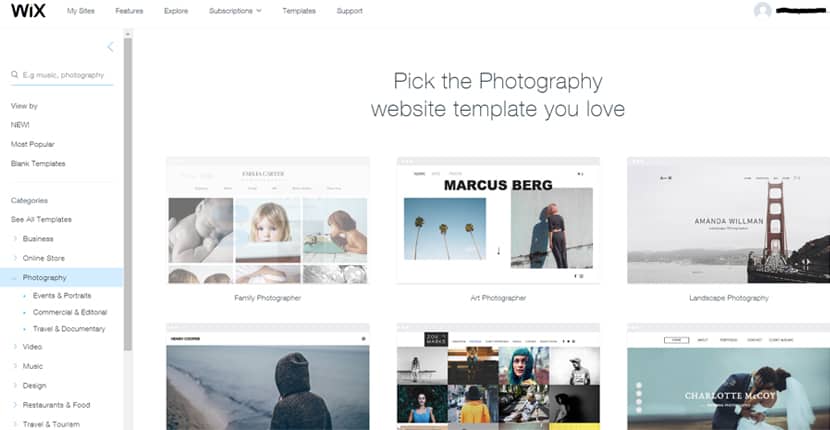 But, you could also opt for an online store template if you want to sell images, a Portfolio or CV template if you want a resume, or a Travel Tourism template if you do travel photography.
3. Start creating your pages
Now that you have your template and content ready, it's time to start designing your site. At the very least, a typical site has the following pages:
And depending on the goals of your site and what features you want, you can also have any of these:
     

Blog

     

Services

     

Portfolios

     

Galleries
Wix will have plenty of short video tutorials and tips throughout the beginning stages of creating your site that will help you get familiar with the builder and customization options.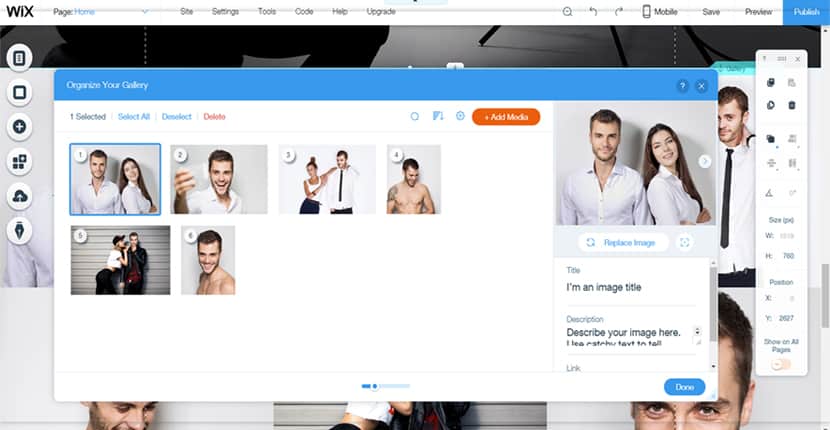 4. Create photo albums (if you need to)
Wix has great album-creating tools you'll be sure to use on your photography site. If you have clients, you can make the galleries private and give access only to certain clients.
You can create a photo album by adding the Wix Photo Album App from the App Market to your site. You can then access the app from your Wix dashboard which will guide you through the process of creating different types of albums.
5. Create a store (if you need one)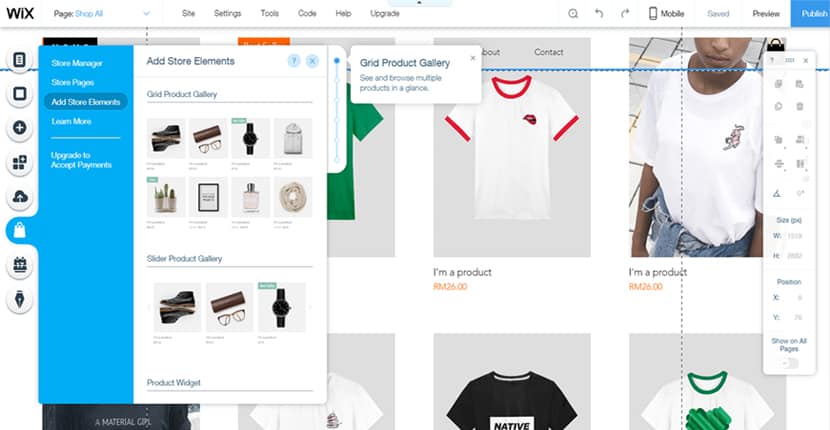 If you choose an online store template, you should already have the store and product pages created for you. Adding your own images will then be as easy as creating your own product listings. Wix has an Art Store app that's geared entirely toward selling art like images/photography/videos online and is very similar to using a normal store.
6. Make your site mobile friendly
While building your site, don't forget about the 51.2% of internet users who access the net from their mobile devices. While customizing your site, you can switch to the mobile view at any time to see whether it looks good on smaller screens. This is crucial for any modern-day site.
7. Integrate with social media
There are many great social media platforms for sharing images or photography. Social media platforms like Facebook, Instagram, and Pinterest can also be a wonderful way to reach new people with your content. So, don't forget to use Wix's social media sharing options wherever appropriate.
8. Optimize your site
If your pricing plan is Unlimited or greater, you'll get the Site Booster app for free. This app helps you easily optimize your site to be found on search engines like Google without your having to be an expert in SEO.
9. Maintain your website
Lastly, remember to consistently review and update your website. Wix maintains regular updates for their templates and apps to remain at the forefront of the latest advancements. You may need to perform manual updates or make necessary adjustments to prevent any unexpected behavior from occurring on your website.
Share Your Vision with the World
So, what are you waiting for? Give your photography the attention and audience it deserves by building your own photography website with Wix. Wix is one of the easiest platforms for beginners to use — no previous experience necessary.