GoCentral website builder
, you can quickly set up a solid, basic web store with the tools necessary to sell your products online. Although not a drag-and-drop builder like
Wix
,
GoCentral is still very straightforward to use
and gives you user-friendly tools. While this builder isn't perfect for all e-commerce owners, most of you will have no trouble building your first web store.
Building Your Online Store From the Ground Up With GoCentral
Once you've signed up for an account with GoCentral, you'll be taken to the website builder where you'll choose a category and name for your store. In my example, I set up a collectibles store. Welcome to
Old as Dirt Antiques!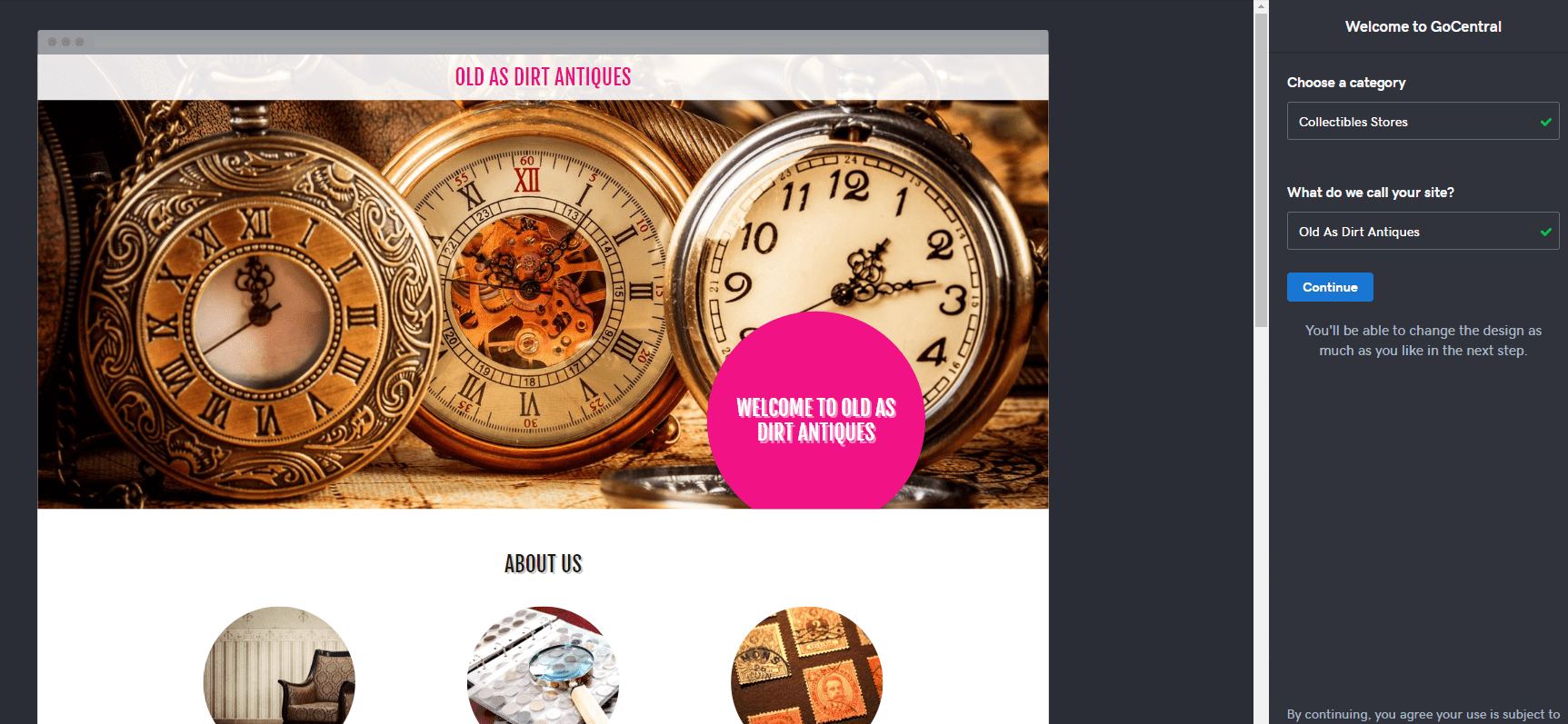 Next, you're taken to the theme setup webpage where you can define the general theme, add pages, and adjust the general website settings. Don't bother with changing your theme elements because your website is about to look a lot different in a moment. It's time to add your web store. Just follow these steps:
Click Add to this page
Select Online Store
Click Add
Your theme has now changed to reflect that of the web store. If you like that theme, great! If you'd like to change it, click on
Theme
and select the one that works best for you. Then click the "Done" button at the top of the menu to select it. I chose the Retro theme for this example.
GoDaddy makes it easy to set up your store. You'll notice a new option in the My Site menu: "Manage Store." Click the "Open" button to access store options. From here, you can set up your products, payment and shipping, and more.
Setting Up Your Products, Coupons, and More
Here's a quick rundown of how to add products to your store:
Click on Add product
Click on Add Image to add images of your product
Enter the product name
Enter the product price
Enter the sale price if you wish to offer it at a discount and show the product price crossed out
Select "standard" or "non-taxable" for the tax category
If you like, manually edit the SKU number (which otherwise fills in automatically based on the product name)
Select the category for the item; you can also add categories in this section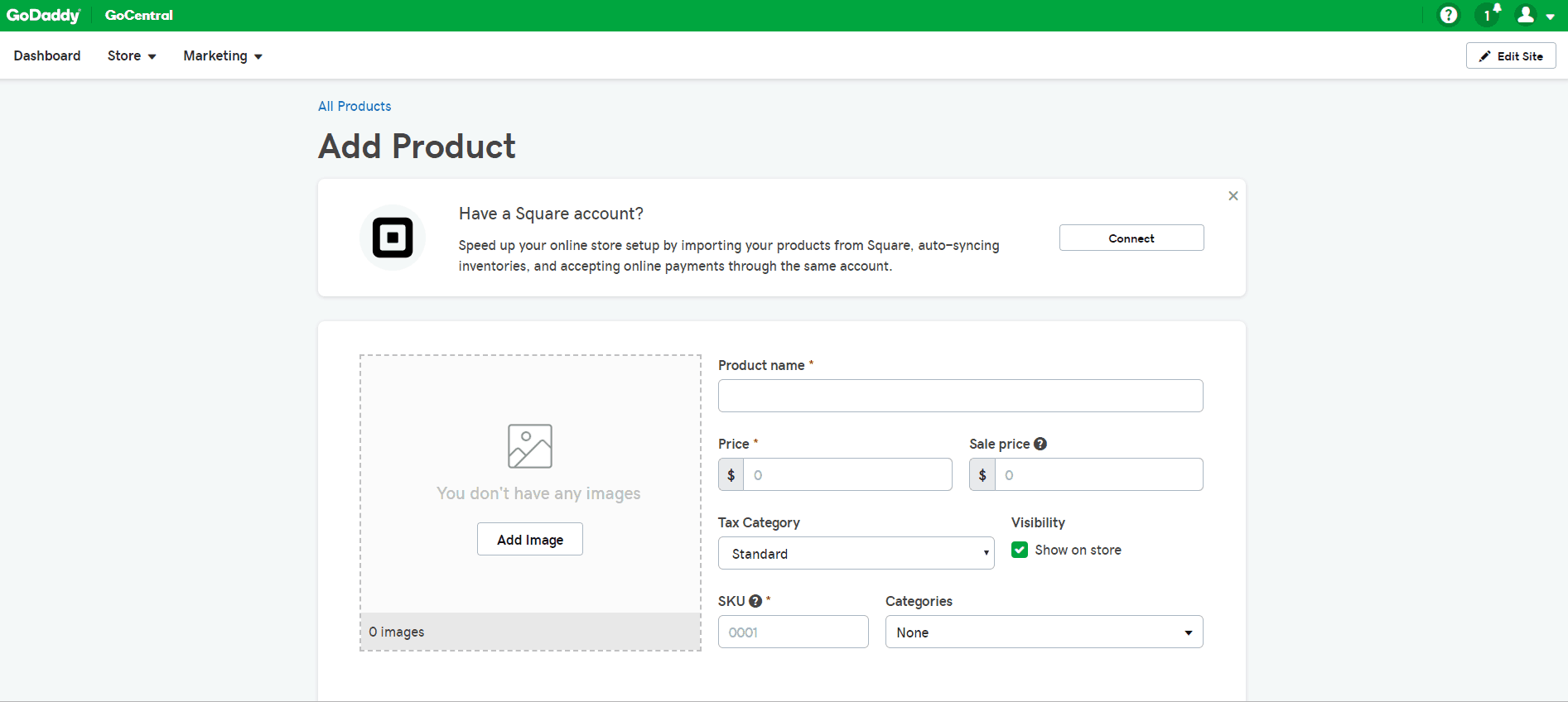 At the bottom, there are several more options you'll need to fill in. The
description
is where you tell your customers about your item. Be as descriptive as possible here. "
Inventory & Options
" is where you enter how many of the item you're selling, whether you wish to allow backorder; and whether there are any variations or add-ons for the item. Next, you'll define
shipping
for this item, including whether you want to include free shipping. Last, in the "
Search Engines
" section, you'll add an SEO title and description for the item. Once you've finished defining your item, you can either click on
Save
or
Save and Add Another
. If you want to boost sales for your website, you can offer coupons to your customers. To set up coupons, follow these simple steps:
Click the "Store" drop-down menu at the top of the screen and select "Coupons"
Click Add
Enter the coupon code
Select the type (i.e., the currency amount or percentage)
Enter the start date and end date of the coupon
Select any applicable options such as "require minimum order total"
Click Save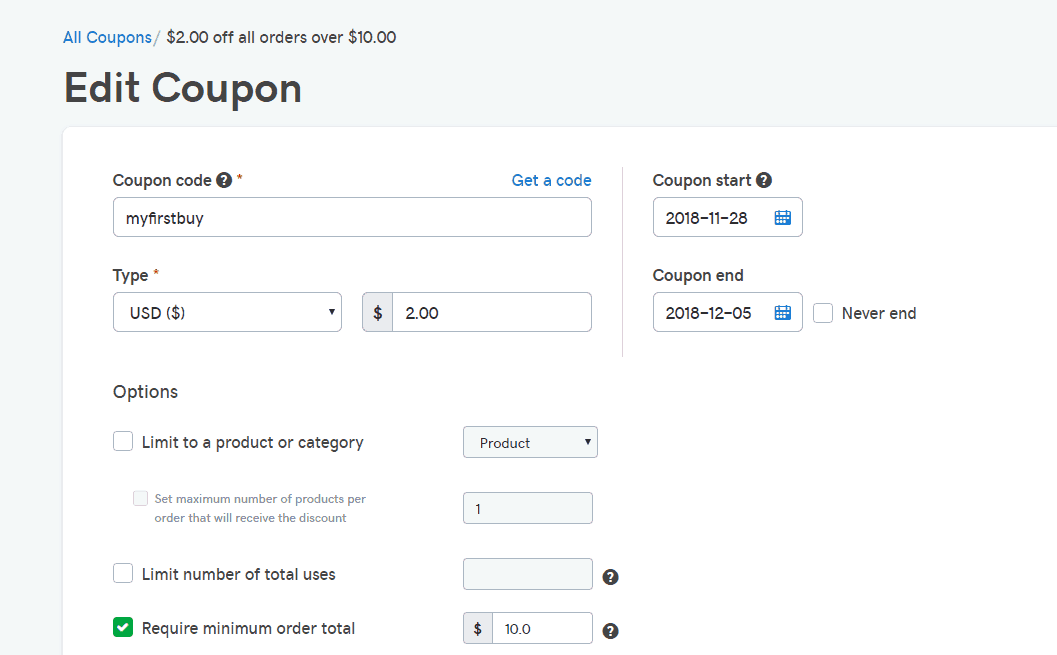 After adding your products and coupons, you can define the other options of your website. From your store management console, you can define payments and shipping.
Your web store is automatically set up to accept PayPal, but you can also connect to Square and Stripe to receive credit card and Apple Pay payments
. Feel free to learn more about Stripe and other payment options in our article about the
six best alternatives to PayPal
. You can also set up offline payments for people who want to pay for your items in person. For shipping, you can set up multiple methods of shipping, like flat-rate or weight-based. If you're in the U.S., you can also offer your customers the choice of using
UPS or the U.S. Postal Service as carriers
. There's also an option to offer
in-person pickup
of items. Other settings you can edit from your store management dashboard include
text notifications and abandoned cart recovery
. Additional options available from the primary dashboard include promoting your business via email marketing, allowing customers to book services online, improving your Google ranking through improved SEO, and connecting your store to Facebook. Once you've set up your web store features, you can head back and tweak your theme. Just click on the "Edit Site" button in the upper right-hand corner and conduct your customizations. When you're ready to publish your website, click on the green "Publish" button. Congratulations, your web store is now live.
How Does GoDaddy Stack Up Against Other Webstore Builders?
To compare GoDaddy's GoCentral with other web store builders, there are four important categories you should focus on:
#1: Templates
. Compared with other web store builders such as
Wix
, GoDaddy's GoCentral falls short in template variety. Once you set up your template, you only get to change the underlying theme. While they're easy to change, they're just minor variations of the same template. With builders such as Wix, you get a massive variety of templates you can choose from. To learn more about Wix, read our
Wix expert review
.
#2: Ease of Use
. GoDaddy is average in this category. They don't offer drag-and-drop functionality like Wix; instead, their builder has simple point-and-click tools that are still great for the majority of beginners. Templates are dynamically editable, allowing you to see changes as you edit them.
#3: Additional Tools
. GoDaddy's GoCentral is also relatively average in the number of tools available for your website. You can add features such as Zillow reviews, logos, and badges, featured categories, appointment calendars, and more. You can also add industry-specific tools, such as online restaurant ordering and real estate listings. Unfortunately, the number of tools is somewhat limited compared with other platforms such as
Wix
(with its App Market), and
WordPress
(with its huge variety of plugins). Still, the tools are great for most basic store websites.
#4: Pricing
.
GoCentral's pricing for online stores is very competitive compared with other providers
. On average, they're a bit cheaper than
Shopify
and
Weebly
, but on par with Wix's basic business plans. Compared with other builders,
GoCentral would rank about average
. It's not as difficult to set up as some stores such as Shopify, but it doesn't have the same advanced features you find in products like Wix, Weebly, or WordPress.
GoCentral Is a Solid Option for Basic Web Stores
Overall,
GoDaddy's GoCentral product is an excellent alternative for those wanting to build their first web store
. Here's a quick list of five main advantages of choosing GoCentral:
Easy store setup, with point-and-click design tools
Ability to add products easily
A straightforward way to list products, collect payments, and ship items
Specialized industry tools such as online restaurant ordering
Competitive pricing compared with other website builders
GoCentral is solid for most smaller web stores, but some may find their features a bit lacking
. Here are three areas where GoCentral falls short:
There's little variety in template and theme options
Store tools are limited to what's provided in the template, and there's no app store
GoDaddy doesn't offer their own payment processor, unlike Shopify
GoCentral is best suited for those wanting to set up their first web store but
not wanting to pay the high fees of some builders or worry about having to pay for premium apps
. For those wanting greater design freedom or greater options for their store, a product such as
Shopify
,
Wix
, or
Weebly
 would be a better option.
To learn more about GoDaddy's website builder, read our expert review.