the travel industry contributes as much as 10.4% of the global GDP
. This means that if you sell tours or accommodations, it's more crucial than ever to have an online presence for your business. And on the blogging side of things, people can't get enough of sharing their travel experiences or reading about the experiences of others. No matter which line of business you're in, one thing's for sure: When it comes to travel, looks and first impressions matter a great deal! With so many options, people can be picky about who looks the most professional, appealing, and has just the "right feel."
While Squarespace doesn't have a travel category, most of its templates have a heavy focus on imagery and are perfect for showcasing rooms, villas, pools, beaches, tourist attractions, and so much more to entice both amateur and hard-core travelers. The "Photography" and "Blog" categories are full of great templates that can be easily customized to suit a travel website. 

The built-in e-commerce tools allow you to offer packages and discounts for immediate purchase, and help your customers book reservations and make deposits for upcoming trips. One of the nice e-commerce features that Squarespace offers (that Wix doesn't) is the
"Abandoned Cart Recovery" feature, which emails a reminder to customers 24 hours after they have added a product to their cart but left without purchasing. 
Each template has easy-to-use blog features, and don't worry if you already have a blog that's up and running – importing content from your previous platform, whether WordPress or Tumblr, is seamless. Check out our expert review for more info on Squarespace's offerings. 
Tour Operator – Yolo
Wix has a ton of templates designed specifically for travel websites. Our first pick calls to mind the websites of popular apps like Airbnb, and is technically a template for a tour operator's website where customers can view the various tour services and make bookings. It comes with the Book Online app installed to do just that.
With its app-like and modern design, it's a familiar interface that a modern, younger crowd will find aesthetically pleasing
. Surely, they'll be enticed to make a booking. The only issue I have with this template is the slightly small text, but this is a very easy fix with the Wix Editor. I also really like the cool icons and world map.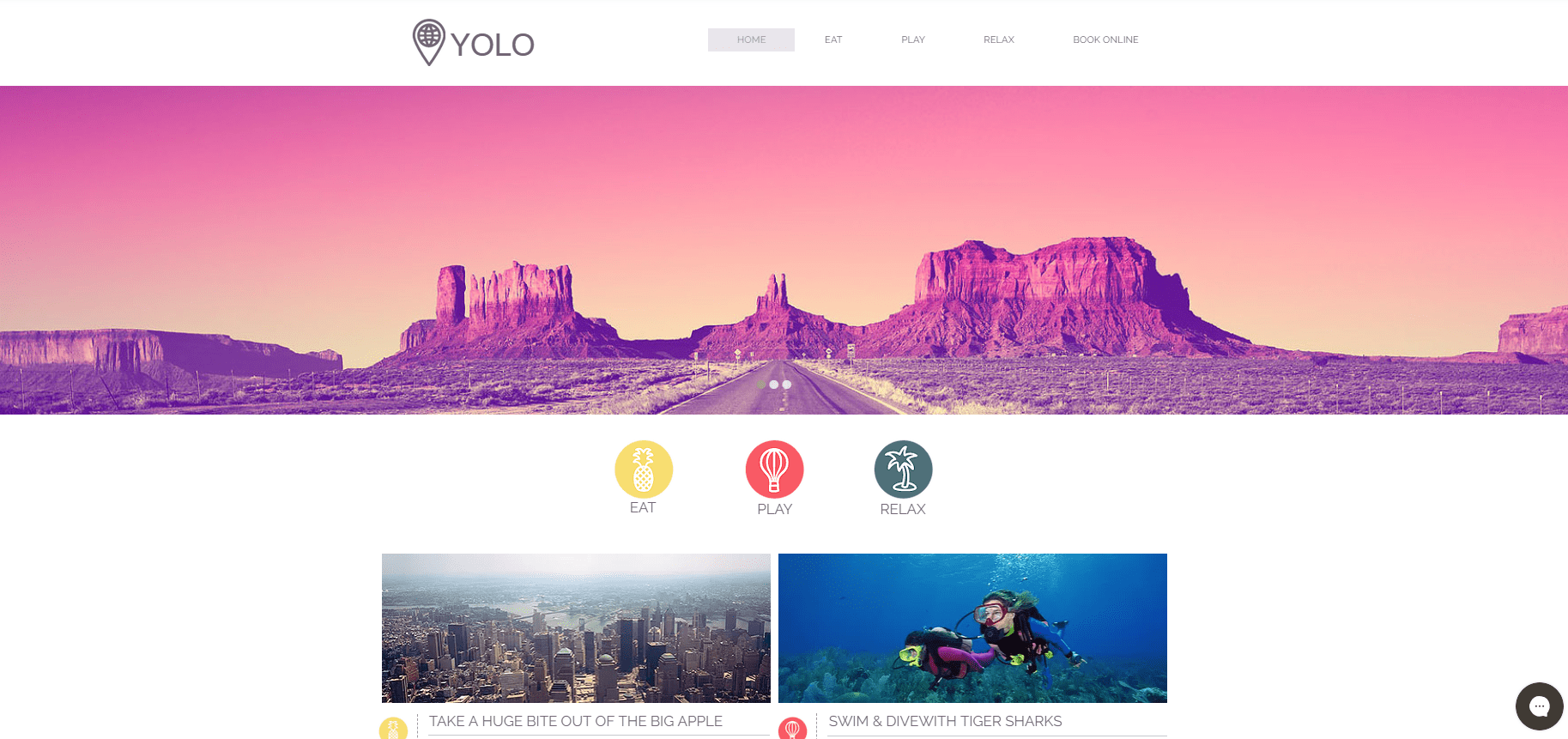 Bed and Breakfast – Anton & Lily
This template is completely different from the previous one.
It's aimed at a much more sophisticated audience looking for a quiet, yet comfortable escape
. With the black and white colors and elegant fonts, it's perfect for a relaxing Bed and Breakfast or a charming lodge outside of the city. It also comes with some great parallax effects that make it a bit more contemporary and alive. And you get everything you need, such as a services webpage, gallery, book-a-room button, and more. There's also some fantastic icons.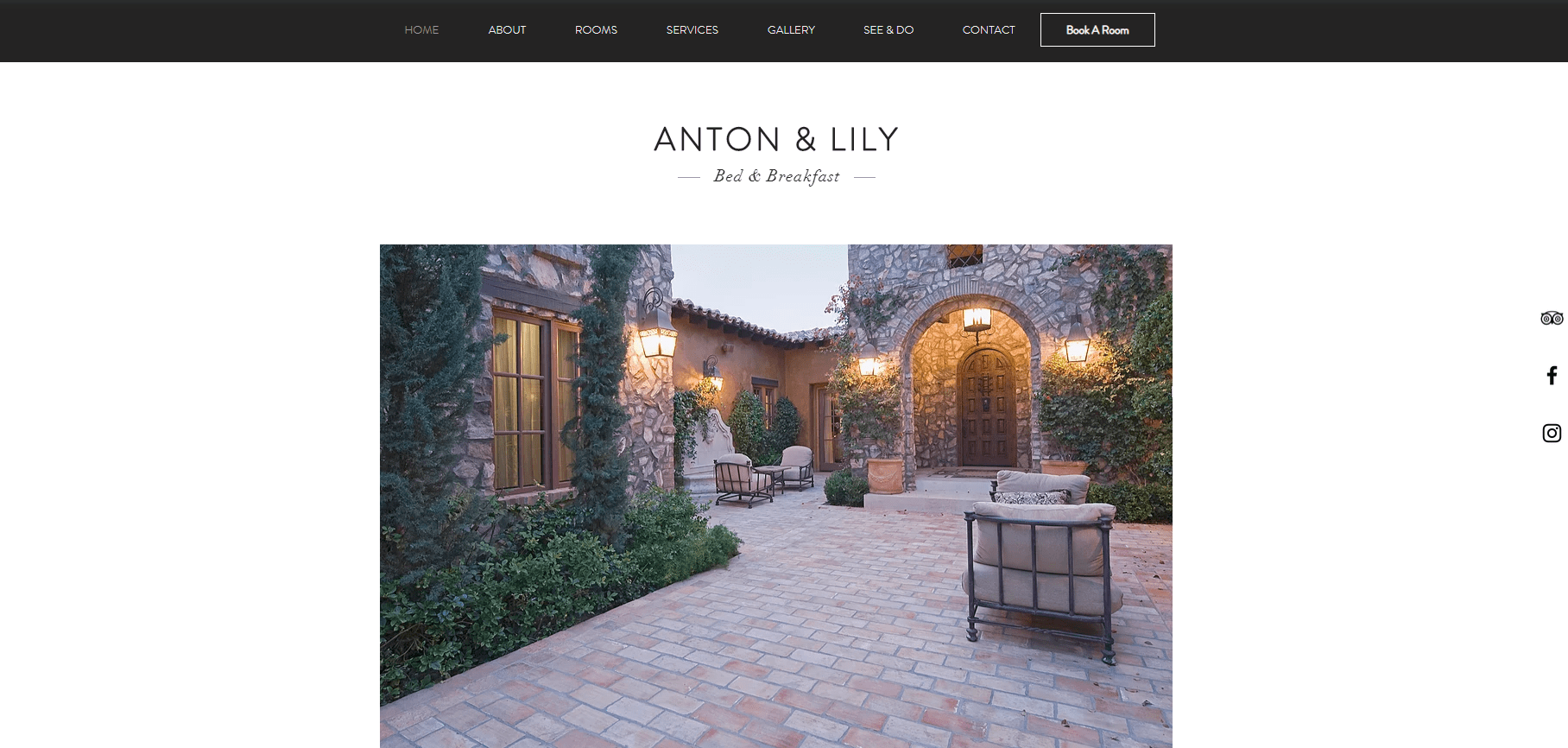 Travel Blog – Nomad on the Road
"Nomad on the Road" says it all in its name. It would be a perfect template for a travel blog with a backpacking-for-months kind of vibe. The background color might not be to everyone's taste, but this template is simple enough to adapt and work well with any color. If you pick this theme, it would be smart of you to make sure that it's well optimized for mobile. In fact, the mobile version is probably more important than the desktop version, because on-the-go backpackers are likely to be your main audience.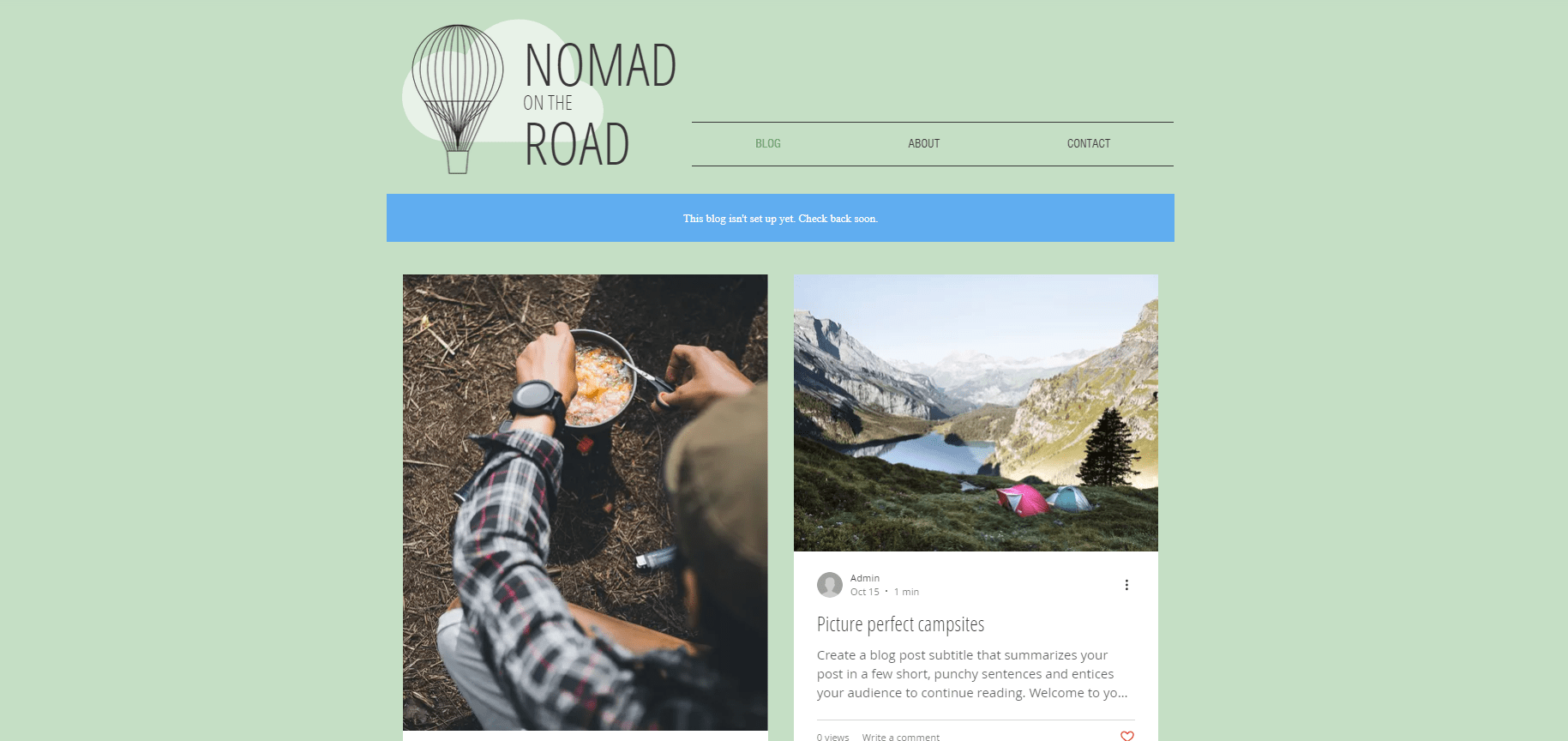 Modern Hotel – The Salinger Hotel
This template will appeal to both older travelers looking for a sophisticated experience, and younger travelers with a bigger budget.
The design is understated, classy, yet very simple to use and navigate
. It's hard to find anything wrong with this template, as even the galleries and booking webpages are pure class. If you have elegant photographs of your hotel and the surrounding neighborhood, you can make a stunning website.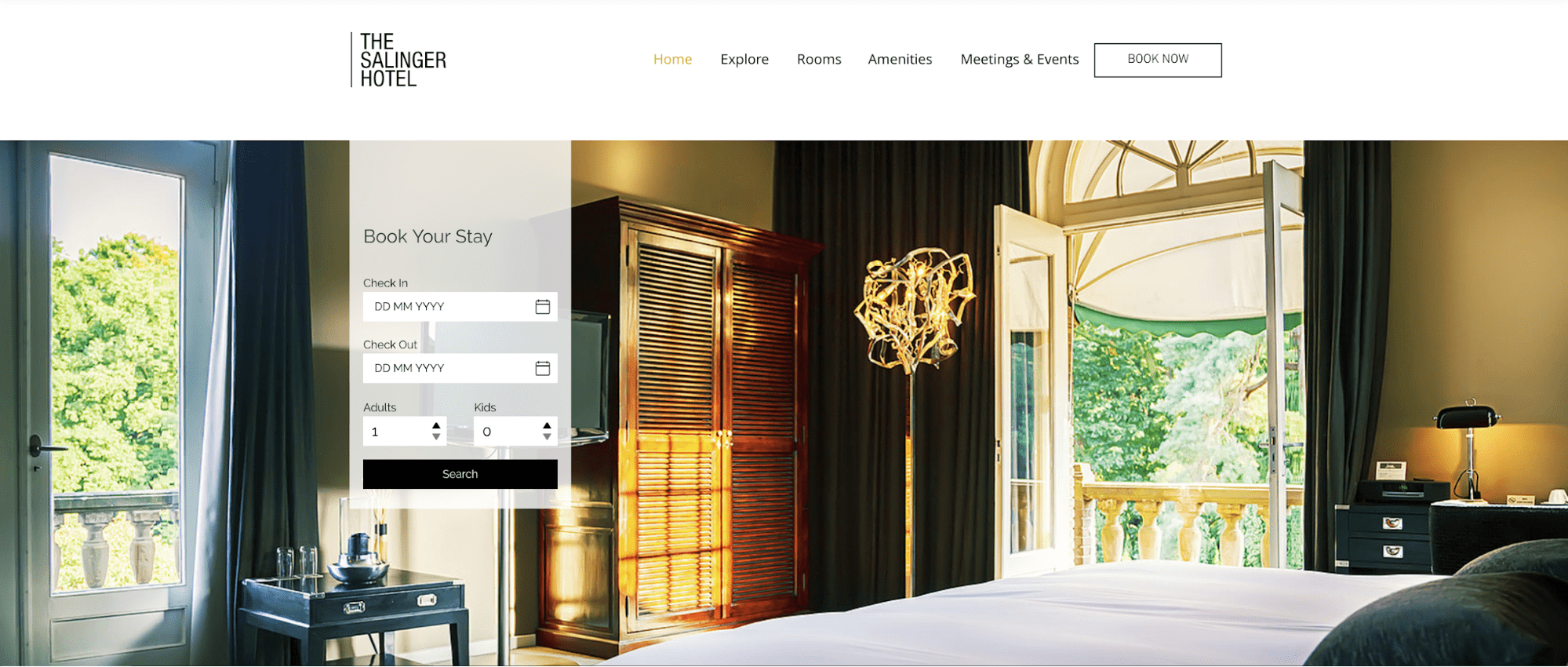 Elegant Hotel – Great Hotel
This is probably the most interesting and well-designed template on this list, and it lives up to its name. The home page should already impress visitors, with its big sections with parallax image backgrounds and the video header. It also has one of the better-designed search widgets on the home page.
This template also comes with all the bells and whistles, such as a food service schedule, book-a-room webpage, events webpage, and more
. Despite its great looks and features, it's still a very straightforward theme to use and navigate.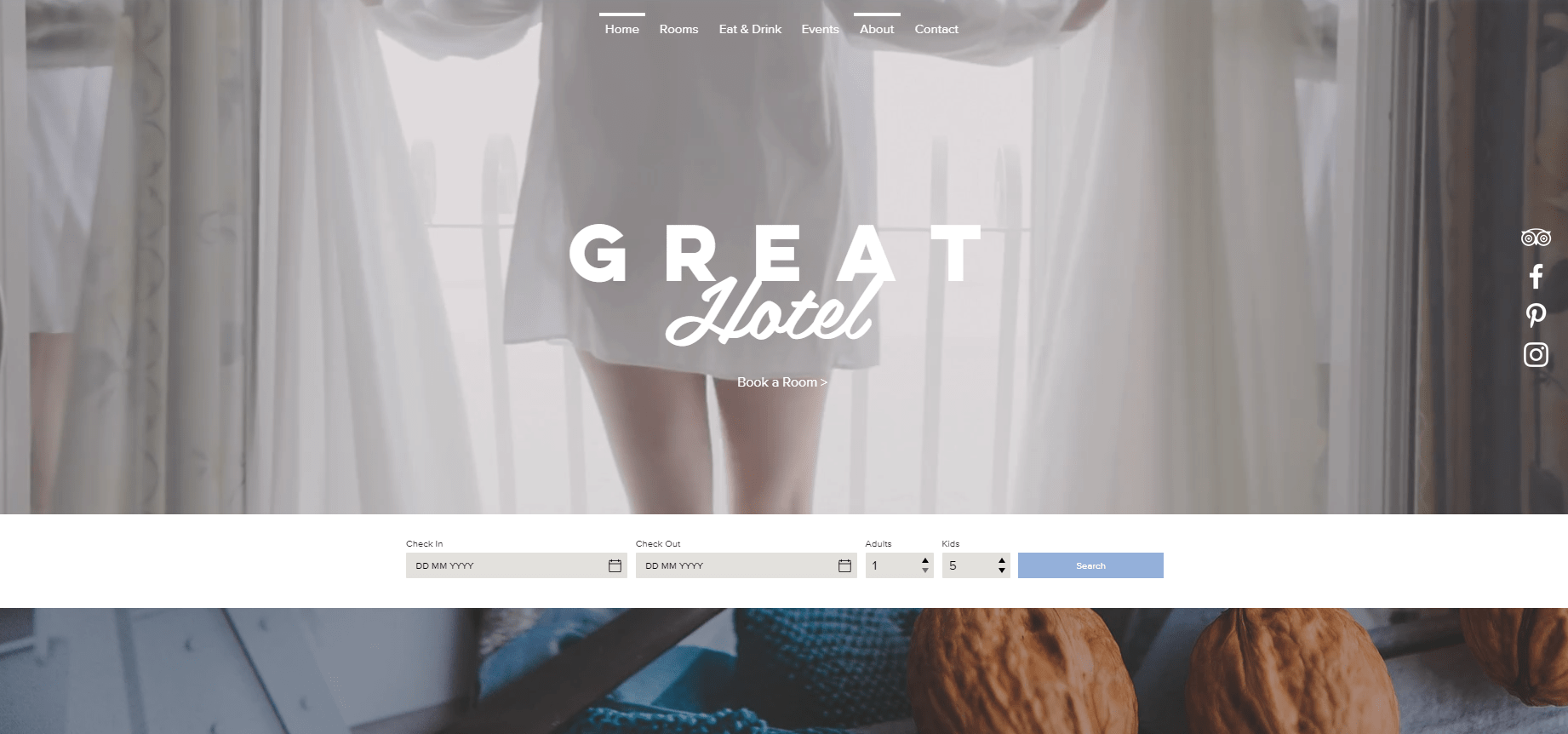 City Hostel – Casa 3
Everything about this template will appeal to a hip, young crowd backpacking their way through any modern city. With its contemporary design, smartly used bright colors, and openness, it's almost the perfect benchmark for what any type of website in this niche should look like.
It also has fantastic hover effects on images, fade-in animations, and some interestingly designed webpages like the tiled activities webpage
. To top it off, the website looks amazing on mobile, despite its design quirks.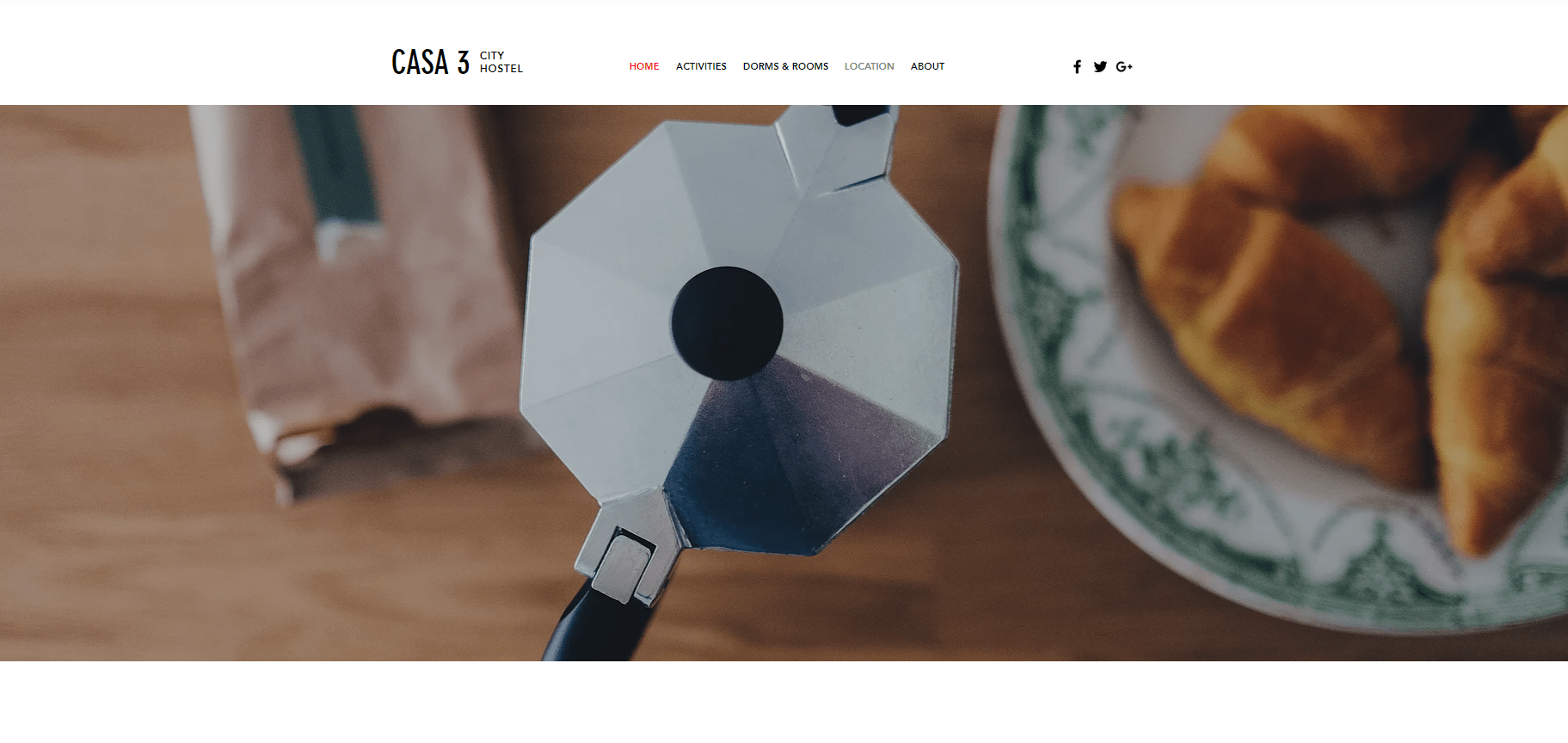 Food Tour – Tour Bites
Blogging about food and traveling for food have become two massive niches in their own industries, with many bloggers and followers. If you want to run a food travel blog or food travel tour operation, then this is the perfect template to do just that.
Although the design looks very upper-class and sophisticated, it works surprisingly well with anything, from fine dining to street food
. You can make of it pretty much anything you want. The template has plenty of interesting design elements, such as the testimonials box, and is a good-looking theme overall.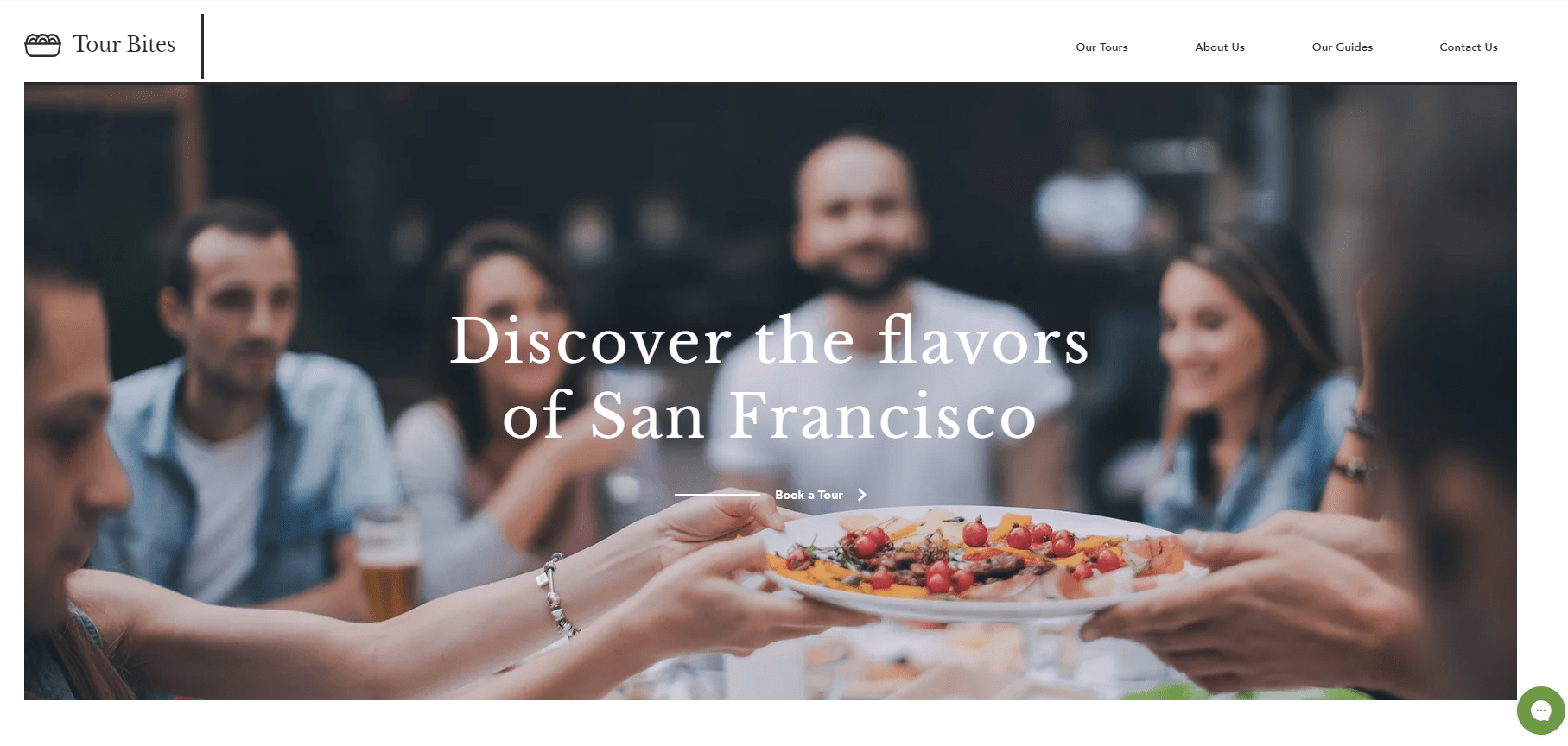 Beach Side Bed and Breakfast – Seaside B&B
Once again, it's all in the name.
With its use of blue and white, this template instantly calls to mind seaside destinations, whether it's the Seychelles, Santorini, or California
. All your customers will immediately long for big blue seas and open, sunny skies. The design itself is beautiful and clean. It also comes with the most essential features you'll need, such as bookings, activities, galleries, etc. Make sure you have some beautiful photos that fit the design.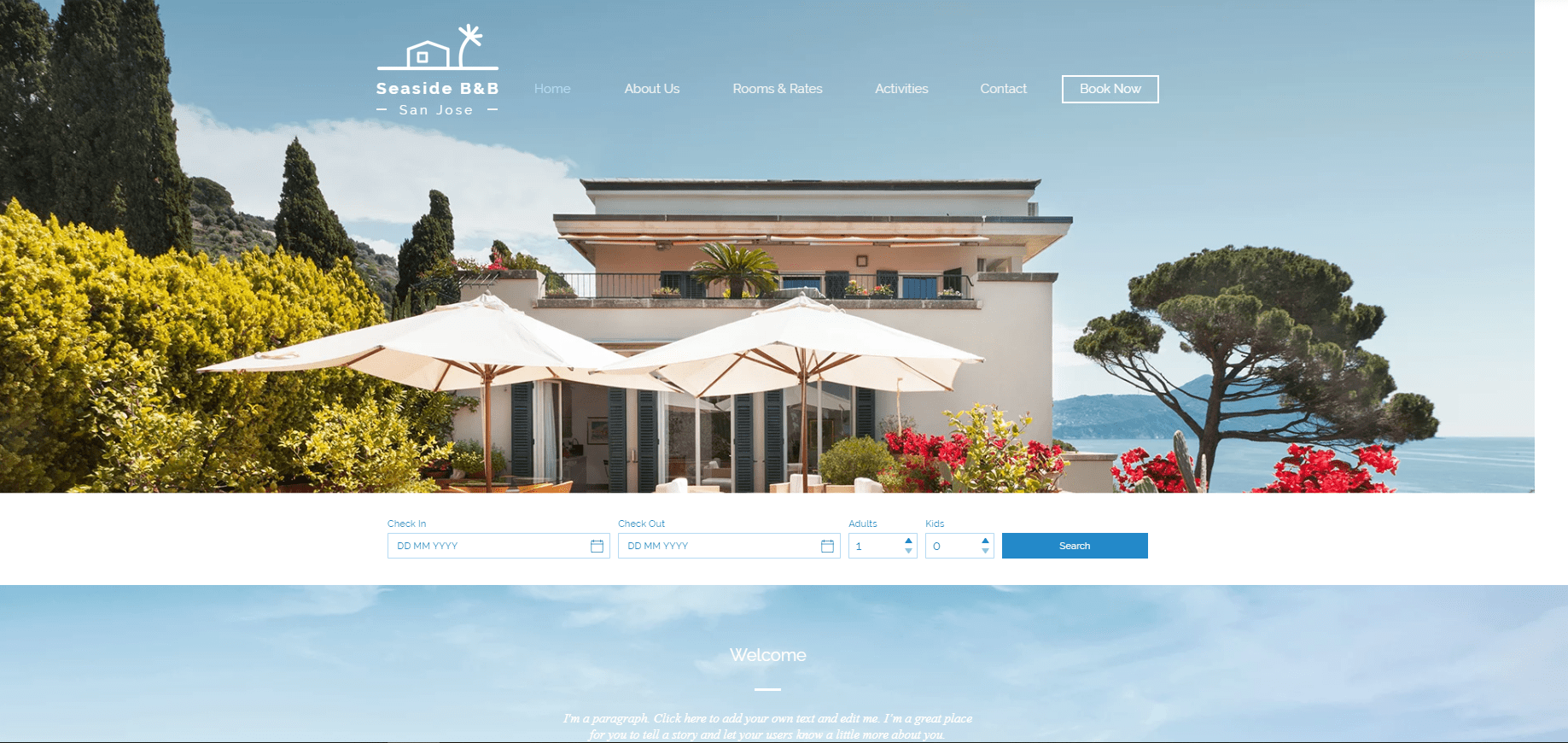 Traveler Blog – Going Places
This template would be the perfect weapon in the arsenal of any potential travel blogger. It has almost everything you need to be a serious influencer in this industry, with a gorgeous design, a "featured in" banner, a blog, and a videos webpage.
As it is, the design, fonts, and colors work best with a more feminine feel and higher-end travel
. The design of the article webpages is perfect to be viewed on a tablet or mobile, which is great for attracting other travelers.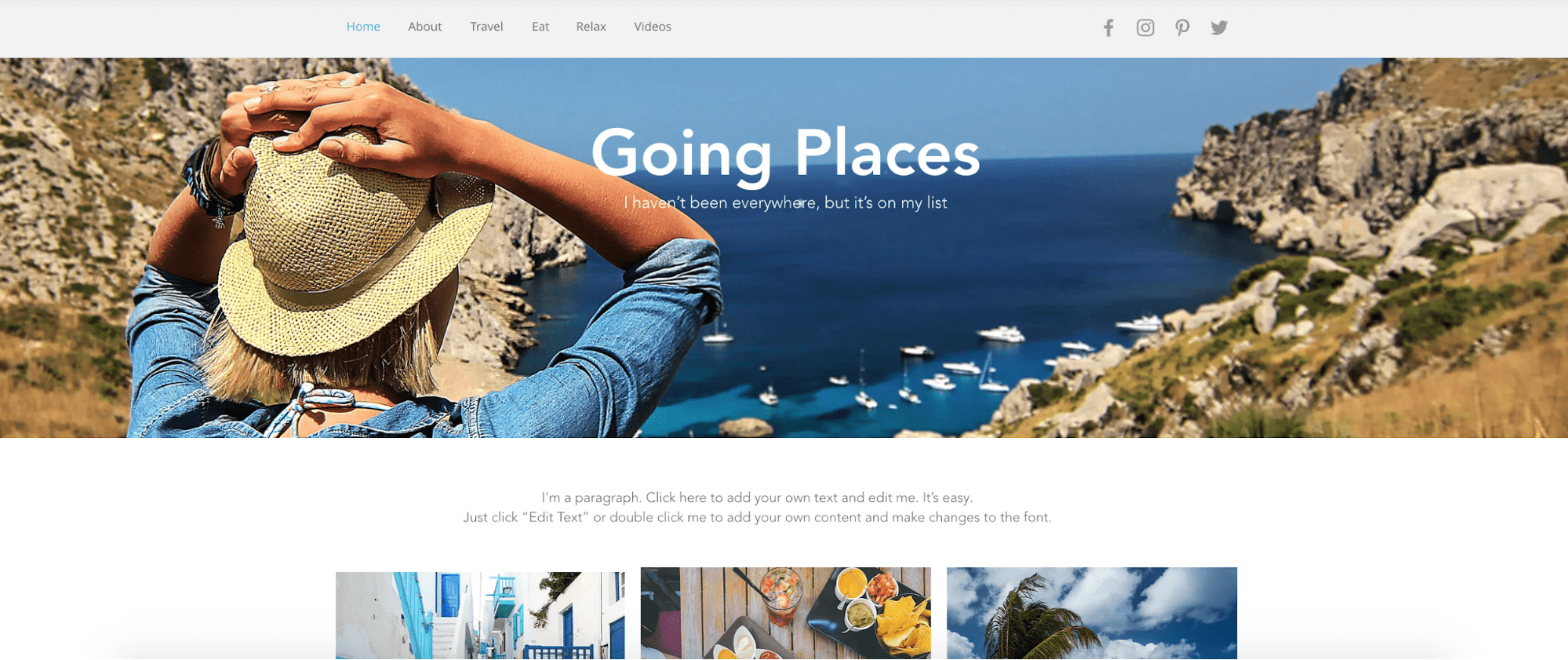 Luxury Camping – Moonlight Glamping
Even though people frequently underestimate and neglect the luxury camping niche, also known as "glamping," it merits having its distinct template. While it's technically possible to adapt this template for any niche with some additional effort, it appears to align effectively with its designated niche.
The fonts and sketch-like images spread throughout the webpages are perfect for a relaxing, outdoor feel
. The activities webpage features a very cool slideshow, and the template comes with a functional gallery.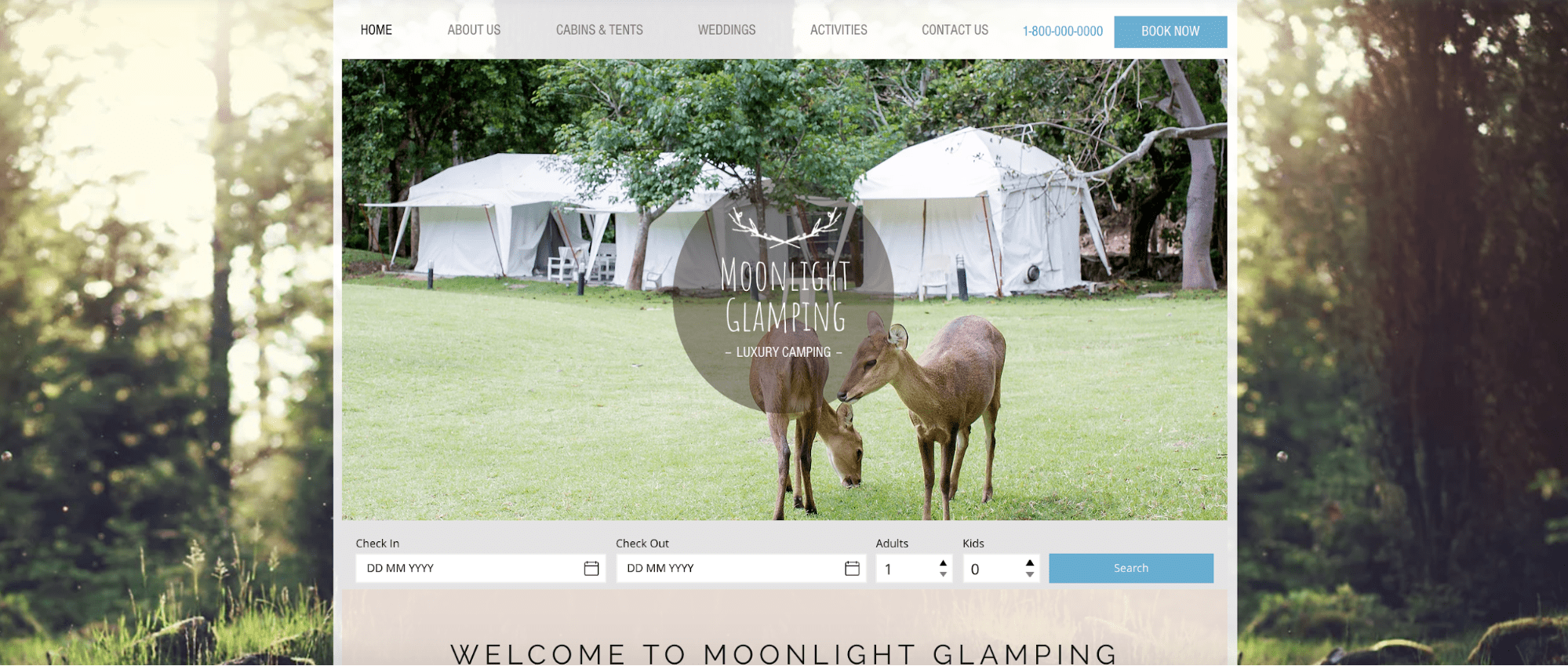 Let Others Explore the World Through Your Eyes
If you want a quick wrap-up of the top 10 best Wix templates for travel websites, here it is. As you can see, I evaluated the templates
based on their design, how easy they are to use or customize, and how many features come out-of-the-box
:
| | | | | | |
| --- | --- | --- | --- | --- | --- |
| Template | Best For | Design | Ease of Use | Features | Standout Features |
| Tour Operator – Yolo | Young and hip tour service | 8/10 | 9/10 | 8/10 | App-like, colorful icons |
| Bed and Breakfast – Anton & Lily | Classy country B&B or cottage | 10/10 | 9/10 | 10/10 | One-page website, great parallax effects |
| Travel Blog – Nomad on the Road | Backpackers who travel long periods | 7/10 | 10/10 | 7/10 | Perfect design for mobile |
| Modern Hotel – The Salinger Hotel | Upper-class hotel in the city | 9/10 | 9/10 | 8/10 | Classy design |
| Great Hotel – Great Hotel | Any modern hotel | 10/10 | 9/10 | 10/10 | Image and video-rich template, modern design |
| City Hostel – Casa 3 | A modern hostel | 10/10 | 10/10 | 8/10 | Fun and unique design |
| Food Tour – Tour Bites | Any food tour operator | 8/10 | 8/10 | 8/10 | Flexible template for bloggers or tours |
| Beach Side Bed and Breakfast – Seaside B&B | Classy, coastal getaways | 10/10 | 8/10 | 9/10 | Very niche-specific design |
| Traveler Blog – Going Places | Travel blogger/influencer | 9/10 | 9/10 | 9/10 | Perfect blogging platform, great design for tablet |
| Luxury Camping – Moonlight Glamping | Lodge or camping ground | 8/10 | 8/10 | 8/10 | Simple and adaptable design |
Wix's "Travel & Tourism" templates offer options for a
wide variety of niches, target consumers, and purposes
. The templates above should entice potential travelers by conveying the excitement and feel of the type of travel they're looking for.
Remember that whatever theme you end up picking, you can extensively customize it and make it yours with Wix's powerful, pixel-perfect editor
. However, it can't hurt to pick a theme whose default content is already close to what you envision your final product will be. To learn more about Wix, read our
expert review
.
---
Sources
https://www.wttc.org/-/media/files/reports/economic-impact-research/regions-2018/world2018.pdf