Your big day is uniquely yours, and your wedding website should be too.
It's also important to decide how you want your guests to interact with your website. Do you want them to just save the date? Or do you want them to read your love story, RSVP, give their menu preferences, and more? In this list, you'll find stunning WordPress themes and website builder templates for a variety of wedding styles. Whether you're going for traditional or modern, extravagant or low-key, you can probably find a template for you. Each one offers a different starting point with
plenty of features and customization
 to make it your own. And if you want
a truly one-of-a-kind template
, I'll be sharing a tip for that as well.
WordPress Themes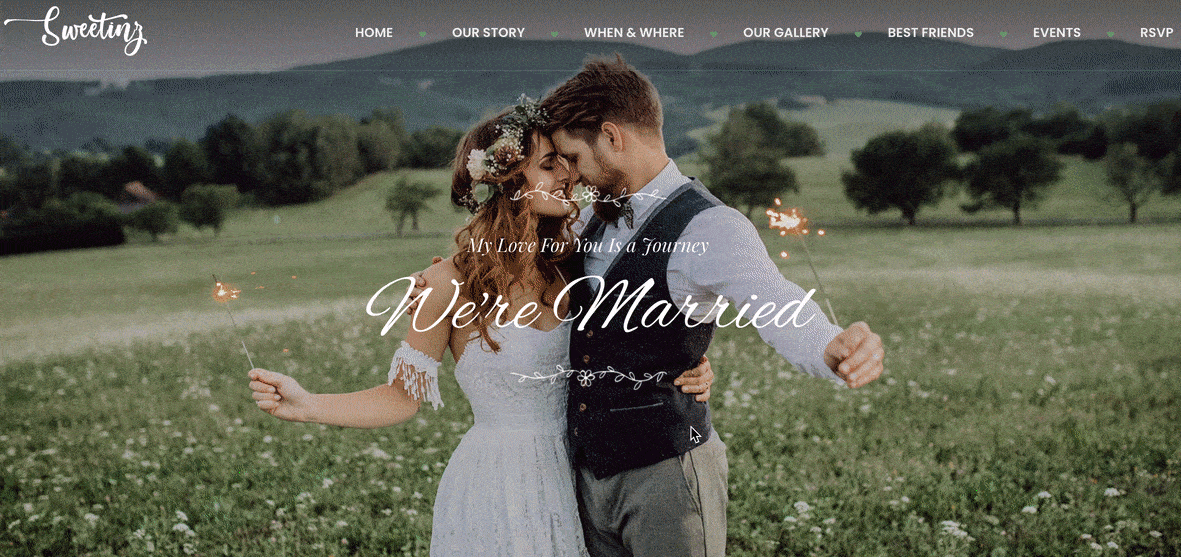 This floral one-page theme
 from 
ThemeForest
 features a countdown clock and
a beautifully designed timeline
to chronicle your special story, from first meet to first date, to the proposal and beyond. The header can be a single image (if you have a favorite engagement photo) or a slideshow (if you can't decide on just one). Or, if you have a wedding trailer, you can play it here, front and center.
Sweetinz
has several starter layouts and multiple color schemes to choose from. The RSVP form is fully customizable as well.

The
Jen+Ben
 theme from
Template Monster
 is another one-page beauty, with
large calligraphic header fonts
and lots of white space. It has a very traditional vibe, so it would be a good choice if that's the type of ceremony you're planning. Instead of fancy scrolling effects or flashy animations, it's got a classy, clean feel, with plenty of room to showcase your proposal or engagement photos. This theme has a particularly easy-to-use editor, which I personally like. You can choose from
several prebuilt layouts
 or build your own section by section, with anything from couple introductions to rehearsal dinner details.
Elegant Themes has a drag-and-drop website builder for WordPress called
Divi
, and sure enough, it features a couple of wedding-specific layout packs.
My favorite is Divi's
Event
 layout pack.
This celebratory, upbeat theme has cute icons to highlight info about the (hopefully open) bar, dinner, and dancing. Links to the RSVP section and gift registry are stacked together in colorful blocks. The default illustrations have some
cool scrolling effects
, and it would be easy to replace them with your own photos. Or, since you're already thinking outside of the box, why not swap them out with some custom illustrations of the happy couple?
Website Builder Templates
If you're not already using WordPress and you're relatively new to site building, you might consider going with a website builder instead. Their
drag-and-drop editors are much easier to use than a CMS
, and you'll be able to access lots of wedding templates for free through your subscription. Plus, website builder templates are very customizable overall, so you can make them match your ceremony's style even if you're not a design expert. Here are my top picks: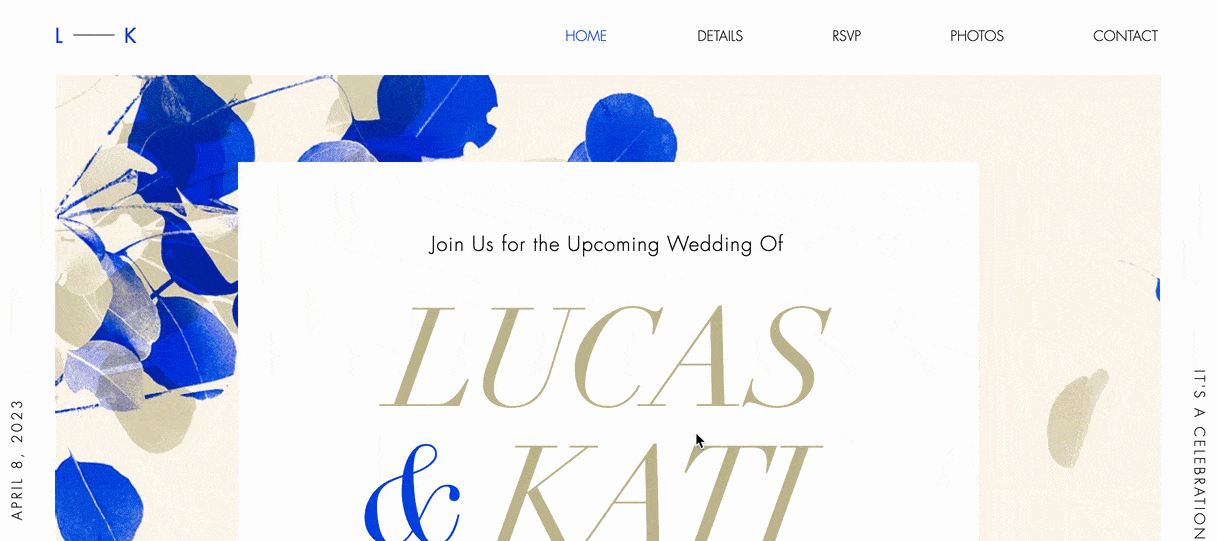 Wix offers over 25 wedding-themed templates with beautiful designs, so there's a good chance that you'll find a good style fit. Personally, though, I love
Colorful Wedding Invite
 because of how it pops off the page. This template is perfect for a ceremony that's proper yet playful. It's colorful, compact, and features some
superb typography, with a unique large/small font combo
. It's also one of the few templates that doesn't rely on sweeping photos for its visual appeal, so it's a
good choice if you don't have engagement photos just yet
 (or don't want them to define your site). It comes with an RSVP form built in with the Wix Events app, and you have access to pretty much any functionality you could want through the Wix App Market. For example, you could embed a map of your wedding location and link to it with colorful buttons on your other pages.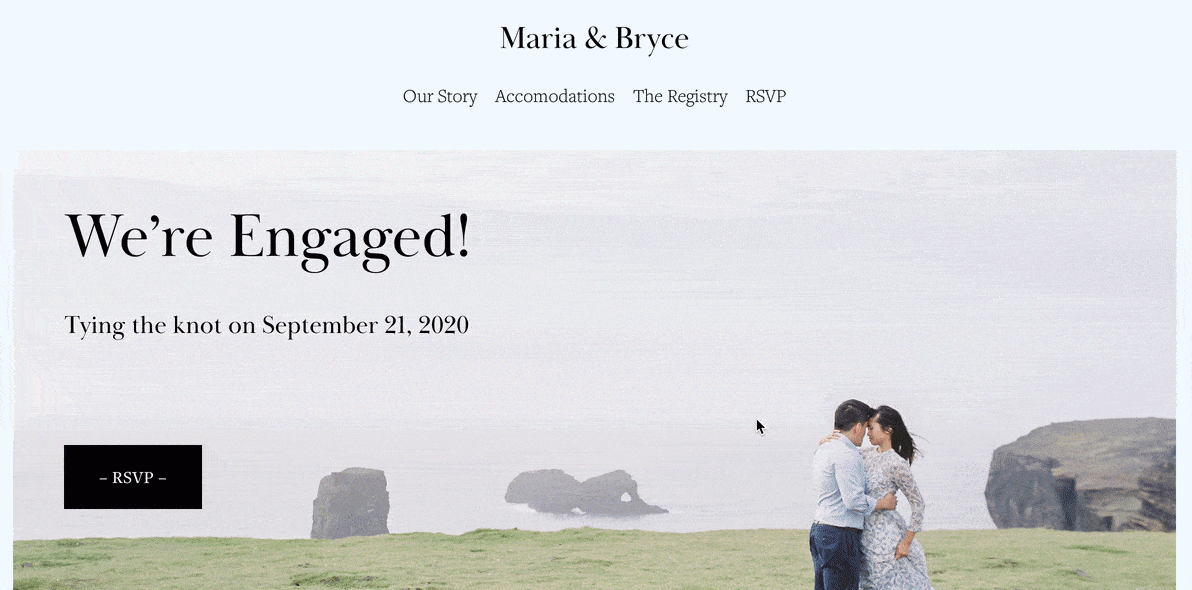 Squarespace is known for its visually striking templates, and
Bleeker
is no exception. This template is like
a simple-yet-elegant wedding dress –
 great for a couple that embraces the minimalist aesthetic. The layout features sections for each part of the big event, like the ceremony and the reception. Each section features a different photo, with the important details centered just below. With tons of airy space between images and text,
Bleeker
helps you share your favorite engagement photos while letting you tell your story in your own unique way.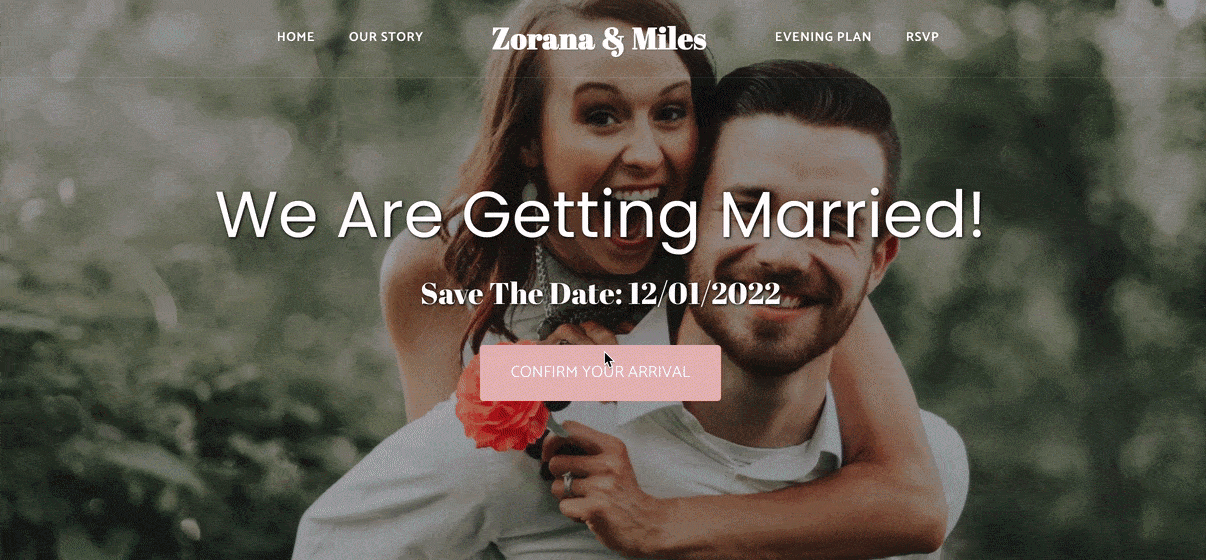 If you're up to your ears in wedding planning, SITE123's aptly titled
We Are Getting Married
 could be a lifesaver. This template is
compact, pretty, and practical
 – not only will you have your site live in no time, you'll be able to start collecting RSVPs ASAP. Everything fits nicely on a single page, and the site plan is
 clear and concise
. The essential info, like your ceremony date and the RSVP button, is right in the header, while the "Our Story" section below keeps things simple, with a carousel for sliding photos. You will delight your family and friends with the quick accessibility of your website, and you'll also be able to check off another item from your wedding to-do list!
How to Get a Custom Template for a Great Price
The templates I've shared are all great choices, but keep in mind that even the best website template will need some tinkering to fit your wedding's unique style. The easiest way to
get the exact design you want
 is to have it custom made. A good idea is to
find a website design specialist through Fiverr
. For example,
design_iit
 has stacked up a lot of 5-star reviews for her Squarespace websites. She creates 100% original designs and will upload your content for reasonable rates. Plus, she can deliver up to 4 pages in just 3 days.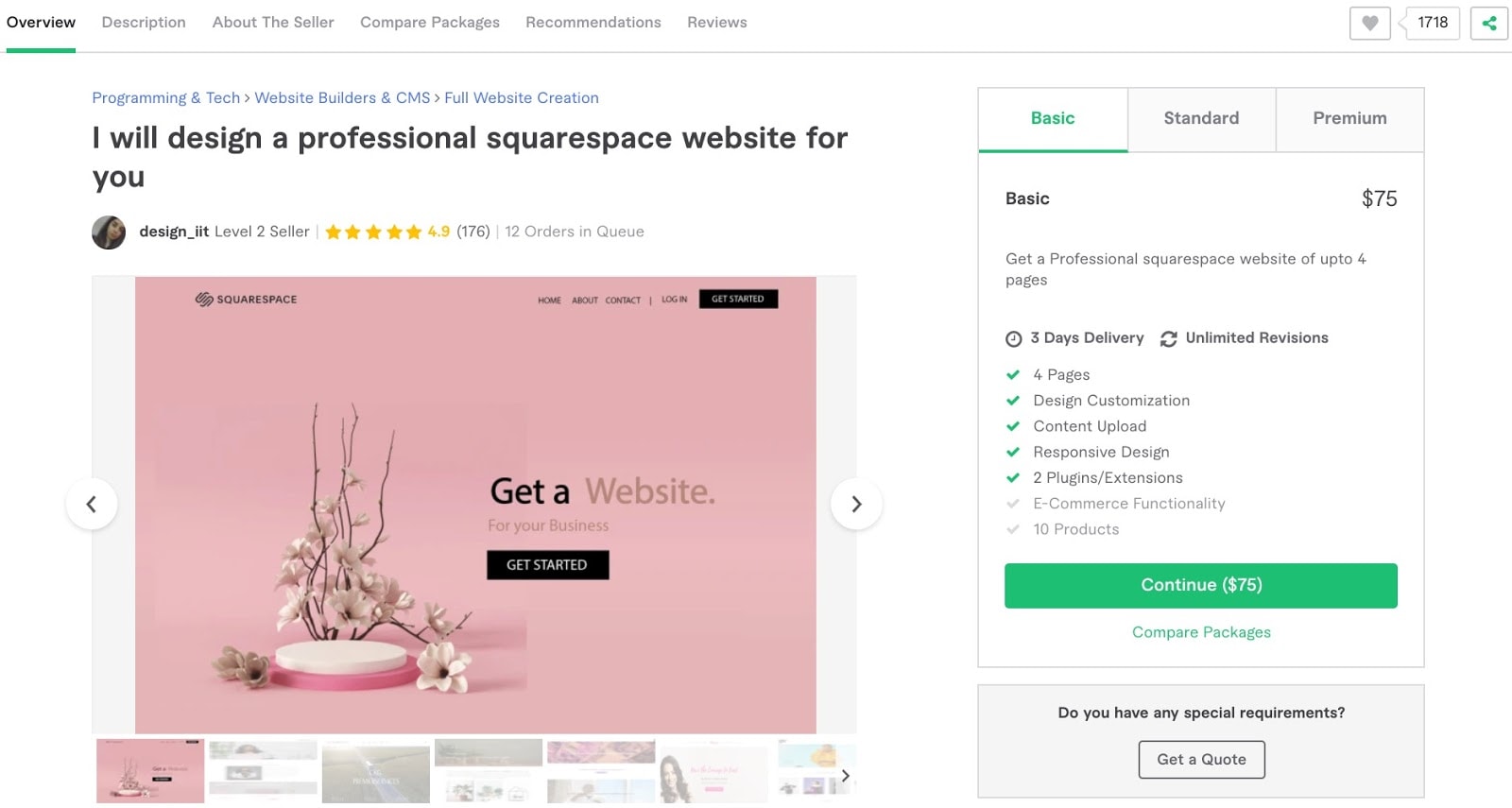 Coder_arnav
is a Top Rated Seller who creates responsive one-page websites for WordPress using Divi. He'll design your custom page in 3 days for a price that's similar to what you'd pay for a pre-made theme in Divi's marketplace. He also offers design help and advice.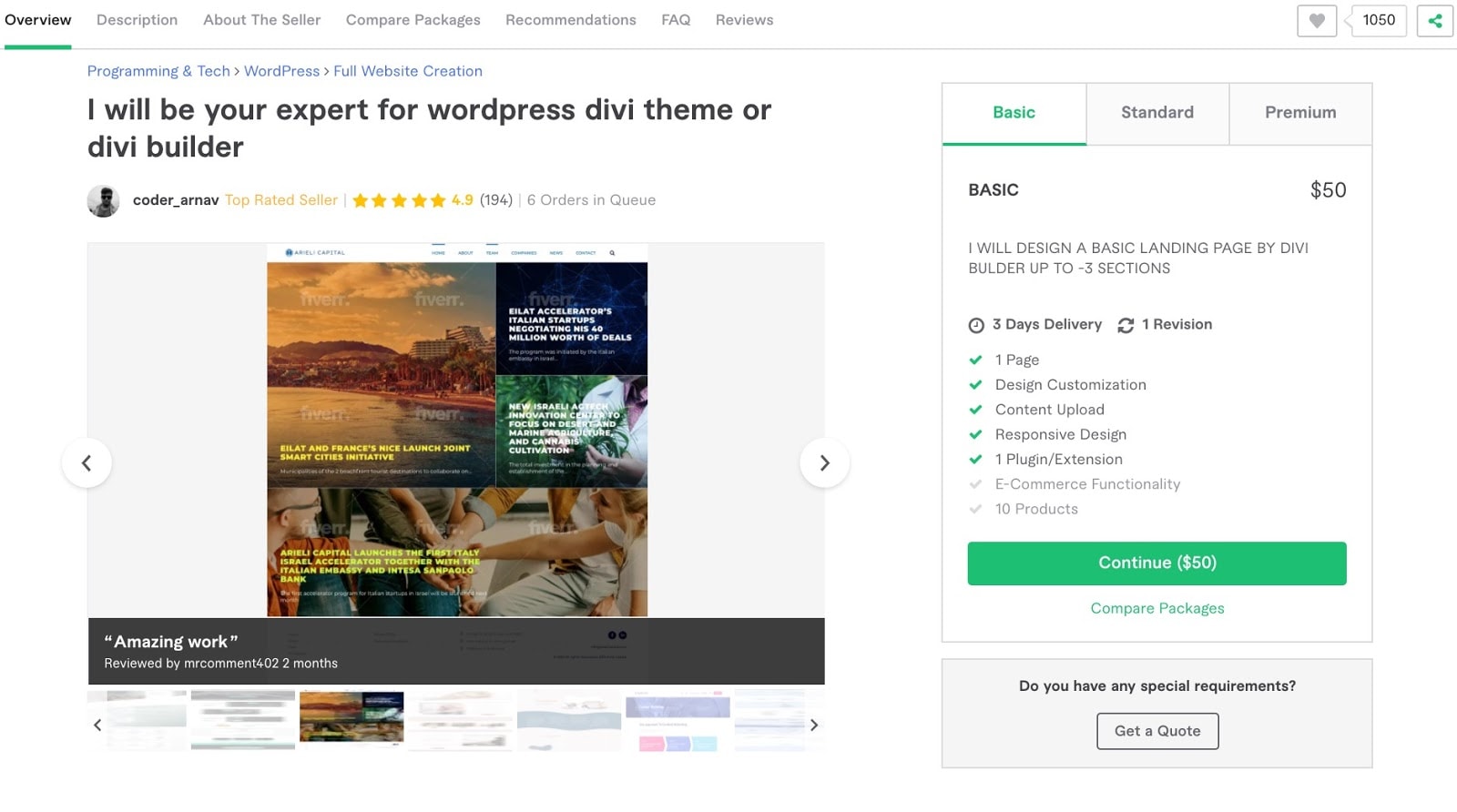 Make Your Wedding Website Truly Yours
Whether your big day is still far off or just around the corner, a wedding website is
the best way to share your good news
. Starting with the right theme will save you time and make sure your site is the perfect match for your big day. Whether you choose one of WordPress's many wedding themes, tweak a template using a drag-and-drop website builder like
Wix
, or
get a custom theme built for you on Fiverr
, this list will help you narrow down your options. Now it's up to you. You know exactly what kind of website your wedding needs, so pick a template, make it your own, and let the oohs and ahhs begin!
FAQ
How do I make a good wedding website?
Make it about you. Tell your story. Share your photos. You want your guests to feel your passion and excitement while putting all the important details about your big day front and center. Make sure to tell them how to RSVP or view your gift registry – or better yet, let them do those things directly on your website. Website builders like Wix and Squarespace make it easy to create a good-looking wedding website. If you're looking for even more options, our guide to the best website builders in 2023 is a great place to start.
Which free wedding website builder is the best?
While there are certainly wedding-specific website builders that let you create a site for free, general-purpose site builders like Wix and SITE123 offer far more features, templates and customizations – and they also have free plans! Read our review of the best free website builders in 2023 for more info.
Are wedding websites worth it?
Creating a wedding website can take a few hours of your time, but it's well worth the effort. Not only can you share all your photos and info in one place, but you also save on the cost of printing paper invitations, you don't have to manage digital invites across social media platforms, and it's a super easy way to collect RSVPs and share your registry. Website builders offer a range of free and paid options for making a wedding website – check out our discounts page to get the best deal.
When should you publish your wedding website?
It's best to publish your wedding website around the same time you'd send out your save-the-date cards or invitations. You want to give your guests plenty of time to get excited, browse valuable information about your venue and location, and make their travel and gift arrangements.