your website is a key part of your promotional strategy
. Not only does a good website show off your skills to agents and directors, but it's also a great way to reach and engage with your fanbase. However, with so many options for creating your own site, it's hard to know the best way to go. A lot of it comes down to the template you choose, since
the style of your site is what visitors will notice first
. And that's where I come in. From customizable WordPress themes to simple drag-and-drop
website builder templates
,
I've put together a list of options that will stand out from the competition
. Odds are good that you'll find one that works well for your style and needs. And if you want something truly unique, I'll show you how to hire a designer that'll
create a unique template
for a super low price.
WordPress Themes
WordPress has tons of themes that are feature-rich and allow for extensive customization. Here are my favorites for actors: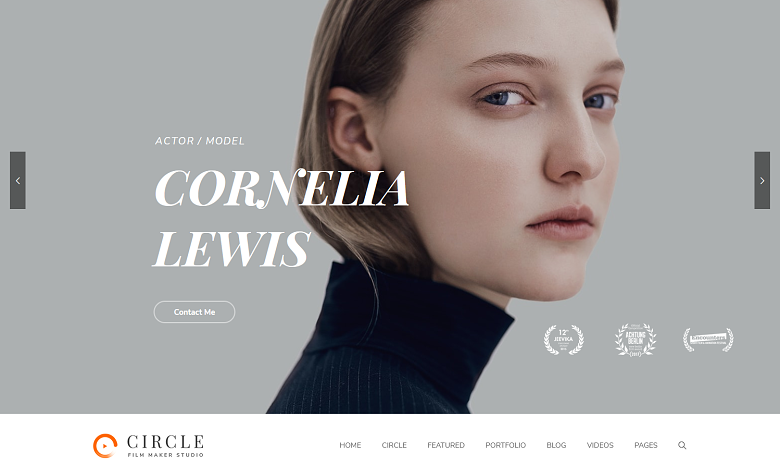 Circle
is one of
ThemeForest's
 most popular themes for film industry professionals, with 10 different demos for agencies, directors, studios, and actors. This theme is
clean, modern and very visual
. It supports several types of video files, so you can present your promo reels and other multimedia content to best effect. It also has built-in pages and filters for video, a portfolio, and featured content, plus the option to add a blog.
Circle
is
fully responsive
, so your site will look great on any device, whether fans are reading about you on their phones or a casting director is on set with a tablet.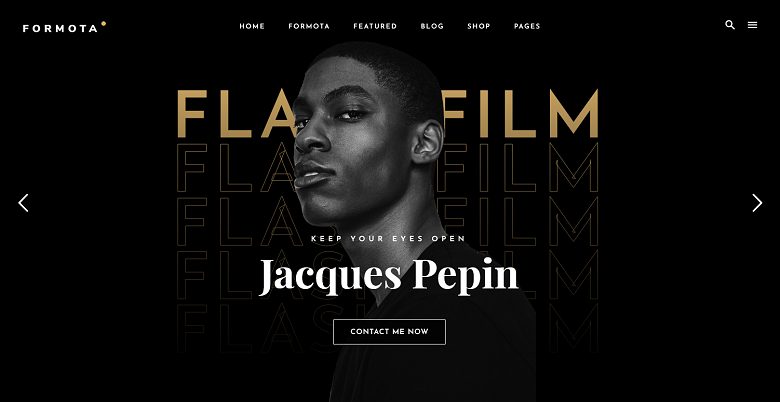 Also from
ThemeForest
,
Formota
is designed especially for studios and filmmakers, but it includes
an actor-specific template with lots of functionality for showcasing your work
. Again, the focus is on visuals, and there are multiple good spots where you can include your favorite headshots, feature material, and promo reels to best effect.
The blog that comes with this theme is particularly versatile.
You can choose from two overall layouts and six options for individual posts – you can add a movie review, inspirational quote, news from the set, or even snaps from your latest photoshoot. Another unique feature is
the built-in online shop
, which lets you sell merch from your upcoming projects. Or, you can wait until you have an even bigger following and sell your own items!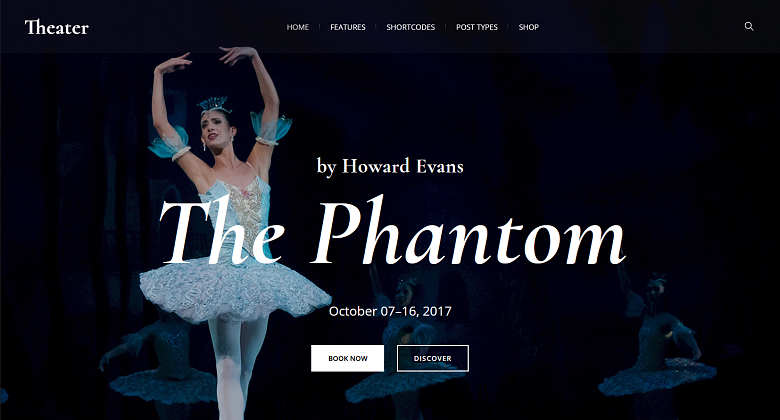 ThemeForest's
Theater
template is a great option for actors who want to promote their shows. With functionalities such as
ticketing and an events calendar
, this theme can help you increase your audience as well as promote your skills. It includes a bunch of WordPress plugins,
99+ custom shortcodes, and custom widgets
. However, it's not as visual as some other actor templates and doesn't support as many options for video, so it may not be the first choice for film and TV actors. This theme also has a
WooCommerce online shop
where you can sell merch for your shows.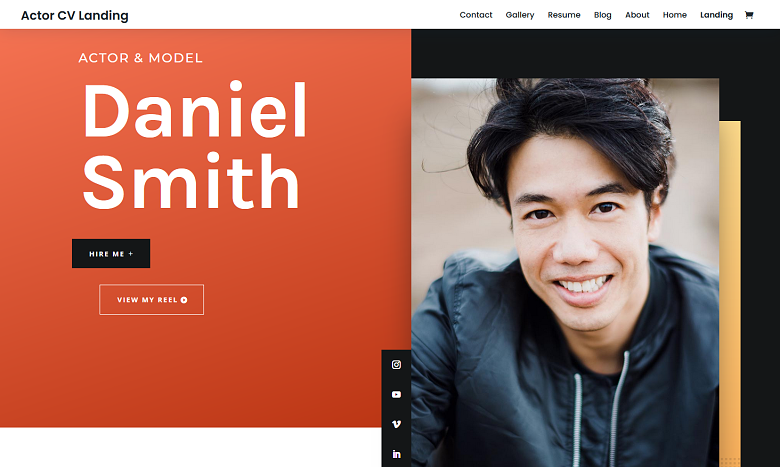 What separates
Divi
from other WordPress themes is that it's essentially a website builder for WordPress. It lets you build and edit your site from the front end so you can see changes immediately. Divi has over 200 layout packs (themes) in a range of categories. The
Actor CV
pack includes landing page and homepage options, as well as About, Gallery, Contact, CV and Blog pages, all of which are
fully customizable
.
The design is bold and eye-catching
, with plenty of options for adding photos and video content. The landing page option is great for promoting specific projects.
Actor CV
comes with
conversion optimization tools
, which let you test out different versions of your pages to see which get more engagement. This feature can help you build your brand and get more gigs! The sheer volume of options in the Divi editor can be a bit overwhelming, however. So if you're a beginner and just want a theme that will be ready to go right out of the box, you might want to try one of the other options on this list.
Website Builder Templates
If you don't already have a site on WordPress and don't have a lot of design experience, you may want to consider using a website builder. These platforms let you
customize your site using simple drag-and-drop tools
, while providing plenty of support to guide you through the process.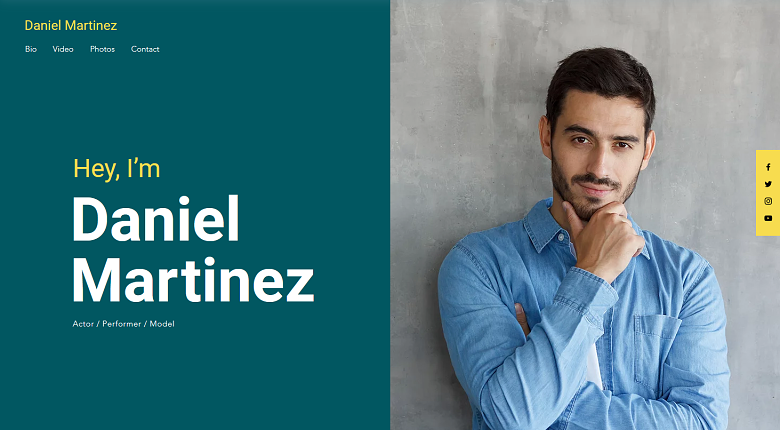 Wix has several templates for actors that are fresh and modern-looking, but
Actor Portfolio
stands out with its
full-width, parallax-scrolling images
and an eye-catching color scheme. This is an example of
bold, minimalist design that really works
, putting your photos and videos front and center. The sticky social media icons on the right side of the screen are a nice touch, too. Just keep in mind that Wix websites aren't fully responsive, so you'll have to make a few manual tweaks for the mobile version of your site.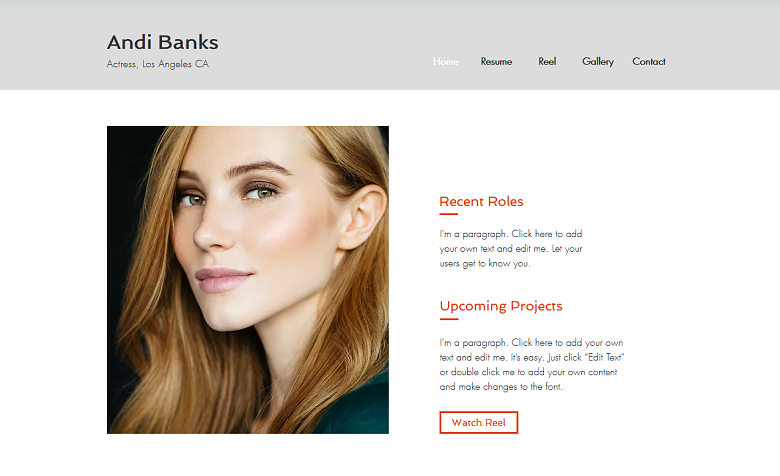 Like the previous template,
Actress Resume
taps into the minimalist trend that's so popular these days. However, this one uses
a more subdued color palette and features a lot more white space
, making it great for mobile in particular. It's also got a
nice CTA button on the homepage
inviting guests to watch your video reel. It's a super-simple template, but it gets the job done well.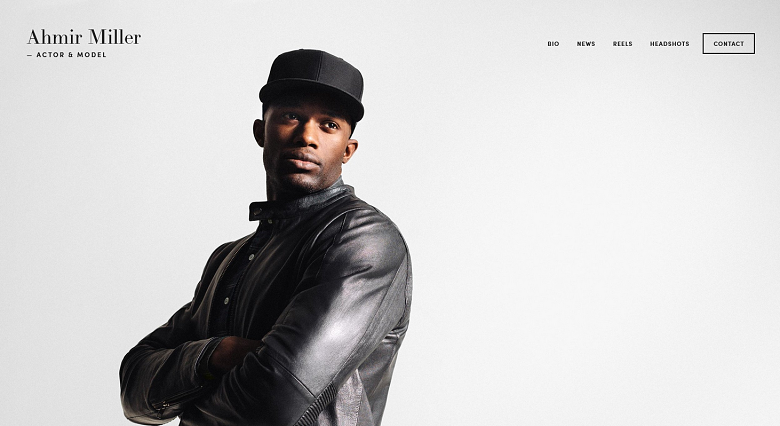 Squarespace's template for models and actors,
Miller
is
a sleek, clean design with lots of wide images
. The easy-to-use navigation bar gives you sections for your bio, headshots, videos, news, and a contact form. The bio section gets creative with
magazine-like feature text and pull quotes
. Another nice touch is the booking form at the bottom of the homepage.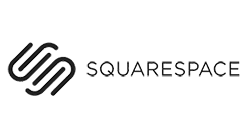 Save up to 30 % on your Squarespace plan today!
Plus get a free domain for one year!
1031 users used this coupon!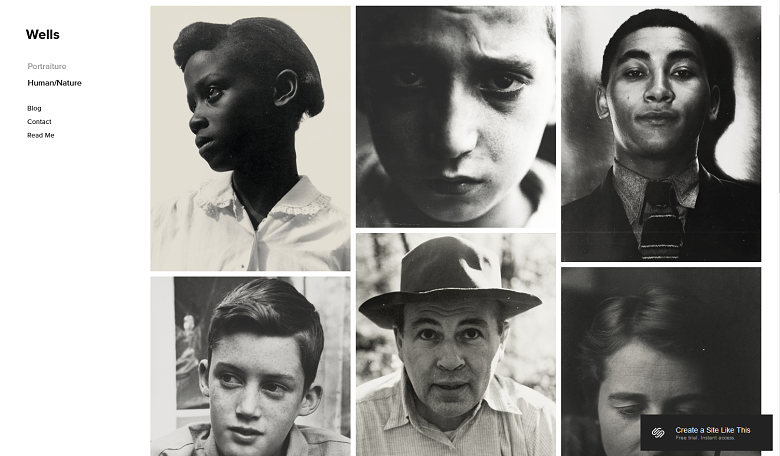 Wells
, from Squarespace, is a popular template for photographers and artists, but its
large galleries
also make it a great option for character actors to show off their range.
Its simple-but-elegant layout and sidebar navigation give it a clean, focused feel.
In addition to the two gallery pages and blog page, you can also add events, e-commerce and social links to suit your needs. Although
Wells
is perfect for
high-res still images
, it isn't great with video. So, if you want to include a reel, you might consider one of the other options on this list.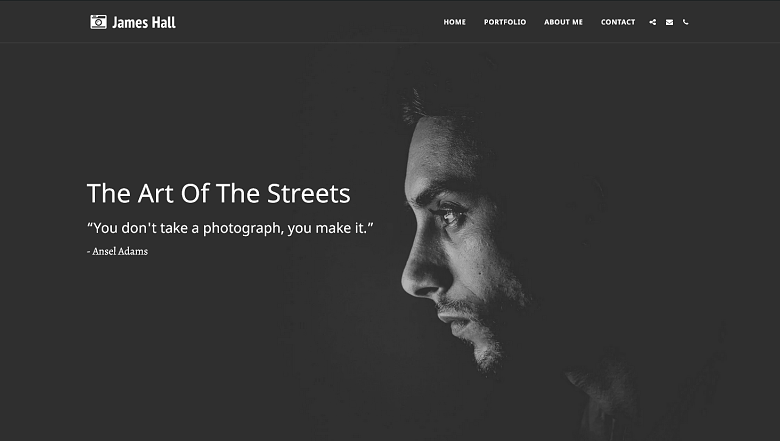 This option from SITE123's Creative Arts category is
a great-looking, one-page template with built-in About, Portfolio and Contact sections, plus a Blog option
. If you have a limited portfolio or are fairly new on the scene,
James Hall
would be a great option right out of the box. And SITE123 makes it super easy to add pages and content further down the line. On the other hand, if you have more design experience and need more customization options, you might feel a bit frustrated with this template's simplicity.
How to Get a Custom Template for a Great Price
If you don't feel confident building your own website, and you want something a bit more unique than a template that anyone can use, you can always hire a designer to do it for you. My favorite platform for finding freelancers is
Fiverr
. Not only can you filter by service type, price, and turnaround time, but it also shows you customer reviews and examples of each designer's past work. For example,
rajibbarua_exp
specializes in building WordPress websites with Divi. If you don't need e-commerce, your site could cost you as little as $20.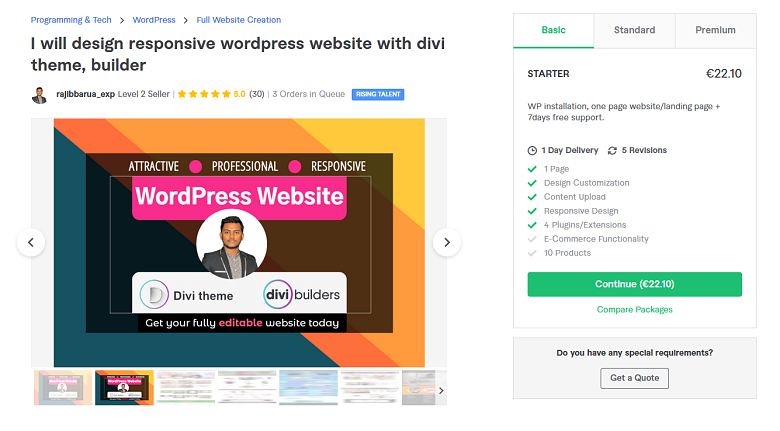 If you hire someone to design your site for you, one important issue to think about is how you'll deal with site maintenance and making changes to your site in the future.
If you don't want to pay for continued upkeep, going for a Wix or Squarespace site might be the easiest option.
These sites are less technical, so it will be easier for you to do your own maintenance. And as a bonus, it'll be even easier to find a designer within your budget. For example,
ehsanbaloch538
 is a top-recommended Wix designer on Fiverr who can create your site for you in just three days.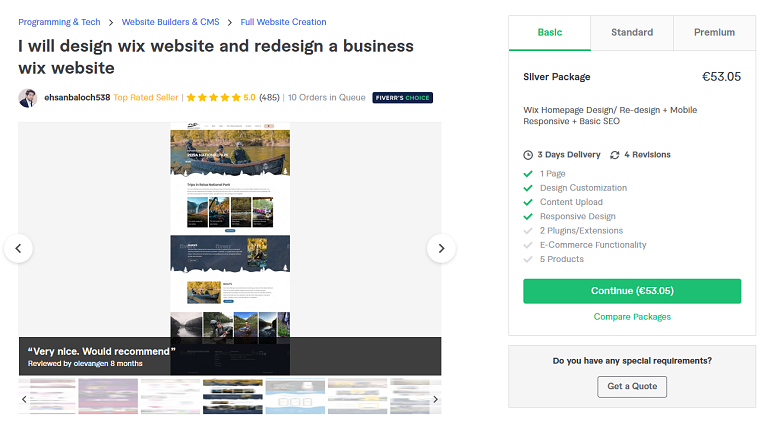 How to Pick a Stunning Template for Your Website
As an actor, your website plays a pivotal role in your promotional mix. Therefore, make sure to choose a template that aligns with your personal style and goals. Do you want a simple online CV? Lots of video reels? Do you want a serious feel, or more of a fun, vibrant vibe? Whatever your situation,
this list includes great templates in all styles with all of the key functionality an actor needs
. So take a look for yourself, think about what you want your site to accomplish, and dive in! And if you want a more custom design, now you know where you can find one for a great price.
FAQ
What should an actor's website include?
Your website needs to showcase who you are as an actor. It needs to be very visual, with lots of space for headshots, promo reels, clips and any other media you have. You also want to make it easy for people to contact you, so prominent social media links are a must. Plus, you'll want a page for upcoming projects or recent performances. If you've got good writing skills, a blog is a nice addition that can help show what you're like as a person as well as an actor. Not only is this a great way of connecting with fans, but it will also give directors an idea what it's like to work with you.
Which website builder has the best templates?
If choice is what you're after, WordPress offers the widest selection of templates by far (get more info in our expert WordPress review). Website builders like Wix and Squarespace generally only offer a few templates per niche, so don't be surprised if you see some other actors using exactly the same template. However, website builders do make it easier for you to tweak a template from the front end, so if you have the time, you can definitely come up with something that's more unique.
Which is the easiest website builder to use?
If ease of use is your priority, it's hard to beat Wix's ADI option. You just enter a few details and Wix uses artificial intelligence to do the rest. SITE123 is another website builder that's designed to be as simple as possible – it literally takes three clicks to get your basic site structure ready to go. Or, if you're not sure which website builder is best for your needs, head over to our review of the 10 best website builders in 2023.
How can I make a free website on Google?
It's now possible to create a simple website on Google for free. The Portfolio option works great for actors, with a Homepage, About page and Project page. You can choose a theme, edit pages, and insert new elements using Google's simple drag-and-drop tools. That said, website builders like Wix and Weebly provide more functionality on their free plans. If you'd like to check out some other free options, head over to our review of the 10 best free website builders in 2023.