When I started seeing a drop in sales and exposure in my Etsy shop, I knew it was time to find a different solution.
Leaving Etsy behind isn't easy, especially if you've been doing business since its golden days and have a loyal customer base who loves your work. But maybe you're just starting to look for a place to sell your crafts, or
maybe you're perfectly happy with your Etsy shop and just want to explore additional avenues to keep your handmade business growing.
On my quest to find a second home for my crafts, I've tried out the major site builders on the market. But to save your time,
I'm only recommending the platforms that have all the features necessary to provide an actual alternative to Etsy
. Read on to find out which one best suits your needs.
Etsy Alternatives: Our Top Picks
Shopify – Dedicated builder for online shops with great marketing features
Wix – Building your site is quick and easy with a smooth drag-and-drop editor
Squarespace – Offers beautiful templates to show your products in the best light
Weebly

– A special online store builder helps you optimize your site for more sales

Volusion

 – Comes with powerful analytics tools to help you gain valuable insight on your best-selling products and customer base
What I Look For in the Best Alternatives to Etsy
I only recommend sites and services that can match or beat your user experience on Etsy
. Here are some of the categories I covered when deciding on my top picks:
Beginner-friendly: While some e-commerce platforms require a bit of trial and error to smooth out every last detail, getting your site up and running should be easy.
Helpful support options: You need access to helpful tutorials to learn the basics and support staff in case anything goes wrong. Etsy's supportive community is great, and you want that level of help (or even better) when it's needed most.
Customization: You want to create a site that completely reflects your personality and artistic vision instead of blending into the crowd.
Scalability: As you build your handmade business, you need to be able to grow. This means you should have the option to upgrade (or downgrade) your plan with the features that best fit your needs.
Affordability: A handmade business can be particularly difficult to manage when it comes to finances (especially if it's a side gig). The site builders I recommend all have affordable starting points.
Why Look For an Etsy Alternative?
If you've already made up your mind about Etsy and are eager to hear about my favorite alternatives,
you can jump right down now
. If you want to know how Etsy has changed and how it could leave you struggling, keep reading as I break things down for you.
With over a decade of solid success, Etsy has dominated as THE place shoppers go for handmade gifts and goodies.
Unfortunately, things have changed drastically in recent years, and many sellers have started to feel the sting. Here's a quick rundown of the biggest issues facing Etsy shop owners (and shoppers):
Fees, Fees, Fees – They may seem small at first, but Etsy fees add up fast, and it seems like there are more of them every year. Etsy listing fees, transaction fees, PayPal processing fees, and fees on shipping costs. They all eat away at your bottom line, especially if you offer low-priced items.
Pressure to Offer Free Shipping – Etsy now prioritizes items available with free shipping in search results for US customers. But we can't all offer free shipping – for some of us, it would mean either raising our prices to the point where we can't get any sales, or covering the shipping fees ourselves and losing even more money. The reality is that offering free shipping is a lot easier for high-volume sellers, so this policy penalizes the independent artisans who have made Etsy great.
Less Search Engine Visibility – Your Etsy listings used to appear on Google Shopping at no cost to you. Now, if you want to show up in the searches, you need to pay for Etsy Ads (and offer free shipping). That's another heavy cost to bear for small-scale sellers.
Extreme Competition – You've probably worked hard to optimize your product listings with eye-catching images and relevant keywords, but sales have slowed down or stopped altogether. Or maybe, even after all your marketing and networking efforts, it still feels like you aren't getting as many new customers as you used to. What gives? The short answer: Etsy's marketplace has become flooded with millions of products and for many of us, it's a struggle to get noticed anymore.
Non-Handmade Goods – For a long time, Etsy valued truly handcrafted products, with quality controls to ensure that the site represented genuine artisanship. Now, many Etsy products aren't handmade at all; they are mass-produced, cheap items cranked out in factories, mostly in China. Some of these items are even knockoffs or involve blatant copyright theft of artwork and designs someone else lovingly handcrafted one by one. With this change, more and more sellers have had no choice but to lower their prices, making it impossible for the rest of us to compete.
There may be other reasons you're considering walking away. Perhaps your shop was shut down by Etsy due to one of its many obscure policies. Or maybe you just want a personalized website that only features your creations – the digital-age version of a little shop on Main Street that's all yours.
Shopify is the ideal choice if you want to have the most control over your online shop.
A lot of former and current Etsy sellers trust Shopify for their growing business needs.
Your site can have a blog and integrate with social media, too, which can help you connect with your customers in ways Etsy can't. Unlike Etsy's uniform shop design (boring!),
Shopify gives you a range of free and premium themes to make your site stand out
. Better yet, every site theme is mobile responsive to ensure your shop looks and feels perfect on smartphones and tablets.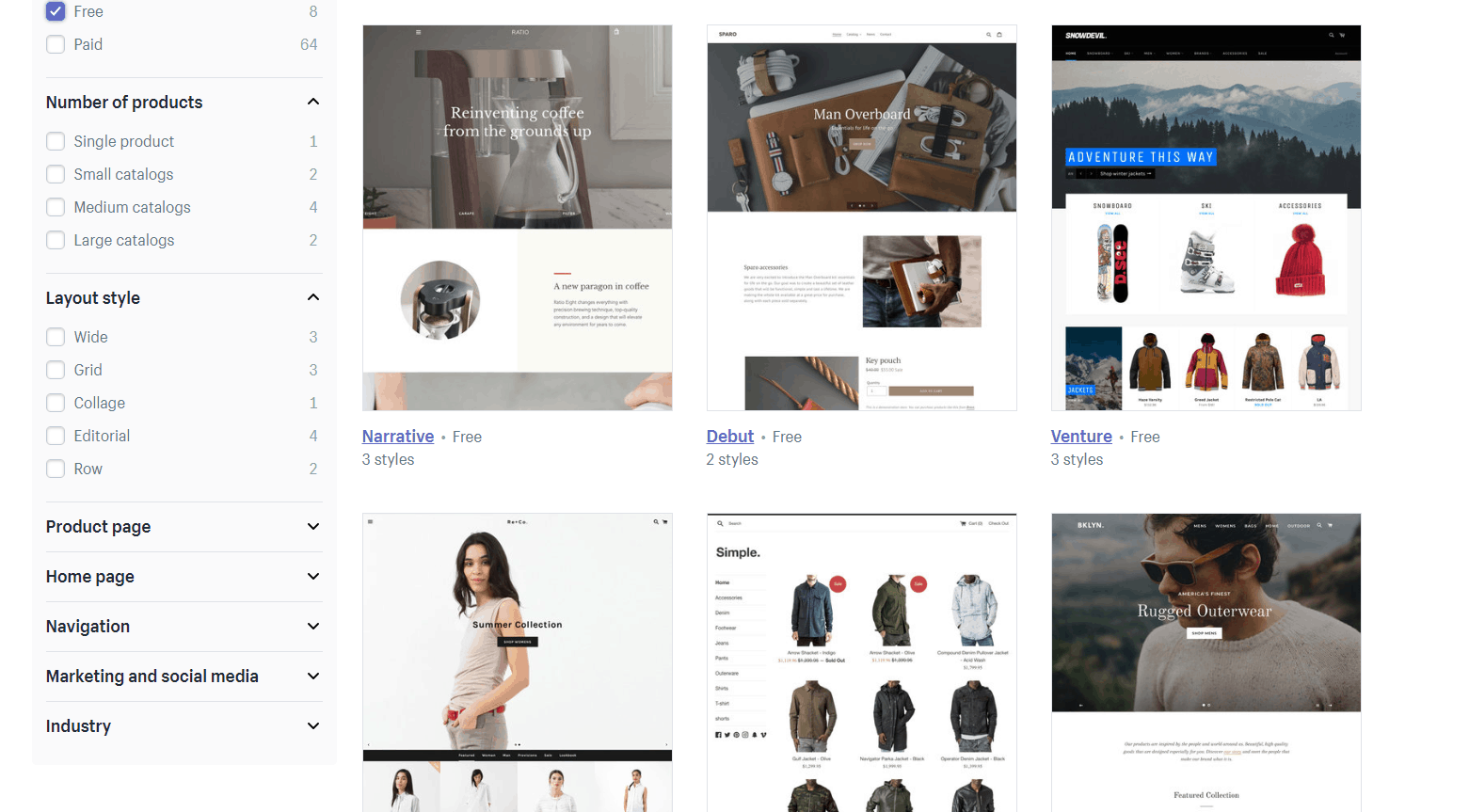 If building a website from scratch sounds like more than you need right now,
the Shopify Lite plan lets you sell products directly from your Facebook page, without having to create a site
. It's an extremely affordable option if you want to test what selling outside of Etsy feels like. If you do want to build your own store, or not quite sure yet, you can use
Shopify's 14-day free trial
to test the grounds and see if you like how it looks and works. It's a limited-time offer created to help struggling businesses during Covid-19, so make sure you don't miss it.
If you have a physical store or do a lot of pop-up events, you can manage all of your inventory and sales from the Shopify platform.
There's a huge selection of third-party apps and features you can use to grow your audience and boost your sales.
Shopify's Advantages Over Etsy
Abandoned Cart Recovery – You can't see this on Etsy, but many potential buyers add items to their carts to buy later, and then forget to return and complete their purchase. Shopify can send out automatic emails to remind them to come back to your site.
Shipping Discounts – Depending on your Shopify plan, you may be eligible for up to a 90% discount on shipping through selected carriers.
Multichannel Shopping – With Shopify, you're not limited to selling on your own site – you can also sell your products on Facebook, Instagram, Amazon, eBay, and more (depending on your location).
Multi-Language Support – Shopify is available in over 20 languages, including Chinese, Japanese, Spanish, German, and French.
If you want to learn more, read our
expert Shopify review
.
Shopify's Disadvantages
Design limitations – If you decide to switch your Shopify theme, you may need to make some adjustments to sections and pages to make them fit into your new theme. That's still an advantage over Etsy's same-design stores.
Transaction fees – Similarly to Etsy, card processing and payment provider fees apply unless you use Shopify Payments. But these fees are still less than a half of Etsy's transaction fees.
| | |
| --- | --- |
| Free trial? | 14-day, no credit card required |
| How many products can you sell on the cheapest plan? | Unlimited products |
| Can you sell digital products (ebooks, music, graphics files)? | Yes |
| Can you integrate an Etsy shop? | Yes, via a paid third-party app available in Shopify's App Store |
Bottom Line:
What I love about Shopify is that it's easy to manage, and the platform includes many great features to help boost your sales. If you're serious about running your own online shop or if you're even considering making it your full-time job, Shopify is a reliable choice that can provide you with everything you need to take your business to the next level.
If you're ready for your own online shop and you want it to really stand out, Wix is the right choice for you. Setting up a Wix store is as easy as clicking a few buttons, and the
drag-and-drop editor makes it easy to customize your shop appearance
– something you can't do on Etsy.
To save time, you can import an existing product catalog into Wix
via CSV files (a type of spreadsheet you can easily create with Excel or Google Sheets). If you plan to keep your Etsy account active for a while, you can integrate your Etsy listings into your new site, using the free Etsy app available in the Wix App Market. To help your visitors easily decide on their favorite item and order it, you can add photo galleries with as many photos as you like, and even add videos to show your crafts from all angles. If you like doing custom work, you can offer custom order forms through your choice of a free or premium app from the Wix App Market. To try out the platform, you can use
Wix's free plan
 to build and customize your entire website to your liking, and only add the actual store and products when you're ready to commit.
Wix's Advantages Over Etsy
Multichannel Sales – In addition to selling on your own site, you can sell products and manage your orders via Facebook, Instagram, and other social media platforms.
Store Templates – Pick from 10+ Arts & Crafts store templates, or customize any of the other 500+ Wix templates to make sure the design of your shop showcases your art in its best light.
Logo Maker – Design a unique logo with Wix Logo Maker to make your store more memorable.
Powerful SEO – The Wix SEO Wiz helps you optimize your shop so potential customers can easily find you on Google and other search engines, with no added cost to you.
Read our
in-depth Wix review
 to learn more.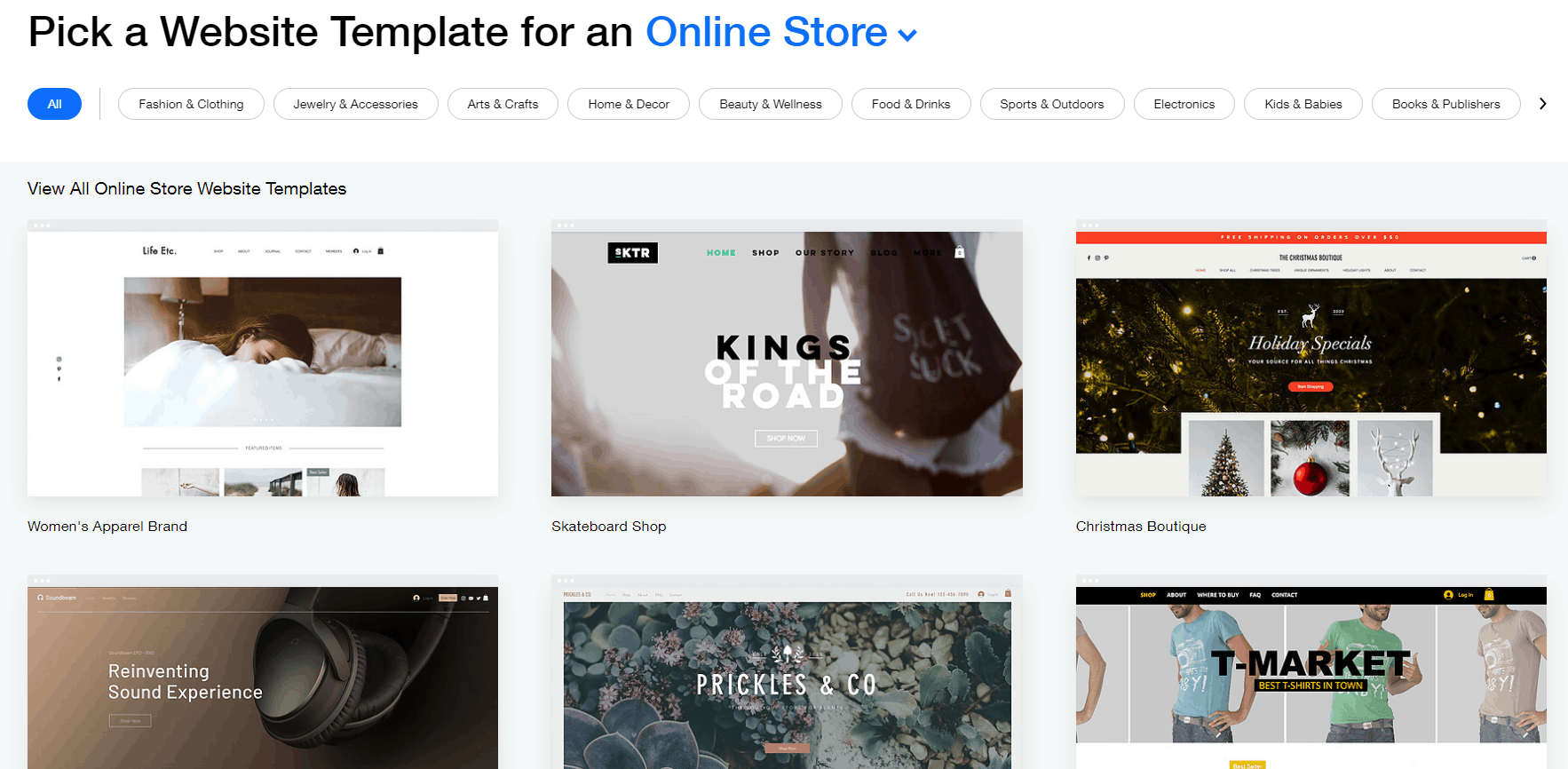 Wix's Disadvantages
Wix mobile sites have to be adjusted in the mobile view editor. It may take some extra time to do, but this way you can make sure your site looks good and functions perfectly on mobile devices.
Once you've chosen a site template, you can't switch it later, so take extra care to select a template that you really like.
| | |
| --- | --- |
| Free trial? | Wix has a free plan for regular websites, but to add e-commerce features you'll have to upgrade to a paid plan |
| How many products can you sell on the cheapest plan? | 50,000 |
| Can you sell digital goods (ebooks, music, graphics files)? | Yes |
| Can you integrate an Etsy shop? | Yes, via Wix's free app |
Bottom Line:
Wix is a good starting point if you're building your first shop away from Etsy, plus you can integrate your Etsy shop if you decide to keep it live. If you have a large catalog of products (or sell digital goods with large file sizes), you may prefer a dedicated e-commerce platform like Shopify, but Wix is a great option for a small to medium handmade shop. To get the best price for your Wix store and avoid potential hidden costs, read our
guide to Wix pricing
.
Handmade businesses like ours thrive on creativity
, and Squarespace has visually appealing professional-quality website templates to show that.
You'll find a library of over 100 mobile-responsive template designs
divided into categories. Although many are designed for specific needs such as blogging and special events, you can turn any of them into an eye-catching online shop that showcases your creations. I found it pretty simple to get the hang of the editing tools, and managed to easily add and remove any features and pages I wanted to. Like Shopify,
Squarespace also offers a 14-day free trial
 to build and design your store, so you can see how you like it before you make your decision.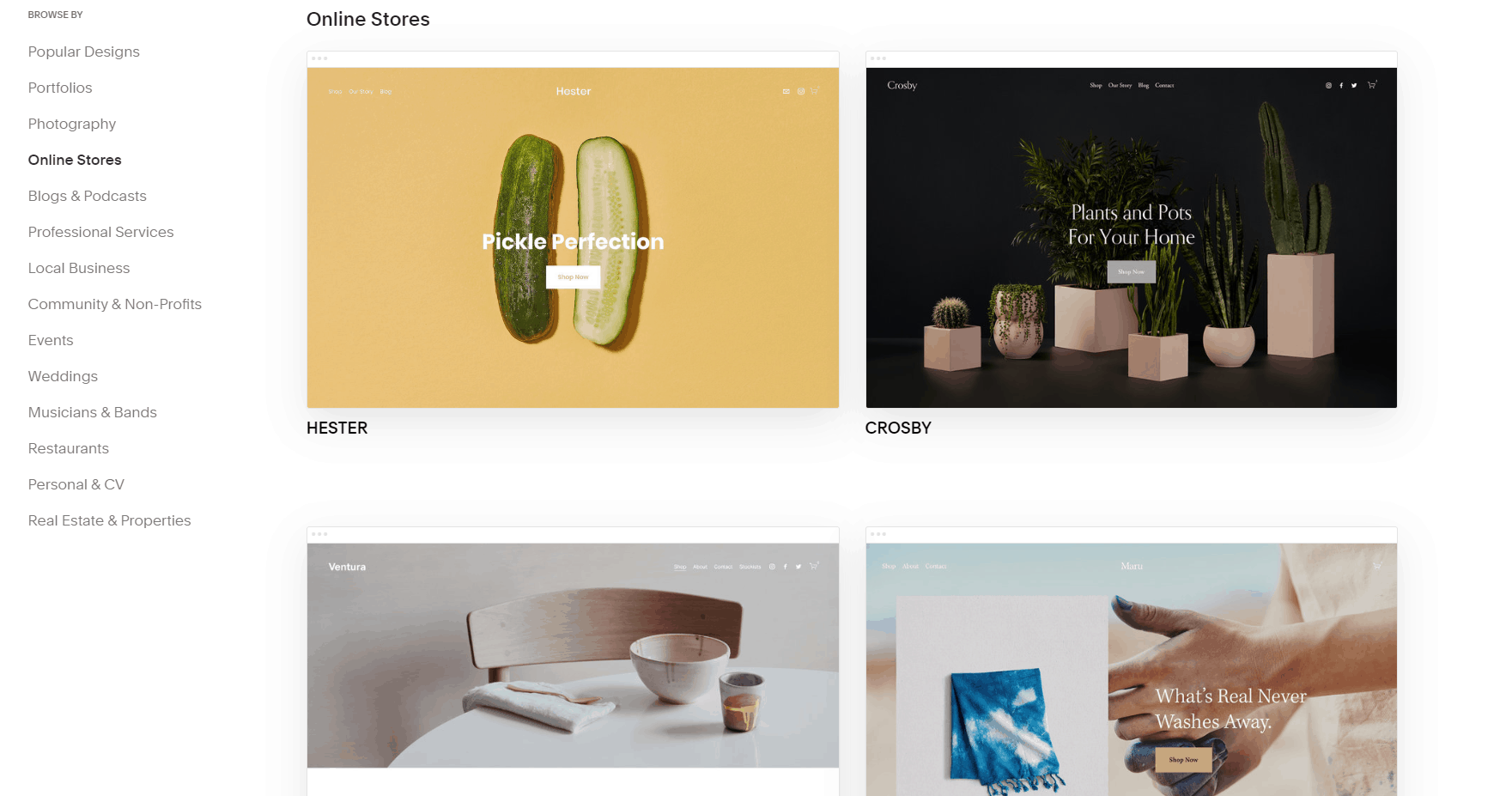 Squarespace's Advantages Over Etsy
Template Previews – Not only can you choose your favorite design for your shop, but you can also easily preview and switch templates before and after taking your site live.
Subscriptions – Manage recurring charges such as memberships and monthly product shipments with an Advanced Commerce plan.
Read our
expert Squarespace review
 to learn about other features it offers.
Squarespace's Disadvantages
Limited integrations – Although Squarespace offers many integrations with third-party services, there are still not that many options to add functionality, compared to other platforms like Wix and Shopify.
| | |
| --- | --- |
| Free trial? | 14-day trial with no credit card required |
| How many products can you sell on the cheapest plan? | Unlimited products or services |
| Can you sell digital goods (ebooks, music, graphics files)? | Yes |
| Can you integrate an Etsy shop? | No – but you can import product data via a CSV file |
Bottom Line:
If website aesthetics are important to you and your creativity-centric business, Squarespace can't be beat. You can easily create a website that makes a strong and highly professional impact, offering your customers an intuitive and enjoyable shopping experience they are sure to appreciate.
If you start working with Weebly, you'll notice it has
a dedicated editor for online stores
. This is meant to make sure your products are featured in their best light and to help you increase sales. If you want to sell art prints and other products featuring your designs,
you can even integrate print-on-demand services through Printful
. You'll also find a range of other third-party apps available through Weebly's App Center that can help boost your creative business through social media, advertising, and customer service tools.
You can try out the editor using
Weebly's free plan
, but to start selling your crafts you'll have to upgrade to one of the paid plans.
Weebly's Advantages Over Etsy
Site Statistics – Find out which of your products and pages have the most visitors, to help keep customers interested in your creations.
Gift Cards – Create, sell, and accept customized gift cards in your shop.
Discounted Shipping Rates – Available with Business and Business Plus plans. You can also print shipping labels straight from your shop's dashboard.
Get more information in our
in-depth Weebly review
.
Weebly's Disadvantages
Smaller theme selection – There aren't a lot of themes to choose from compared to other builders, yet they're all high-quality designs you can customize to fit your needs.
Help can be hard to find – While the support center and forums prove helpful, some of the information might be outdated, particularly regarding insights into Weebly's current fees and specific features. Accurate details from the support staff might require a bit of waiting.
| | |
| --- | --- |
| Free trial? | You can build a basic site for free, but you'll have to upgrade to a paid Pro or Business plan to enable e-commerce features |
| How many products can you sell on the cheapest plan? | Unlimited products |
| Can you sell digital goods (ebooks, music, graphics files)? | Yes |
| Can you integrate an Etsy shop? | No – but you can import product data via a CSV file |
Bottom Line:
Weebly is an excellent choice for small and medium-sized businesses. The plans are reasonably priced, and there's a generous selection of free and premium apps to enhance your site even more.
Volusion is a platform designed strictly for e-commerce sites. It has a bigger learning curve than other builders on this list, but it's also more powerful. You can use
Volusion's 14-day free trial
to try and learn how the platform works, and see if you like the extra powers it gives you. Like Squarespace, Volusion features a lot of professional-looking site themes that aren't too difficult to customize (there's a handful of free designs plus premium options). But Volusion's main attraction is the
incomparable amount of data you get in order to track your shop's performance
and get a deeper understanding of your customers' activity on your site.
Similarly to Squarespace, you don't need to rely on extensive add-ons or apps to add functionality to your site
– most of the features you'll need are ready to connect or implement straight from the dashboard area, including social media integrations.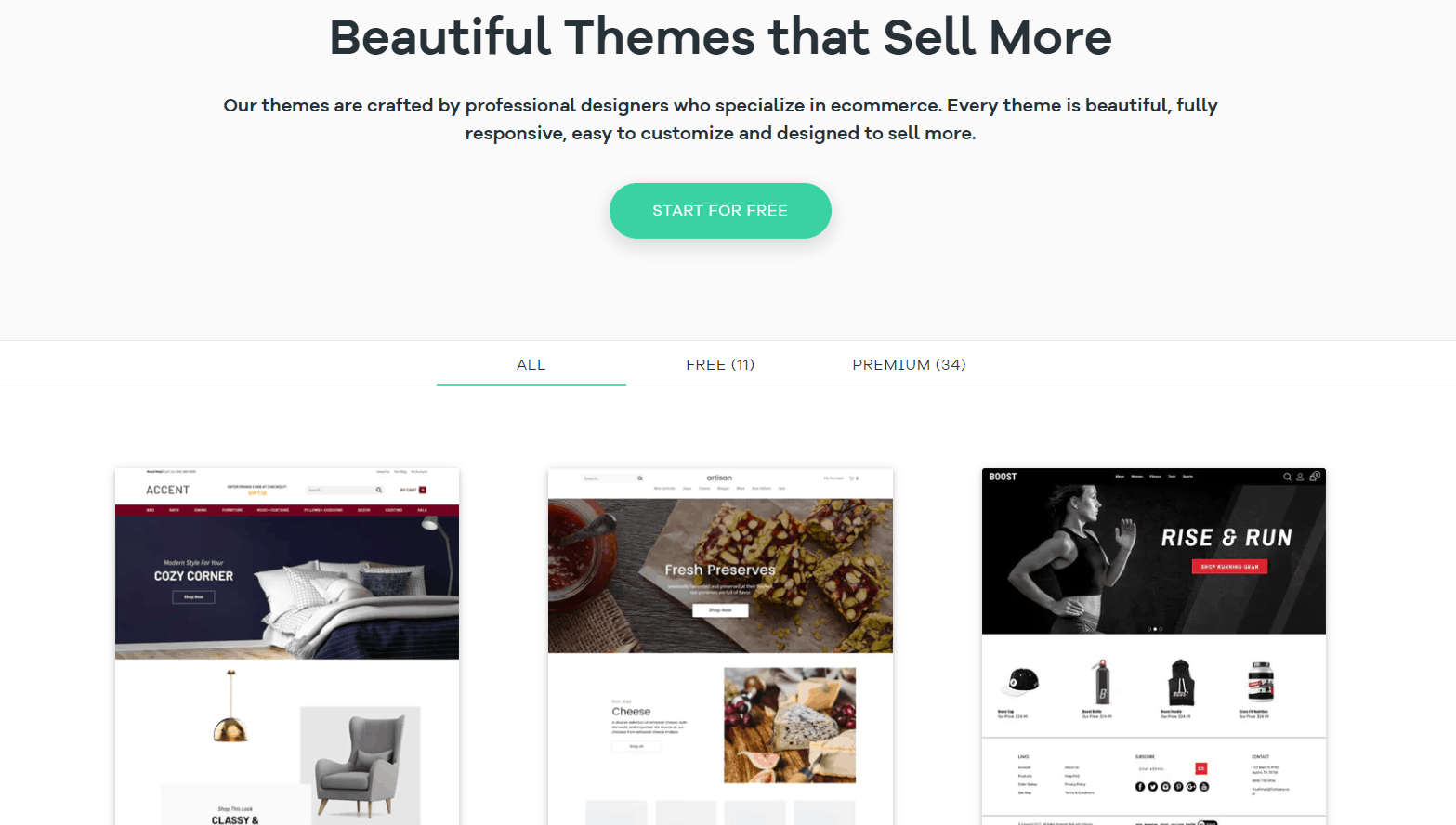 Volusion's Advantages Over Etsy
Help from Experts – Volusion offers optional paid services from in-house designers and SEO and social media experts who can help you maximize your shop's performance.
Global Currency Support – Expand your international customer base with support for multiple currencies and payment gateways.
Read our
full Volusion review
 to find out if it's right for you.
Volusion's Disadvantages
No downloadable products – Digital and downloadable products are not supported at this time – if you're a crafter who wants to sell tutorials and customized graphics, Volusion won't be a good fit for you.
Sales thresholds – Depending on the plan, if you hit a certain number of sales in a single calendar year, you will have to upgrade to a higher account tier to continue selling.
| | |
| --- | --- |
| Free trial? | Yes, 14 days with no credit card required |
| How many products can you sell on the cheapest plan? | Unlimited products |
| Can you sell digital goods (ebooks, music, graphics files)? | No |
| Can you integrate an Etsy shop? | No – but you can import product data via a CSV file |
Bottom Line:
Volusion tends to be a bit pricier in the long run, especially if you end up having to upgrade your account level. However, if you're planning on running a large-scale online business, this is a great option to consider.
My Personal Recommendations – How to Choose the Right Etsy Alternative for Your Store
If you want
an all-around e-commerce solution for your handmade shop
,
Shopify takes the cake
in terms of designs and functionality. It does require a bit more time and financial commitment to get rolling, but it's money worth investing if you're serious about your business. If your budget is limited right now,
Shopify Lite
is a great way to get started – all you need is a Facebook page.
If you want to build your own site but you want a more affordable solution, your go-to choices are Wix and Squarespace
 for simple site management and basic shopping features. You may find yourself outgrowing them if your sales explode, but both are great if you plan on keeping your store as a side-gig like me.
| | | |
| --- | --- | --- |
| | Main Advantage over Etsy | Best for… |
| Shopify | Tools for increasing sales on different platforms | Etsy graduates that want to make their shop their main line of income |
| Wix | Near-endless personalization options | Sellers with a passion to work on their shop with the same attention they work on their products |
| Squarespace | Creating subscription-based plans for monthly product shipments | Sellers who want to build a solid returning customer base |
| Weebly | Integrations with printing and shipping platforms | Painters and graphic designers |
| Volusion | Lots of customer data and statistics | Sellers who plan on expanding to a larger-scale store |