choosing the wrong email marketing service now can cost you later
 because moving from one platform to another has its own challenges. For example, you may risk losing access to past performance data during migration. Many people like comparing ConvertKit vs MailChimp, but there are platforms out there with a better price-performance ratio. I've tested all the major ConvertKit alternatives to bring you this list of the ones you can truly rely on for your email marketing needs.
Short on Time? These Are the Best Alternatives for ConvertKit in 2023:
ActiveCampaign – A simple user interface and robust automation features
Benchmark – An easy solution for small businesses new to email marketing
GetResponse – An all-in-one email marketing platform at an affordable price
What We Look For in the Best Alternatives to ConvertKit:
Pre-designed HTML templates: You want considerable variety in professionally-designed HTML templates that can be customized as you want. I looked for platforms offering templates that will catch the attention of busy consumers.
Easy-to-use editor: ConvertKit lacks a drag-and-drop email editor like you can find on other email marketing platforms. I've found platforms that offer a more intuitive editor, making it easy to design better campaigns in less time.
A/B testing: ConvertKit only lets you split test your email subject lines. The alternatives that I've listed in this article allow you to A/B test the performance of your whole campaign.
Multiple email lists: Some of the email marketing platforms I tested and reviewed here let you create as many subscriber lists as you want in your account. ConvertKit limits your account to only one list.
Even though there are many ConvertKit competitors, ActiveCampaign manages to stand out as a strong option.
It's an advanced email marketing platform that lets you set up any automation you need, and on
all ActiveCampaign plans
 –  from sales follow-ups to email segmentation.
ActiveCampaign also gives you access to a robust sales and CRM solution.
 This includes lead scoring features and machine learning tools that you can use to zero in on your best performing campaigns. ConvertKit works fine if you want to create simple email sequences. But
if your business demands the use of sophisticated customer segments and sales funnels, choosing ActiveCampaign definitely makes more sense.
Given how many features ActiveCampaign has, you will face a bit of a learning curve. However, once you get a hang of it, you'll be able to create more in-depth email campaigns that drive real ROI. In fact, it's this wealth of features that meant it scored so highly in our
ActiveCampaign review
.
ActiveCampaign Features
Dynamic marketing automations: While ConvertKit only allows you to segment your email list, ActiveCampaign helps you set multiple goals so that you can send each subscriber down a unique path. It also gives you a bird's eye view of how your automations connect to each other, making it easy for you to make changes or updates.

Comprehensive A/B Testing: Unlike ConvertKit, ActiveCampaign lets you split-test more than just email subject lines. The tool allows you to test the performance of your complete automation sequence and helps you choose a winning campaign.
Better CRM for Sales: ConvertKit doesn't have a built-in CRM for automating sales. ActiveCampaign's CRM lets you track things like sales, speaking engagements, and events. It also offers other sales automation features, like deal scoring and lead nurturing.

I like how goals in ActiveCampaign not only allow you to measure performance but also enable auto-progression.

Multi-channel marketing: Using ActiveCampaign, you can display personalized messages on your site and share updates and reminders via text. You can even follow up with prospects and customers using Facebook ads. ConvertKit doesn't offer any of these features.
| | |
| --- | --- |
| Free plan available? | No, but there is a 14-day free trial |
| HTML email templates | Yes |
| Customer support channels | Live chat, email |
| Landing pages | Yes |
If you're new to email marketing and not sure where to start, Benchmark is for you. It not only simplifies complex tasks but also proves to be a budget-friendly option. Even though its "per-month, per-user" pricing model can get a bit expensive in the long run, its
free plan
 has most of the features you may need.
It's perfect for new small businesses
 that are just starting out with email marketing. Besides offering you
a full range of email marketing tools
,
 Benchmark offers free polls, surveys, and event marketing
. You can get a dedicated IP address for an added monthly cost. One of the best parts about Benchmark is, without a doubt, its multilingual customer service that's available in 15 countries and supports nine different languages.
Benchmark Features

Email preview: ConvertKit only allows you to preview your email in your browser or in your inbox. Benchmark Email's Inbox Checker lets you preview your email in popular email clients before hitting the send button. You have to pay $14 per 100 tests, but your first test (with Gmail) is free.

The Inbox Checker feature is straightforward, giving you a clear option to choose between Paid Tests and Free Tests.

Easy user interface: Benchmark offers a simpler user interface than ConvertKit. It doesn't use any confusing jargon to describe its functionality, which makes it easy to find the features you need.
Sub-accounts: If you go with Benchmark's paid plan, you can choose to create sub-accounts and manage them via your master account. Sub-accounts have access to all paid features besides billing meaning you can add multiple team members to your Benchmark account. ConvertKit doesn't give you any such option.
Helpful pop-up messages: While Benchmark is easy to use, it still tries to guide you towards new features using in-app help messages. These are super-useful if you're a new user and will help you get the most out of the app.
| | |
| --- | --- |
| Free plan available? | Yes – the free plan allows you to send up to 250 emails per month |
| HTML email templates | Yes |
| Customer support channels | Live chat, email |
| Landing pages | Yes |
Whether it's about setting up an autoresponder or sending regular email broadcasts,
GetResponse offers a simple way to manage all your email marketing in one place.
 Its drag-and-drop editor is distraction-free and easy to use. Although it'll take you some time to get used to all the features, it's an overall easy experience. GetResponse doesn't offer a free plan, but it does have a
generous 30-day trial
. This should be enough for you to experiment with the tool and understand how it works. Compared to ConvertKit, you'll find a more comprehensive landing page builder and better automation features. You also get integrated webinar software designed to fetch you higher conversion rates.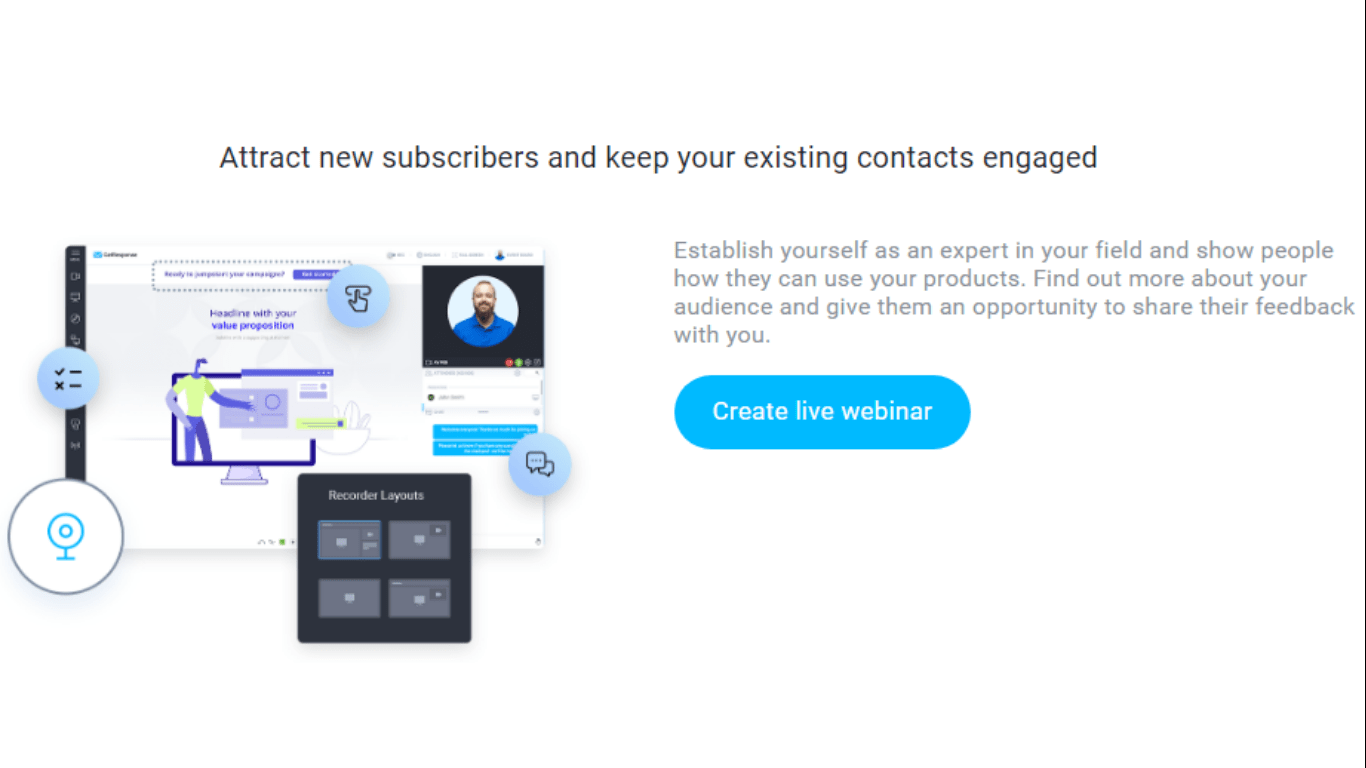 Its service is well-rounded and offers all the necessary features at a low price. You can use GetResponse to do something as simple as sending email newsletters or as complex as creating detailed automation sequences.
GetResponse Features
Customer action tracking: GetResponse offers a great lead scoring feature that analyzes customer behavior and creates individual contact profiles. You can assign points for each action taken (or not taken), and then use the learnings to create automation workflows personalized for each contact. This gives you a clear estimate of how engaged and valuable your contacts are.
Customizable dashboard: GetResponse gives you access to a fully customizable dashboard that offers a lot of functionality and usability. Even though ConvertKit's dashboard is easy to navigate, you can't do as much with it.

Spam and design testing: Using GetResponse, you'll be able to spam- and design-test your emails at no additional cost. While ConvertKit claims to run tests in the background, it does not offer any spam testing or design testing functionality for you to use on your own.
Free stock photos and GIFs: GetResponse gives you access to more than 5,000 free stock photos that you can use to make your emails more attractive. What's more, you get to tap into a huge library of GIFs through Giphy and add some extra personality to your emails.
| | |
| --- | --- |
| Free plan available? |  No, but there is a 30-day free trial |
| HTML email templates | Yes |
| Customer support channels | Phone, live chat, email |
| Landing pages | Yes |
If you want to streamline your email marketing tasks and automate mundane activities, Sendinblue lets you do that with its free plan. And, in many ways,
the free plan is better and more extensive than some of the paid plans I've come across offered by other email marketing services.
First off, Sendinblue's email automation module is handy and powerful. It allows you to set triggers to send emails based on users' actions or events. Some examples of automation include sending promotions based on a customer's shopping activity, emailing a customer with a gift voucher on their birthday, and sending a reminder email when a customer abandons their cart.
When setting triggers, you have a number of options to play with.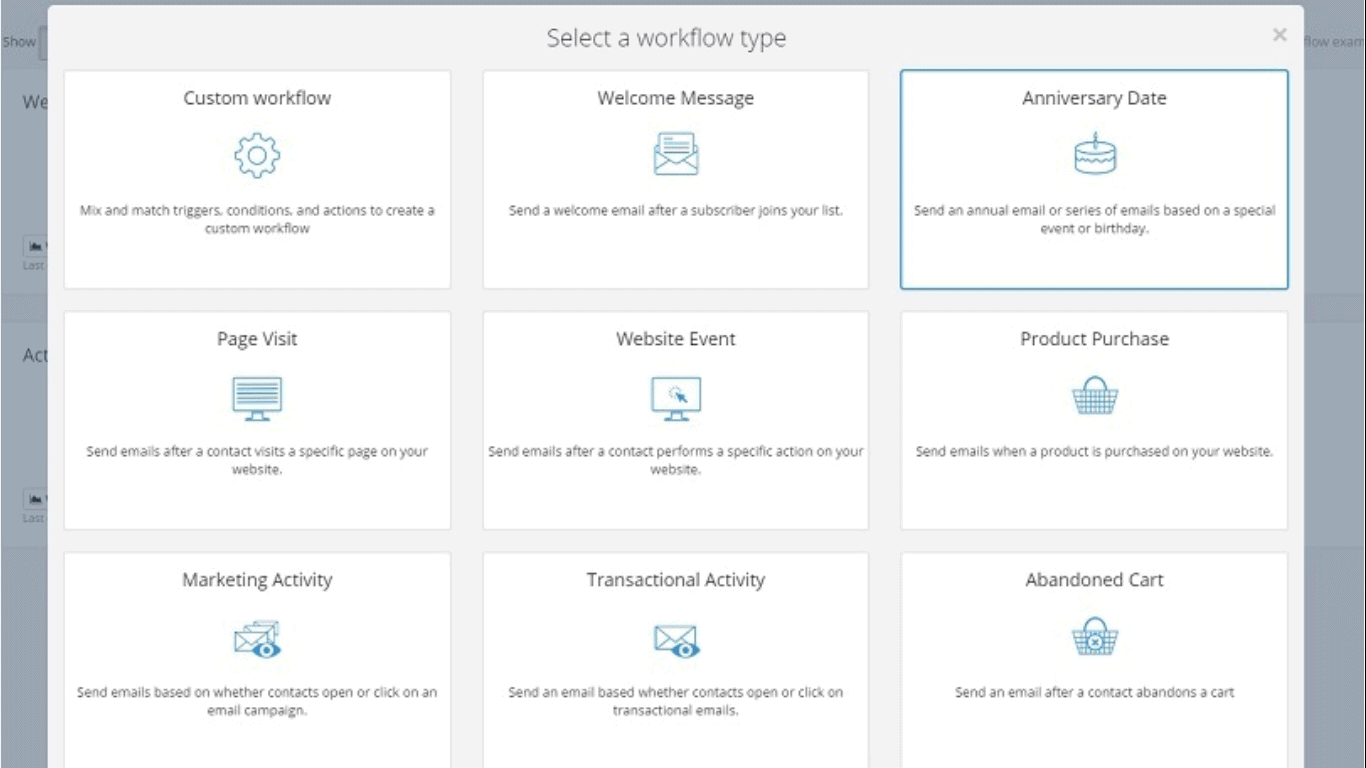 The service doesn't stop at email marketing. It also offers basic CRM or customer relationship management functionality that you can use to enhance your campaigns. Also,
the Sendinblue dashboard is extremely helpful when it comes to getting access to complete campaign statistics –
as we found in our Sendinblue review
.
 It lets you see the performance of each individual campaign in detail.
Sendinblue Features

Free plan for unlimited contacts: Even though ConvertKit offers a free plan, it's limited to 1,000 subscribers, while Sendinblue's free plan allows you to have unlimited contacts and send up to 300 emails per day.
Better transactional emails: Transactional emails for e-commerce, such as order confirmations and shipping notifications, are easy to set up with Sendinblue. You can choose templates from the library and customize them however you like.
SMS marketing: Sendinblue goes beyond email marketing to let you easily set up SMS campaigns and customize sender information for a better impact. You can also personalize your SMS messages with the Sendinblue API. ConvertKit only offers this service through integrations.
Live chat app: Sendinblue gives you the option to integrate live chat into your website at no extra cost. It's not as functional or customizable as a dedicated live chat service, but still, a great feature to enhance communication with your prospects and customers.
| | |
| --- | --- |
| Free plan available? | Yes – the free plan lets you send up to 300 emails per day |
| HTML email templates | Yes |
| Customer support channels | Phone, live chat, email |
| Landing pages | Yes |
Constant Contact is a widely used email marketing tool with more marketing applications than ConvertKit.
Many of its features are focused on helping non-profit organizations and small/medium-sized businesses boost their subscriber base
 and create better relationships. If your business hosts events on a regular basis, then ConstantContact should be your first choice. It has
important features
like event invitation management, that you won't find with other providers.
Constant Contact Features
Event management: Constant Contact's event management tools include everything from spreading the word with an email invitation to collecting custom registration data. ConvertKit doesn't have this type of functionality.

Customer surveys: Constant Contact makes gathering feedback from your target audience easy and flexible with the help of integrated surveys and polls.
Image library: The image library feature gives you access to thousands of free, high-quality images you can incorporate into your marketing emails. With ConvertKit, you're on your own.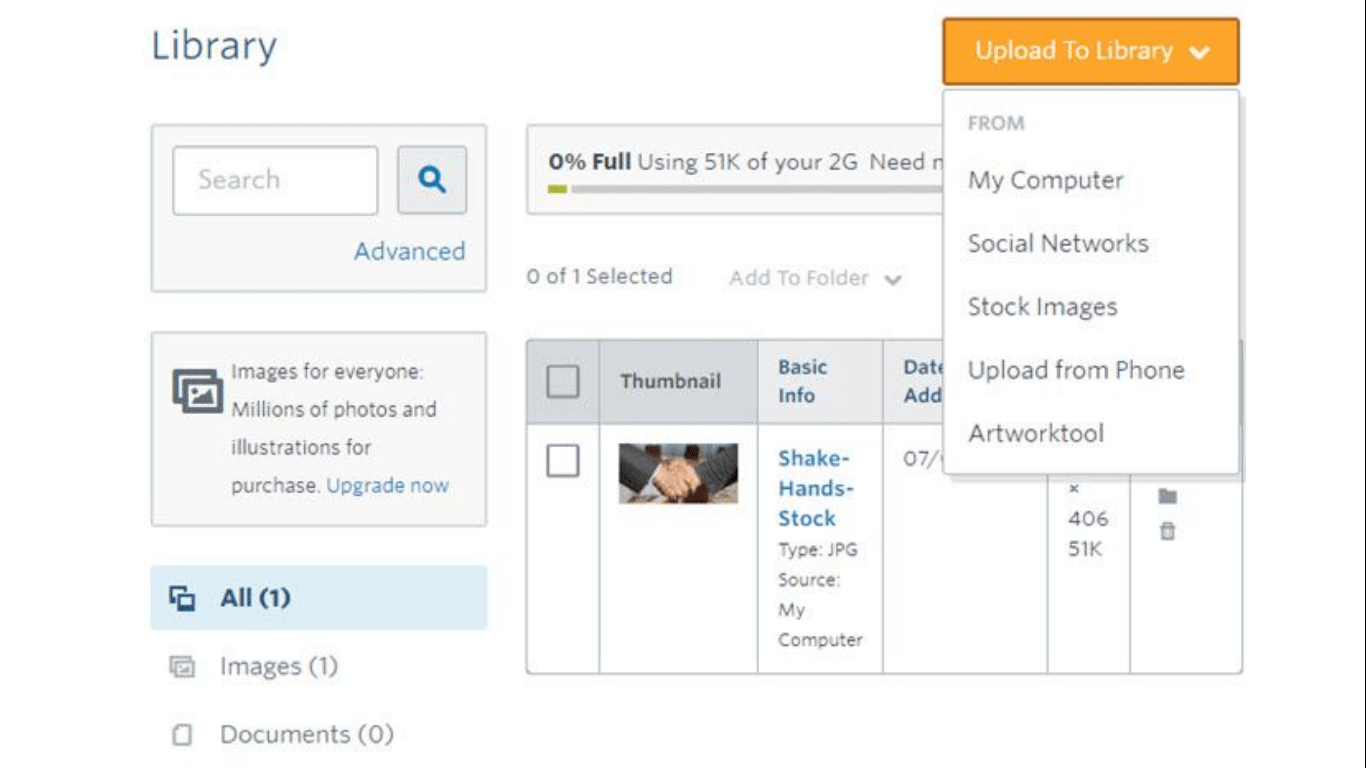 | | |
| --- | --- |
| Free plan available? | No, but there is a 30-60-day free trial depending on your location |
| HTML email templates | Yes |
| Customer support channels | Phone, live chat |
| Landing pages | Yes |
When you sign up for AWeber, you get access to features like solid autoresponders, simple split-testing, and easy-to-understand analytics – basically everything you need to run your email marketing campaigns. Unlike ConvertKit,
it has an
intuitive drag-and-drop email editor
 that can help you create great-looking emails in a snap.
 You can even add your own HTML code or use the built-in HTML editor to design emails.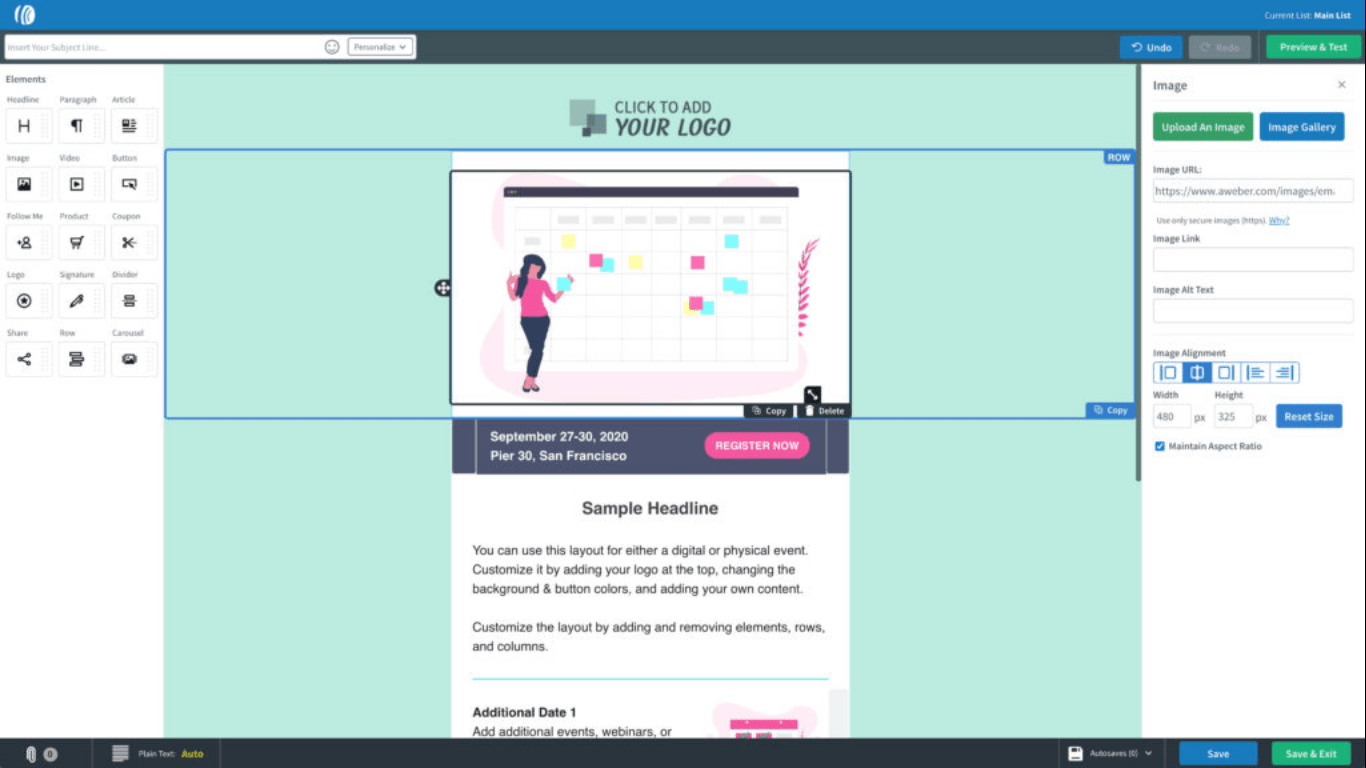 If you are a solopreneur or you have a small business with a decent list size, AWeber can prove to be a great choice. But if you run a huge company with 6-figure email lists, you may want to go with one of the tools I recommended above, like
GetResponse
or
ActiveCampaign
.
AWeber Features
Smart designer: AWeber makes it easy to analyze your site's logo/colors and create branded email templates for your business using its AI-powered design assistant. ConvertKit, which only offers a handful of templates, can't compete with this.
Multiple lists: Since AWeber is list-centric and not subscriber-centric like ConvertKit, you are able to create as many lists you want within one account – without paying anything extra.
Trusted email delivery: AWeber maintains an in-house email deliverability infrastructure, while ConvertKit relies on a third party to manage its email deliverability. Our in-house infrastructure ensures dependable deliverability rates that you can trust.
AMP for Email: From event RSVPs to product reviews, you can have your subscribers take action without leaving their email client.
Campaign Marketplace: You can find pre-built email campaigns in AWeber's marketplace, import them, and then customize them however you like. To save time and stress, you can make use of proven campaigns that will boost your success rate.
| | |
| --- | --- |
| Free plan available? | Yes – the free plan lets you send up to 3,000 emails per month |
| HTML email templates | Yes |
| Customer support channels | Phone, live chat, email |
| Landing pages | Yes |
Which ConvertKit Alternative Should You Choose?
The best platform for you depends not only on your email marketing goals but also on what stage your business is at. Here's what I would suggest:
Go for GetResponse if you're looking for advanced email marketing and robust features at an affordable price. It also offers interactive webinars to enhance your marketing.

Go for Sendinblue if you're looking to scale your email list along with your business. There's an excellent free plan to start out with, and you'll only pay more when you grow bigger and start sending more emails.
Go for AWeber if your business is new to email marketing and you're looking for a reputable solution with solid deliverability rates.
Email Marketing Platform
Free Plan Available?
Starting Monthly Price
Pre-made Email Templates
Main Selling Point
ActiveCampaign
No

$

29.00

250+
Intelligent email marketing automation
Benchmark
Yes

$

0

200+
Small-business friendliness
GetResponse
No

$

0

500+
Complete email marketing solution
Sendinblue
Yes

$

0

65+
Unlimited contacts
Constant Contact
No

$

12.00

240+
Email marketing with event management
AWeber
Yes

$

0

700+
High deliverability
FAQ
1. Is ConvertKit better than Mailchimp?
In all honesty, although we're looking at ConvertKit alternatives above, I would still choose ConvertKit over Mailchimp. It's built for ease of use and it's got a decent free plan. If I could choose another service though, I'd go with AWeber's free plan, which allows you to send up to 3,000 emails a month to 500 subscribers. Plus, it's known for its high deliverability, which is what we're all searching for afterall, right? Or if you're not sold on that, I'd look at our list of the top email marketing services in 2023.
2. How much does ConvertKit cost per month?
ConvertKit offers two paid monthly plans: Creator, which starts at

$

29.00

per month, and Creator Pro, which starts at

$

59.00

per month. While the Creator plan gives you access to all the basic email marketing features, the Pro plan offers additional features such as Facebook custom audiences, subscriber engagement scoring, and priority support.
3. Is ConvertKit free?
ConvertKit does offer a free plan, but it's limited to 1,000 subscribers, and the features are very basic. You'll have to upgrade to a paid plan if you want to set up autoresponders, get tracking reports, etc, so I'd recommend opting for one of the alternatives on this list.
4. Does ConvertKit have a mobile app?
Unlike some of its competitors, ConvertKit does not offer a mobile app yet. The only option you have is to log into its web app from your mobile device and manage your account from there.