With so many add-ons and plugins out there, figuring out what to have on your website be can be tricky. You don't want to leave anything out, but at the same time, you don't want pages so cluttered they confuse your visitors and slow down loading times. The purpose of your website is to make sure you're easily found online, build trust among your audience, educate and provide real value and – through a carefully guided journey –
convert your visitors into paying customers.
From our own experience helping countless small businesses maximize their online presence, we've identified the most important features your small business should include on its website.
#1: Trust-Enhancing Elements
Your potential customer has the digital world at their fingertips. They can choose to go anywhere but have ended up on your website. Now, it is absolutely vital to create confidence in you and your brand. There are several ways to achieve this:
Make Your Visitors a Promise
Show your visitors that
you fully understand the challenges they face
and promise to help them. You want this to appear above the fold on your homepage, so it's one of the first things they see. The Nationwide Home Insurance website is a good example of this: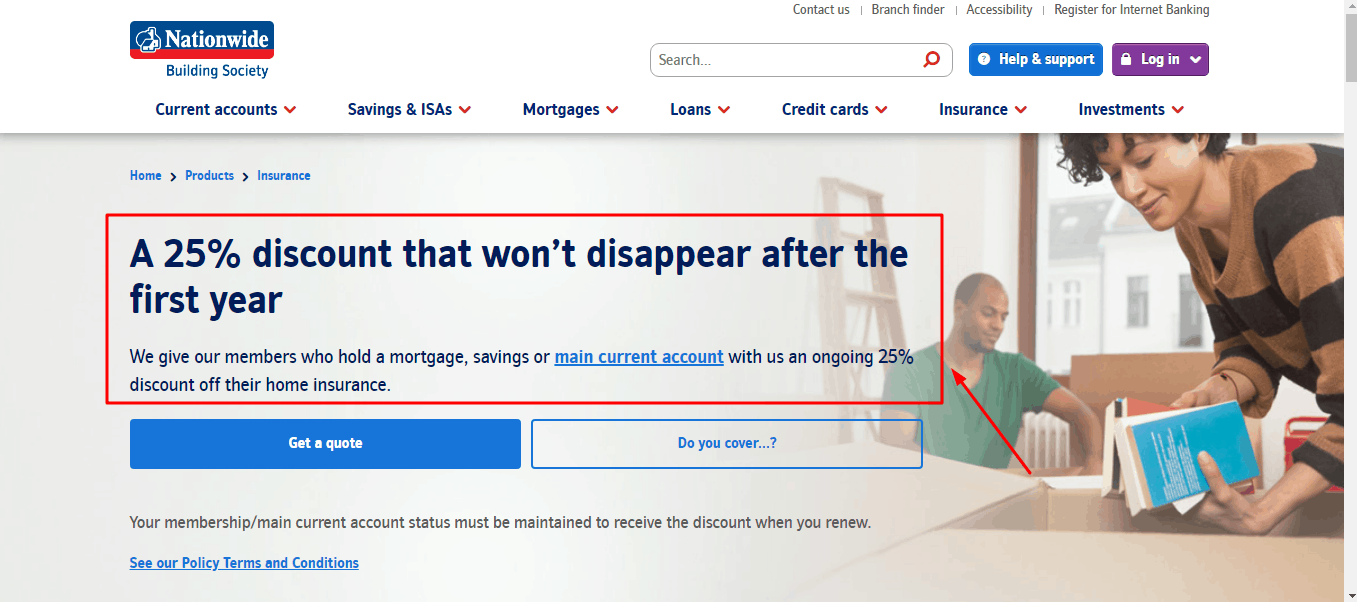 Include Branding in a Clear, Concise and Consistent Way
Your branding is a great way to let visitors to your site know what you're all about, as it helps establish who you are, what you offer, and what makes you stand out from your competitors. Mex Out, a Mexican restaurant, is an example of a small business who does this well, using its logo throughout the site in a subtle, non-obtrusive way: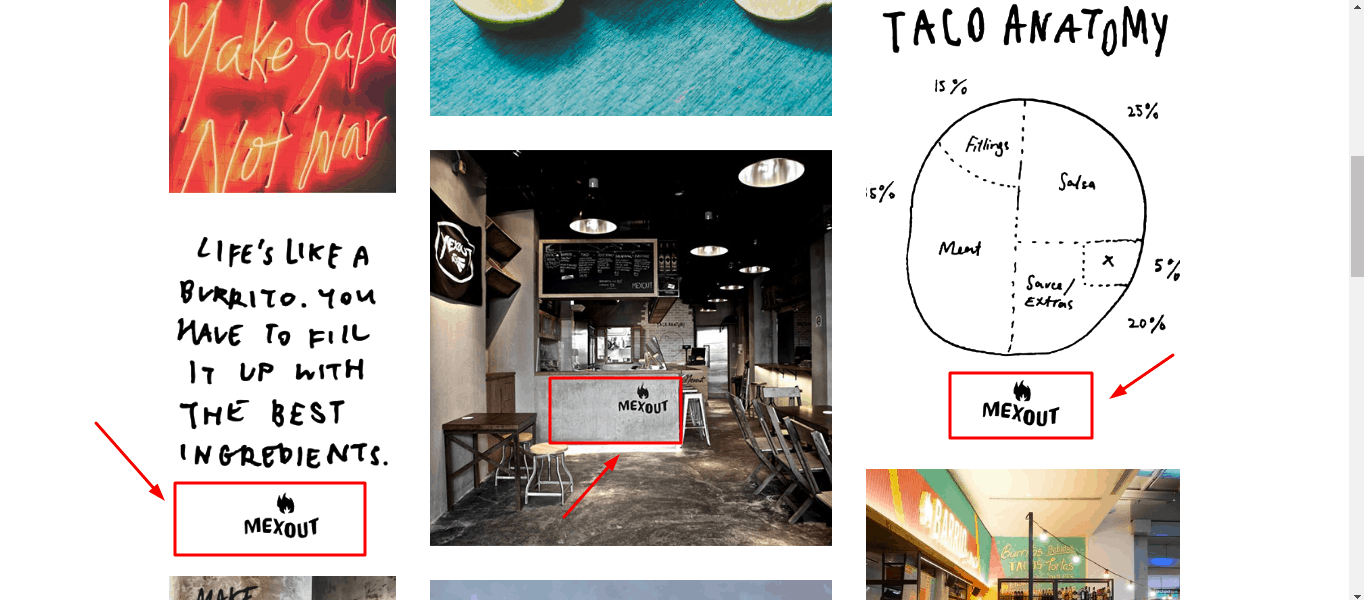 Showcase Your Testimonials
Always reach out to happy clients and ask them to write you a review – usually, all you need is a quote and permission to publish.
A glowing review can go a long way in making your products or services more real to potential customers.
Zendesk, the customer service software company, has created an almost magazine-like portfolio of its success stories, including brand names, stunning images, and full case-studies. The site even uses filters to make it easy to browse for relevant testimonials.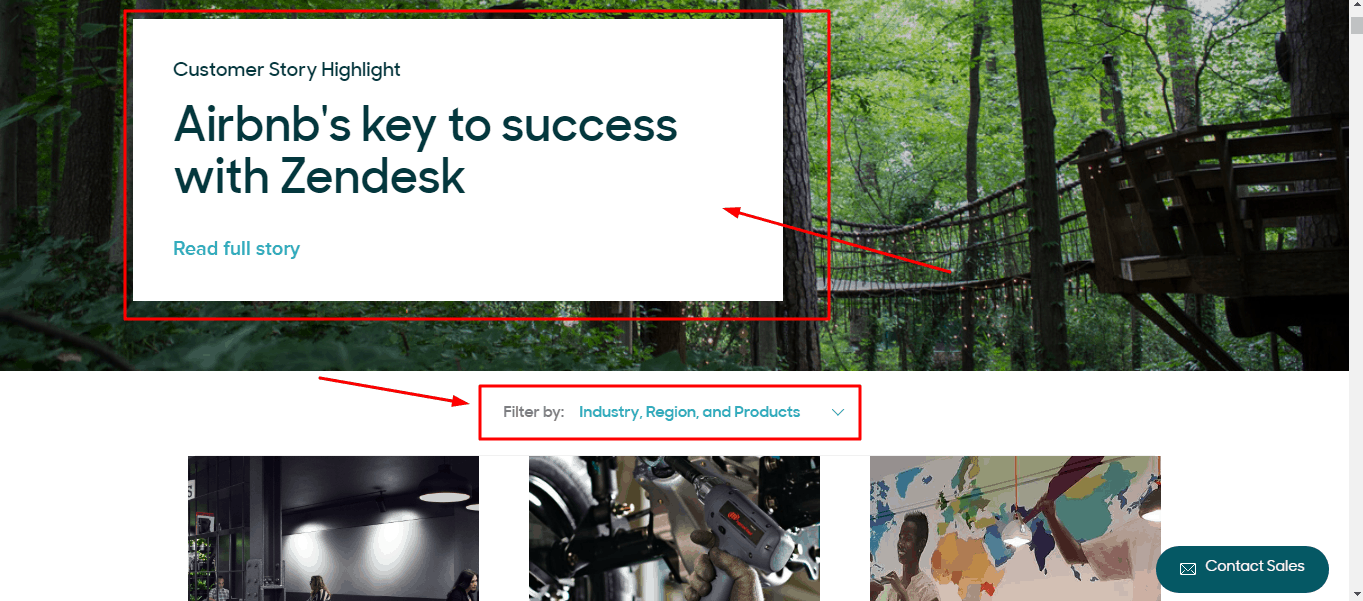 Include Links to Your Social Media Profiles
Links to your Facebook page, your Twitter profile, and any other social media platforms you use help build trust. Your visitors can click the links and see you are a real brand with real followers – and hopefully, with positive feedback from real customers.
Guarantee a Reliable Hosting Platform
Find the
best web hosting
service is a must – if your website gets hacked, it could severely damage your reputation.
Make sure your web host provides advanced security features. 
We recommend a strong web hosting solution like
Hostinger
,
Liquid Web
, or
Flywheel
. While we're on the subject of hosting providers, it's also important to ensure lightning-fast loading times. According to surveys conducted by Akamai and Gomez.com,
nearly half of web users expect a site to load in 2 seconds or less and are likely to abandon one altogether if it takes any longer than 3 seconds,
while 79% of web shoppers say they won't return if they've ever experienced trouble with site performance.
#2: Valuable, Informative, and Up-to-Date Content
Your website is only ever as good as the content on it. Always keep the following tips in mind:
Have a Solid Marketing Message
Don't make the mistake of making your website all about you. Reassure your visitors that they've come to the right place by using "you" and "your" as opposed to "me" and "I". Hiring a professional copywriter is always a great idea, as they'll be able to tell your story in the most exciting way possible, helping to convert visitors into paying customers. And remember,
with all the other websites out there competing for your visitors' attention, less is often more.
New-York based fitness studio Soul Cycle does this well, with a short and sweet explanation of what it is: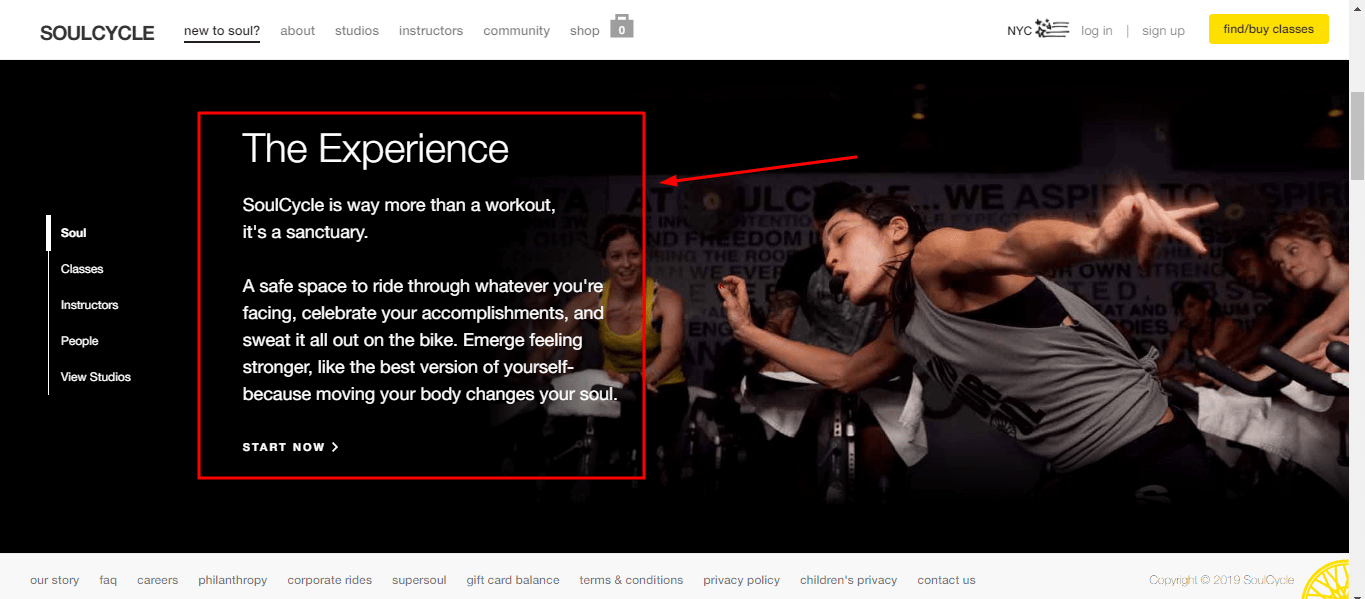 Inject Personality Wherever Possible
This not only helps you stand out – it also makes your visitors feel like they're connecting with real people, not just a brand. If you can get to into the hearts of your potential customers as well as well as their minds, you'll be winning. Fashion Award Cleaners does this fantastically well, using touches of humor and creativity throughout: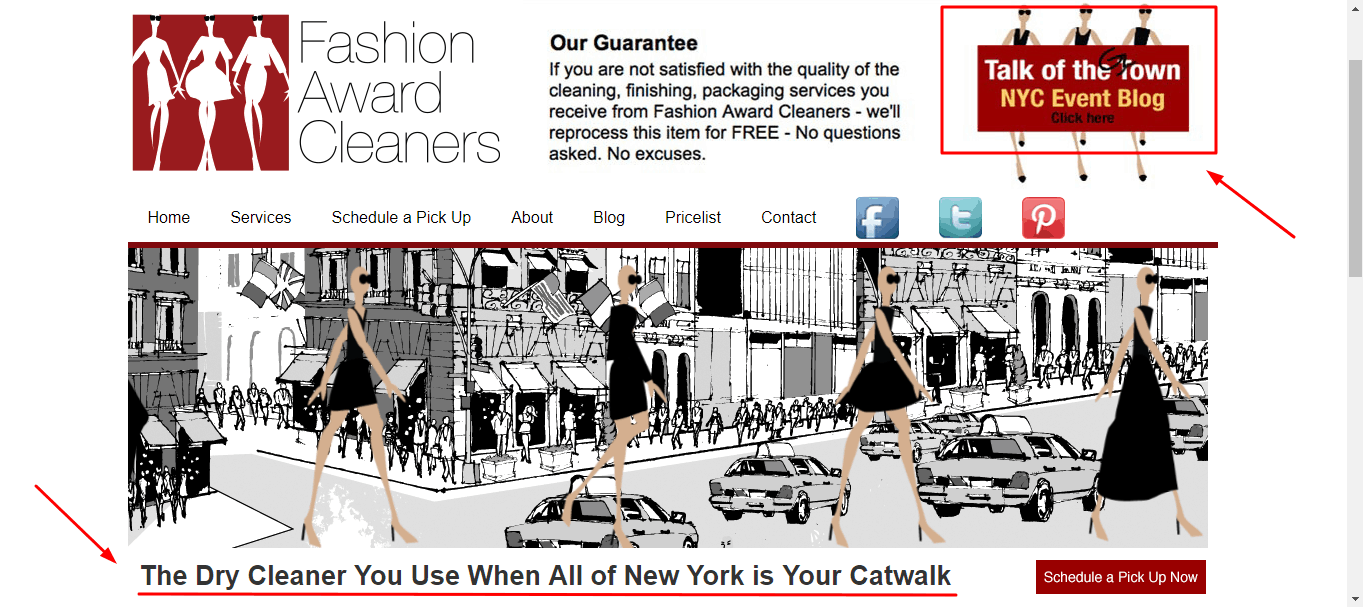 Tell Your Story
An 'About Us' page is key – especially if your business is new.
Be authentic, clearly outline your core values, and share the story behind your business.
Yellow Leaf Hammocks is just one example of a small business getting theirs right – humanizing its brand by explaining how its hammocks empower the artisan weavers that make them: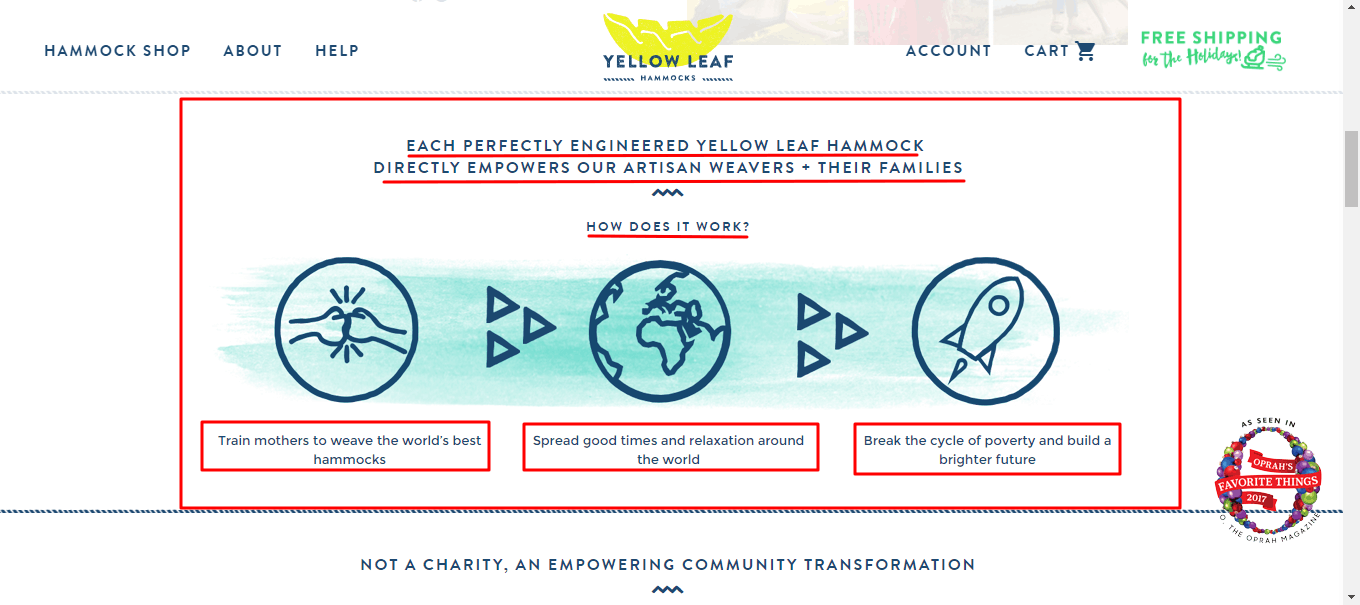 Add a Blog
Your blog can be one of your most important assets. Use it to provide more information about your industry,
feature guest posts by relevant experts, and offer free advice to potential customers.
Small business blog BizSugar dedicates a whole section to contributors – even having a Contributor of Week category. This builds trust and appreciation among readers, as it helps to promote the brand's own reputation and online visibility.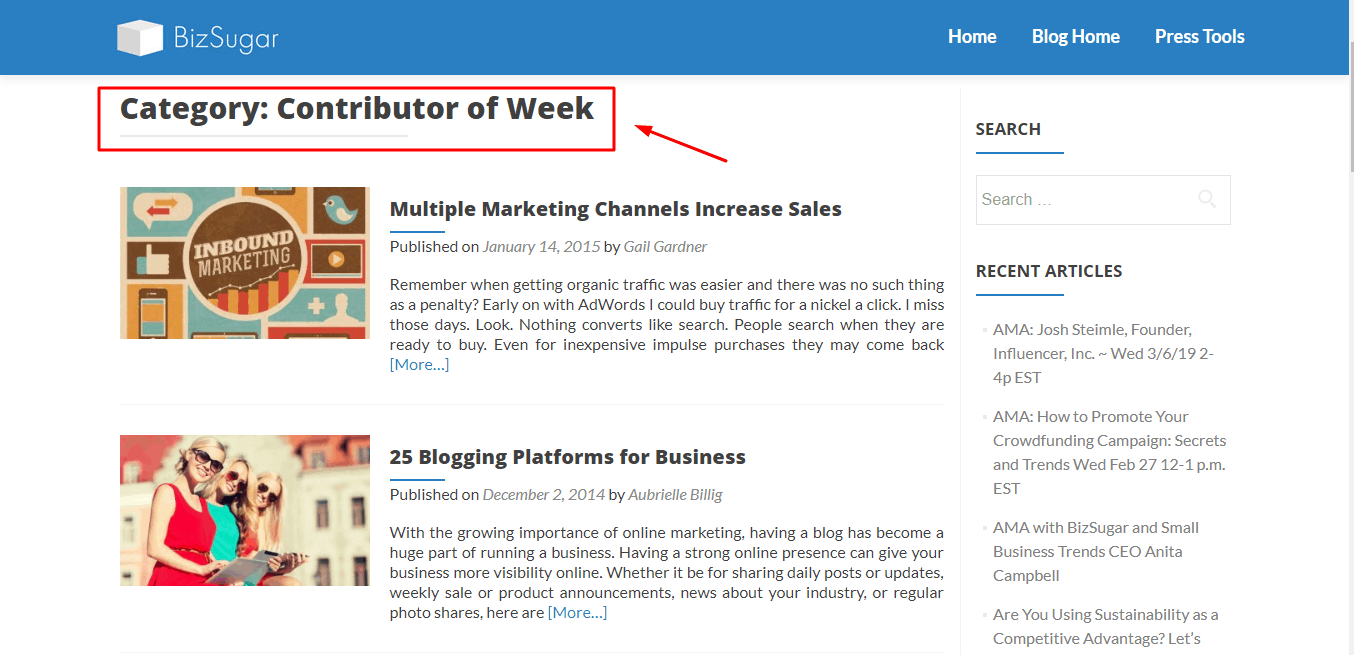 Pro Tip: Choose Weebly to build your site and enjoy its user-friendly drag-and-drop blog builder. The powerful design elements make it easy to connect with your audience.
Include Information About Your Products or Services
Describing every product you're selling can go a long way in helping you convert site visitors into paying customers, as well as adding pictures where relevant. Top-ranking sites typically have more pages than their lower-ranking counterparts, which means the more information you're including on your site, the better!
Create an FAQ page
Not only does an FAQ page enhance the value your site offers, but it can also help save time, as it reduces the number of customer service calls and emails to deal with.
FAQ pages are also great for SEO.
Days Out Guide incorporates tags into its FAQs for ease of use. There's also a good balance between text and images: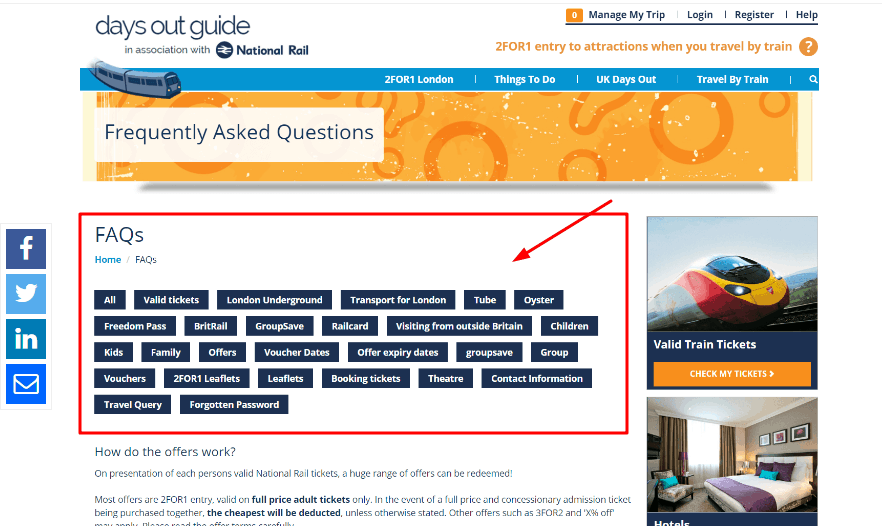 Refresh Your Content
There is nothing quite as bad as a blog page that hasn't been updated in six months. Once you're regularly posting new content on your blog, feature it on the homepage to show activity. It's also important to stay up-to-date and check your posts frequently to make sure all the information provided is still relevant and accurate.
Include Visuals
You know what they say, a picture tells 1,000 words and all that – so
use professional, high-quality, clean, and relevant images and videos
throughout your website to complement the text. Stock imagery has its place, but many websites today tend to display original photos or relevant screenshots. There's nothing like investing in some professional photos of your own products, office, and staff to really humanize your business.
SEO-Friendly Features
Now that you've perfected the content, it's time to make sure your website is doing SEO right, too. If this is daunting for you, invest in a professional who will know what to do. Otherwise, follow these tips:
Choose a Simple Domain Name
Your
domain name
should be easy to remember and easy to type. Whenever possible, avoid dashes and numbers, which can be an SEO nightmare. Another top tip is to make sure your domain name is based in the country you operate in (for example .ca if in Canada), as this also helps with ranking in search engine results.
Choose a User-Friendly Design
How well your website is designed affects how well it ranks – not least because Google still uses the human factor in its algorithms. What this means is that if your website is not user-friendly, visitors will simply leave – increasing the bounce rate, which will negatively affect its SEO. As Forbes so eloquently puts it, "web surfers have the attention spans of drunken gnats," so anything that helps keep them on your page is key. Elements such as long-scrolling pages, short paragraphs, headers, and bullet points are all ways in which you can achieve this. Web design agency htmlBurger showcases its skill by employing a simple, easy-to-navigate interface. Its playful animation on its logo (the burger opens and shuts when hovering over it – try it!) is a fun addition, too!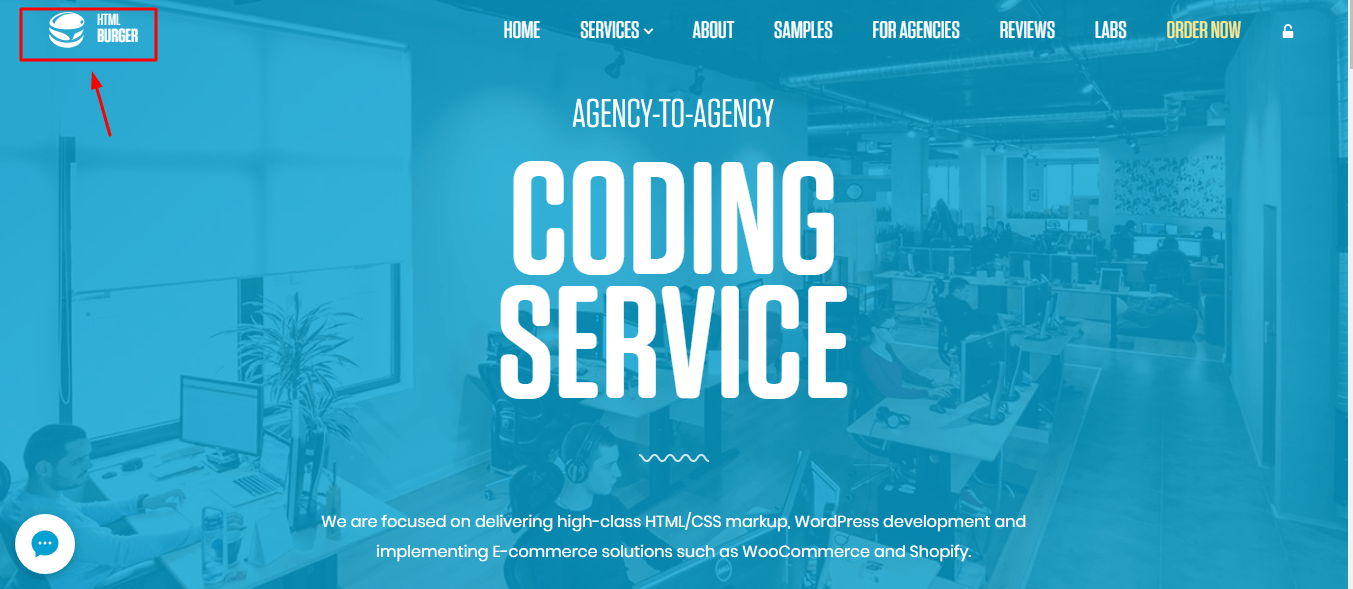 Make Sure Your Website Is Responsive
Mobile-responsive websites
display well across all platforms, whether desktop, smartphone or tablet. With over 60% of people using smartphones to browse the web, it's not something to take lightly. Google has placed a lot of emphasis on this ever since its algorithm update, which increases the visibility of responsive sites in its search results. Andersson Wise Architects is a good example of how to showcase your work with large, high-quality images on a desktop. When viewed on a smartphone, the pictures are smaller and the menu more visible: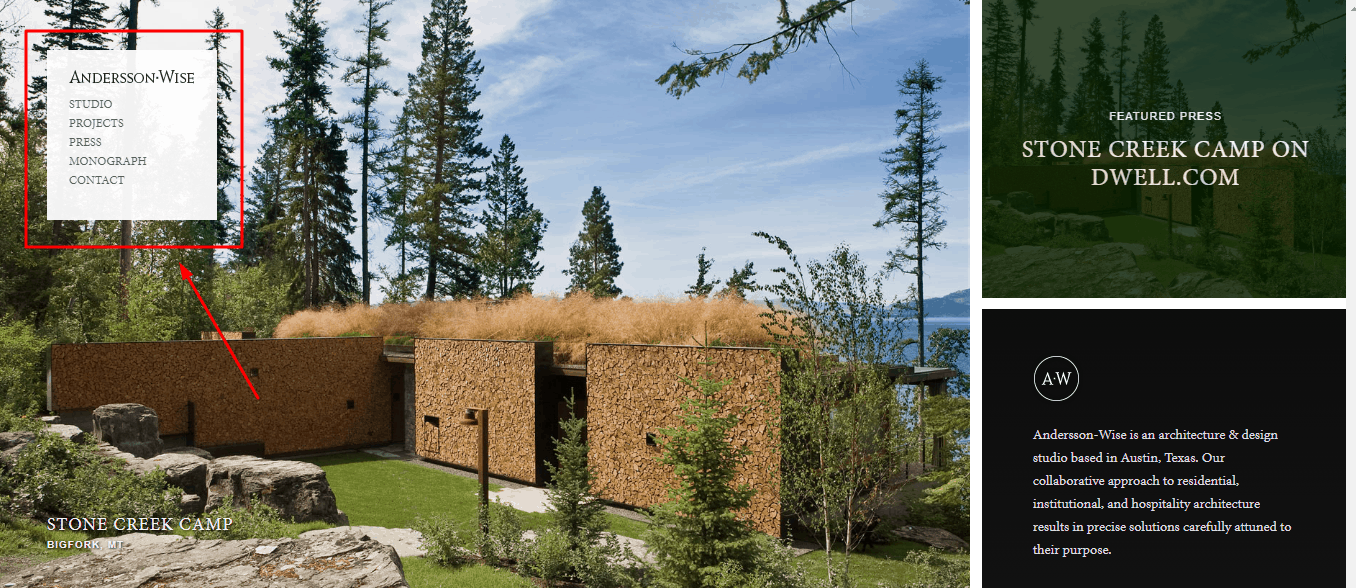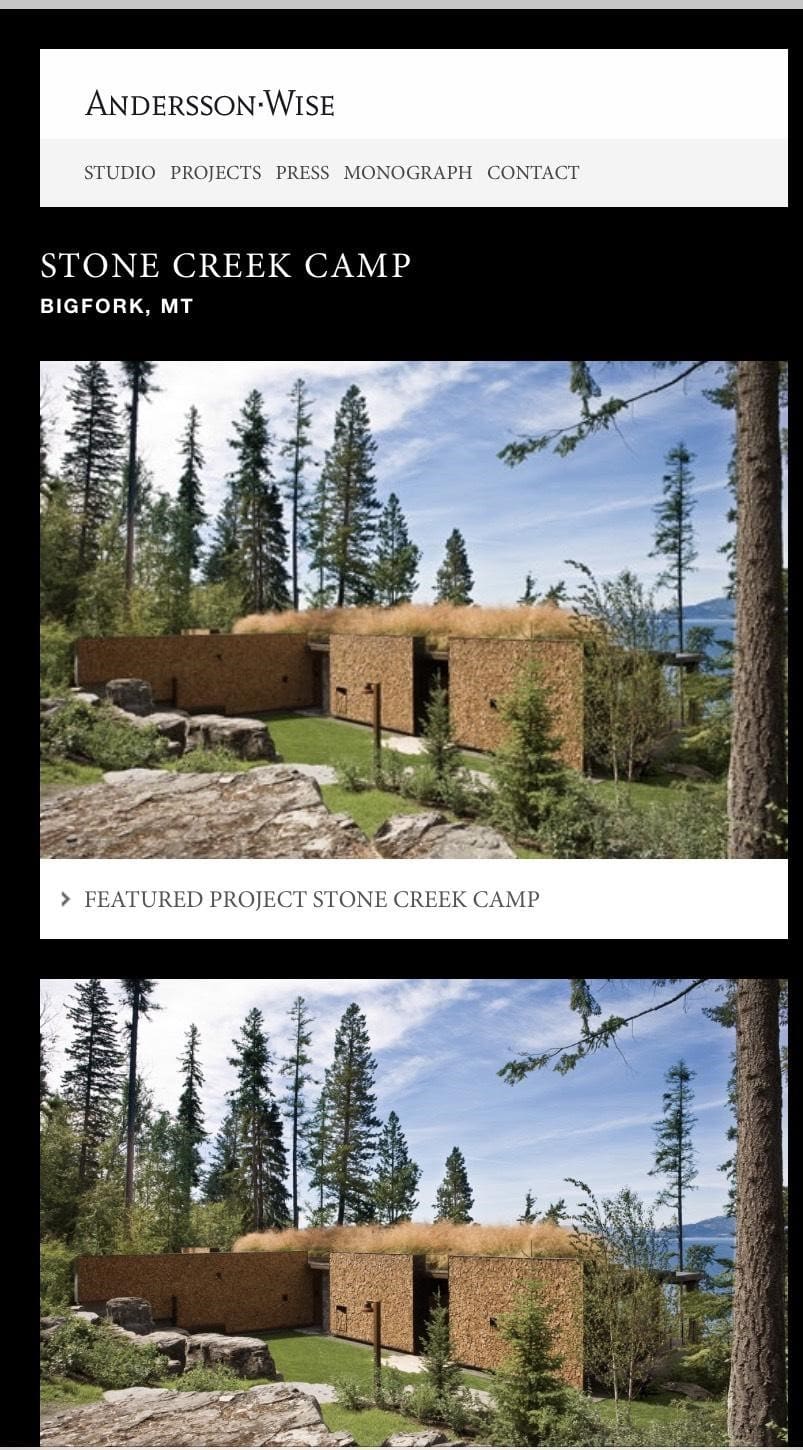 Include Relevant Keywords
Google will reward you for doing this on every single page, such as on-site text, title tags, image tags, metadata, and the URL. There is a range of
free keyword tools
that can help with this, such as SmallSEOTools. Once you've found the keywords relevant to you, you can incorporate them into blog posts. You should also make sure the most important ones are included on your Homepage and in your About Us section.
Conversion Tools
It's the last hurdle: Converting your visitors into paying customers. Just how can you achieve that? By making sure you do the following:
Have a Clear, Obvious CTA
Use clickable buttons to prompt visitors to take the next step, such as requesting more information, scheduling a call, signing up for a newsletter, following you on social media or making a purchase. Motivational speaker and life coach, Marie Forleo, used an impossible-to-ignore CTA when she wanted people to download free audio training offered on her website: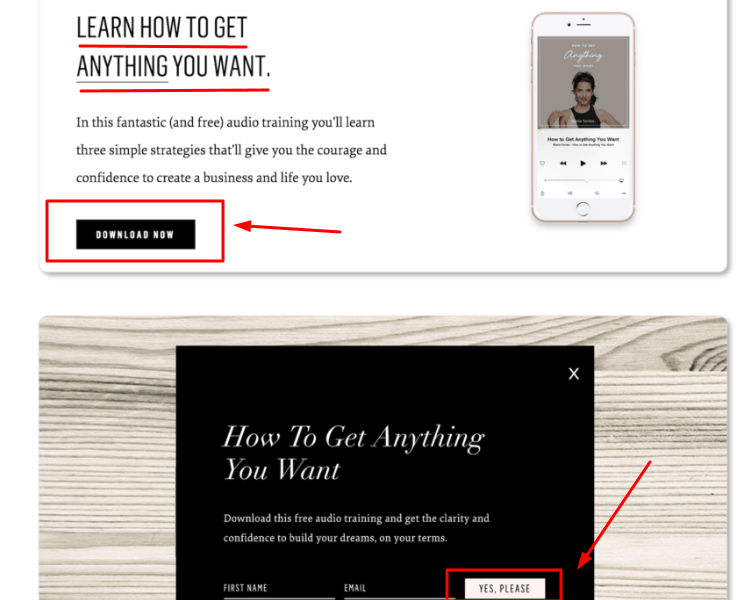 Make It Easy to Contact You
Ensure you prominently display your phone number, email address, and location, typically positioning them in the top left or top right corner of the homepage. Additionally, it's recommended to incorporate this information into the footer of every page for good measure.
An online contact form is better than just providing an email address as it makes it easier for potential customers to get in touch,
and providing a link to your location in Google maps is also important if you have a physical business. Cloud-based solution software, Achieve 3000, offers three icons for the most popular customer needs – each leading to their own landing page – as well as including all the necessary contact details below.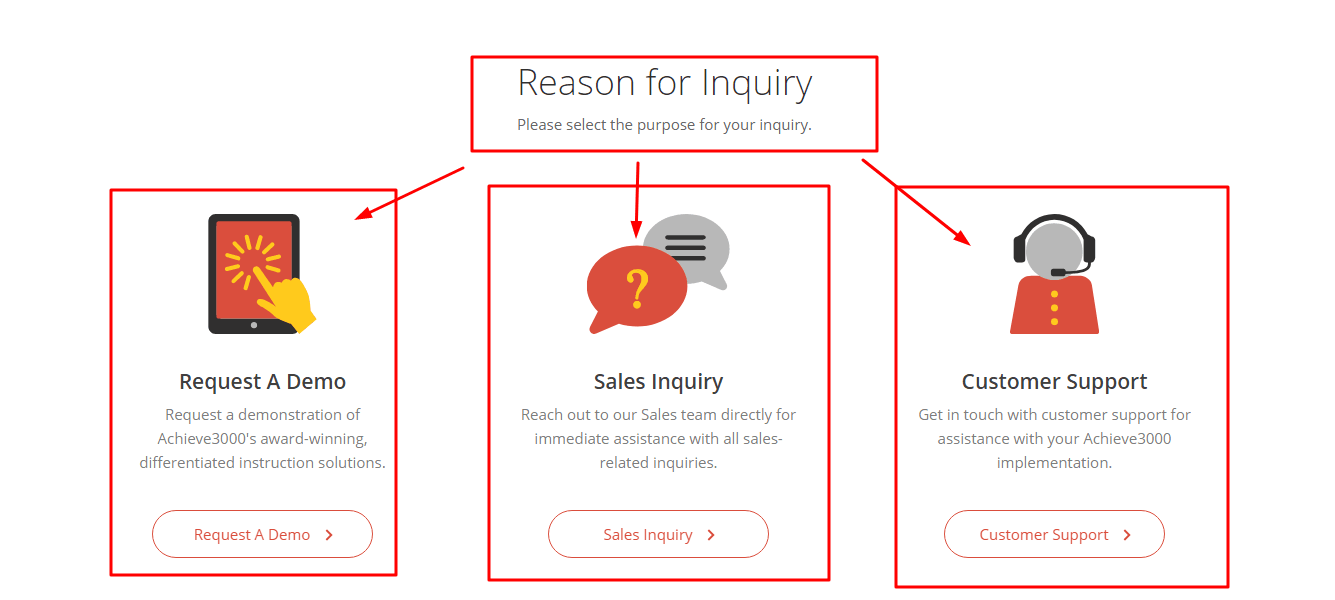 State Your Opening Hours
Visitors must know when's the best time to get in touch – and when they can expect your voicemail.
Conclusion
It may seem daunting to set up your own website and ensure it's always performing at its best,  especially if technology is not your forte. Fortunately, there are hundreds of resources available at the click of a button to help make your website better than all the competition. A
great website builder
is always a good place to start.