most people think creating an online store will be harder than it actually is.
Maybe you're worried it will take days, or even weeks, to set up your store – but with an easy-to-use builder like Wix, it doesn't have to. I wouldn't use Wix to build the next Amazon, but
 if you want to start a small or medium-sized online store, it's a great option.
It has hundreds of good-looking templates for
almost
every type of business imaginable, and its drag-and-drop editor gives you full creative control over the way your website looks. You don't even need a lot of technical knowledge to set up payment gateways, connect a domain, or add products to your store. In fact,
 I set up a Wix online store in just under an hour.
I also took screenshots every step of the way so I could show you how to do it too. The sooner you build your store, the sooner you can start making money off it. So let's go!
Create a Wix Account
Before you can start working on your store, you have to create a Wix account. To do this,
head on to Wix.com
and click on
Get Started
. You'll be prompted to enter your email and come up with a password. Or you can connect through Facebook or Google, if you prefer.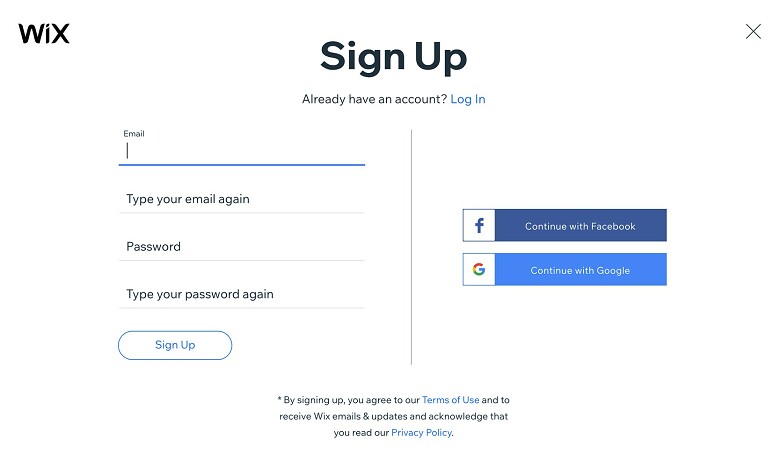 Pro Tip:
 You'll need an e-commerce plan to start selling on your site, but
you don't have to buy one when you first sign up. In fact, I recommend building your store with the
free plan
first – that way you can make sure you really have everything you need.
Pick the Right Template
Now you'll choose whether you're going to build your website from a template or use Wix ADI.
Wix ADI is an AI (artificial intelligence) tool that will generate a site for you in minutes based on your answers to a few basic questions.
 It could be a very convenient solution if you don't want to do that much customization. That being said,
I prefer to pick a template and build my own site
 (thank you very much).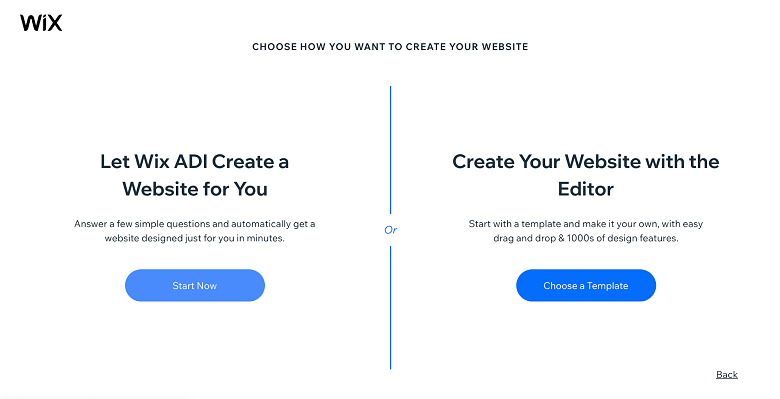 The Online Store category has more than a hundred templates to choose from, but you can add the Wix Stores app to
any
of
Wix's 900+ templates
.
So, your template choice will ultimately depend on the kind of product(s) you're going to sell
. For example, if you're selling a single product with variants, you'll probably want a template with a simpler layout and lots of space for large, standalone product images. Some templates only allow a limited number of product variations, so it's a good idea to check whether the one you want is suitable for your needs. If, on the other hand, you're selling a lot of different products, you might want a template that works well with large product galleries and collections. If you have lengthy product descriptions, make sure your template has a large enough character allowance to let you fully describe each item.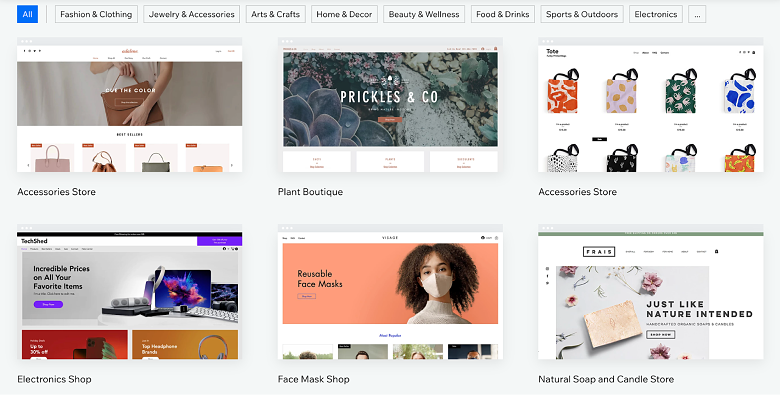 You might also want a prominent navigation bar (such as a side menu) to help visitors find their way through all the categories and sections on your site. And finally, consider whether you need any other specific features, such as maps or product videos – because not all templates have these built-in. For the purpose of this guide, I created an online store that sells calligraphy sets. In the age of email and social media, I think people enjoy the personal touch of handwritten letters and invitations. After browsing through Wix's e-commerce templates, I chose one called
Tea Shop
.
This template mixes traditional and modern fonts to create a classic feel, plus it comes with some
 important features for online marketing, such as a blog, online chat, and social media links
.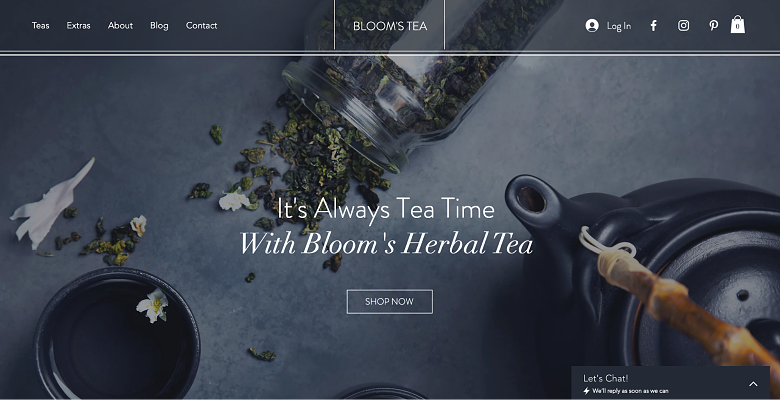 Like all of Wix's e-commerce templates,
Tea Shop
comes with Wix Stores built in. However, you're not limited to e-commerce templates.
It's easy to add Wix Stores to any of Wix's 900+ templates:
Just click the plus sign on the editor menu to your left, then select
Store
 and click
Add to Site
.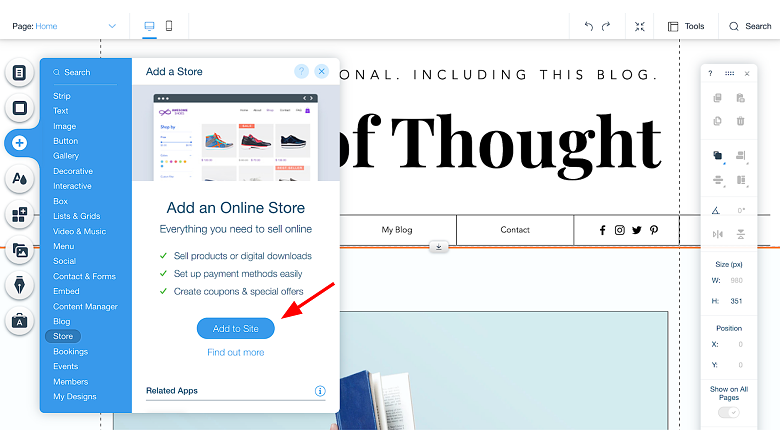 Customize Your Store
Time to customize your template to match your brand!
As you can see, the tea images that came with my template didn't match what I wanted to sell. So
I uploaded new images that captured the essence of my brand. Still, the new images were a bit too light for the text to be readable, so I used the Wix editor to darken them.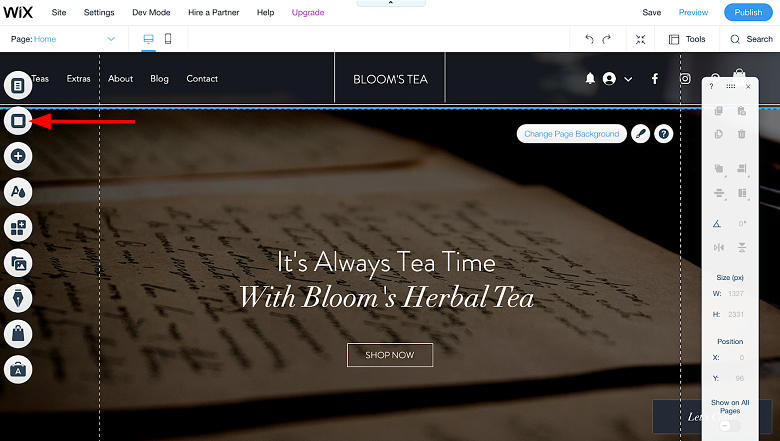 Next, I changed the font of my title to be more in line with what you'd expect from a calligraphy store.
 And I edited the text to match my brand and products. With the intuitive Wix editor, these changes were really easy.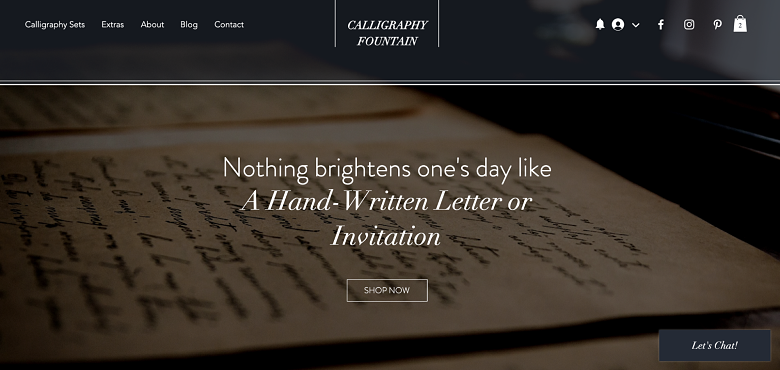 Thanks to the Wix App Market, it's just as simple to extend the functionality of your site with things like
smart popups, visitor analytics, abandoned cart recovery, and more.
But in the interest of getting your website up and running quickly, I'd come back to this part later on – when you've already published your online store.
Add Your Products
Now that you've created a suitable look, you're ready to customize your actual store. Click on the
My Store
icon on the left of your Wix editor, then click
Get Started.
You'll be given the option to
Add Products
.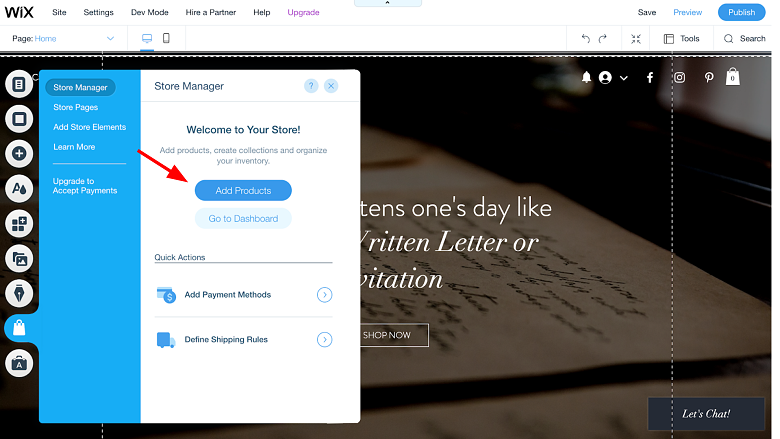 When you start out, the product page already contains all the template's demo products. You'll need to delete these, of course. Then, click on
New Product
on the top right.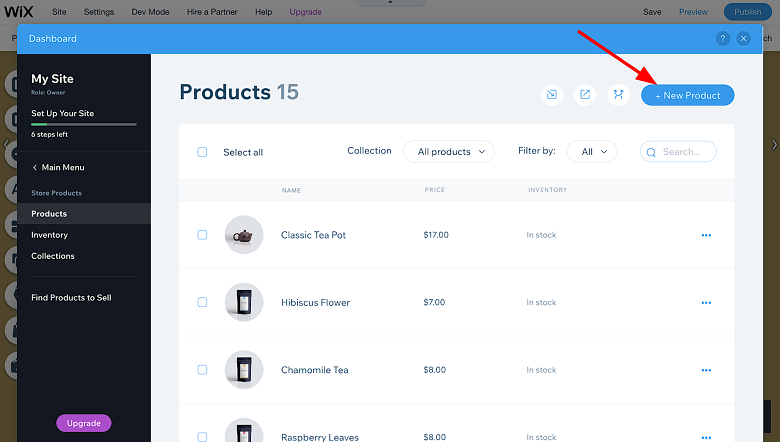 That will take you to a new screen where you'll
fill in your product's name and description
and upload photos or videos of your product. These are super-important in driving conversions, so make sure they look great. You also have the option to add product variants, like different colors or sizes.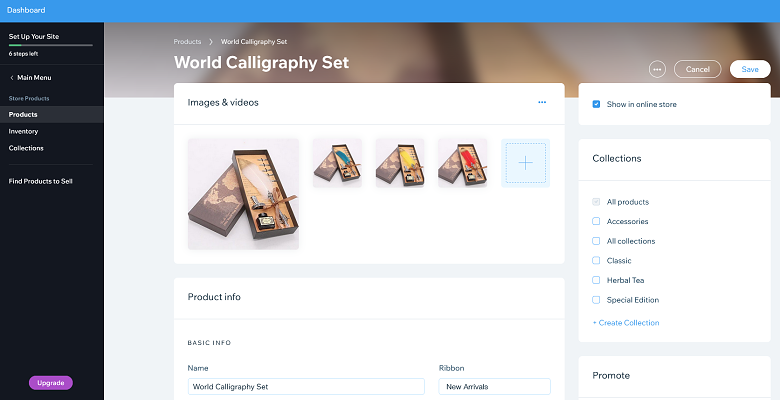 Here's how the product page looks on my site. You can see that I've added photos of my calligraphy set, as well as four color variants (because who doesn't want to write their letters with a bright-red feather?).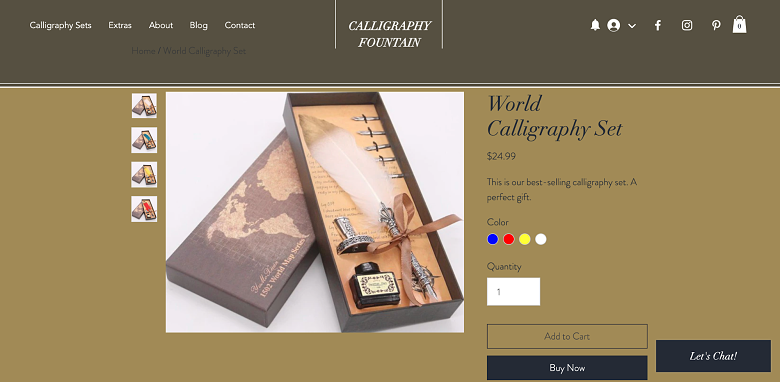 Now you can
repeat this process for each product you want to sell on your site.
 To start out, I added four products and grouped them in a collection called New Arrivals to display on my homepage. To show you the difference between the
Tea Shop
template I started with and how it looked after I added my own products and customized it, I made a couple of GIFs. Here's what the website looked like before…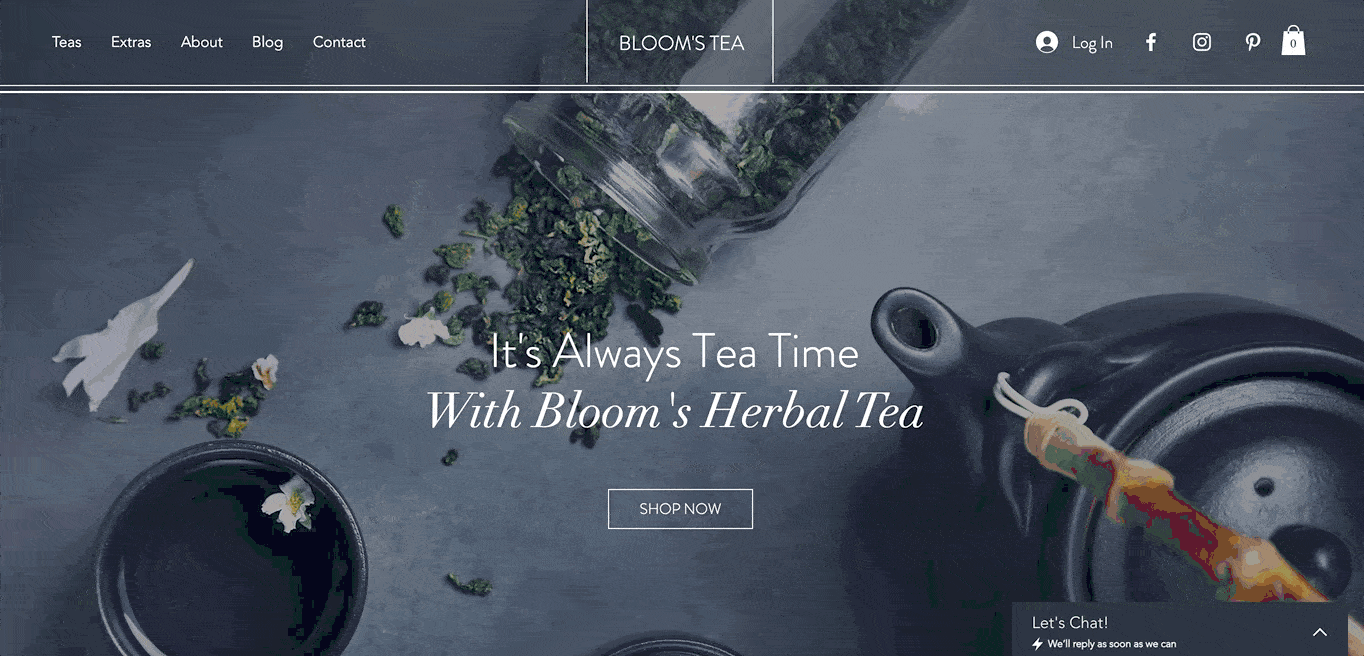 And here's what my site looked like after some simple customization and adding my products: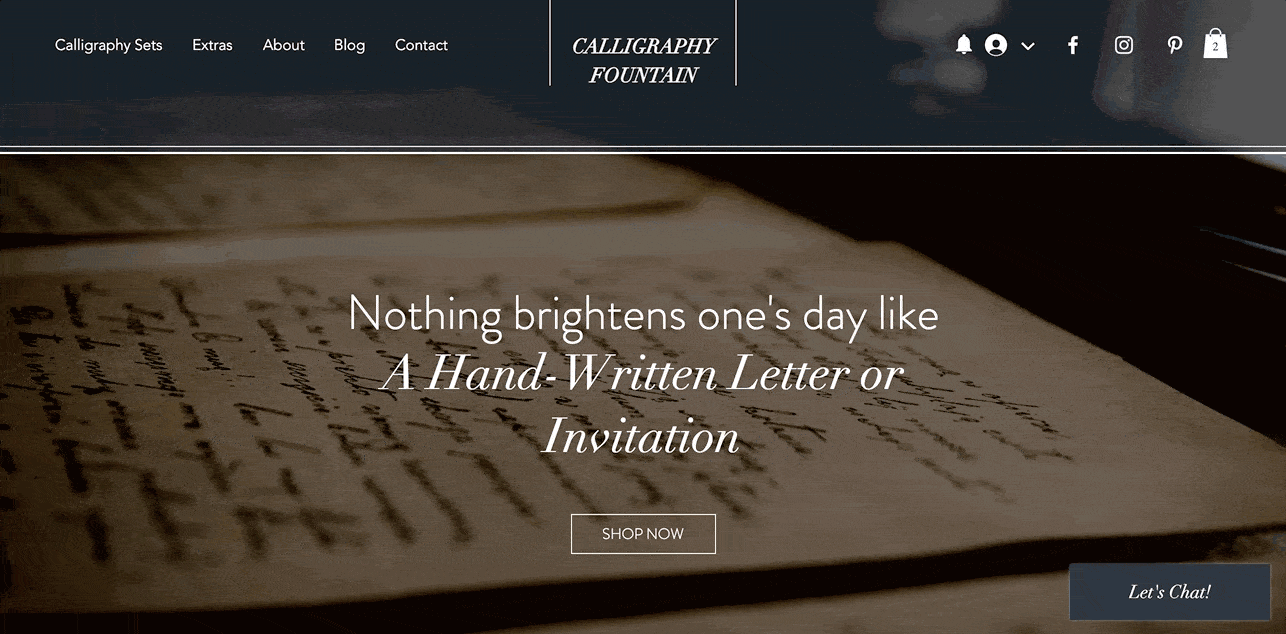 Update Your Store Settings
From your editor, click on the
Settings
 tab at the top of your screen, then click
Business Info.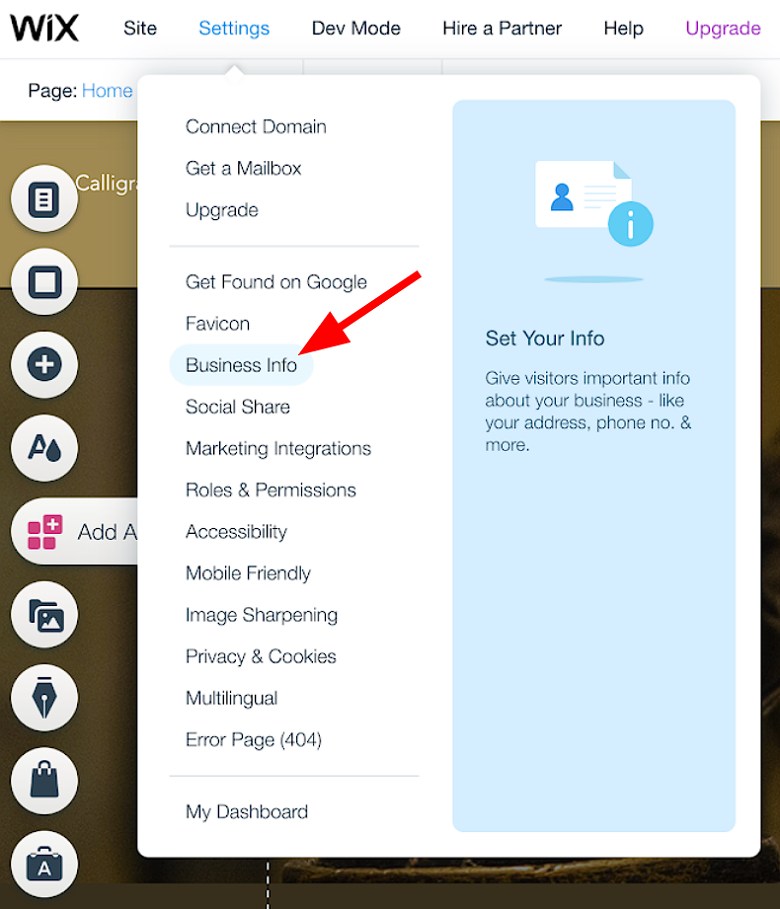 This is where you'll add your
 store name, contact information, language, and the currency you'll operate in.
 There's also a section called
Store shipping
where you can set shipping prices for different regions.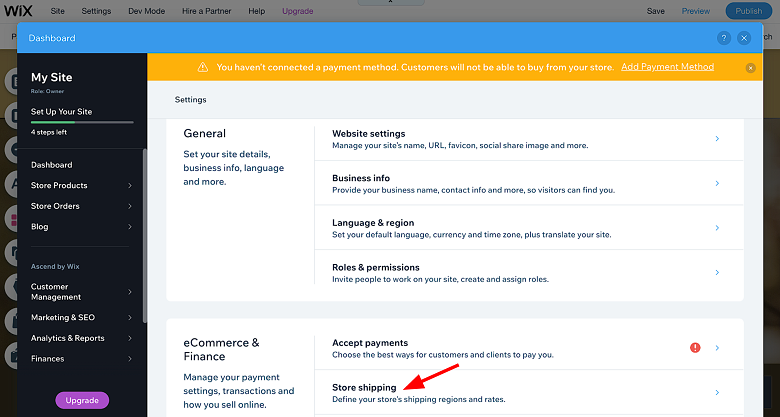 Speaking of shipping, the Wix App Market has several apps – including
Shippo
and
Shipstation
– that you can connect to your site to help you fulfill, ship, and track your packages, as well as print shipping labels at competitive rates. Or, if you don't have your own products to sell,
you can always start a dropshipping store.
Dropshipping apps
like
 Modalyst
let you sell products from other suppliers on your own site. The suppliers take care of shipping any items you sell, so you don't need to keep inventory.
Connect Payment Methods
Now that you've added your products and created your collections,
it's time to connect payment gateways so that people can purchase your items!
Go back to the
Business Info
tab under
Settings
, and you'll see that it says
Accept payments
 above the
Store shipping
tab. Go ahead and click on that.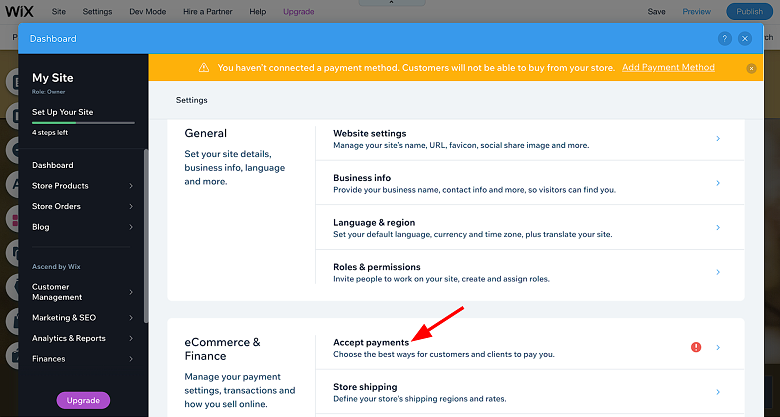 You'll be taken to a screen where
you can select from over 50 payment gateways
, depending on the country you're based in. Some solutions even allow your customers to pay in installments, like
Afterpay, Clearpay
, and
Laybuy
. As I'm based in the US, Wix Stores preselected two options for my site – Wix Payments and PayPal – which was fine by me.
Wix Payments
is convenient because I can manage my transactions (and deal with disputes or chargebacks) directly from my Wix dashboard, without having to log into a third-party site. Meanwhile,
PayPal is a must-have for most online stores.
In my experience, around 70% of customers like to pay with PayPal because of the protection they get on their purchase. That said, if you ever decide to add a different payment gateway, you can always return to this screen later.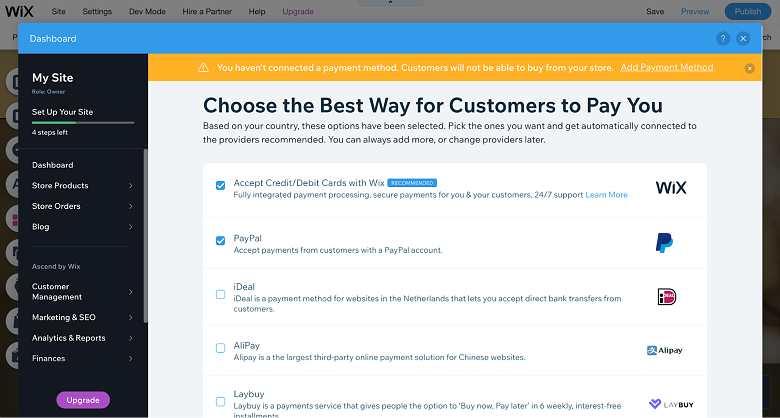 When you're happy with your choice of gateways,
 scroll down and click Connect Me.
 Depending on the gateways you selected, you may be asked to confirm that you're not selling particular types of items or services. Wix Payments, for example, won't work if you're selling "adult" goods.
If none of Wix's proposed payment gateways seem like a good fit for you, check out our list of the
best credit card processing services in 2023
. We include several companies with better rates than PayPal, and some that specifically support high-risk businesses.
Once you've set up your payment gateways, Wix will prompt you to connect your domain.
Connect Your Domain
Lots of people think this part will be complicated, but it's actually really simple – and really important.
 It's very unlikely that anyone will buy from your website if it's on a free Wix domain.
 It just doesn't look very professional. When the prompt pops up, click on
Get a Domain
.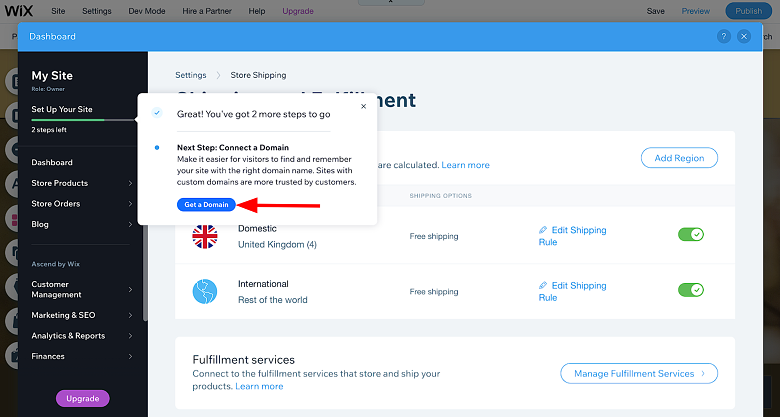 If you don't receive the Get a Domain prompt for some reason, that's no problem.
 Just return to
Settings
 and click
Connect Domain
 at the top of the page.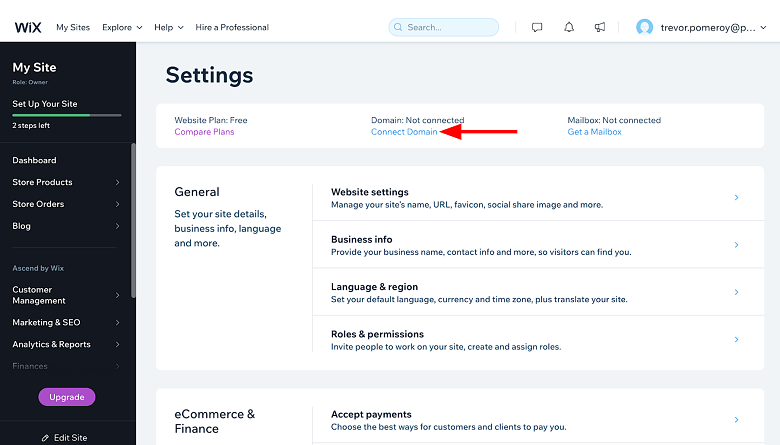 On the next screen, you'll choose between two options: buying a new domain or connecting one you already own.
Pro Tip:
When you're picking the name of your online store, it really helps to check which domain names are available
(if you need ideas, you can use our awesome
domain name generator
). 
You don't want to come up with a great name for your store only to discover that the domain is already taken.
For example, I chose Calligraphy Fountain for my store name because "calligraphy" and "fountain" are good SEO choices. But I also chose this name because I did my homework and I already knew that calligraphyfountain.com was available to use.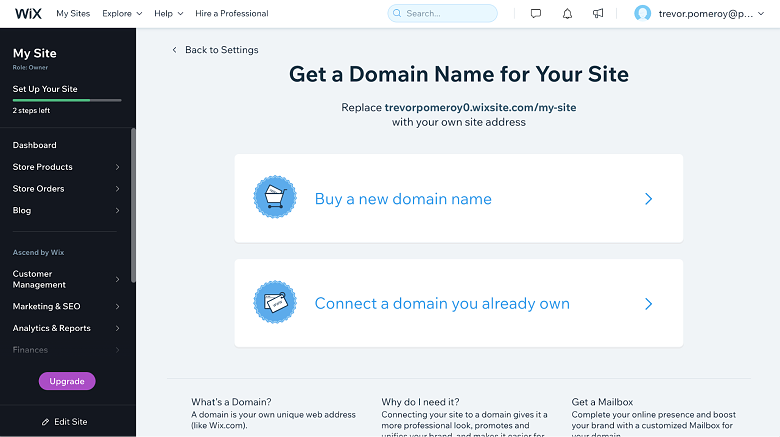 If you're buying a new domain name, Wix will prompt you to do a search and make sure the name you want is available. Once you've found one that works for you, go ahead and click
Get It
.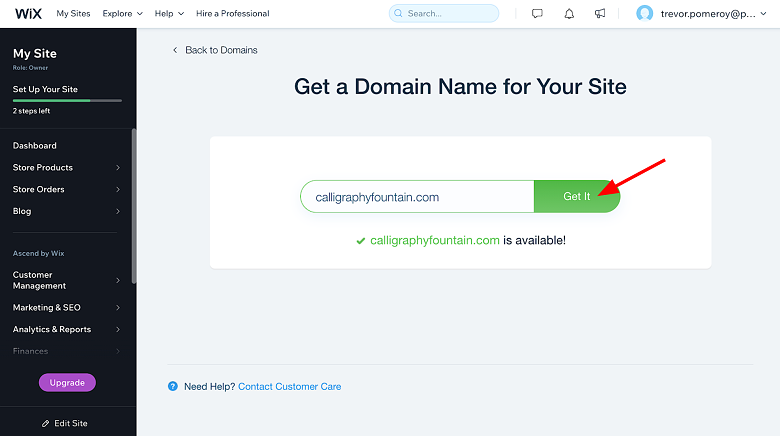 Here's where you'll need to
upgrade from your free account to one of Wix's e-commerce plans.
This will allow you to actually receive money through your payment gateways and let people buy from your site.
Upgrade Now
. The domain will be free for the first year if you opt for a yearly plan.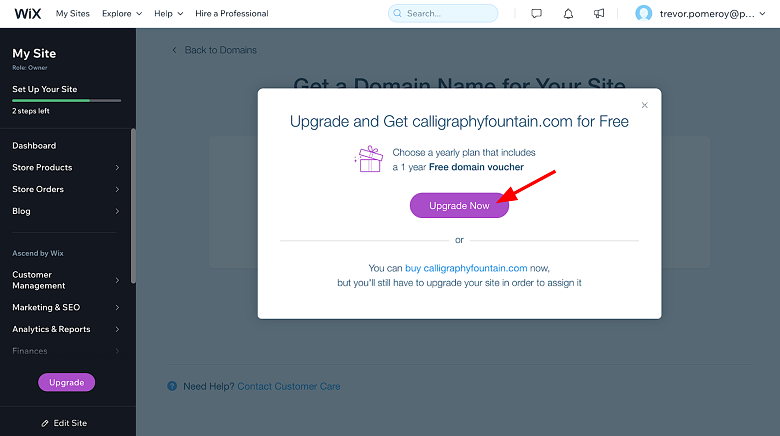 Next, you'll see three e-commerce plan options. For a full description of what's included with each plan, you can check out our
expert Wix review
. I selected the Business Unlimited plan because it's pretty cheap and has everything I need for my small store, including 24/7 customer support. That said,
the Business Basic plan might be a better option if you're just starting out.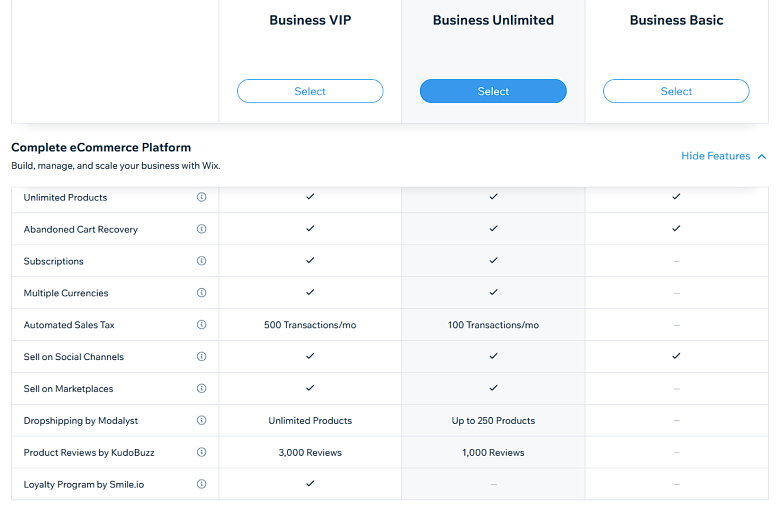 You'll need to select a billing cycle, enter your payment details, and confirm your purchase. I recommend paying yearly, as it's much cheaper than paying monthly. You'll be glad to know that
 Wix includes a 14-day money-back guarantee
with all of its premium plans, so you can always change your mind. I completed my purchase, and, as you can see, Wix gave me the option to claim my free domain name voucher.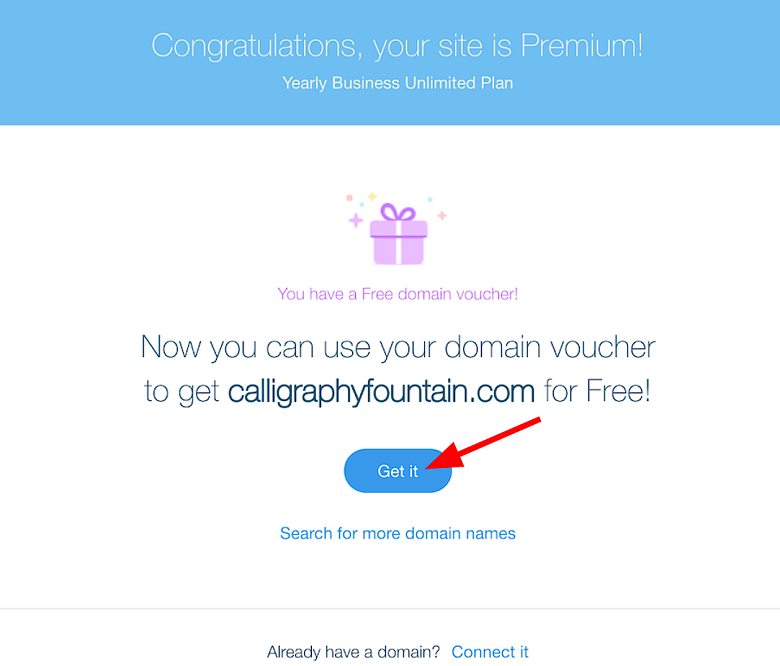 Wix will then verify your contact information and ask if you want to buy a
domain privacy add-on.
This isn't essential
(and you can always add it later), so feel free to skip it for now. At this point, Wix will also give you the option to buy a mailbox and set up
 a professional email address ending in @yourdomain.
This is something that's really good to have, but you don't necessarily have to buy it from Wix, since there are lots of email providers out there (
some of them, free
). That being said, if you want to manage your website and email in the same place, it could be a convenient option. Once you're finished, click
Go to Domains
. This will take you back to your Wix dashboard, where you'll be asked to confirm the email address you used to claim your domain. You just need to open the email you received from Wix and click
Verify
.
And… tada! Your site is now live and connected to the domain you purchased.
Preview Your Wix Online Store
Your store is now live. But before you run and tell everybody,
you'll want to take a good look around your site to make sure everything is working properly.
If you're like me, you may even want to
 test out the purchasing process yourself
 (on both desktop and mobile devices) by buying a small item from your site, just to make sure your customers won't run into any glitches. Better to catch any problems now, instead of after you've launched your marketing campaigns.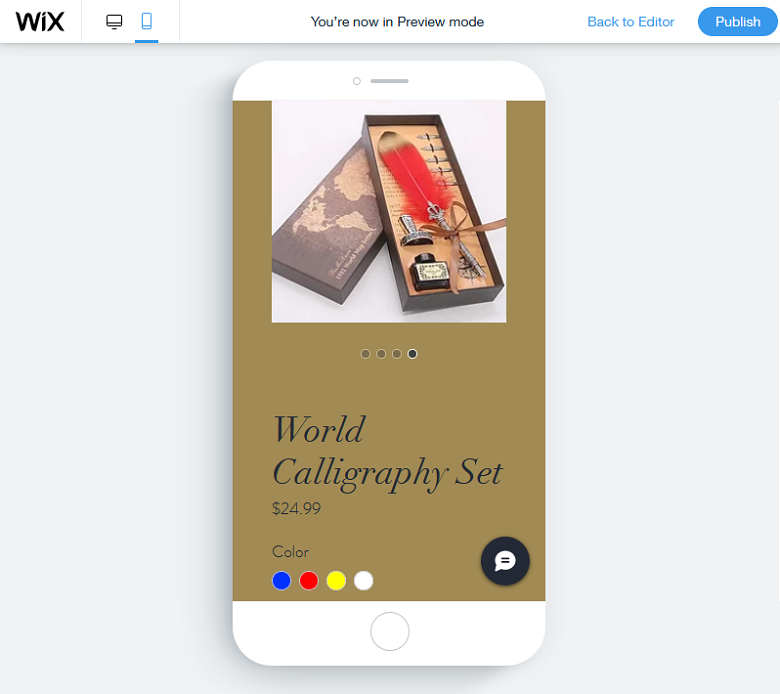 I explored Calligraphy Fountain and discovered it looked fantastic on both desktop and mobile. I must confess that witnessing everything fall into place felt truly satisfying.
Pro Tip:
If you're still not sure about building your own store, you can
head over to Fiverr
to find a designer who will do it for you. Some freelancers will build a Wix e-commerce website (and add all your products) for as little as $20.
Your Wix Store Is Online… What's Next?
Now you know how easy it really is to create an online store, and you can take advantage of Wix's free plan to get started.
However, when it comes to selling online, there are more things you can do to give your store the best chance of success. Here are a few suggestions:
Optimize your site's SEO with the Wix SEO Wiz
Run ads using platforms like Google and Facebook
Learn to use the Wix analytics tools that come with your plan, to continue improving your online sales
Add more items to your inventory
Once your store is getting consistent sales, you can even
run an email marketing campaign to spread the word.
Sendinblue is a super-easy-to-use email marketing tool that's perfect for beginners. You can read more about it (and its free plan) in our
expert Sendinblue review
. I can tell you firsthand, investing in your online store is all worth it.
 Nothing is better than the feeling you get when your first customer makes a purchase from your site.
FAQ
Is Wix Online Store free?
You can build an online store for free, but you'll need to purchase a Wix Business plan to start selling on your site. And while Wix doesn't take a commission on your sales, all payment gateways will charge a small transaction fee (this varies based on the gateway). Before you sign up for a Wix Business plan, check out our coupons page to shave off some of the initial cost.
Is Wix Online Store good for e-commerce?
In a word? Yes. Wix includes everything you need to build an attractive and successful online store. Templates, analytics, an easy-to-use drag-and-drop editor, over 50 payment gateways, hundreds of apps and tools to help you with marketing, SEO, shipment tracking and fulfillment – it's all there. But if (for some reason) Wix is not your cup of tea, you can check out our expert review of the top website builders in 2023 for other great options.
Is it easy to create an online store with Wix?
Yes, it is. Everything I described in this article took less than an hour to set up. Obviously, you could spend a long time polishing your site – and to really maximize conversions, you absolutely should. But creating an online store and taking it live is not hard at all. In fact, I'd say it's actually fun.
Are Wix online stores secure?
All Wix websites come with HTTPS and SSL certificates, even the free ones. And Wix Stores allows your customers to make SSL secure payments, which means your customers' information is protected by 256-bit SSL encryption. For more info, be sure to check out our in-depth Wix e-commerce review.