In this article, you'll learn how to create a logo that's just as remarkable as the art you've mastered
.
Click here to jump to the tutorial
. Need some inspiration?
See a collection of famous woodworker logos below
.
Best Woodworking Logo Designs
How to Create Your Own Woodworking Logo
As you can see from the diverse woodworking logo designs above, there is no "one-size-fits-all" formula. All that matters is that your logo reflects the story you want to tell, whether that's rustic hand-hewn Americana or modern commercial-grade construction. Either way, why not capture your millwork's unique spirit by creating your own woodworker's logo? Using the power of AI (Artificial Intelligence) technology,
do-it-yourself logo makers like Looka make it quick and easy to create your own logo in just a few minutes
. You only have to pay if you're happy with your logo, so it's risk-free to try. For more information about Looka,
read our expert review
 or watch the video:
Here's how Looka works, step-by-step.
1. Get Started
Start by
heading to Looka's homepage
. Type in your company name and then click
Get Started
to begin.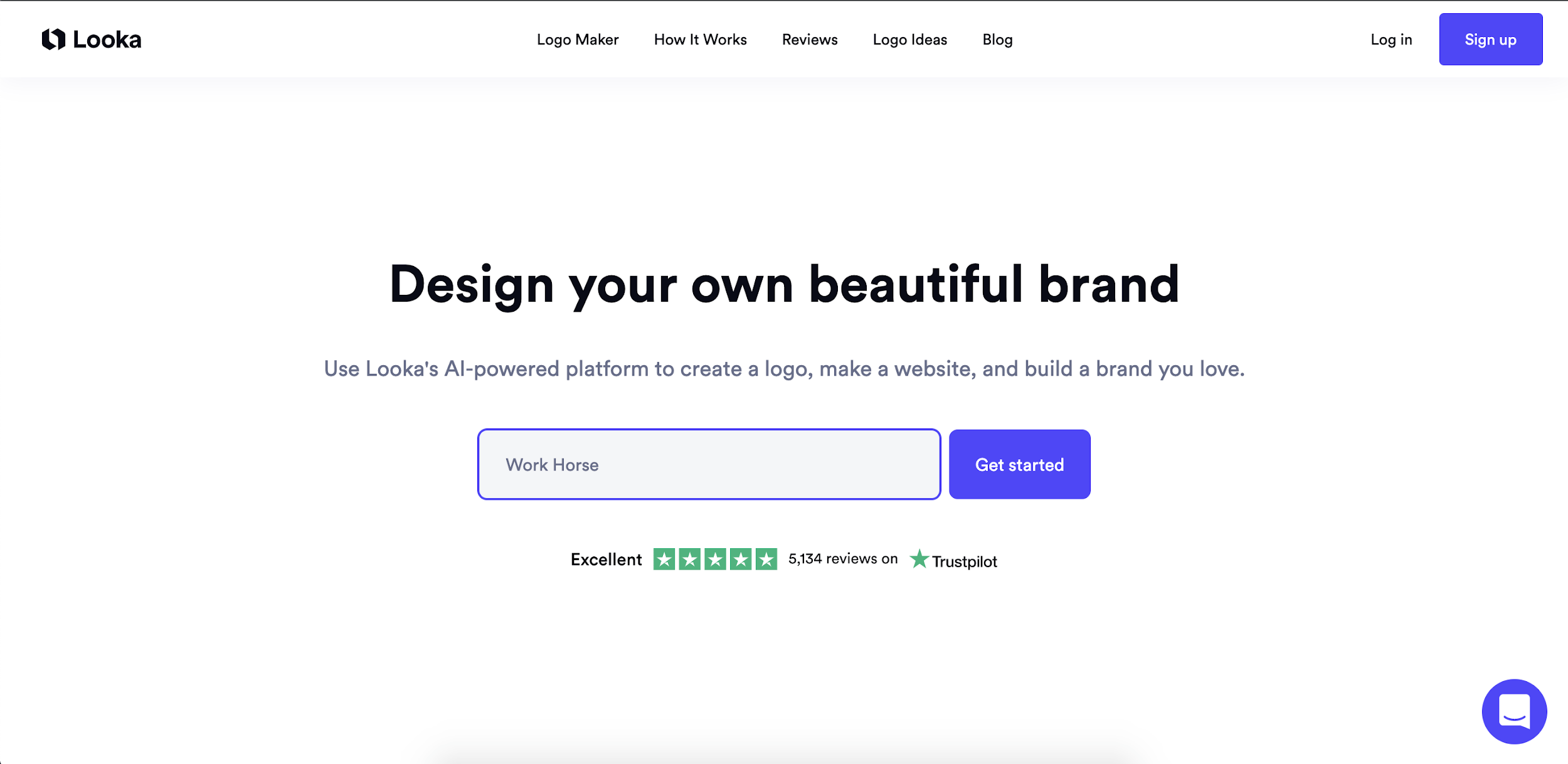 2. Choose Your Industry
Type in your industry so the AI can narrow down your logo choices. You can get super specific by choosing options like
Carpentry, Wood
, and
Woodworking
.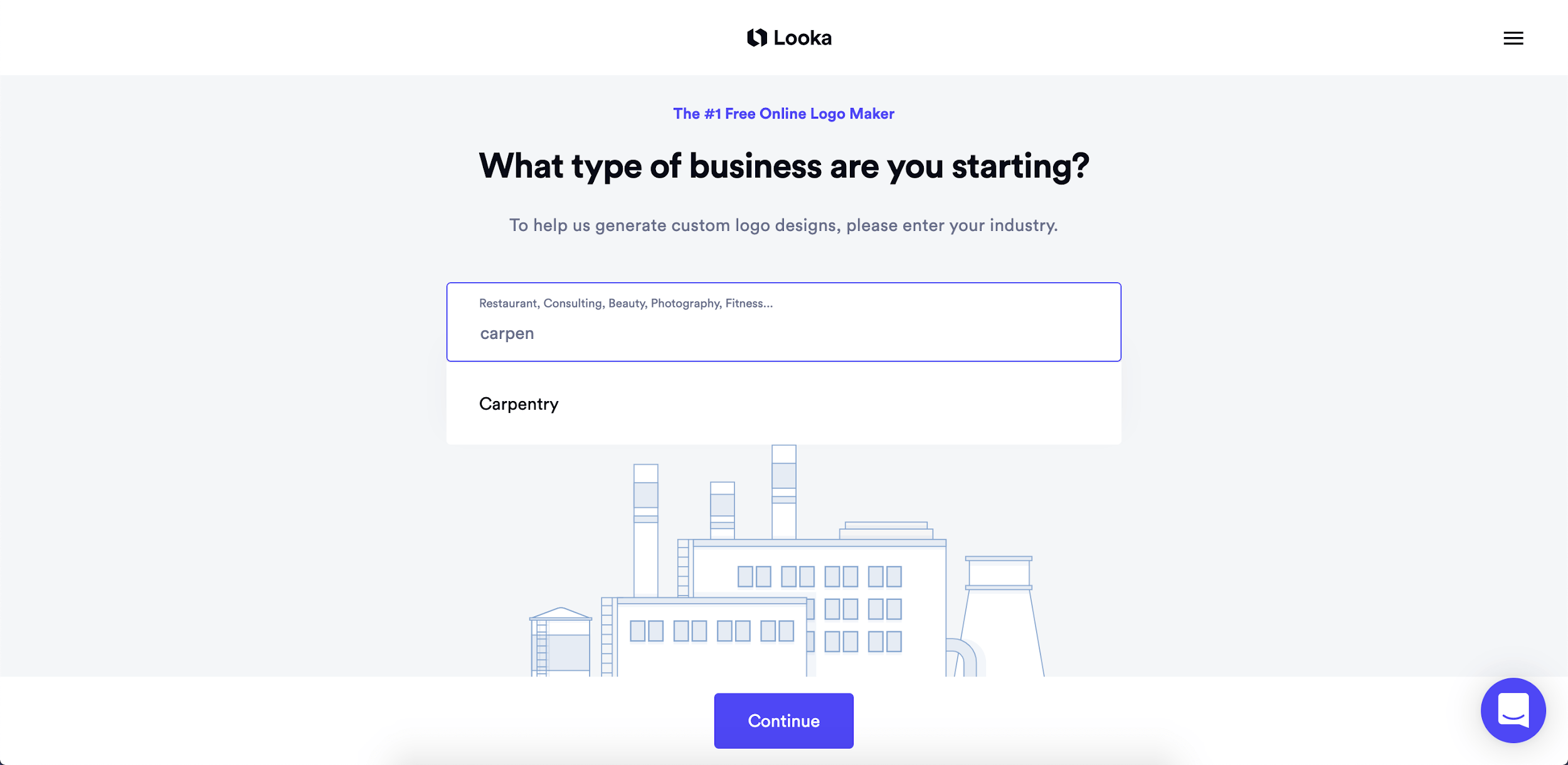 3. Pick Your Style
Choose up to five logos you like to help Looka's AI understand your preferred aesthetic.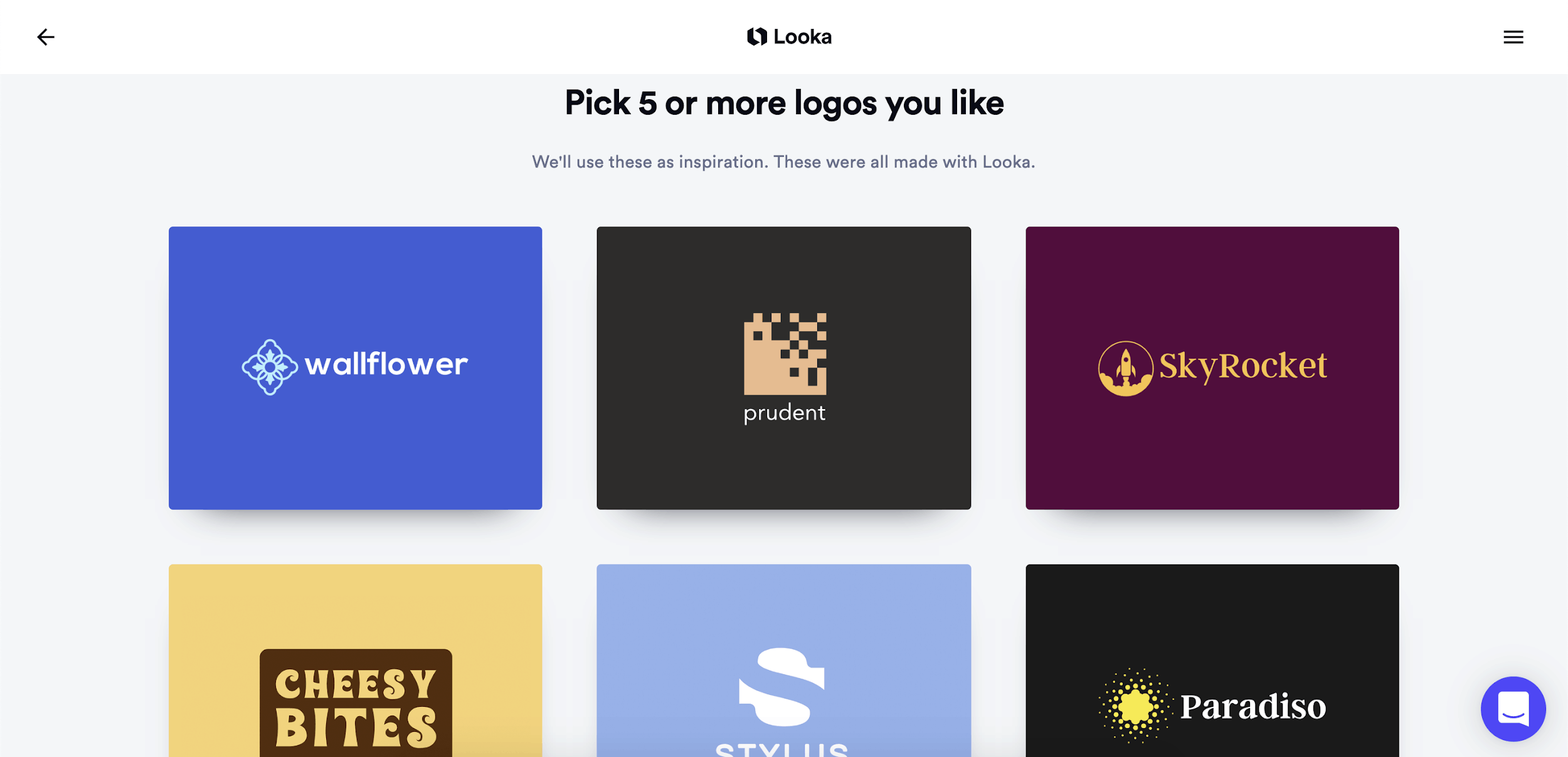 Expert Tip: Don't overthink this step. Take a very quick look and then choose the logos that most immediately make an impression on you. Research shows that people form impressions within seconds, so it's better to pick from your gut, just like your customers ultimately will.
4. Select Colors You Like
Choose up to two color styles you like and then refine your choices on the next page.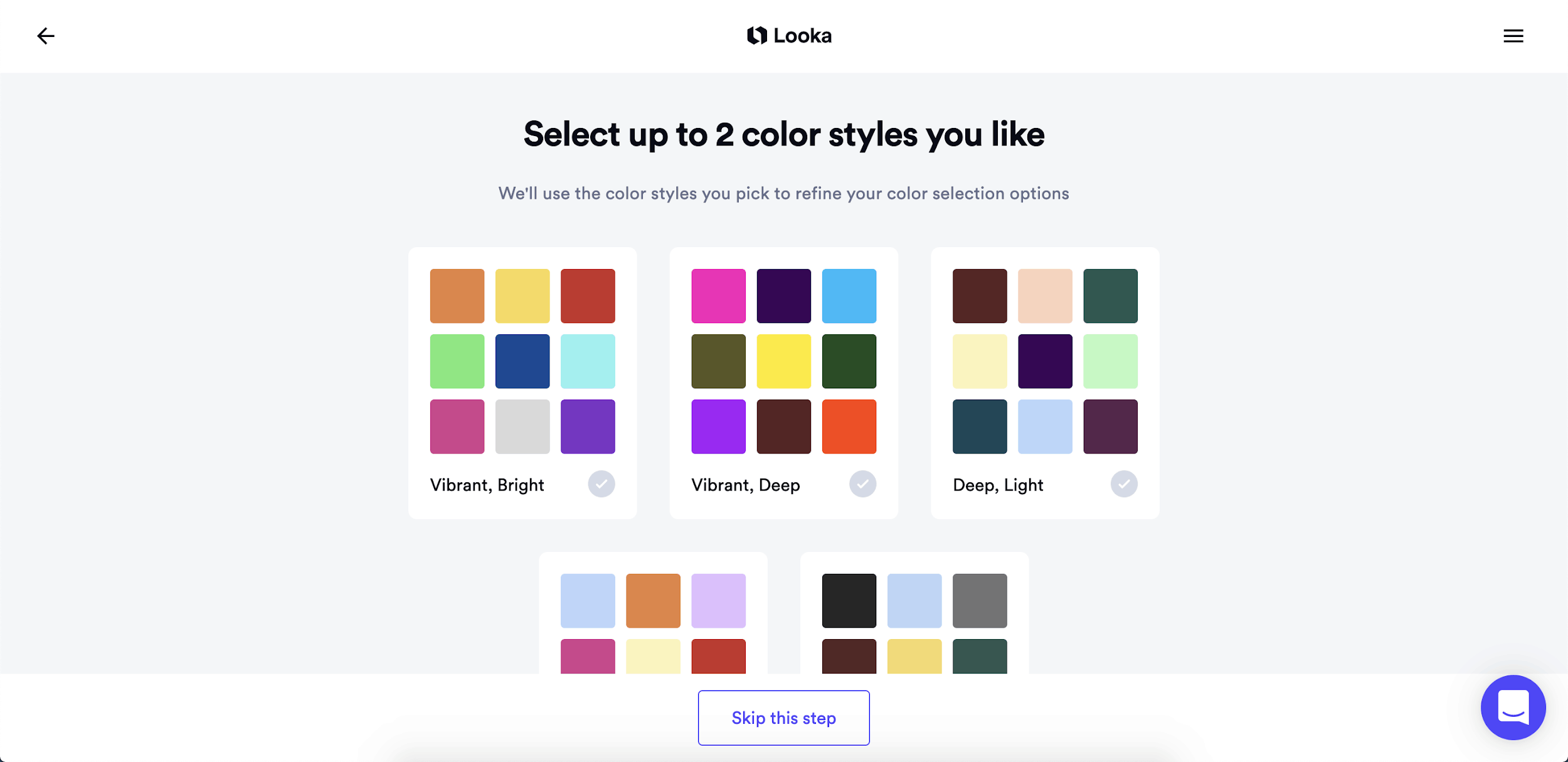 Expert Tip: My review of woodworking logo designs has shown that many brands opt for one of two color palettes: black and white, or natural tones like green and brown. If you want to embrace the themes of authenticity and handicraft, I'd stick with one of these two color schemes; if you want to really stand out, go with something brighter and less common.
5. Enter Your Slogan
Your business name will already be populated, but you can enter your slogan if you have one.
6. Find Symbols you Like
Select up to five symbols you like, either by searching on your own or by using the recommended keywords. Looka's AI will use this information to generate logos for you.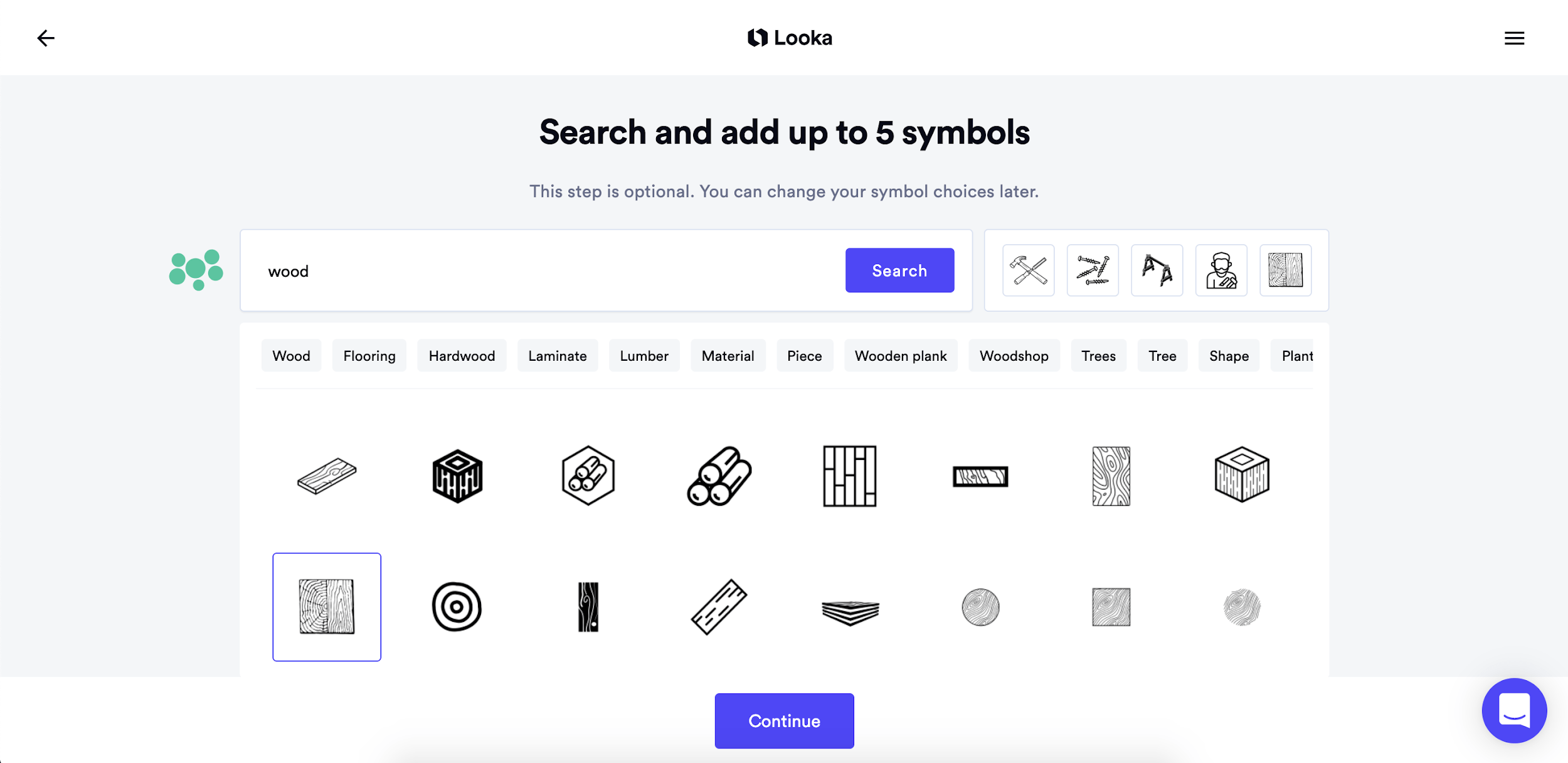 Expert Tip: Your symbol will say a lot about your woodworking business in just one glance. Hand-drawn icons with texture and shading tend to connote history and character, while flat icons or simplified line drawings feel more modern and even techy.
7. Choose a Design
Now click your favorite AI-generated logo concept to start making edits.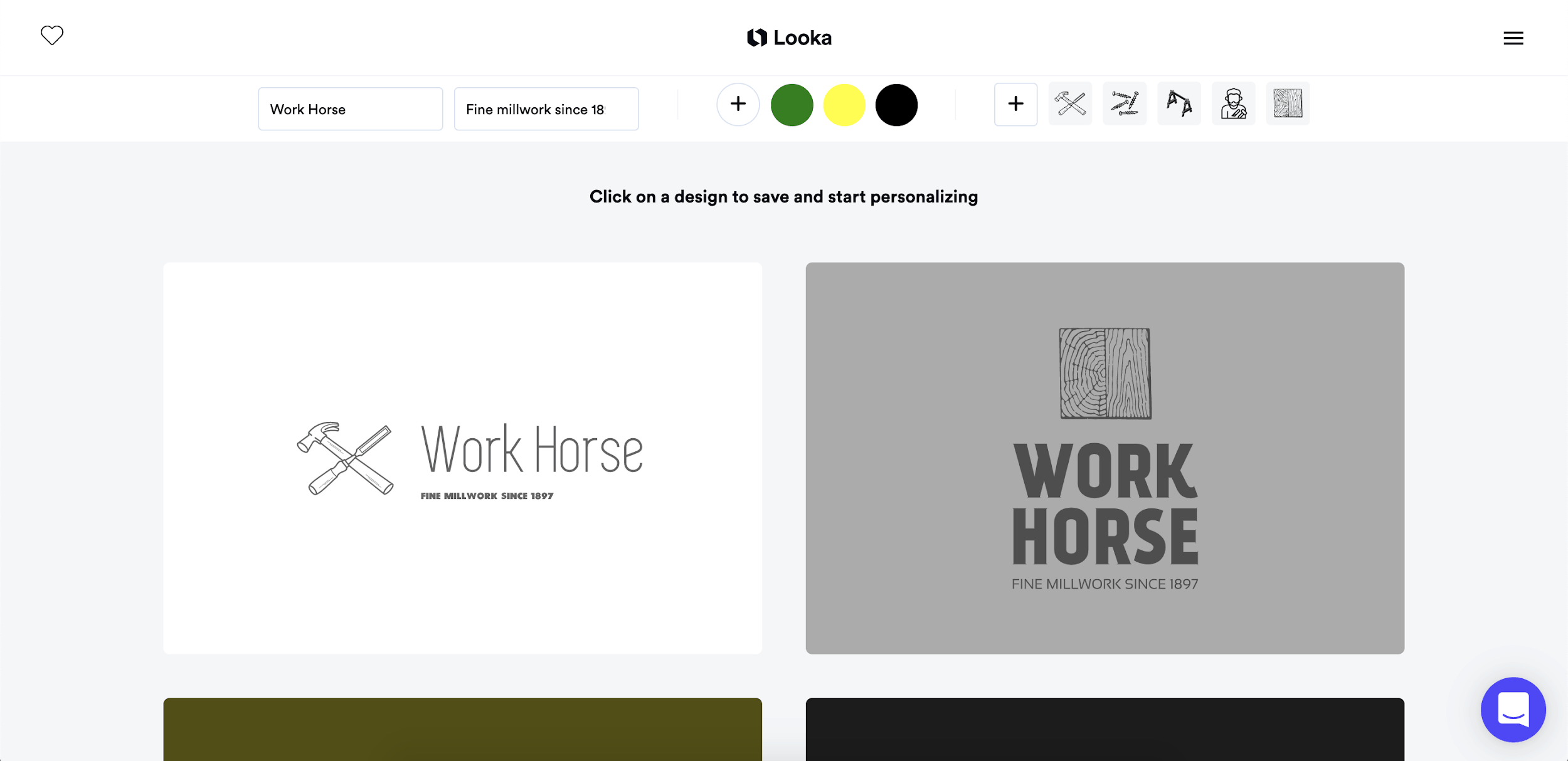 8. Customize
Using the tools at the left-hand side, you can make unlimited customizations to your carpentry logo design, including edits to your color palette, text size and style, symbols, layout, and more. If you don't like how your edits are going, you can go back and choose a new design to work on, without having to start the whole process from scratch. (There's no button in the editor to do this directly, but if you click back in your browser, you can return to the original results page and choose a new design.)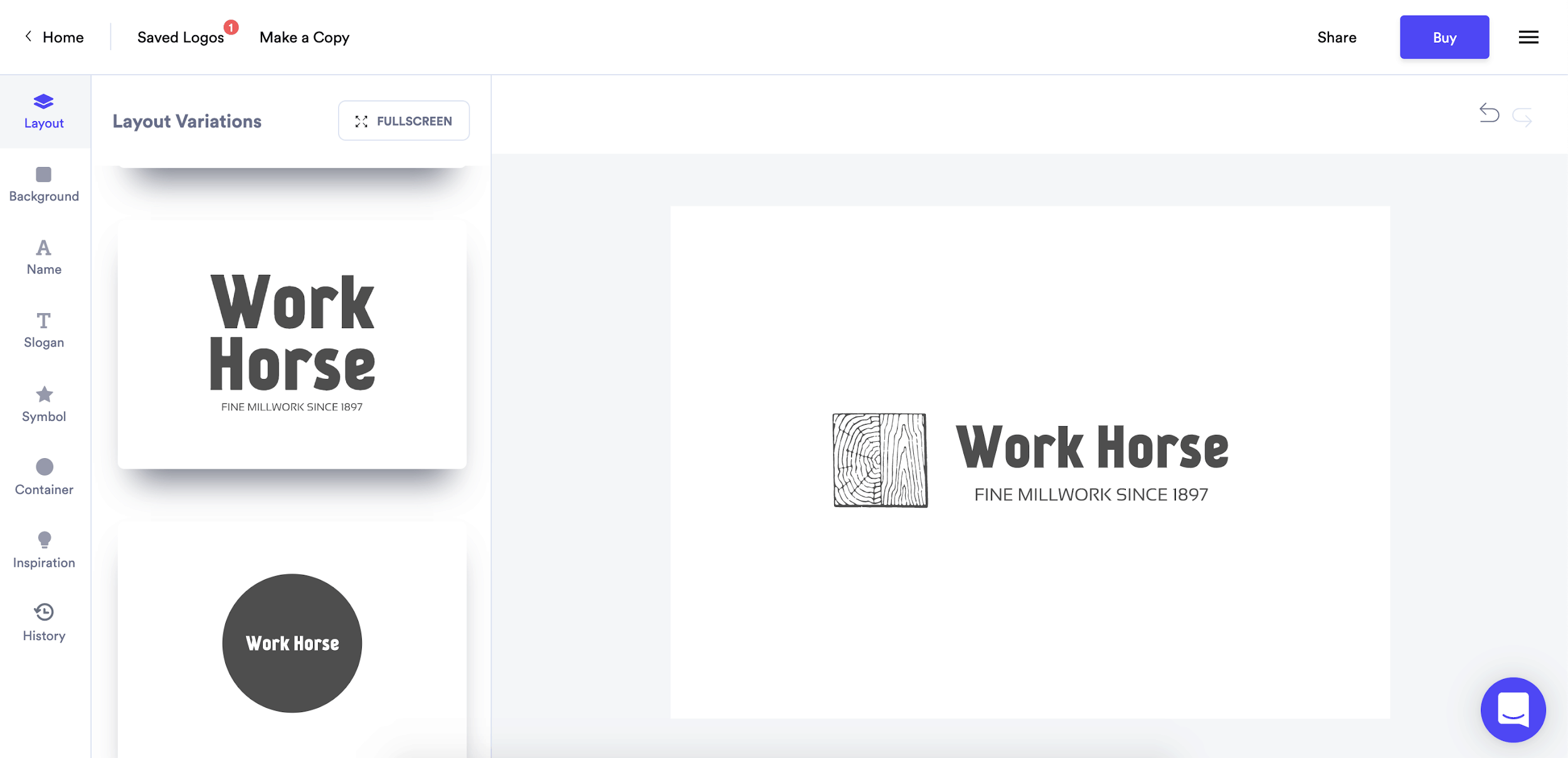 Expert Tip: Don't be scared to experiment here. Looka's "History" tab lets you go back as far as four previous design changes, and it also has a simple "Undo" button to reverse your most recent changes.
9. Finish
Whenever you're finished, click
Buy
and choose the logo package that suits your needs for price, file types, and additional support. The most basic plan includes a single PNG in full color; higher-priced plans offer different colors of PNGs, as well as PDFs and editable source files. Once you've paid, you can download your files and put them to use on your website, social media, business cards, and other marketing materials. Your woodshop is now on the branding map!
Woodworking Logos Made with Looka
Easy-to-Use Alternatives to Looka
There are now more tools than ever to help carpenters and woodworkers create their own logos, so if you aren't sure about Looka, check out these
DIY logo makers, which are free to try
:
Wix Logo Maker offers an impressive number of fonts and designs on an easy drag-and-drop canvas. (If you need a website, you can sign up for a Wix website plan, too.)
If you want more than one shape within your carpentry logo, DesignMantic lets you add up to three icons on the same logo design.
Tailor Brands is another AI-powered tool with user-friendly customization options and some helpful tips about color and layout.
How to Hire a Pro for Your Carpenter Logo Design
Not interested in spending your time designing a logo? If you feel more comfortable turning lathes than rotating icons and tweaking text, there's nothing wrong with leaving your logo design to the pros. To make hiring easy, try a freelance platform like
Fiverr (click here to read the full review)
.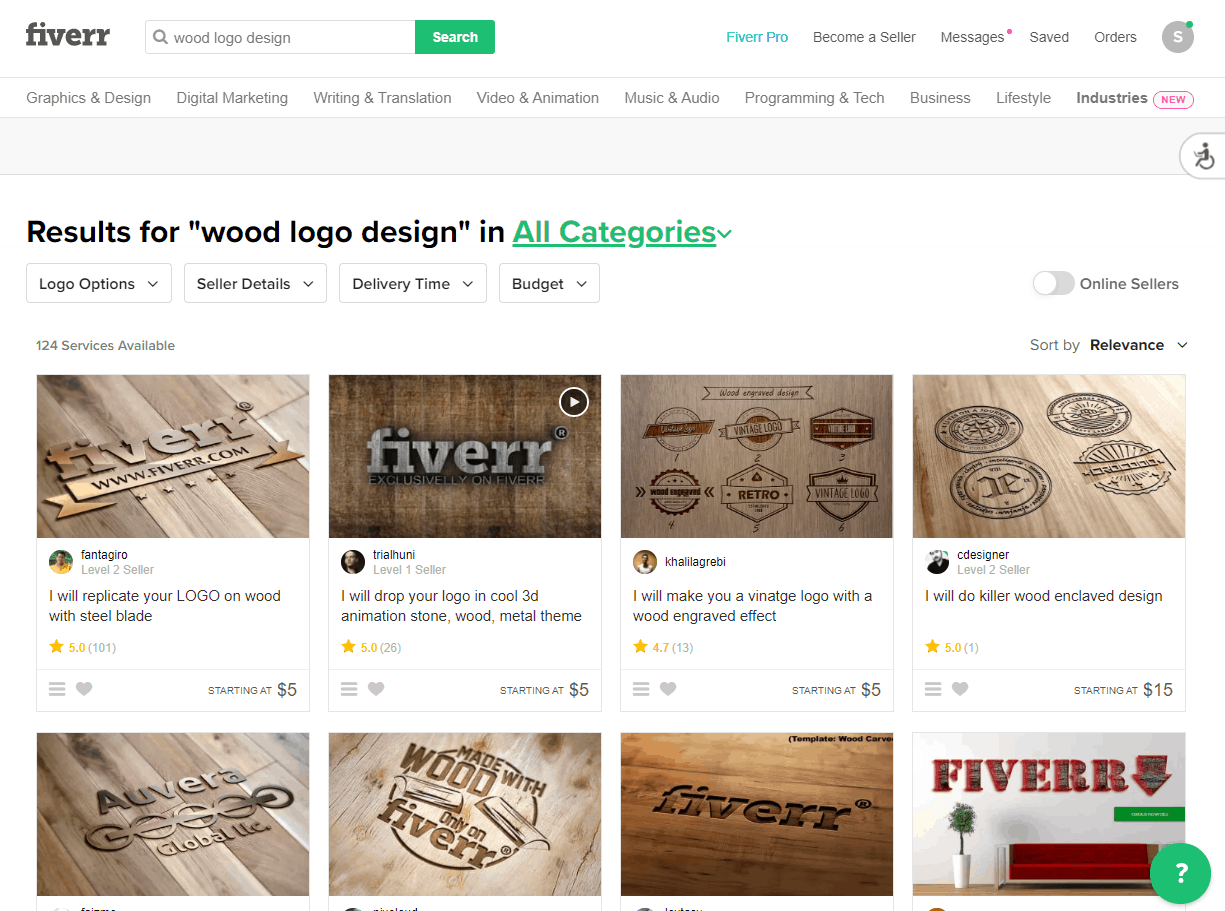 How Does Fiverr Work?
As a meeting ground for sellers and buyers of almost anything, Fiverr lets you hire a designer for a budget as low as $5.
For woodworking logo design alone, there are thousands of professional designers for hire
. Take advantage of the helpful sidebar filters to sort through these designers and view their portfolios, prices, and client reviews. If you want some guidance,
you can also use Fiverr's logo design wizard to walk you through the options and suggest relevant designers for you
. Once you find a designer you like, you can message them to discuss details and learn more about them before you hire them. You'll work with the designer directly to negotiate the details of your logo design (e.g., pricing, file types, delivery date).
What I Like about Fiverr
You can browse designers' portfolios to view their past work and client reviews.
You can see when designers are online for real-time messaging.
You can choose "Fiverr Pro" to work with a vetted freelancer.
You can select the illustration style, budget, and deadline you prefer.
You'll only pay after you've approved the final logo design.
Still not sure? Take a quick look at other logo design platforms like
99designs
or
DesignCrowd
, where you can host a contest and receive up to 100 different logo concepts before hiring a designer.
Get Inspired by Famous Woodworker Logos
Oftentimes, the best way to get started, regardless of whether you're going DIY or hiring a pro, is to look at real-world logo examples. I've chosen some of my personal favorites below to get your creative juices flowing.

The
Artisan Carpentry
logo design is a terrific blend of new and old, combining a Victorian-style etching with a modern sans serif font. While the image reflects the craftsman's experience in traditional European woodworking, the slightly rounded edges of the letters keep the logo feeling friendly, approachable, and not too formal.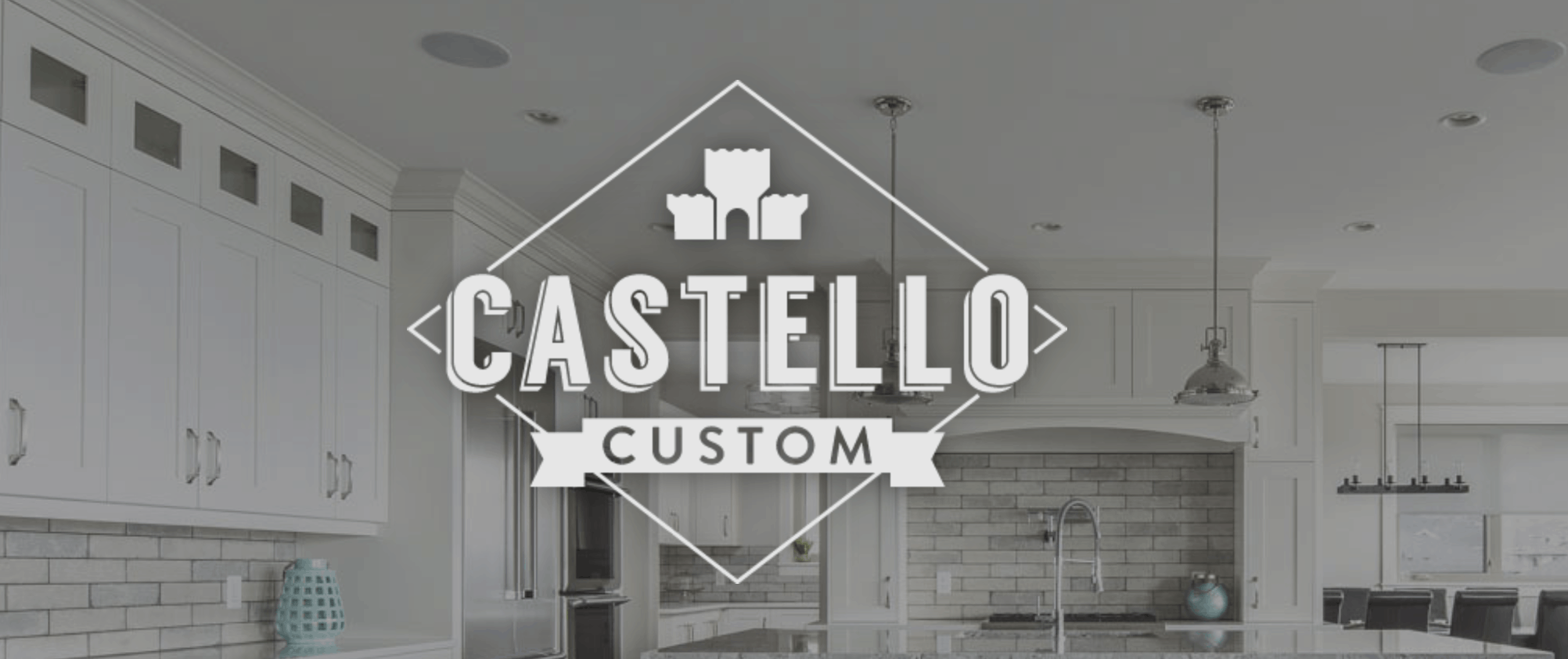 I love how the
Castello Custom
logo is so cohesive and well-themed. The castle icon, the flag-style banner, and the rectangular background container all work together to reinforce the theme of a medieval castle (from the company name, Castello). The flat illustration style and contemporary font pairing provide a fresh take on an Old World concept.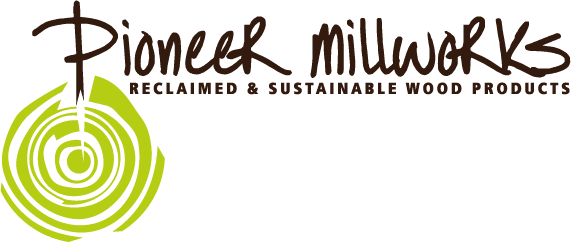 The
Pioneer Millworks
logo takes carpentry logo design in a completely different direction, using earthy colors and a hand-drawn illustration style to create a natural, earthy, and eclectic vibe. The sharpened twig as the letter "P" is also a nice way of visually connecting the vibrant green tree trunk with the deep brown wordmark.
Compared to the Pioneer Millworks logo, this simple wordmark goes for a minimalistic and high-end look. The
Brian Boggs
logo uses a toned-down color scheme of black and white along with an elegant serif font to exude luxury. The symbol is understated yet representative of this craftsman's focus (chairs), and the black circle mirrors the font's rounded "O "and "Gs" for a pleasing sense of balance.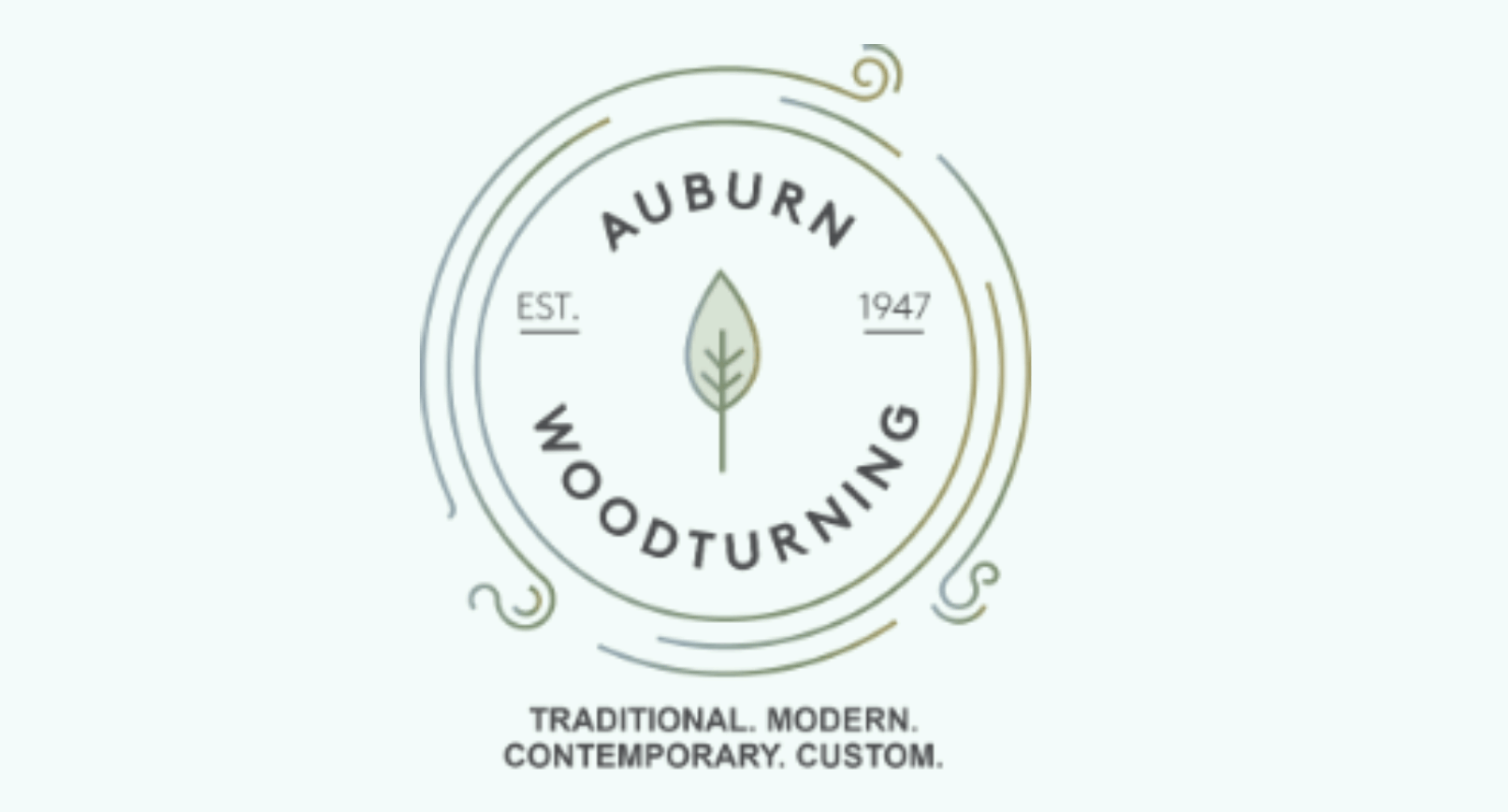 The
Auburn Woodturning
logo uses a pastel color scheme that feels light, calm, and peaceful, almost like a cool spring morning. Rather than a simple circle, its background container incorporates several lines and unexpected curves to build up a breezy sense of motion, which reflects the movement of woodturning. The logo feels charming and youthful without being overly cutesy.

The
David Stine Furniture
logo shows how simple lines can be so much more! Just a few well-placed lines come together to create a minimal and highly geometric table icon, which frames the carpenter's name and perfectly draws the eye in. Combined with the clever perspective of the table, the tall sans serif letters create a feeling of impressive height and dimensionality.

Compared to many others, this logo for
The Wood Chap
feels wholly contemporary. The geometric fonts subtly reflect the craft of woodworking, with very simple and universal forms being combined into something new. The heavier font weight for "Wood" also ensures that we immediately understand the business's primary focus.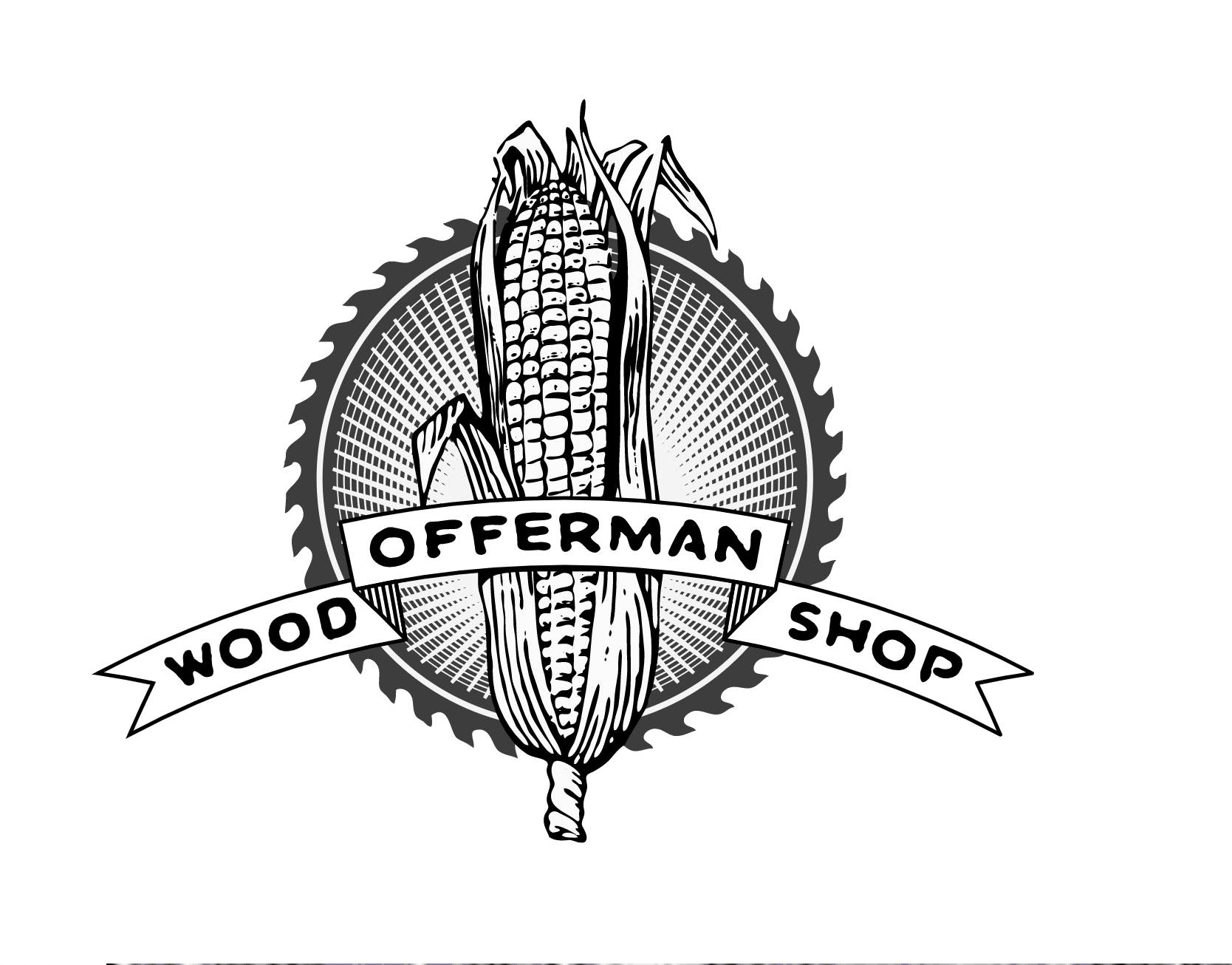 Did you know that Nick Offerman of
Parks and Recreation
fame has a real-life woodshop called…
Offerman Wood Shop
? His woodworking logo combines a circular saw background (symbolic of woodworking) with an ear of corn in the foreground (symbolic of Offerman's rural upbringing). The black-and-white tonality mimics old-style woodcuts for a classic, heritage feel.

The
Empatika
logo is a great example of using letter and shape to highlight a brand's unique value proposition. This company's custom-fitted furniture is visually reflected by the icon at left: a capital "E" with a shape perfectly inserted into its white space. For a cohesive look, the straight lines and sharp corners of the icon are mirrored in the geometric font at right.

I love how the logo for
Deep Reflections Floor Co
. so smartly reflects its products. At first glance, the icon looks modern and abstract; upon closer inspection, we see that it mimics the hand-laid wood planks and unique floor patterns that this company creates. The unexpected colors feel warm and exciting, and the gradient mimics reflections of light, just like the company name.
What Will Your Logo Be?
You can think of your logo like the wood you choose for crafting.
It's more of a material than an end result; something you'll use to build your brand and express your woodshop's unique personality
. In the same way that you choose your materials, you'll have to decide what matters most to your carpentry logo design. Do you want a logo like pine – stable, very affordable, and perfectly adequate for most circumstances? Or do you want a logo more like mahogany – rich, beautiful, and pricey, but certainly worth the extra cost? Ultimately, the choice is up to you. With the help of user-friendly DIY tools like
Looka
and pro platforms like
Fiverr
, both logo design choices can be equally easy and appealing for any woodworking shop. For even more logo design solutions,
don't miss our list of the best logo design services for 2023
.