I'll be showing you how you can hire a professional designer for as cheap as $5
–
jump down to find out more.
Or, if you're a creative type and don't mind going it alone, you could opt for the DIY route. We've found the best tools to help you create a great wolf logo at a low cost.
9 Best Wolf Logo
Recently, my colleague set out to find the absolute best logo-design services around. He hired logo designers on
Fiverr
(as well as
99designs
and other platforms) and tested the quality of the designs and service. Our new Website Planet logo was chosen as a result! I'll admit, I wasn't too sure about Fiverr until I saw the results. You can find out more his
full comparison of the top logo design services
.
Is Getting a Professional Logo for $5 Too Good to Be True?
If you're not keen on going down the DIY logo route, or simply don't have the time to spend on it, having your
animal logo
professionally designed is the way to go. Sure, the words 'professionally designed' probably have you imagining huge costs that are way out of your budget – after all, the Pepsi rebrand in 2008 cost more than a million dollars (and it's not even that great!).
But on Fiverr,
you get access to top-quality designers at ridiculously low prices.
Don't worry, the low cost doesn't mean you're getting poor-quality work. The prices are low for a number of reasons, like the designer is building their online portfolio or they live in a country where wages are much lower. If you'd like to learn more about the platform and see some examples of the work you can get for different prices, don't miss our
full Fiverr review
.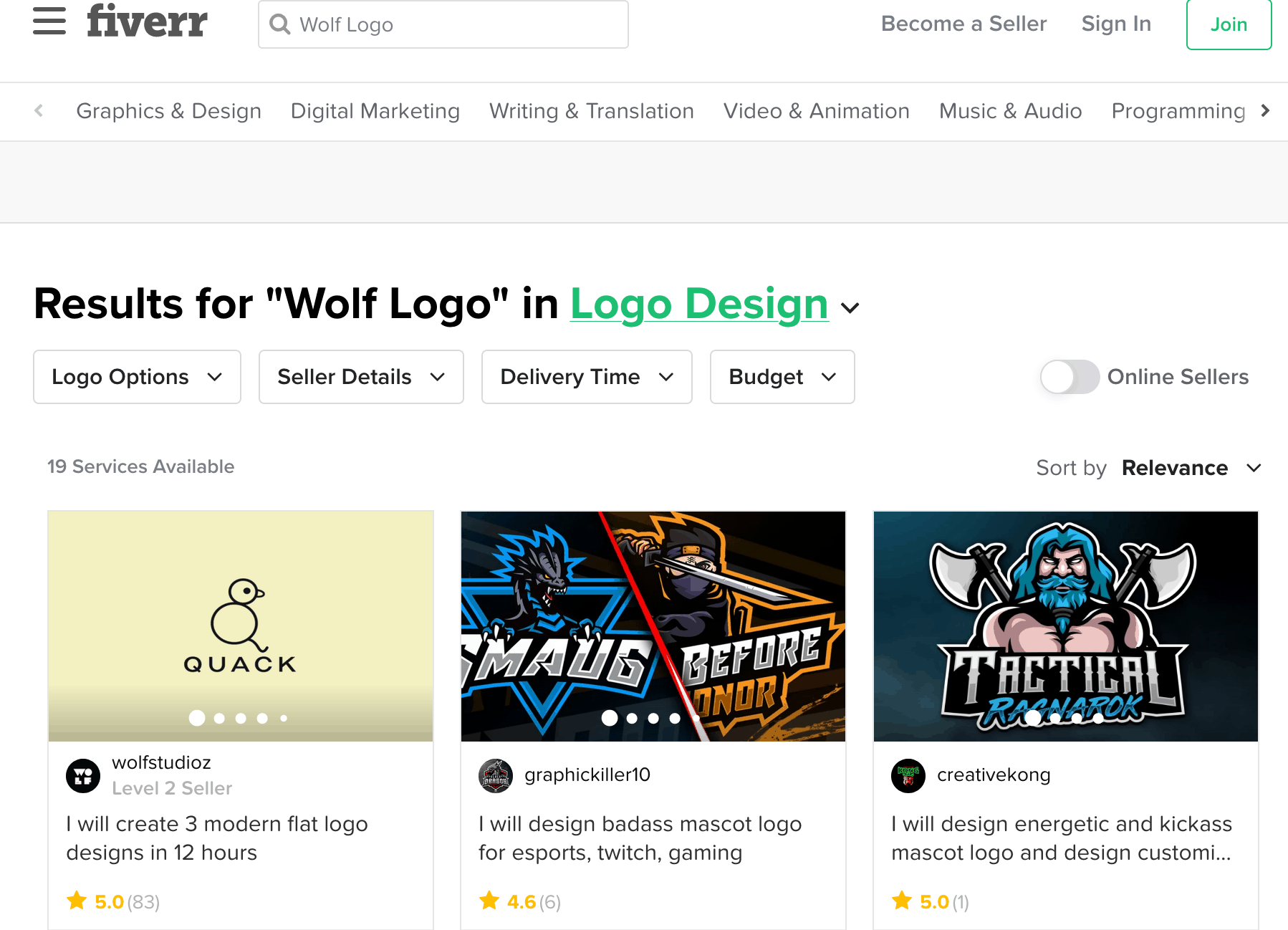 Fiverr works by letting freelancers post 'gigs' as adverts for their services.
Some are pricier than others, but you can find hundreds of gigs for logo designs starting at $5.
Most gigs give you multiple options – for example, a basic level logo may include just a .PNG file, but a (more expensive) advanced option in the same gig might include social media assets and/or a number of revisions. As well as its low-priced freelancers, Fiverr has plenty of other benefits.
It's safe. Fiverr handles payments securely, so you can be sure your chosen freelancer isn't operating a scam!
Specialist designers. Whether you want a minimalistic wolf outline or something more cartoonish, like a mascot, Fiverr has loads of designers who specialize in different types of logo, so you can easily find your perfect match.
Fast turnaround. In a rush to get your new wolf logo design? The great thing about Fiverr is you can hire a designer in the morning and have a logo in your inbox by the time you get back from lunch. Gigs with a fast turnaround tend to be more expensive, but the option is there if you're pressed for time.
Easy to communicate. Fiverr has a built-in messaging system so you can ask designers questions before you commit.
How to Make Your Own Wolf Logo
If you prefer to keep creative control and design your own logo, there are plenty of tools to help you.
In most cases, actually designing your logo is free – but you'll have to pay to download a high-res version to use it
. Some logo-makers have templates to choose from – which can be good if you're creative and have a strong idea of what you want – while a growing majority are turning to AI (artificial intelligence).
With the AI option, you'll answer a few questions on what you're looking for,
select the logo styles you like, then sit back and wait while the AI system generates a fully customizable logo for you. I personally prefer using the AI-approach for creating logos from templates. This method allows you to customize fonts, colors, icons, and layouts to achieve perfection while sidestepping the difficulties associated with beginning from a completely blank canvas. It significantly simplifies and enhances the process, making it both easier and more enjoyable.
Best DIY Logo Makers
Wix Logo Maker – the all-around best choice. Wix Logo Maker is my top choice out of all the logo creators I've tried. It uses AI but still gives you lots of customization options. It's incredibly easy to use, too, which makes it perfect if you've never created a logo before. While it's free to create your logo, you will have to pay to actually use it.To get started, all you have to do is go to the Wix Logo Maker homepage and answer a few questions about your business.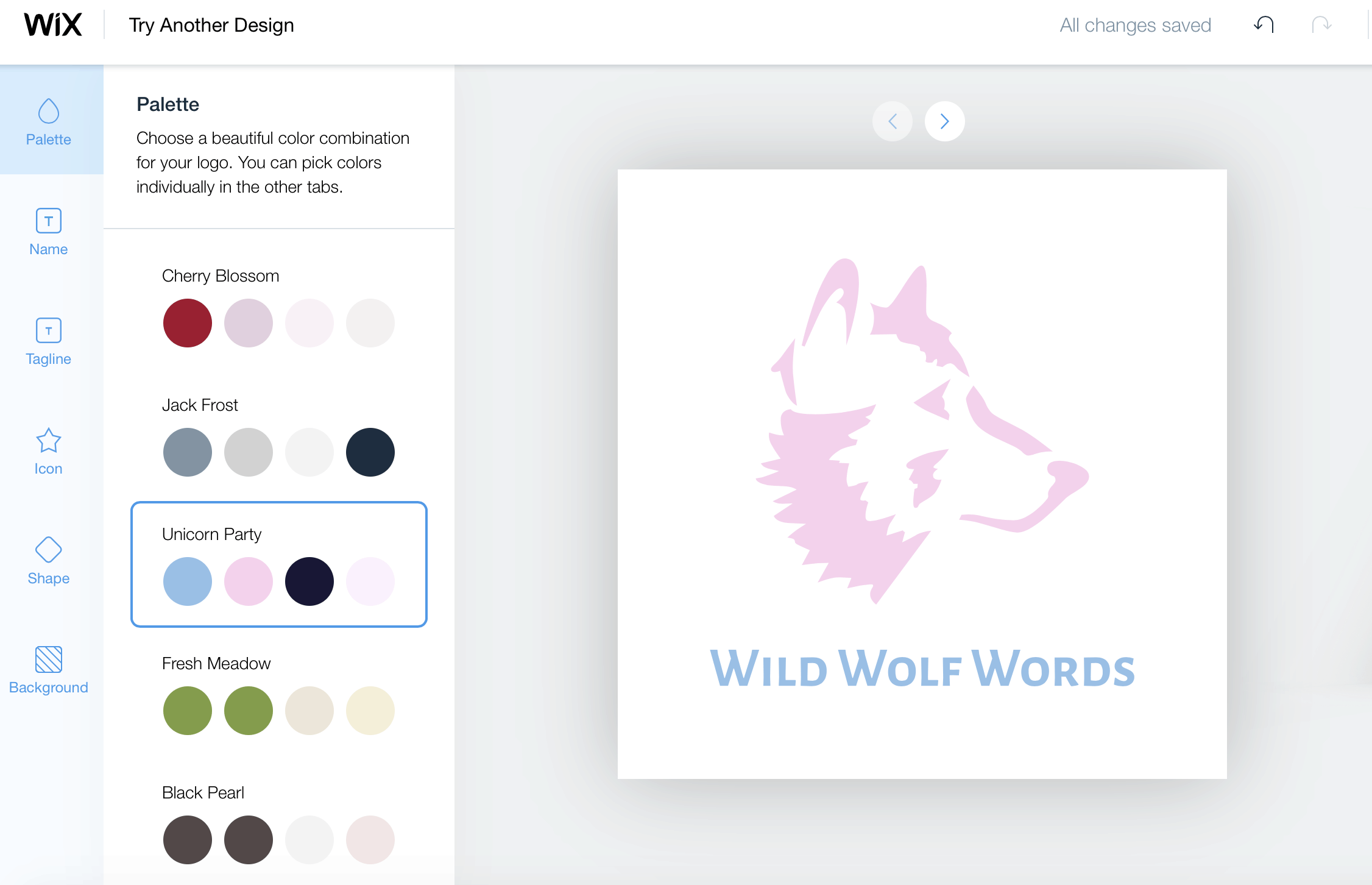 Looka – an alternative AI-based logo creator. While it gives you more options in the AI stage of the logo creation, it's not as simple as Wix and takes longer to generate your logo. You'll also have to sign up during the creation process to see your final design, which feels a little awkward. Their most basic paid-for package includes a PNG download.
DesignEvo – a good template-based alternative. It has more than 10,000 templates to start from, and you can easily edit fonts, colors, and backgrounds in the logo editor. There's also a free plan, if you don't mind a small image size and linking back to DesignEvo from your site.
Your Ideal Wolf Logo at a Price You Can Afford
There's no need to have a generic, text-based logo when you can get a professional logo for little more than a large cappuccino.
It's weird to think
that you could actually end up paying more for a DIY logo than hiring a designer from Fiverr!
Personally, I'll always go for the simplest option, so I really recommend you give Fiverr a try.
That being said, I actually enjoyed playing around with
Wix Logo Maker
, so if you'd rather DIY, try Wix before you try any others! There are plenty more logo makers and freelance platforms than the few I've highlighted. Want to continue your research?
Check out our list of the top logo design services
.