In this article, I'll show you how easy it is to hire a professional designer for your logo.
 And don't worry, it won't cost you hundreds of dollars. With my pro tip, you can hire a designer for as little as $5!
---
9 Best Website Logos
My colleague tested the top logo design services to find a new logo for our website. He compiled his results in a full-scale review. Head over to his
comprehensive logo design service comparison
 to discover how each service performed and see the winning logo.
How to Get Your Pro Logo for $5
If you know anything about the graphic design market, it's easy to assume all professional logo designers have expensive rates. And while many designers
do
 cost hundreds of dollars, there's an affordable logo solution out there that won't blow your budget. Fiverr is a freelancing platform where designers offer packages beginning at only $5. Before I knew about Fiverr, I'd have thought it was impossible to get a quality logo at this price. But after using Fiverr to commission a logo myself, I discovered it was not only possible, but it's as straightforward as can be! There are thousands of designers at Fiverr, all ready and willing to give you the logo of your dreams. Want to check out your options?
Head to the Fiverr homepage
 and type in "website logo" to pull up your design options. Look through the results to see if any profiles stand out to you. You don't need a profile to search for designers, so this part is absolutely commitment-free. You can also search for designers specializing in a style you like. Popular options include "minimal logo", "watercolor logo", or "signature logo". You can see an excerpt of each designer's work on the results page. Clicking on your favorite will open the designer's full profile.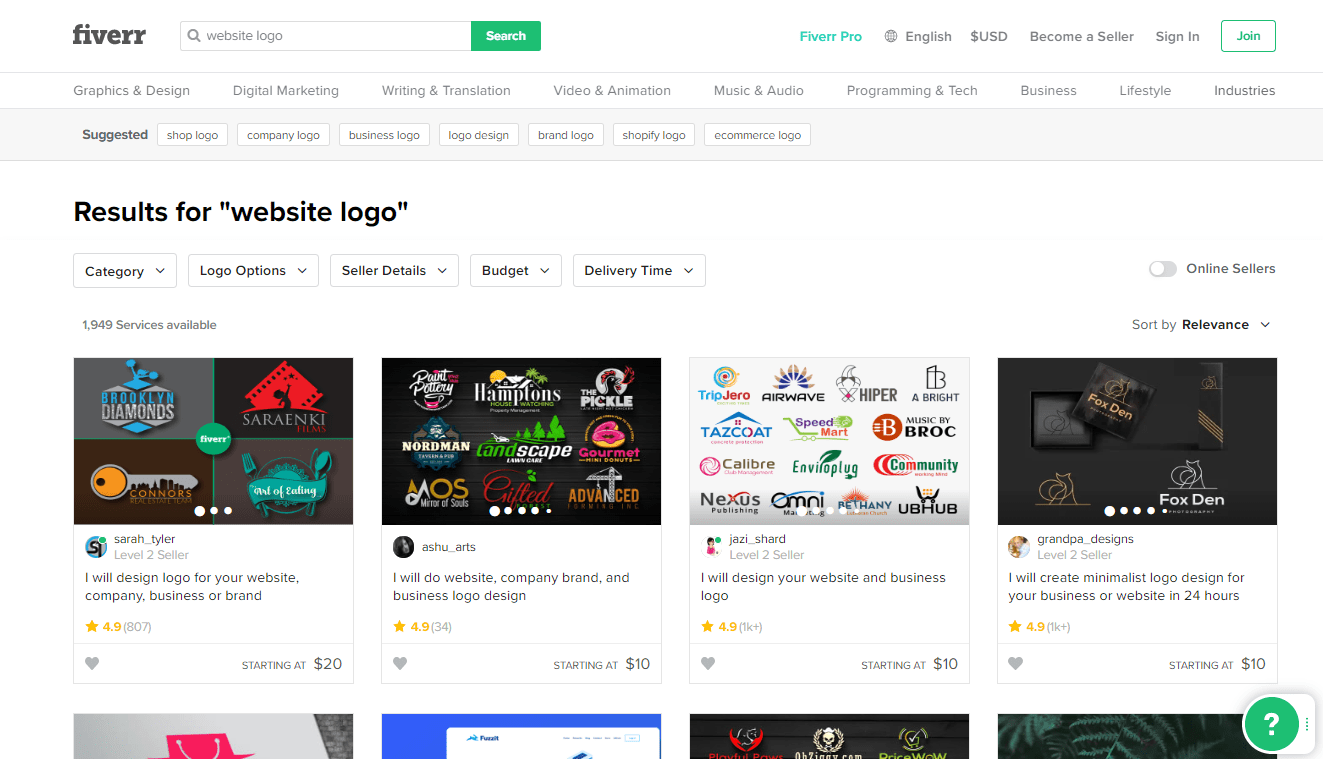 Each designer has a list of services split into Basic, Standard, and Premium packages, an "About This Gig" section, and a slideshow of their past work. You'll also be able to see customer reviews and ratings from previous jobs. Review all of this information and click
Continue
when you're ready to move on.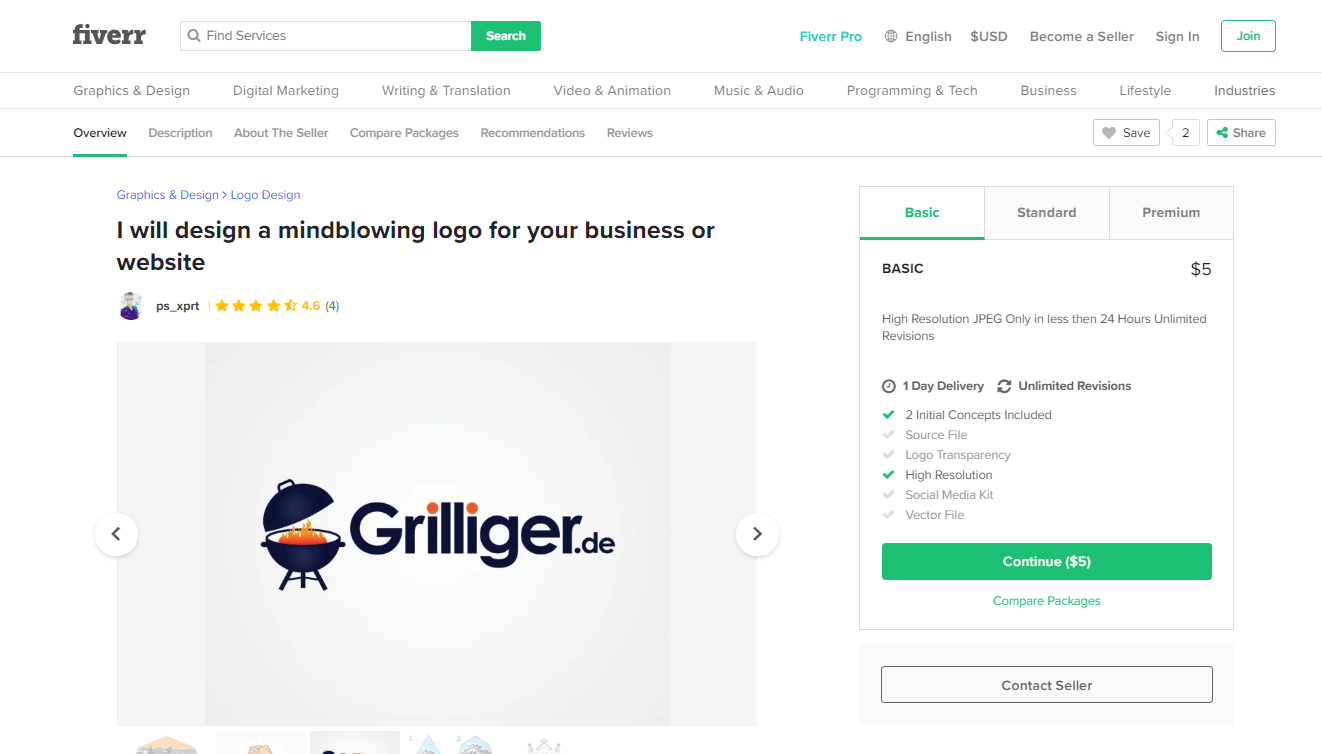 On the payment preview page, you'll see the final cost for your chosen package. The list of services will also be repeated here, so check to ensure you've chosen the right package for your needs. When you're satisfied, click
Order Now
to enter your payment details and confirm the hiring process.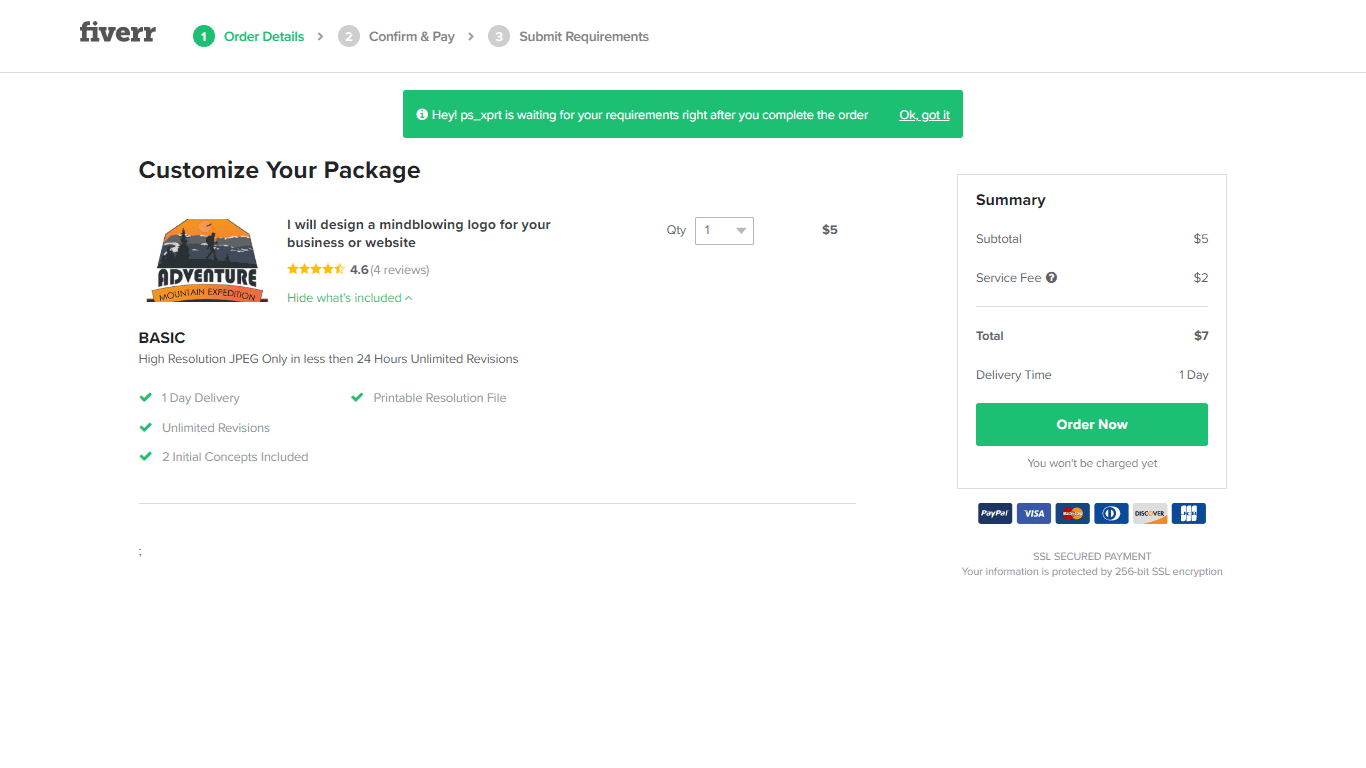 Afterward, you'll fill out a simple form explaining your needs to your designer. And, there you have it. Your logo is now commissioned! Fiverr has other great, user-friendly features, such as:
No surprise fees – Your payment is made upfront, so your designer cannot add unexpected fees onto your bill at the last minute. The only way you'll ever pay more than the initial package is if you choose to add extras.
Quick designer search options – Zoom in on the designers that meet your exact criteria by using search filters like budget, logo style, delivery time, and seller level.
Package extras – Designers may offer package add-ons for a small fee, like multiple concepts, printable files, social media kits, and more.
Fiverr Pro – Fiverr Pro designers are vetted by Fiverr employees and confirmed to have exceptional design skills and customer service. These designers are a bit more costly, but you know you'll get top-of-the-range work so consider splurging if your budget allows.
To learn more,
read our in-depth Fiverr review
.
How to Make Your Own Logo Design
Designing a logo isn't easy, even though the professionals make it look that way. If you
are
 considering making your own logo, be prepared to use lots of energy and creativity. To guarantee a design that's unique and high quality, you'll need to put in some effort. To do this, you'll need the right logo maker. Wix Logo Maker is always my number one suggestion. If you don't want to spend money on expensive (and complicated) design software, this tool is the next best thing. This platform uses artificial intelligence (AI) to create logo templates tailored specifically to you.
Head to the Wix Logo Maker homepage
 to get the process started. You'll need to sign up and create a profile, which can be done using your email address or via social media. After that, enter your company name and tagline to begin.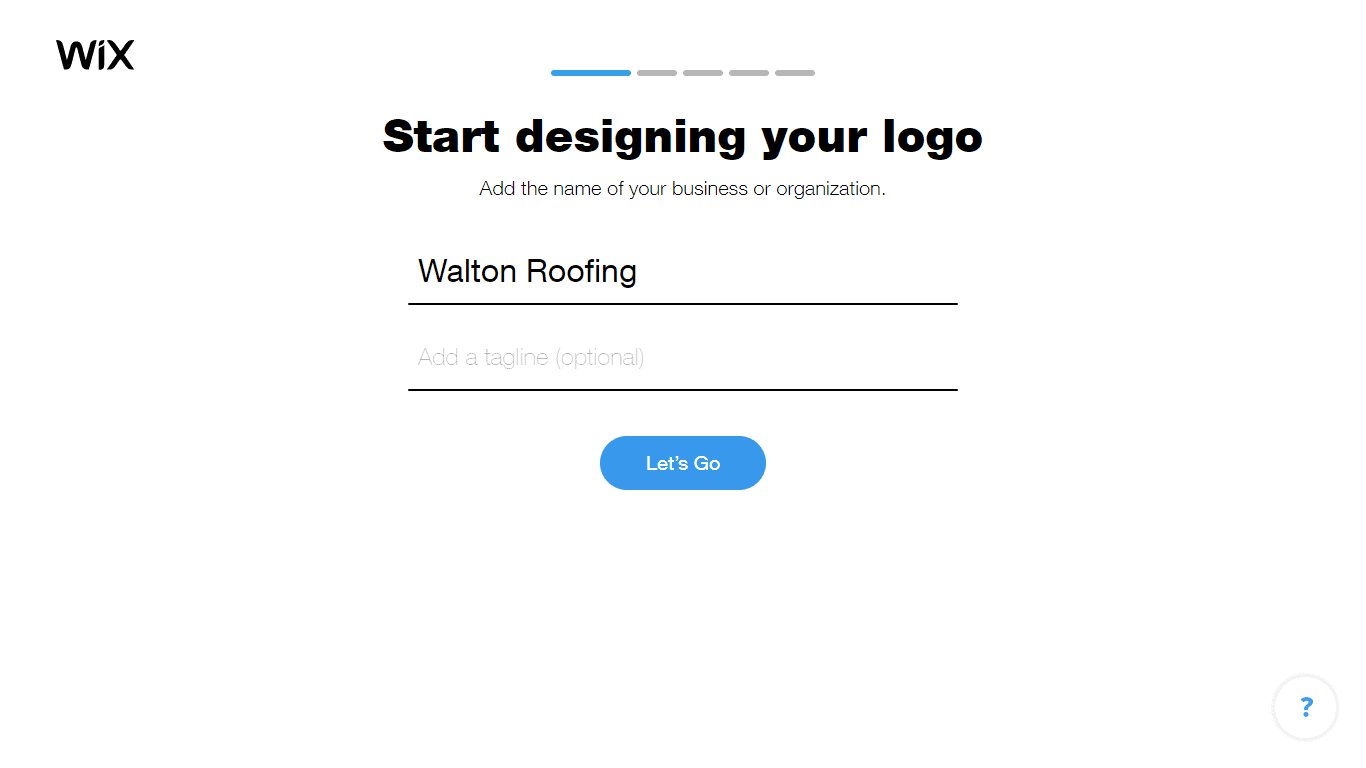 Start typing to add your company's industry and options will appear as you type. When you find a close match, click
Next
to move on.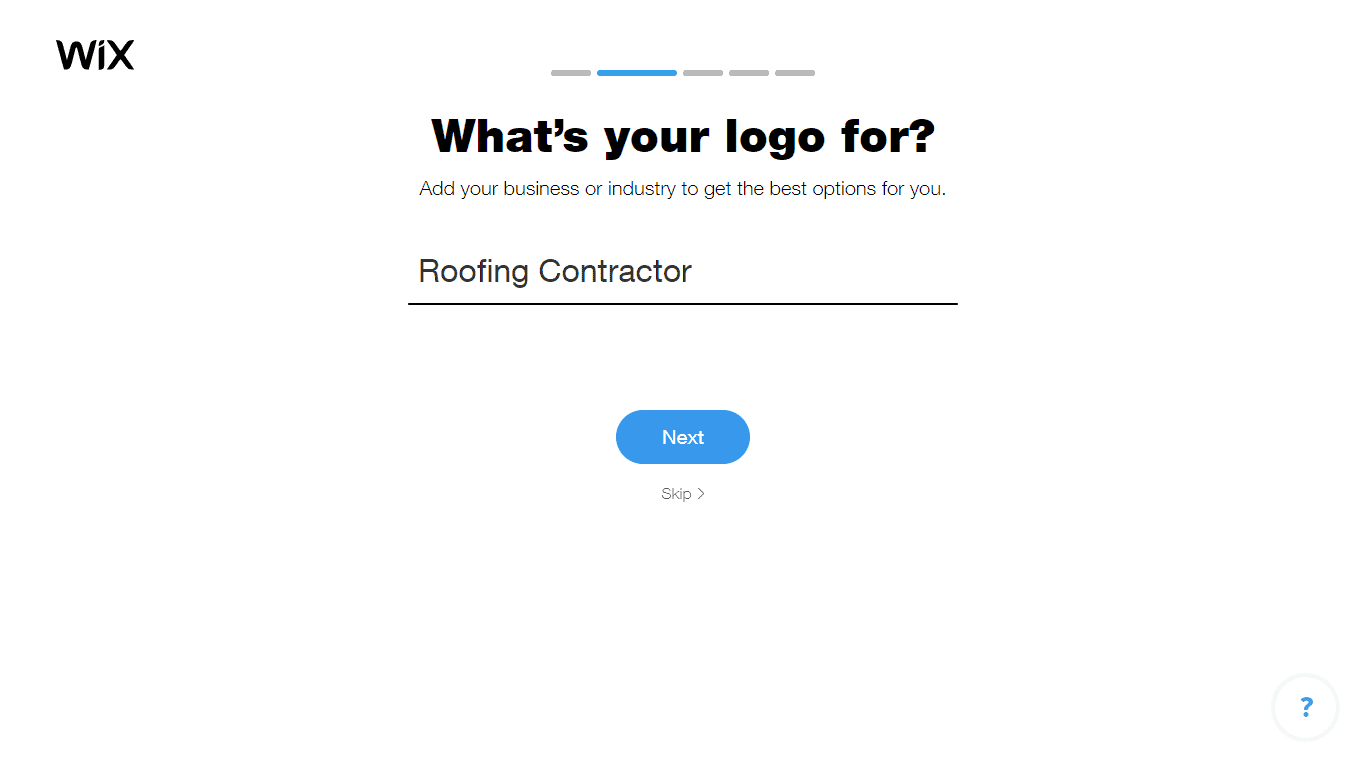 In the following stage, a range of descriptive words will pop up. This step helps the AI learn what the look and feel of your logo should be, so select all the words that apply.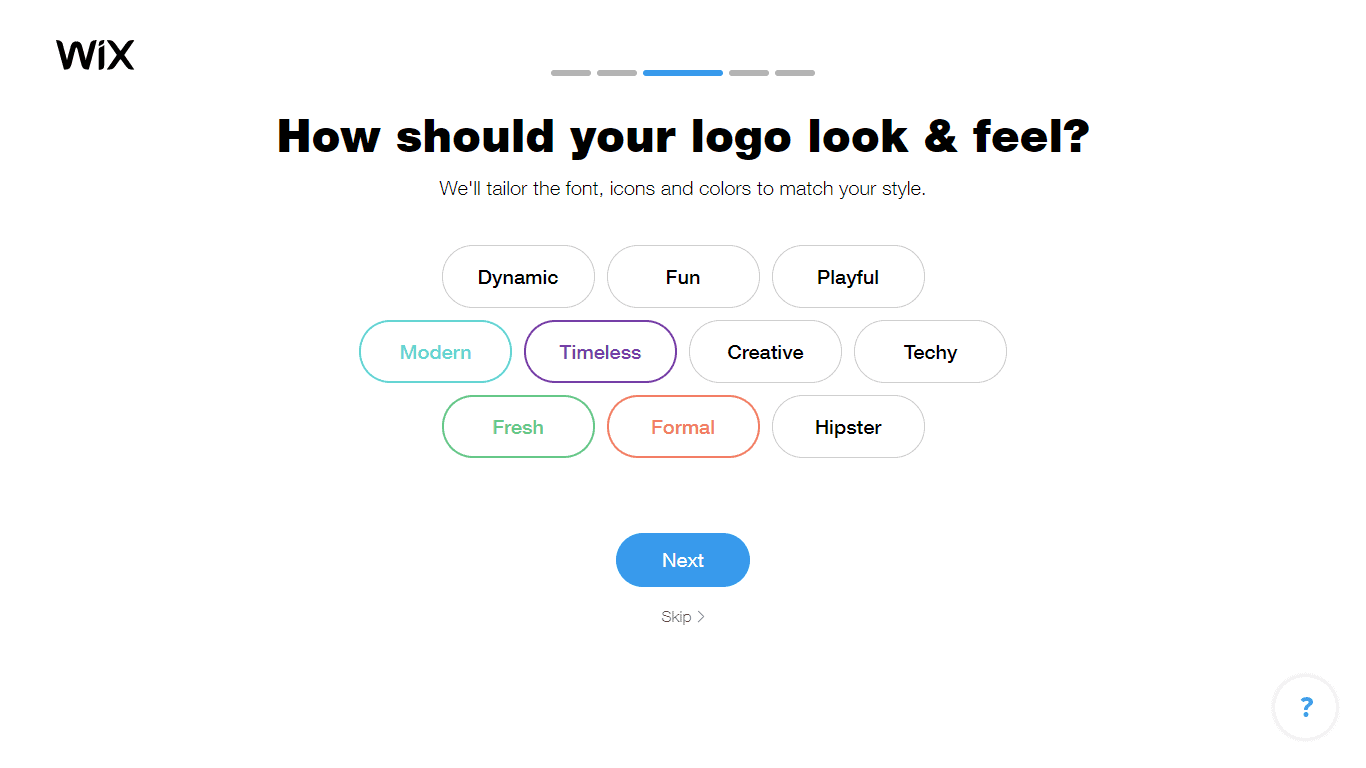 In the next step, you'll be shown several logo pairs. These pairs are important in determining the styles of your logo suggestions in a few minutes. In each pair, choose the logo with a design that you like best.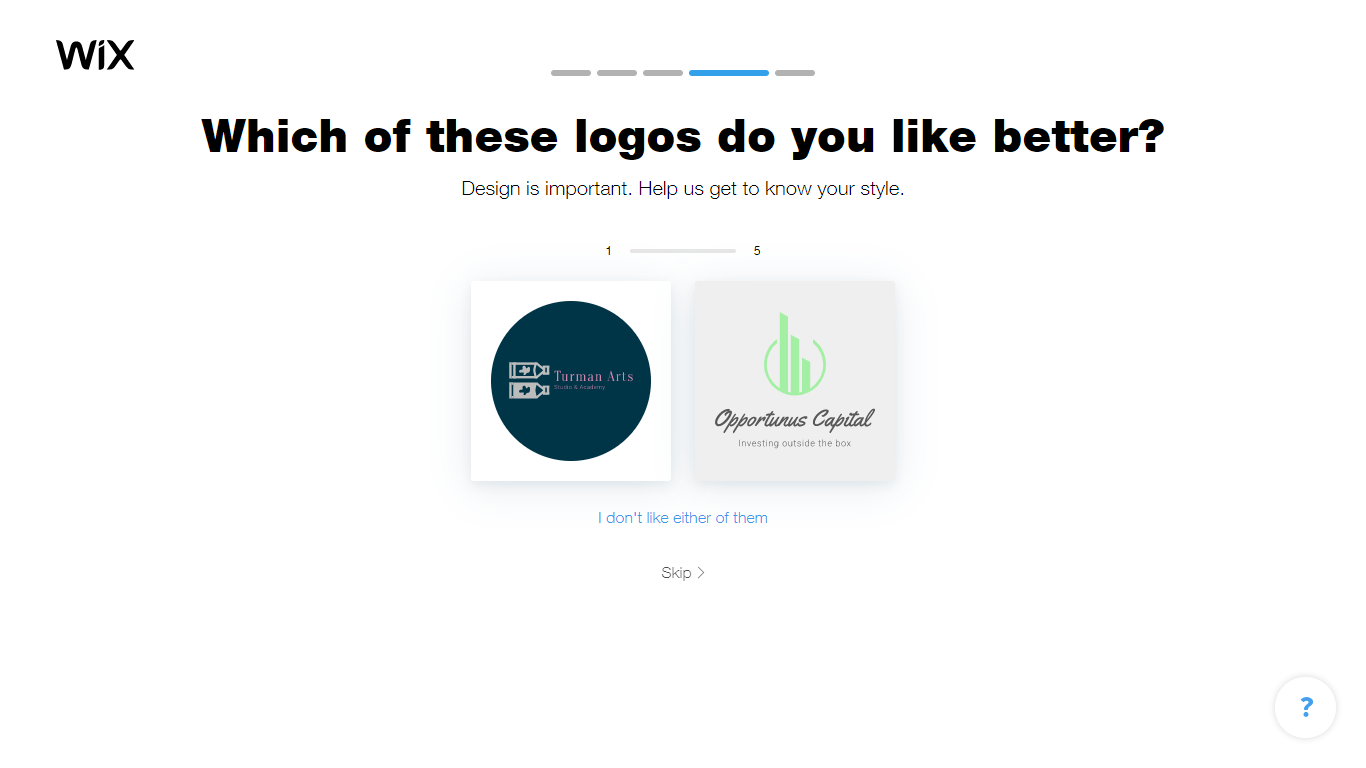 Next, Wix Logo Maker needs to know where you'll be using your logo. These placements include social media, merchandise, business cards, and presentations. If you're right at the start of launching a new business and are unsure where you'll be using your new logo, just select all the options.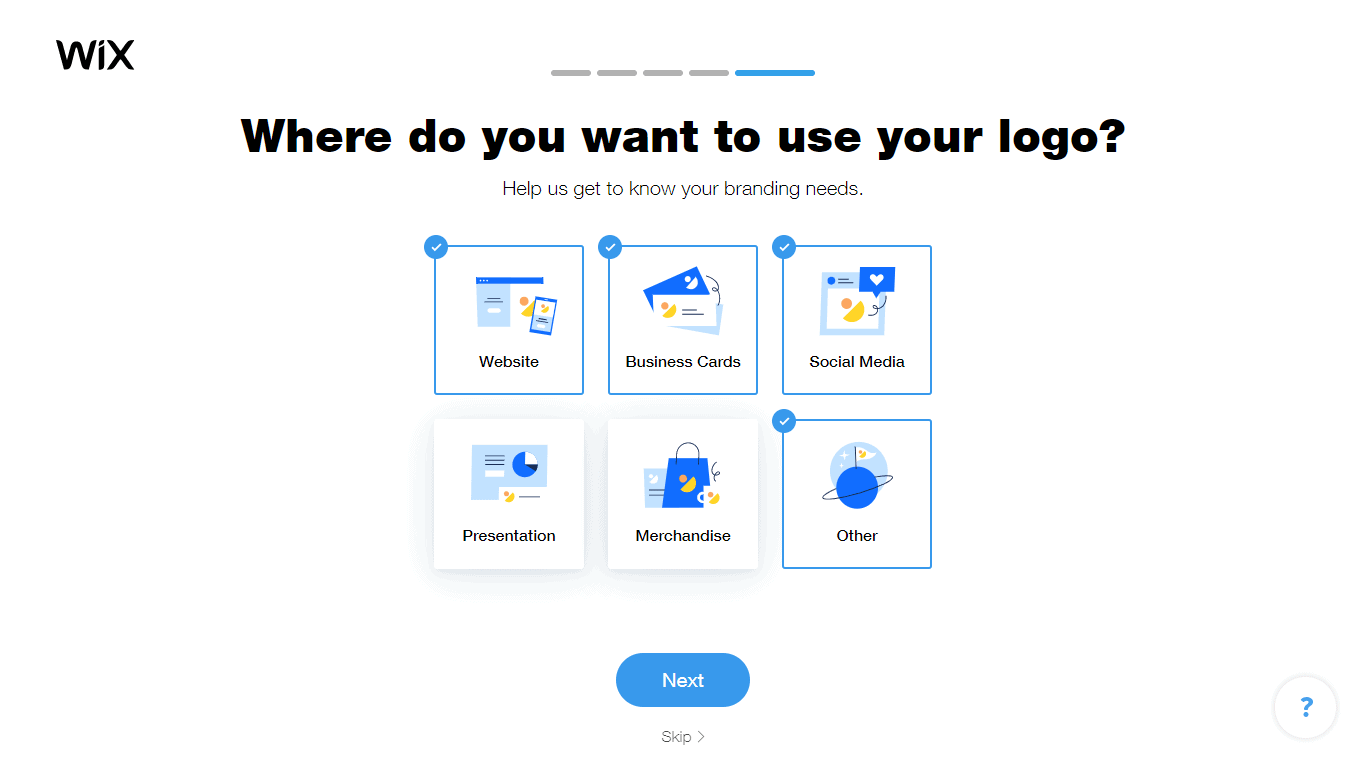 Your logo suggestions will appear next. Scroll down through the results to see what the AI has chosen to show you. There will be plenty to look through, so take your time.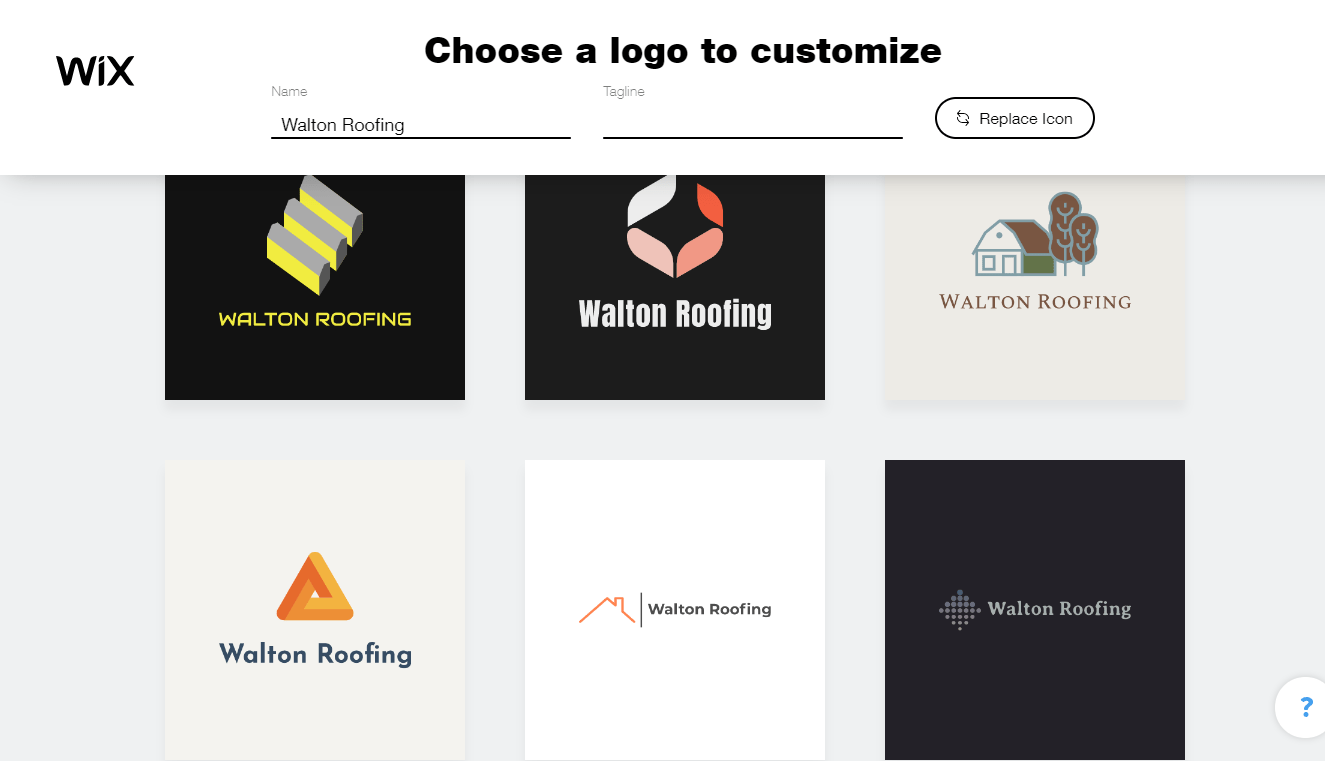 To try out a new icon option, click
Replace Icon
to bring up a search box. You can search for a specific image here if you already have one in mind. It can be a good idea to focus on your industry – I searched "roof" in my example.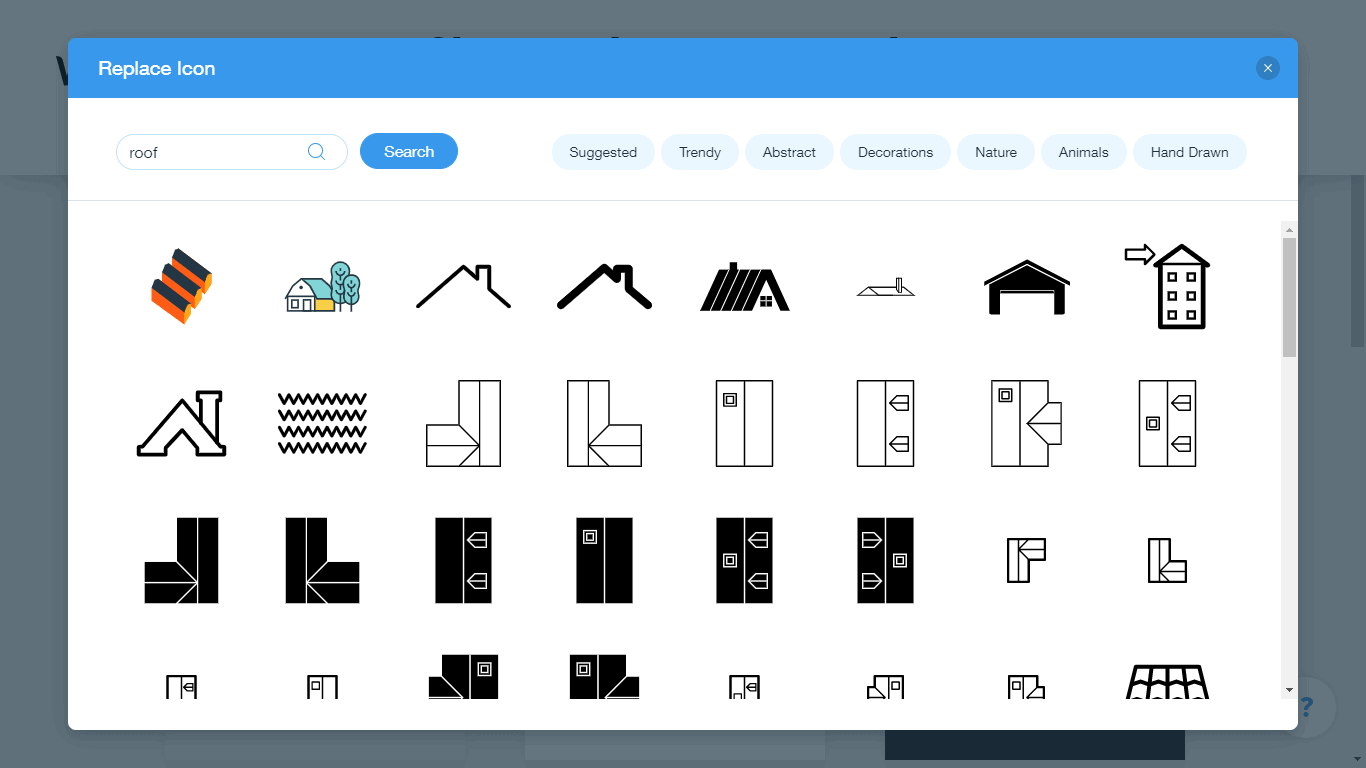 When you're ready to edit your favorite template, click
Customize
to move on to the logo editor. This is where the fun begins! The editing options are extensive. Now's the time to add the ".com"  (or ".net", ".org", etc) to your logo. There are hundreds of font choices ranging from classic serif styles to handwritten scripts. You can choose to use the same sized font as your company name or go slightly smaller. It all depends on the design. Play around with the placement of the words and icons until you're happy.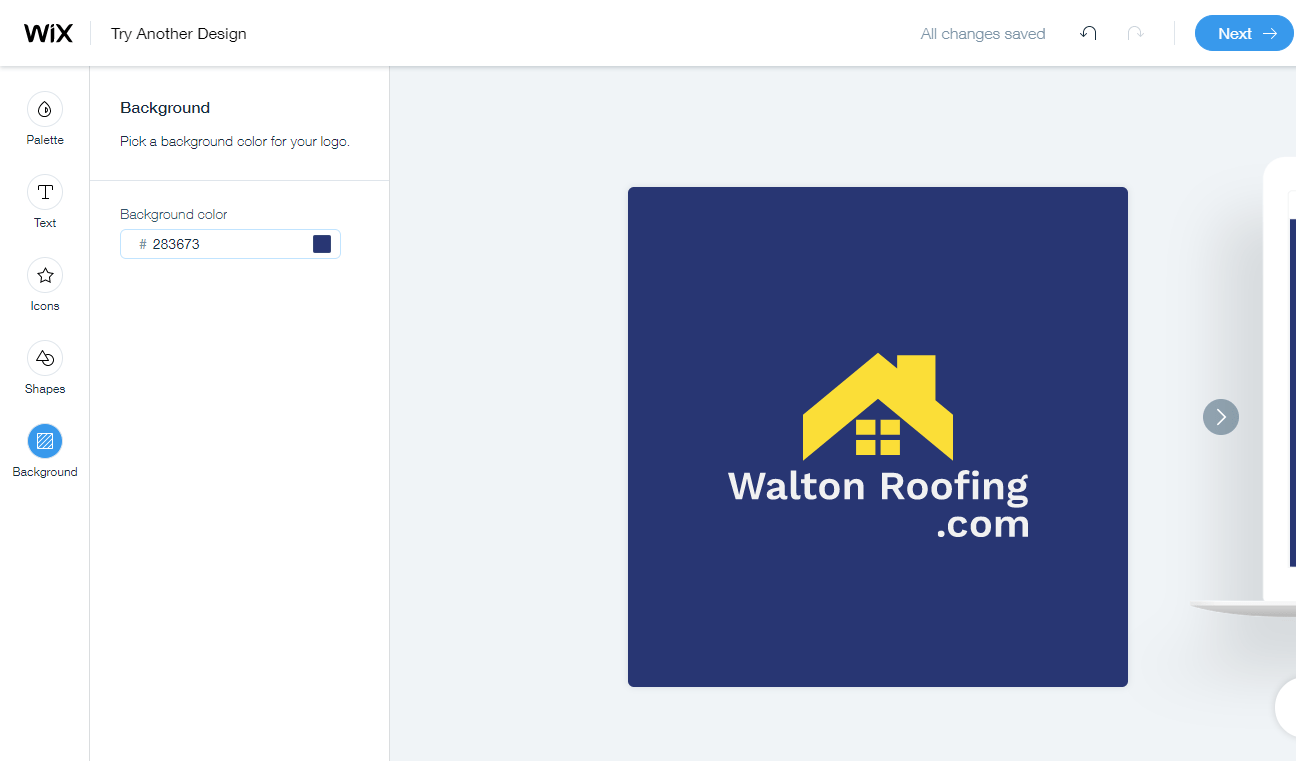 Click
Next
to head to the payment page where you can choose your package and enter your payment information. Once this is done, you'll be able to download your new logo in a high-resolution format. You'll only have to pay if you want these files, otherwise, you can save it to your profile and come back later.
Wix Logo Maker Alternatives:
Looka – Looka is a great tool for a new company or one interested in rebranding. You can create your logo and then purchase branding materials featuring your new design, like websites or business cards.
LogoMaker – LogoMaker is an easy way to create a basic logo in no time at all. In just four steps, you can get a design that will suit most simple requirements.
Interested in Wix Logo Maker? Read our
in-depth review to find out more
.
Wrapping Up
A professional website logo design doesn't have to cost you hundreds of dollars to be high-quality.
Let Fiverr connect you with the right designer
 to ensure your website logo is effective; they'll ensure the text-focused design is easy to read and doesn't look cluttered. Designing your logo doesn't have to be stressful at all –
Wix Logo Maker makes the process painless
. The AI technology is foolproof to use as it does most of the heavy lifting for you, leaving you to use your creative skills to tweak the design until you're totally happy. Want to keep researching your options before making a decision? Check out my colleague's
full logo design comparison
 to see which platforms he tested and how they performed.