and
 money? My answer? Yes, it absolutely is! By hiring an expert logo designer, you'll be able to save time, effort, and budget –
read on and learn my secret to hiring a pro for just $5
. Got time to spare and want to make your own logo? Scroll down to see my recommended DIY tool. But first, take a look at these stunning watch logos.
9 Best Watch Logos
How to Hire a Great Designer for a Great Price
A sleek watch logo is built up of multiple design elements, from a creative icon to an eye-catching color scheme to an original font. Just like all the best timepieces are crafted by expert watchmakers, so are the best logos put together by professional graphic designers. Fortunately, hiring an experienced designer is no longer reserved for those with huge branding budgets. In fact, you can hire a pro who can turn your vision into an original design for as little as $5 on freelance platform Fiverr.
To find a new logo for Website Planet, my teammate went on a mission to test out many of the most popular logo design services, including Fiverr. Check out the results and find out who won in his
detailed comparison of logo design services
.
Finding a Watch Logo Designer on Fiverr
With Fiverr's intuitive website, it's easy to find potential designers who fit your criteria. Here's how it works.
Go to the Fiverr homepage
 and search for a relevant keyword (e.g., watch logo) in the search field at the top.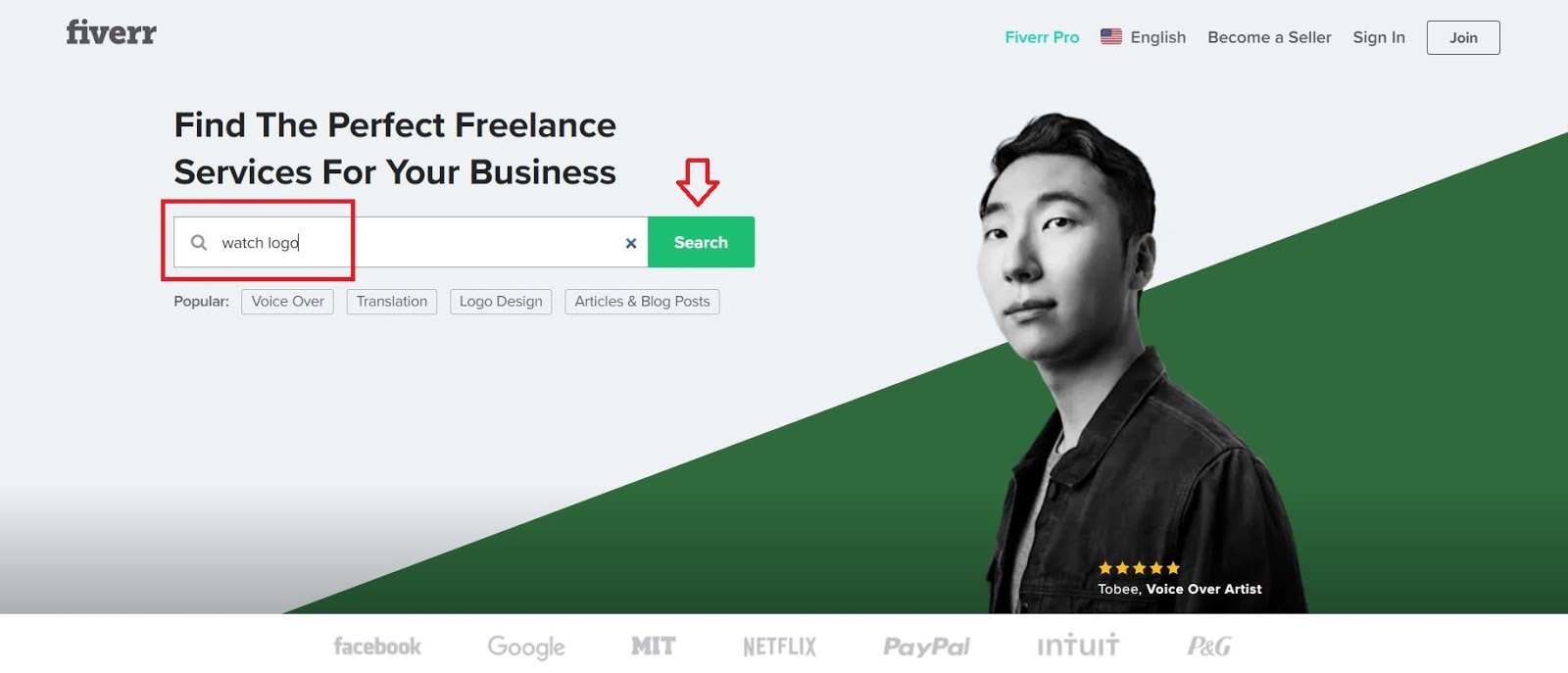 Next, narrow down the results by applying some filters. Start by clicking the
Category
 menu and selecting
Logo Design
.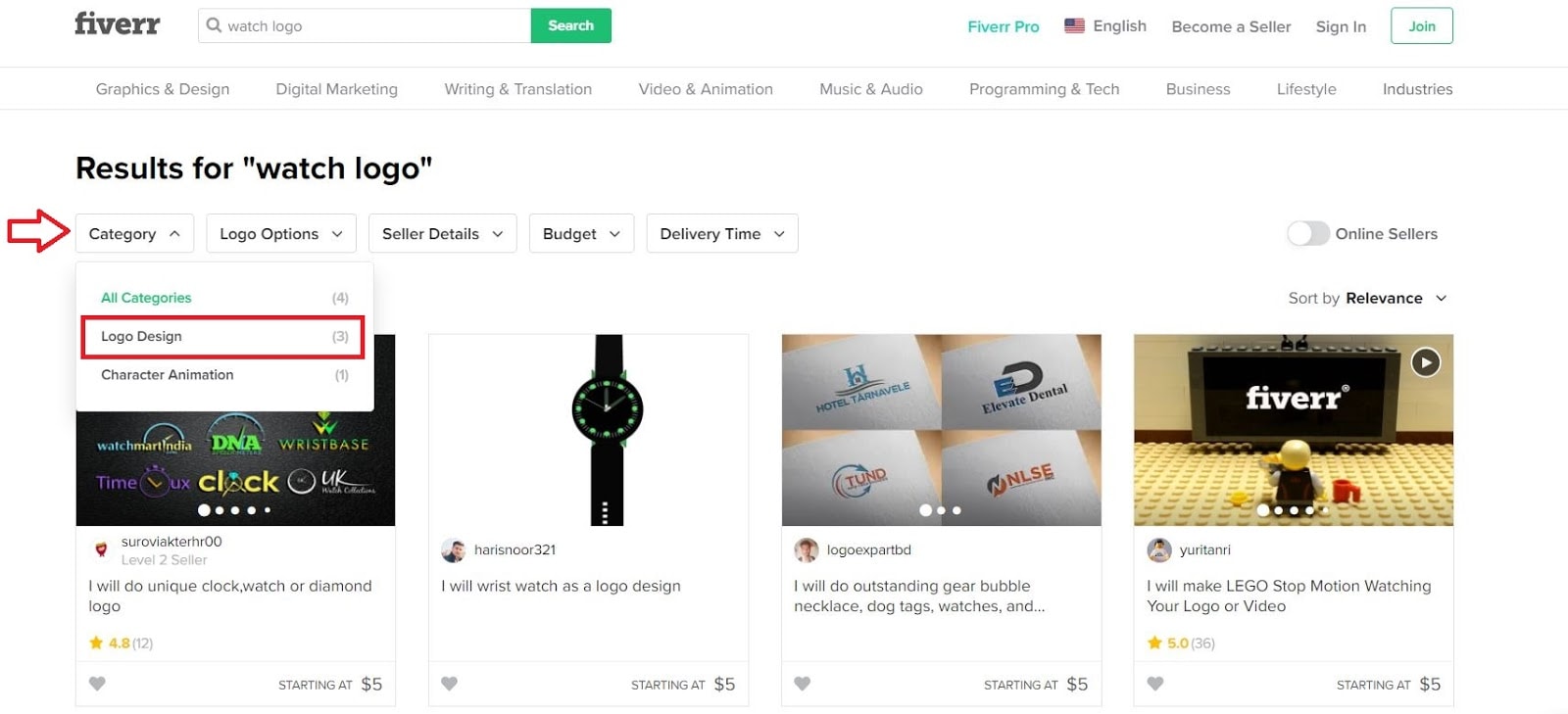 To get more relevant results, use Fiverr's advanced search filters to specify your preferred logo style, delivery time, and budget. You can also set sellers' details such as their location, spoken language, and experience level.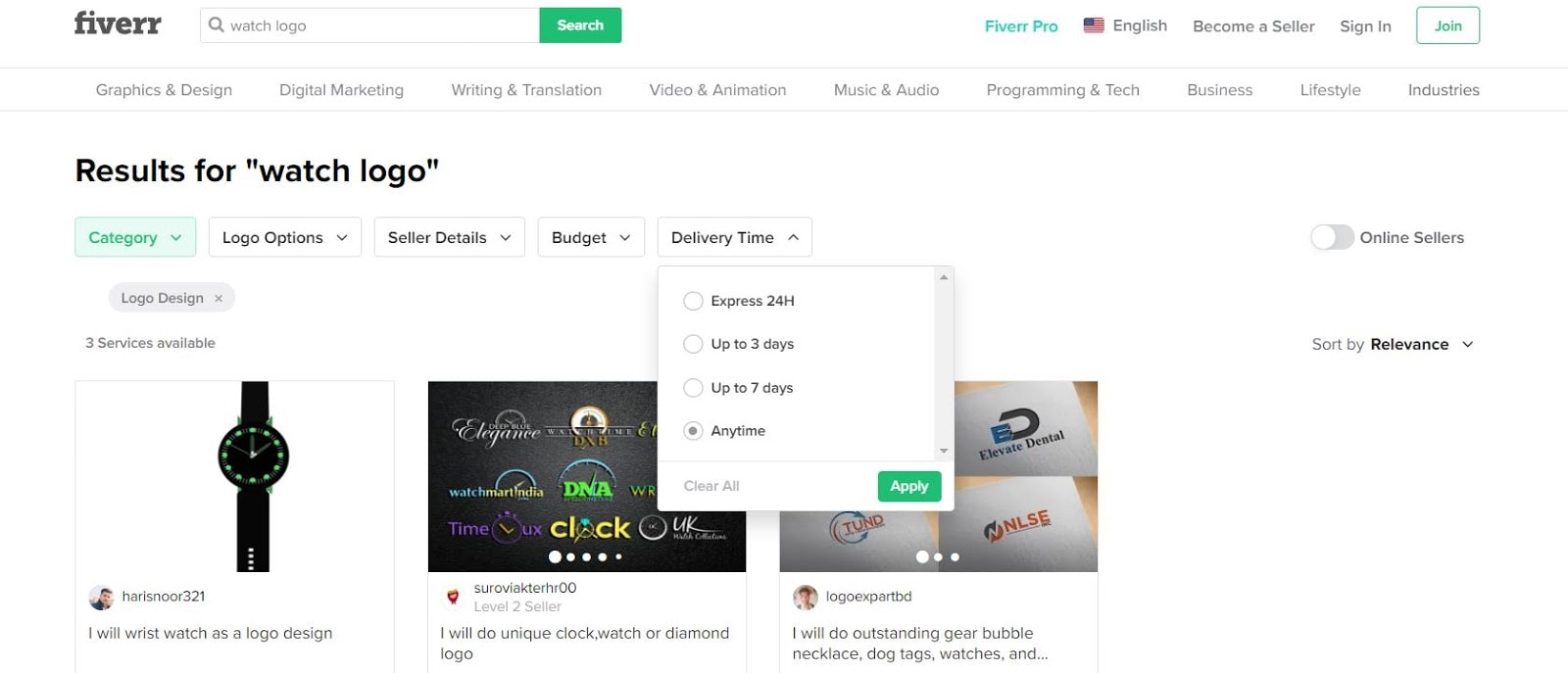 Found a logo in the results that's caught your eye? Click to view the rest of the designer's portfolio and check other users' feedback. If you have any queries about the packages on offer, you can message the designer directly before making any payments.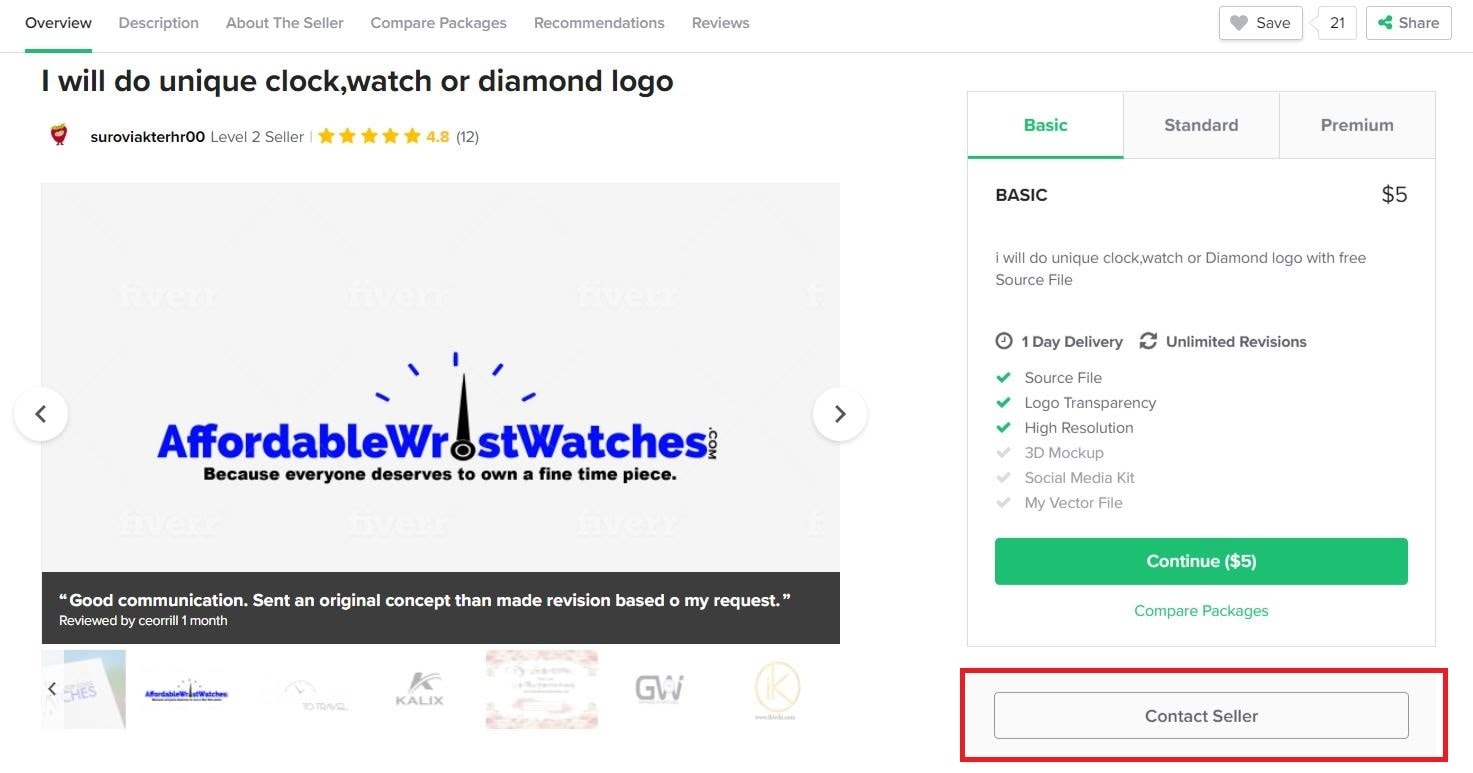 Want to know more about how to hire the right logo designer? Don't miss our
detailed Fiverr review
.
A few other Fiverr features I like:
Loads of designers – Fiverr has tens of thousands of professional freelancers from all over the world, so you'll have plenty of options to choose from when it comes to finding the right designer who meets all your needs.
Safe transactions – Gigs are paid for upfront, but Fiverr secures your payment in escrow and only releases it to the freelancer when your logo is delivered and you're happy with it.
Super-fast delivery – If you don't want to wait for the usual two to three days to get your design, some sellers offer to finish your project within 24 hours for an extra fee.
Experience levels – Fiverr categorizes designers based on their experience levels, the number of completed projects, and customer ratings. So you can choose the right designer for the complexity of your project.
How to Make Your Own Watch Logo
If you want to test your design skills, there are plenty of free-to-use DIY logo makers to help you out. You don't need any graphic design skills to use them, but you'll still need a creative eye to edit the templates enough to create something original and that complements your brand's aesthetic. That's why it's important to choose a tool that comes with a large library of attractive designs and quality customization tools. I recommend Wix Logo Maker. With its highly intuitive artificial intelligence (AI), you'll feel in safe hands. First,
go to the Wix Logo Maker homepage
, click on
Start Now
 to create a free account, and fill in the required information.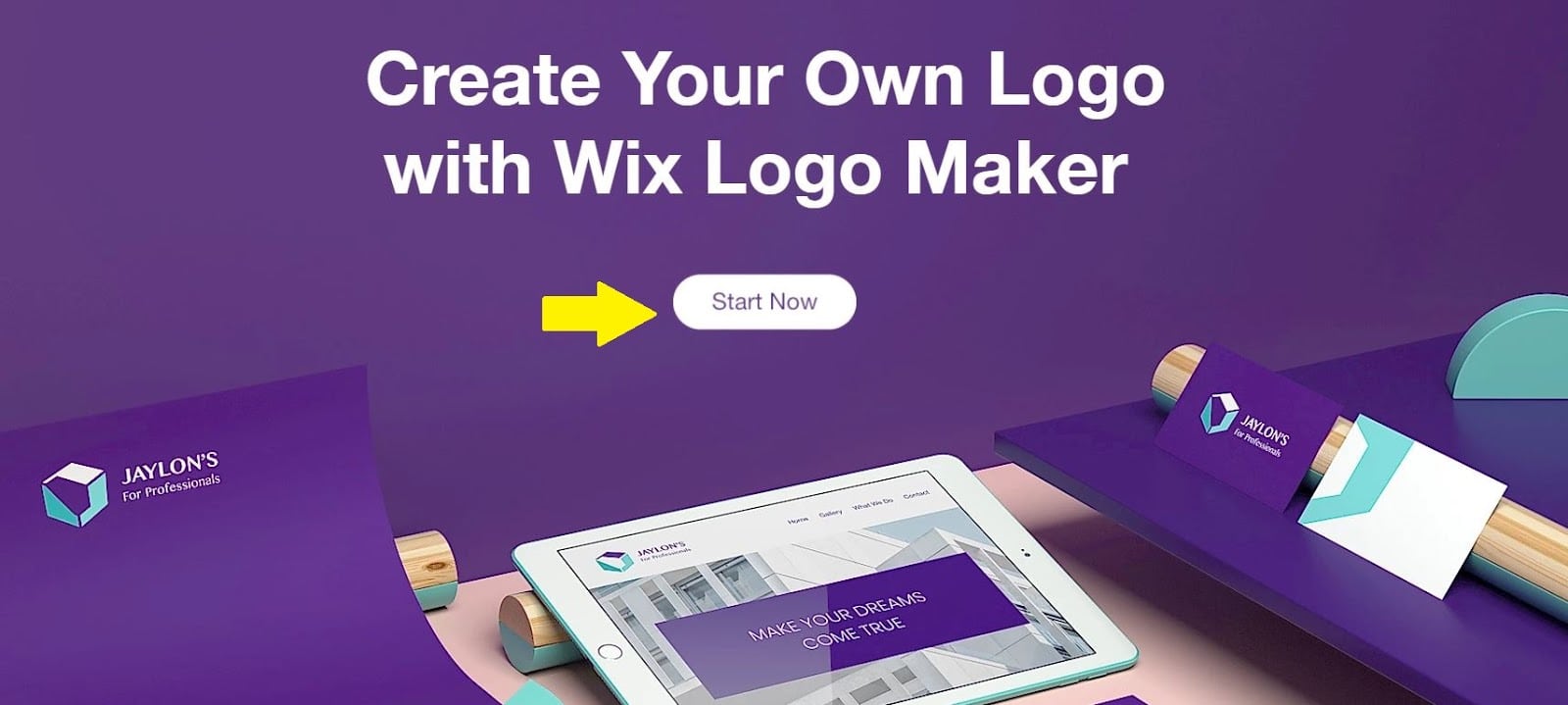 Next, you'll need to provide some basic info about your business. Fill in your company name and tagline (these will appear on each generated logo later) and select your industry from the list – there are plenty of watch-related options, like watch store, watch manufacturer, and watch repair service, etc.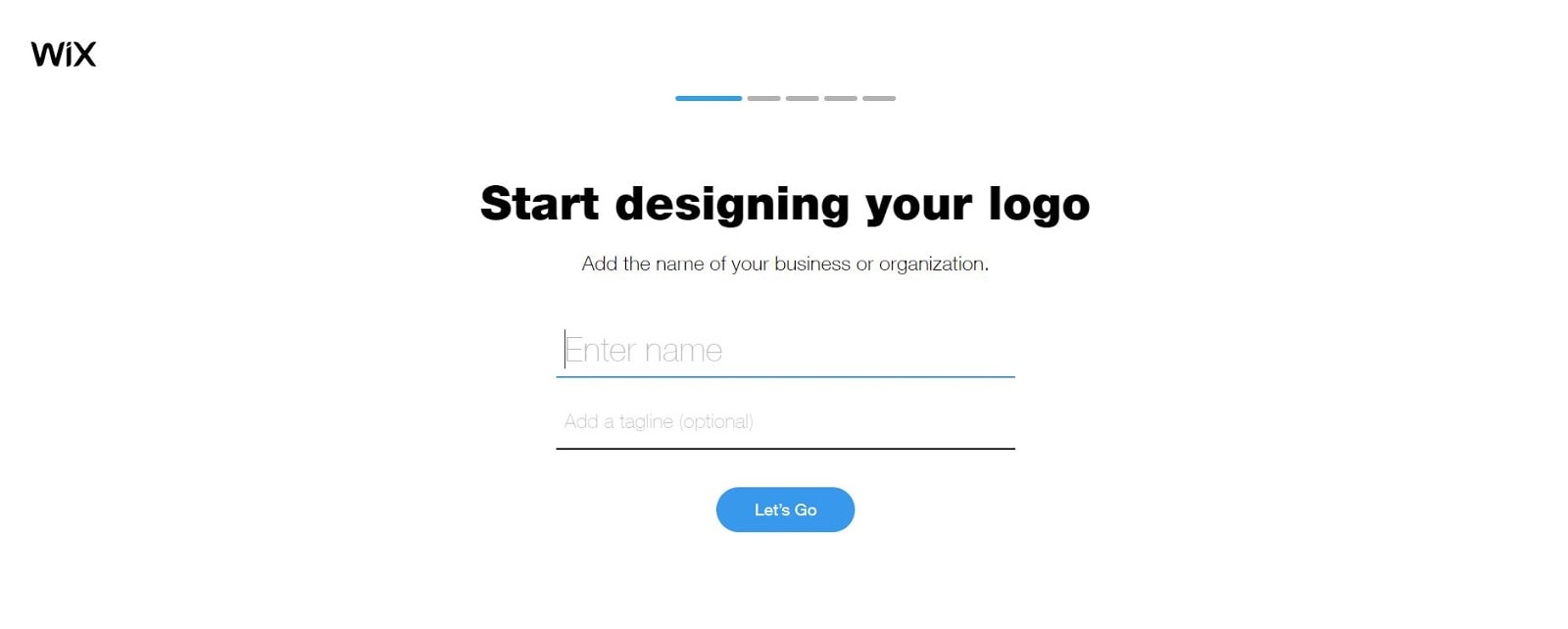 Now, the AI wizard will ask you a series of simple questions about your logo style preference to get more familiar with your taste. These include steps like choosing descriptive words that best match your vision, and choosing between contrasting logo pairs.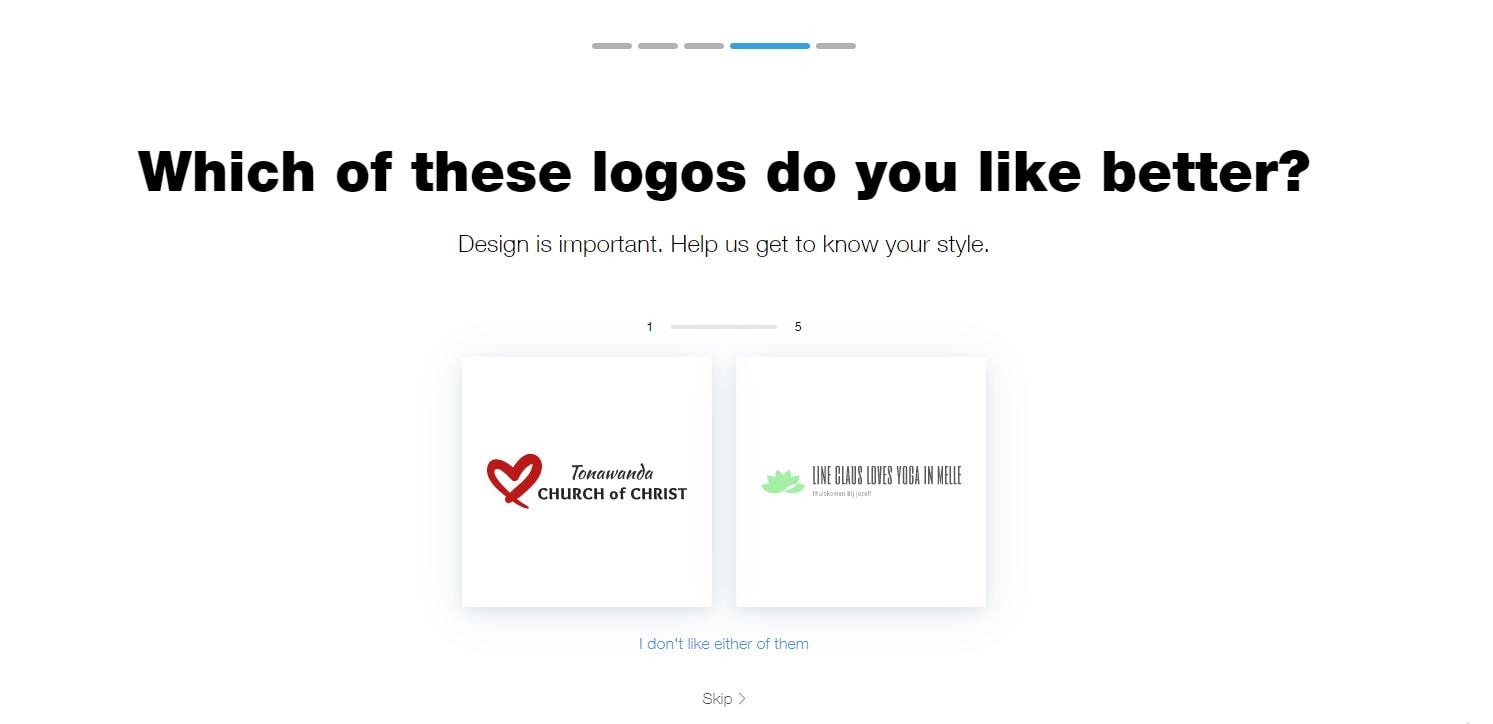 That's the question part done. The wizard will then generate a range of logo suggestions based on your answers. The icons might not be quite right, but you can change that by clicking on
Replace Icon
 at the top of the page and typing in a relevant keyword (e.g., watch). Once you've settled on a new icon, it'll automatically apply to the generated logo templates.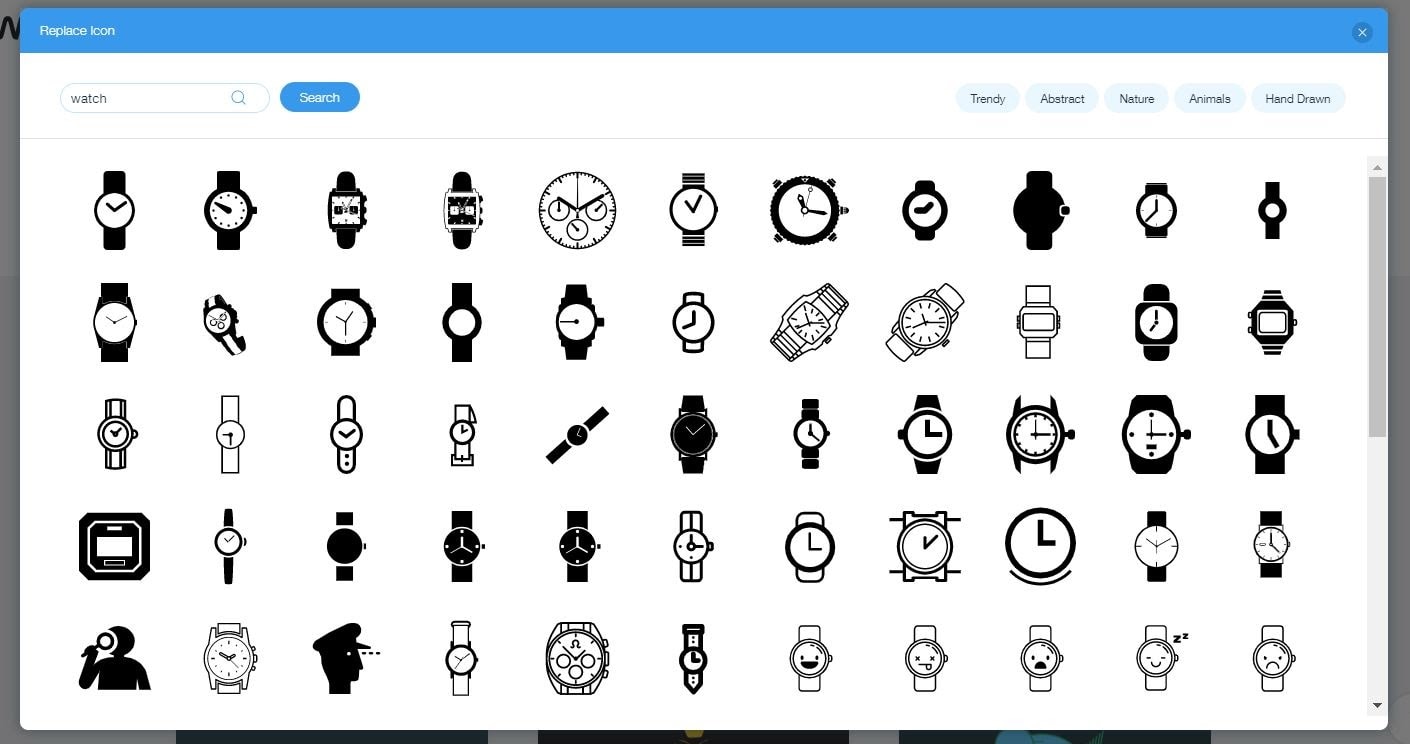 Choose the template that appeals to you the most, then proceed to the logo editor. This is the point at which you can infuse your personal style into it using the customization tools provided by Wix Logo Maker. Strive for maximum uniqueness by altering the colors, fonts, text positioning, and background colors to your preference.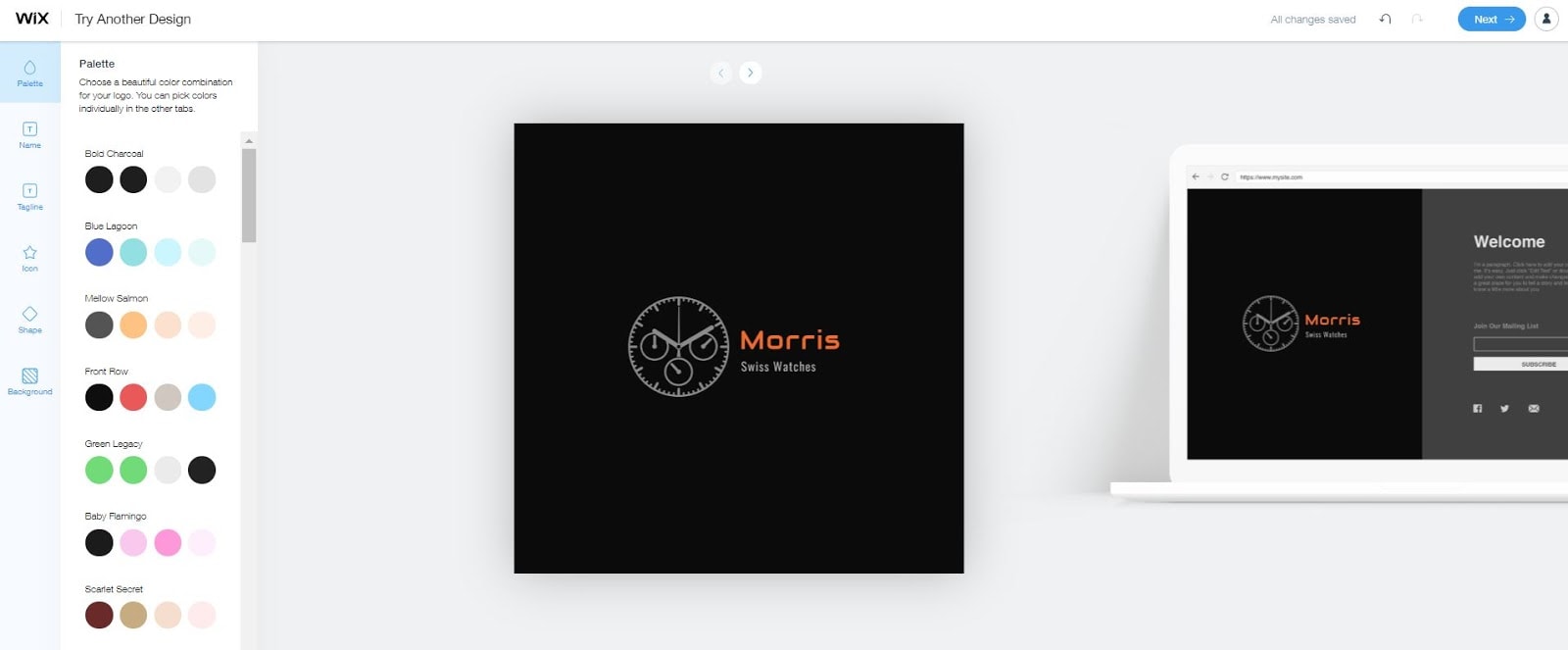 Your logo is now ready! You can choose between downloading a free, low-resolution file or pay to get it in different high-quality formats. Want to learn more?
Read our full Wix Logo Maker review
 for more example logos.
Wix Logo Maker Alternatives
Looka lets you edit your logo for free for an unlimited number of times during the first 72 hours after purchase. Ideal if you're unsure about the finished design and want to go back and make a few tweaks. Learn more about it in our expert Looka review.
TailorBrands has a great selection of abstract logo designs for something more unique. Its seasonal logo generator can also help you connect with your customers on special occasions, like Christmas or Easter. See some logo examples in our in-depth TailorBrands review.
My Final Thoughts
My advice would be to investigate hiring an expert graphic designer before anything else. It's the best way to get your hands on a professional design, and with
Fiverr's super-low starting price of $5
, it's something you can probably work into your budget without difficulty. If you want to use
Wix Logo Maker
 to DIY your own watch logo, I suggest getting inspiration from popular watch brands like Citizen before you get started. You should also check out your competition and see what makes their logos so successful. Then, when you start designing, you'll know what works and how to make your design stand out in the market. Still undecided about the right logo design service for you? Check out
our list of the best logo design services
.