Read on to find out how you can get a professional logo design for just $5.
---
9 Best U Logos
My colleague tested various logo design services searching for the utmost value and design quality. His results were very surprising! Check out his
extensive logo design service comparison
 to see how each service ranked in his review.
How to Get Your Logo Designed for $5
If you're on a budget, splurging on an expensive design agency probably isn't on the cards. But you might be worrying that lower-budget logos will be poor quality. Luckily, there's a place where you can find professional, bespoke logo design at an affordable price. At freelance website, Fiverr, designers offer logo packages that cost less than buying lunch out. These designers are talented professionals with multiple years of experience in their specialty areas. Package costs are up to the individual designer, but many keep options at the entry-level $5 to remain competitive. To see what all the hype is about,
head to the Fiverr homepage
to search for the right designer. If you know what type of logo you want, then search the specific style, like abstract or vintage. If you're unsure, you can search for terms like "monogram logo" or "initial logo" as these styles often have letters as the main feature. Browse through your results until you see a designer you like, then click on it to open their full profile.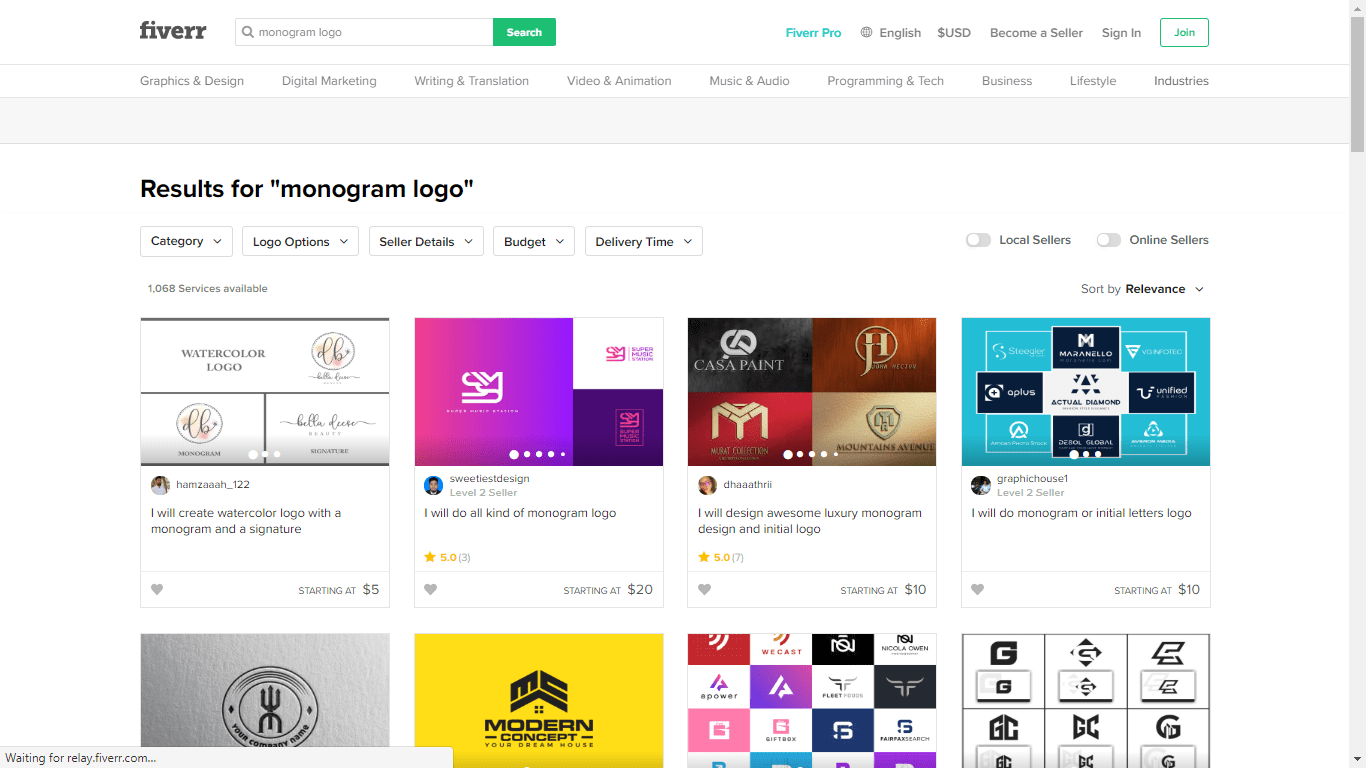 Every designer's full profile contains their "About This Gig" section, previous customer reviews, and a list of their offered services. Choose the package that best meets your needs and budget, then click
Continue
when you're ready to hire the designer.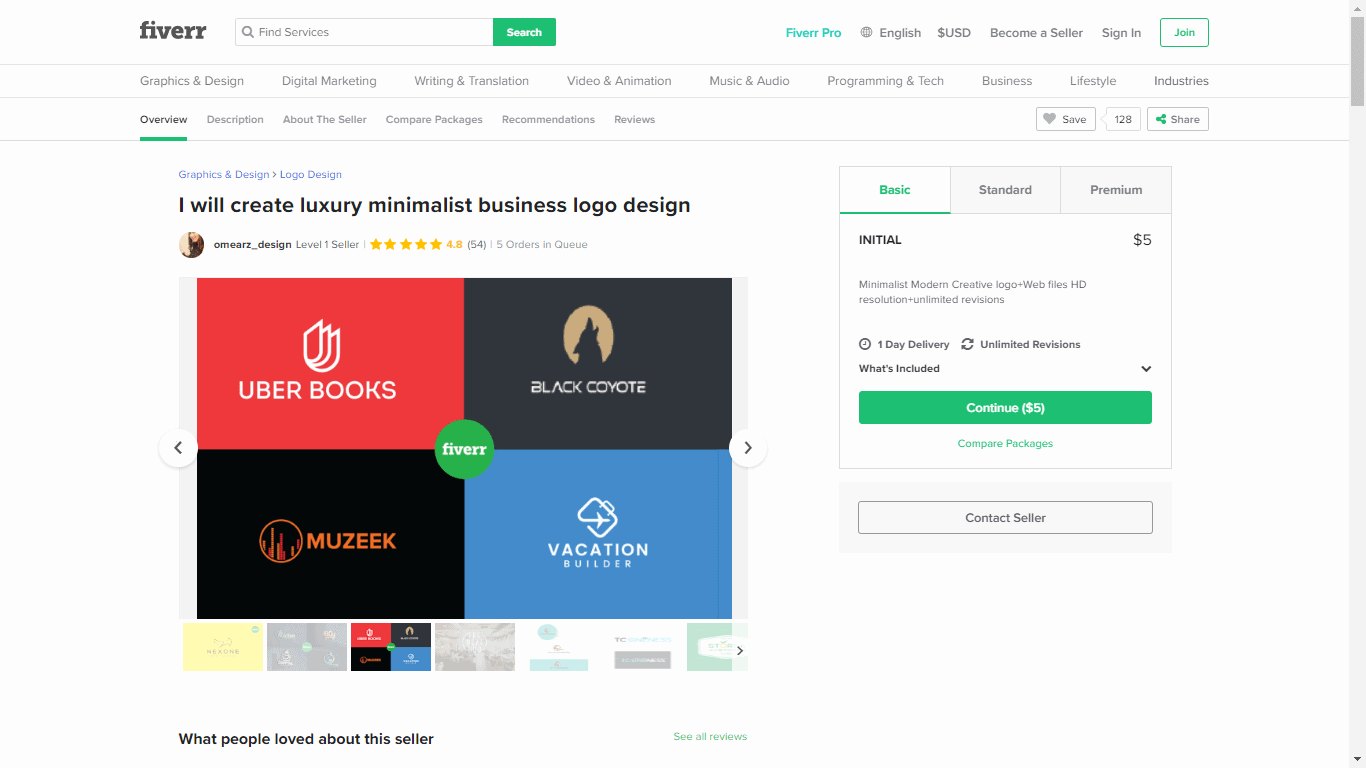 The payment preview page outlines the services in your chosen package, any optional extras you can add, and the final cost. If you're satisfied, click
Order Now
to pay and finish commissioning the logo.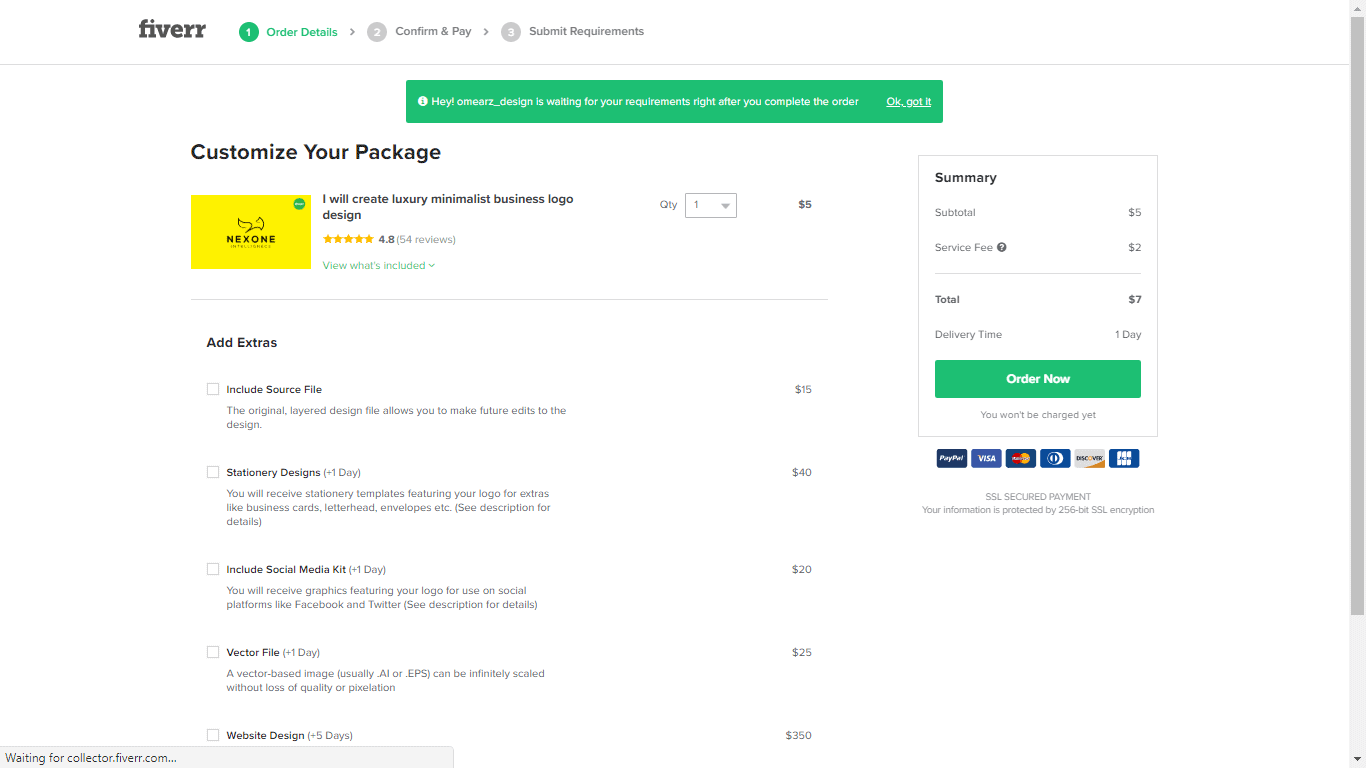 After payment, your job is done and your logo officially commissioned! A few other Fiverr features worth noting:
Package customizations – What's included in each package is set by the designer, but some let you add extra services, like multiple logo revisions and expedited delivery. This allows you to customize your order to fit your exact needs.
No surprise costs – You never need to worry about getting overcharged. Your designer can't add unwarranted fees after they've been hired and you've paid upfront.
Protected payments – Your payment is held in escrow until you've received a logo you're 100% happy with. The payment is only released to the designer after this occurs.
Quick search filters – Don't have time to scroll through pages and pages of designers that don't match your criteria? Use the handy filters like budget and delivery time to narrow your search.
To learn more,
read our in-depth Fiverr review
.
How to Create Your Own Logo
The possibilities for your "U" logo are so extensive, you may want to try out different designs on your own before hiring a designer, or you may decide to DIY the whole thing. If you're a creative type, making your own logo can be a fulfilling project, as you'll have full say over your company's image. Whatever your reasons, choosing the right logo maker is important. My top recommendation is the AI-powered Wix Logo Maker. This tool uses artificial intelligence (AI) to make the logo creation process as smooth as possible. Answer just a few questions and the system will generate pages of logo suggestions, all personalized to you! Want to see for yourself?
Head to the Wix Logo Maker homepage
 to get started. Sign up, then enter your company name and tagline to kick-off the series of questions.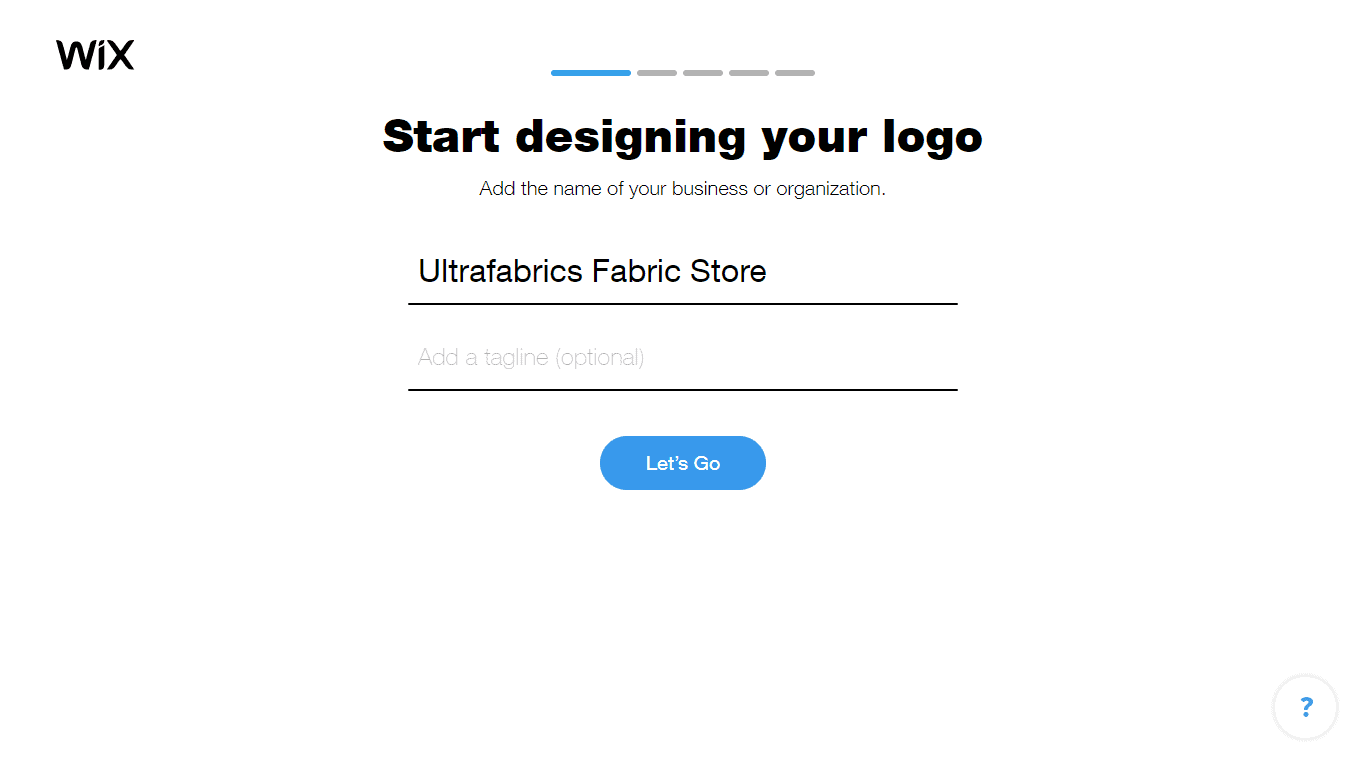 Next, tell the AI your industry. Start typing and options will appear in the dropdown menu. There are loads to choose from, so pick the industry that's the closest fit.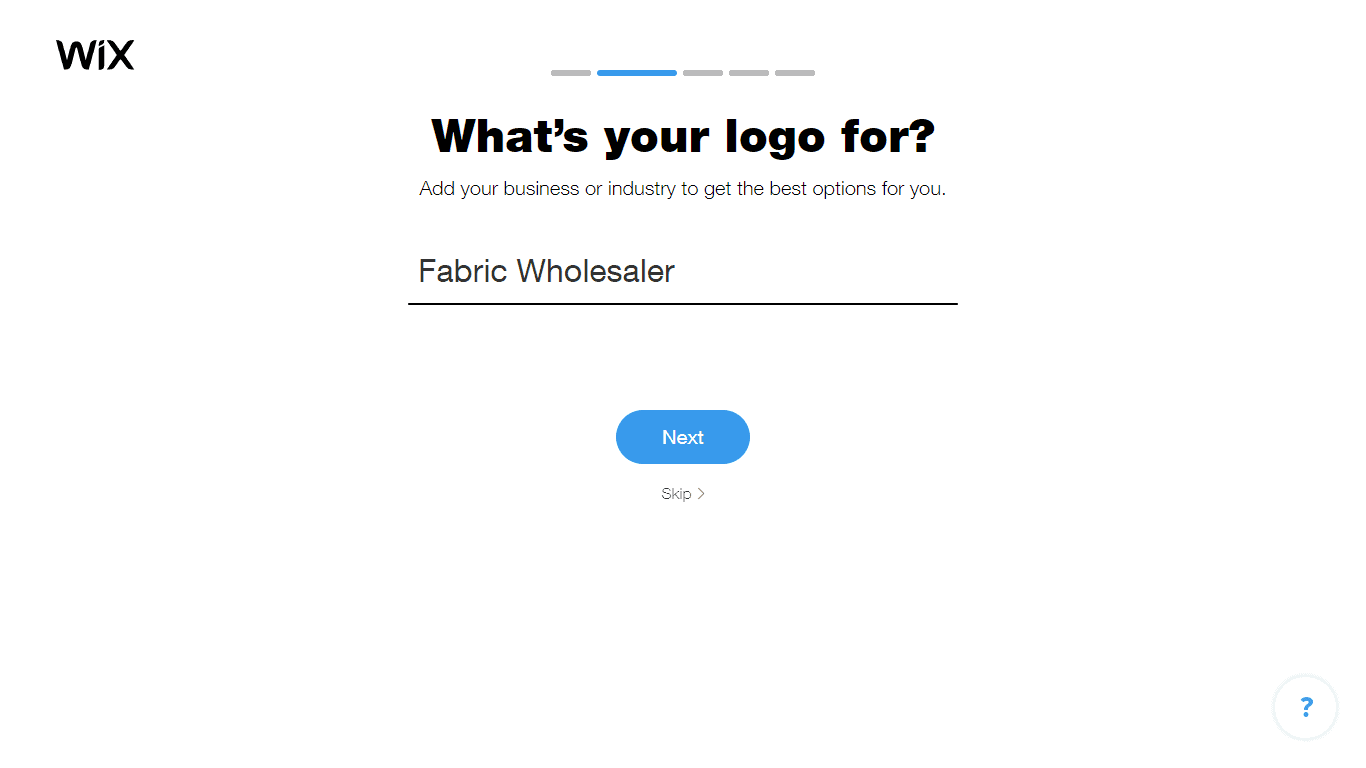 Next up is a group of words to describe different styles. Choose the words that reflect the look and feel you want your final logo to have. If you have a strong idea, choose more words to narrow the AI's vision.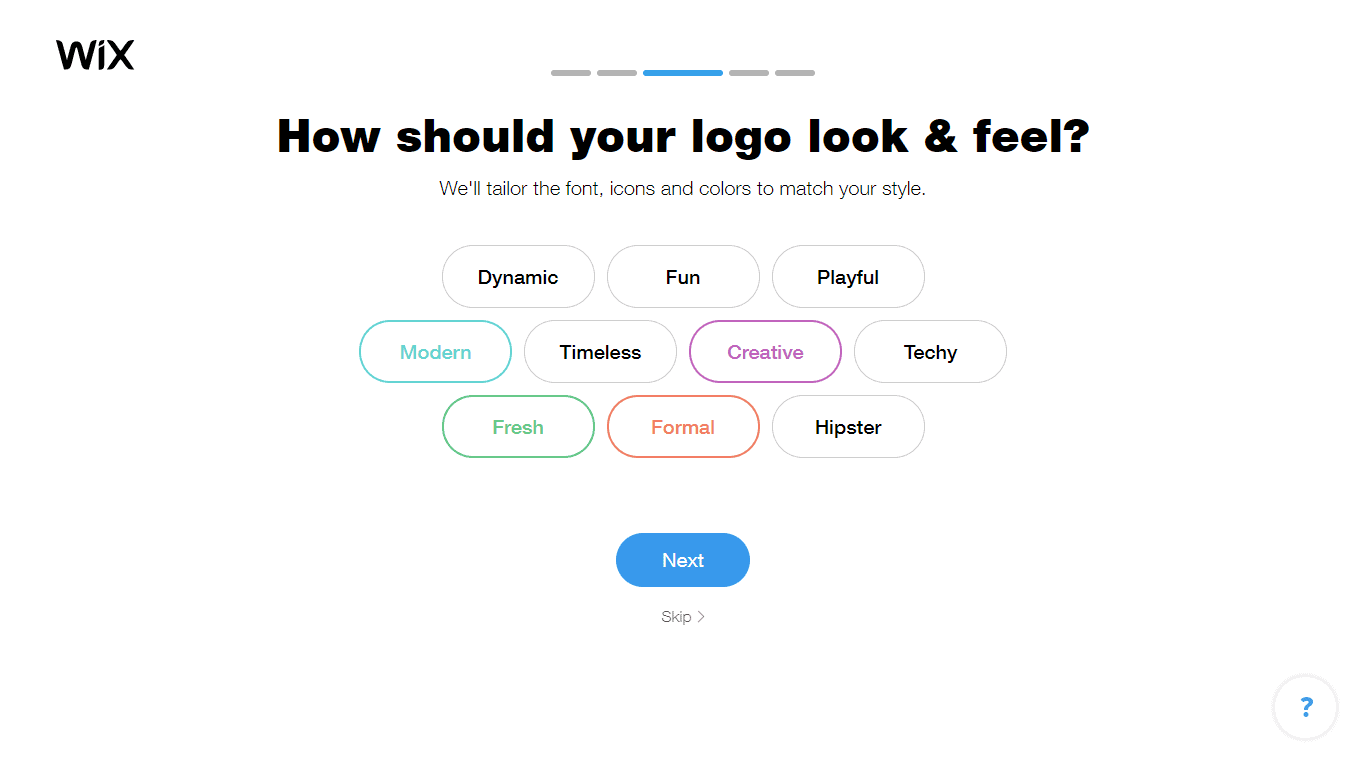 The next stage will show you a series of logo pairings to help the AI get a better understanding of your preferred design styles. Simply click the logo in the pair that you like best.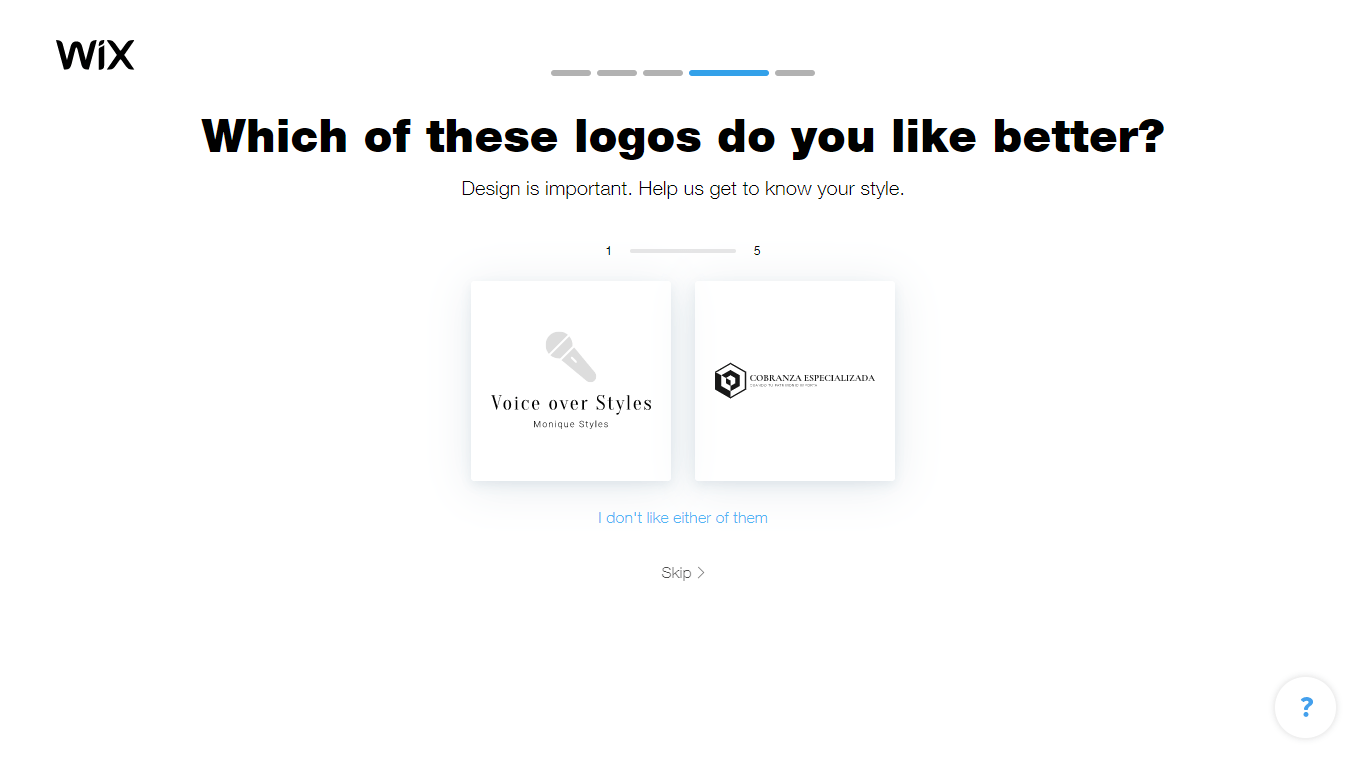 Lastly, tell Wix Logo Maker where you intend to use your logo once it's complete. This could include merchandise, business cards, or social media.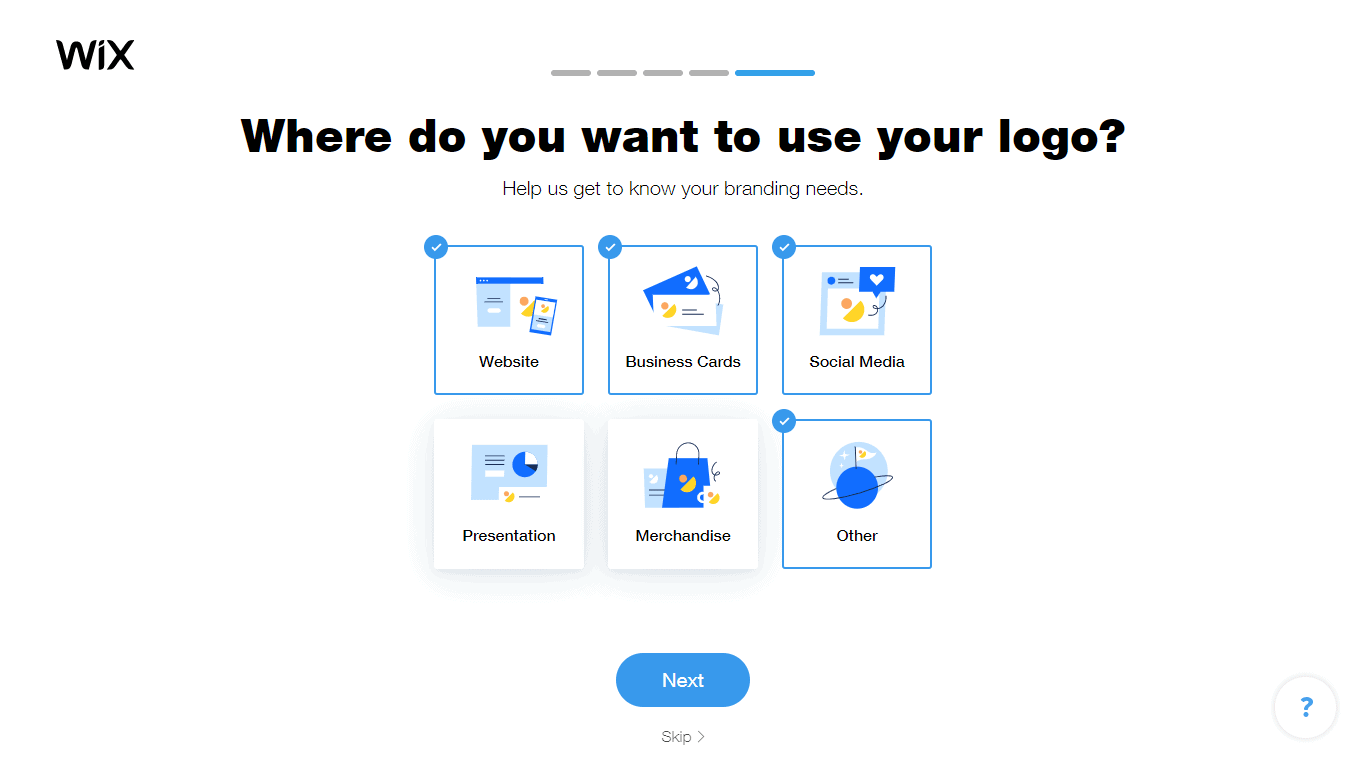 Your logo suggestions are up next! This is the fun part. Take your time browsing through the templates the AI has generated for you.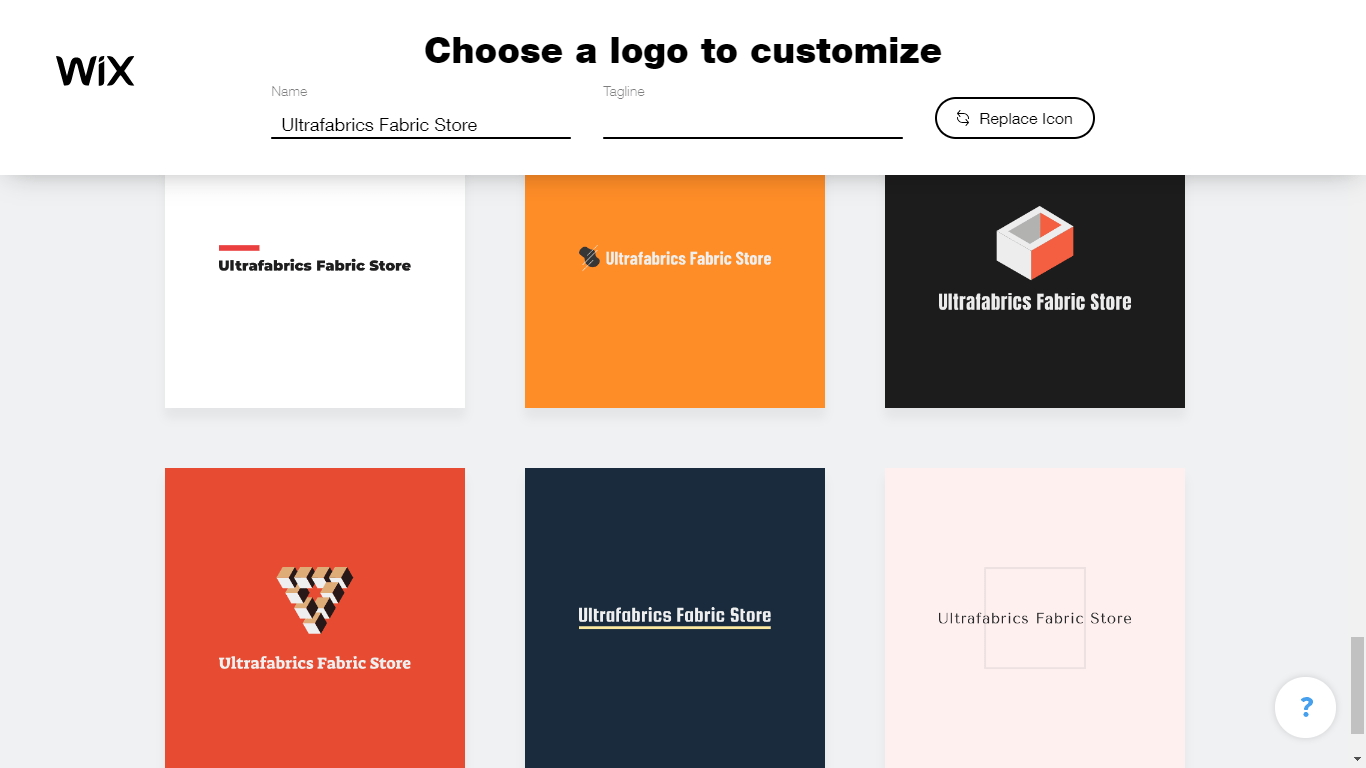 Click
Replace Icon
to see what other icons are available. I searched for "fabric" and was surprised to see so many options matching my search. Select your favorite icon to replace all the others in the logo suggestions with your new choice.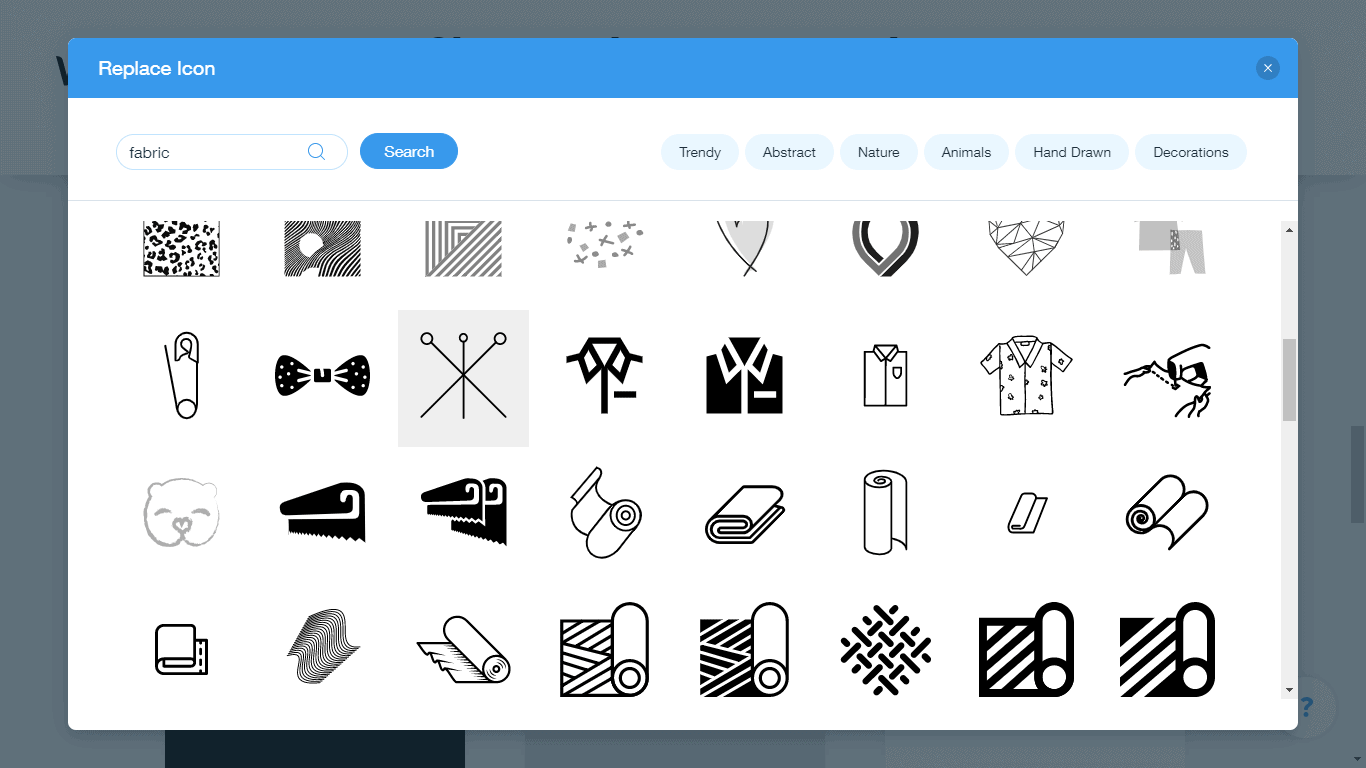 When you've decided on the logo template you want to edit, click
Customize
. This will take you to the logo editor where you can really make the logo your own. Use one of the hundreds of fonts available for your main "U" and then build on the logo from there. You can add and overlap multiple icons and create your own color scheme.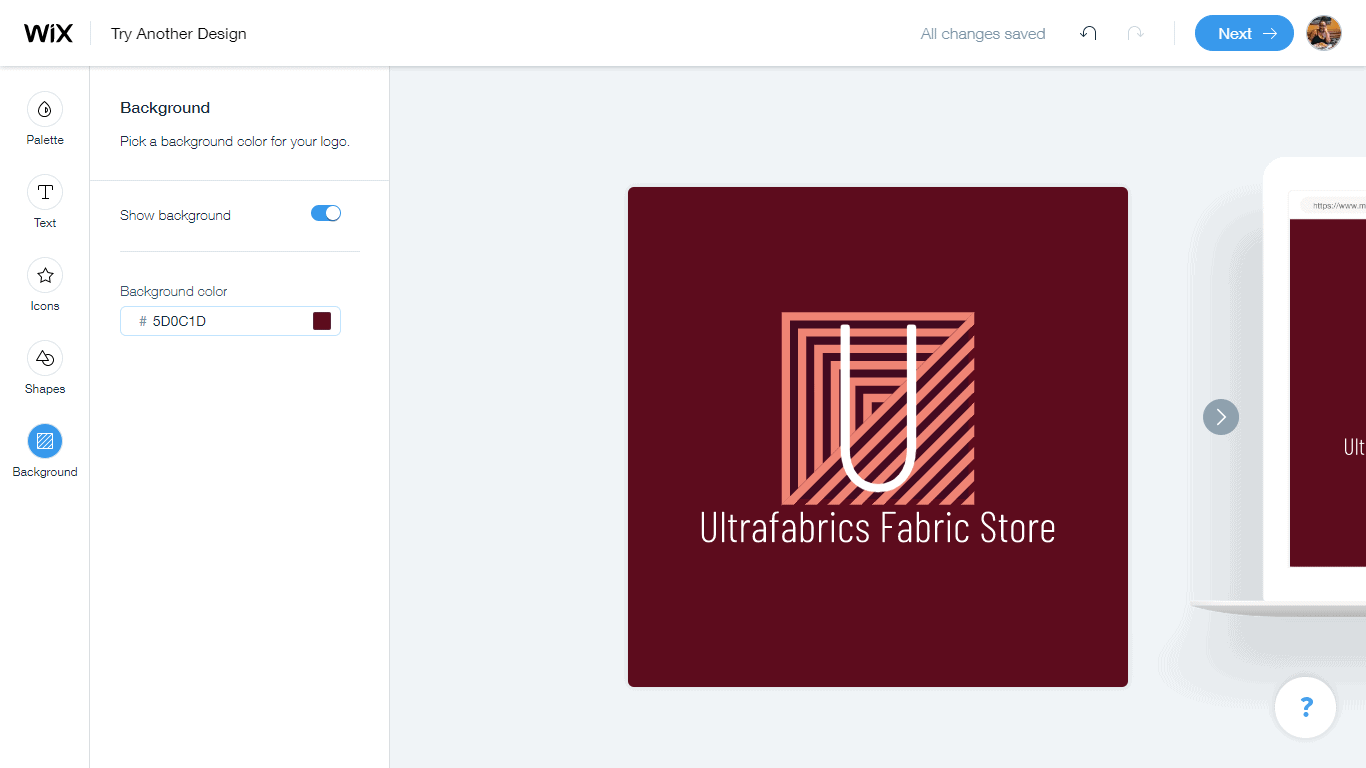 After you've finished editing, hit
Next
to head to the package selection page. Choose your package, pay, then download your logo in a high-resolution format. If you're still comparing your options, you can also download a smaller-sized free version for your records.
Wix Logo Maker Alternatives:
DesignEvo – With more than 10,000 design templates available, DesignEvo is a quick logo-making solution for those who prefer the template approach over an AI. There's even a "Letter" category to search in!
Looka – Rebranding everything? Looka lets you create your own logo and purchase matching branding materials, like website design and a social media kit, all in one place.
To learn more,
read our in-depth Wix Logo Maker review
.
My Final Thoughts
If you're serious about saving money without compromising on quality,
Fiverr
 is the best combination of affordable and professional logo design. Your "U" letter logo can be spectacular, even on a tight budget. The process of making your own logo doesn't have to be stressful if you use the right tool.
Wix Logo Maker
 has an amazing AI system that generates tailored templates for you to work from, so you're never left staring at a blank screen wondering where to start. Not 100% set on which logo design tool you should use? Head over to my colleague's
expert logo design service review
 to check out his extensive comparison of some of the other options out there.