Jump ahead to find out how you can get your logo design for just $5.
I'll also show you how to use a logo maker if you'd like to give DIY a try. Let's start with some of my favorite tree logos.
9 Best Tree Logos
My colleague tested a few different logo design services in a bid to find the best ones online right now, and his results were eye-opening. Check out his
expert logo design service comparison
to read the full breakdown.
How to Get Your Logo for $5
You might think that for only $5, any tree logo you'd get for that price would be grainy, poorly designed, or boring – three things a logo should never be. But that's not the case with Fiverr.
Professional designers on the freelance platform offer quality design packages for as low as $5, making it easy and affordable to get your perfect logo.
So, how do you find a designer to work with?
Go to the Fiverr homepage
 and type in your search query (in this case, "tree logo") to get started. The results will bring up a list of specialist logo designers.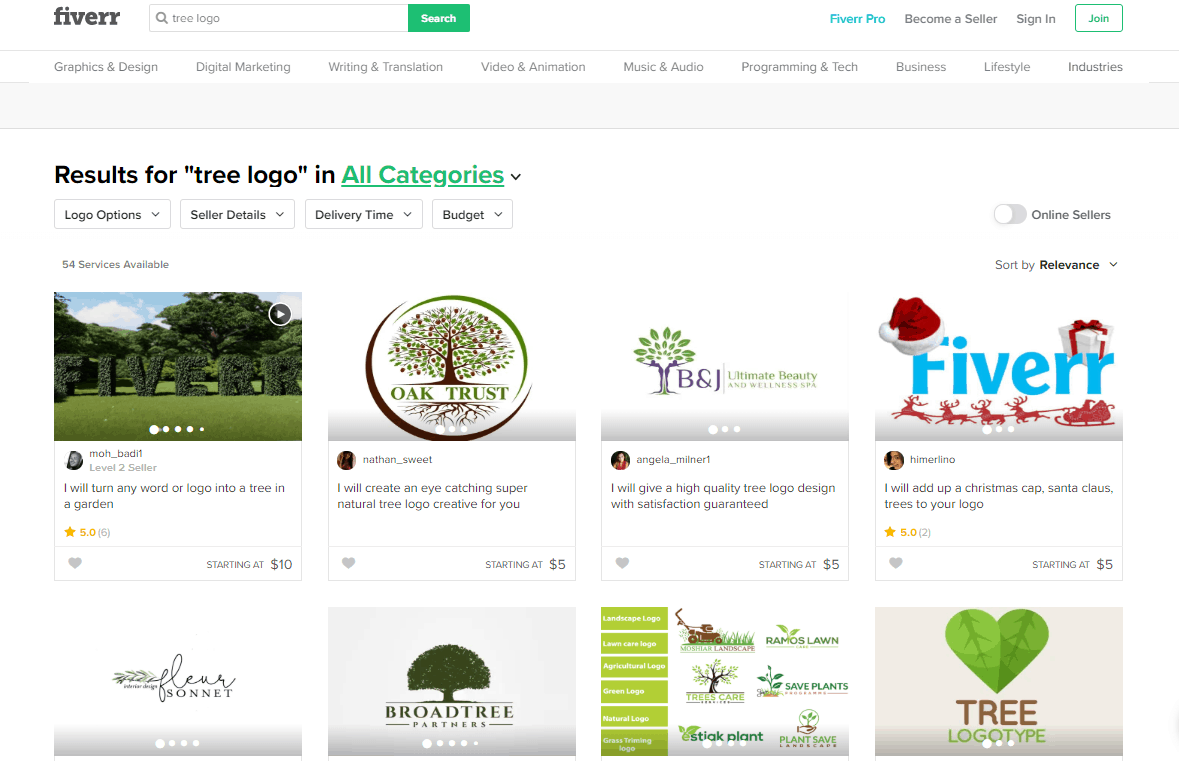 If a designer's preview stands out to you, click on their profile to browse their portfolio and to get more information on the services they offer. Read through their 'About This Gig' section to find out more or message them directly.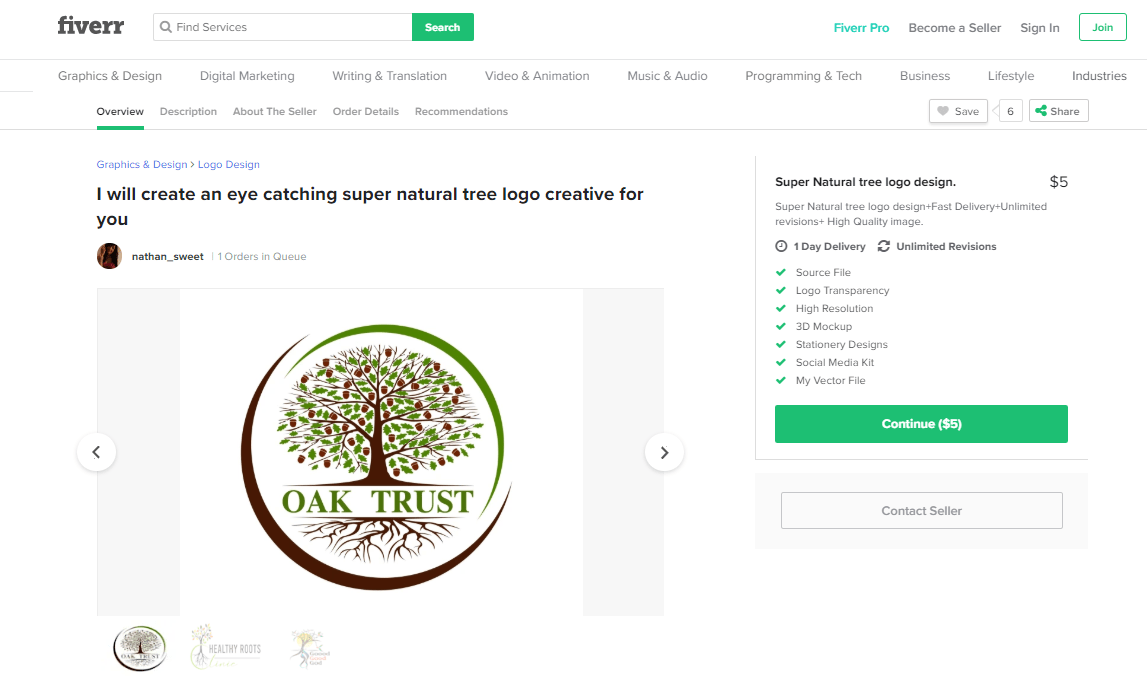 Ready to hire someone? Click
Continue
to head to the payment page and complete the hiring process.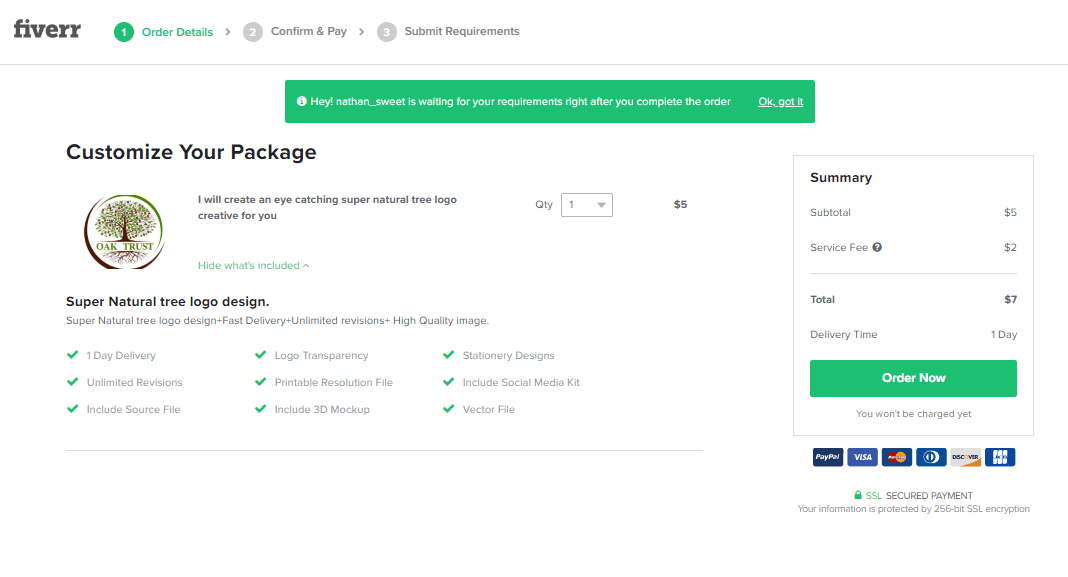 Once you've paid, you're just a few days away from receiving a high-quality, totally original logo design. (Sometimes it takes just one day, if you've chosen an express service.) Fiverr comes with a few other special features, including:
Freelancer levels – Fiverr arranges its freelancers into levels based on their on-site work experience, customer reviews, and their ability to meet deadlines. The higher the freelancer level, the more positive their work history and the more likely they are to deliver great work.
Protected payments – Payments are made upfront, however the funds are only released to the freelancer once you're 100% satisfied with the work you've received.
Package extras – Some designers offer package add-ons, such as vector files, a 3D mockup, or expedited delivery for an additional fee.
Thousands of designers – There are so many freelancers on Fiverr with varied packages and design styles, it isn't difficult to find one that fits your style and budget.
Want to find out more? Read our
in-depth Fiverr review
 to see more example logos.
How to Make Your Own Logo
If you're creating a basic logo for personal use or if you have artistic skills yourself, taking things into your own hands may be an option.
Unlike hiring a professional logo designer, using a logo maker will take some time and effort on your part, and it can be more costly when you factor in the price of downloading your finished logo.
But if you're keen to give it a go, I highly recommend Wix Logo Maker. It combines all the best things about other logo makers into one, easy-to-use tool. To start the process,
Go to the Wix Logo Maker homepage
and create a profile. You can save your design to your profile if you don't complete it in one sitting or if you want to create additional logos. The first question is super simple, just fill in your company name and tagline.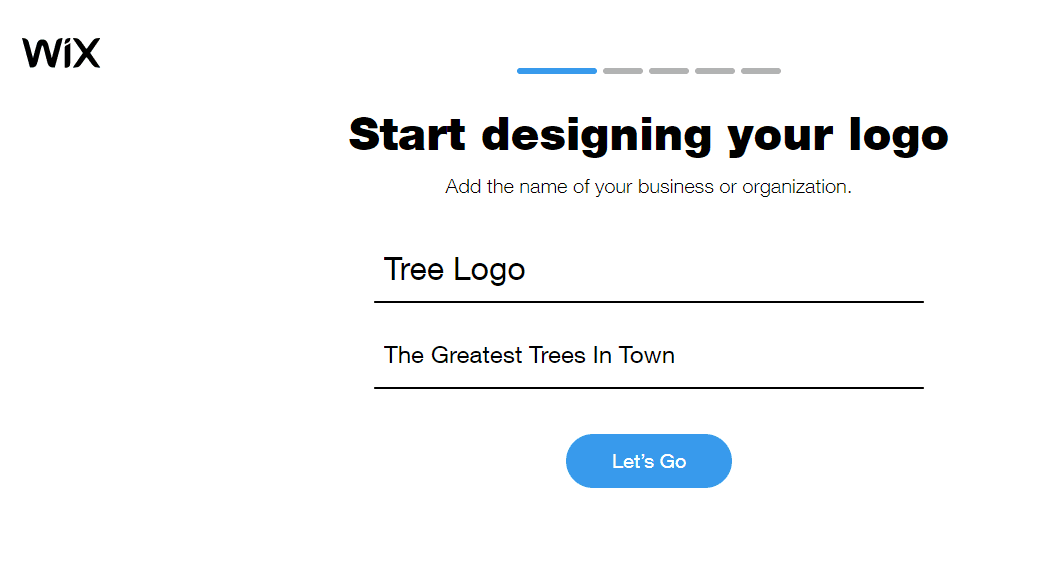 Then choose your company's industry (I used 'Tree service' for my example). You can skip this section if no options apply.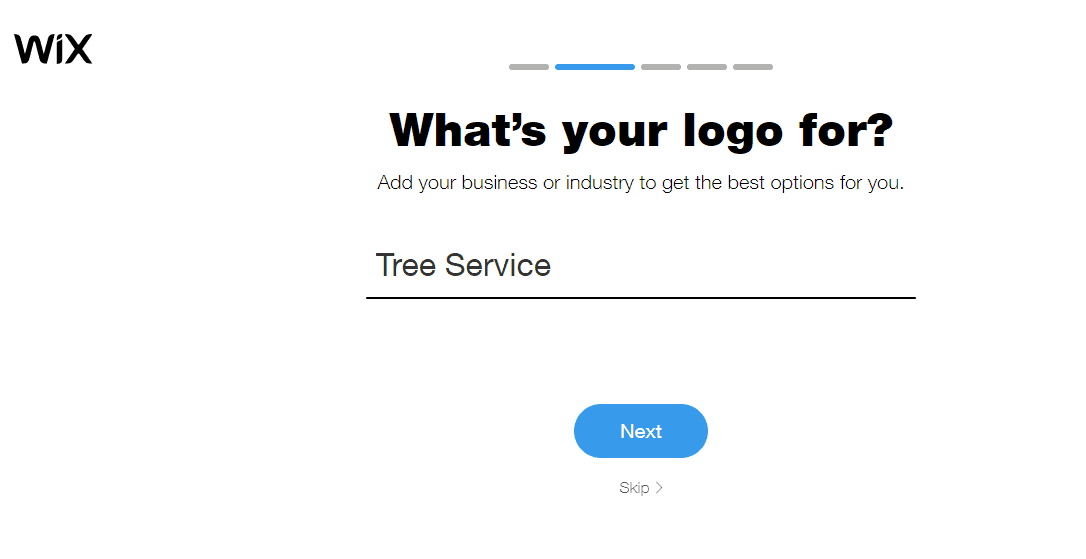 Next, choose a few adjectives to describe the aesthetic of your desired logo.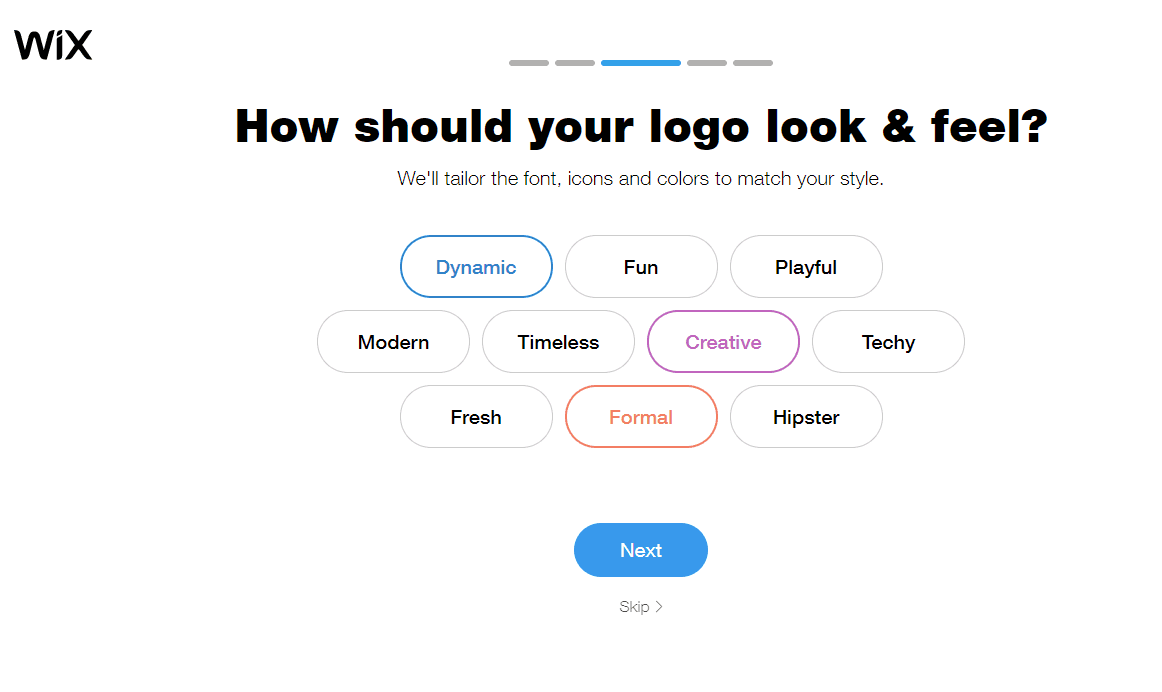 You'll then be shown a few logo pairs. Click on the design you like the best. If you don't like either logo, click
I don't like either of them
to move on.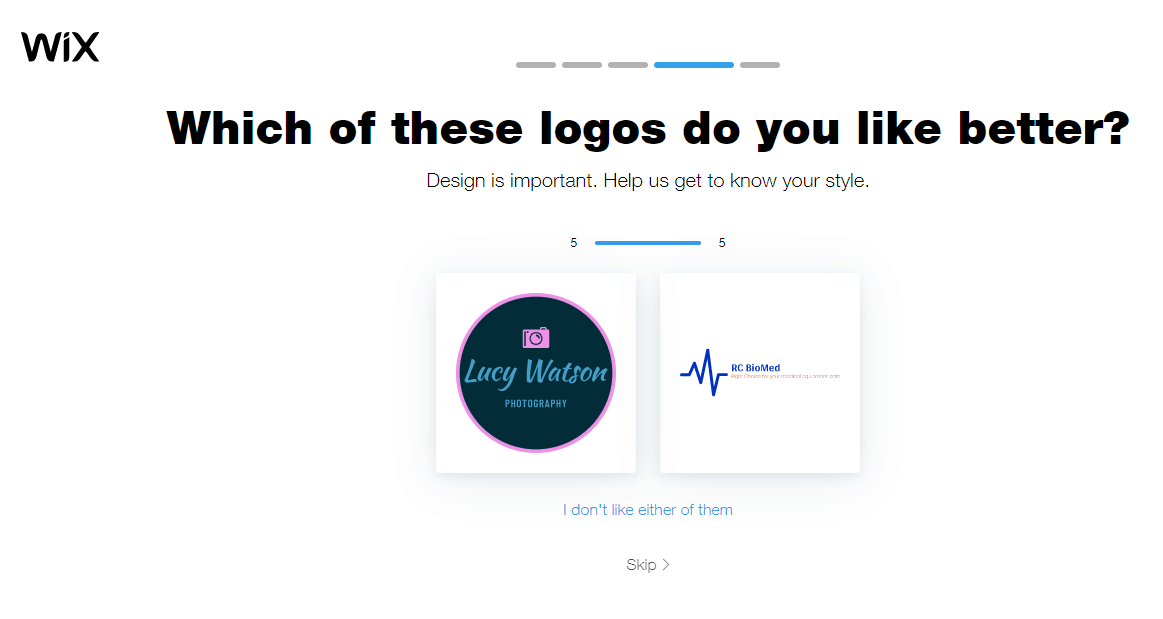 Let Wix Logo Maker know where you'll be using your design, whether that be social media, a website, merchandise, or any of the other options.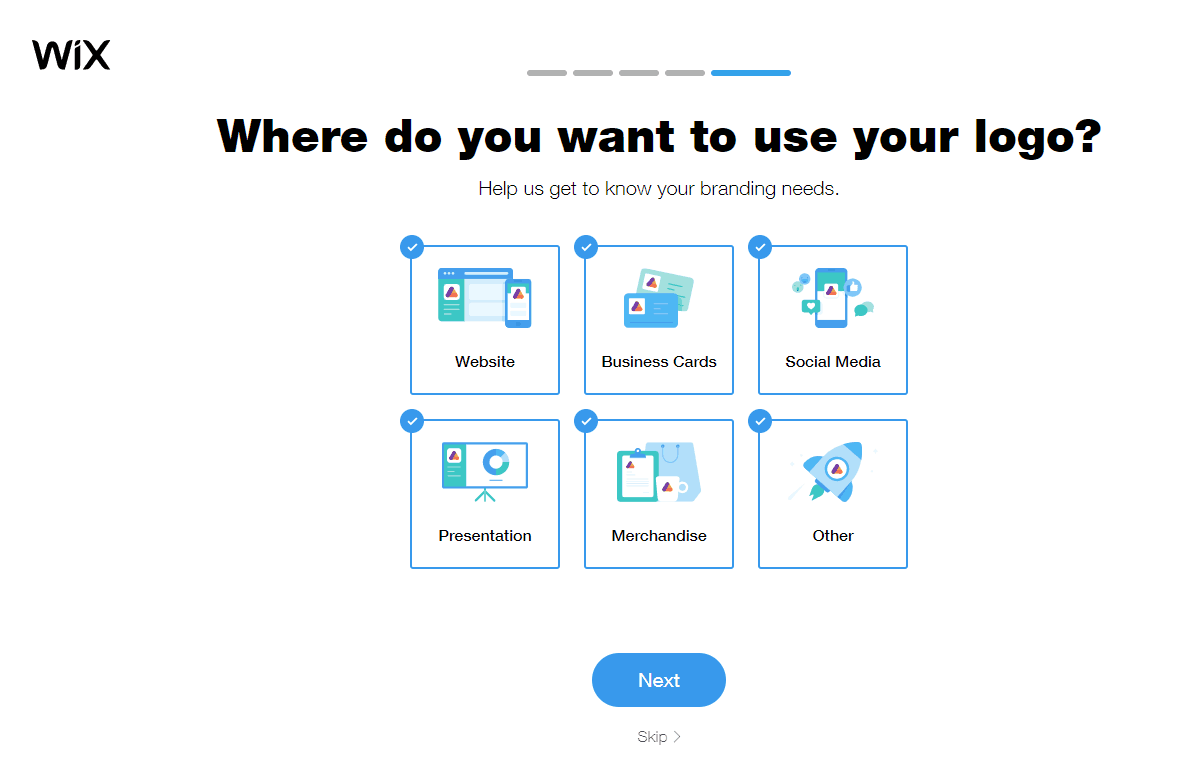 Now for the fun part – your logo suggestions! The AI-powered tool will use your answers to generate a list of templates for you.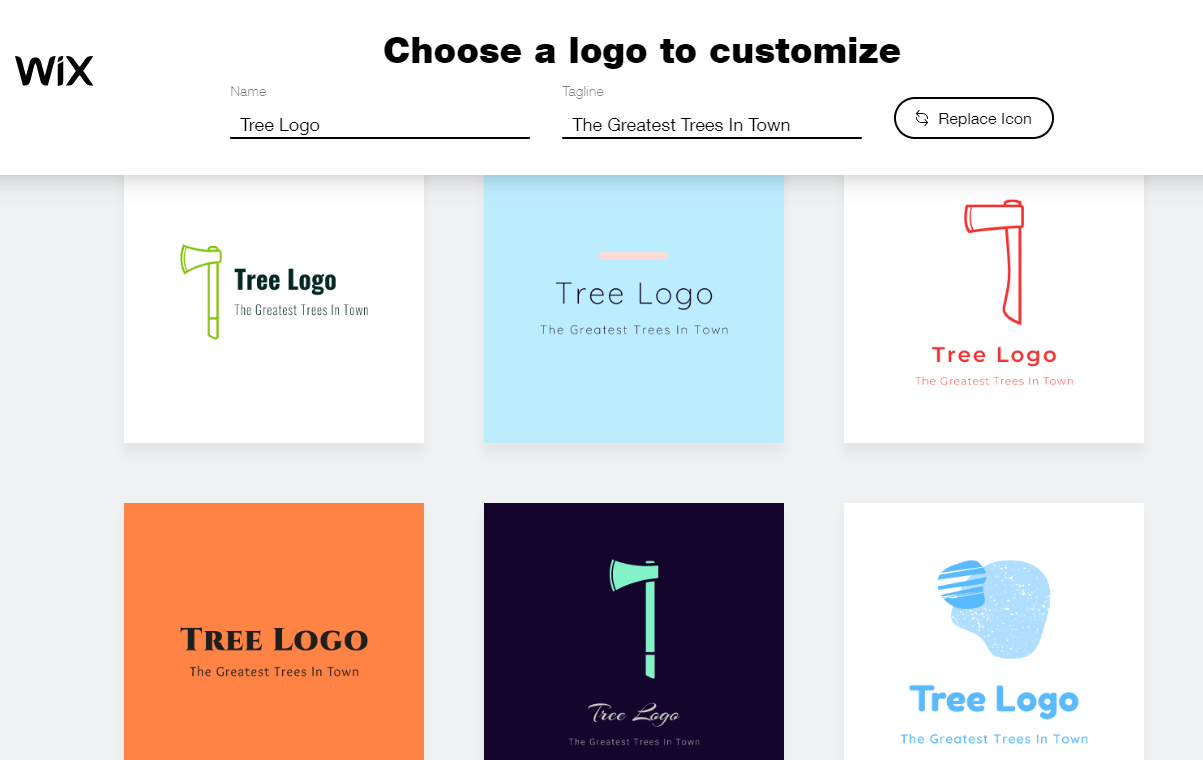 If you'd like a specific icon for your logo, click
Replace Icon
and do a quick search for tree-specific images. Choose your favorite, and it'll replace all of the icons in the logo suggestions with the one you've chosen.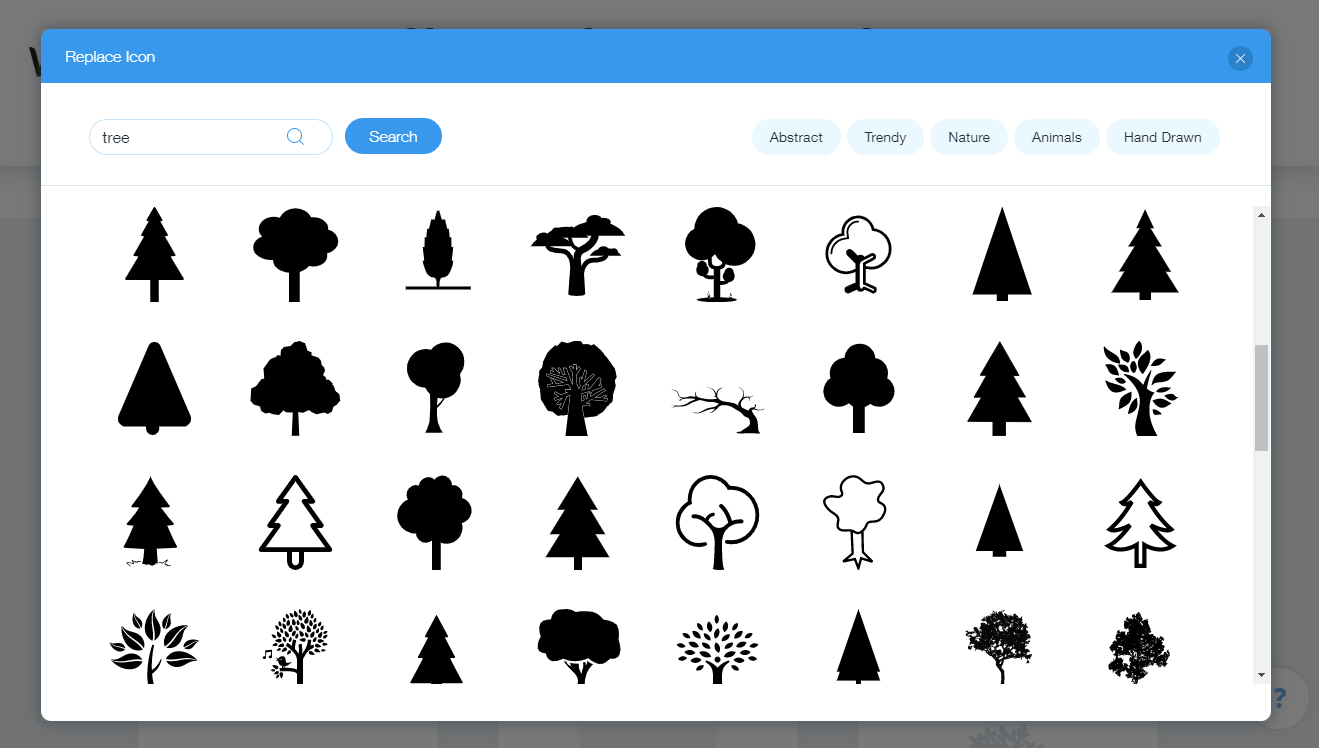 Click on the template you like best to customize it further. This is where you really get to be creative and to personalize the logo to match your brand. I added a border and changed the fonts in my logo example.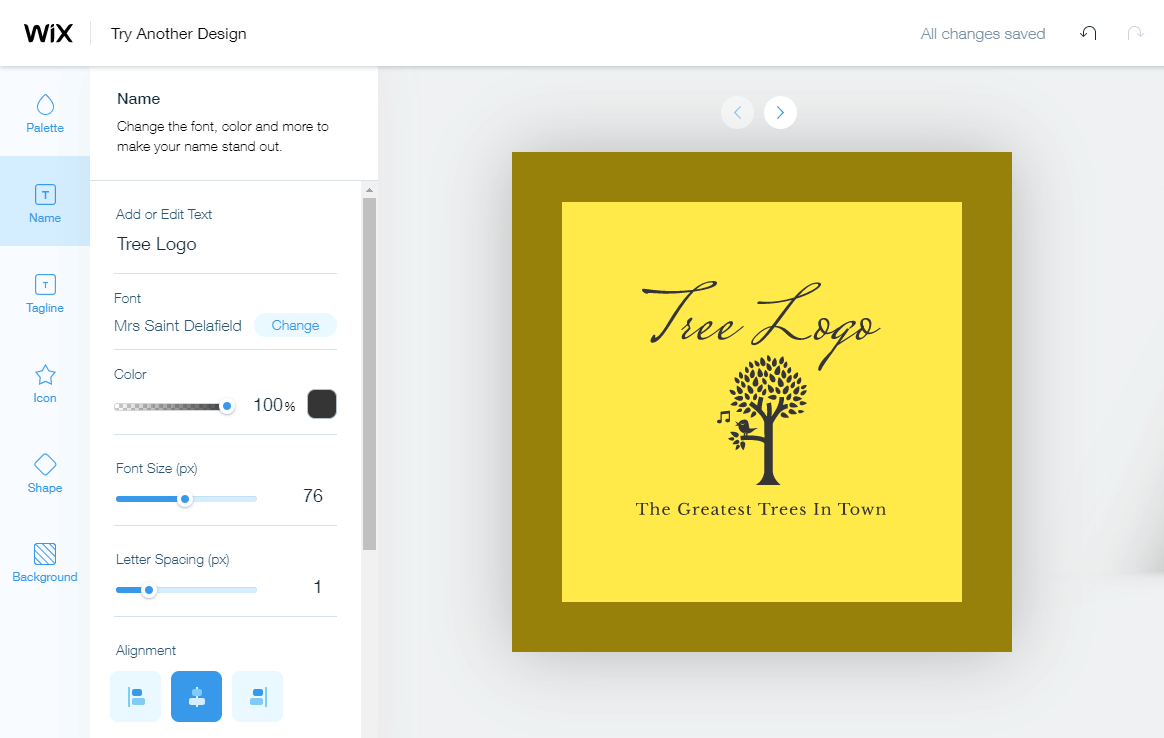 Once you've finished your design, click
Next
to choose your package and make your payment. Download your high-resolution logo design to begin using it wherever you need it! Read our
full Wix Logo Maker review
 to find out more about the platform. Here are two more logo maker recommendations:
DesignEvo – You can access more than 10,000 quality logo designs at DesignEvo. Save time designing from scratch by searching "tree logo" to discover pages of existing logo templates that use trees in their designs. Learn more in our expert DesignEvo review.
Looka – With Looka, not only will you get a great logo design, but you can also pay for an entire branding kit, including web design, social media assets, and more. See logo examples in our in-depth Looka review.
To Sum It All Up
In the past, commissioning a professional logo design would cost hundreds, if not thousands, of dollars. Now,
Fiverr
 lets you hire a professional designer for as little as $5 – and you'll get a high-quality, one-of-a-kind logo in return.
If you'd like to create your own logo, then Wix Logo Maker is the best solution.
Your high-resolution logo design can be yours after just a few simple questions and some quick customization. Not sure if tree imagery is right for you? Why not browse our round-up of the
best nature logos
for more inspiration. Or, if you want to compare more logo design services, head over to my colleague's exhaustive
logo service comparison
.