If your logo isn't designed properly or if you get the wrong file format, you could end up with a logo that isn't truly transparent
. That means it won't look right on certain backgrounds, it may have jagged edges, and you might not be able to use it the way you planned. If you want to be sure your logo will not only look professional, but also be usable for a variety of applications – such as websites, social media, and print –
I recommend hiring an experienced designer to do the job
. The good news is that hiring a designer doesn't have to cost a fortune.
You can head over to Fiverr and hire a professional for as little as $5
. If you already have a logo and you just need to make it transparent, it should be easy to find someone who can do that for you. If you prefer to design your own logo, check out our list of the
top logo design platforms
. Keep reading to learn more about transparent logos and why you need one.
9 Best Transparent Logos 
What Is a Transparent Logo?
When we talk about "transparent logos," what we're really talking about is
logos with transparent backgrounds
. A transparent logo is the version of the logo without any background color. As soon as you overlay it onto another picture or background, it will
act as a transparent watermark, which doesn't detract from the underlying image
or stand out in an unprofessional way. Once you have a vector copy, you can drag and drop it onto any platform easily. If you opt for a transparent emblem, you'll be able to use a few different formats. The
most common file types are PNG, GIF, and SVG
.
PNG images make up 90% of web branding. The format was developed in 1996 and became popular thanks to the scope it provides for editing.
GIF was the original format used for transparent backgrounds, but quickly became outdated due to some of the limitations. You don't have the option to customize the transparency, which is why most people opt for PNG.
SVG is another format, which specializes in vector images. You can create transparent backgrounds that are easily scalable to any size you need, without losing overall quality. It doesn't use pixels; therefore, the edges remain sharp even when the image is enlarged.
Click here to learn more about the differences between GIF and PNG files.
How Transparent Logos Can Benefit Your Business
Creating a transparent logo is easy, especially if you use an
online logo maker
. Here are some of the benefits of transparent logos:
Aesthetically Pleasing
First and foremost, your logo needs to look nice. A 2009 study by Duke University researchers showed that
humans are naturally drawn to beautiful things
, so the importance of aesthetically pleasing branding is high. Using a transparent logo will ensure your branding is smooth and attractive to all potential customers.
Versatile and Easy to Integrate
Your logo needs to work with your business; constantly redesigning for each purpose will be an ongoing waste of time and effort. Using a transparent logo means it's
easy to transfer it to different platforms
. It will work with any color and won't be distracting when placed over images. Having
a versatile emblem means your company can grow
around it, without the need for constant revisions.
Professional Quality
Professionalism in branding is a thin line; it takes considerable artistic skill to
ensure your logo and merchandise don't
look like a school project
. One clear signifier of amateurism is a pair of images that don't gel together, and look clunky once the promotion design is finished. Having a transparent logo reduces the risk of this happening, as it
ensures your logo can seamlessly be integrated into any advertising material
.
Promising for Increased Marketing Potential
An attractive logo that works on any background gives you a
broader scope for advertising campaigns
. As customers enjoy displaying emblems of their favorite brands, having a visually appealing logo increases this marketing potential. You can make stickers and flyers that are given out with purchases, so buyers can stick them on their cars, bikes, or bedroom walls. This organic form of promotion is truly invaluable, as it falls into the "word-of-mouth" category — which
80% of consumers believe is the most trustworthy form of advertising
.
How To Make Your Logo Transparent
The advantages of having a transparent logo are undeniable. Now you need to know how to make one. There are
several routes
you can take,
depending on your level of skill as a designer
. You can create the transparency yourself, pay a designer to do it, or use one of the many online logo design services. Each option has different pros and cons:
Graphics Software
Graphics software like Photoshop allows you to remove the colored background from your existing logo. If you're not too proficient with this software, it's easy to
find step-by-step tutorials on YouTube
, which will lead you through the process. However, if you've never used Photoshop before,
learning all the controls can be very time-consuming
. If this is the case, it's better to delegate the responsibility to someone else.
Hire a Freelancer
At Fiverr, you have the opportunity to enlist the services of a designer with prices starting as low as $5. They can create a fresh logo entirely or eliminate the background from your current logo file. Your funds remain secure in escrow until you are satisfied with the outcome, ensuring a risk-free process. This approach is unquestionably more convenient than attempting to master Photoshop for this task on your own. To learn more, read our
expert Fiverr review
or check out our tips on
how to hire the best designers on Fiverr.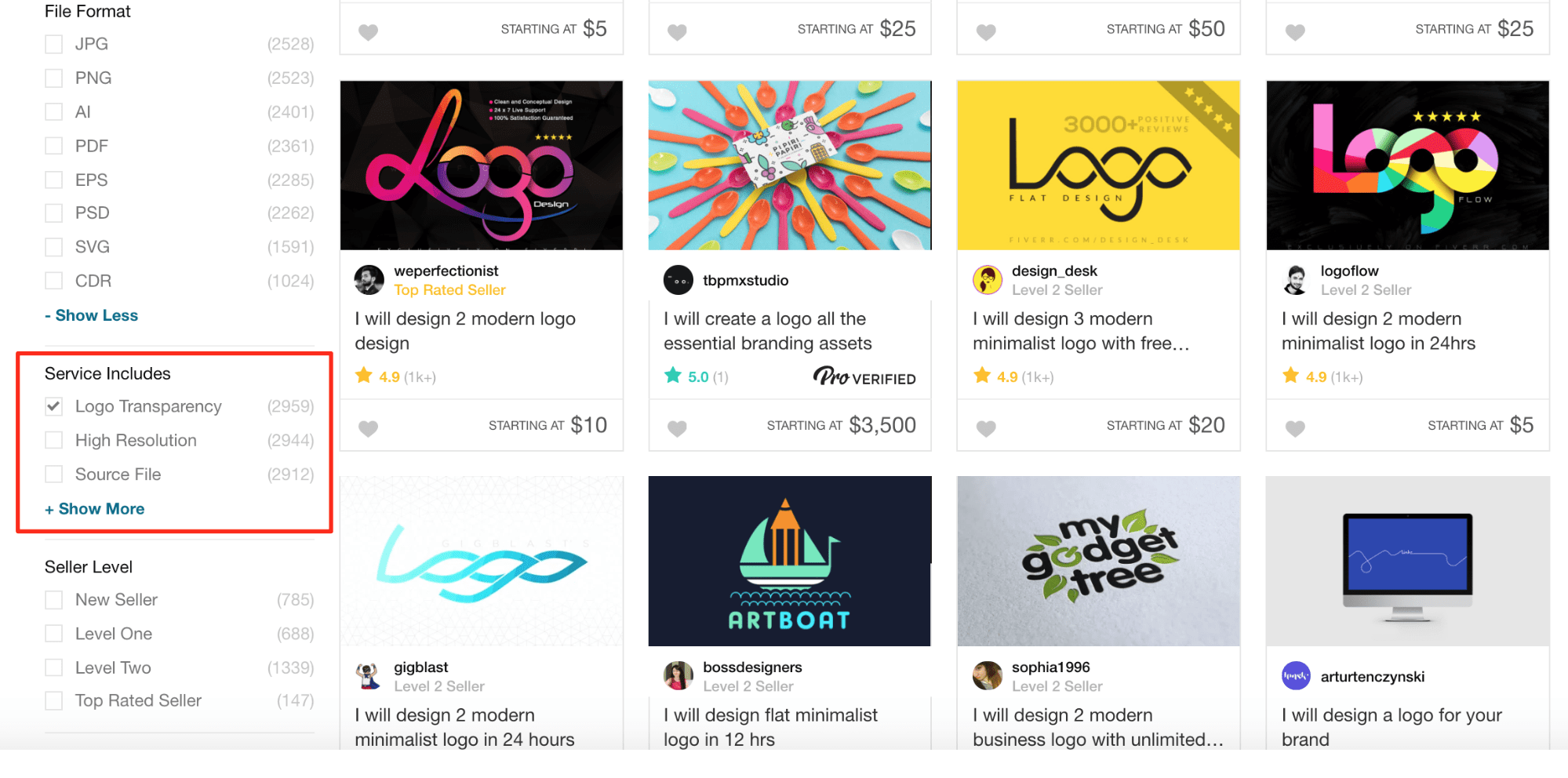 Use a Logo Design Service
There are many great online logo design services out there.
You can use them to
easily create your own logo
. The best logo design platforms give you a variety of file formats, often including a transparent version of your logo. In some cases, you may have to pay extra to get a transparent file, but the cost is often minimal. If you don't currently have a logo you're happy with, this can be a great option.
Top Logo Design Services
Here are some logo design services I personally recommend:
Create Flexible, Actionable Logos to Grow Your Brand
In theory, it's clear why using a transparent logo is important, but statistics can confirm the validity of this claim. According to a study by Forbes,
consistent branding across all platforms can increase your revenue by 23%
. Considering this, having a transparent logo that you can easily add to all your branding materials is a truly essential pursuit. If you're serious about your business and brand marketing, and if you don't yet have a transparent logo, there's no reason for you to wait any longer to make one.
FAQ
How do I design a transparent logo? 
You can create a transparent logo in several ways – by using a graphics editor like Photoshop, a DIY logo maker, or hiring a professional designer. If you don't have previous design experience but a limited budget, consider hiring a logo designer on Fiverr – you'll get a high-quality, custom logo for a super low price. 
Is 99designs any good for transparent logos? 
If you'd rather crowdsource ideas from professionals, consider using a design contest platform like 99designs. The designers must submit a PNG file with a see-through background, so all packages include transparent logos. Read more about the platform in our in-depth 99designs review. 
What is the best logo maker for transparent logos? 
When it comes to designing transparent logos, an AI-powered tool like Tailor Brands is a great option. You can specify what you want before generating several design options based on templates. You can also choose to get your logo as a transparent PNG or a vector EPS file. Tailor Brands pricing is relatively affordable, but you can save even more money by using our coupons. 
Is free logo design reliable? 
Many DIY logo-making services allow you to create logos for free and only pay if you're happy with the results. But not all of them offer high-quality logo templates or advanced personalization options. To be sure you're using a reliable and effective design tool, take a look at our top logo maker recommendations for 2023. 
---
Sources
2009 study by Duke University researchers
: https://www.fastcompany.com/1671902/science-explains-why-humans-covet-beautiful-things
Word of Mouth Statistics
: https://www.invespcro.com/blog/word-of-mouth-marketing/
Forbes Study
: https://www.forbes.com/sites/gabrielshaoolian/2018/08/10/10-marketing-web-design-branding-statistics-to-help-you-prioritize-business-growth-initiatives/