Jump down to find out how you can get your logo designed by an expert for as little as $5.
9 Best Softball Logos
A colleague of mine set out on a mission to find a new logo for Website Planet. He tested the best logo design platforms on the market, and the winner of his contest is now our new logo! Want to know which platform won? Read the
full logo design platforms comparison
to find out.
Getting Your Logo for $5 Is an Easy Task to Tackle
On Fiverr you can hire a professional designer to create your softball logo, with many freelancers offering packages for as little as $5. The process to hire a designer through Fiverr is incredibly simple:
Go to the Fiverr homepage
and search for "softball logos" in the search box. Browse the results and click into each designer's profile to see their portfolio and previous work.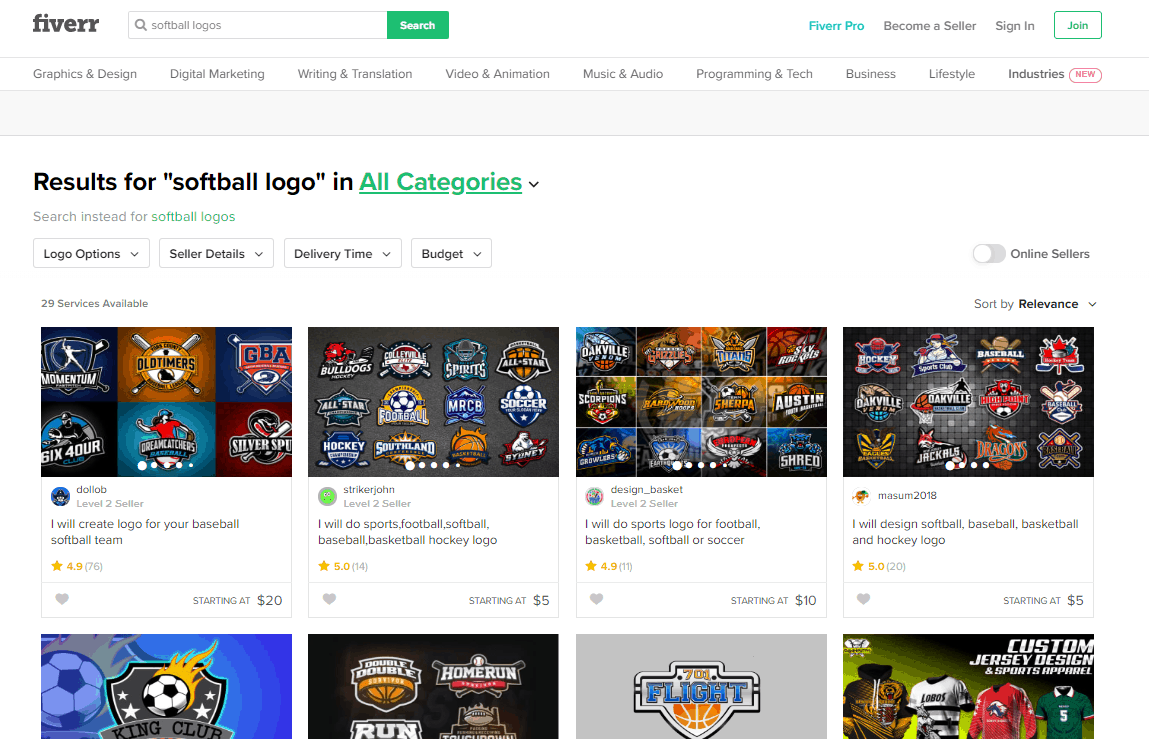 Once you've chosen a freelancer, review their packages to determine which one best suits the services you need and your budget. Most designers offer basic, standard, and premium packages.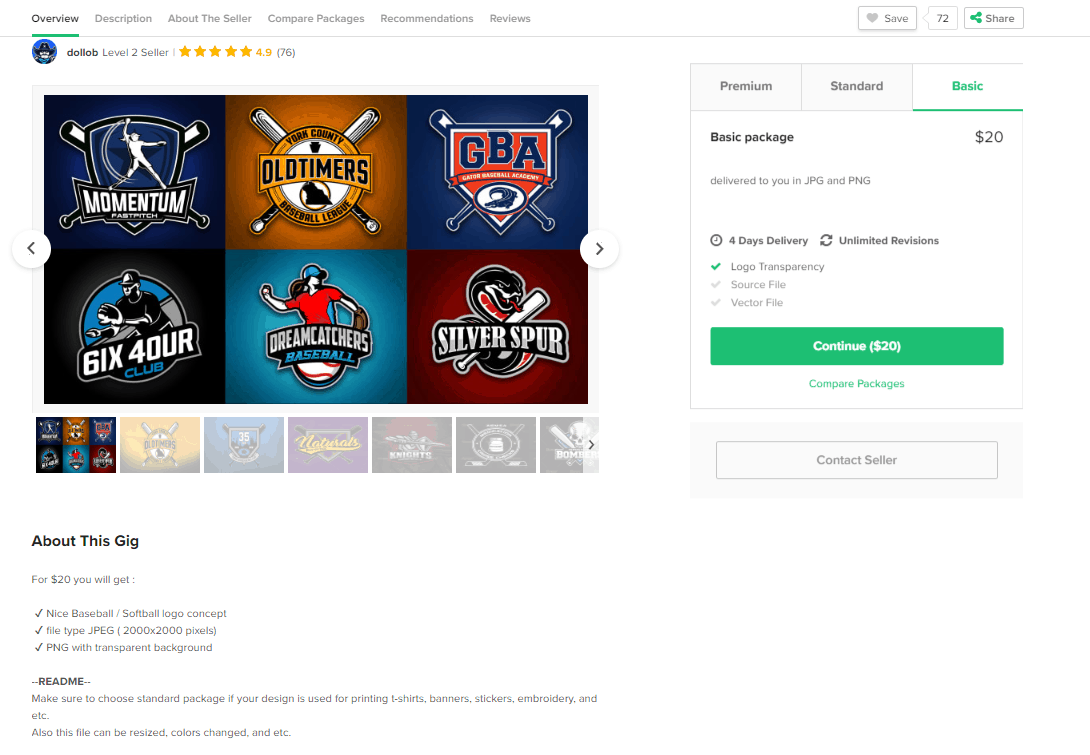 Ready to hire your chosen designer? Click the
Continue
button and you'll be taken to the payment page. If the designer offers additional services, they can be added here. Once you've decided on the services you require, click the
Order Now
button to proceed to payment and finish the hiring process.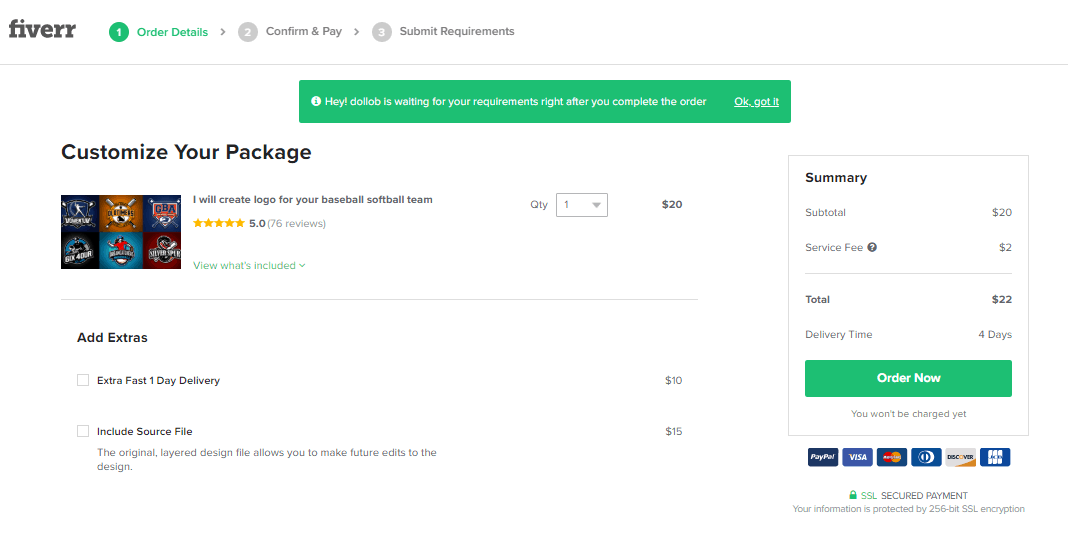 In just a few short steps, you can have your perfect softball logo created for you within a matter of days. Here are some other great Fiverr features you should know of:
Designer levels – Fiverr assigns each freelancer a level. As a designer spends more time on the platform completing work, their level increases as a sign to potential buyers that they are more experienced.
Fiverr Pro – For those wanting to spend a little more money on their project, Fiverr Pro is a great option. Freelancers who are certified as 'pro' have been personally assessed by Fiverr and determined to excel at logo design and customer service.
Payment protection – Your payment won't be released to the freelancer unless you are satisfied with the work you've received, which guarantees you'll never be scammed or overcharged.
Designer options – Thousands of designers work via Fiverr. They all specialize in different design styles, so you can be sure to find a freelancer who suits your style and budget.
Want to know more? Read our
expert Fiverr review
  to see some logo samples.
Making Your Own Softball Logo
You might decide to create your own logo instead. Although free logo makers aren't terrible options, they do take more time and energy on your part, and they're not necessarily more cost-effective, as you'll have to pay to download and use your design. If you're still interested in creating your own logo, I'd recommend using Wix Logo Maker. Wix Logo Maker uses artificial intelligence (AI) to help design your logo, and it's so easy to use you can start and finish the design process in less than ten minutes. First,
go to the Wix Logo Maker homepage
 and click
Start Now
to create an account, then enter your business name and industry.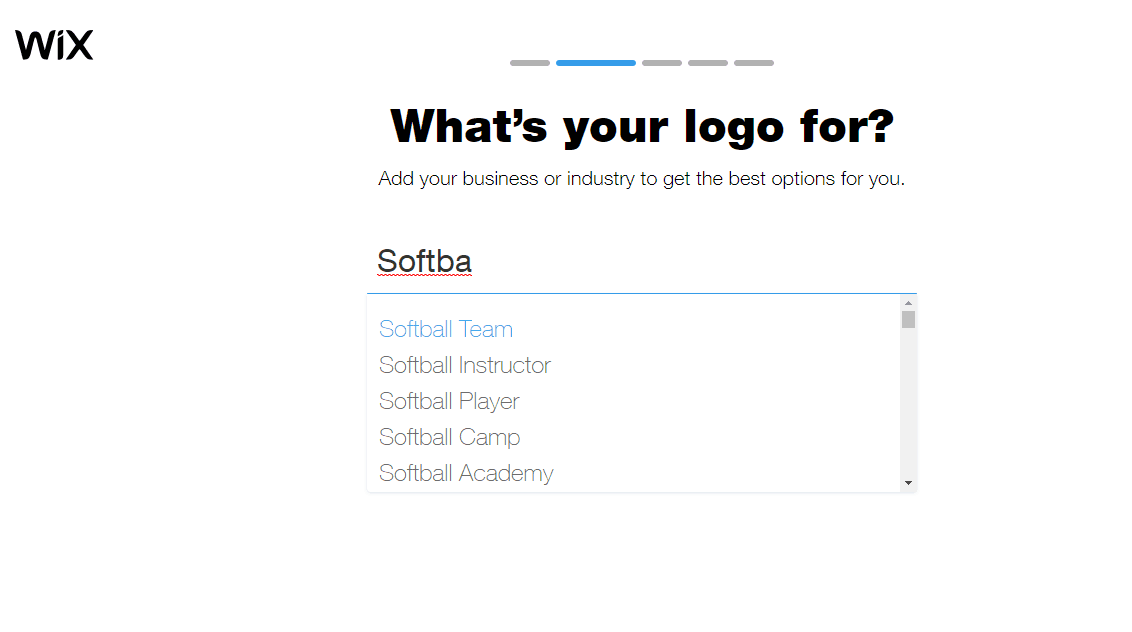 Wix will then ask you to choose a few words to describe your logo's look and feel. This step is incredibly helpful, as it helps the AI determine your style preferences.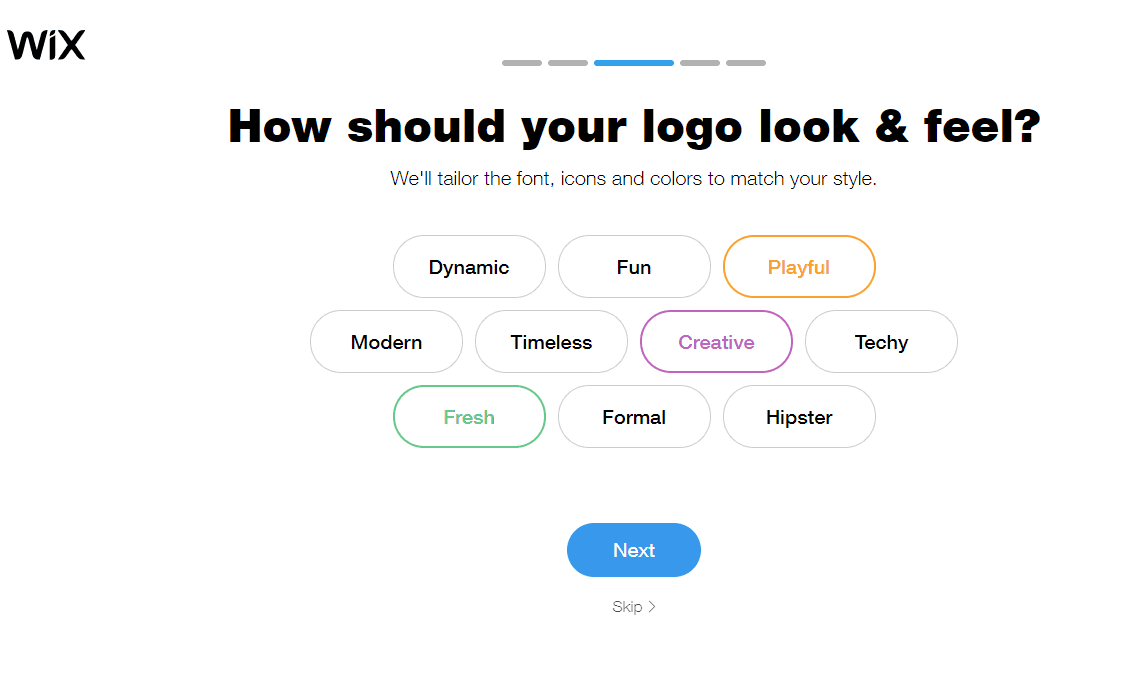 You'll then be shown a few logo pairs and asked which you prefer. The styles of logos in the pairs are often very different – this is another tool the AI uses to help narrow down the aesthetic of the suggested logos.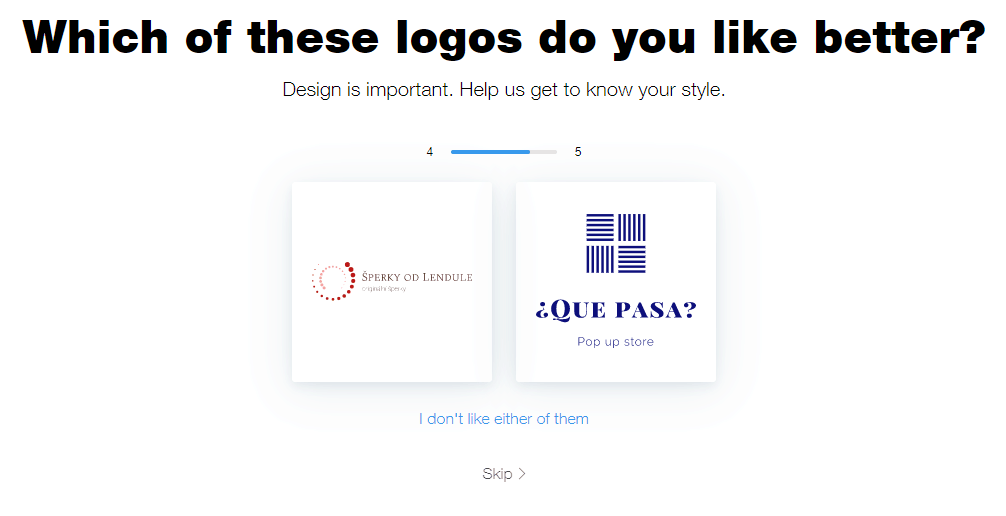 The AI uses all of this information to generate logo designs it thinks will be the best match for you.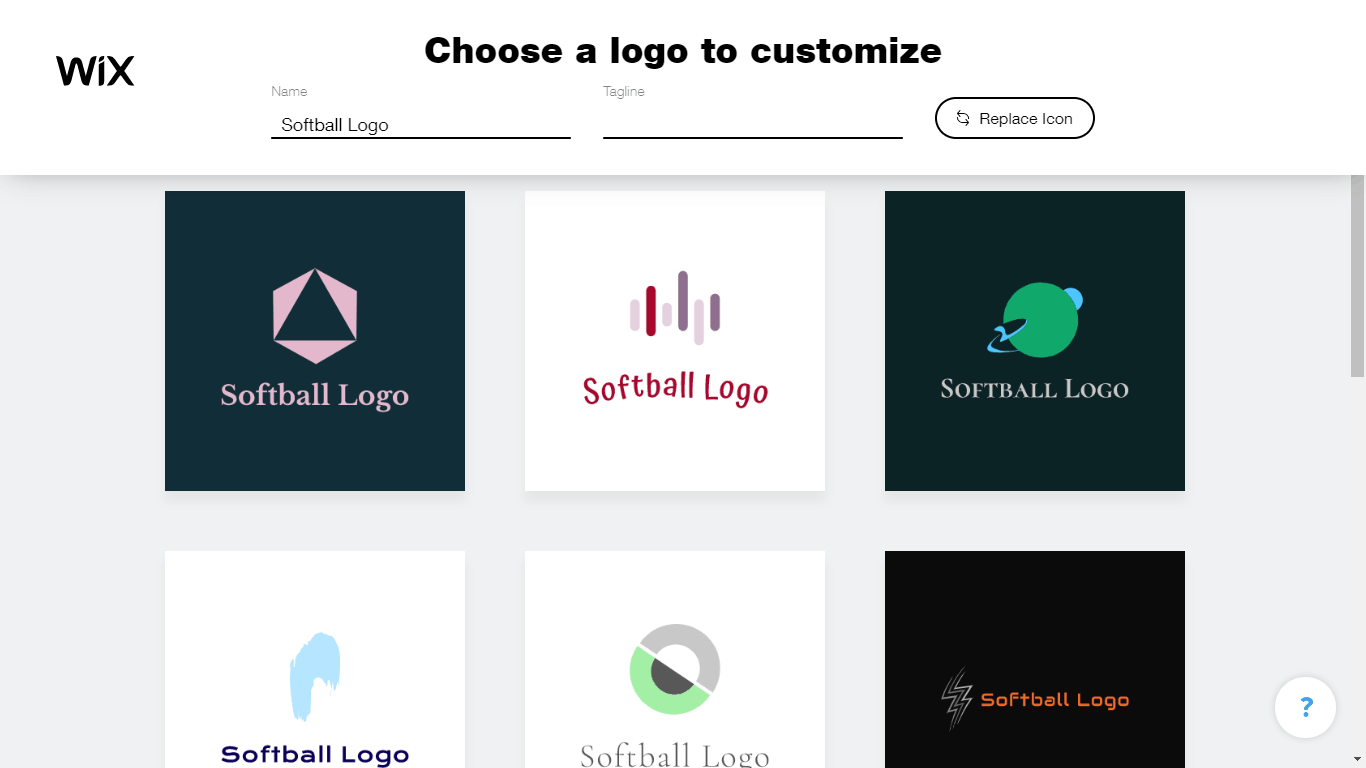 Feel free to replace the icons Wix Logo Maker has chosen with one of your own by searching for a new icon (I looked up "softball") and applying this to all the logos.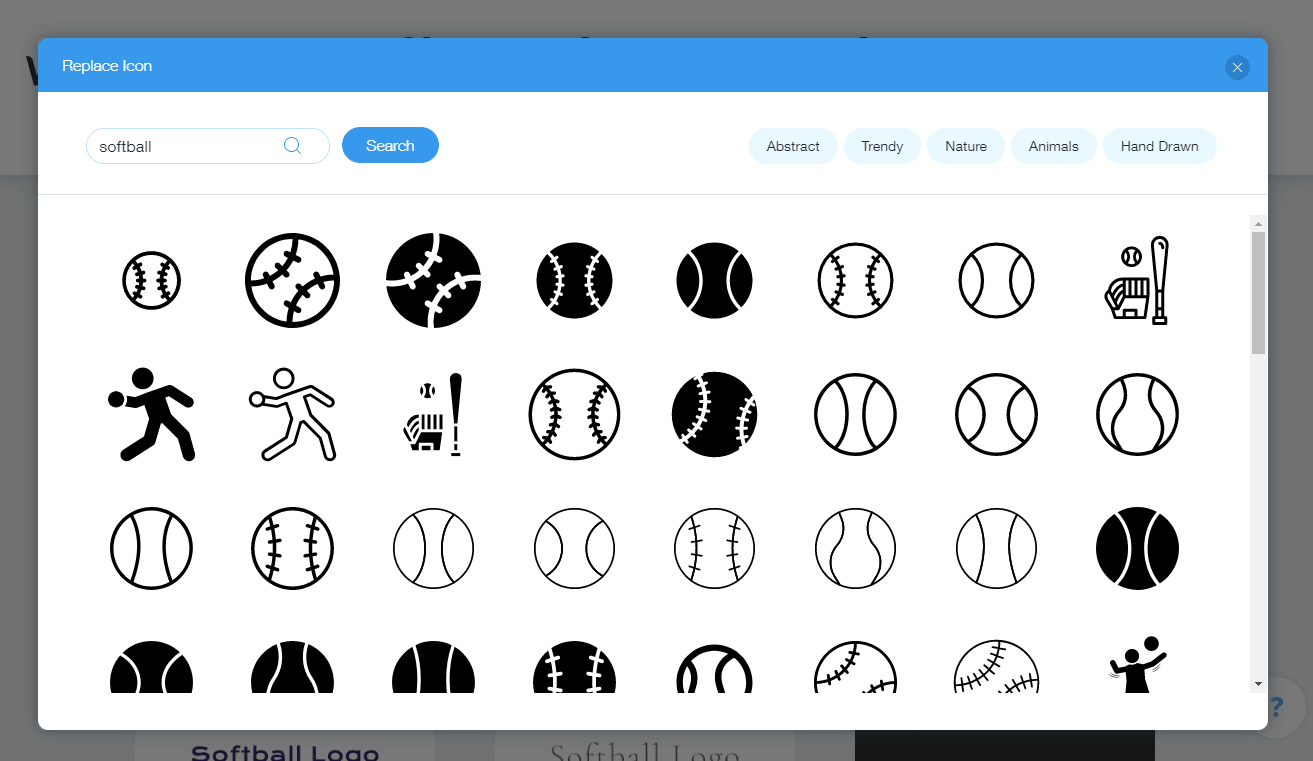 Choose your favorite logo, then click the
Customize
button to move on to the editing page. Here, you'll be able to change the logo's colors, the font, the text, the icon and its position, and more.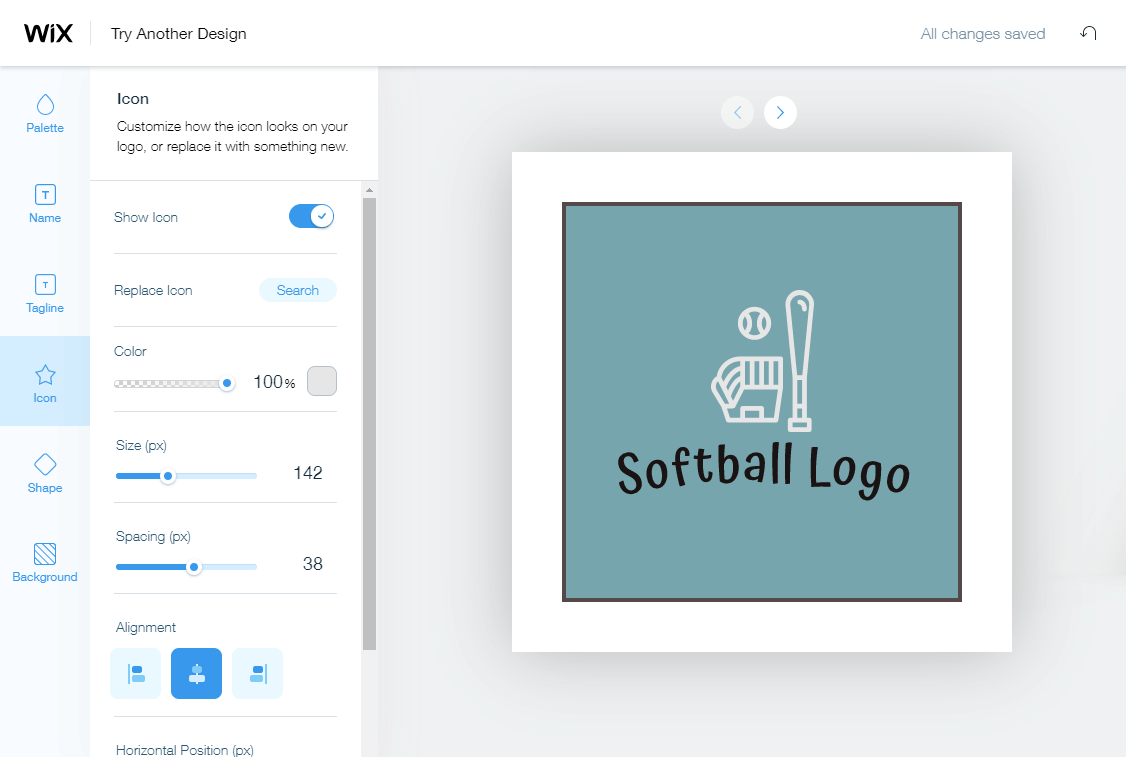 Once you're finished customizing your logo, you can pay to download the high-resolution image files to begin using it. Want to learn more? Read our
full Wix Logo Maker review
 for more example logos.
Wix Logo Maker Alternatives:
LogoMaker – It only takes four quick steps to get suggested logos from LogoMaker. You'll also find a wide range of sports-related icons and templates. See other features in our in-depth LogoMaker review.
Tailor Brands – This platform offers wider branding services in addition to its logo creation, which is useful for companies developing a whole new brand identity. Learn more in our expert Tailor Brands review.
Final Thoughts
Getting the perfect logo doesn't have to be an exhausting or expensive process. With
Fiverr
, you can hire a logo designer for as low as $5 and receive a professional design, and
Wix Logo Maker
 is an excellent choice for creatives who want to give it a go themselves. Both Fiverr and Wix Logo Maker can be cost-effective and quick, making them the best options for pro design and DIY logos, respectively. To get a better idea of some of the other logo design services and how they stand up against each other,
take a look at my colleague's thorough
logo design service comparison
.
Softball not your game? Take a look at
our round-up of the best sports logos
for more inspiration.