Read on to learn my secret to hiring a professional designer for just $5.
---
9 Best Royal Logos
My colleague went on a hunt to find a new logo for Website Planet, testing various logo design services to uncover the best in quality and value. His results were surprising! Check out his
expert logo design service comparison
 to find out how popular platforms performed.
Getting Your $5 Logo Design
Having your logo professionally designed for just a few dollars may seem like an impossible dream. But Fiverr can make that dream a reality. The freelancing platform houses thousands of logo designers offering professional packages from just $5. To get started,
go to the Fiverr homepage
 and type "royal logo" into the search bar. It's that simple. If you have something specific in mind, try even more precise terms like king, crown, or shield logo.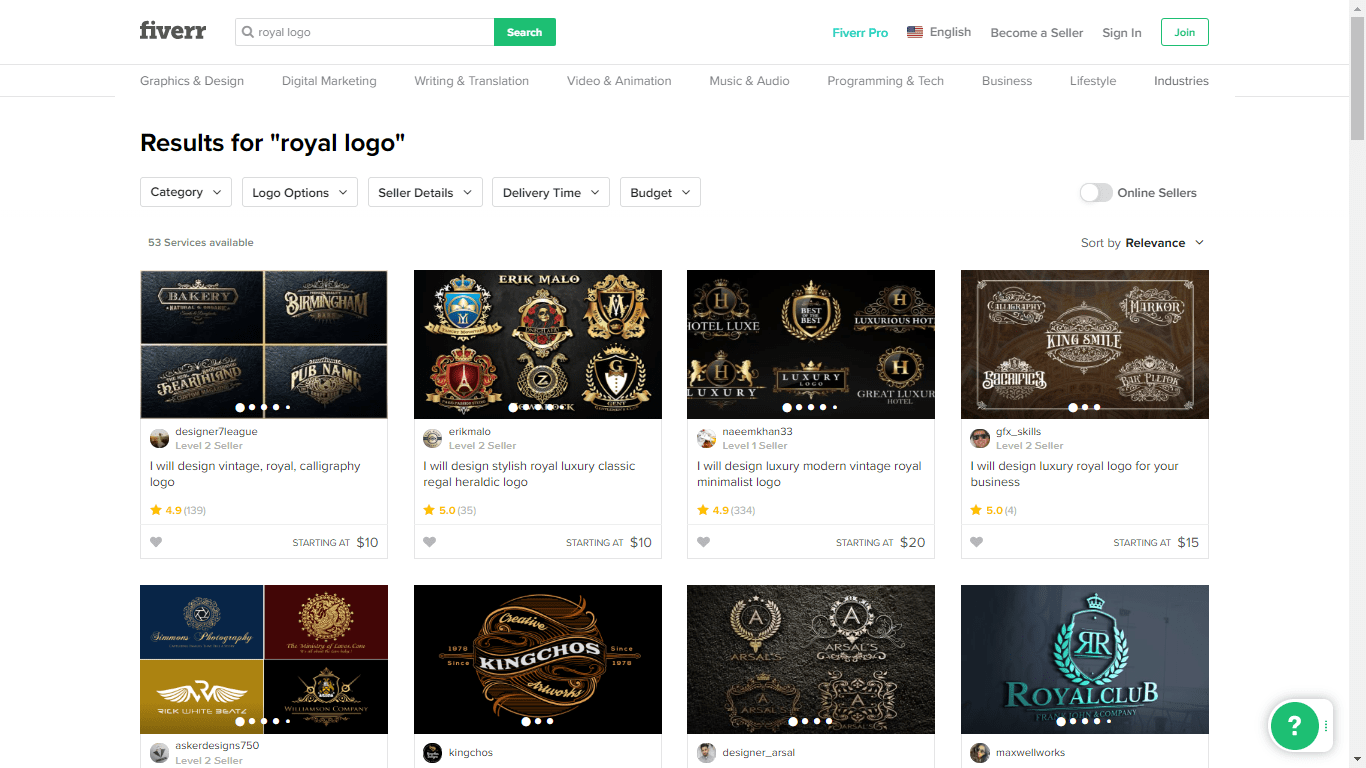 Scroll through the search results and click on any design profiles that catch your eye. You can open them in new tabs if you want to compare multiple potential designers. Take time to read through each of their profiles and reviews, and scroll through their portfolios. Once you've found a designer with an offering you really like, click
Continue
to move to the payment preview page.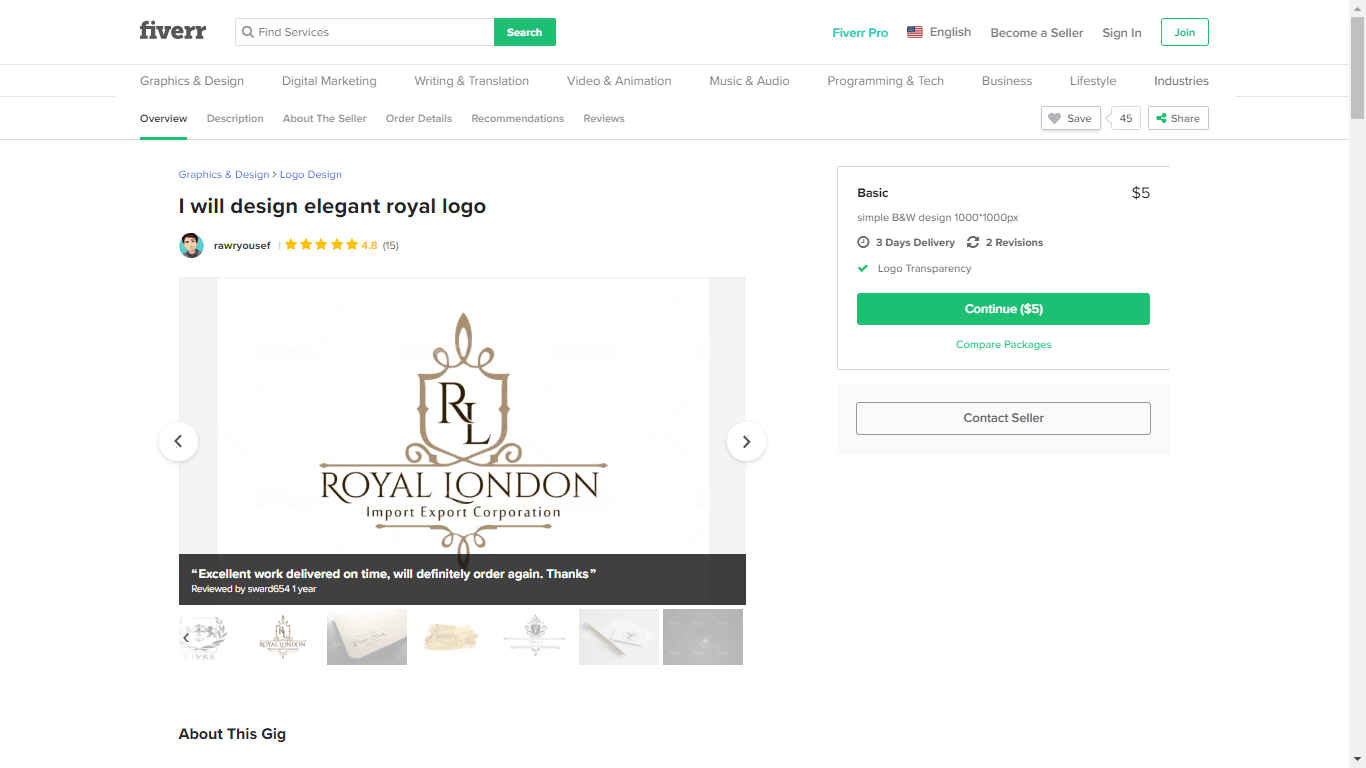 Double-check the details and cost of your chosen package and then click
Order Now
to complete the payment. You can message your designer after you've hired them to let them know exactly what you're looking for.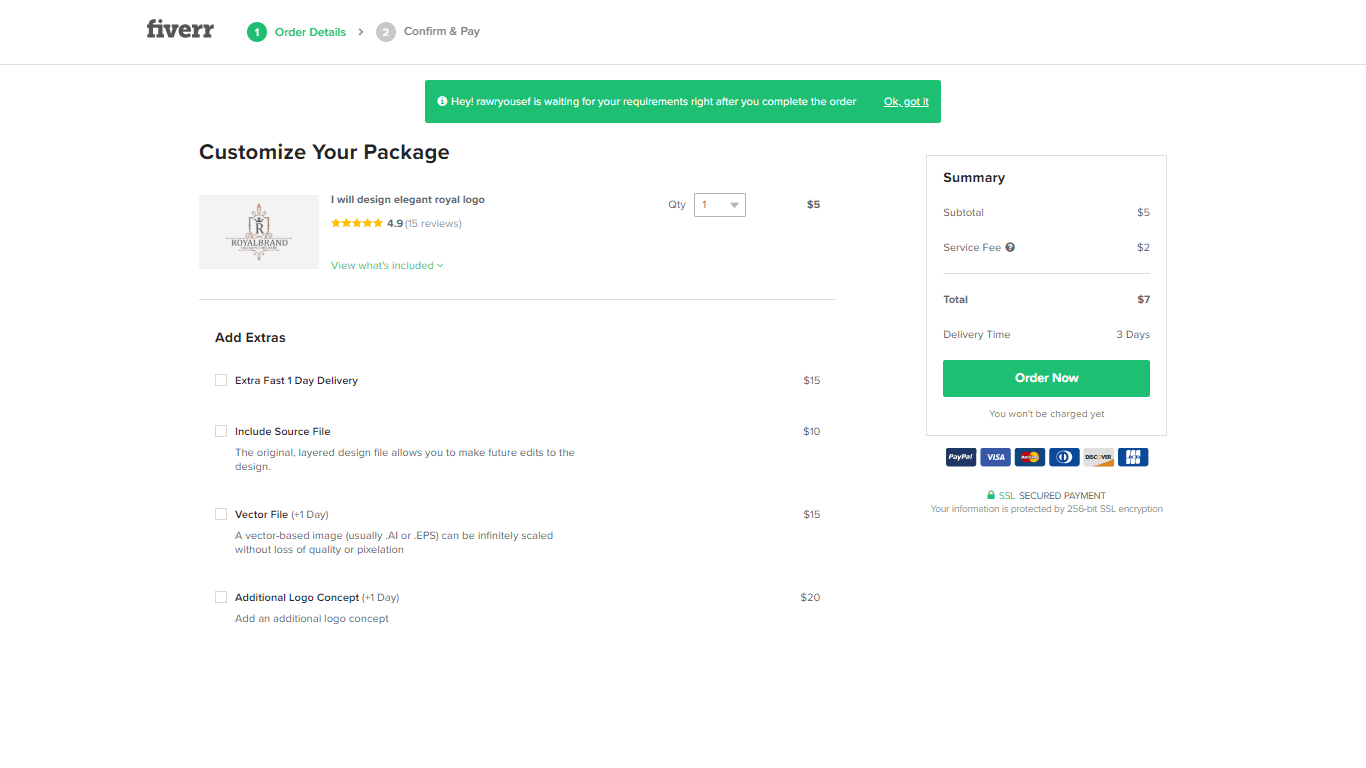 And, that's it! Hiring a logo designer through Fiverr is really as simple as it seems. Interested in learning more? Check out our
in-depth Fiverr review
 for more tips and example logos.
Other great Fiverr features include:
Package extras – Some designers offer add-on services for a fee, such as multiple revisions, a social media kit, and expedited logo delivery.
Protected payments – Your payment is made before you get your logo but your designer will only receive it when you're happy with their work.
Designer search options – There are thousands of designers out there, but the advanced search filters help find the best sellers for you. Filter by logo style, budget, and seller level.
No surprise fees – Don't be afraid of overcharging or surprise charges. Designers can't charge extra once a job is paid for, so you'll never be charged more than what you paid upfront.
How to Make Your Own Logo Design
Creating a professional-looking result with a DIY logo maker demands effort and creative skill. The positive aspect is that these tools are user-friendly enough for even a complete beginner to easily follow the process. It's important to remember that while they are available for free, downloading high-resolution files at the end of the process will incur a cost. If you still want to create your royal logo design on your own, I recommend using Wix Logo Maker. The advanced artificial intelligence (AI) technology makes logo creation a breeze, especially if you're short on time. Here's how it's done. First,
go to the Wix Logo Maker homepage
 and set up a profile. Your logo will be saved to your profile if you need to leave it and come back at any point. Start by adding your company name to begin and a catchy tagline if you want one.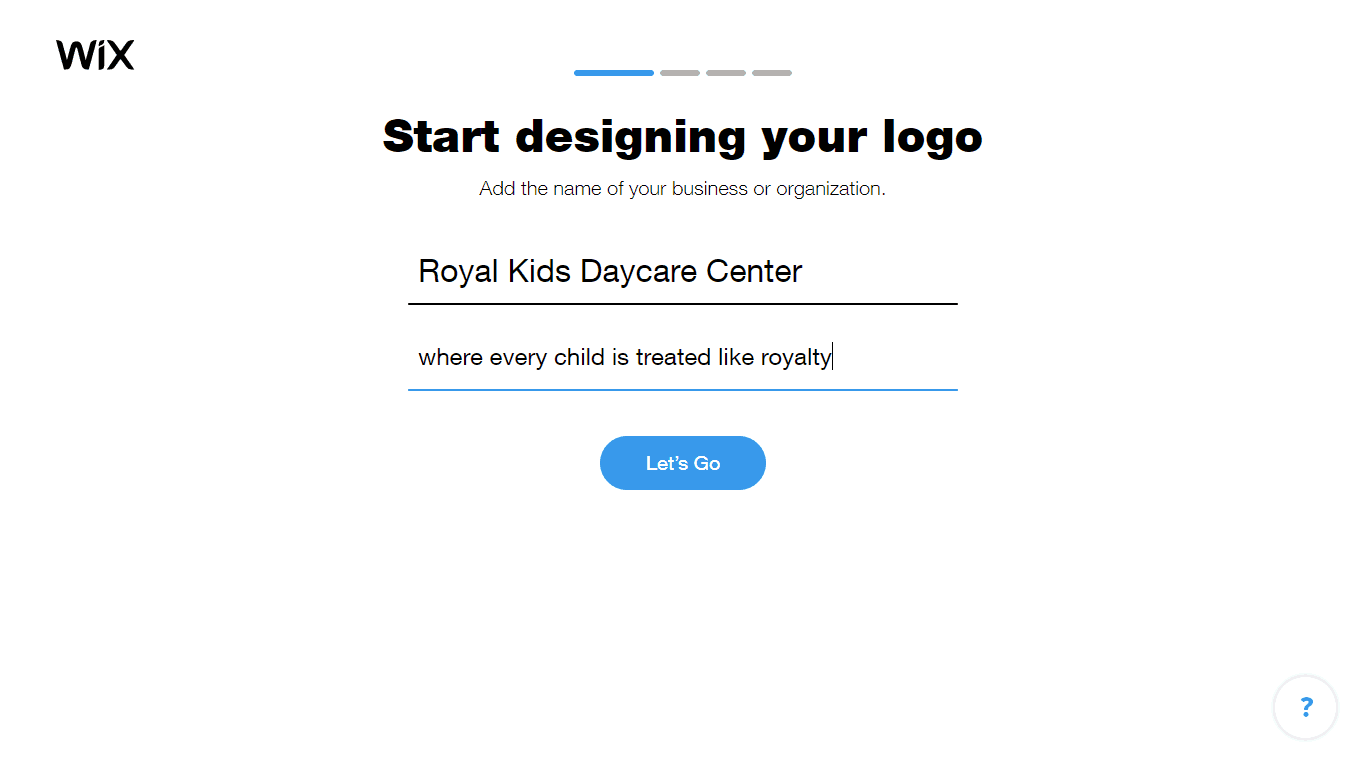 Next, enter your industry. There are loads of options available so there's probably one for your niche. I chose daycare to match the business in my example.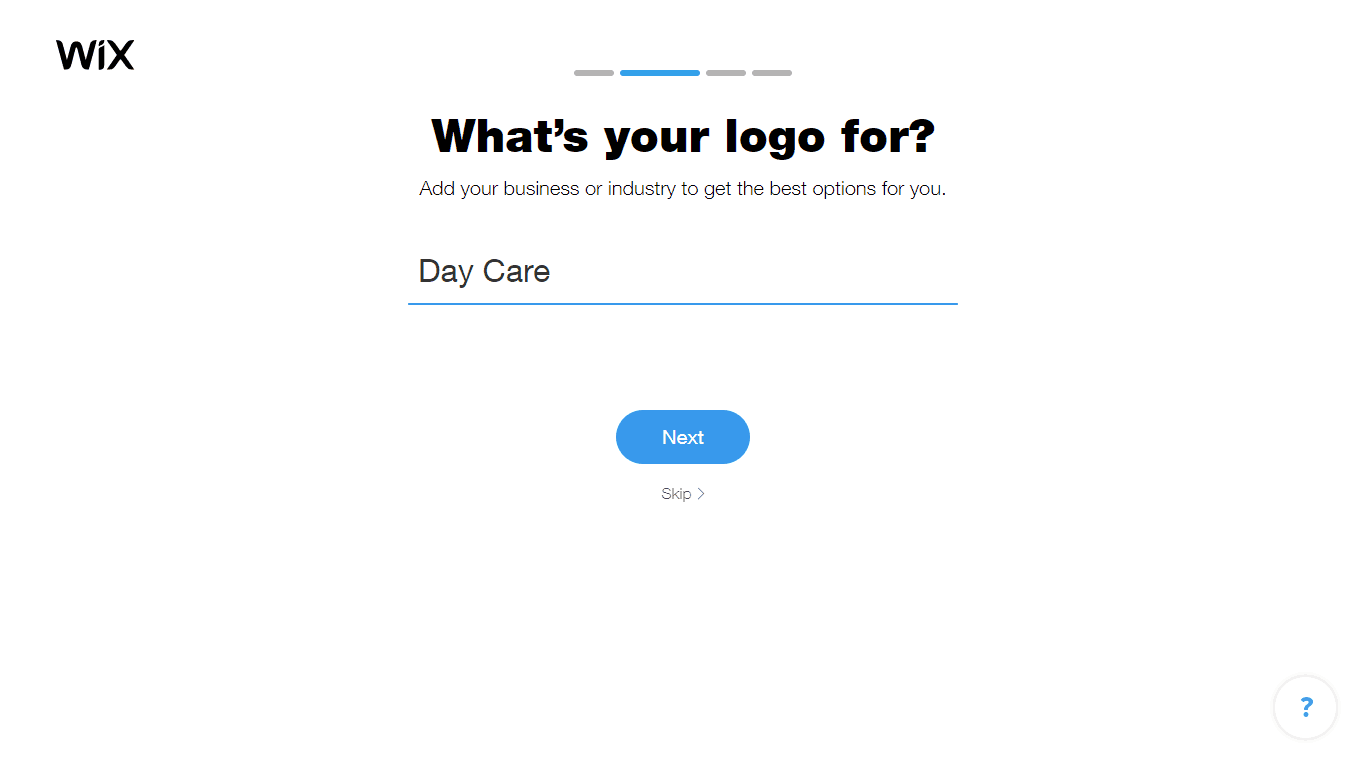 Next, select a few descriptive words that best sum up your logo's style. If you're open-minded about the final logo and don't have a clear vision already, choose the words that best describe your brand or company instead.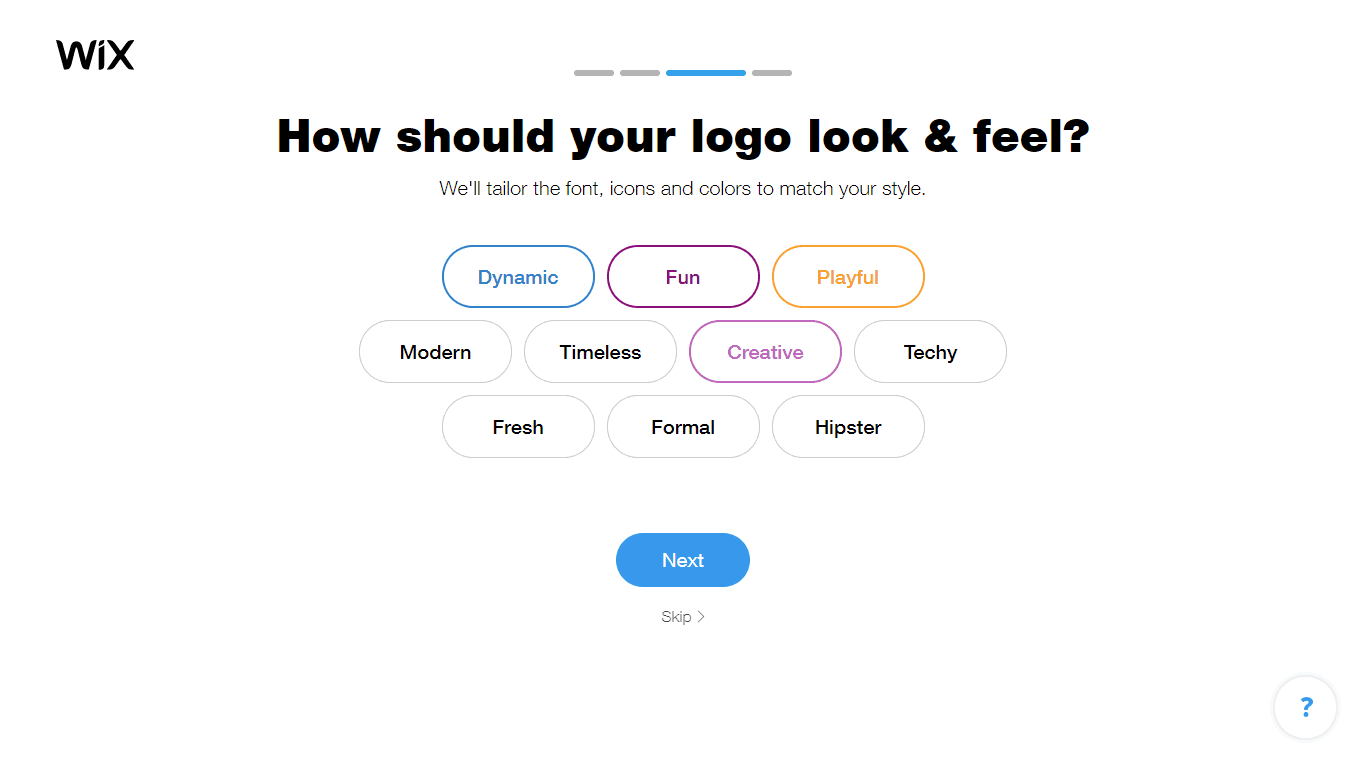 After you've finished telling the AI wizard about your style preferences, fill in where you'll be using your logo, like on merchandise or a website, and then click
Next
to generate your suggested logo designs.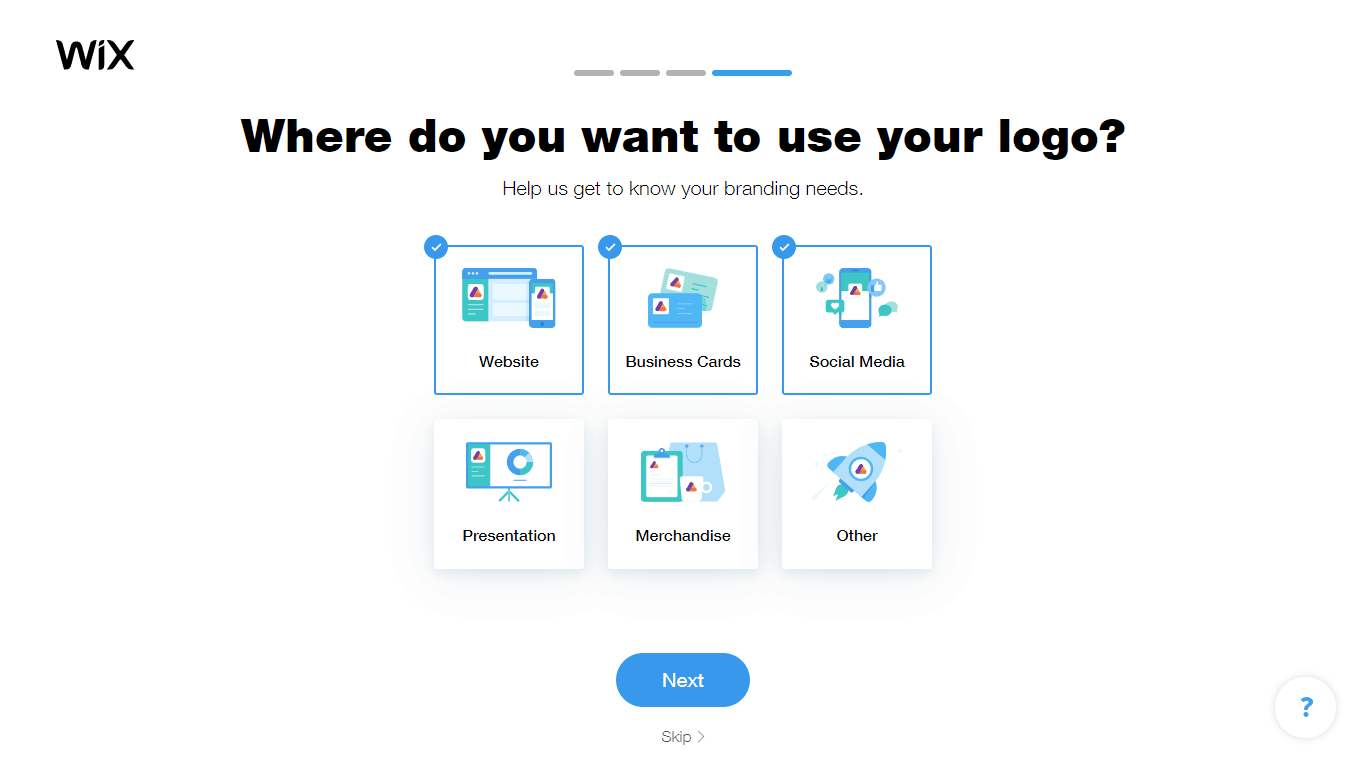 Scroll through the designs to get a feel for them and decide on the one you like best.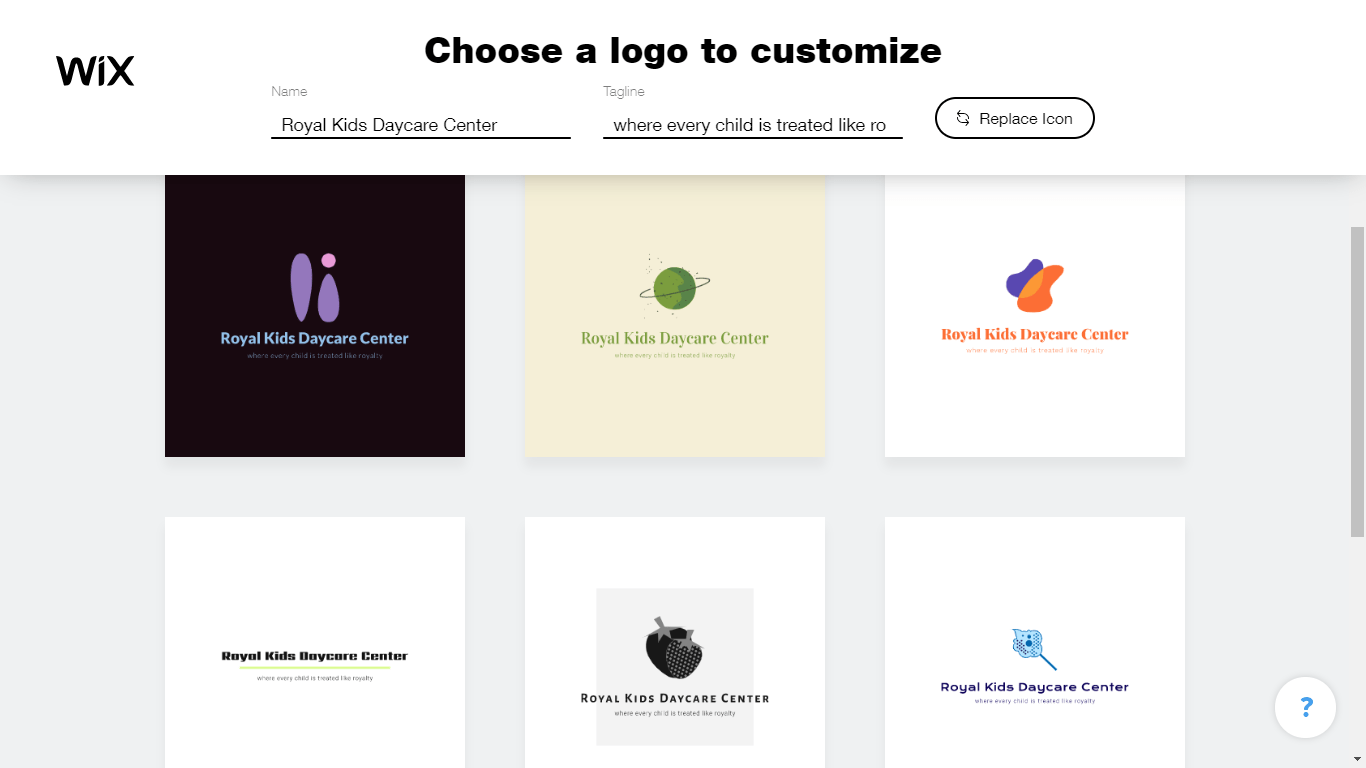 In the above example, the icons aren't very royal. But don't worry, you can change that. Click
Replace Icon
and search for a term that matches what you're looking for. You can try terms like crown, shield, and royal to see what options are available. Click the icon you like to replace all the old icons.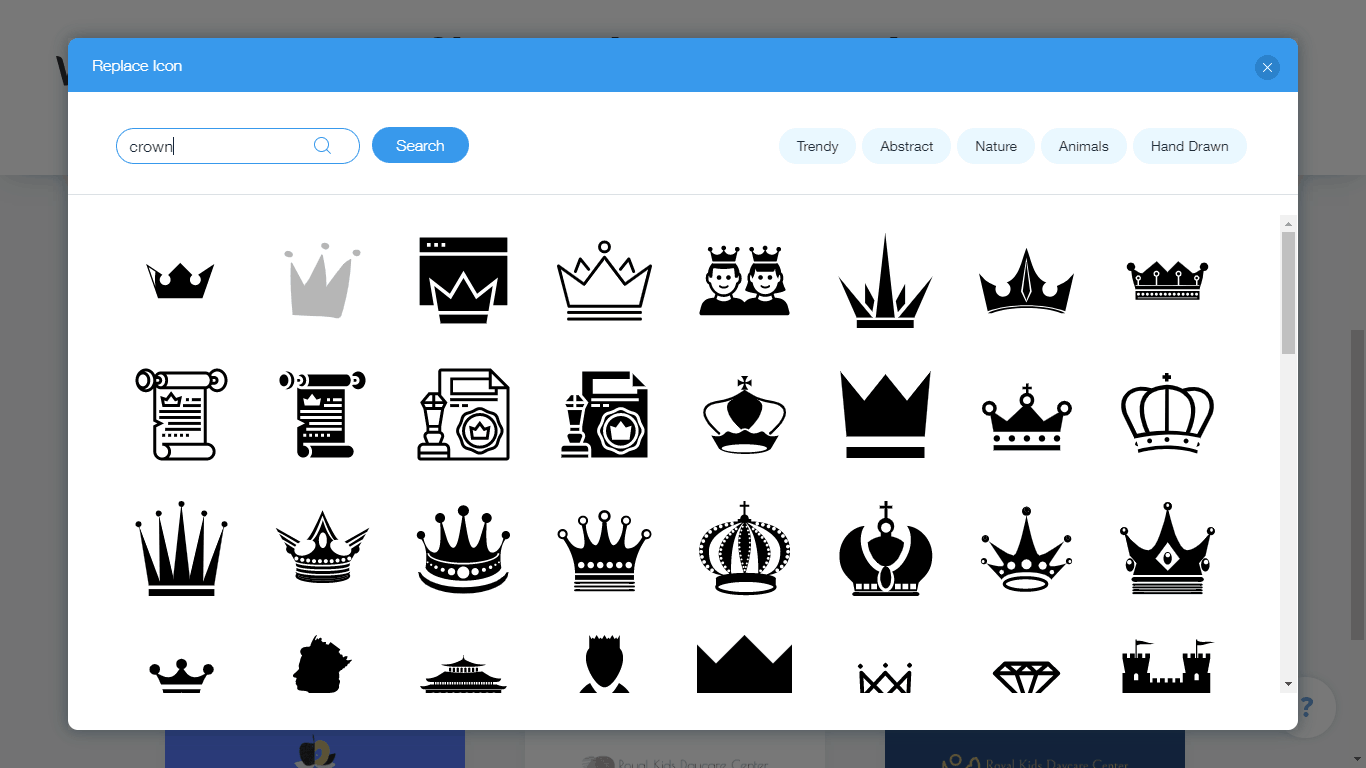 Once you decide on the logo template you'd like to customize, take it through to the logo editor in the next step. Here, you can adjust the logo in several ways: the font, the colors, the icon, the text – try and make it look as original as possible. If you're pleased with your logo, click Next to get the free, low-quality example. Alternatively, if you're eager to begin using your logo immediately, you can choose to pay for a high-quality file download instead.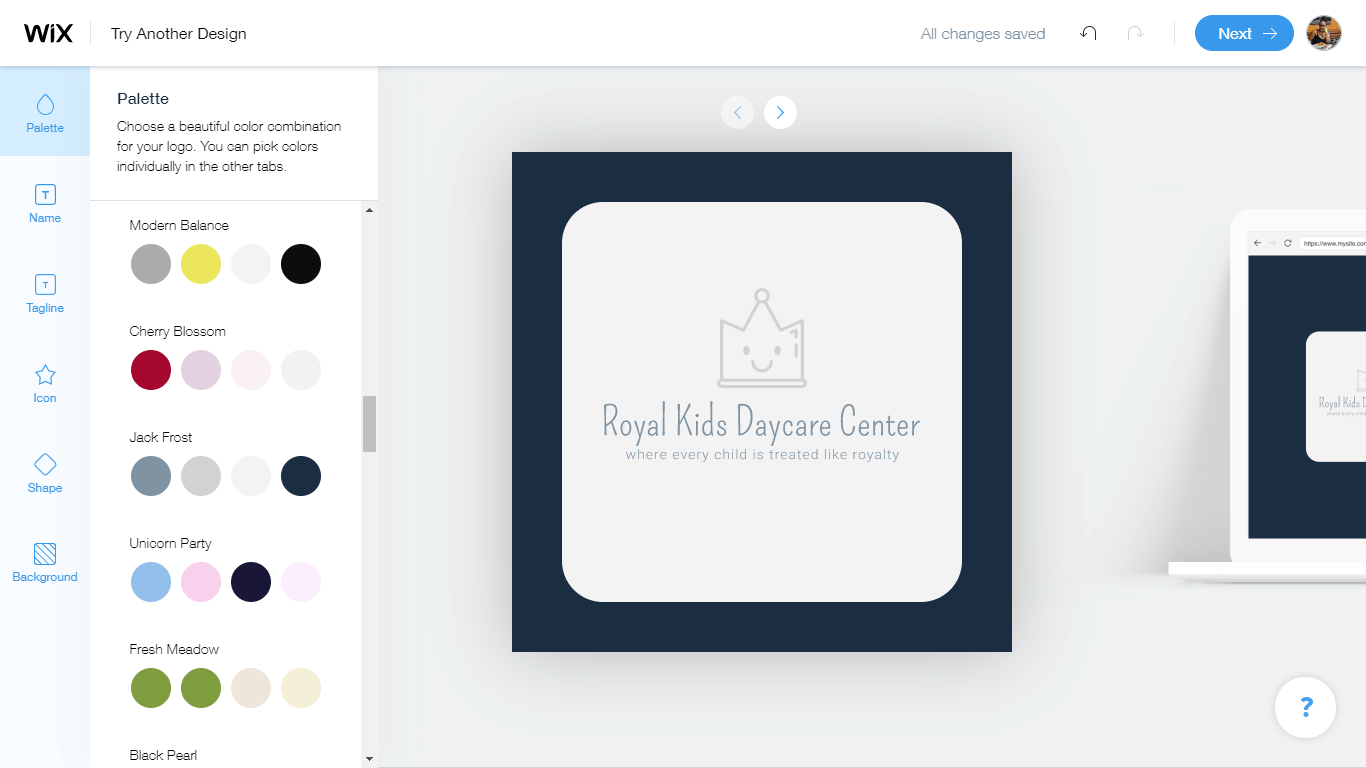 Read our full Wix Logo Maker review for even more example logos.
Wix Logo Maker Alternatives:
Looka – Looka is the ideal solution if you're in need of a range of branding services. In addition to a new logo, you can sort out your website, business card design, and social media kits. It's a great option for new businesses or a total rebrand. Learn more in our in-depth Looka review.
DesignEvo – There are more than 10,000 pre-made design templates at DesignEvo. If you want to take the guesswork out of your logo, don't rely on an AI. Browse the 15+ template categories yourself to choose the right one. See some logo examples on our expert DesignEvo review.
Summing It All Up
To get the best design possible, your logo deserves the royal treatment. With
Fiverr
, your new design could only cost you $5, and in return, you'll get a bespoke service and professional quality. You really can't go wrong. If you're ready to channel your creativity into a bit of DIY,
Wix Logo Maker
 is the best option. Thanks to the AI, you won't be staring at a blank page. Instead, you'll be able to work from a tailored template, which makes the whole process so much quicker. Still searching for the right logo design service? My colleague's review might help you make a decision. Head over to his
expert logo design service comparison
 for more insight.