Jump down and learn my secret to hiring a pro for a low price.
Want to try making your own leaf logo design? I'll explain how you can create one for free. First, let's leaf through some of my favorite logos.
9 Best Leaf Logos
How to Get an Attractive Leaf Logo for $5
The best option to boost your brand? Hire a professional designer to create your logo. Not only is it less risky than trying to DIY, but it can also be very cost-effective if you find a designer via Fiverr. The Fiverr platform has thousands of expert freelancers specializing in different fields of logo design, and many offer their services at a starting price of $5.
When we wanted a new logo for Website Planet, my teammate tested well-known logo design services from around the web. During his search, he found some surprising results. Don't miss his
full comparison of logo design services.
Key Fiverr Features
Find the right designer – You can choose designers based on their experience level.
Express delivery – Most freelancers deliver their work in less than three days, but there are designers who can finish your project within 24 hours for an extra fee.
Secure payments – Fiverr holds funds in escrow until the designer delivers your leaf logo and you've approved the design.
No hidden fees – When you choose a gig, you'll see what you're paying upfront. There are no added charges.
Research for free – You can browse designers' portfolios and see other user reviews and ratings for free.
Navigating the Fiverr Website
Fiverr sports a sleek interface that makes finding a logo designer quick and easy. First,
go to the Fiverr homepage
 and hover over
Graphics & Design,
then select
Logo Design.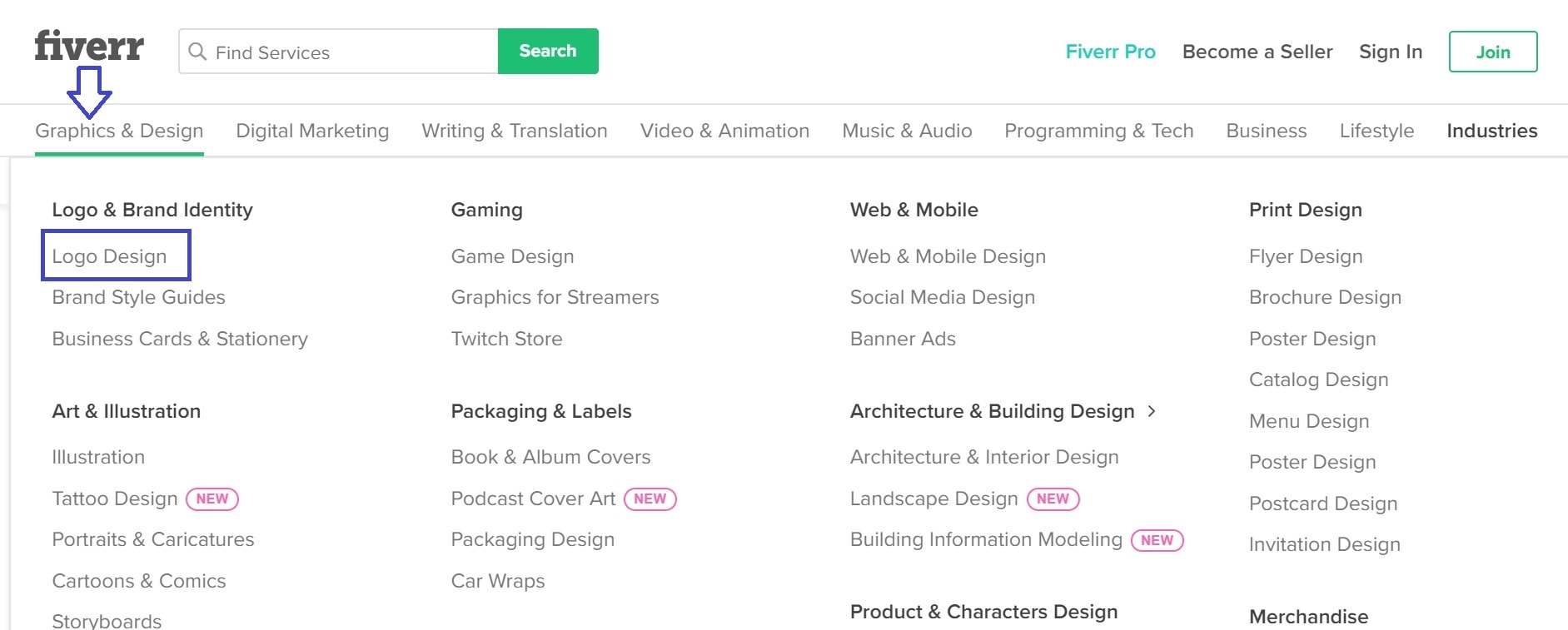 You can also type a keyword in the search bar (e.g., leaf logo) or use the Fiverr wizard and answer a few questions to help find the right logo designer for you.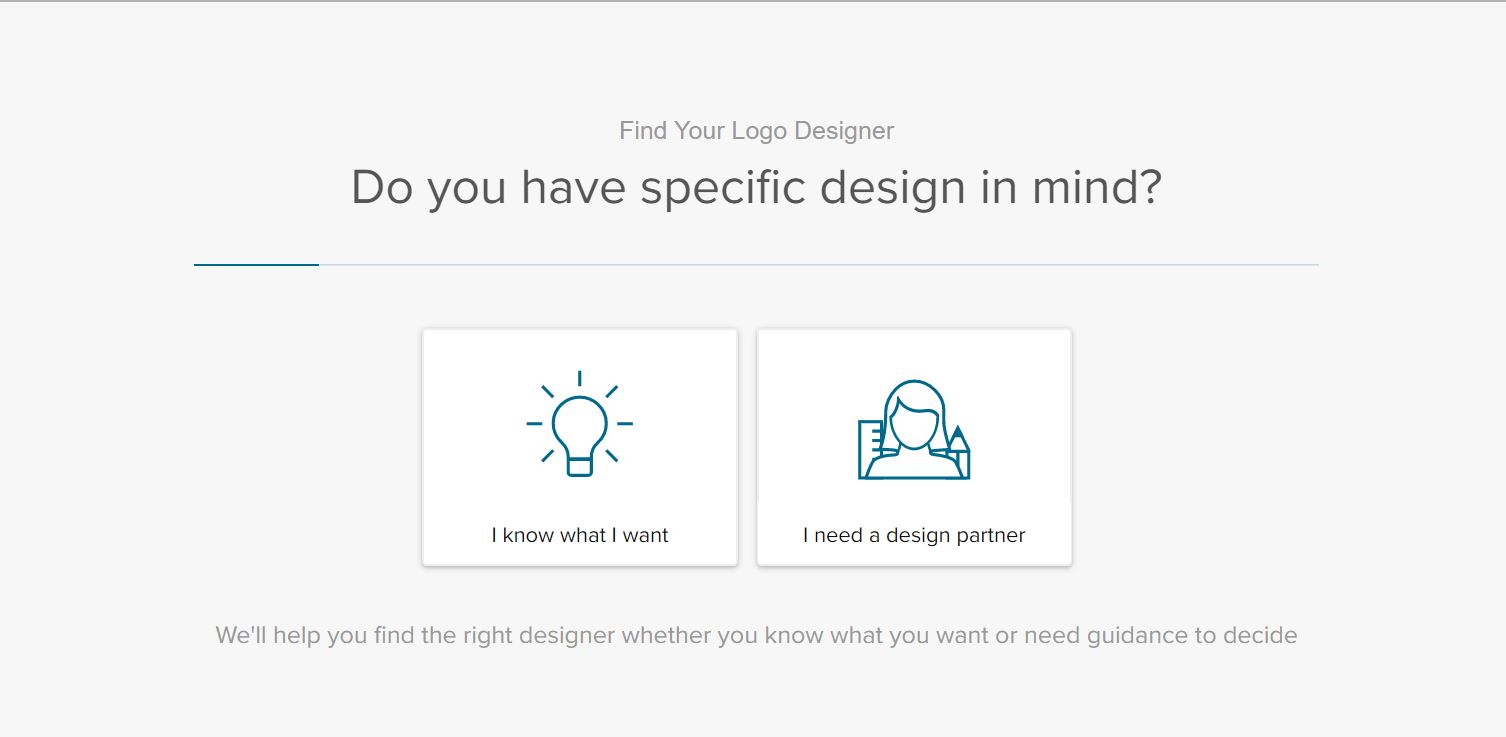 Use the search filters to narrow down your results. You can select the type of logo, delivery time, your preferred budget, or specify the designer's details.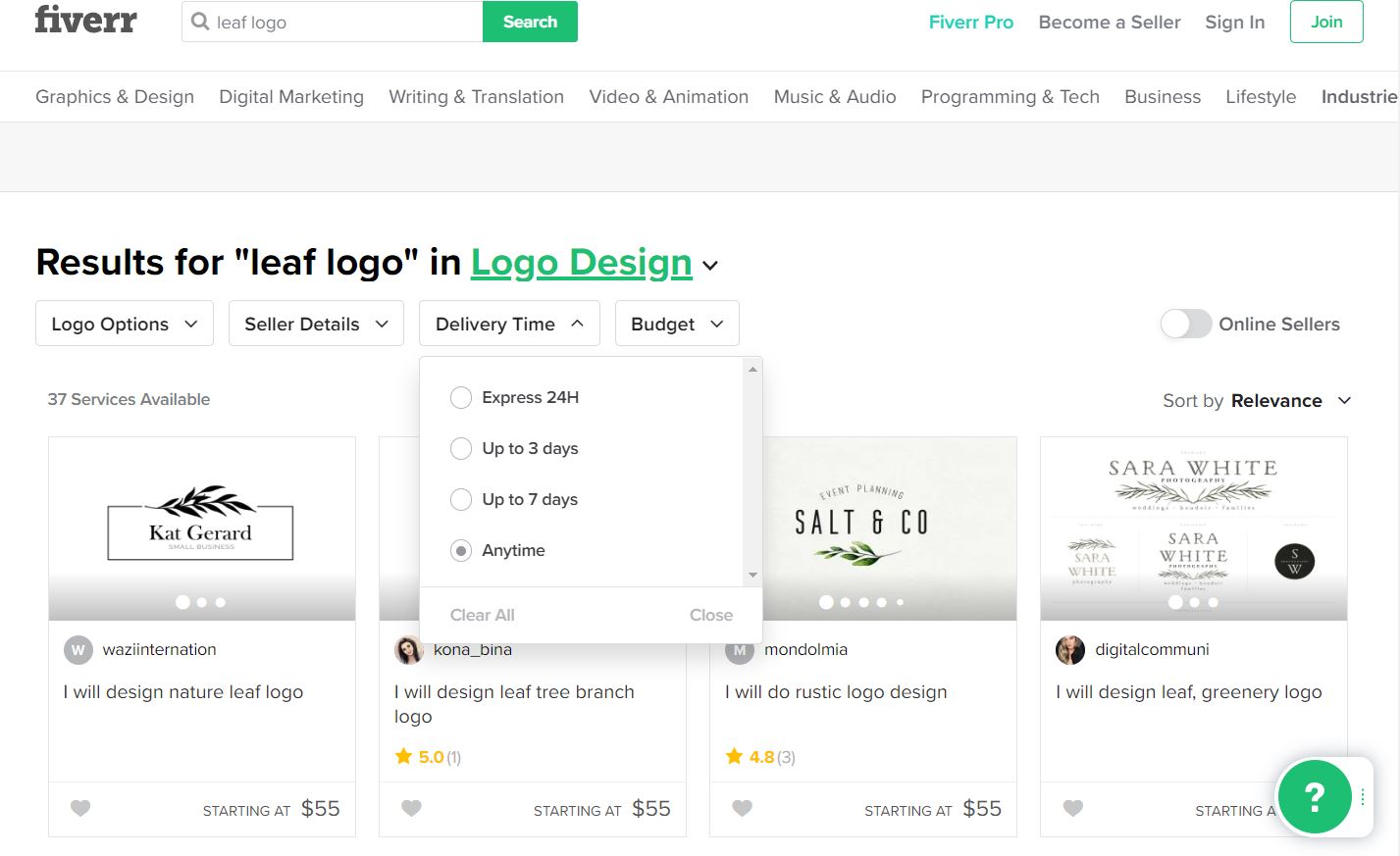 Thinking of going with a pro? Learn more about hiring the right designer in our
in-depth Fiverr review
.
How to Make Your Own Leaf Logo
If you have a creative vision of your new leaf logo, you could try to bring it to life using an online logo maker. There are hundreds of DIY logo makers to choose from. Most are free to use (you'll usually just have to sign up for an account), and then you'll pay when you want to download your logo in a usable format.
Wix Logo Maker
I prefer Wix Logo Maker, which uses artificial intelligence (AI) to get a better understanding of your preferred style. It also gives you a wide range of customization tools to fine-tune your leaf logo design. Here's how it works: It all starts with creating a free account.
Go to the Wix Logo Maker homepage
and click on
Start Now
to sign-up.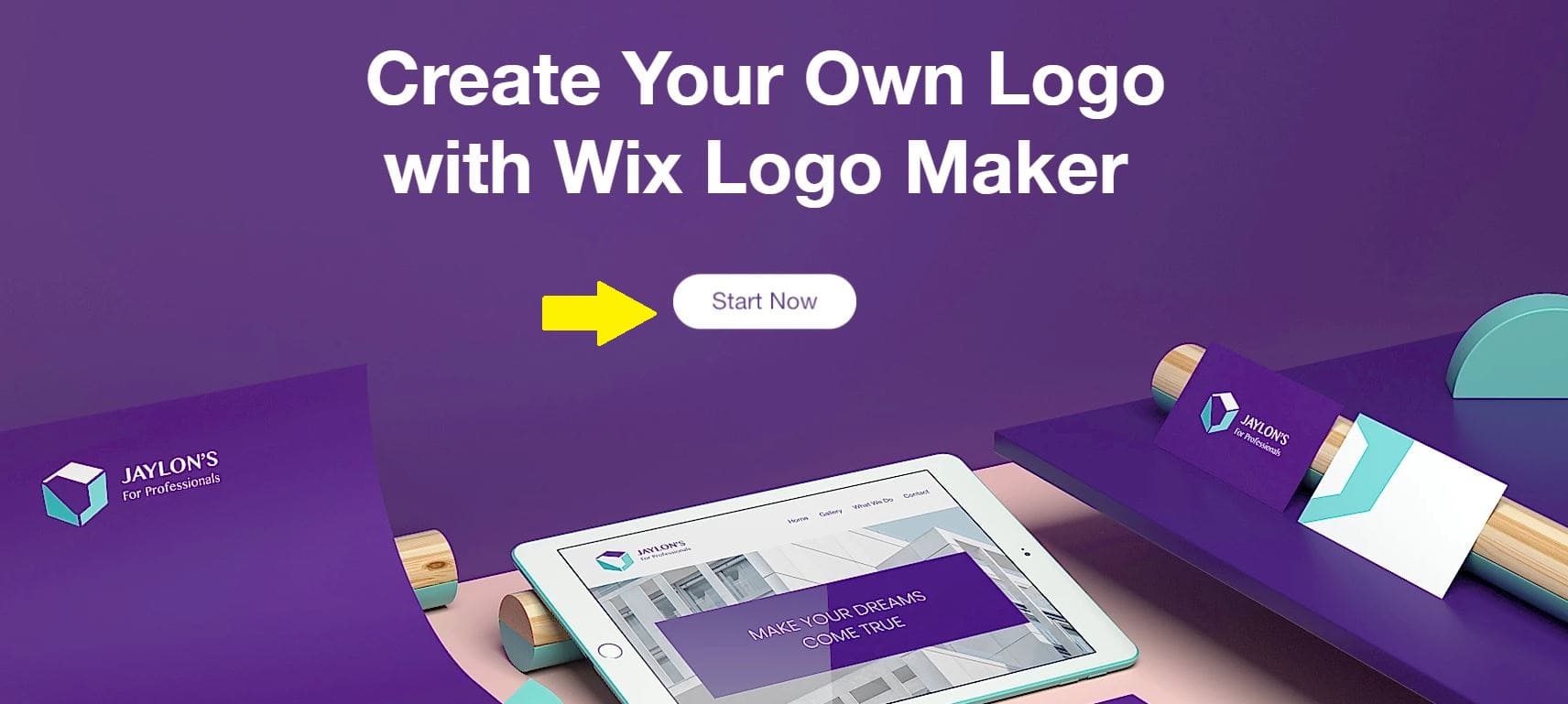 Next, the AI wizard will ask you a few questions about your business and your preferred style. Using this information, it will generate a list of logo templates it thinks you might like. These templates might not have a leaf logo on them, but you can change that. Click on
Replace icon
at the top of the page and find a new icon by typing "leaf"  in the search bar. Choose your favorite and it'll be applied to every template.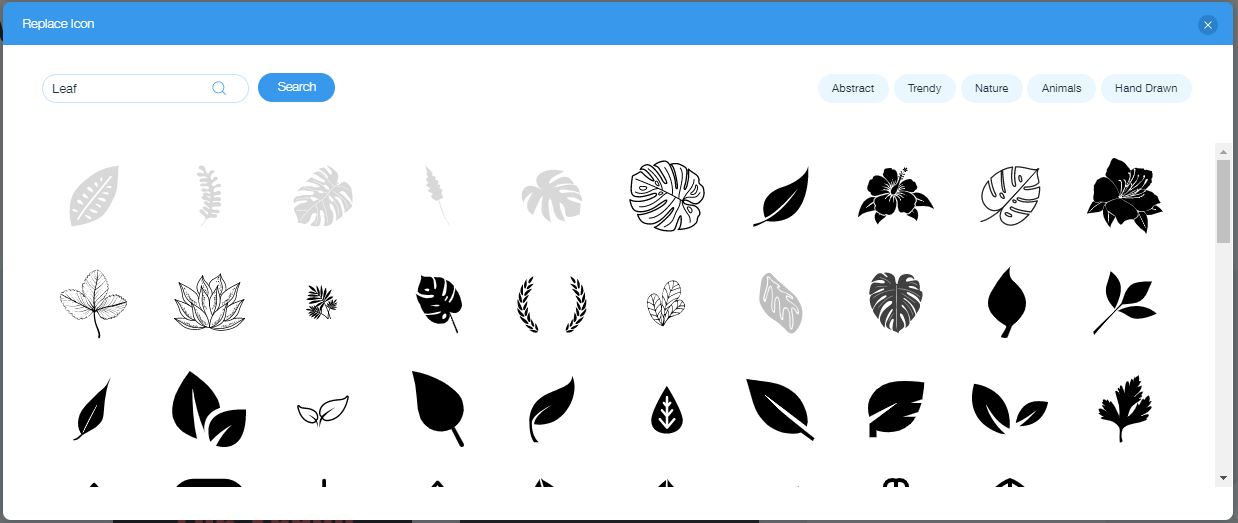 Once you've chosen a logo template, it's time to customize it. Wix Logo Maker's intuitive editor makes it easy to play with different fonts, colors, and icons.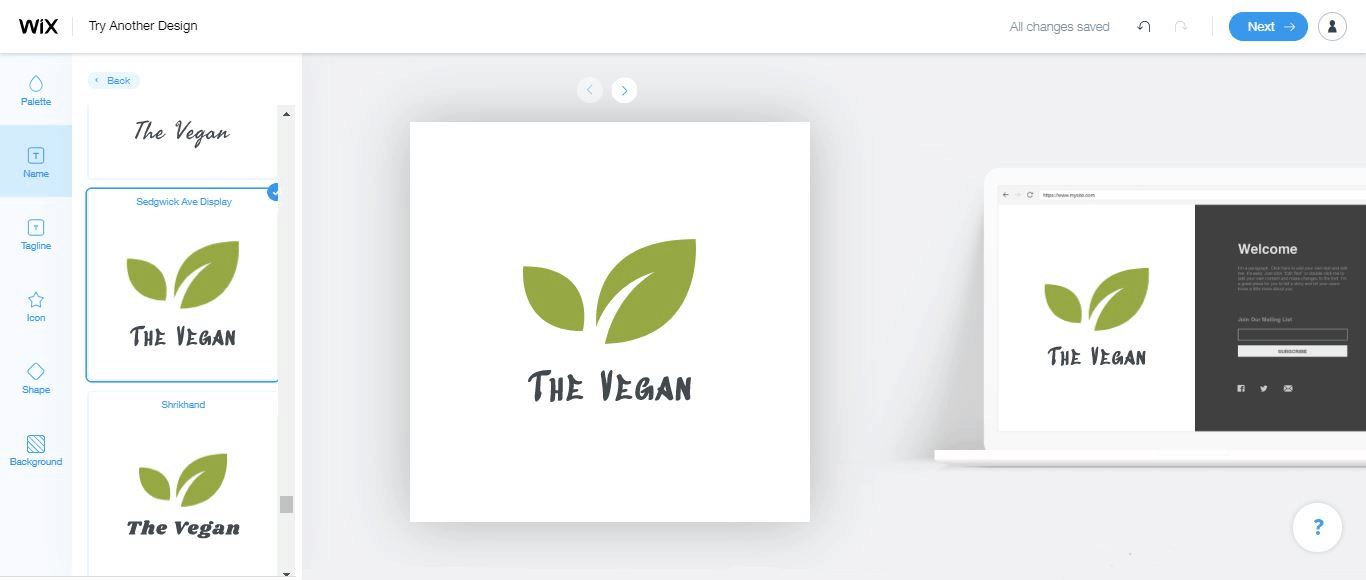 Once your leaf logo design is all set, click on
Next
at the top of the page to go to the payment section. Here you can choose to download your design in different, high-res formats for a one-time fee. Want to learn more? Read our
full Wix Logo Maker review
 for more logo examples.
Alternatives to Wix Logo Maker
Tailor Brands can print your logo on almost anything you want. It also offers a variety of abstract shapes to give your leaf logo design a more original look. Read our expert Tailor Brands review for more information about the platform.
DesignEvo has a user-friendly drag-and-drop interface. It also has hundreds of fonts and templates to fuel your artistic vision. Learn more in our in-depth DesignEvo review.
More Than a Leaf – Final Thoughts
The style of your leaf is what's going to set your growing brand apart from your competition. Take inspiration from popular existing brands, like Fanta's fun logo, that uses a leaf as part of its orange design, or Adidas' iconic "trefoil" – a striped three-leaf icon. Find more advice and inspiration on how to use natural imagery with our round-up of the
best nature logos
. If you're confident about your designing skills and want to add a personal touch,
Wix Logo Maker
 will help you bring your leaf logo to life. Or, why not leave it to the pros and work with one of
Fiverr's
 expert designers. With such a tiny $5 price tag, there's no excuse not to give it a try. Need more inspiration? Make sure to check our list of the
best logo design services.