In this article, I'll show you how you can hire a professional designer for just $5.
If you'd rather make your own logo design, jump down to see my top recommended free logo maker. But first, get some inspiration from my favorite collection of law firm logos.
9 Best Law Firm Logos
Hire a Creative Designer for a Cheap Price
When it comes to logo design, every detail matters. Should you use red to show power in your logo, blue to reflect wisdom, or green (the color of money)? Or do you already have a color palette for your company's branding? Which font will make your law firm's name feel traditional and respectable? A professional designer will have all the answers. Hiring a professional graphic designer sounds like an expensive process, and even if you have a significant budget, it can often be the one element of branding a company that costs the most. But did you know that you can commission a talented logo designer for as little as $5 on Fiverr? No, seriously. Prices start from $5 for a professional, bespoke design. Fiverr is a large online hub for tens of thousands of freelancers from around the world. They offer packages of their services at a range of prices, and with so many designers to choose from, you're bound to find one that specializes in the exact style you're looking for.
Have you seen our new Website Planet Logo? We extensively searched and tested lots of different services, including Fiverr, before choosing a winner. Read all about it in my colleague's
in-depth comparison of logo design services
.
It's Easy to Use Fiverr
Fiverr's website is user-friendly, so it's easy to find a designer with just a few clicks.
Go to the Fiverr homepage
 to start, then search for a relevant keyword (e.g., law logo).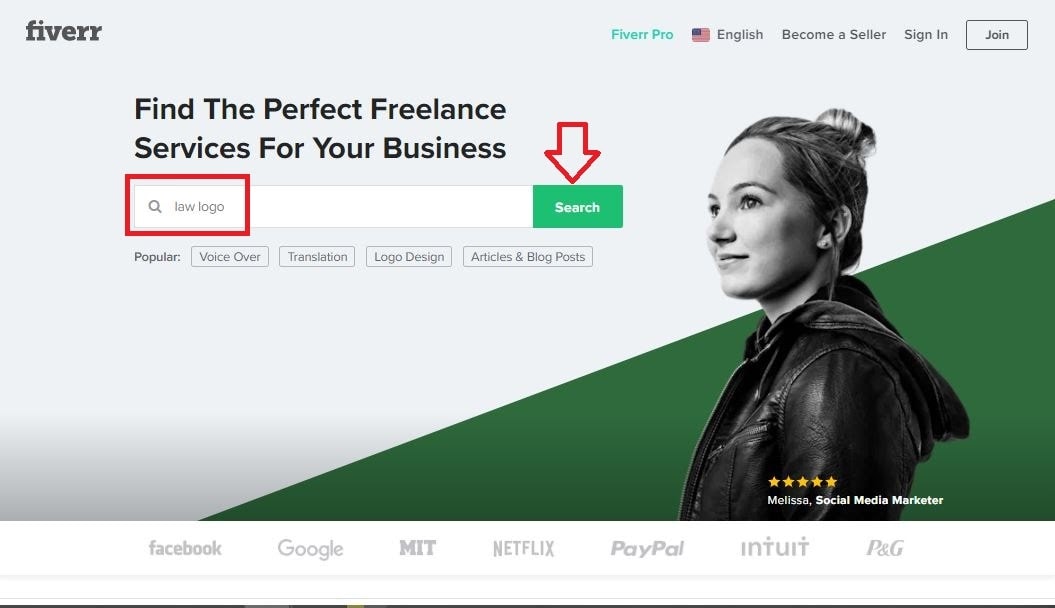 From the filters at the top of the page, click the
Category
 label and choose
Logo Design
.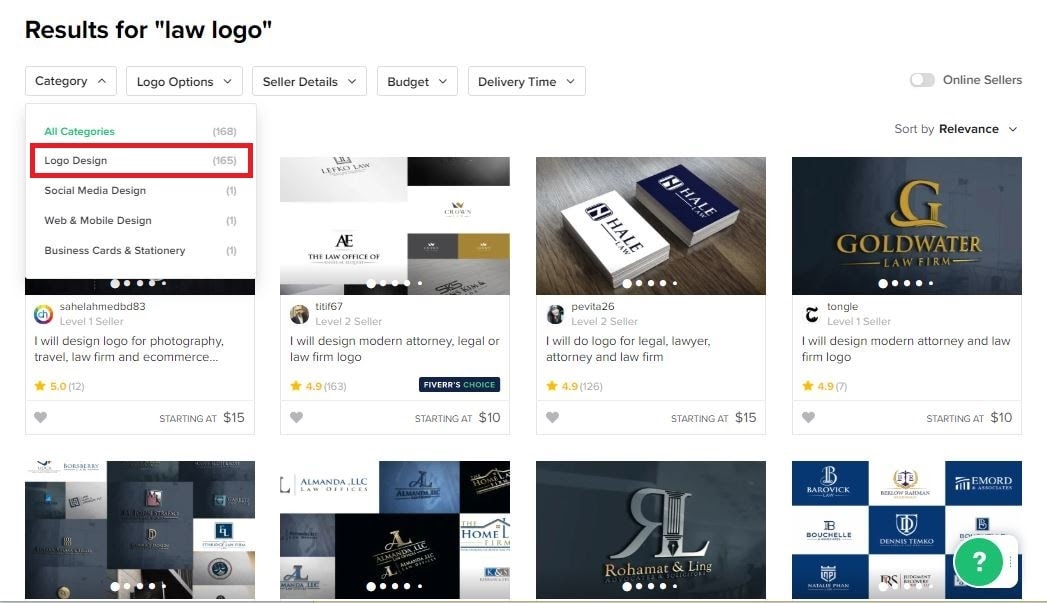 Narrow down your results further by using Fiverr's other advanced search filters. These include logo type, seller details (language, location, experience level, etc.), preferred budget, and delivery time.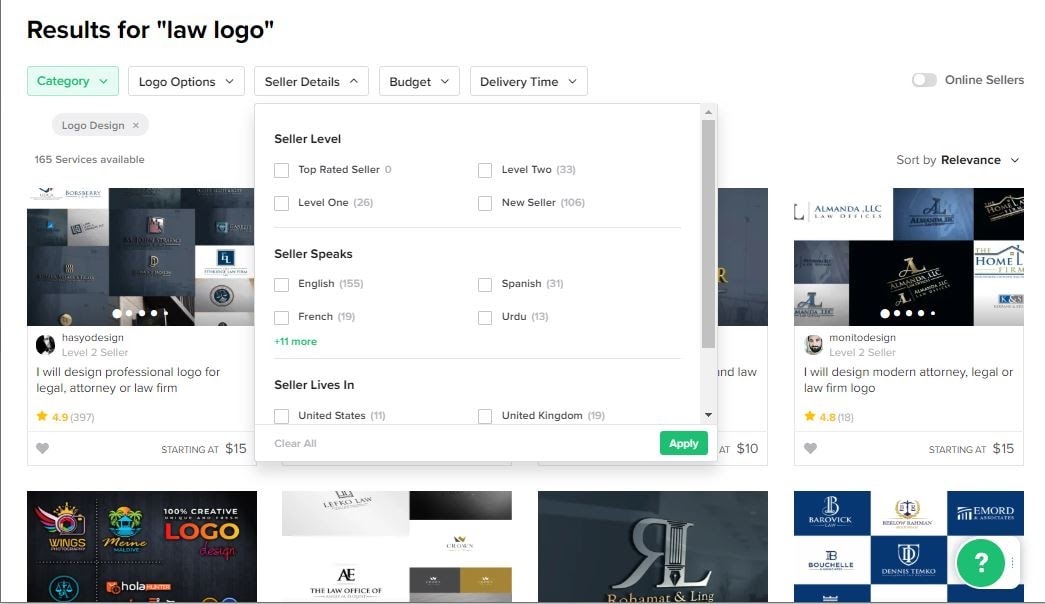 See a logo you like in the results? Click it to access the designer's full portfolio. Here you can check out other users' ratings and you can even contact the designer directly with any questions you might have.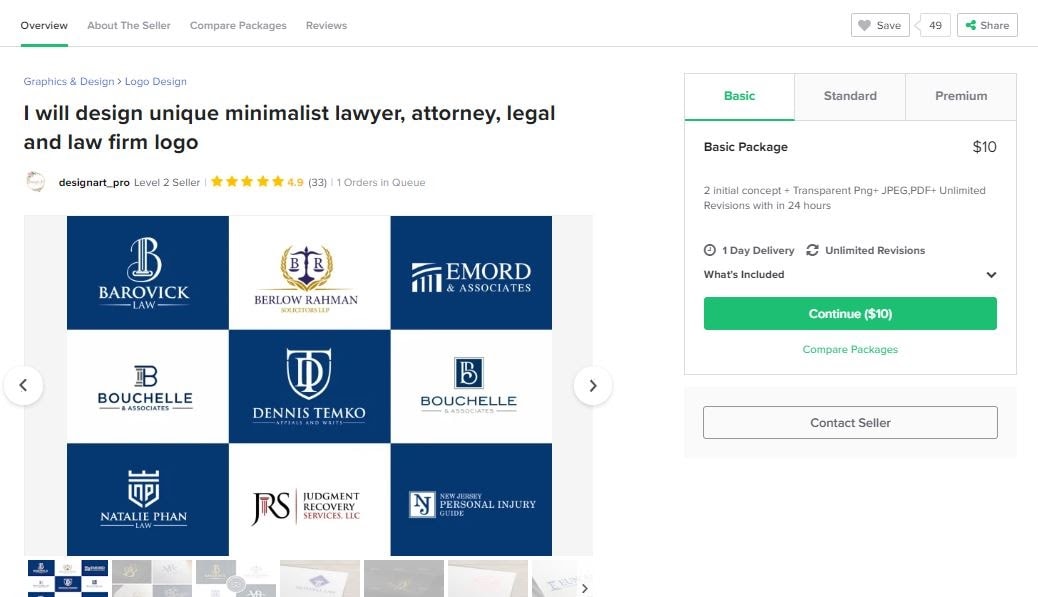 Check out more details from our experts on
how to hire the right designer on Fiverr
.
More Fiverr Perks
Secure transactions – Even though you pay for the gig in advance, Fiverr holds your money securely in escrow and only releases it when the project is complete and you're satisfied with the results.
Express delivery – The average delivery is 48-72 hours, but if you're in a rush, some designers can deliver within 24 hours for an extra fee.
Find a designer on-the-go – Fiverr has a free mobile app where you can contact designers directly using its built-in messaging service.
Custom packages – Most designers have fixed price packages, but some offer to customize a deal and create a bespoke package to suit your needs exactly.
How to Make Your Own Law Firm Logo
Creating your own law firm logo is more complicated than hiring an expert designer. You'll have to think about all of the intricate elements yourself, such as the right icon, color scheme, and font style. However, if you have a creative eye and a strong vision, the best way to DIY is using an online logo maker to help you on your way.
Wix Logo Maker
With its highly intuitive artificial intelligence (AI), Wix Logo Maker suggests tailored logo templates and then allows you to add your personal stamp on the design. The range of customization options keeps you safe from falling into the generic design trap. It's also super easy to use with a straightforward, step-by-step process. It all starts by creating your free account.
Go to the Wix Logo Maker homepage
, click
Start Now
, and fill in the required information.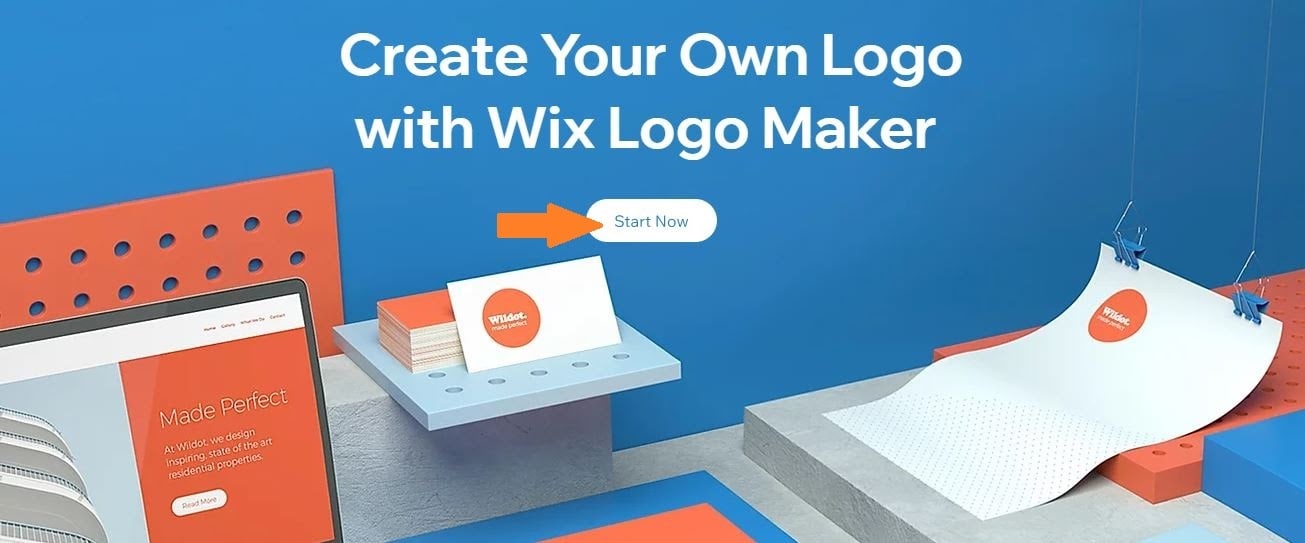 Once your account is created, you'll be asked to fill in some information about your business including the industry, brand name, and tagline (if you have one).

Then, the AI wizard will ask you a few questions about your preferred logo style to get a better understanding of what you're looking for. These include choosing words that best describe your vision, and another step where you have to choose between pairs of logos.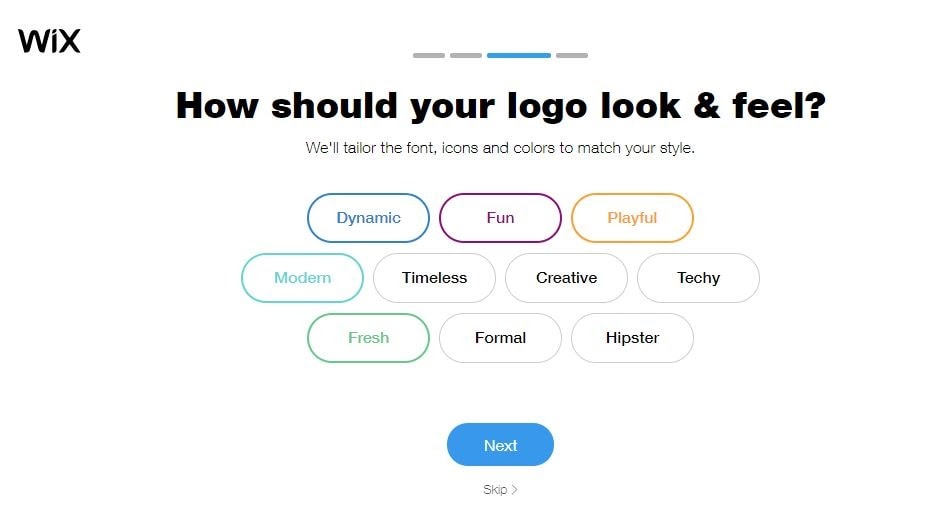 Based on your answers, the AI wizard will generate a range of logo design options. The imagery might seem a little generic, so you can improve these results by clicking on
Find an Icon
 at the left side of the page and type in a relevant keyword (e.g., law, gavel, scale, etc.).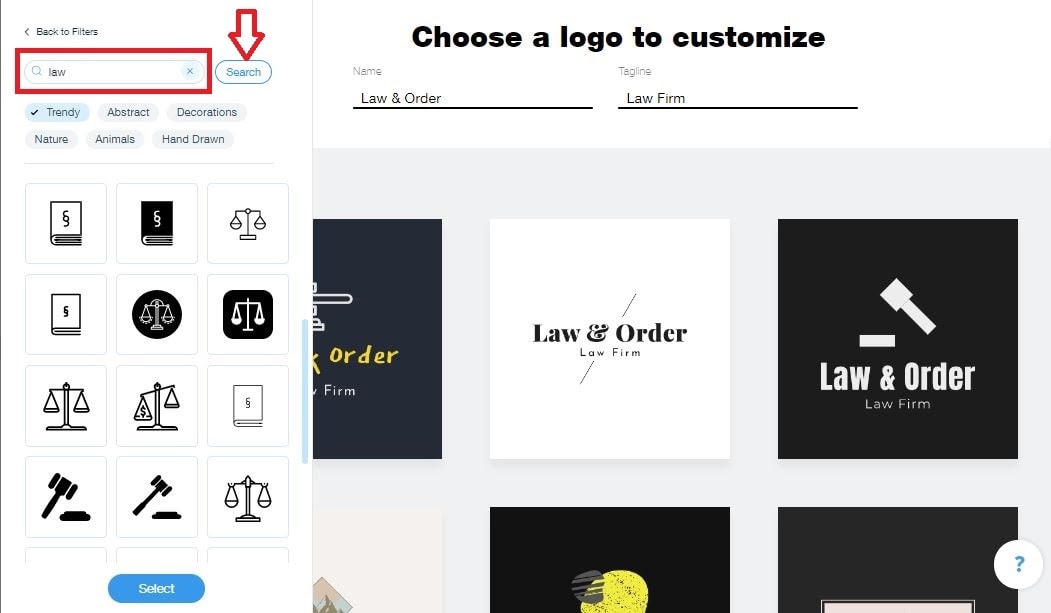 Once you've chosen a new icon, it will replace all of the icons in the generated logos. Choose your favorite logo in the results and click
Customize
 to move onto the next stage. Here you'll go into Wix Logo Maker's intuitive logo editor where you can adjust almost everything in the logo, including colors, fonts, backgrounds, icons and more. One risk with logo makers is creating a generic logo, so this is your chance to make the template as unique as possible.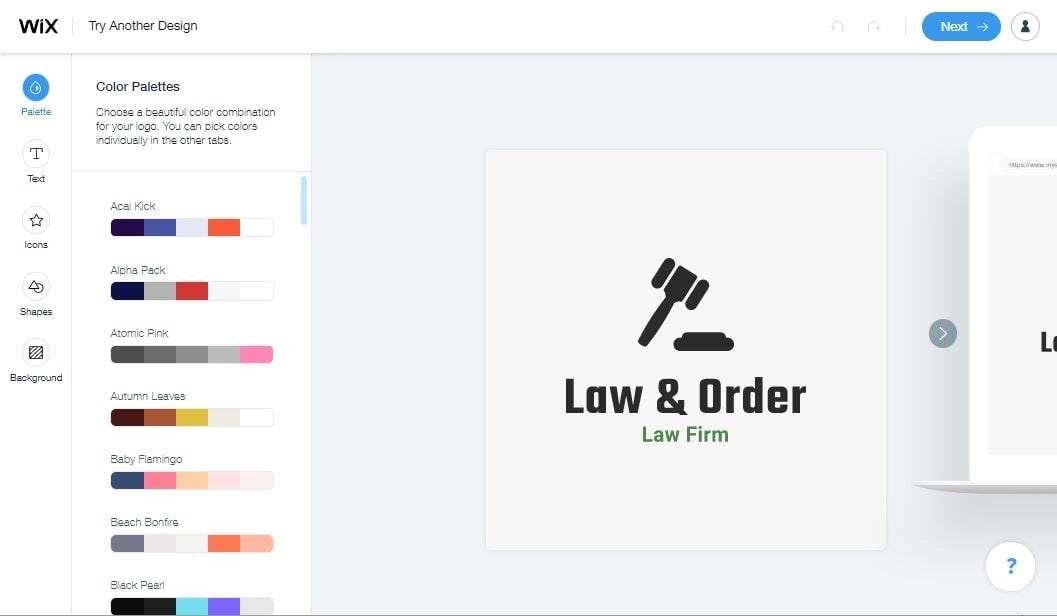 After making the necessary adjustments and achieving your desired results, you now have two options. You can choose to download a free, low-resolution sample image, or you can opt to make a payment and acquire the high-quality versions for immediate use of your logo. Find out more about Wix Logo Maker, including more logo examples, in our
in-depth Wix Logo Maker review
.
Wix Logo Maker Alternatives
Looka – Even after paying for your logo, you can revise and edit your design an unlimited number of times for the first 72 hours at no extra cost. You'll find more information in our detailed Looka review.
DesignEvo has an easy-to-use, built-in tool, similar to Microsoft Paint, which has a massive library of shapes, icons, badges, templates, and more to design your logo from scratch. Read our expert DesignEvo review to learn more.
Raise the Bar With a Great Law Firm Logo
If it's quality, bespoke design you're looking for, then
I recommend hiring a designer on Fiverr
. Even with a small budget, you'll get a tailored logo that's worthy of even the most prestigious law firm. The cost is low, the designers are pros, and the turnaround time is short. What's not to love? Want to DIY instead? Some logo makers produce boring designs that are too generic to stand out in your industry, but not
Wix Logo Maker
. This tool has loads of attractive templates and gives you so many customization options, you can create something unique to your firm. While the AI can't replace a pro designer, it does give you a helping hand along the way. If you're still undecided, you can discover more creative ways to get an amazing law firm logo in this
expert comparison of the best logo design services
.