In this article, I'll let you in on my surefire method for securing a logo designer for just $5.  
---
9 Best Hipster Logos
My colleague tested some of the top logo design platforms and scored each one based on its performance. I was pleasantly surprised by his results! You can head over to his
full logo design service review
 to see which platforms were tested and how they ranked.
How to Get Your Logo Design for $5
It probably doesn't seem like a good idea to pay only $5 for a logo. For that price, you're probably thinking the end design would look amateur. Before I found freelance platform Fiverr, I'd have probably agreed. Thankfully, with Fiverr, you can hire a professional designer for a low price and get the logo design of your dreams. The platform hosts thousands of freelancers in several different fields, including logo and graphic design. You have your choice of thousands of talented designers, specializing in every logo style under the sun. If you'd like to take a look at the designer options at Fiverr,
head to the Fiverr homepage
 to begin. Type "hipster logo" into the search bar and take a minute to scroll through the results. Searching for a designer at Fiverr is completely non-committal – you'll only need to create a profile once you're ready to hire.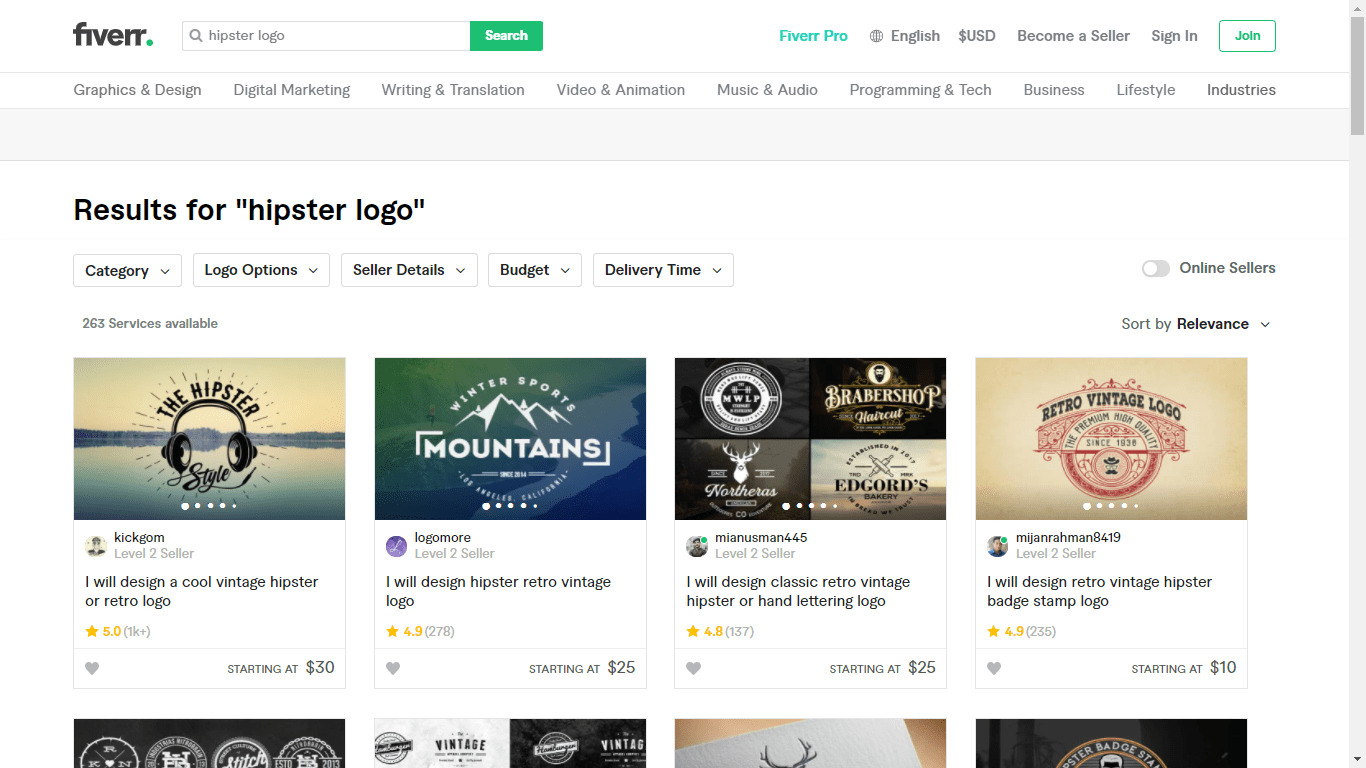 Clicking on a designer's profile takes you to the full view, where you'll be able to explore their portfolio and customer reviews. Each designer's profile also details the services they offer and the cost of each package. Packages come in three tiers – basic, standard, and premium. You can examine the services in each tier to determine which one works best for your needs.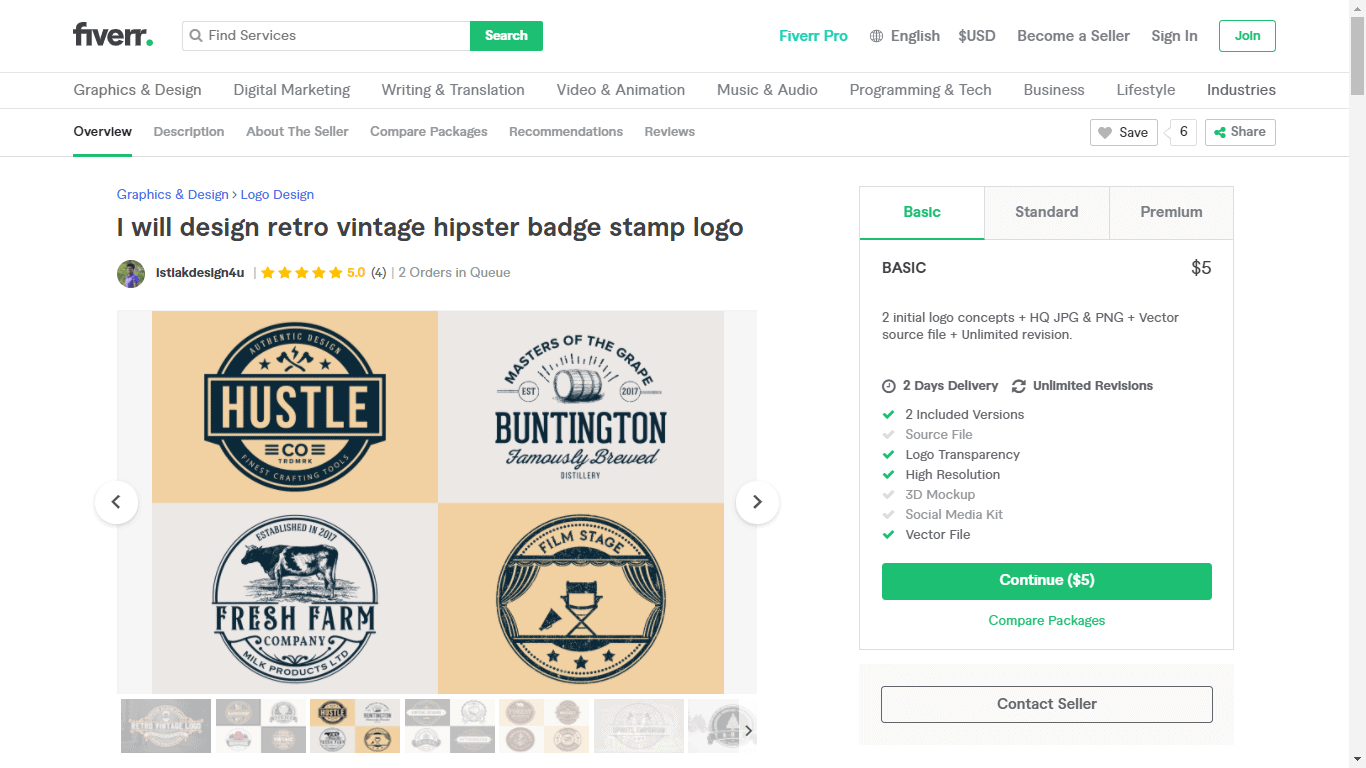 Once you click
Continue,
you'll be taken to the payment preview page. Here, you'll find the final cost of your chosen package, along with each service it includes. The
Continue to Checkout
button will take you to the payment page where you can enter your payment information and finish the commissioning process.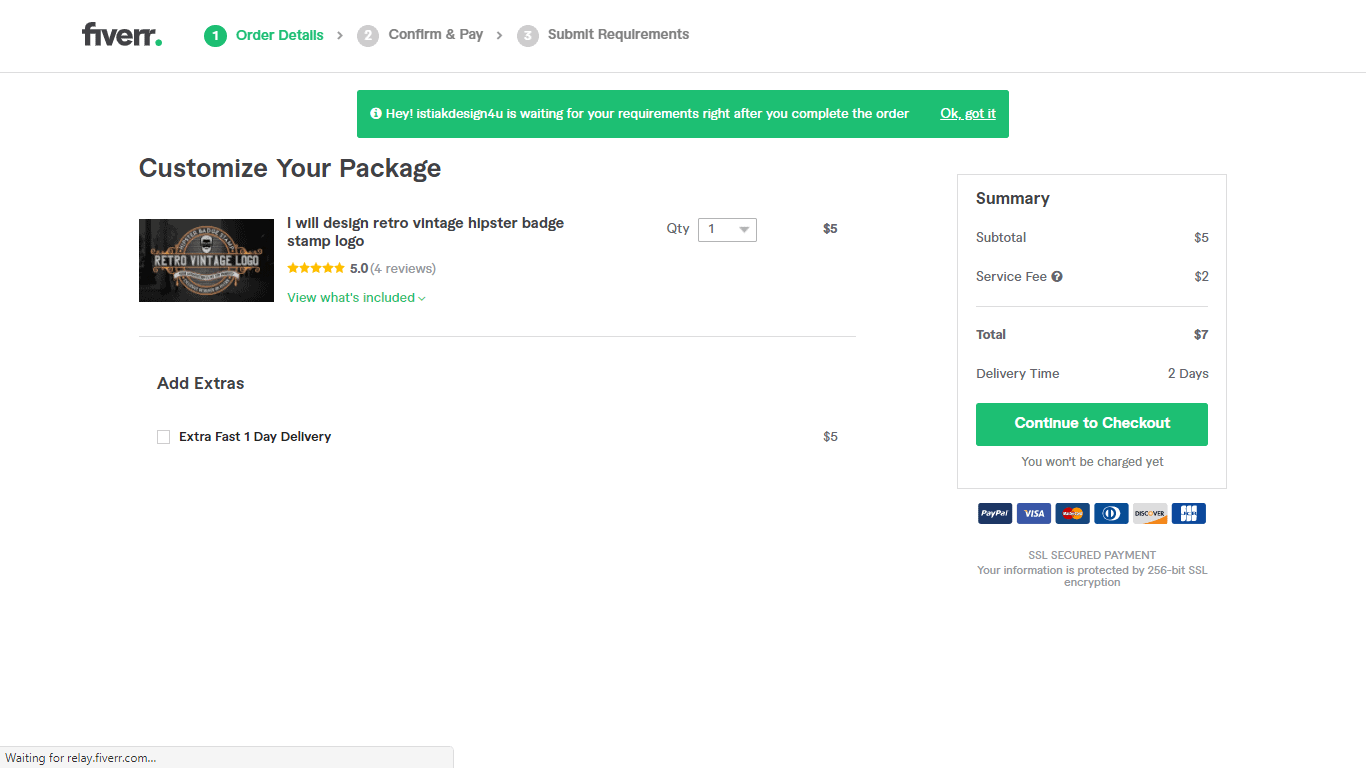 From here, you'll need to fill out a short questionnaire about your design. Feel free to include whatever bits of inspiration you think will help convey your design ideas to the designer, including photos or sketches. Here are a few other perks you get when using Fiverr:
Customizable packages – Designers can offer package additions such as expedited delivery and 3D mockups at a small extra cost. You can select these additions right before you checkout.
Handy search options – Search for designers using filters like logo style, delivery time, budget, and seller level. Using these filters, you'll have a better chance of finding a designer that meets your exact requirements.
Pro designers – Fiverr Pro designers have been assessed by Fiverr employees and are verified as offering expert levels of design quality and customer service. If there's room in your budget, consider hiring a Fiverr Pro designer for your logo.
Worry-free payment – Your payment is held in escrow until you authorize its release. Once you've got a logo you're happy with, simply release the payment to your designer.
Interested in Fiverr?
Check out our in-depth Fiverr Logo Design review
for more tips and example logos.
How to Create Your Own Logo Design
If you're feeling a little adventurous, you might consider designing a logo on your own. Luckily, there's no need to buy expensive design software – you can use an online logo maker instead. Logo makers are the best DIY solution for logo creation, but not all of them work the same. Some have overly complicated interfaces and others deliver poor design quality. For a safe bet, I always recommend Wix Logo Maker. This is because it manages to make the entire design process stress-free and seamless. Wix Logo Maker uses artificial intelligence (AI) to generate logo templates that are already tailored to your industry and preferences. To get started, you'll need to
head to the Wix Logo Maker homepage
 and create a profile. Enter your company name and tagline and click
Let's Go
to begin the process.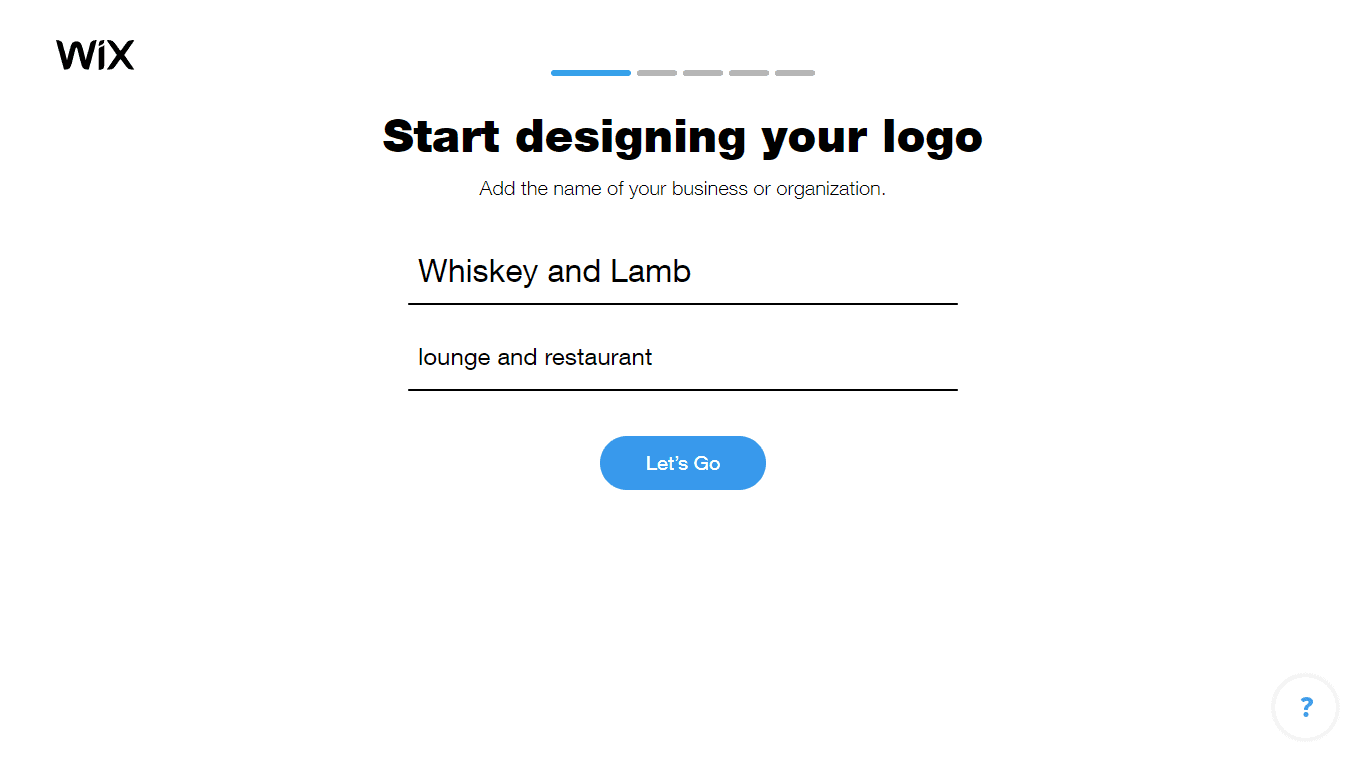 Start typing your industry into the search bar provided and choose the closest match from the dropdown menu.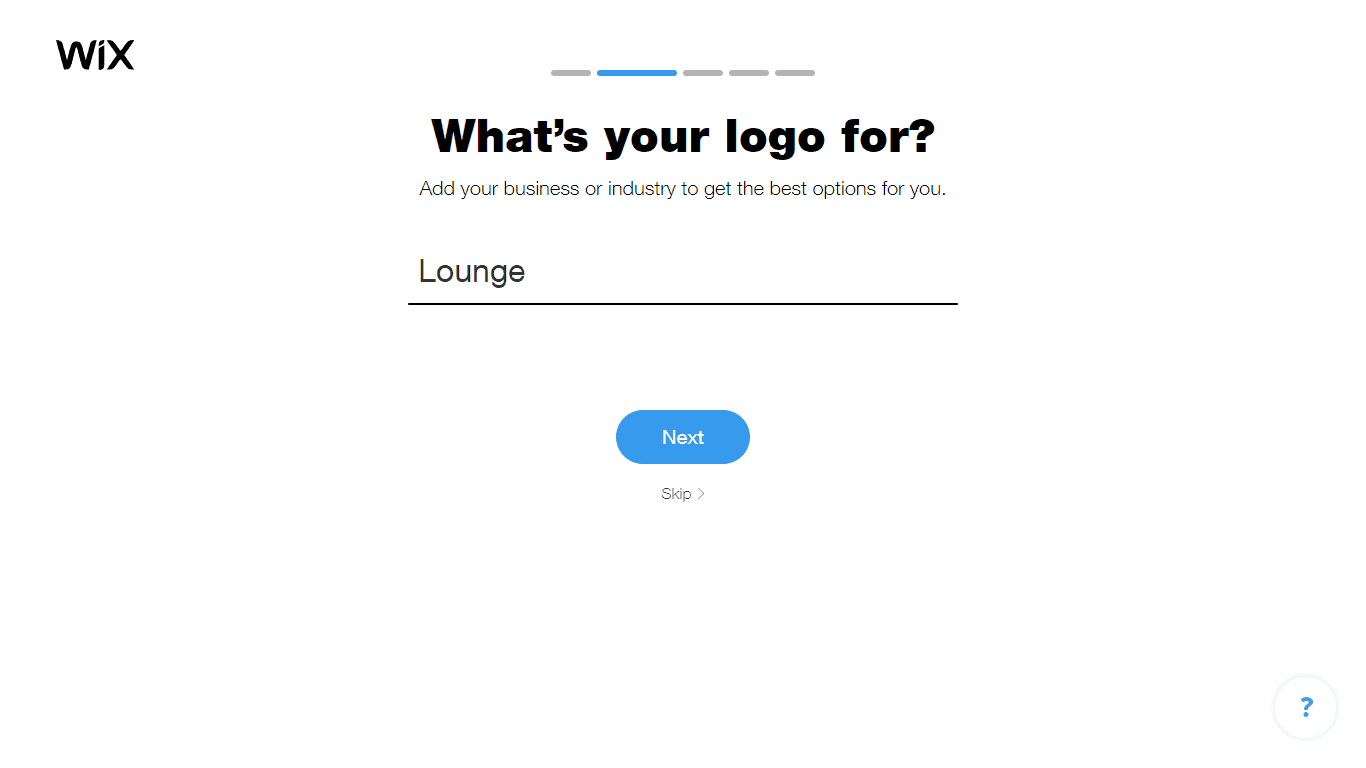 What's the ideal look and feel for your finished logo? Try to picture it. Then select all the words in the group of adjectives that apply. There's even a "hipster" option available – that one's a no brainer!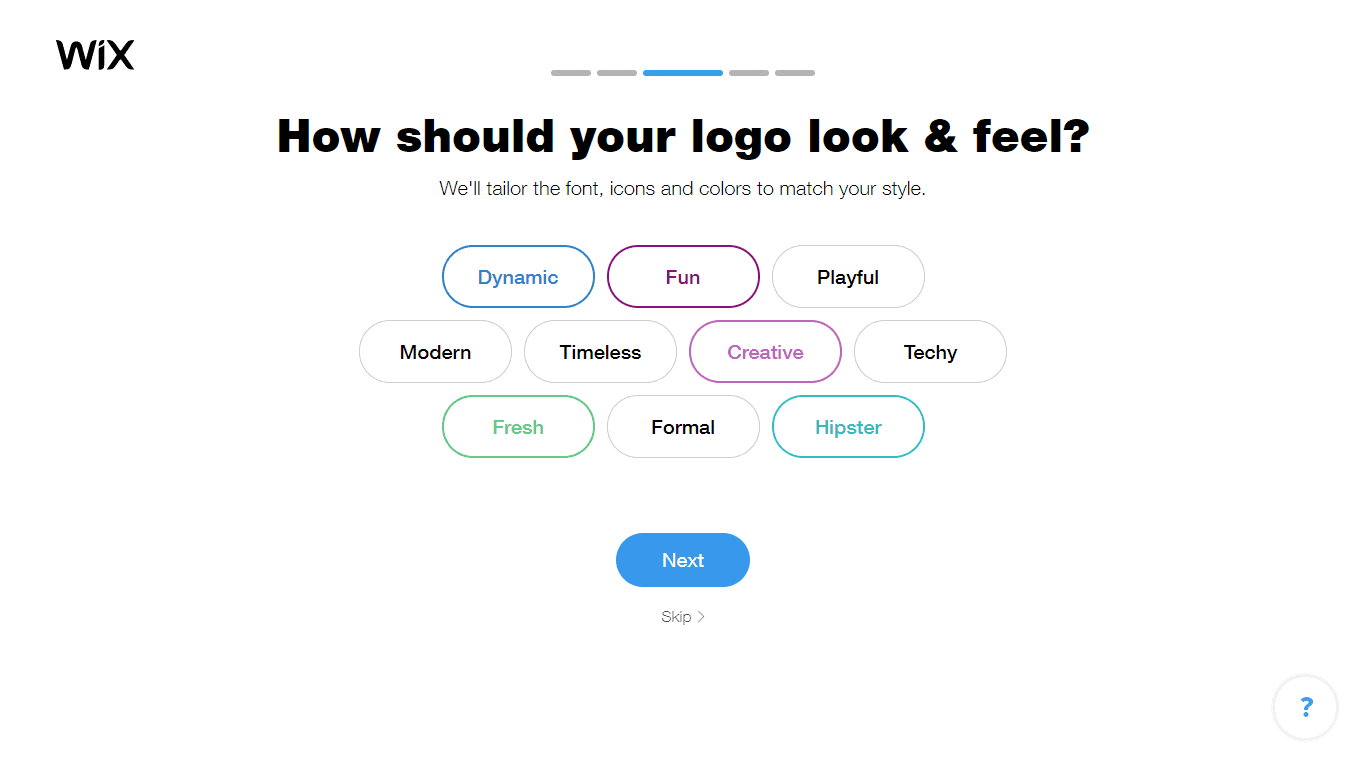 The logo pairings are important, so be sure not to skip this section. Click on the logo in the pair that you like best. If you're not feeling either logo design, click
I don't like either of them
to move ahead.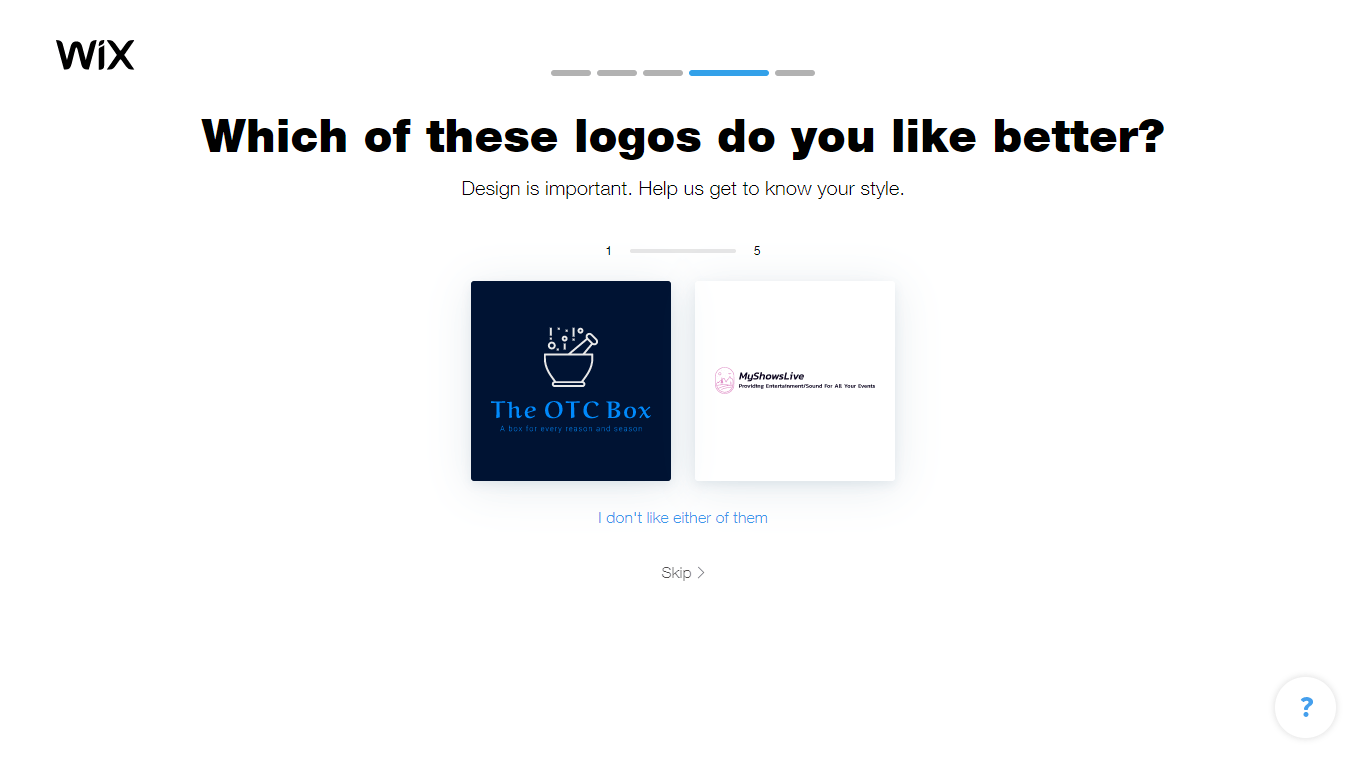 Finally, where do you think you'll be using your logo? If you aren't sure, just select all the options to cover your bases. Click
Next
once you've made your choices to generate your logo suggestions.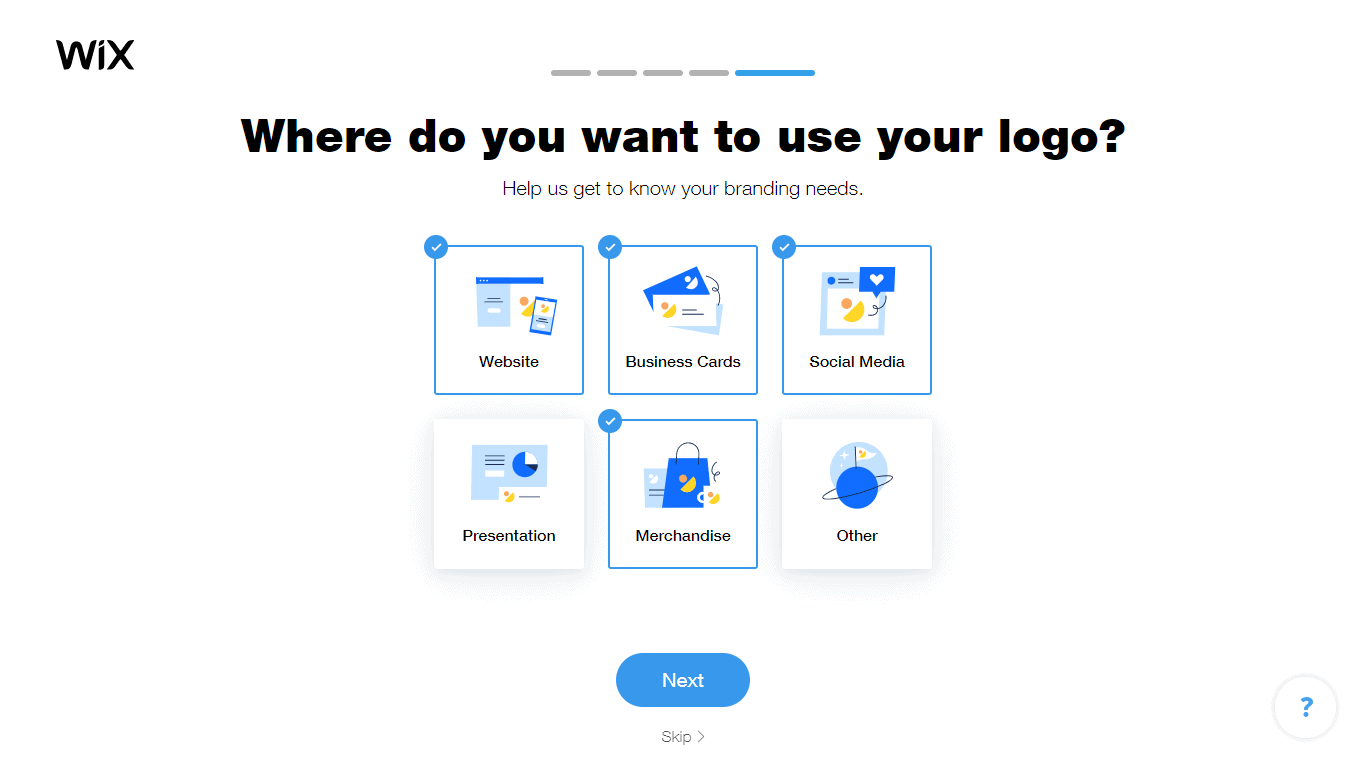 Feel free to take your time browsing the results. Wix Logo Maker generates loads of suggestions, so you have plenty of options to choose from.
Need to see different icon options? Click
Replace Icon
and search for a relevant term to your business or name. I tried out "hipster" just to see what came up. There were some pretty cool options!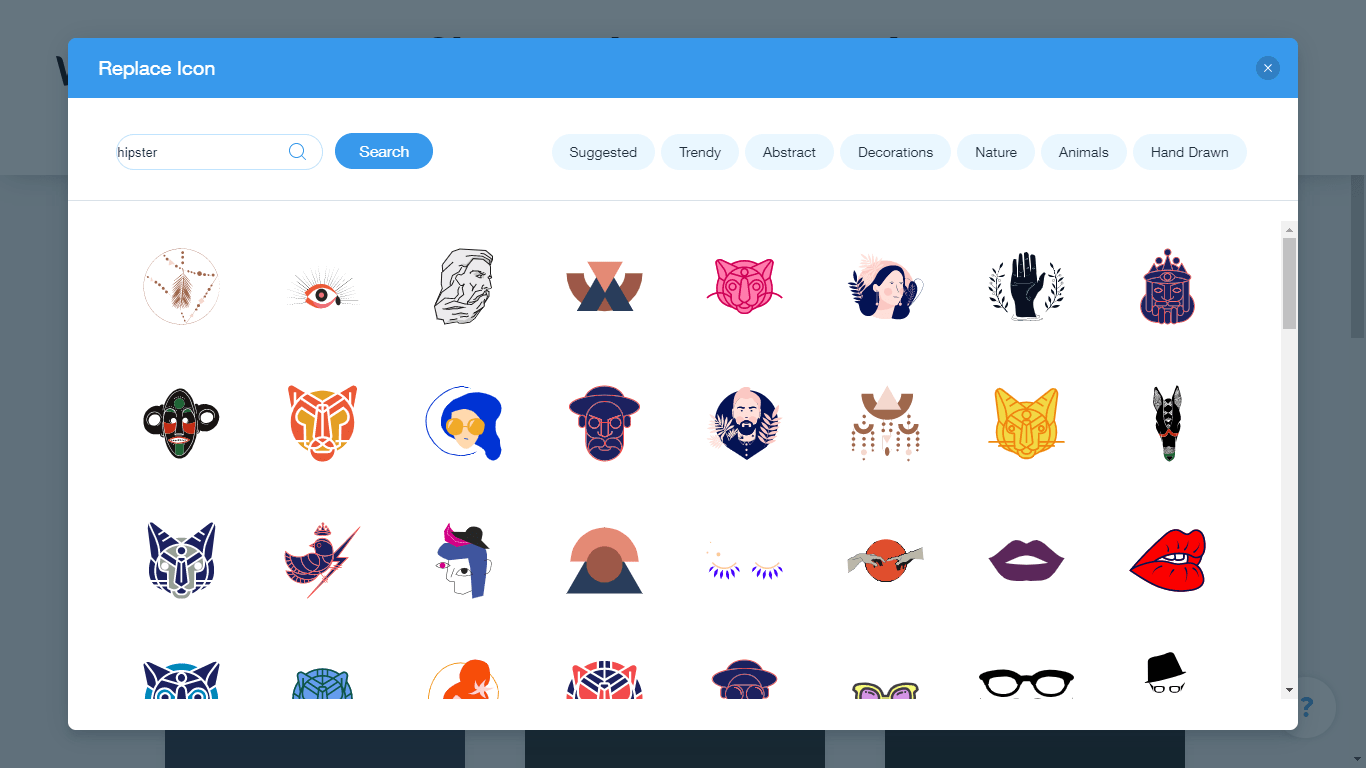 When you're ready to edit a logo template, click
Customize
to move into the logo editor. My favorite part of logo creation is customizing, and Wix Logo Maker's features do not disappoint. You can add multiple icons with category choices like "trendy", "abstract", and "hand-drawn". There are also more than 70 preset color palettes for quick personalization or you can create your own color scheme for your logo. Between the icons, color palettes, and 200+ font options, the possibilities for logo personalization are truly endless.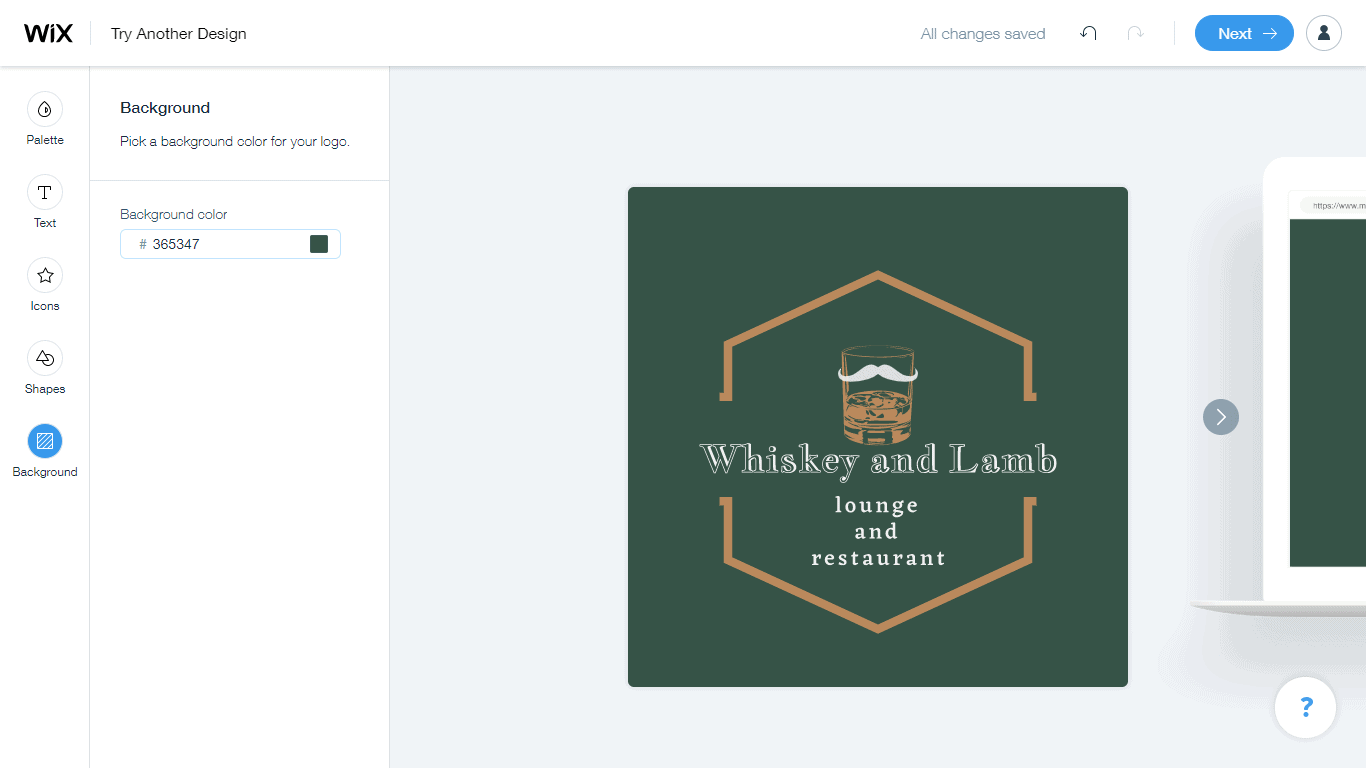 When you're finished with your logo and you're happy with how it's looking, now's the time to decide if you want to buy it. The process is free up until this point, but to download the file, you'll need to click
Next,
choose your package, and enter your payment information. You can also download a free version of your logo for comparisons (but it's too small to actually use). Once you've paid, your new logo is available for download in high resolution. The whole process is so quick, you can create, download, and begin using your logo all in one day!
Wix Logo Maker Alternatives:
Looka – Do you have a new business? Or perhaps you're rebranding for a more modern audience? Looka has a wide range of branding materials, like website and business card design, to help jumpstart your company's branding goals.
DesignEvo – If you're low on time, DesignEvo has more than 10,000 quality logo templates and a great search function. Just type "hipster" in the search bar to find relevant, easily customizable logo designs.
Interested in Wix Logo Maker? Read our
in-depth Wix Logo Design review
to find out more.
Wrapping Up
Sure, you can spend hundreds of dollars on a hipster logo design. But, if you don't have to, why would you?
Fiverr is the only platform where you can get your new logo professionally made for just $5
. There are thousands of talented designers to choose from so you're bound to find the perfect specialist. If there's a better deal out there, I'm yet to find it. Ready to take your logo design into your own hands? Thanks to its attractive templates,
Wix Logo Maker can make even the most artistically challenged person seem like a skilled designer
. If you have the time and vision, making your own logo can be an incredibly satisfying way to put your personal touch on your company's branding. Still not 100% sure about which option will deliver your dream logo? You can check out my colleague's
comprehensive logo design service review
 to see how Wix Logo Maker and Fiverr performed against other leading logo design platforms.