lot
to think about. That's why major companies turn to professional designers for logo help, and you can, too!
Skip down now to learn how to hire a freelance geometric logo designer for only $5.
I'll also share some of my favorite famous geometric logos. You can
jump ahead to see them now
or read on to learn how you can try creating your own geometric logo for free.
9 Best Geometric Logos
Hiring a Logo Designer Can Be Cheaper Than Making Your Own
If your main reason for taking the DIY route to create your geometric logo is saving money, then I've got some news that will change the shape of your plans.
On Fiverr, you can hire an experienced designer for less than the cost of a basic logo maker plan.
The Fiverr platform connects you with thousands of professional logo designers. Better still, Fiverr's business model is based on "Gigs" (projects) that start at just $5 US. If this low price has you raising an eyebrow, you need to read our
in-depth Fiverr review
. My colleague hired several Fiverr designers to test their quality, and we were all impressed with the results. Fiverr's straightforward site design makes it easy to find any gig category, and logo design is the easiest of all.
Click here to open the Fiverr homepage in a new window.
Under
Graphics & Design
, you'll find
Logo & Brand Identity
right at the top, with
Logo Design
as the first subcategory. If only geometry class were this simple, right?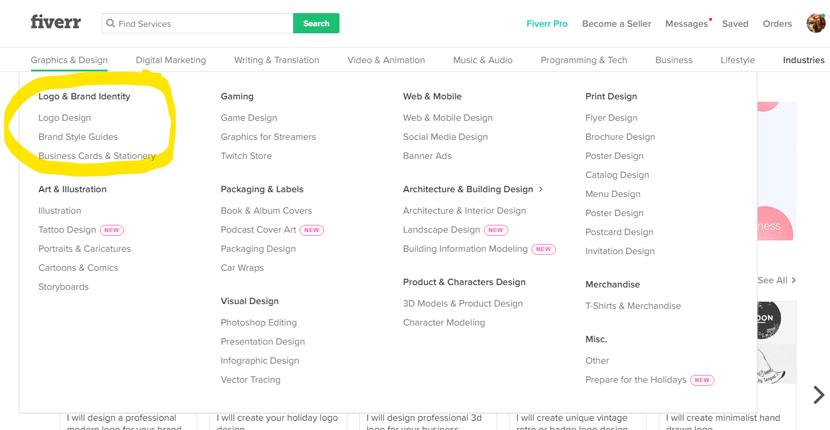 Key Fiverr Features
It's free to sign up and browse designer portfolios.
The free mobile app makes it easy to connect with designers quickly, anytime.
Customer ratings and reviews help you find the best designers for your project.
Many designers offer multiple packages of design services and add-ons, so you get just what you need for a clear, affordable price. (No hidden fees!)
Finding the Right Geometric Logo Designer on Fiverr
Nobody has the time to sort through thousands of logo designer profiles. That's why Fiverr has handy tools to help you narrow your search. You can type in keywords describing your logo design preferences in the search box, such as "geometric logo."
Fiverr then lets you filter search results by your business category, preferred file formats, project budget, and more.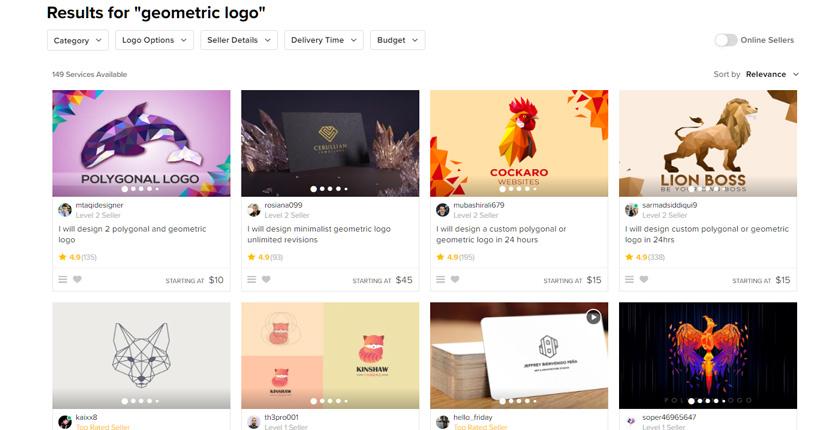 Climb to the Top of the Geometric Logo Pyramid with Fiverr Pro
If your budget allows you to go beyond the lowest-priced Fiverr gigs, you can hire a top-level designer from the Fiverr Pro talent pool.
Pro designers are carefully chosen by the Fiverr team for the exceptional quality of their work, and many have years of experience creating eye-catching logos.
These top-rated designers may cost a bit more, but you get guaranteed quality. Many of these designers offer additional premium services such as print-ready stationery designs, business cards, and marketing materials.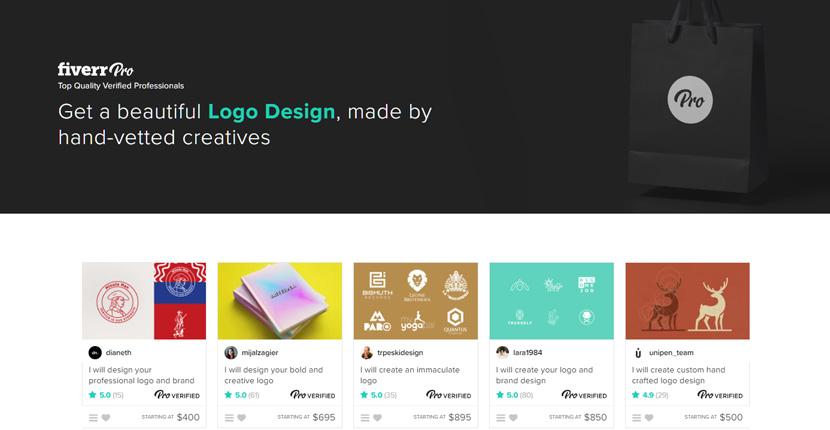 Fiverr Measures Up in Our Search for a New Website Planet Logo
If you've been a Website Planet follower for a while, you might have noticed that we recently changed our logo. My colleague challenged a bunch of freelancers and design services, including three Fiverr designers at different price levels, to create a new logo for us. You can read my colleague's
in-depth logo design service comparison
for all the details.
How to Make Your Own Geometric Logo
As nice as it is to let someone else do the design work for you, you might still want to try creating your own geometric logo design. If nothing else,
doing some experimenting can help you get a clearer idea of what you want.
That's time well spent, even if you do hire a logo designer from Fiverr in the end.
Creating your logo won't cost you anything, either.
And there's no need for a geometry textbook, ruler, or compass, because the best DIY logo makers use artificial intelligence (AI) to do the thinking for you. I'm going to show you how this works with
Wix Logo Maker
.
Getting Started with Wix Logo Maker
I should offer one important disclaimer right up front: With Wix Logo Maker, it's free to
create
your logo.
To actually download your new logo in a usable format for website display and/or printing, you'll have to pay for it.
More on that later. To get started, just
go to the Wix Logo Maker homepage
 and create an account. It's 100% free to sign up, and doing so allows you to save your work and edit it later. All you need is an email address or social media account to get started. You can create and save any number of logos, so you can experiment as much as you want.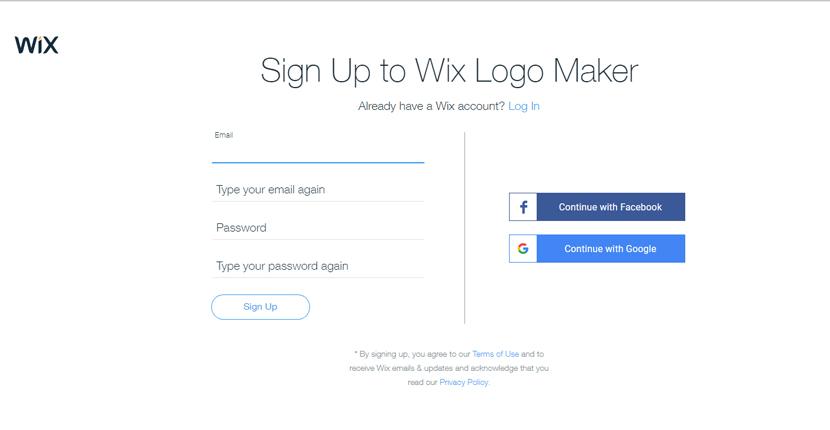 Wix Logo Maker's AI-Guided Logo Design Process
Next, Wix asks you a series of design-related questions – but don't worry, it's not a geometry test. (Whew!) Your answers help the AI logo generator come up with relevant designs for your business. First, you'll enter your business name and slogan (if you have one).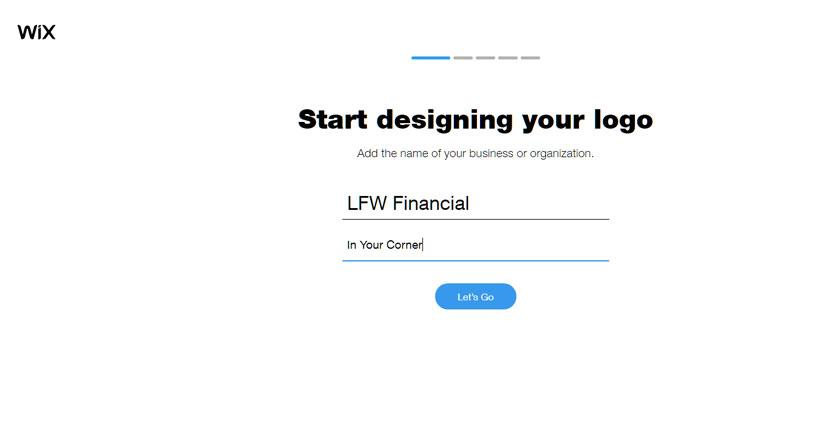 Next, you'll select your industry from the drop-down menu.
If your specific line of work doesn't show up in the drop-down menu when you start typing, don't worry about it – just choose the closest match that appears.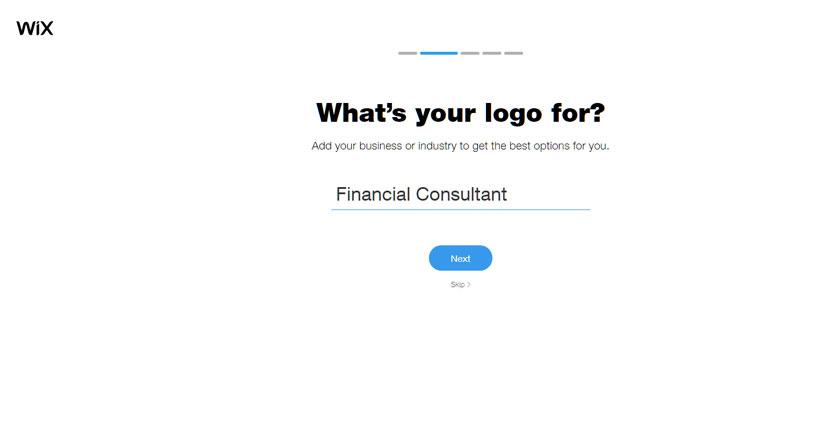 In the next steps, you'll make additional choices related to keywords and design concepts that catch your eye. Don't get confused here – the samples you see are
not
proposed designs for your company's logo. It's just a way for the AI tool to learn more about your design preferences.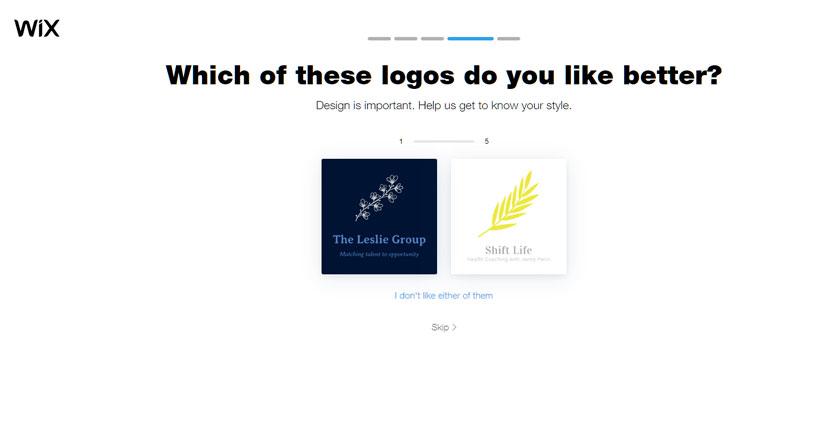 Expert Tip: Before you start experimenting with your logo design, it can be helpful to put together a "look book," with clippings from magazines or advertisements. You can also bookmark or save images from websites with logos that really catch your eye. If you have a Pinterest account, that's another great place to gather design inspiration.
The wizard will also want to know where you plan to use your logo. You don't have to answer this question, but since some logo styles only look their best at one specific size (e.g., large printing), this information can be helpful to the AI design bot.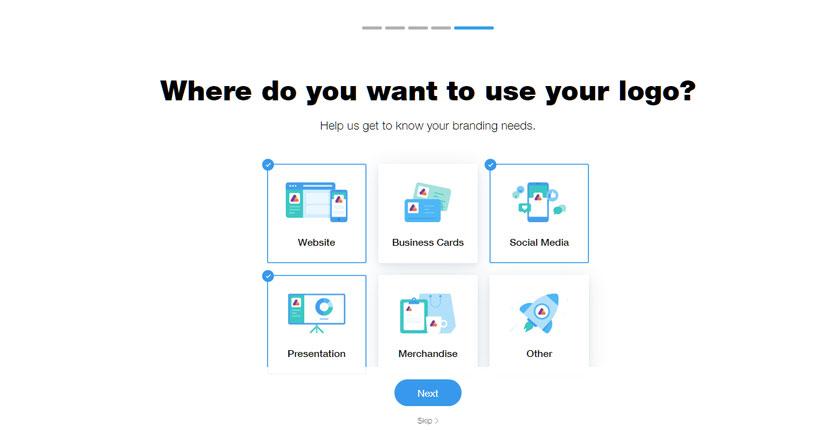 Select Your Favorite AI-Generated Logo(s)
Based on all the answers you've given, Wix Logo Maker will now generate a page of suggested geometric logo designs. As you can see below, there's some real variety in the fonts, icons, and color combinations. The most relevant options typically appear near the top, but you might want to keep scrolling to see what else you get.
Keep in mind that
you can edit these designs later, so you don't have to look for perfection.
Focus on the overall concept and choose the one that has the most potential.
Expert Tip:
I highly recommend reading up on color psychology – how different colors affect the emotions of your potential customers. Nothing says "unprofessional" like a poorly chosen color palette. If in doubt, stick with popular options like blues, reds, and greens, along with neutral tones like gray. There are good reasons why millions of companies use these colors. Want to learn more about the most popular choices in logo design? Don't miss our
Fortune 500 List logo research.
Editing and Purchasing Your Logo
When you select your favorite design, you'll enter the editing menu. There,
you'll have access to a variety of customization options, including fonts, color swatches, layout details, symbols, and shapes.
Don't be afraid to take chances. You can let loose and play around with the editing tools, because there's an
Undo
button if you need it. And if you start thinking that you picked the wrong suggested logo to work with, that's fine, too. Just click
Try Another Design
to start over.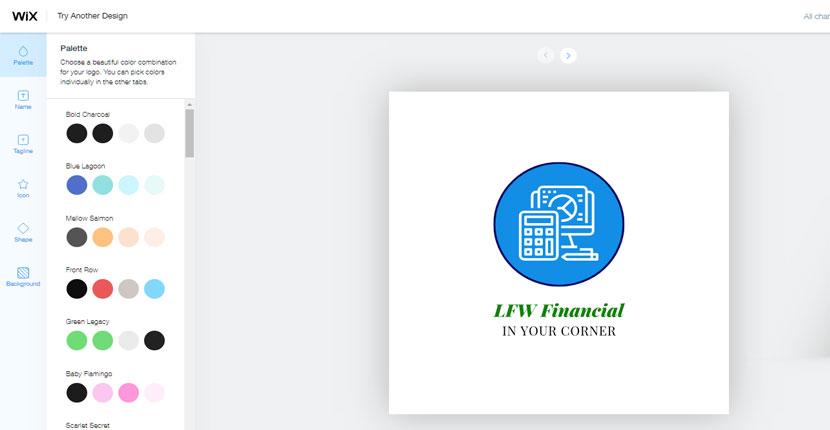 Simple geometric icons can really enhance your logo's visual impact.
Look for designs that have visual appeal and convey your brand's message.
Images that are too abstract can confuse potential customers, with your message getting lost in that confusion.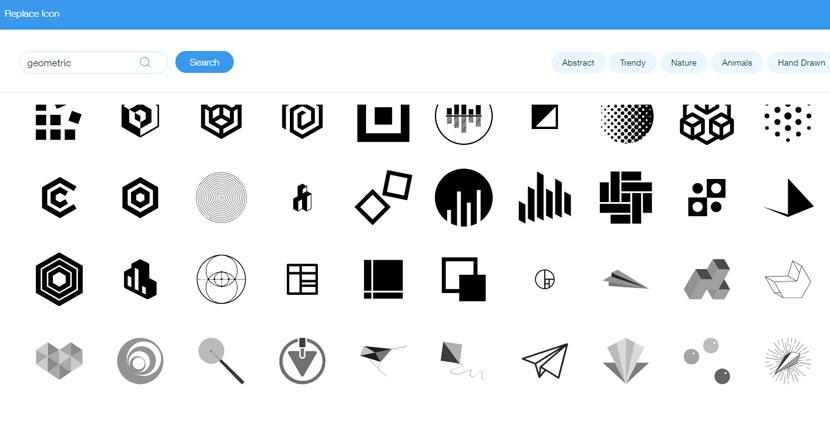 Now for the big decision – should you purchase your logo? My advice:
Only pay for a logo that you're 100% happy with.
If you feel like your design is close to what you want, but not really special, you can just snap a screenshot. Then
head over to Fiverr
 and share that image with a designer who can turn your general idea into a geometric logo that really shines.
Wix Logo Packages
If you do choose to make a purchase, Wix offers a couple different logo packages as one-time purchases. The
Basic
plan gives you full commercial usage rights and comes with high-quality logo files in the PNG format. This plan is sufficient if you only plan to use your logo on websites and social media. However, if you also want to print your logo on t-shirts, banners, and other merchandise, you'll want to choose the
Advanced
plan. This package includes a range of logo file formats, including scalable vector files for optimal print quality at every size.
If you need a more complete marketing solution for your growing company, Wix also offers combined logo and website packages.
Just click
LOGO + WEBSITE
to access these plans, which require paying for an ongoing subscription. And that's it, you made it! Gold star in geometry for you! Below, you'll find some of the geometric logo designs I made with Wix Logo Maker.
Geometric Logos Created with Wix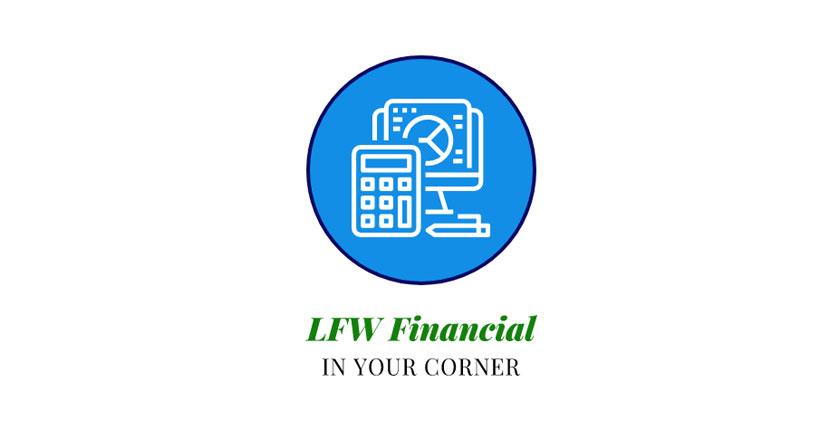 A clean and straightforward logo reflects a no-nonsense, professional image, which can be great for a financial planning company. All the shapes here suggest in-depth analysis, while the colors blue and green are often associated with stability and trustworthiness.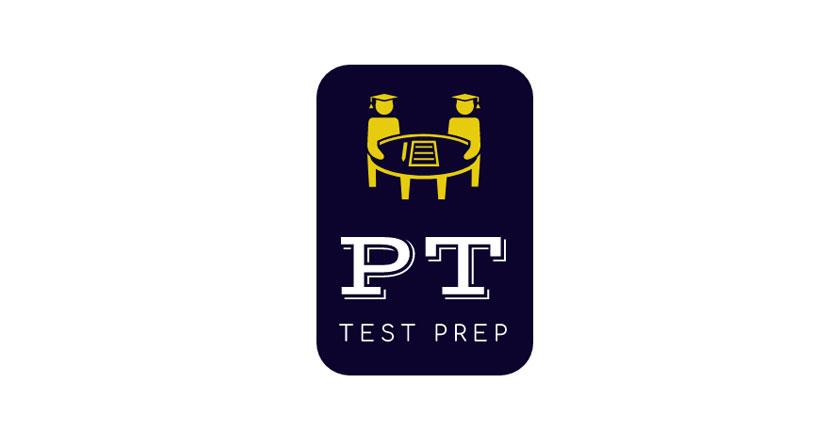 This logo softens the daunting concept of test preparation with a blend of sharp and rounded corners. The slab serif letters of "PT" also give the design a hint of 3D depth. The yellow geometric icon beams out bright energy, representing the goals of an ambitious student.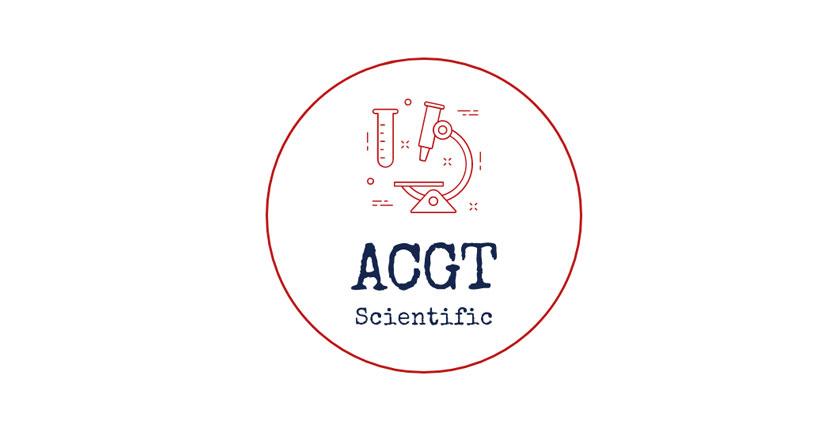 A medical company can make great use of shapes and outlines like this circle, which could be seen as a petri dish. The typewriter-effect text gives this logo a slightly textured appearance, while suggesting the classic pursuit of knowledge. Combined with the artwork, the simple geometric design of this logo suggests a company that
really
knows its stuff.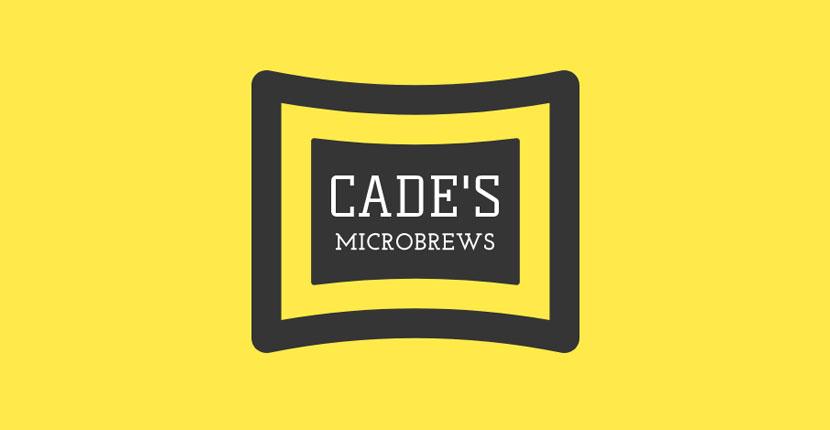 The curved rectangle shown here actually comes from the Wix icon library, but it also works well as a frame for the slab serif logo text. This pairing gives the design a timeless, handcrafted feeling. This minimalistic logo would work well on pitchers of beer, coasters, and t-shirts.
Get Inspired by Famous Geometric Logos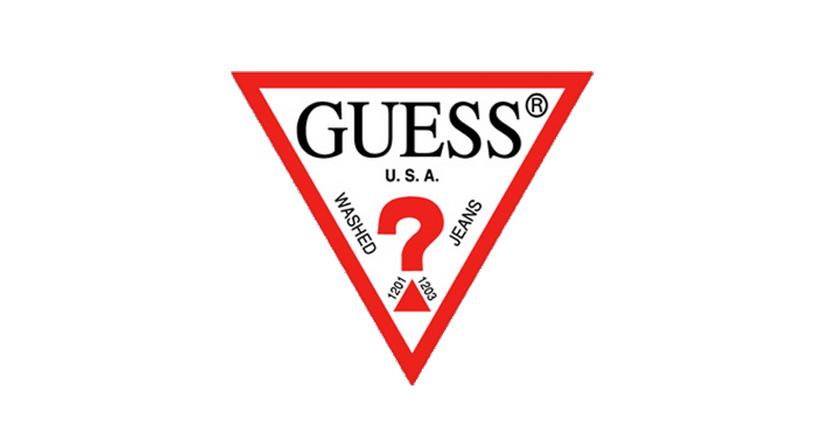 The logo for
Guess Jeans
is edgy, yet features a simple and classic design. The bright red triangle stands out with details that scale nicely, ensuring that the logo looks good on jeans pockets and sweatshirts alike. Curious about the mysterious numbers at the bottom? Those were the original suite numbers of the brothers who created the brand.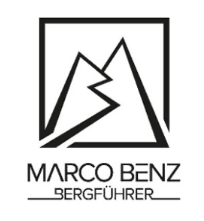 The
Marco Benz
slogan text ("Bergführer") translates to "Mountain Guide." This concept is cleverly illustrated with the overlapping initials of the brand forming into a mountain range. The variable-width lines adds depth, making for a bold but minimalist statement.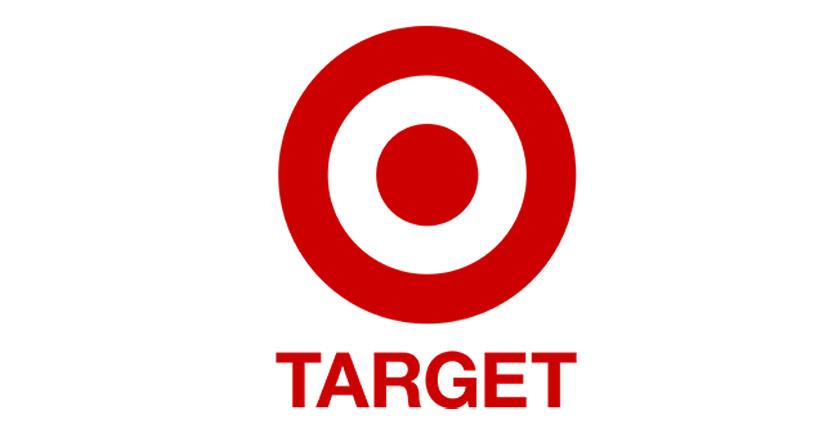 Chances are that you recognize
Target's
"bullseye" logo, with or without the text. The color red is associated with strength and energy, which are important qualities for a brand that has been a major player in the competitive retail world for over five decades.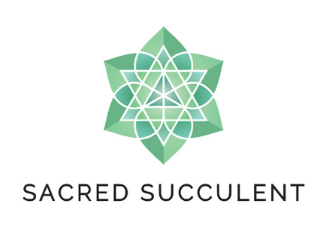 This zen-like design for
Sacred Succulent
incorporates sacred geometry drawn from cultures around the world. The individual lines, shapes, and gradient colors merge harmoniously to form the shape of a succulent plant, perfectly representing this gardening business.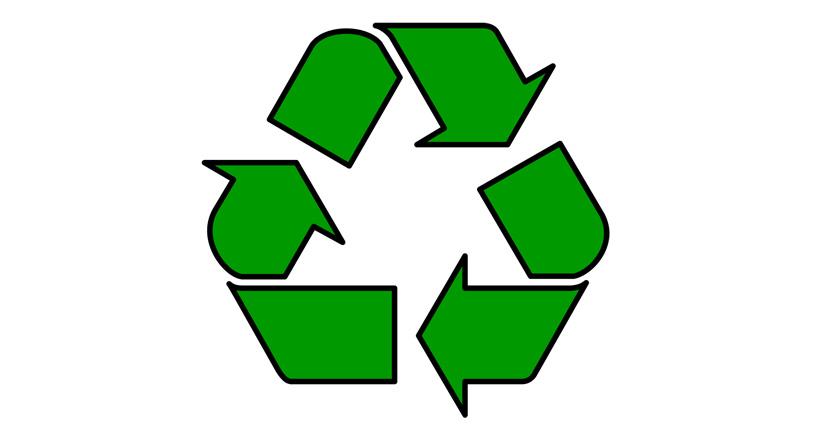 Although it's not technically a logo, the
universal recycling symbol
is instantly recognizable anywhere on Earth. The details of the symbol vary from place to place, but every variation visually represents the infinite lifecycle that we all hope products will have someday.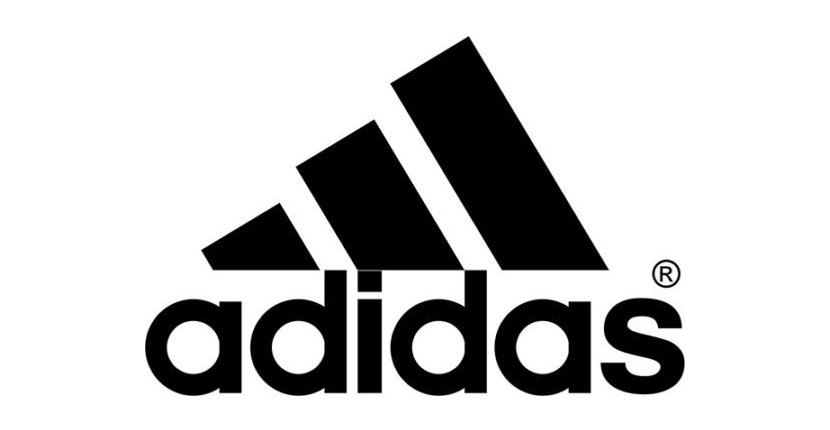 Top athletic and fitness brand
Adidas
reminds us all just how far you can go with a simple geometric logo. The angled blocks or stripes suggest a wide variety of meanings, including strength, growth, staying grounded in challenging moments, and standing tall in victory.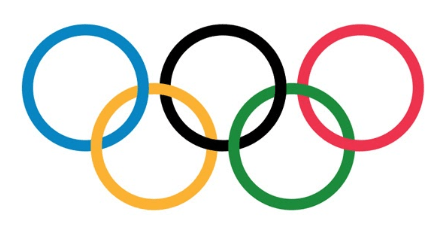 Sometimes a geometric design needs no words to convey its message, and that is certainly true of the iconic
Olympic Games
logo. The five circles of different colors represent all the participating continents (North and South America share a circle). The interlocking of the rings shows the camaraderie of athletes from around the world engaged in respectful competition.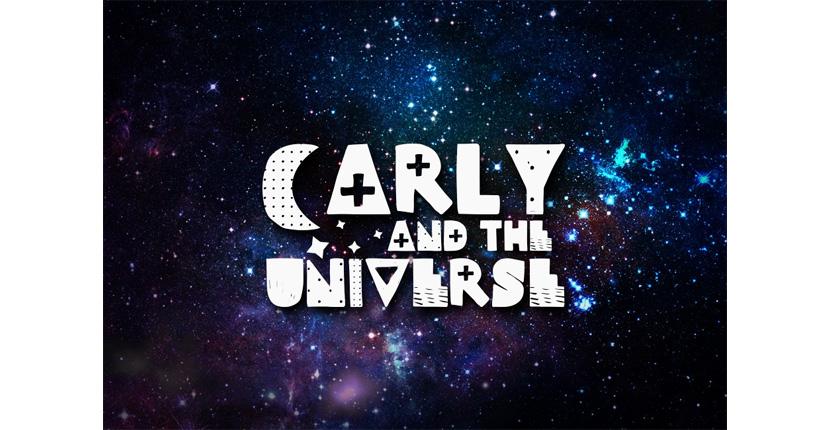 This fun logo for
Carly and the Universe,
an indie pop and soul music group, makes excellent use of geometric, decorative typography. The letter shapes are funky and retro-inspired, with a touch of space-age twinkle. It's a great example of combining geometry and hand lettering to create a truly unique logo.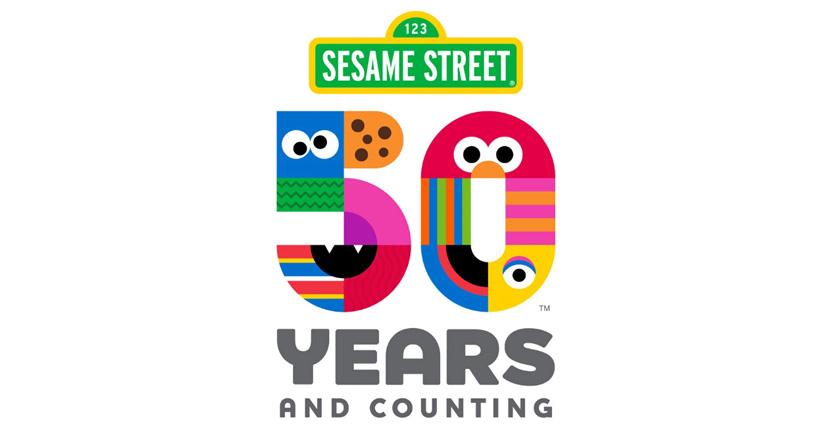 Let's close things out with this whimsical design for
Sesame Street's
50-Year anniversary. The logo's creators effectively use shape and color, including hints of popular Muppet characters hiding inside the numbers. The result is lively, bold, and super fun for viewers of all ages.
Shaping Up Your Logo – Some Final Thoughts
If you feel cornered trying to come up with your logo design (sorry, had to sneak in one more geometric pun), just grab some graph paper and start doodling. Before long, you'll have some fun geometric logo concepts that you can
share with a Fiverr designer
 or use as a reference when you experiment with a
free-to-try logo maker
. Need more logo design ideas? Don't miss our
list of the top logo design services
.