In this article, I'll show you how you can get a logo designed professionally for only $5.
---
9 Best Event Logos
My colleague ran an experiment with some of the most well-known logo design services. He tested each service's design quality and analyzed cost and ease of use. Head to his
comprehensive logo design services review
 to find out how each service performed.
How to Get Your $5 Professional Logo
Can you think of any professional service that costs only $5? Inexpensive services exist, but you likely wouldn't use the word "professional" to describe any of them. That's because we associated a hefty price tag with high-quality service, but this isn't always the case. When I discovered freelancing website Fiverr, I couldn't believe professional designers offered their expertise from just $5. Fiverr hosts thousands of designers, so there's a multitude of talented artists capable of delivering your ideal logo. Hire an expert designer at this low starting price, or choose one with a higher-priced package depending on your budget and needs.
Head to the Fiverr homepage
 to search for potential designers and get a feel for the site. You don't need a profile to search, so this part is totally commitment-free. Type "event logo" into the search bar to pull up design profiles that match your criteria. If you're looking for a particular style, like a watercolor logo or gaming logo, then you can search "(blank) event logo" to get more specific. Scroll through the results until you find a designer with a style you like, and click to see their profile.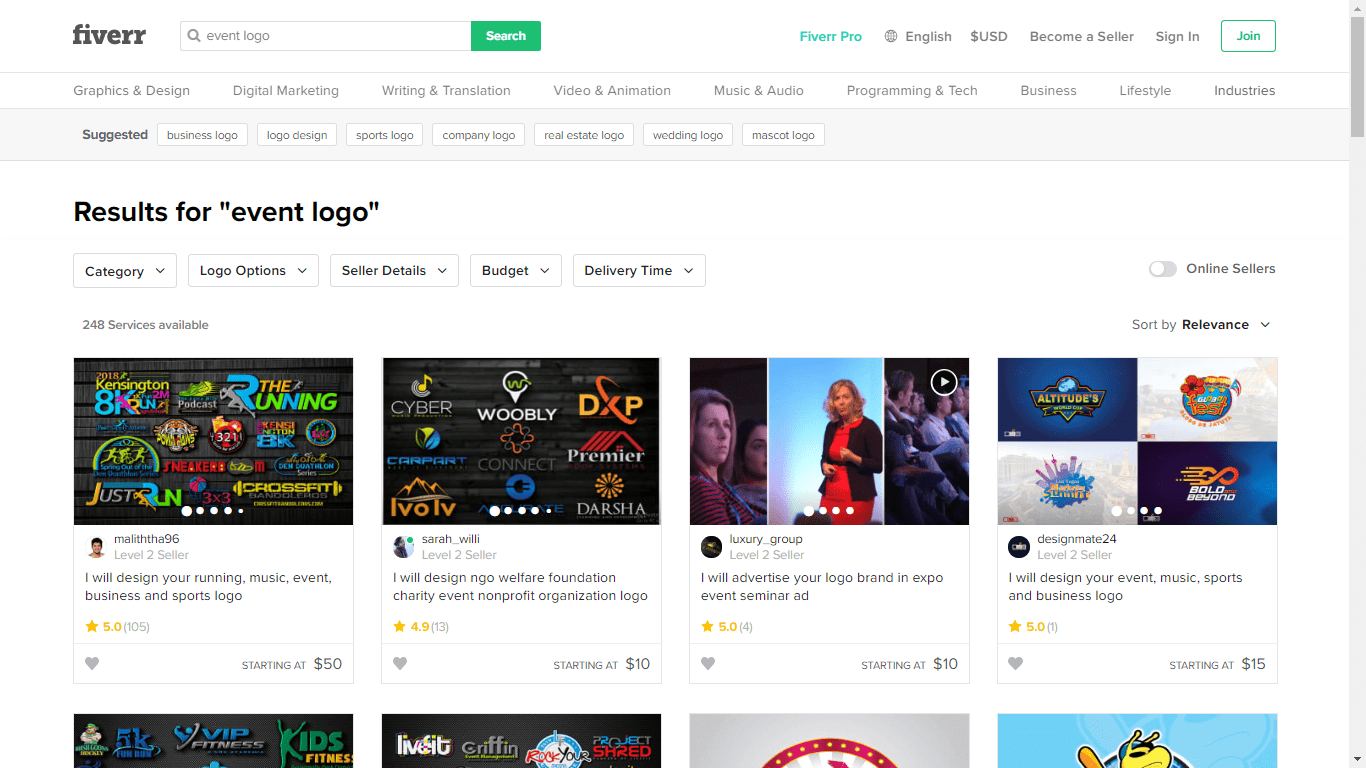 The full profile view displays the designer's portfolio, "About This Gig" section, full list of services, and previous customer reviews. If you're happy with all the information in the profile, choose your package and click
Continue.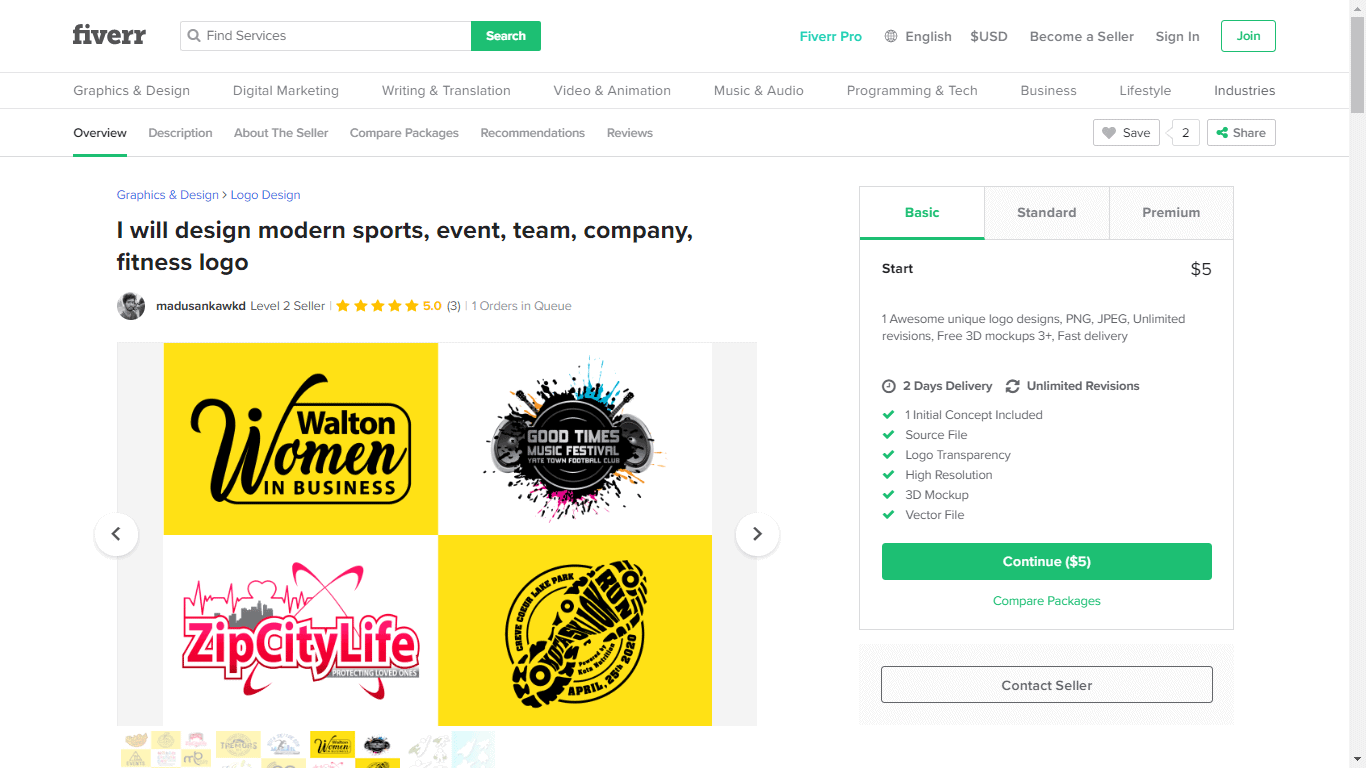 On the payment preview page, you'll see all the services in your package and the final cost. If you change your mind, you can still navigate back to the results and continue the search. If you're happy with your choice, click
Order Now
to enter your payment information and to fill out the designer questionnaire to brief your freelancer. In the questionnaire, you'll enter the name of your event, your design guidelines, and upload any icons or photo inspiration you have (including previous event icons, if you have them).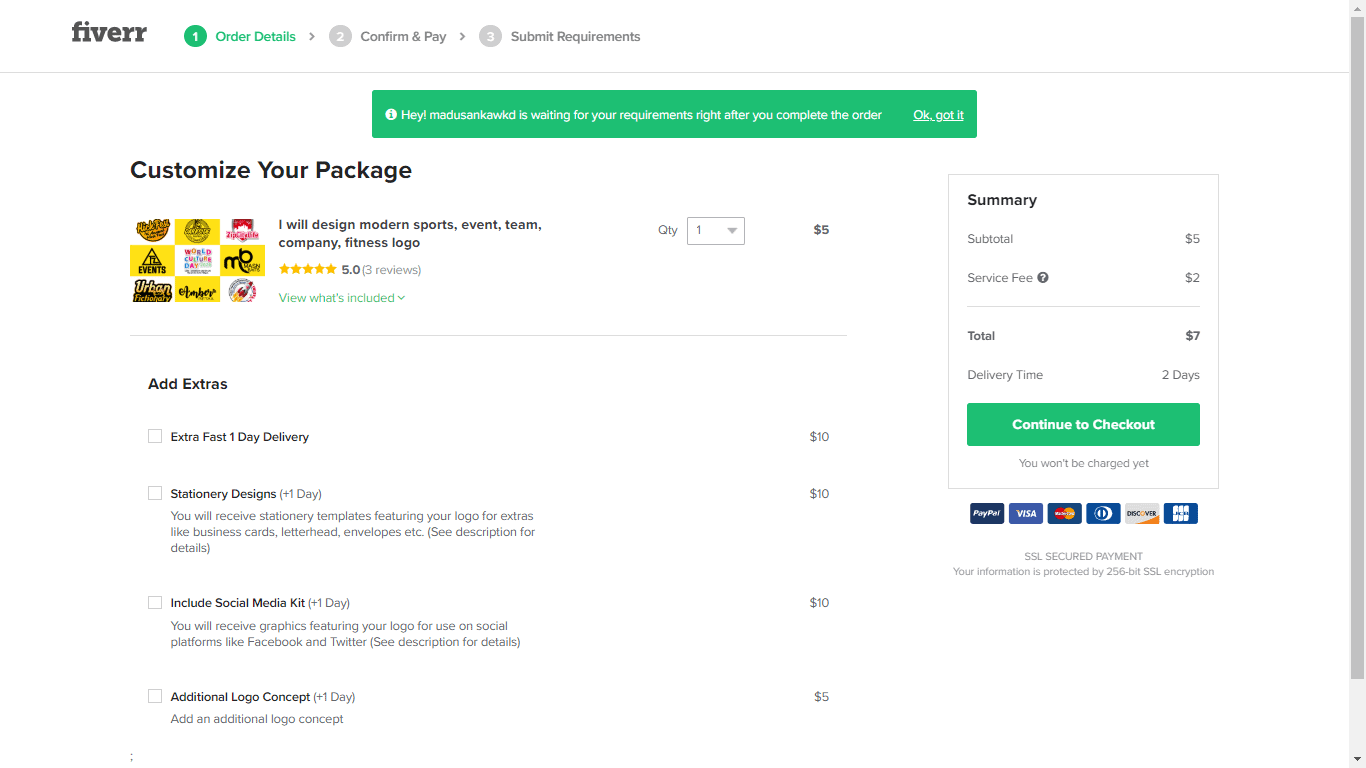 In a few days, your designer will submit your new logo for approval. If your package includes revisions, you can make tweaks until you're happy. And, that's it – your logo design is yours to use as you will! Some other notable Fiverr features:
Search filters – Use filters like delivery time, logo style, budget, and file format to find designers that meet all your requirements.
Worry-free escrowed payments – Your upfront payment is held by Fiverr until you release it. Once you've received a logo you love, you approve the payment, and only then are the funds transferred to the designer.
Seller level – Designers are organized into levels based on their time on the site and their customer reviews. Higher-level sellers equal excellent design quality, so if you're pushed for time when researching a designer, choosing one with a higher design level can help guarantee a high-quality end product.
Customizable packages – Need something added to your package that isn't included? For a small fee, many designers offer package add-ons, like stationery design, expedited delivery, and unlimited revisions.
Interested in finding a freelancer?
Check out our full Fiverr review
for more tips on hiring designers.
How to Create Your Own Logo
Want to get stuck into the creative side of things? You can use a DIY logo maker to make your logo yourself. Designing a logo is serious business, though, so be ready to invest some time and artistic abilities into the process. You'll need to choose a logo maker that delivers both value and quality. The logo creation part is usually free, but downloading your design in a high-res file will cost you. Wix Logo Maker is my top recommendation for logo design because it uses artificial intelligence (AI) to create personalized templates – it means you won't have to start your logo design from scratch.
Head to the Wix Logo Maker homepage
 to create a profile and begin. Your logo is automatically saved to your profile in case you need to stop part-way through and pick it up again later. Enter your event or brand name to get started.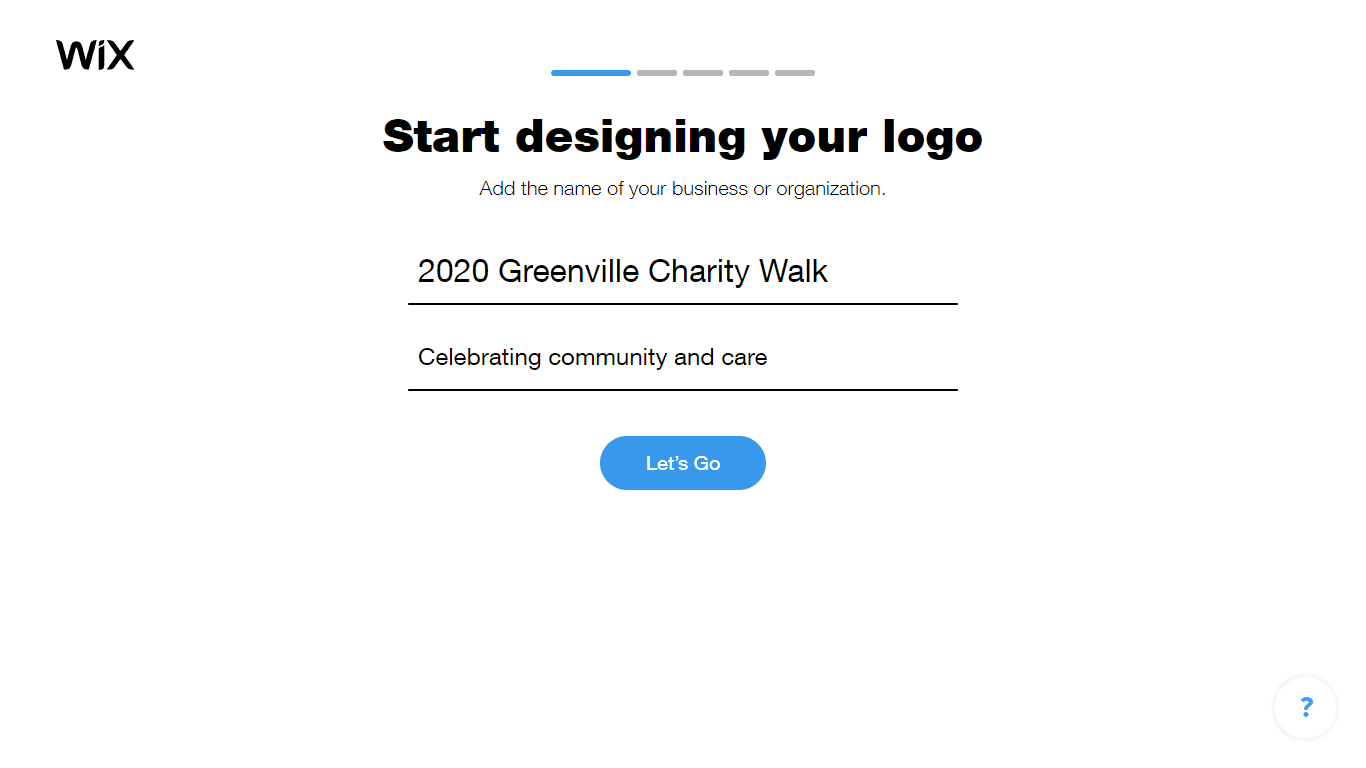 Type your industry into the search bar and choose the closest option. The AI will use your industry categorization to determine which icons to use later.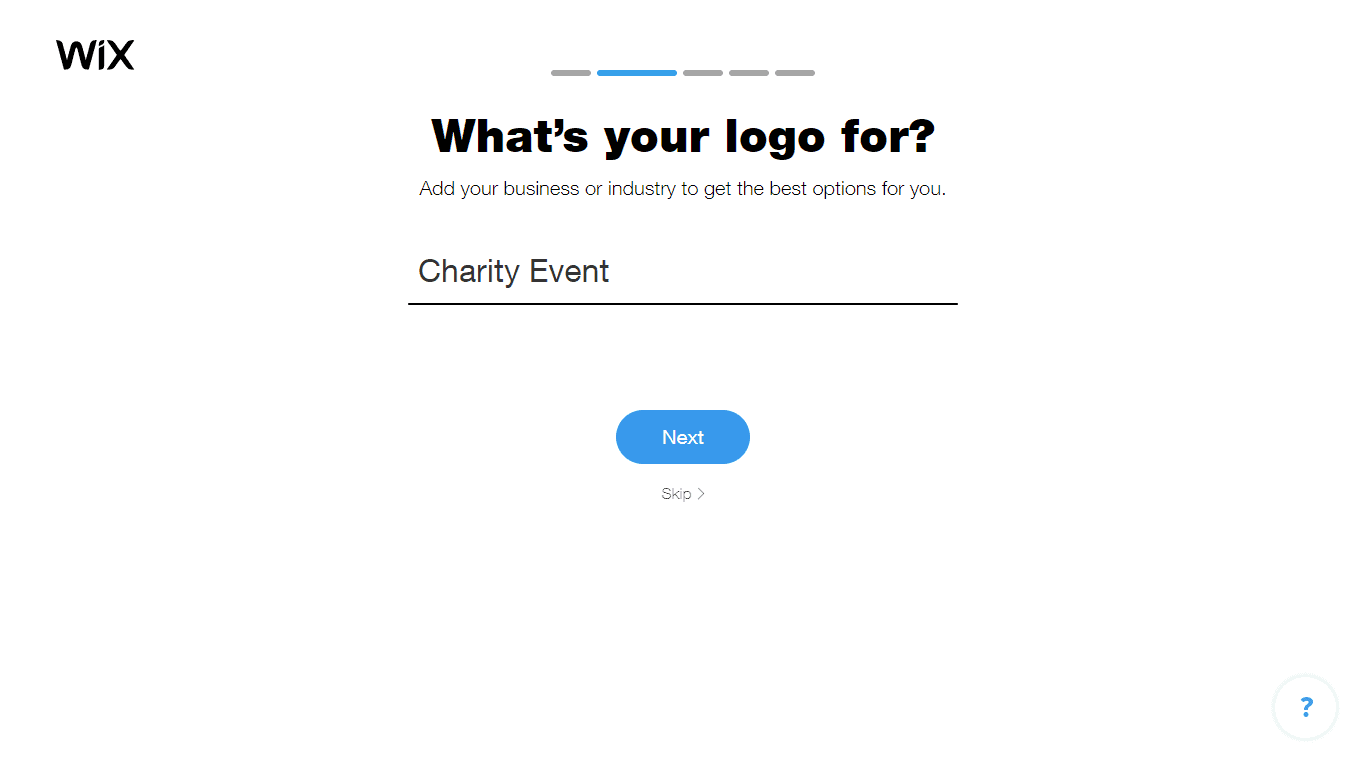 Is your final logo dynamic, playful, modern, or timeless? Choose words from the group of adjectives that best describe your ideal logo's look and feel.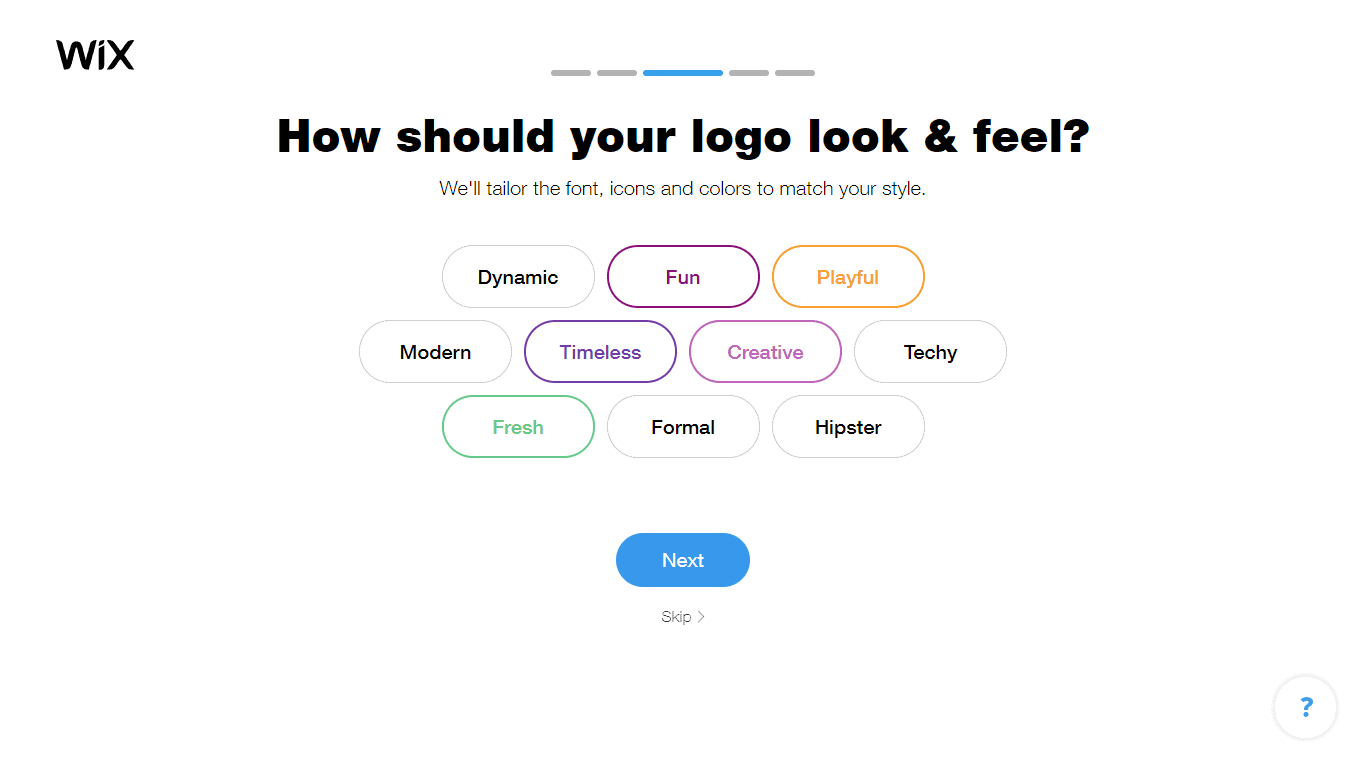 The logo pairs are important in determining what style the AI generates in a few steps, so choose wisely. Click the logo in each pair that's your preference.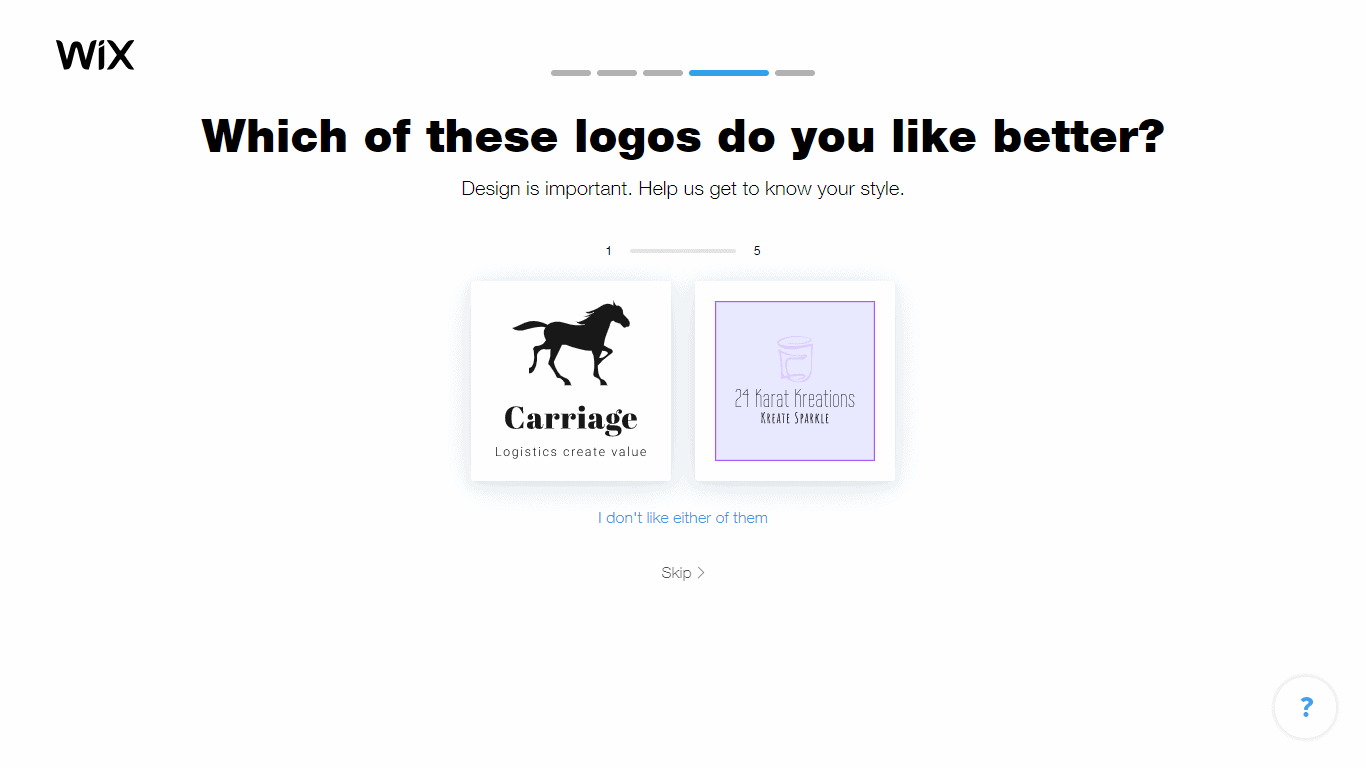 Do you know where you'll be using your logo? Tick the boxes that apply. If you haven't thought that far ahead, select all the options, just to be safe.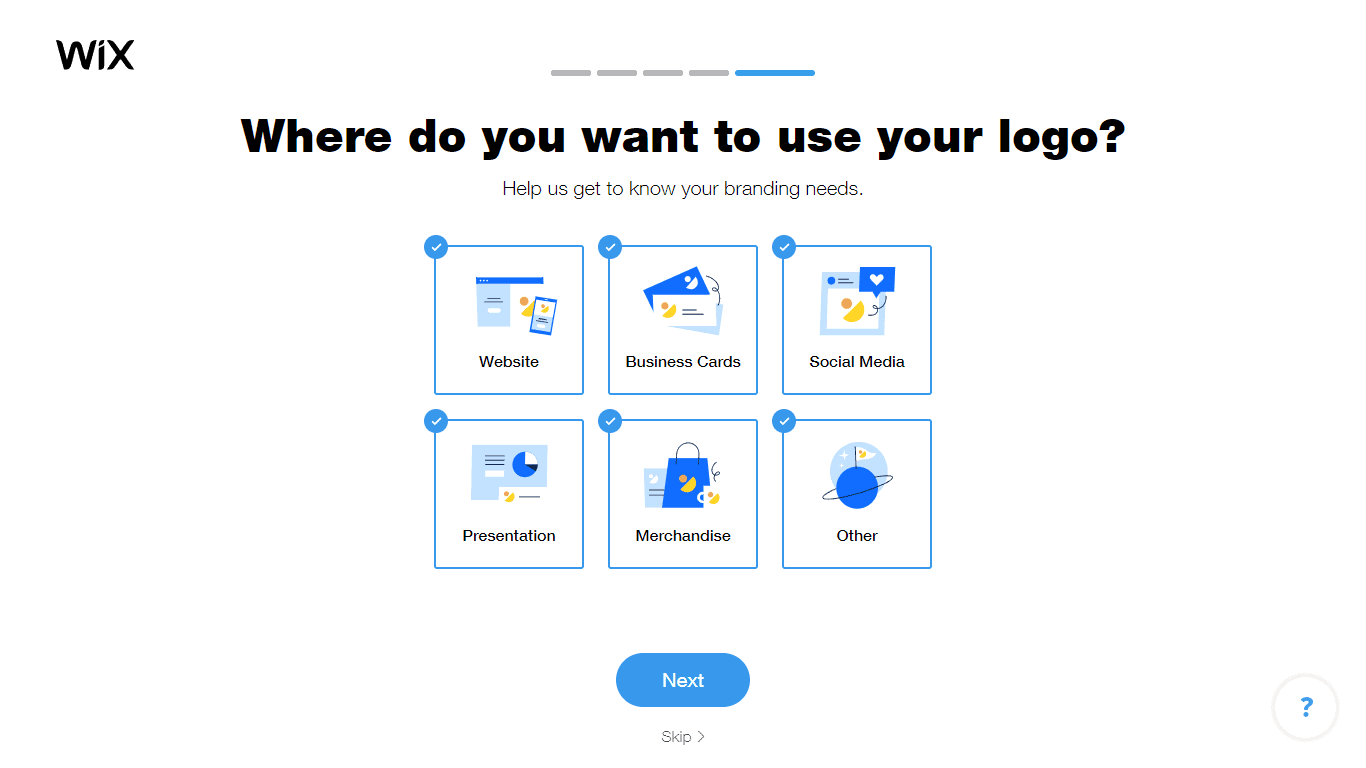 And now, let's see those logo suggestions! The AI will generate an extensive list, so take your time looking through the results.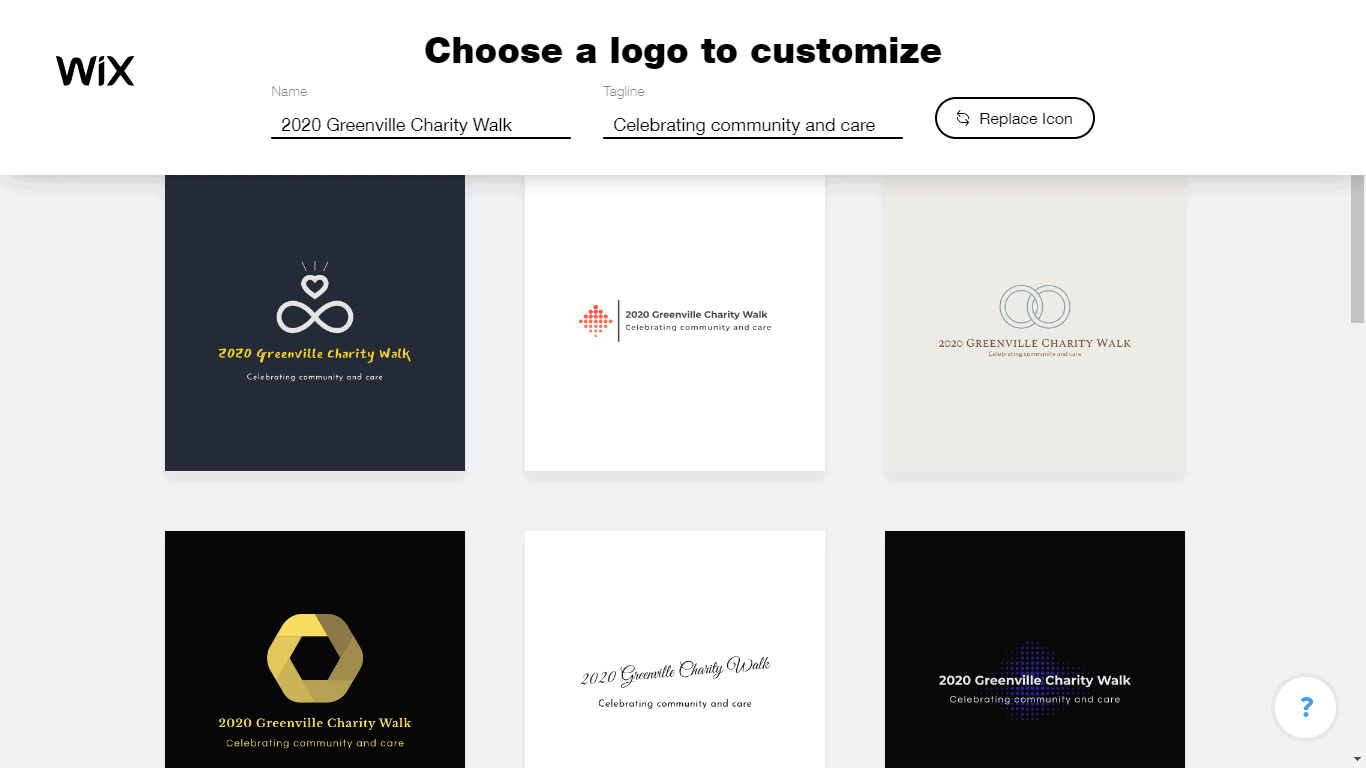 If you'd like more icon options, click
Replace Icon
in the top-right corner and search terms like "charity", "event", "festival", etc. You can also search for event-specific terms, like music notes for a festival or running shoes for a marathon.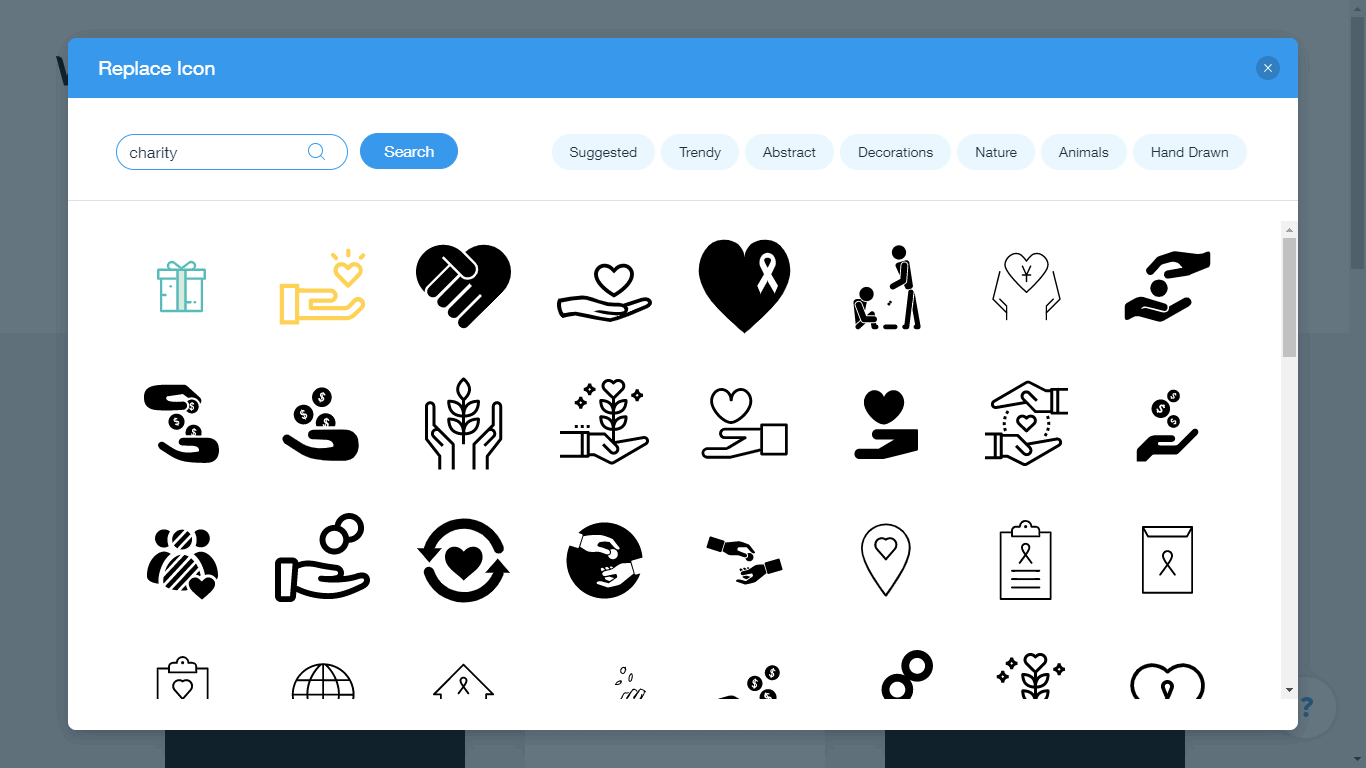 Click the logo you want to edit to head to the customization stage. The logo editor makes personalizing a template easy and enjoyable by giving you access to multiple features. You have 200+ font options to choose from, more than 70 color palettes, and a huge library of icons.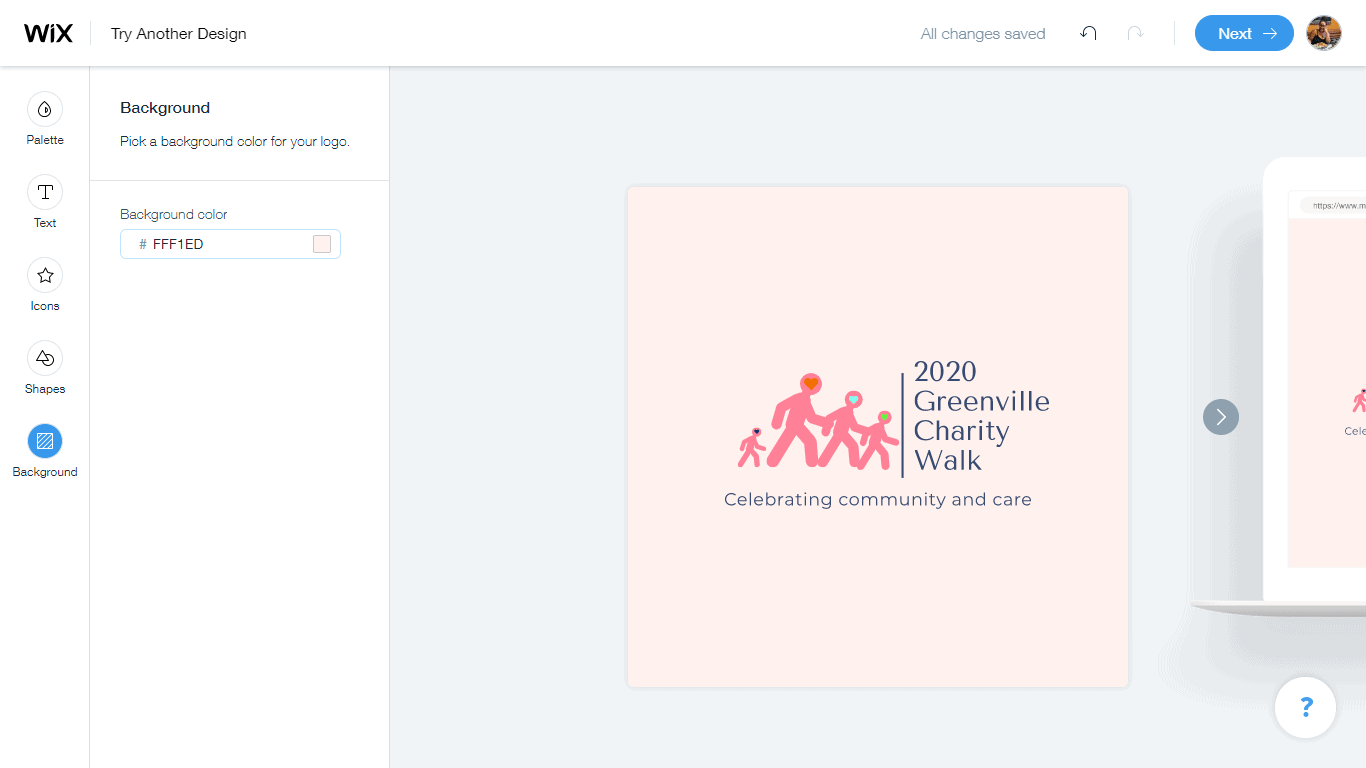 Once you're finished editing, click
Next
to select a package, pay, and download your new high-resolution logo. You can also download a free, smaller version to use for comparisons if you aren't quite ready to commit.
Wix Logo Maker Alternatives:
DesignEvo – If you want to skip the AI but still love the idea of templates, DesignEvo has more than 10,000 amazing logo templates in its catalog, handily organized into 18 searchable categories.
Looka – Is this your first event? Do you need branding materials, like website design and a social media kit? If so, Looka is the perfect tool for getting a new logo and other branding materials in one place.
To learn more,
read our in-depth Wix Logo Maker review
.
Final Thoughts
Events can be costly to run, but creating a logo doesn't have to take a huge chunk out of your budget.
Thanks to Fiverr, you can save money and still hire a quality designer
.
 With thousands of designers available, you're sure to find one that knows exactly how to translate your dream event logo into reality. Don't let your DIY logo project stress you out.
Wix Logo Maker takes the frustration out of logo design
 by giving you tons of excellent templates, tailored specifically to you and your event. How do Fiverr and Wix Logo Maker hold up against their competitors? If you still aren't set on your logo option,
check out my colleague's detailed logo design service comparison
.